Go biker! Have some thrilling rides with LEGO Harley Davidson Fat Boy 10269
By

Nikita P.
/
November 19, 2019

Harley Davidson, America's favorite motorcycle manufacturing brand has a long list of accomplishments when it comes to creating exceptionally fascinating motorcycles. This world-renowned motorcycle manufacturer has been serving the good people of America since its founding in 1903. You may not know this, but Harley Davidson is one of the few motorcycle brands to survive the Great dispersion, and it has stayed strong despite its numerous ownership agreements over the years. The brand itself is recognized for its unique motorcycle customization style, which has birthed the cooper styled motorcycles.
Harley, as it is so often called, offers a wide collection of 700CC –plus heavyweight motorcycles with air-cooled cruisers, and you'll find their bikes aesthetically appealing. One such creation is the LEGO Harley-Davidson Fat boy. Fat Boy is a v-twin soft cruiser bike, with impeccably designed solid cast disc wheels. This LEGO Bike is a perfect blend of raw power and Torque, and its sleek bodywork makes it the ideal bike for your everyday cruise. It is designed with a powerful twin-counterbalanced Milwaukee- engine with a capacity to display over 1700 cc. Harley Davidson Fat Boy is smooth, solid, and comfortable with great handling. It is every collector's dream bike and it makes for a beautiful collectible model. Hence the LEGO Fat Boy.
LEGO's effort in recreating such a sophisticated piece of machinery is quite commendable, as it went extra miles to create block pieces that completely replicates the original version of Harley Davidson Fat Boy. LEGO followed every detail of the iconic design and engineering of Harley Davidson Inc. to provide a highly detailed collectible model that captures the magical curves and the mesmeric lines of the original. From its impeccable designed teardrop fuel tank to its solid-cast lakester disc wheels, and even down to its emblematic speedometer gauge. LEGO made sure we didn't miss anything in the design and architecture of the Fans' favorite Harley Davidson Fat Boy. They even went further to provide printed emblems of the real-life machine, and moving pistons of the Milwaukee-eight® engine. Cool right? well, they didn't stop there.

LEGO went on to create a replica of the movable gearshift, kickstands, Brake pedals, dual exhaust pipes, and the handlebar steering. On top of that, this LEGO Creator Expert set includes a sturdy display stand for people that want to use the assembled set as a centerpiece in their homes or offices.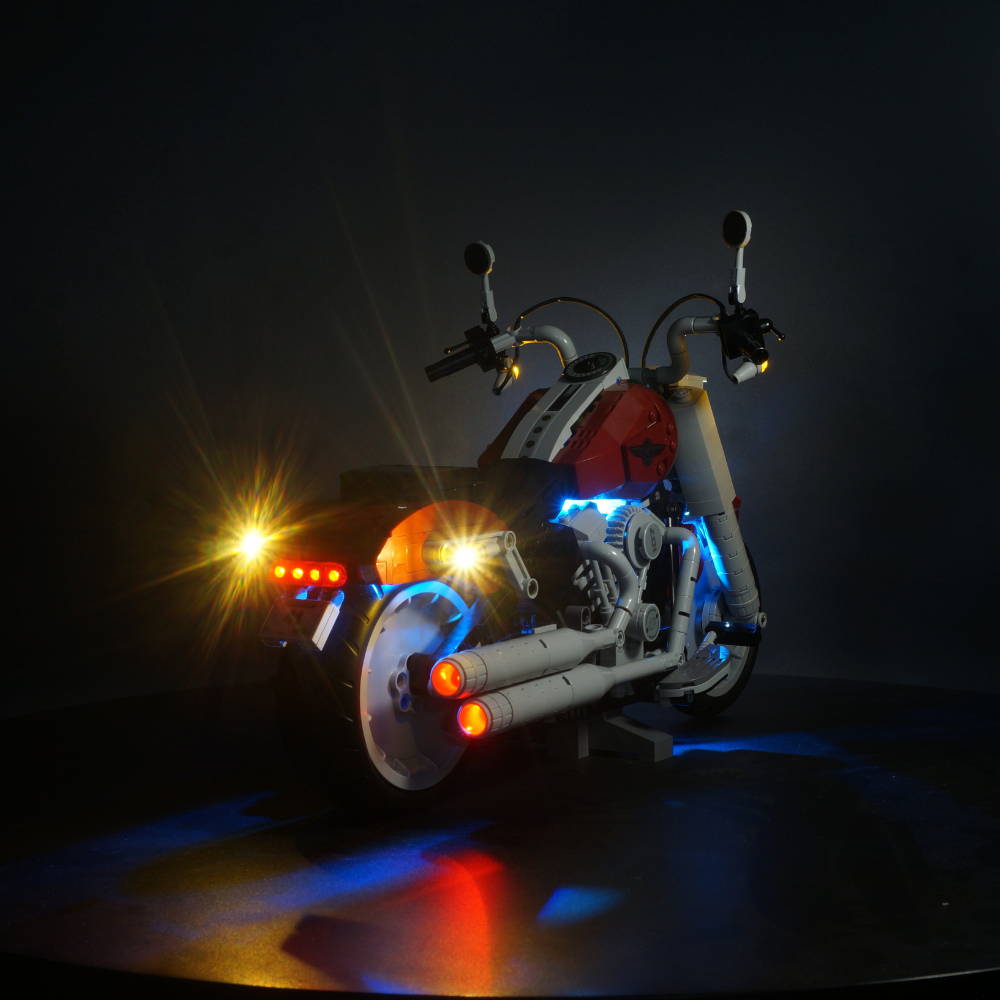 Have you ever imagined how exciting it would be to design a powerful piece of machinery from start to finish? Well, the LEGO 10269 Harley-Davidson Fat Boy offers such experience. To make the building experience even more fascinating for you, the iconic Milwaukee-eight® engine (with eight valves) is replicated with LEGO Technic hybrid elements.


If you think the LEGO Harley Davidson Fat Boy set is amazing, wait until you fit our special lights on it. We offer amazing lights specifically designed for this set. You can get yours to do a for a one-of-a-kind LEGO building experience.