Fun ways to make your LEGO Hogwarts Chamber of Secrets 76389 unique.
Are you are Harry potter fan?!! Then youwould have been part of the roller coaster of season two, when the chamber of secrets,located in the Hogwarts school, was open and the mysterious monster emergedthreatening the lives of all the Hogwarts students.
Harry Potter and his friends, Ron Weasley andGranger, went on a mission to investigate the killings of mysterious monsterand in desperate search of a way to kill it. The whole movie was fun andexciting, and really worth it's high ratings.

Would you like to reenact your favoritescenes from the movie? or maybe you just want to create your own adventuresrelated to Harry Potter. Well the good news is that you can do all that andmore!!! With the Lego Hogwarts chamber of secrets set you can not only recreatescenes from the Harry Potter season 2 but you will have the privilege ofbuilding this prestigious magic school, with all it's details.
This is a perfect birthday present for anyHarry Potter fanatic. This is because of the unique design of the set, made toreplicate the original Hogwarts school. All the rooms and lobbies design withrealistic accessories to replicate the real deal. Then as if that was notenough, this set gifts it's Lego / Harry Potter fanatics with Amazingminifigures.
So it is a world full of unending fun withthis great Lego set.
BUILDING EXPERIENCE.
This is a very large set, designed toreplicate it's original movie counterpart. It is an impressive 1176 pieces,with authentic detailing. This set is a huge project, and will require both focusand time, if you are going to perfectly replicate all it's amazing features.
This set really has its own unique buildingchallenges, and will be really fun to build, most especially if You are a fanof challenging Lego projects.
The most interesting experience withbuilding this set, is it's authenticity. As you build and get to see how eachpieces slowly give birth to this beautiful enchanted Hogwarts school, with eachroom slowly but excitedly reminding you of each adventure of Harry Potter andhis friends in the movie, engaging you already, in an imaginative role play,that this feeling alone will bring you satisfaction.
Overall, you would enjoy building thisgreat set. And plus, because of it's large size, it can not be missed byfriends and Lego fans who watch this set on deeply, and are feel in awe.
FEATURES OF THE LEGO HOGWARTS CHAMBER OFSECRETS 76389 SET.
This is one impressive Lego set that is packedwith a lot of amazing features, and an authentic build, designed in such a way,so as to perfectly replicate the design of it's original counterpart.
Some of this features include, size,building details, minifigures, exclusive features, accessories and size. Let usnow consider each of this features, on after the other, and see how eachfeature sets this amazing set apart.
·      SIZE.
This is a very large set, and is big enoughto contain all it's amazing features, locked inside the set. This set comeswith over 7000 pieces, 71176 pieces to be precise. It also comes with exclusivefeatures, and 11 minifigures in total.
With this amazing set you would have theopportunity to recreate countless scenes from the original movies. The insideof this set features, rooms and accessories that are familiar to it's moviecounterpart. This set is about 16 inches high and wide, and about 5 inches deep.The size of this set could rely make an impressive, most especially if it iskept on display.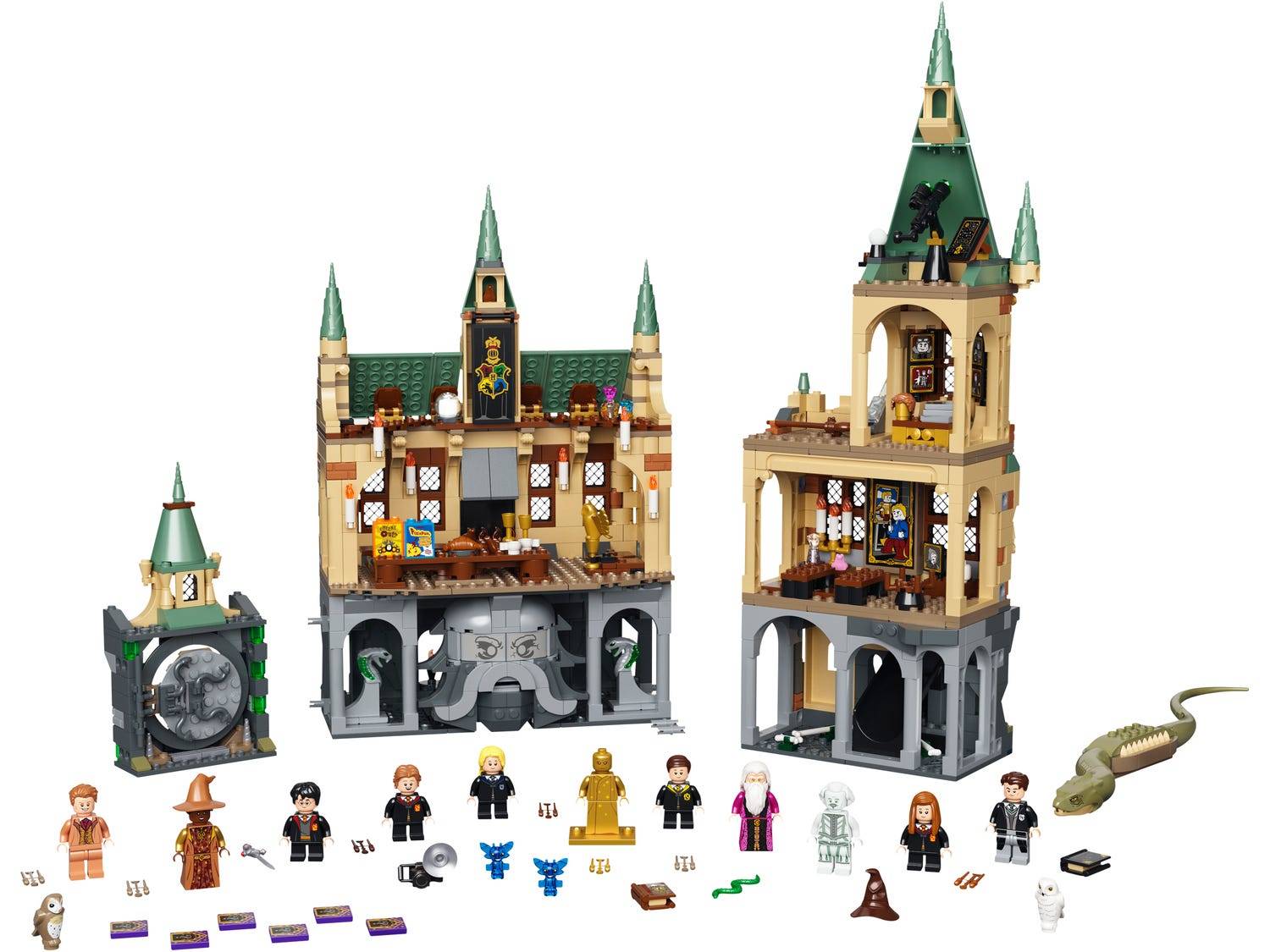 ·      AUTHENTIC DETALING.
This set has an authentic movie display. Itleaves nothing to chance with it's enchanting features. This set also featuresminifigures, resembling familiar characters form the original movie.
This set also has a very authentic build,with all it's rooms set look familiar, even almost identical to it's moviecounterpart. One of the most striking detail, is that of the entrance of the school.It is designed with a circle entrance, like that of the movie, set to resemblean open mouth. Then straight down to the corridor, from were the basilislesnake enters the room.
You would be very satisfied with theoverall look of this set when you are done, most especially if you watched theHarry Potter Chamber of secrets, movie.
·       MINIFIGURES.
This set is gifted with a lot ofMinifigures, each minifigure representing characters that played an importantrole in the Harry Potter movies. These minifigures representations include, HarryPotter himself, Ginny Weasley, Tom Riddle, Colin Creevey, JustinFinch-Fletchey, Lana Lovegood and professor Sinistra, among others.
With all this minifigures, you would havean unending array of role playing to do and endless fun and adventure.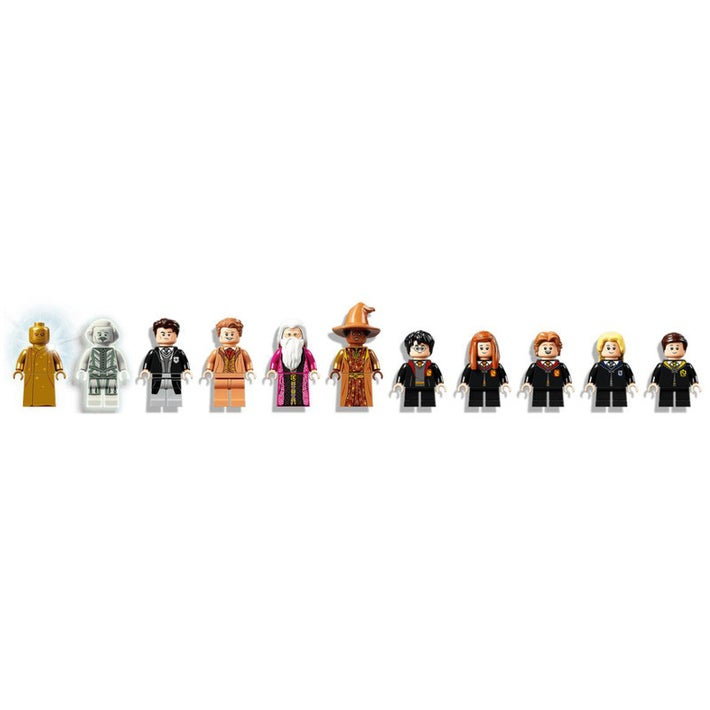 ·      ANIVERSERY FEATURS.
This set also comes with some exclusiveaniversery accessories, like the Voldemort minifigure and 6 random wizardtiles.
So get the exclusive aniversery set toexperience this features and more.
·      ACCESSORIES.
This set also comes with some insane authenticaccessories, like the storting hat. But most of the main accessories are usedin the designing of the inside of this amazing set.
With tables, chairs, lobbies, hallways,secret compartment all designed, and perfectly arranged to give this set a morerealistic look.

·      
      PRICE OF THE LEGO HOGWARTSCHAMBER OF SECRETS SET.
This set will vary in size depending onthree factors, Lego store, country, and location. But fortunately for those ofyou in the US and UK, this set will be easily accessible by you.
You can get this set at any Lego store inthe US at 299.99 dollars, and in the UK at 199.99 Euros. But this set is not isout of stock in that amazon stores, and a bit scars in Australia. If you mustbuy this set in Australia, you most budget anything from 179.99 to 299.99dollars.
This amazing Lego set is really worth theprice and will be an amazing addition to your Lego collection.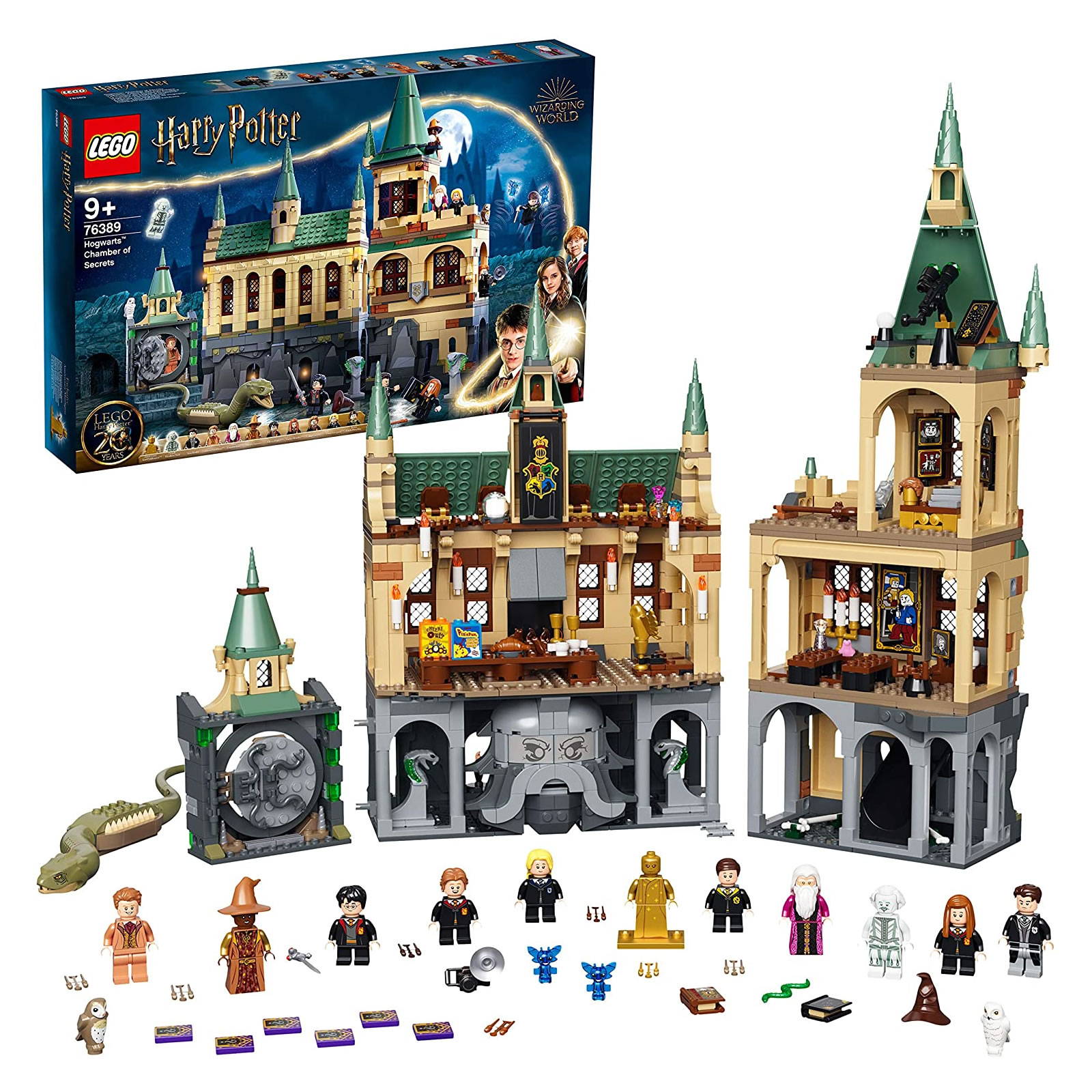 LIGHT UP THIS SET WITH OUR AMAZING LEGOLIGHT KITS.
You can make this set look even moremagnificent, with our beautiful Lego light kit. This set is already verybeautiful and well detailed, but you can light up each room and make it lookeven more magnificent with our Lego light kit.
With gameof bricks you have multiple types of Lego light kits to choose from, andeach of them come with their own unique style. Each of this set has each oftheir installation manuals but no matter the light kit, here are a fewuniversal tips for installation.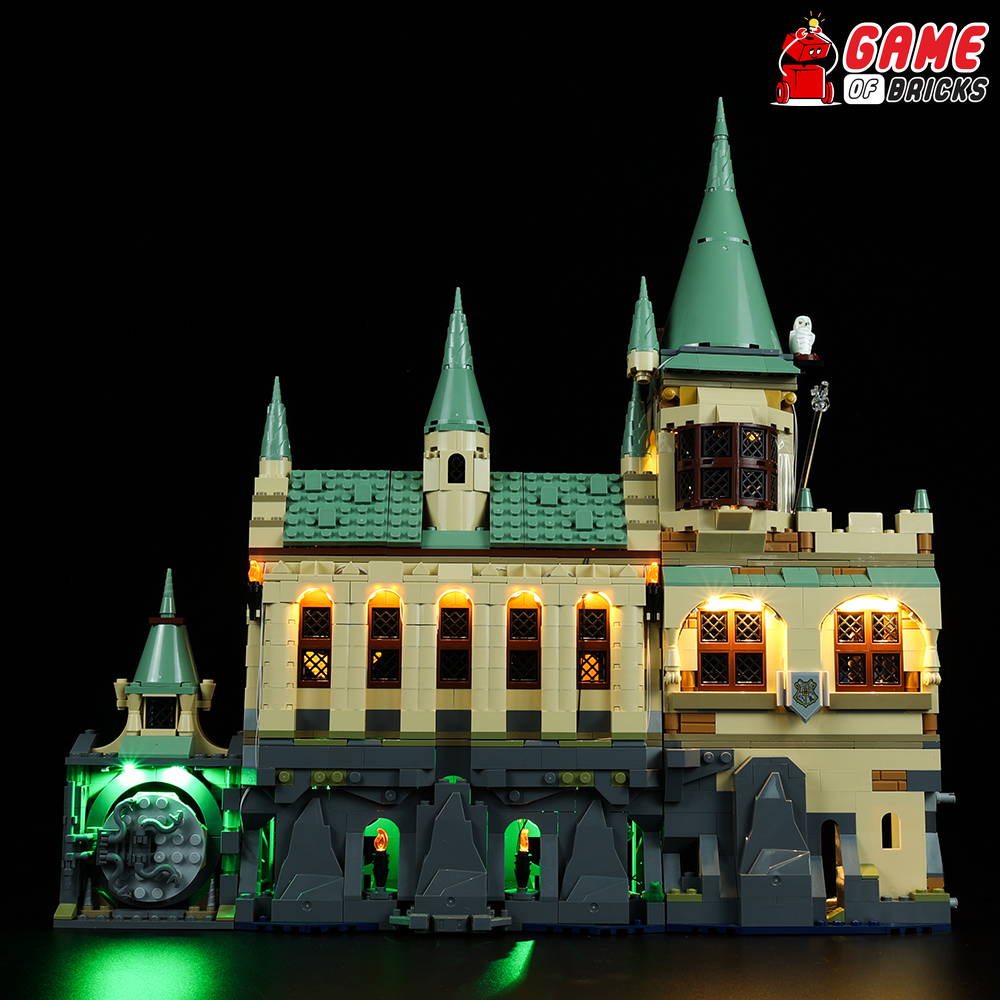 1. FINISH BULIDING YOUR HOGWARTS CHAMBER OF SECRETS SET FIRST.
Successfully building of your set will help for the proper installation of the light kit. It will also help you know the type of installation that will work best for you.
So do not be in a hurry, for you will get to install your light kit sooner rather than later. So take your time to ensure the set us perfect, and up to your taste. Then once you are done, you would be ready to move on to the next step.
2. PROPERLY INSPECT ALL LIGHT KITS AND ACCESSORIES.
Sometimes due to miss management, when shipping the light kit, it good either get miss placed or ruined. So before installing your light kit, make sure that everything is in order.
And if for some reason you find that there are some missing pieces, or that some set has been damaged, you do not need to panic. Most sets offers it's buyers a 30 days warranty period. So you can return the set if there are missing pieces.
But if there are no missing pieces, it's time to start your installation.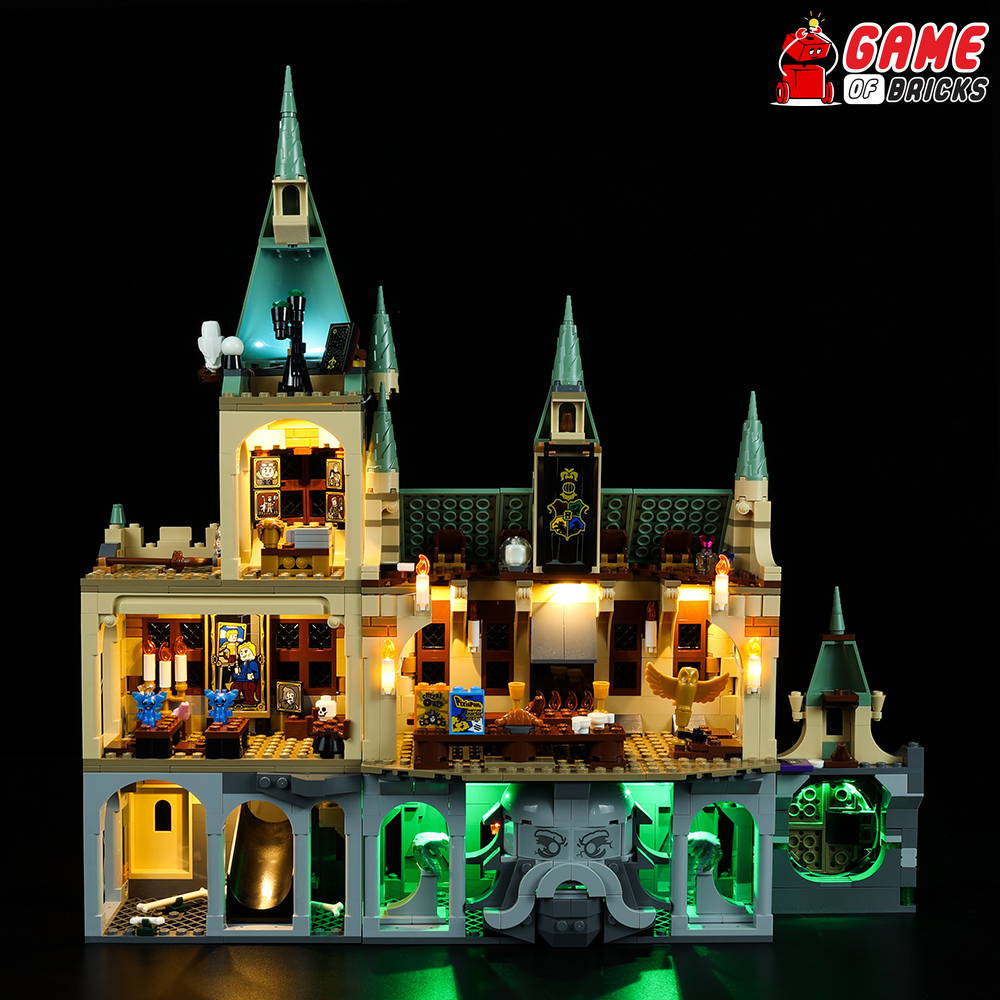 3. INSTALL OUR SPECIAL LIGHT KITS.
Now that you have successfully ran all checks and everything seems to be in order, it's time to install our special light kit. This is the exciting and challenging part of all the installation process. You may be tempted to force some pieces that are not fitting properly, but don't. Doing so may damage the light kit completely.
Installing of this set requires patience, so make sure to carefully insert each light kit Properly through each Brick. And by the time you are done, there must be no pieces sticking out. Now that you are done installing your light kit, it's time to move over to the next step.
4. TEST YOUR LIGHT.
This is the fourth and final step. You would need to test your light to ensure that all it's features are working properly and that it is lighted to your taste.
Also ensure to check the voltage power, and make sure it is neither over loaded or underloaded. Either of that can cause the small lights bulb either explode or the wires to short circuit. So put safety first and carry out all the necessary checks. Then when all is done, put this set on the spot light for all to see and bask in it's awesomeness!!!
---