Feel unstoppable when you build the LEGO 2 Fast 2 Furious GT-R Nissan Skyline (R34) 76917 Set.
The GT-R Nissan Skyline ( R34) sports car is one of its kind and is built for speed. The car is so fast that it feels like you are riding a jet when you are inside. Because of this Sports Car's speed and body build, it became worthy of being featured in the Fast and Furious movie. This Lego car was not featured secondarily but was a main focus as it was driven by one of the most pivotal characters, Paul Walker ( may his soul rest in Peace ). Just as we could relate the Dodge Charger to Vin diesel, we could also relate the Nissan Skyline GT-R (R34) to Paul Walker. The GT-R Nissan Skyline ( R34) has a 327 hp / 289 lb-ft, which allows the car to run at its best capacity. It also features a grille in the front and much more. The car is expensive and would take a lot of money for an average citizen to own. But if you fall in that category or want to own not the exact car but something that perfectly replicates it, the Lego team has you covered.

The Lego team created a replica of this amazing car, which takes the same colour scheme as the one driven by the late Paul Walker. The Lego set is authentic and has many fun details you could build with your kids. This post will look into all this Lego set's cool features. The Lego sets cool features, amazing building experience, and amazing Lego lights make the set look breathtaking. If this interests you, we beckon you to stick around till the end as we consider these points one at a time. 
AN AMAZING BUILDING EXPERIENCE FOR THE LEGO 2 FAST 2 FURIOUS GT-R NISSAN SKYLINE (R34) SET.
Well, as far as amazing building experience goes, the Lego 2 Fast 2 Furious GT-R Nissan Skyline set offers much to be desired. This Lego set offers a very nice organisation to your building expCars'ce. This is achieved because all the bricks used to build this Lego set come well-organised in two numbered bags. Another fun fact about this Lego set is that the set is pretty small and just the size of the average toy car. The Lego set is not complicated and will require a few technics to build. This means that anyone could bring this set to life. This means kids and adults could have fun engagements with this Lego set. The set's building could be divided into two main parts involving different activities. The first part of the building experience would be building the base and inner looking of the Lego set. The second part of your building project focuses on adding as many details as possible to help make your Lego set look as close as possible to its real-life counterpart.
The building of this set has been made as easy as possible, which means that almost anybody can engage in the building activity. But in case you get confused as you build, the Lego set also offers a nice, easy-to-understand manual with instructions on how to carry out your building project. This manual includes vivid pictures that would make your building experience much easier and straight to the point. If you have kids or teenagers who are fans of The Fast and Furious movie, this set is a good way to keep them happy and engaged. The Lego 2 Fast 2 Furious set offers a more satisfying display. Aside from an impressive display, the Lego set has very cool features. The next section will uncover what those cool features are. So don't go anywhere.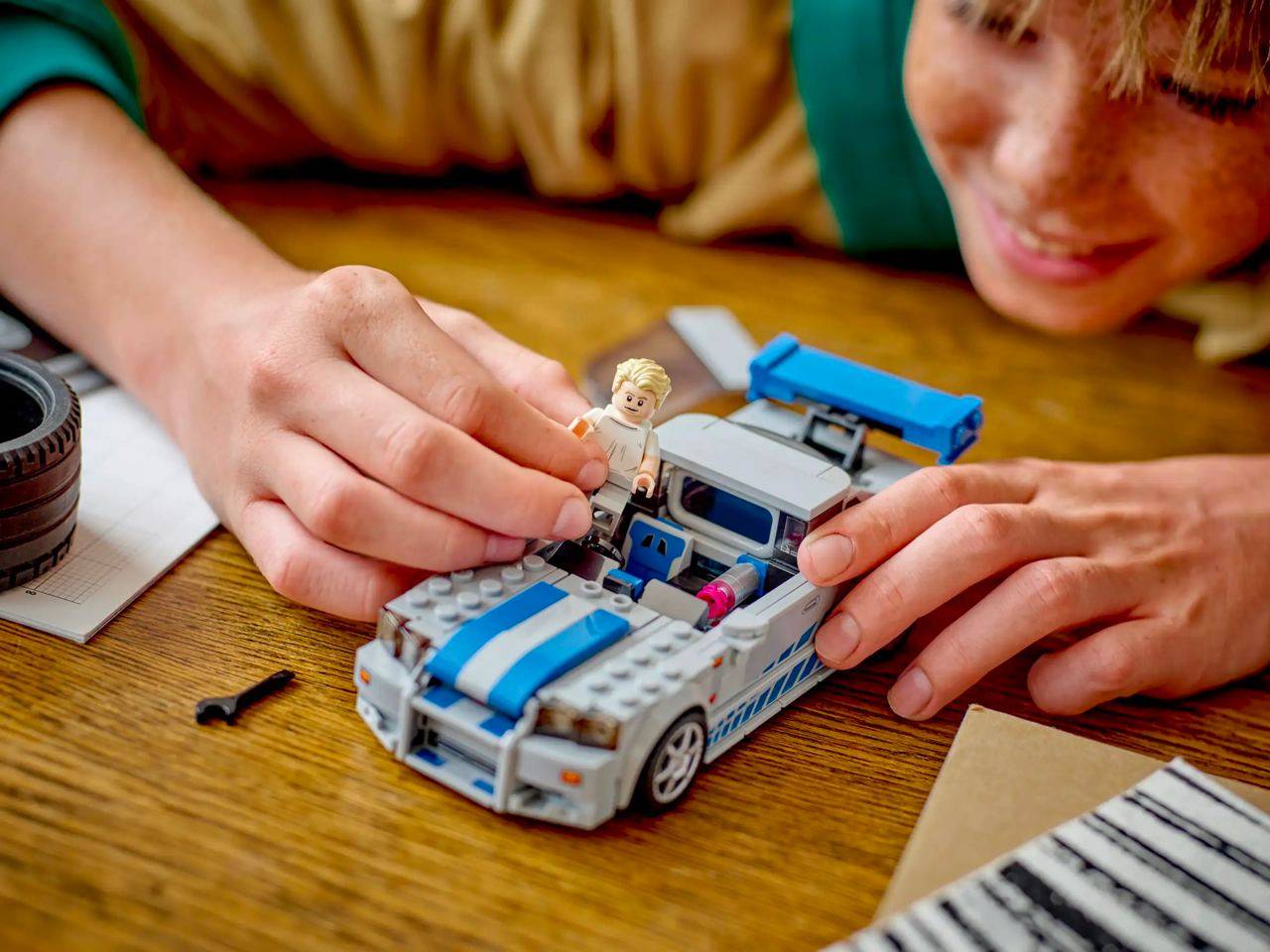 THE AMAZING FEATURES OF THE LEGO 2 FAST 2 FURIOUS GT-R NISSAN SKYLINE ( 34 ) SET.
STICKERS AND PRINTS.

The Lego 2 Fast 2 Furious Skyline set comes with an insane amount of details. These details are made possible thanks to good colour combinations and other effects using stickers and prints. And in case you are not a fan of stickers, ill have you know that the set is small and has only a few stickers. You would need to attach stickers at the font or bunnet of the Lego car. Stickers also appear at the side and back of the Leano car, but again, nothing too serious. And overall, when you look back at the set you have designed using Lego stickers, you will certainly be satisfied and feel compensation for the efforts put into it.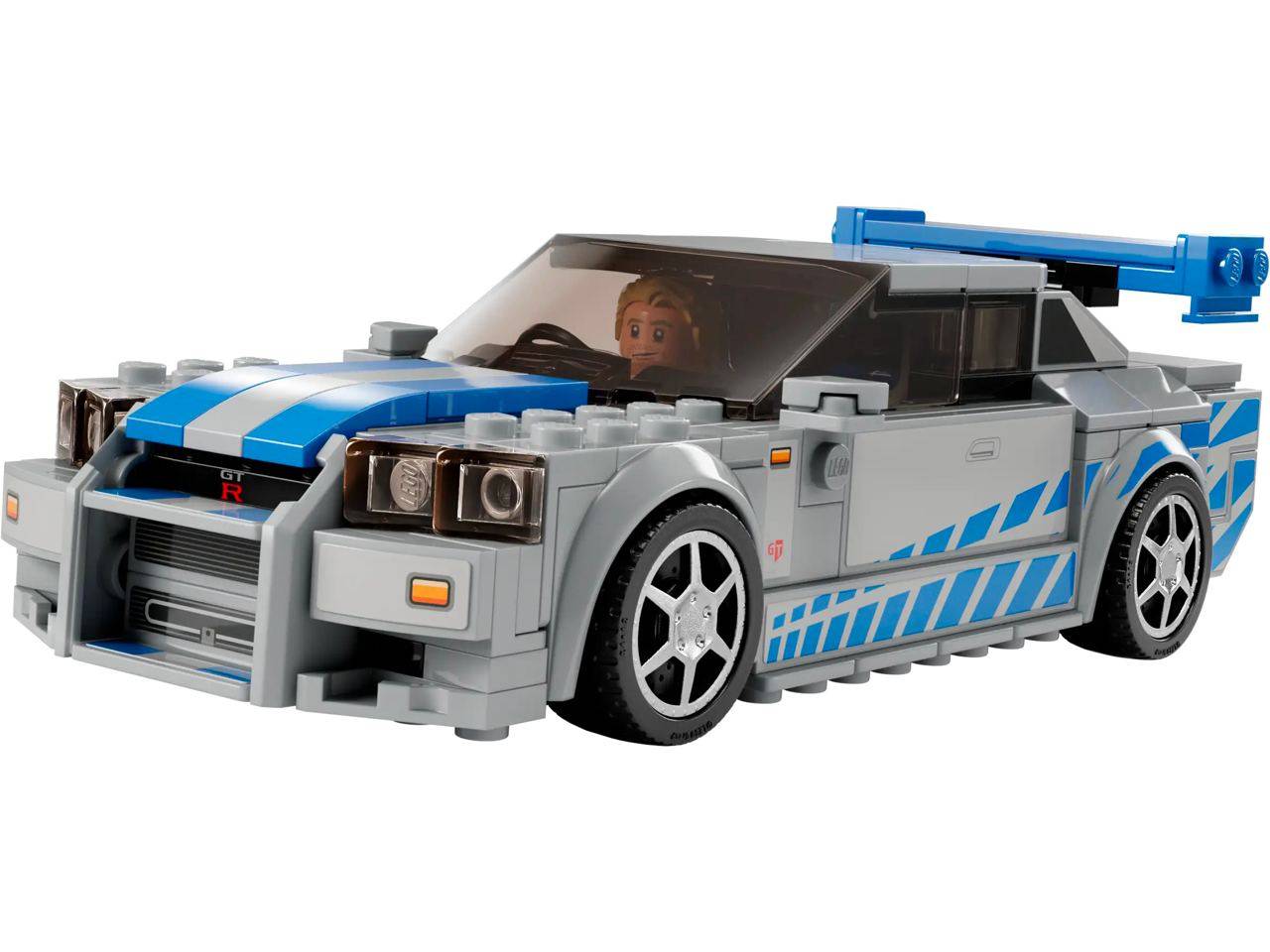 USE OF LEGO ELEMENTS.
Aside from an amazing use of Lego stickers and prints, the Lego set also uses Lego elements to achieve some small details. These details include includes lights, plate number, steering and other details. The set also comes with slight details on the tires of the Lego set. All these features come together to give the set an overall impressive look.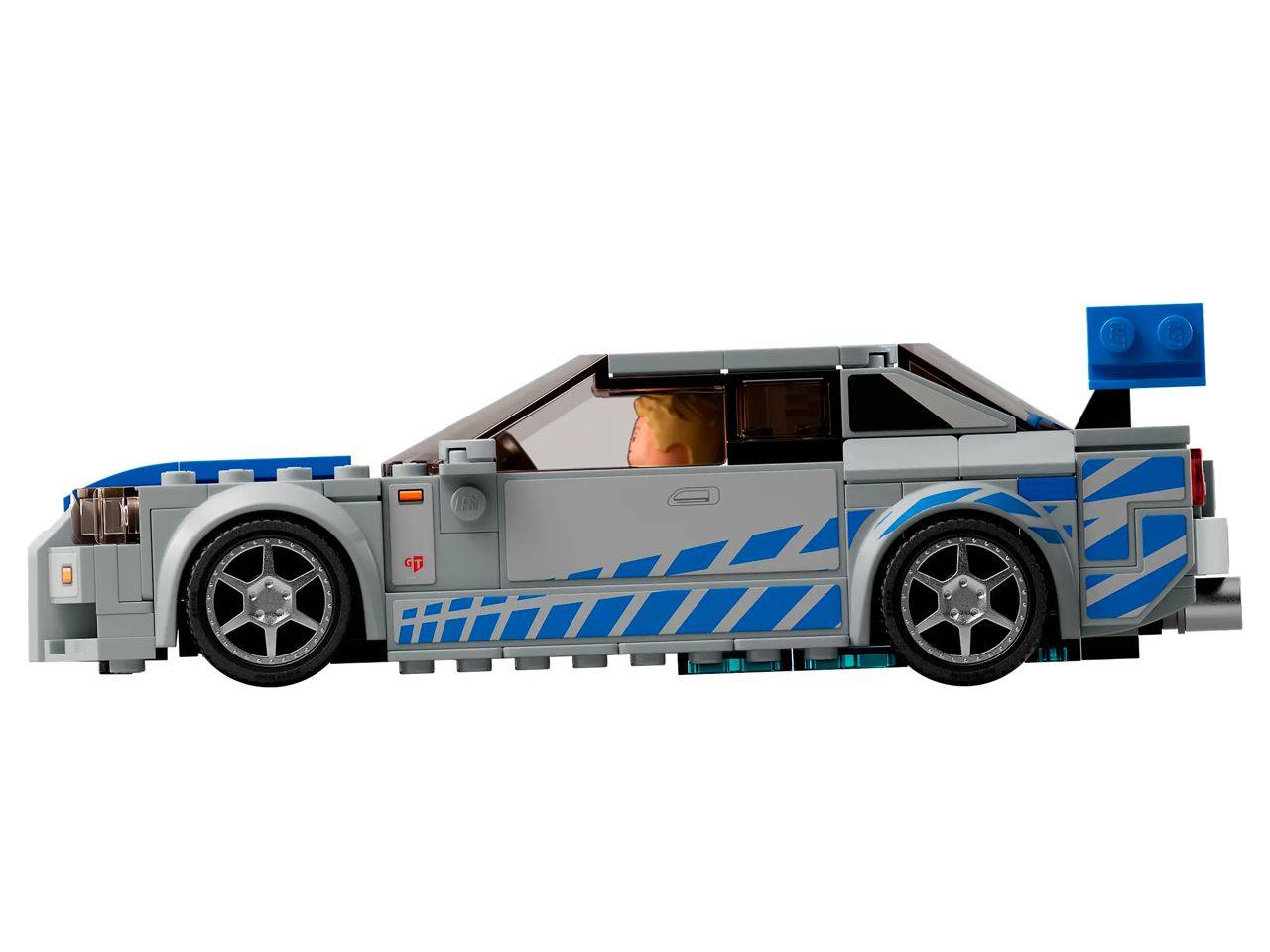 SET SIZE.
The Lego 2 Fast 2 Furious Nissan Skyline set has over 300 pieces, totalling 319. The set is designed to be portable and easy to transport without needing to dismantle. The whole Lego set. The Lego set measures 2.5 inches high, 6.5 inches long, and 2.5 inches wide. This is just the perfect size for kids to play and interact with. So if you want something to help keep your kids engaged, this Lego set is a good place to start.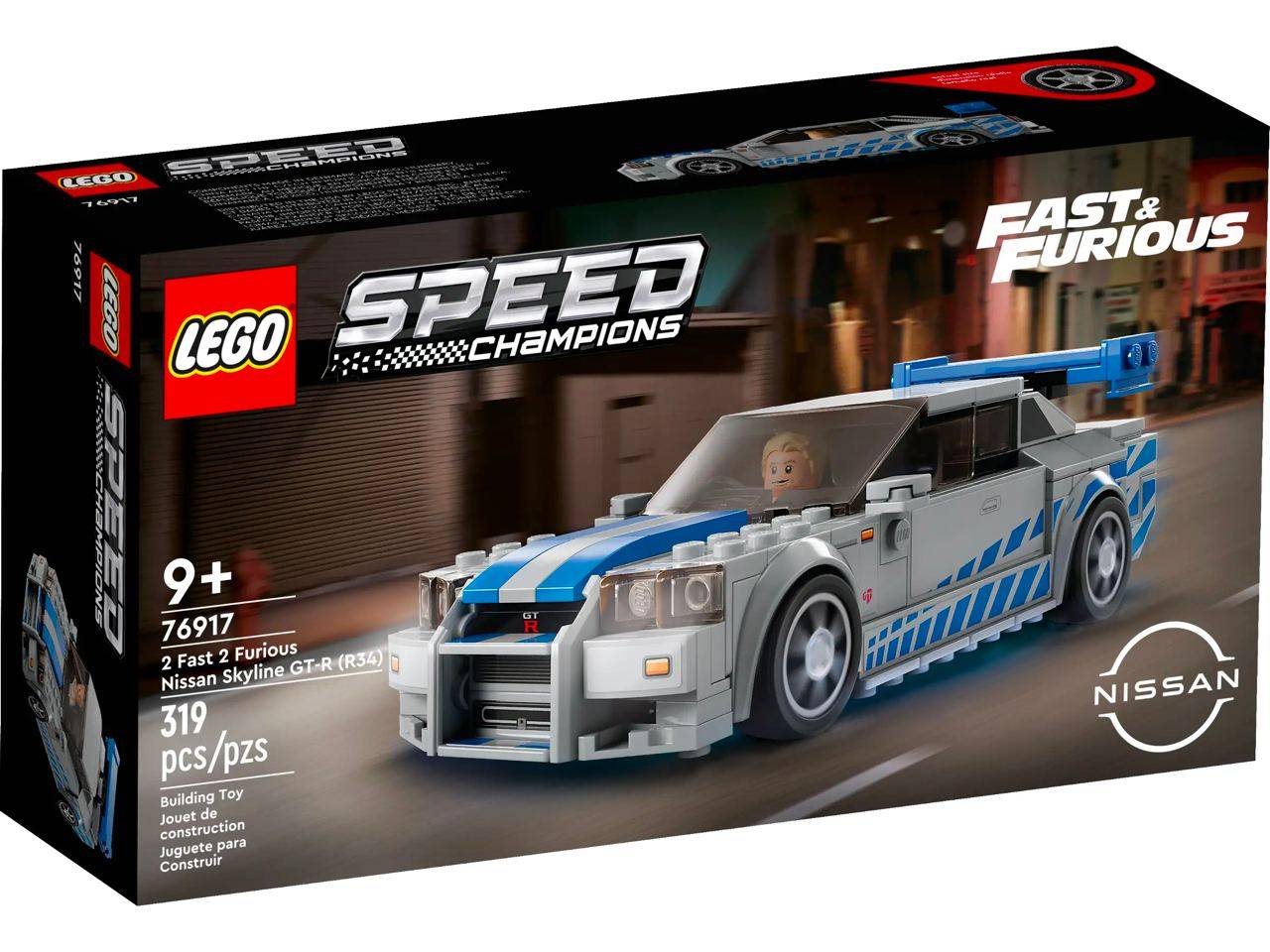 SET PRICE.
The Lego 2 Fast 2 Furious GT-R Nissan Skyline ( R34) set is now available and can be purchased directly from the Lego website or any Lego or Toy Shop in your area. If you want to purchase this Lego set, it is priced at 24.99 dollars on Lego stores and the Lego official website.
You should also expect this set's price to vary in your area of residence, depending on your currency exchange rate and the availability of the set in your location. Whatever the case, the set is still affordable, especially considering the details and features you are exposed to. And if the details are not still up to your standard, you could touch things up using our amazing Lego lights, which are sold separately.

MAKE YOUR LEGO 2 FAST 2 FURIOUS GT-R NISSAN SKYLINE (R34) SET LOOK BREATHTAKING WITH OUR SPECIAL LIGHTS.
Our Lego lights are designed to bring any set to life, with the Lego Nissan Skyline set not excluded. Our amazing lights are also custom made, with thin wires which could easily be hidden. This helps give you a nice and clean finish to your Lego set. Please visit our website now to understand our pricing and shipping. And once you finish your purchase, feel free to explore other amazing Lego set lights and how amazing they could make your Other Lego sets look. Assuming you have already purchased our amazing Lego lights, you might wonder how to install them. Well, stick around for a little while as we give you a few tips to help make your job smoother.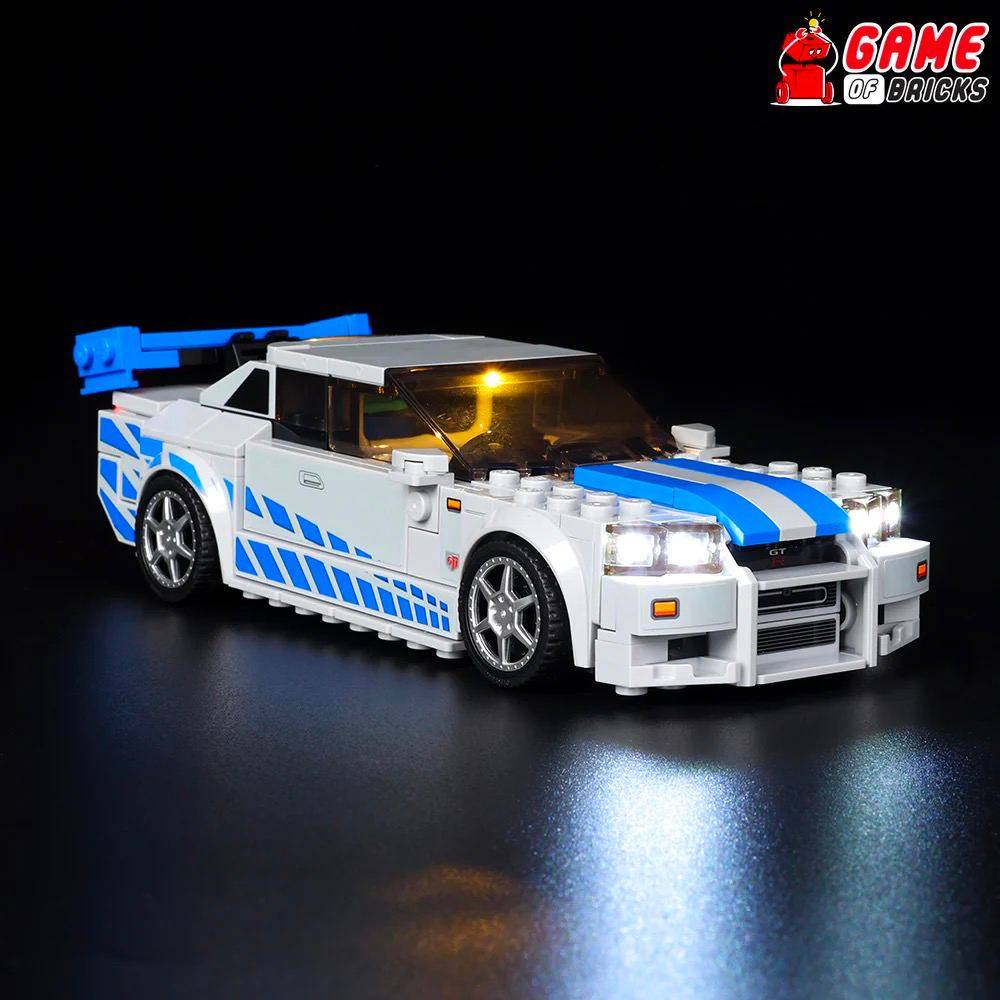 INSTALL.
You can only begin this process after completing the building of your Lego 2 Fast 2 Furious GT-R Nissan Skyline (R34) set. Now to do this successfully, each light kit has a special blueprint manual to help you through the process. There are also many videos and articles you could watch and read on our website before embarking on this journey. Feel free to make use of all the resources at your disposal.
TEST RUN.
Once you install your Lego set, you can take time off to test-run it, ensuring it is in the best condition. To do this, check for signs of short-circuiting, as this could help you quickly identify the problem. Once you have located the problem, be sure to fix it. Once you are sure that everything is in the best condition, you can finally relive your Epic Lego 2 Fast 2 Furious GT-R Nissan Skyline (R34) set to the world as you display and engage with your Lego set.
---