Enhance your writing technic with the LEGO Typewriter 21327 Set.
Writers have long used the typewriter as a way of telling stories and passing information. News media and the press houses also used it. As a writer, could you think of the article you ever wrote with a typewriter? Those where the good old days write? From the feedback to the iconic sound it makes when every time you type. But over the years, a lot had to change with the way we type. The typewriter had to be replaced with a much smaller and portable keyboard. But the love for the typewriter remains.

Are you a writer who never used a typewriter before? Do you wish to do so? Or probably you had one before and wished to relive the experience, and you can now. With the Lego typewriter, 21327 sets, you can relive the good old days by building your very own typewriter with all its authentic details. The Lego typewriter set was born out of the love of a Lego fan, who was also popular on the Masters UK champions, Steve Guinness. After leaving the show, Steve pitched his idea to Lego, thus came the rise of this fantastic set. This set would be an excellent gift to give to a friend who is a writer and fan of Lego. With the Lego typewriter set, fans can enjoy creating great content while engaging in a world of role-playing with this great set.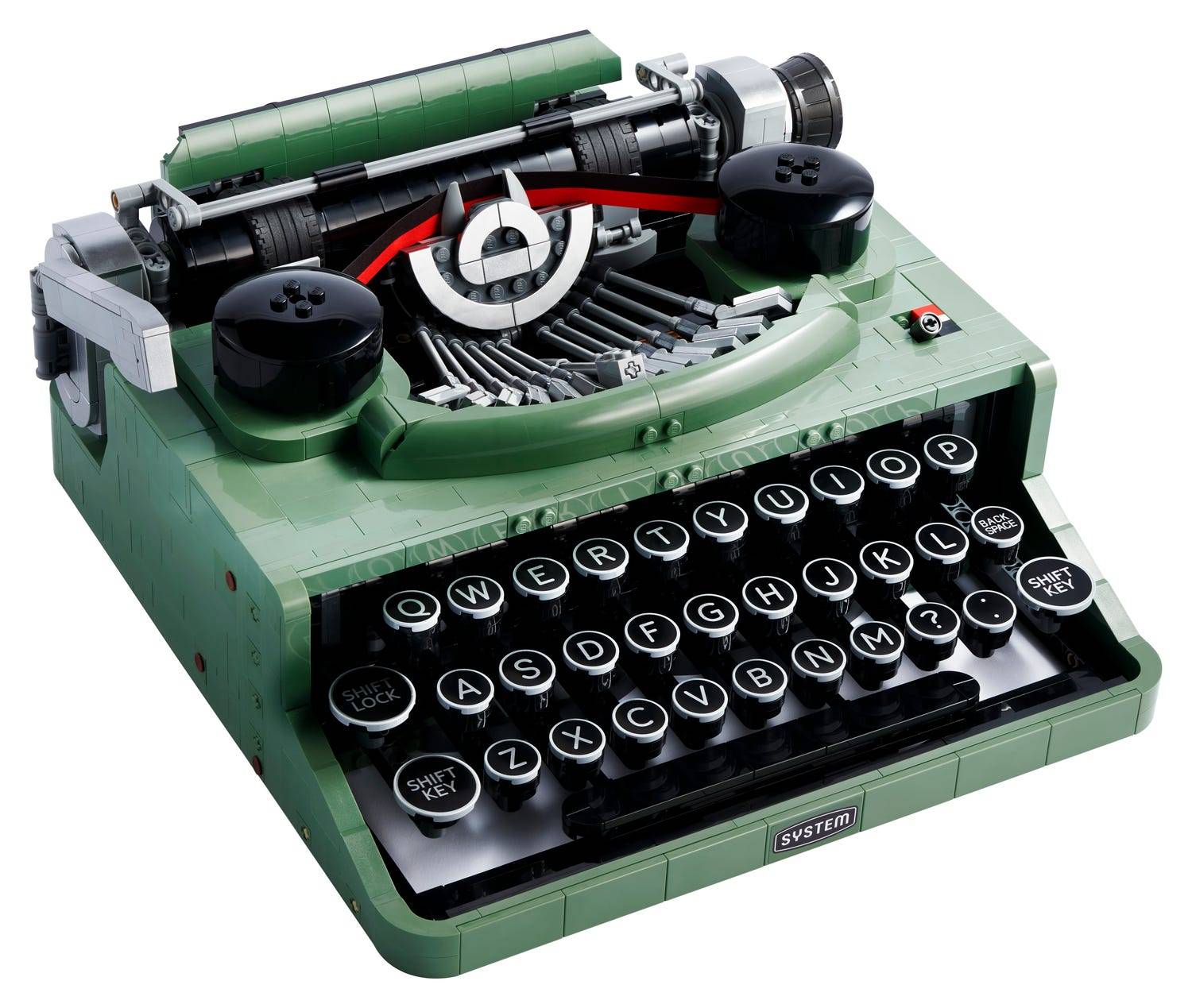 But what more do Lego fans stand to gain building this set? Let's find out as we discuss the building experience of this set.
BUILDING EXPERIENCE FOR THE LEGO TYPEWRITER 21327 SET. 
The Lego typewriter set is an excellent Lego set that encourages writers to tap into their skills while producing great content with this fantastic set. The set contains unique and authentic details, which will help set it apart from any other set out there. Plus, the set is unique and is very different from any set you would ever come across. The Lego typewriter set could be regarded as a medium-size set with a fun and challenging build. With the Lego typewriter set, builders would have to put together a sliding carriage, spoon ribbons, and a roller for holding down the paper. 
If you wish to get the best out of this set, it is highly recommended for you to build this set as a team. So get your writing team together, and work hand in hand to bring this set to life. Builders can take it a step further by engaging in role-playing. The Lego typewriter set gives both a rewarding and satisfying build, thanks to its fantastic display feature. This means that you could choose to display this set proudly among other Lego collections, or you could be even prouder by placing this set on your office desk. Feel like a writer in the 90s and early 2000s with the Lego typewriter set.
But what other cool features does this set possess? Let's find out more in the next section.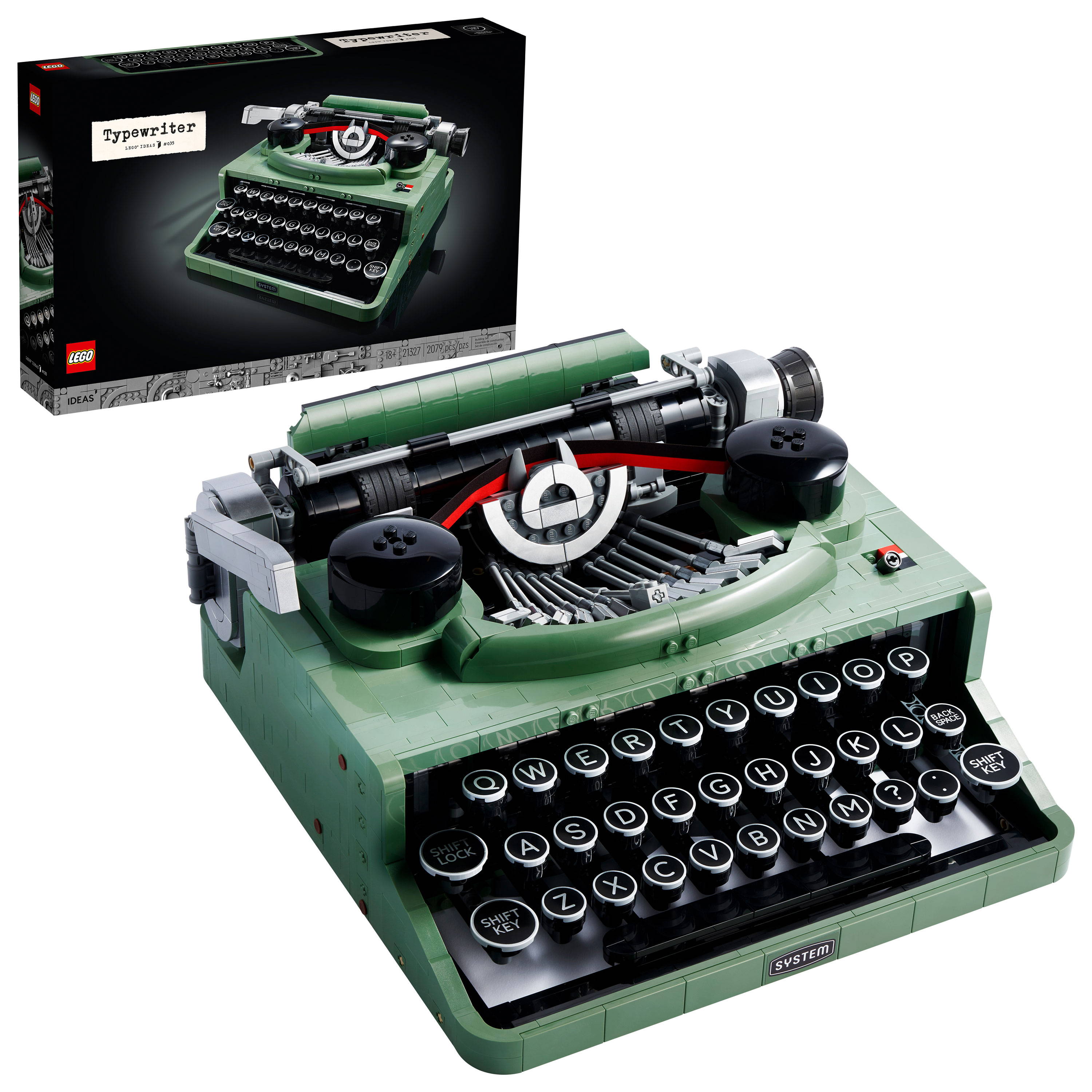 FEATURES OF THE LEGO TYPEWRITER 21327 SET.

The Lego typewriter set is packed with authentic details, making it fun to build and create scenes. This section focus on some of the iconic details of this set. So let's get to it, shall we?
• A DURABLE BUILD.
The Lego typewriter set is a product of top-quality Lego bricks, which adds to the overall realism of this set. Everything from its body to keys is a product of solid bricks. This makes the set durable and reduces the risk of the set falling apart in a minor conflict. Which makes this set safe around kids. Lego has also ensured that each brick connection is not only smooth but also detaches easily. So no need for Lego fans to worry about difficulty building this set, for Lego has made sure that both the attachment and detachment of this set are as smooth as possible.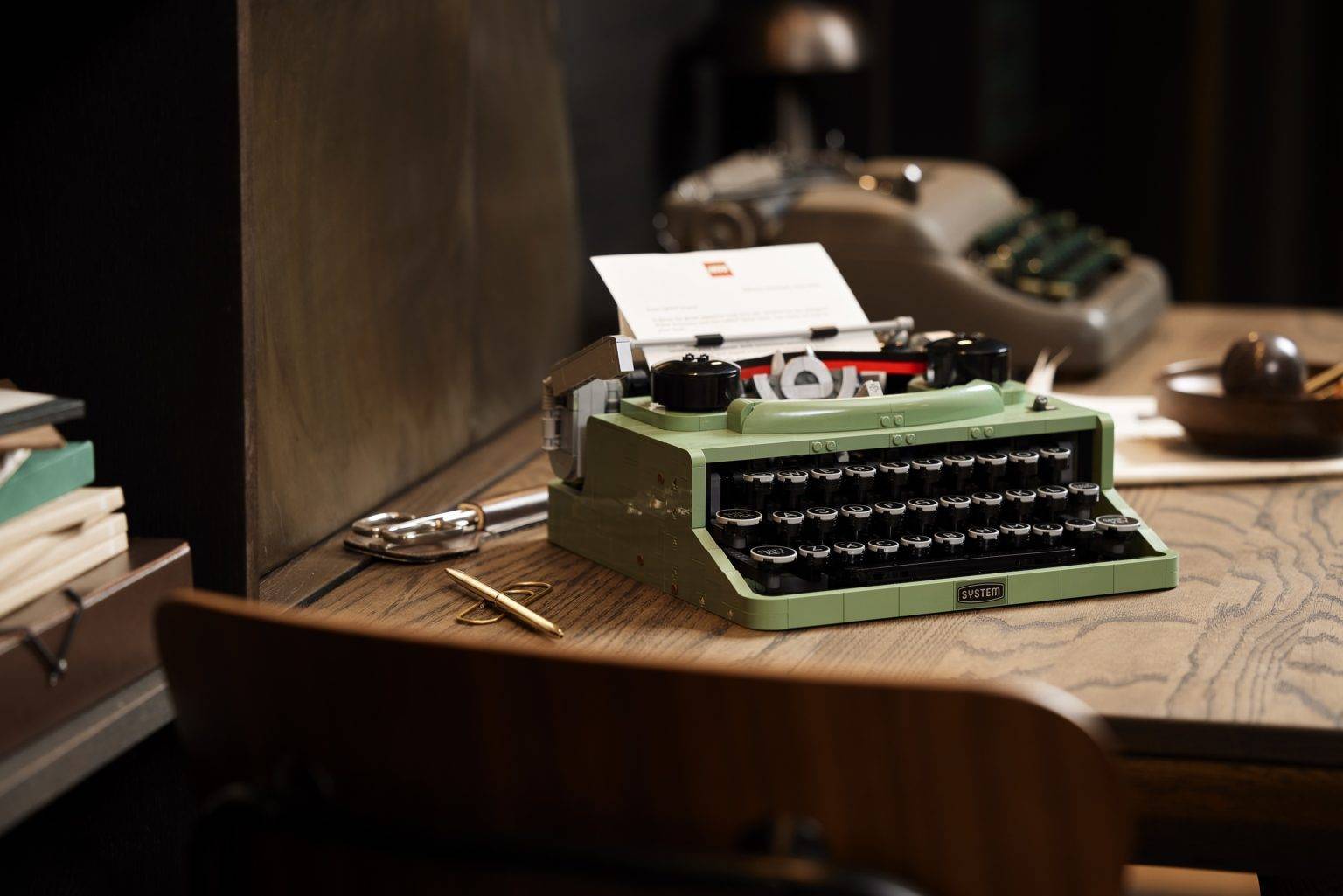 • LOTS OF AUTHENTIC DETAILS.
The Lego typewriter set is full of a lot of authentic details that make it not only look but feels like an actual typewriter. Everything, from the color, design, and build of this Lego set, looks and feels like a realistic typewriter. The set comes with printed character keys, which move gracefully on a sliding carriage, a black and red ink spoon ribbon, and a roller for the paper. It also gives off the unique sound produced when you write with an actual typewriter. This helps further add to the realism of the set.
• THE SET SIZE.
The Lego typewriter set could be considered a medium-sized set designed to look just like its real-life counterpart. And indeed, it does look like a typewriter. The set comes with over 2000 pieces of bricks, about 2024 pieces, to be precise. Though this set offers a challenging build, in the end, builders would have put together a typewriter set that is about 5 inches wide, 11 inches wide, and about 11 inches in diameter. The size of this set makes it fit as a display set.

The Lego typewriter set, just like all other Lego sets, can differ in size, depending on the country, store, and availability of the set. The Lego typewriter set could be purchased on lego.com, Lego stores, and even on Amazon. The set could be purchased on lego.com and Lego stores in the US for about 199.99 dollars. It could also be purchased at Lego stores in the UK, at about 179.99 euros and about 329.99 dollars in Australia. This set is a lot more expensive in Australia due to the lack of availability of the products in that country. If you wish to purchase this set, Lego.com will be your best bet.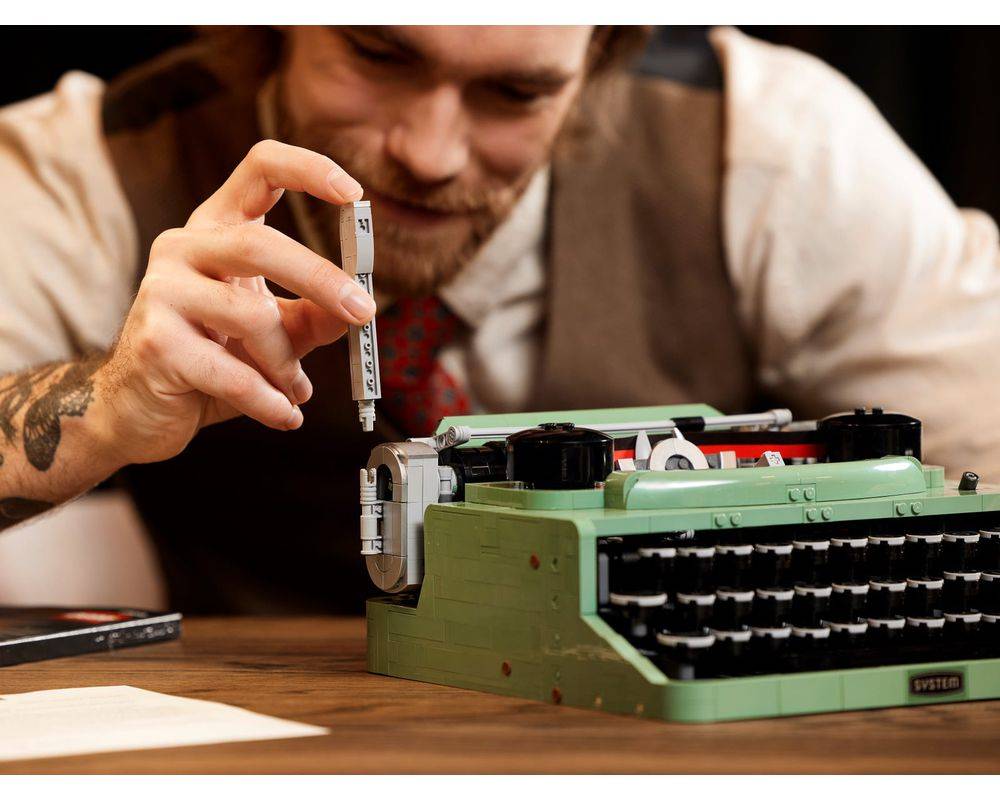 MAKE THIS SET LOOK EVEN MORE REALISTIC WITH OUR LEGO LIGHT KIT.
The Lego typewriter set is very realistic and looks like an actual typewriter. But this set could be made to look even more realistic with our unique Lego light kits. Is this your first time hearing of our light kit? Well, our Lego light kits help more life and are designed to look beautiful and stand out. Does that sound like something you would love on your Lego typewriter set? Then you can, by purchasing our special light kit from the game of bricks website. You might also be wondering how to install this special light kit. Well, let's look at a few things to keep in mind.
1. COMPLETE YOUR TYPEWRITER SET FIRST.
Before embarking on your light kit installation journey, it would be nice to finish building your typewriter set first. So the overall outlook of the set will depend on how well your Lego typewriter set looks. So ensure to take your precious time and do an excellent job in the building of the set. Once you are done building, then you can then purchase any light kit of your choice. After you have done so, you can finally move over to the next stage.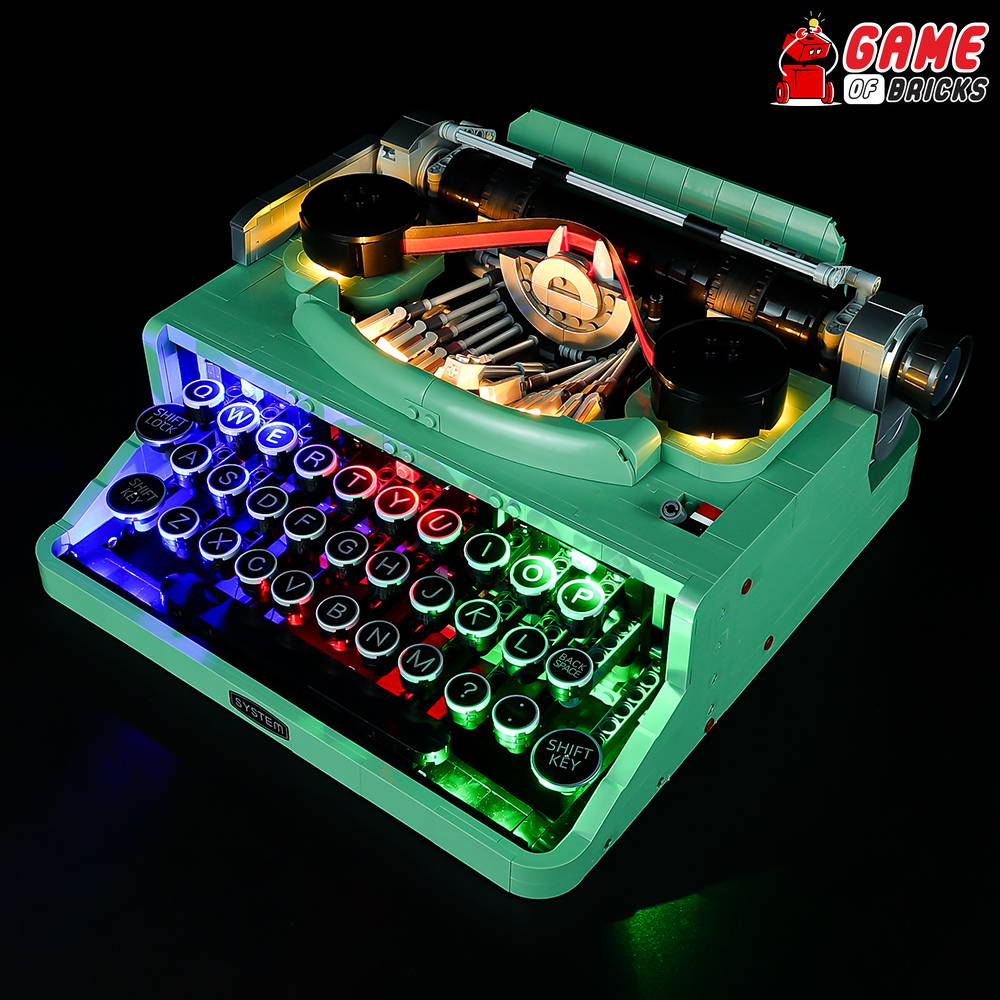 2. INSPECT YOUR LIGHT KIT AND ACCESSORIES.
By now, your light kit must have arrived finally. Now you must be excited and want to install right away. That great, but before you rush and install, take your time to inspect each light kit and accessories. This is necessary to ensure that each light kit and accessories are in perfect condition, as it is very common for them to get damaged during shipment. If all looks good, you can then move on to install your light kit. But if not, then it's best to request it be changed immediately.
3. INSTALL OUR LIGHT KITS USING OUR MANUAL.
Well, now you are about to install your light kit. It is best that, as a newcomer to our light kit, you make use of our manual to ensure that you do a great job. Our manual is simple to understand and includes diagrams to make your journey a whole lot easier. As you install our light kit, remember that each light kit and accessories must safely be passed through each Lego brick. Ensure though not to force light kits through the bricks, but carefully fit them through. This will help ensure that your result is a whole lot better.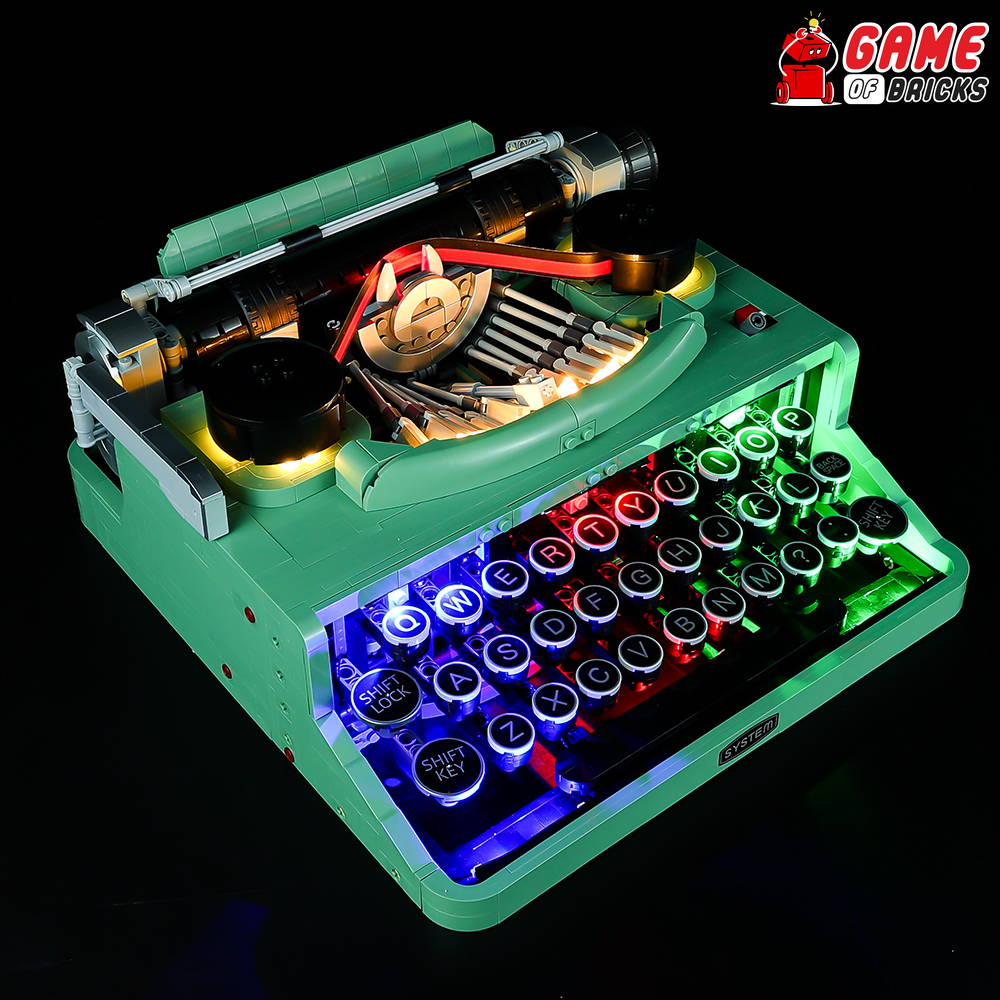 4. TEST YOUR LIGHT KIT TO ENSURE IT WORKS PERFECTLY.
Now, it's almost all over, but before you wrap it up, ensure to test it to ensure that everything works perfectly. It is crucial to search for signs of short-circuiting, for it could help signal a problem. Also, ensure you use a strong enough battery. If all looks good after all is said and done, proudly put your set on display for all to see!!!
---