Recreate one of the most iconic tourist attractions when you build the LEGO Eifel Tower 1:300 10181 Set.
The Eiffel Tower is one of the biggest and most truly magnificent structures ever created. The set is a work of art located in the heart of France. The Eiffel Tower, among other things, is why France is so popular today. Millions of tourists worldwide can be seen sweeping into France to get a glimpse of this amazing structure. Standing beside the Eiffel is worth intimidating, given that the building is so tall that you may not see the top from the bottom. The Eiffel Tower also contains an Elevator that can access the middle and top of the set, depending on how brave you are and how much money you are willing to spare. From the very top, it's almost like you could see the whole city of France, making it truly worth the money you put in. Although the Eiffel Tower is a sight, only some people will be financially ready to go to France anytime soon. You do not need to worry if you fall into the category of such ones. 

Why? Because whether you have visited or planning to visit the Eiffel Tower, you could have a high chuck of it on display in your living room, so you never need to visit the Eiffel again. How is this possible? It is possible thanks to the Lego Group release of what fan arguably says is the largest Lego set ever created, the Lego Eiffel Tower 1:300 10181 set. This Lego set has been designed to perfectly replicate the look and feel of the real-life Eiffel Tower. The set comes with over 10,000 pieces which may look like a lot of work, but it is truly worth it, especially if you are a huge fan of the Eiffel Tower. Another very cool thing about this set is its building experience. In this post, we will look into all there is to know about the Lego Eiffel Tower set. Let's start with the Lego sets-building experience.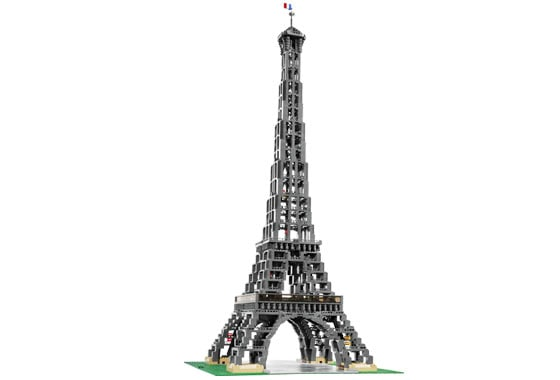 AN AMAZING BUT TEDIOUS BUILDING EXPERIENCE FOR THE LEGO EIFFEL TOWER 1:300 10181 SET.
As far as large Lego sets go, the Lego Eiffel Tower takes its place at the top of the Lego set chain. The set comes with over 10,000 large and tiny pieces divided into three smaller boxes raped inside one huge box. The set can be divided into three main building stages, which are shared above 41 smaller sections. Building the set at a stretch, without taking any breaks in between, could take an even very experienced builder up to 14 hours. This means that to get the most out of the set, you must set aside enough time to get the work done. Another way to approach the building of this set is to share it across three days. On day one, you could build box one and the other boxes on days two and three.
The Lego Eiffel Tower has three instruction manuals containing information for each building stage. This means that you can build this set with others. If you live alone, you could invite friends and workmates to help lighten the load. And if you are a family man or woman, you could make this a family affair. And in doing so, you do not need to worry about those you would be inviting being inexperienced. This is because the manuals contain detailed step-by-step information on what is involved in building this set. The manual also details the Eiffel tower and what makes it so special. This could be a great learning experience for your kids and you. Overall, the Lego Eiffel Tower offers a truly satisfying building experience. And although some of the building is a bit repetitive and tedious, you immediately forget how tedious it is once you see the set displayed. Now, let's look at some of the amazing features of this Lego set.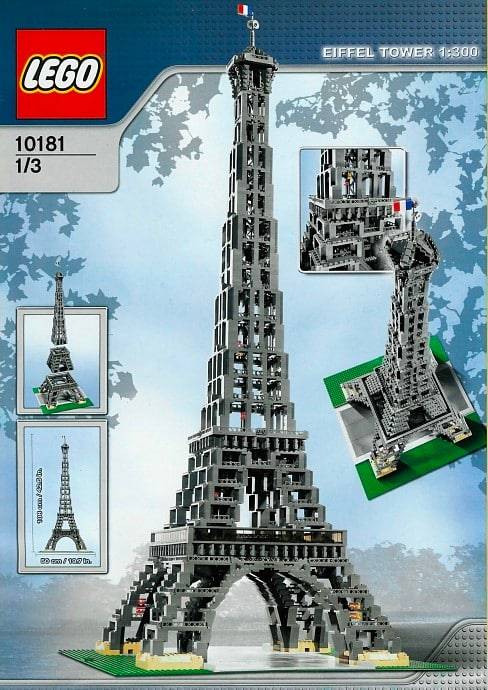 ALL THE AMAZING FEATURES OF THE LEGO EIFFEL TOWER 1:300 10181 SET.
AUTHENTIC DETAILS.
The Lego Group tried their very best to stay as true to the original design of the Eiffel tower as possible. At the base of the set, you see a lot of Lego Elements representing trees and plants, representing the feel of the park in France where the Tower is situated. Though Lego could not get the set as big as the original Eiffel Tower, they did their best to make it feel like you were looking at the actual Tower by making it a giant, compared to other Lego sets you might own. And remember some amazing details you could easily overlook, like the Elevator designed In between the Eiffel, just as it appears on the actual Eiffel Tower.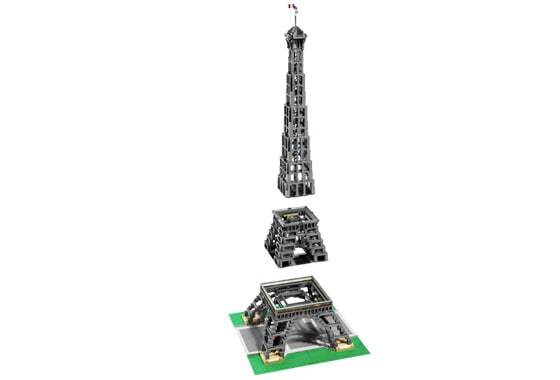 TOP QUALITY MATERIALS.
The Lego Eiffel tower is designed using the best materials. It is important to note that this Lego set does not use solid bricks throughout the set. The Eiffel is supported by the four Huge Legs, the base plate, and gravity. This means that once the set is built, there are only a few places you could lift this set from without pieces needing to be reattached properly. However, this does not mean that the materials used to build this set are not quality. It means you would need to exercise more care than other Lego sets. The Lego Eiffel Tower is a top-quality set and safe to build and display.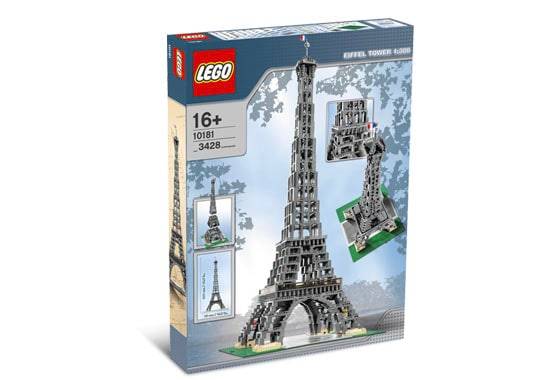 SET SIZE.
This post will only be complete with writing about the size of the Eiffel Tower. The set comes with 10,001 pieces which are a thrill to put together. The Lego set is super huge and comes with sights to see. Once completed, the Lego sets stand at a towering height of about 59 Inches. The Lego set is also 23 inches wide and 23 inches in dimension. This makes this set so tall and wide that it will most likely be displayed on the floor.
SET PRICE.
The Lego Eiffel Tower is now available and can be purchased from any Lego store or directly from the Lego website. The Lego set stands at being one of the most expensive Lego sets out there. It's number three. The set is sold for about 629.99 USD. And before you run off and say it's too pricy, we assure you that it's a truly satisfying set worth every penny, especially if you are a fan of the Eiffel Tower. Once you have built this set, you can include our amazing Lego lights. Why? Let's find out.

MAKE YOUR LEGO EIFFEL TOWER ONE OF THE VERY BEST WITH OUR AMAZING LIGHT KIT.
Our Lego lights are designed to make your Lego set stand out. Unlike other Lego lights, ours comes with thin wires, which You can easily hide between Lego bricks. Installing our Lego lights in your Eiffel Tower will take its display to a new level, leaving all who see it speechless. But installing our lights could be a bit challenging, especially if you are a beginner. Here are some steps that will make the process a lot easier.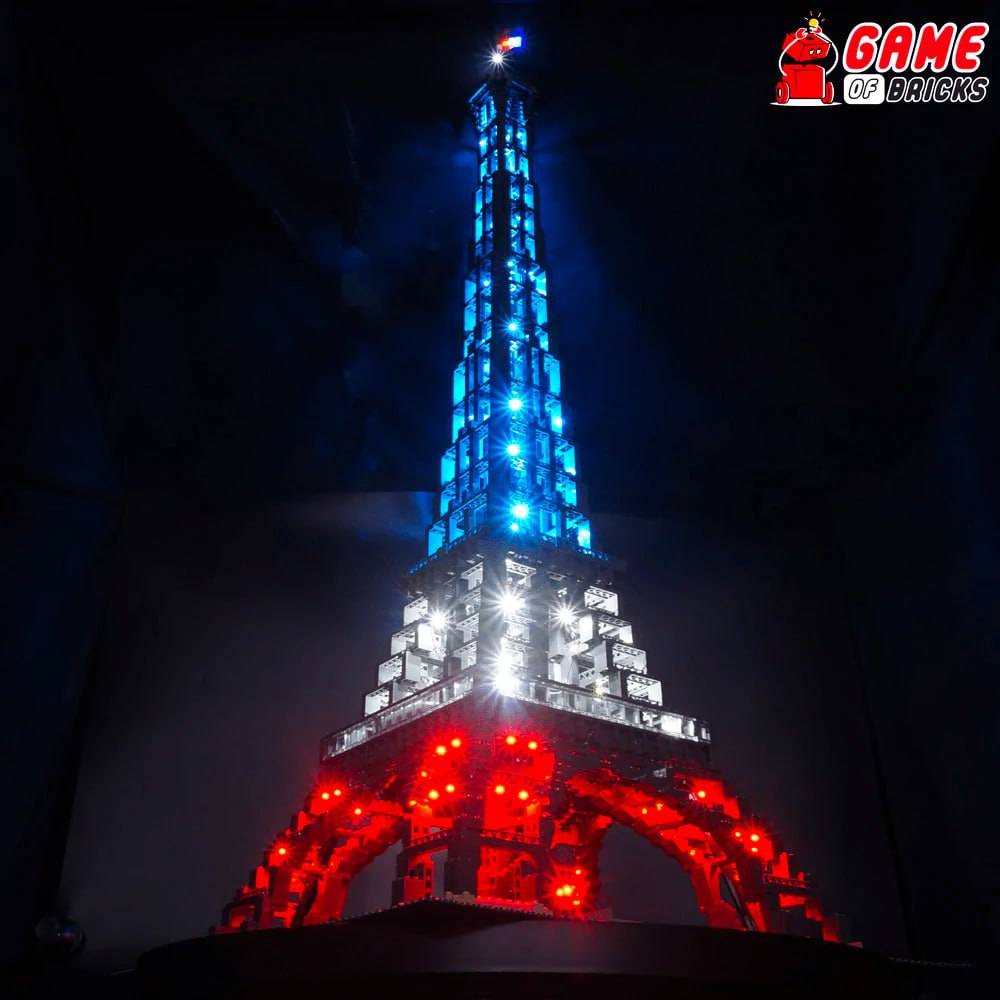 COMPLETE YOUR EIFFEL TOWER SET FIRST.
Before moving on to installation matters, it's best to carefully put your Eiffel Tower set together first. Failure to do so would be like wiring an uncompleted building. So you now see the importance of completing your set first. Doing so will help you know what type of light kit to use for your set. It is also best to finish your set before purchasing any light kit. This will help you to give one hundred percent of your time to your Christmas wreath set.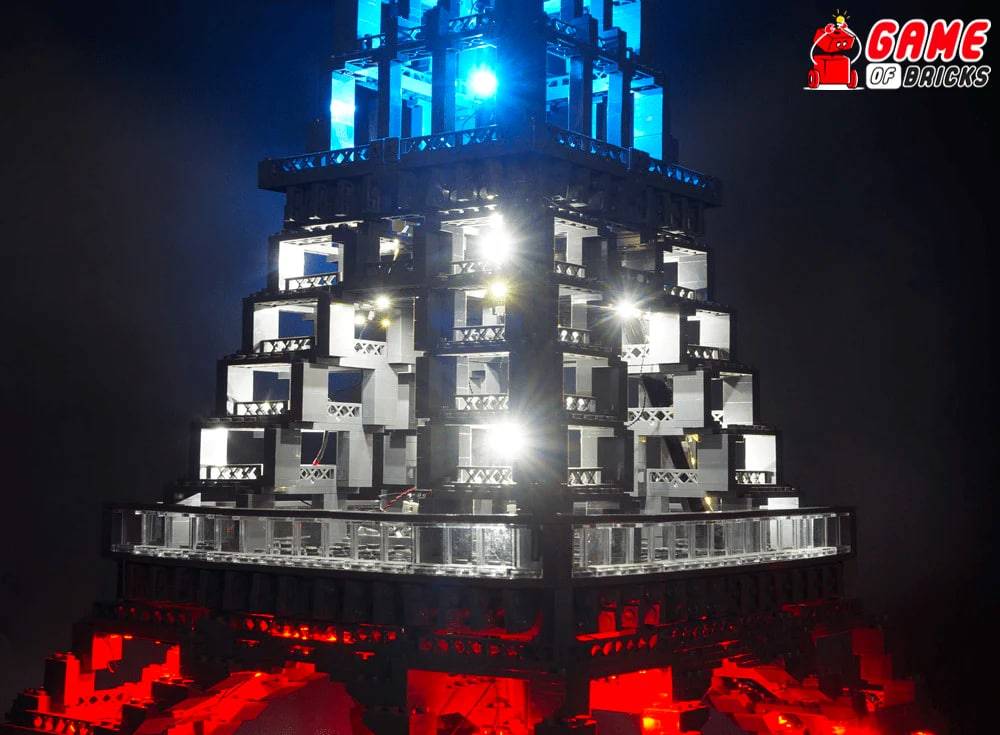 INSPECT ALL LIGHT KITS AND ACCESSORIES.
After you have been done building your set and ordering your light kit, inspect each light kit and accessory appropriately. Check out any broken parts or cut wires in your kit. It is important to check for any damages before you install your kit. This will help save you time and money. Figuring out these damages on time can help you take full advantage of the warranty card with every light kit. Once you have done all inspections and everything looks good, you can install your light kit.
INSTALL YOUR LIGHT KIT.
Now, if you are new to this, how? Fortunately for you, each light kit and accessory come with easy-to-understand, step-by-step manuals on how to safely and neatly install your light kit and accessories. So, do well to follow those instructions to the letter. You are less likely to run into trouble if you install our light kits and accessories. As a tip for new light kit users, please follow it one step at a time.
TEST-RUN YOUR LIGHT KIT.
As soon as you are done installing, ensure you test-run it first. Doing so will help you know whether or not it is safe for all to see and will cause no harm to those that will come in contact with it. As you test run, watch out for Sparks and short-circuiting, this will help you identify the problem. Also, ensure you use a powerful battery to hold your light kit. Once all checks are done, and all looks good, enjoy watching your friends stop and stare in awe at the amazing Eiffel Tower 1:300 10181 set.
---