Disney Magic Reimagined: A Review of the LEGO Mickey Mouse & Minnie Mouse Buildable Characters Set 43179
By

Eve Alessa Arevalo
/
August 13, 2023
Embracing a perfect blend of nostalgia and novelty, LEGO brings to life two of the most beloved Disney characters, Mickey Mouse and Minnie Mouse, in the 43179 set. With a grand total of 1,739 pieces, this delightful duo offers an immersive building experience and a striking end product that's equally impressive as a display piece or a playful addition to any LEGO collection.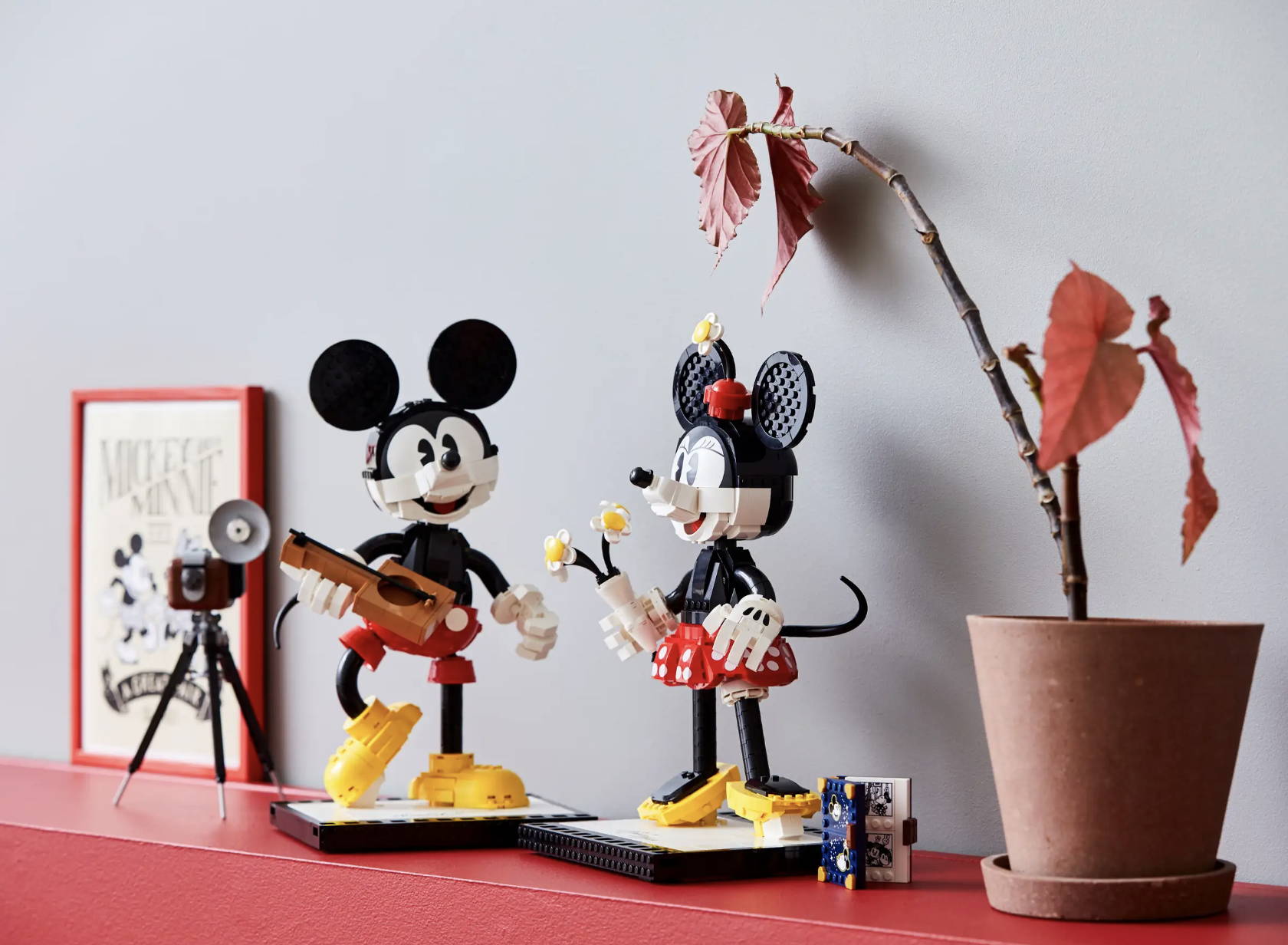 A. Main components or areas:

The set is composed of two primary buildable figures - Mickey Mouse and Minnie Mouse, both of which are impressively large and well-detailed. The iconic characters stand at around 14 inches tall when fully assembled. The set also includes a compact film camera accessory and a delightful, color-coordinated photo album with stickers.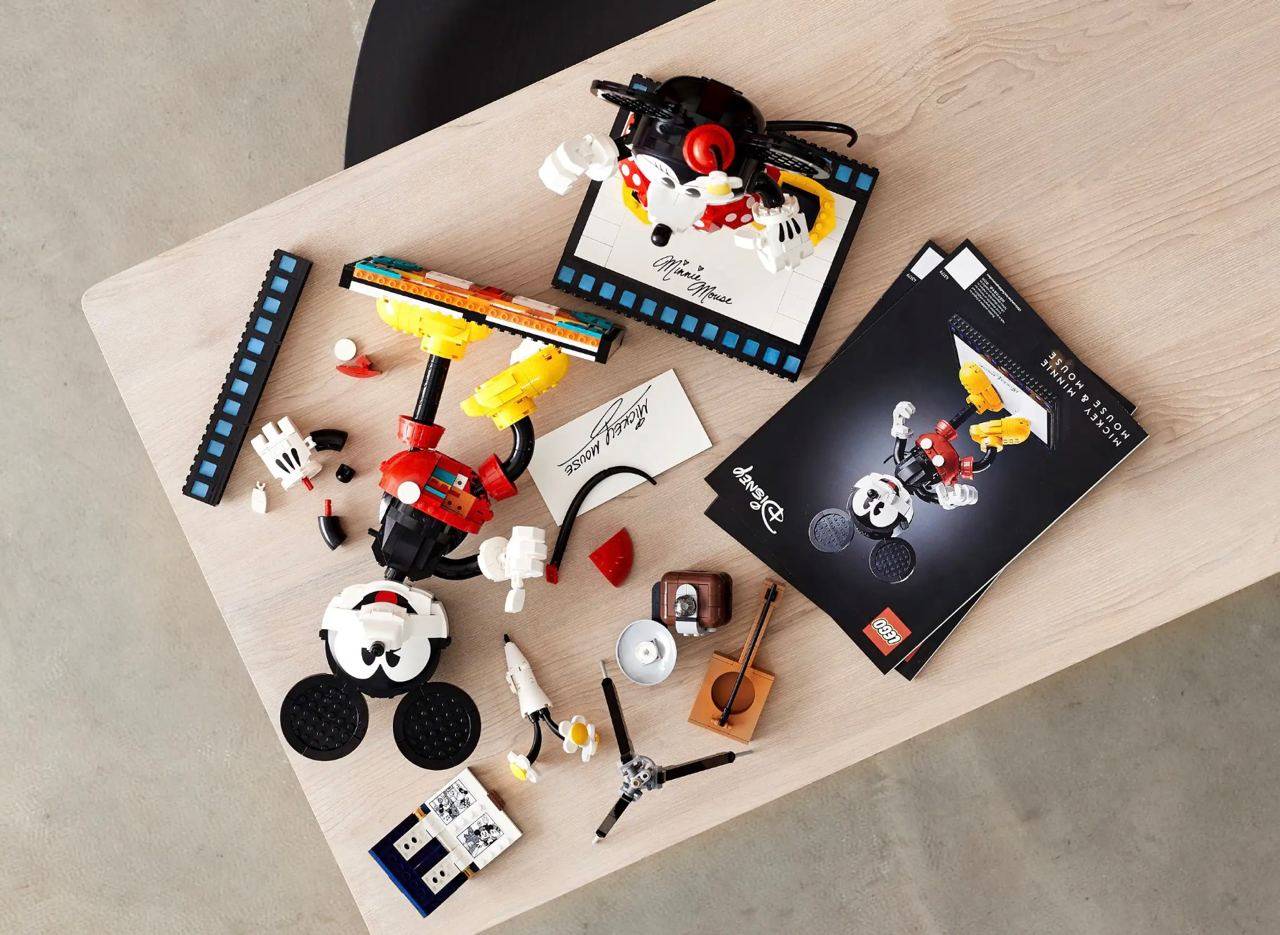 B. Minifigures:
This LEGO set takes a departure from the conventional minifigures found in other LEGO sets, as Mickey and Minnie themselves are the focal point. Their figures are intricately designed with adjustable arms, legs, and heads, providing them with lifelike poseability.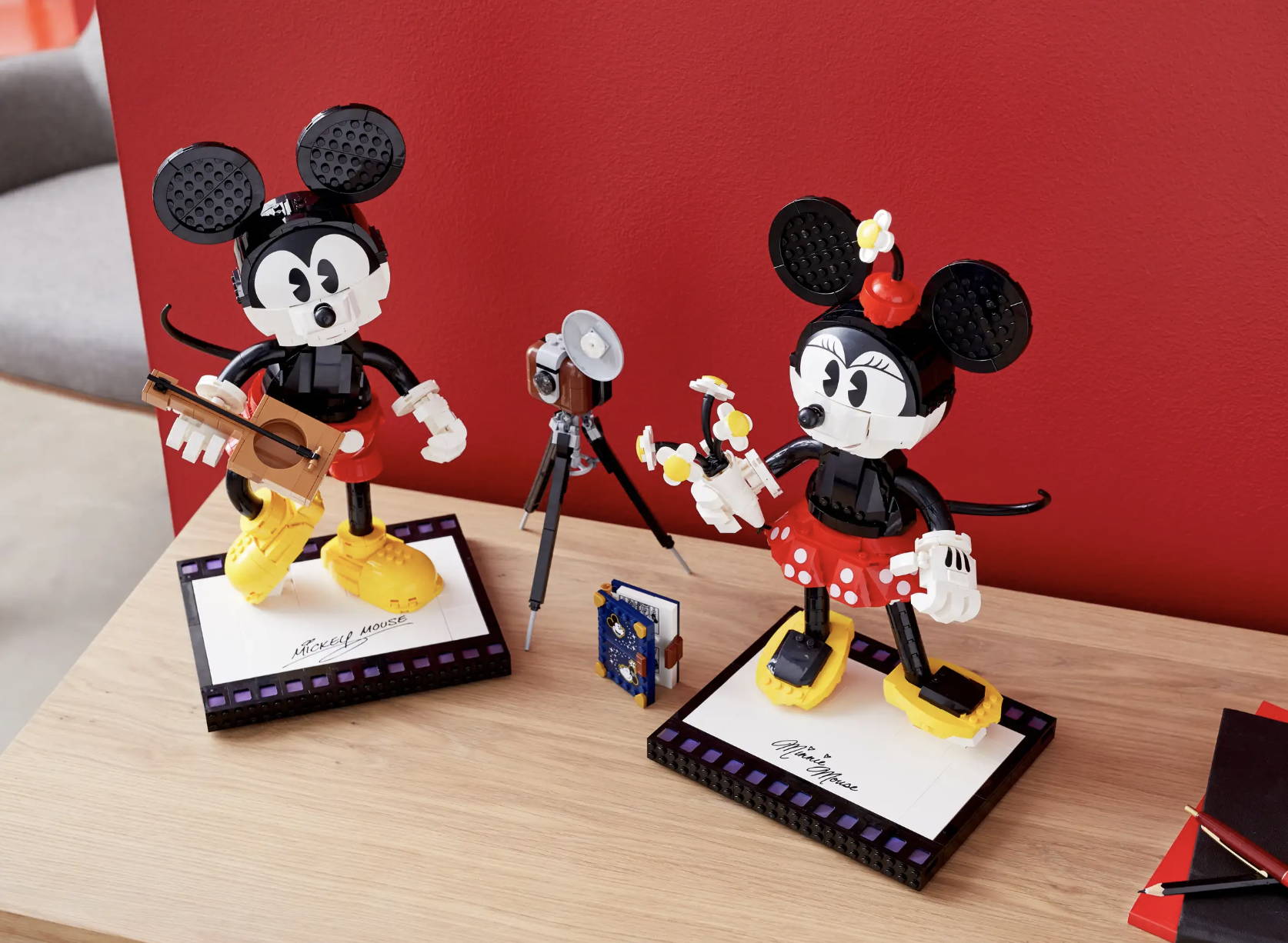 C. Accessories and decorations:
In addition to the primary figures, the set includes several accessories that add to its charm. The film camera, tripod, and photo album offer a nostalgic nod to the vintage era of Mickey and Minnie. Decorative elements such as the 'steamboat wheel' decorated element, the guitar, and the parrot figure add to the set's uniqueness.
A. Complexity and engagement:

Building Mickey and Minnie requires both attention to detail and patience, making the process highly engaging for older kids and adults alike. The characters have intricate internal structures to provide stability, adding a layer of complexity that is bound to challenge even seasoned builders.
B. Instruction manual and building process:
The instruction manual is clear, concise, and well-illustrated, guiding builders through the process with ease. The building process is divided into several stages, allowing you to focus on one part of the character at a time. This helps to make the process feel less overwhelming, and the sense of accomplishment upon completion of each stage is truly rewarding.
Playability and Entertainment Value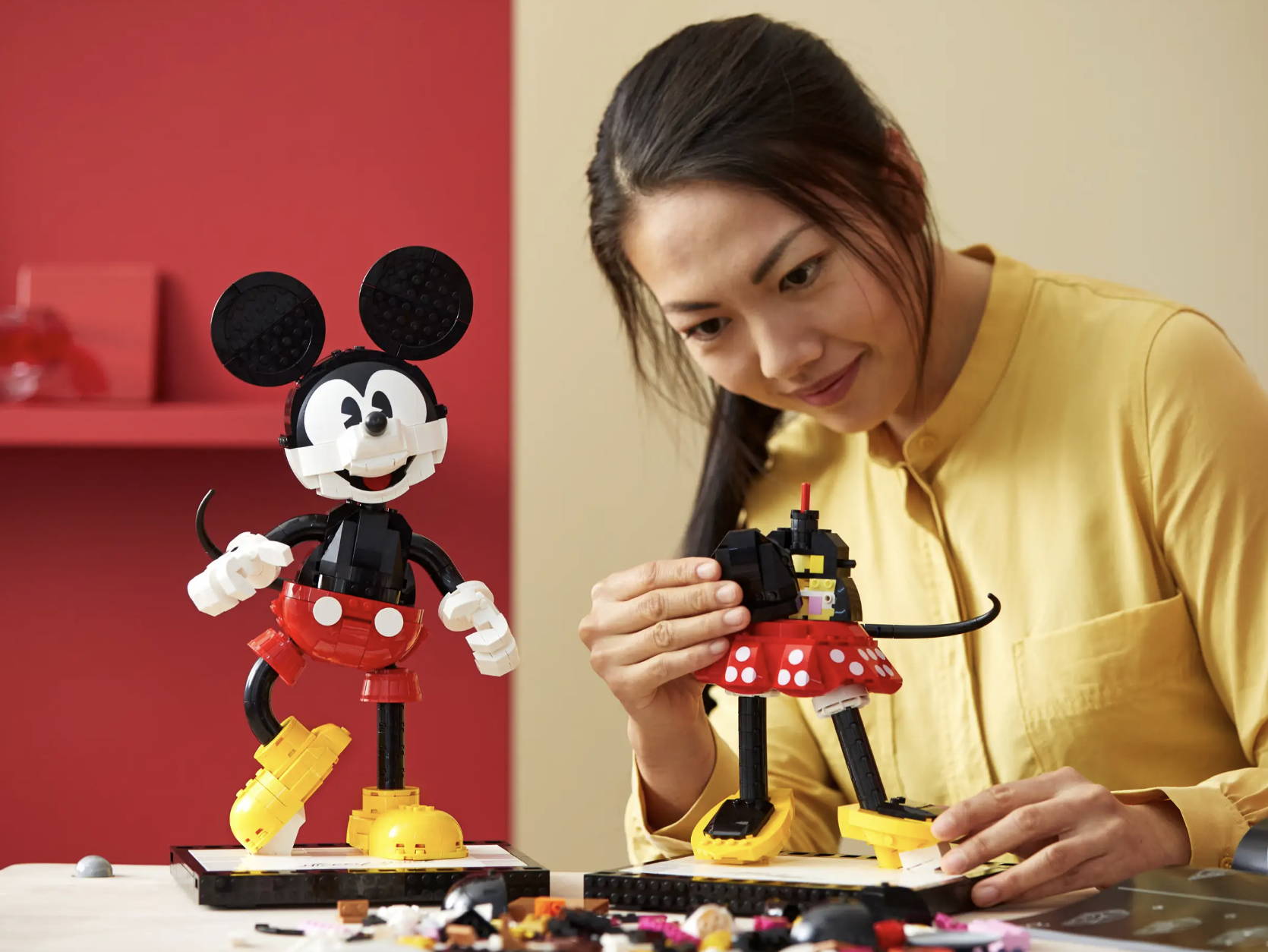 A. Interactive features:

The poseable nature of the characters greatly enhances the interactive aspect of this set. You can recreate iconic moments from Disney history or come up with your own stories.
B.Opportunities for imaginative play and storytelling:
The set provides plenty of opportunities for imaginative play. The presence of the camera and photo album accessories also opens the door to countless storytelling scenarios involving the adventurous pair.
A. Number of pieces and design:

With 1,739 pieces, this set offers a substantial building experience. Given the size, the detailed design of the figures, and the various unique accessories, it provides good value for its price.
B. Compatibility with other LEGO sets and themes:
Although it does not directly connect to other LEGO sets, it's thematically consistent with other Disney-themed LEGO collections. It serves as a unique centerpiece in any LEGO arrangement and can stand alone as an impressive display piece.
Pros and Cons
A. Pros:
• Detailed and well-designed characters
• Interactive features enhancing playability
• Good value for the number of pieces
• Nostalgic, appealing to both Disney and LEGO enthusiasts
• Offers a challenging yet rewarding building experience
B. Cons:
• Lack of traditional minifigures might disappoint some
• Not directly connectable to other LEGO sets
• May be too complex for younger children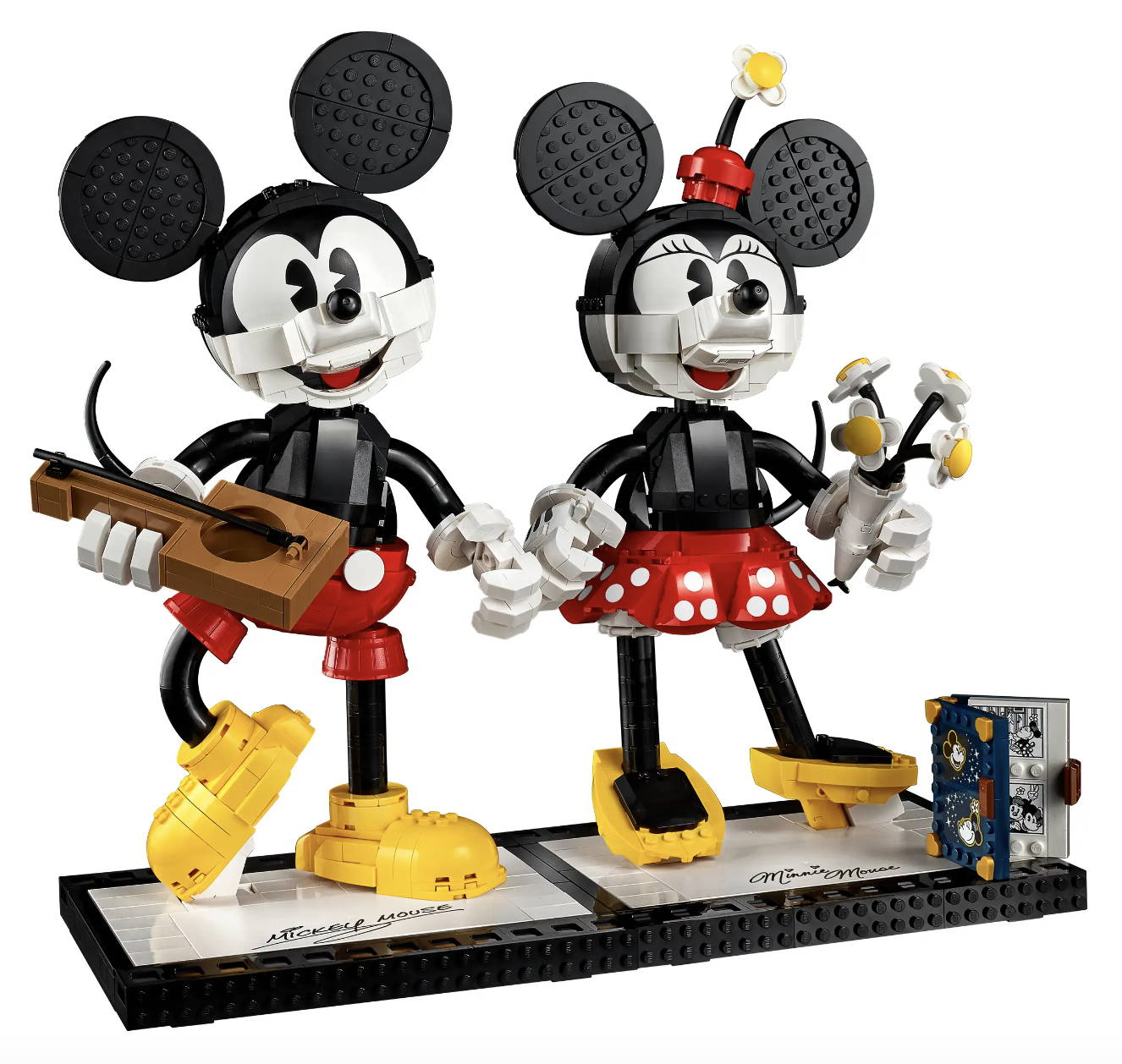 Final Thoughts and Recommendations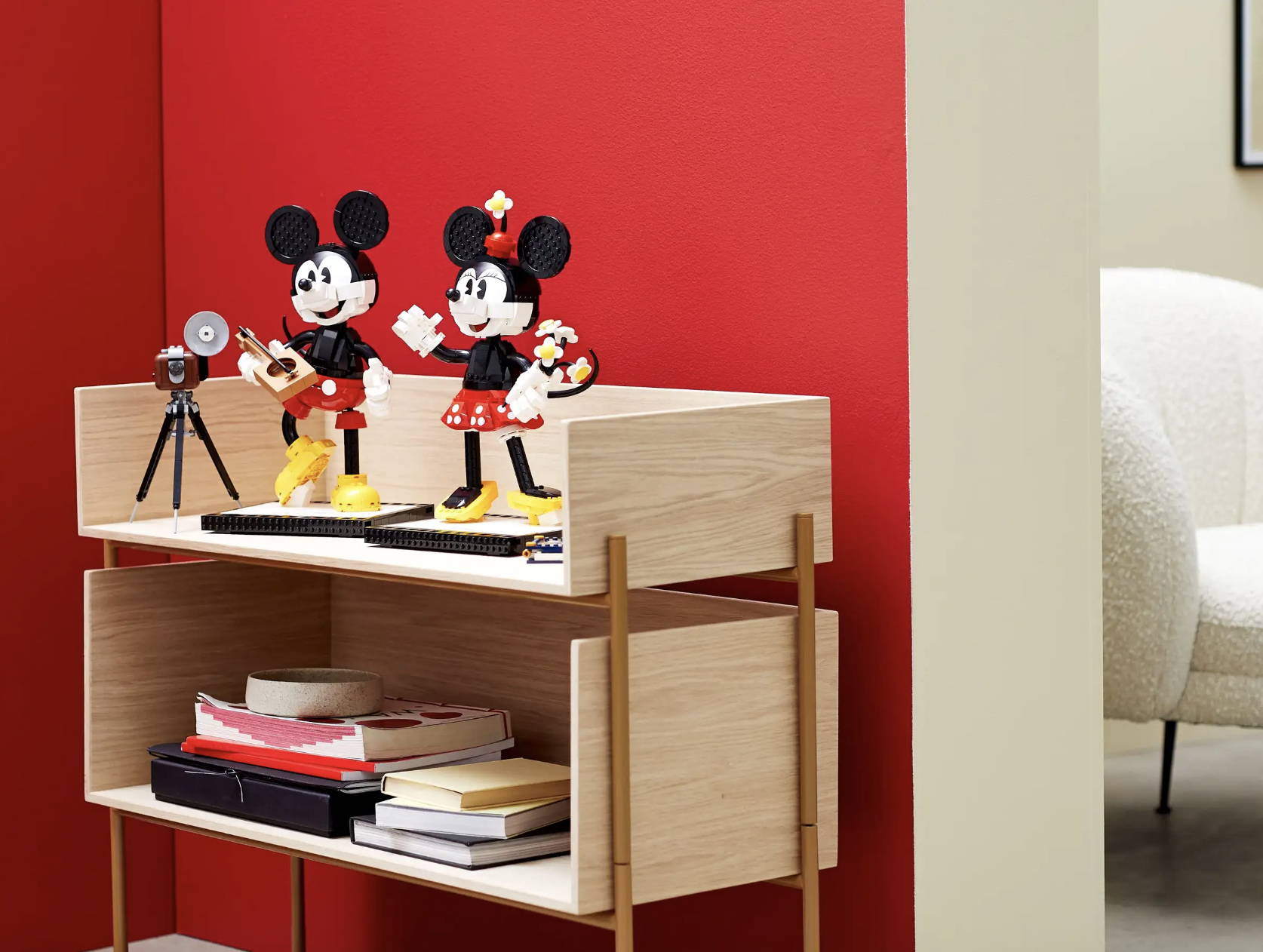 A. Summary of the set's appeal:
The LEGO Mickey Mouse & Minnie Mouse Buildable Characters Set is a captivating blend of nostalgia, sophistication, and playability. It succeeds in delivering a challenging building experience and results in an impressive display piece that celebrates two of Disney's most iconic characters.
B. Target audience and overall value:
While younger children may find the complexity of the set challenging, it's an excellent choice for older kids, adults, Disney fans, and LEGO enthusiasts who relish an engaging build. Its appeal stretches beyond simple playability, offering considerable aesthetic value as a display piece. Overall, it's a charming investment that captures the essence of Disney magic.
The LEGO Mickey Mouse & Minnie Mouse Buildable Characters Set (43179) is a testament to the imaginative spirit of LEGO. It's a nostalgic yet innovative offering that stays true to the essence of both Disney and LEGO, blending their collective magic into a set that is both fun to build and beautiful to behold.
Illuminating the Magic: A Review of Game of Bricks Light Kit for Mickey Mouse & Minnie Mouse Buildable Characters 43179
Disney and Lego are quintessential elements of many childhoods and adulthood nostalgias alike. Marrying these two popular pastimes is the Mickey Mouse & Minnie Mouse Buildable Characters 43179 set. Yet, the real charm lies in the Game of Bricks' Light Kit that takes these beloved characters from a delightful daytime display to a radiant nighttime spectacle. This kit is not merely an accessory but an enhancement that breathes life into these timeless characters.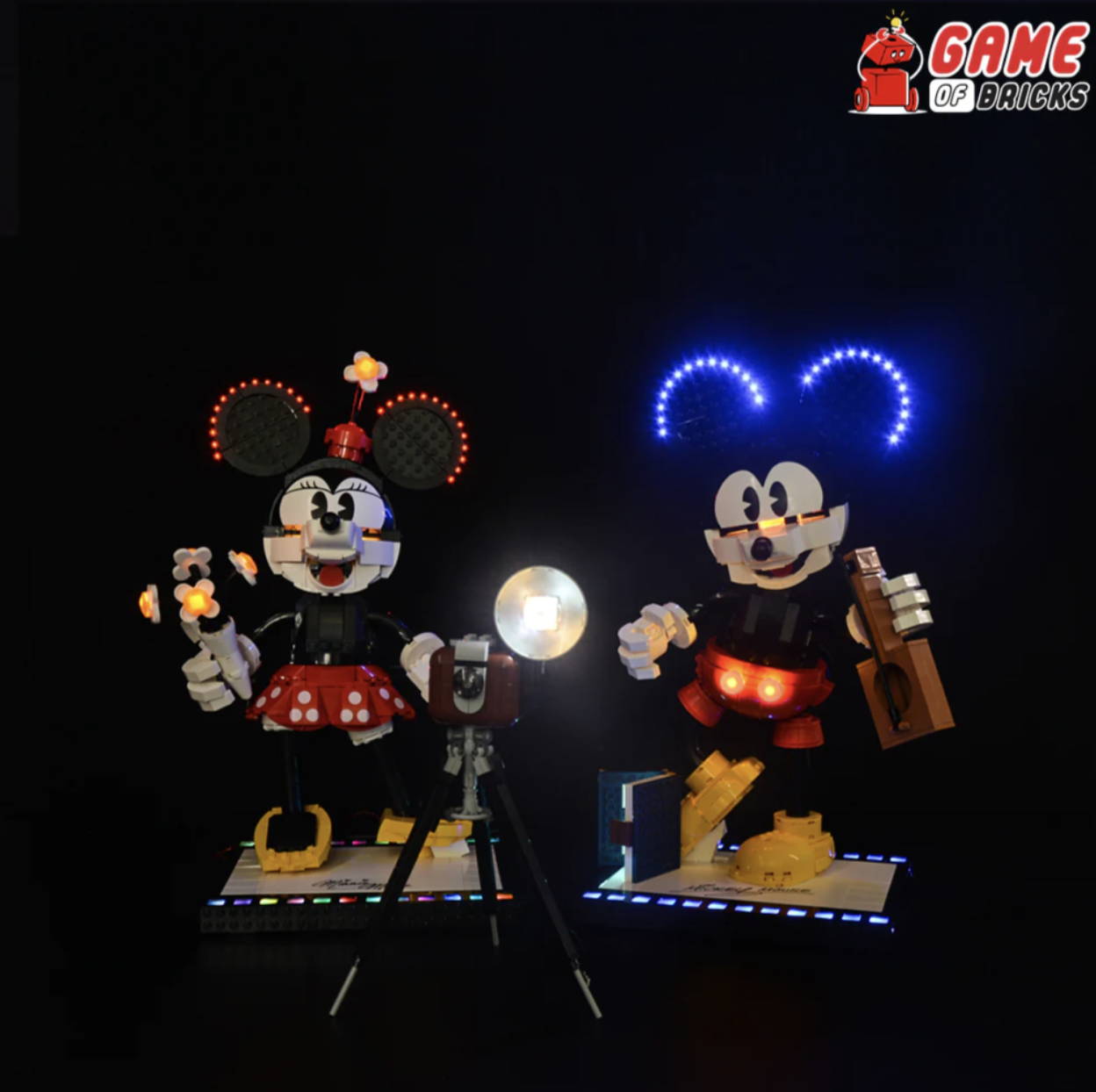 Easy Installation
The first attribute of note is the ease of installation. The packaging comes with a detailed instruction manual that provides clear, step-by-step instructions for the technologically intimidated and adept alike. Each LED light is perfectly shaped to fit specific parts of the Mickey and Minnie models, making it an effortless exercise of matching pieces to their respective places. The connecting wires are thin but sturdy, enabling them to weave subtly throughout the structure without affecting the model's aesthetics.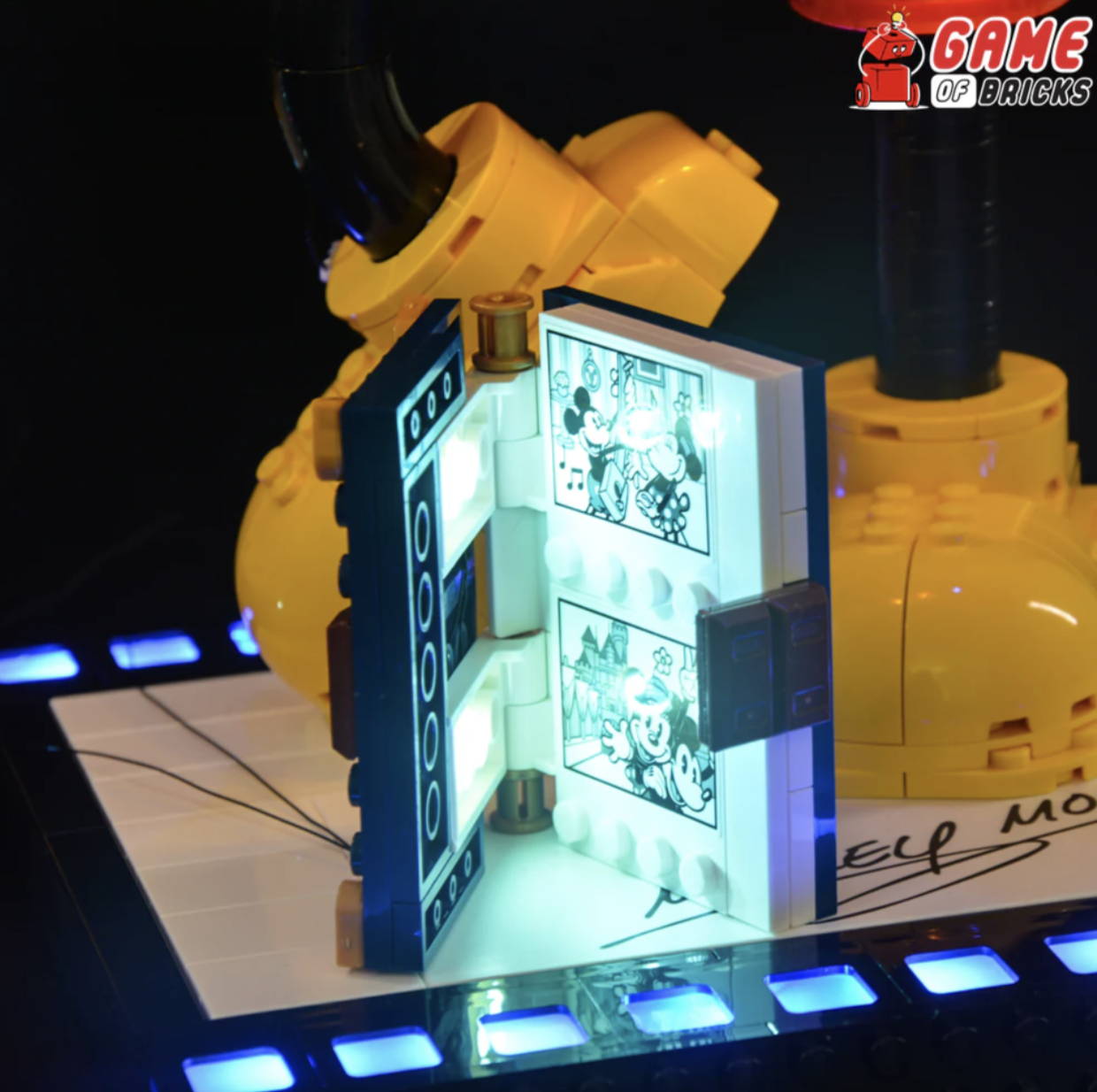 Enhanced Details
With the installation complete, the brilliance of the light kit truly shines. The illumination adds a dimension of depth and highlights the intricate details of the buildable characters that may otherwise go unnoticed. Mickey's signature gloves and Minnie's bow glow with a warm and inviting light that beckons admirers and encapsulates the enchanting Disney atmosphere. The enhanced details give life to these stationary characters, turning them from mere models to animated, vivid spectacles.
Customizable
Another major plus of the Game of Bricks' Light Kit is its customizable nature. Users can control the intensity and flash rate of the lights, allowing for a more personalized display. Whether you prefer a soft, steady glow or a vibrant, twinkling pattern, the light kit accommodates your preferences, ensuring your Mickey and Minnie models shine just as you envision.
Durability

In terms of durability, the light kit impresses. The LEDs, connectors, and wiring are all of high quality, promising longevity even with prolonged use. The lighting components withstand handling during installation and are sturdy enough to last, providing many nights of luminous enjoyment. The lights themselves are bright and unfaltering, their brilliance unfaded over time.

Minor Downsides

The kit, however, is not without its minor downsides. Due to the compact size of some Lego pieces, attaching the lights can be a bit fiddly, particularly for those with larger hands or limited dexterity. Additionally, while the instruction manual is generally clear, some steps could benefit from additional diagrams for absolute clarity.
Conclusion
Despite these minor shortcomings, the Game of Bricks Light Kit for Mickey Mouse & Minnie Mouse Buildable Characters 43179 is a worthy investment for any Disney Lego enthusiast. It elevates the buildable characters from merely delightful models to radiant, life-like representations of our cherished childhood icons. The light kit's ease of installation, enhanced details, customizability, and durability make it an irresistible addition for anyone looking to imbue a touch of magic into their Lego display. This kit encapsulates the spirit of Disney, leaving the models and your room sparkling with the enchantment only Mickey and Minnie Mouse can provide.