Control the race track with the LEGO Ford Mustang Shelby GT500 42138 Set.
Race cars are everything these days. Like you, many people out there have their idea of a dream car, one that would turn heads wherever you enter. For this very reason, people dream of owning Ferraris, Lamborghinis and Bugatti's. They see these cars as the only one that provides both speed and quiet looks, all in one. But you know better, and you know that tons of other cars can give just the same, and even more – like the Ford Mustang GT500. This fantastic race car provides racers with not only good looks but speed and comfort to go with it. The only downside is that the Ford Mustang is way too expensive, like other great cars like it. 

Has it been your long life desire to own one of these but can't afford it? Or probably you desire to help ford in designing future models? Well, you can keep this dream alive by building the Lego Ford Mustang GT500 42138 set. This set offers excellent realism and is packed with authentic and licensing details. The birth of this set resulted from the partnership of the Ford company and Lego. So you can be sure to get a Ford Mustang GT500 that is as close as possible to its real-life counterpart. The Lego Ford Mustang GT500 also offers a fantastic building experience. What are some things to look forward to? Let's find out as we progress.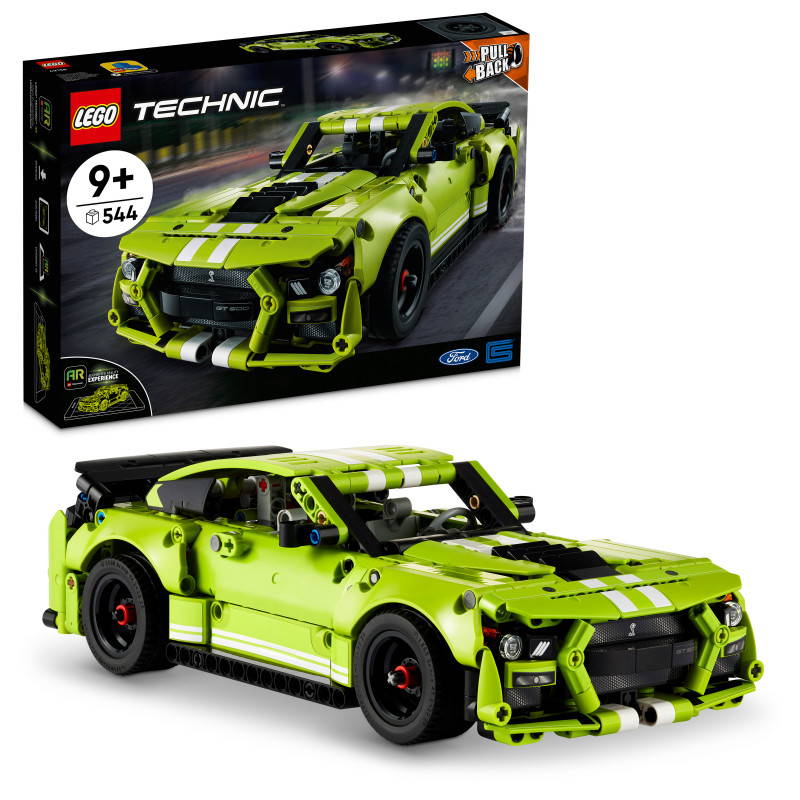 BUILDING EXPERIENCE FOR THE LEGO FORD MUSTANG SHELBY GT500 42138 SET.
The Lego Ford Mustang GT500 set is realistic and offers an actual build. This set could be used to fire the love for race cars in young racecar fanatics. So if you have a kid with growing love and appreciation for race cars, why not consider getting him this set as a present? He surely would appreciate the gesture. The Lego Ford Mustang Shelby GT500 42138 set also encourages builders of a younger age to build. To achieve this, Lego has made this set simple to build and very engaging, from start to finish. So, if you are a builder new to Lego, and looking for something easy but enjoyable to make, then this Lego set is a good place to start. And to ensure you get the best out of your building experience, provide to set out a specific time for building.

Once you begin building the set, make sure there are no distractions. Distractions would only suffer your overall build and make it drag. Well, what's the solution if you hit any roadblocks as you build? Well, Lego is aware that you might encounter such and has added a well-detailed building manual to ensure no roadblock is too significant to manoeuvre. This manual could also be an effective way to get your kids well acquainted with all the ways they could build the set. So feel free to consult the manual if you reach a crossroad or find something too difficult to explain to your kids. Overall, the Lego Ford Mustang Shelby GT500 42138 set offers a fantastic building experience and has been tested to ensure its safety and reliability in the hands of builders of all age groups. This set is also packed with great features. Let's find out what some of them are.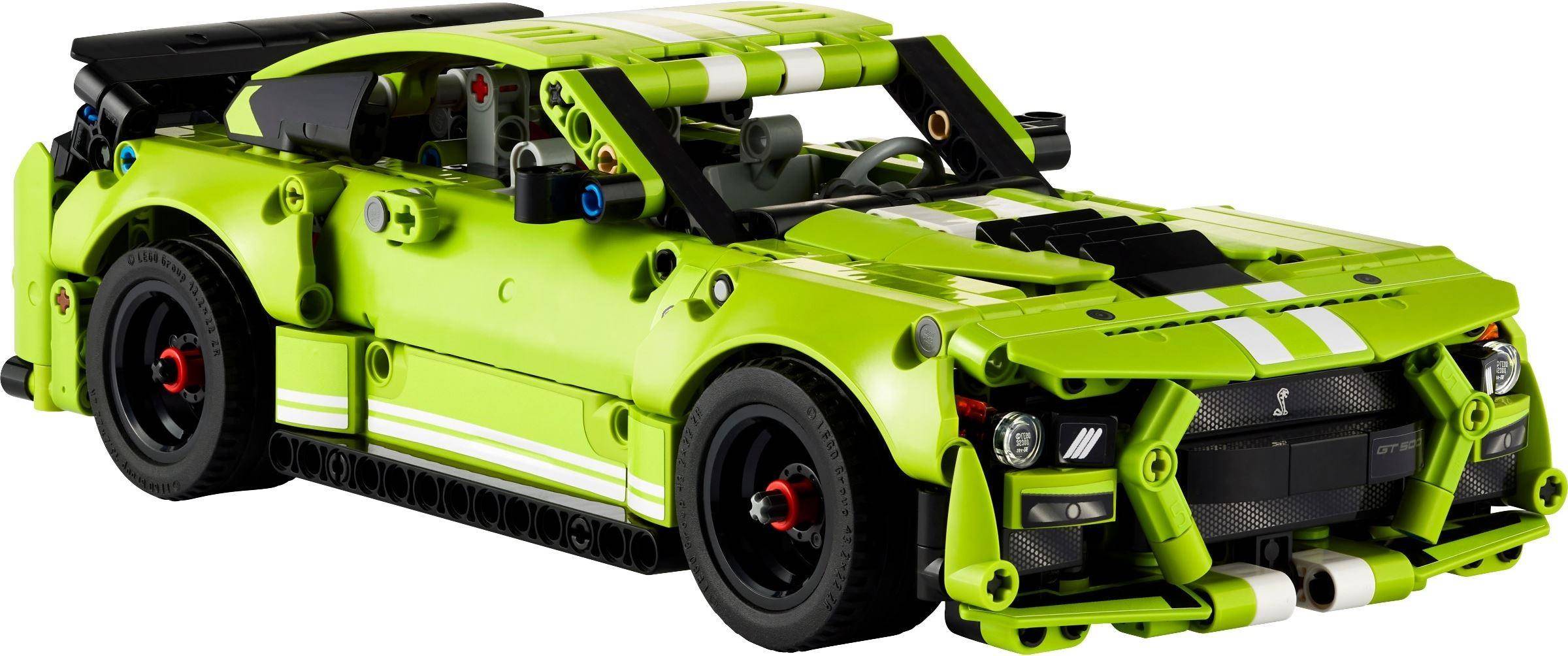 AUTHENTIC FEATURES FOR THE LEGO FORD MUSTANG SHELBY GT500 42138 SET.
The Lego Ford Mustang Shelby 42138 set is part of the Lego Technic collection. This part of Lego is responsible for many realistic race car adaptations in Lego form. This means that you can expect fantastic realism from your Ford Mustang Shelby 42138 set. Let's find out some of the details to look forward to.
• AMAZING AR ADAPTATION.
The Lego Ford Mustang Shelby offers an Epic augmented reality adaptation. Take this fantastic race car on a test drive in our virtual space. This great space makes engaging with this set fun and even time-consuming. So ensure you have nothing else to do before stepping into this space. You could also check out challenges for more playable options. With the AR option, fun play is almost limitless.
• AUTHENTIC SET FEATURES.
Well, if you are not into more digital fun and would prefer a more one on one interaction with the set, then you could look into the pull-back option. Yes, if you would love to teat out the Lego Ford Mustang Shelby GT500 set manually, then you could take advantage of two pull-back motors to help control the car. Drag back on the rope to push the vehicle forward. The Lego set also has a great look and could serve well as a display set. Simply add a rear to it, and you are good to go!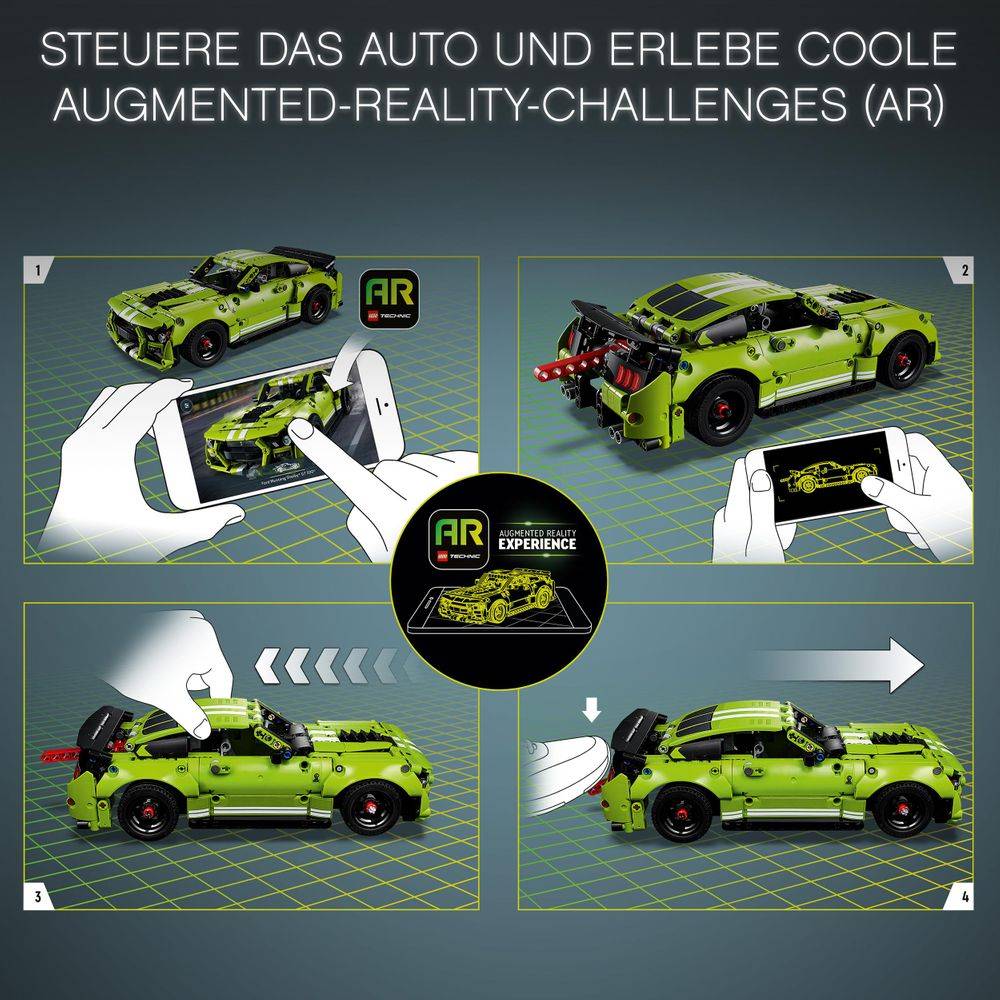 • PORTABLE SET SIZE.
The Lego Ford Mustang Shelby GT500 set, when fully built, is very portable. This makes it easily transportable from one place to another. This comprises more than 500 pieces of pure top quality Lego bricks, about 544 to be precise. Each Lego brick has been tested to ensure safe and durable enough. It is also tested to ensure it is easily attachable and detachable. The set is about 3inches high, ten long, and 4.5 inches wide when fully put together. This size adds to it being a perfect display set.
The Lego Ford Mustang Shelby GT500 set could be purchased from Lego stores and the Lego website, lego.com. If you live in the US or places around Europe, it would be best to buy it directly from any Lego store in your area. But if you would not be ready to make an effort, then the Lego website is just a click away. The Lego Ford Mustang Shelby GT500 is very affordable and can be purchased for only 49.99 dollars, approximately 50.00 dollars.
MAKE YOUR SET GLOW WITH PRIDE BY ATTACHING OUR AMAZING GAME OF BRICKS LIGHT KIT.
The Lego Ford Mustang Shelby GT500 set is designed to look fantastic and stand out among other Lego Technic sets. But the set could be made to stand out even more with the inclusion of our special light kits. Are you new to our light kits? Then you would be happy to identify that our light kites are safe and very easy to work with. Simply esure all parts of your Ford Mustang Shelby GT500 is put together well. Once that has been accomplished, you could then order any light kit of your choice. Either the basic or advanced, from our website, game of bricks.com. Once that is done, you could install our light kit. How? Let's find out.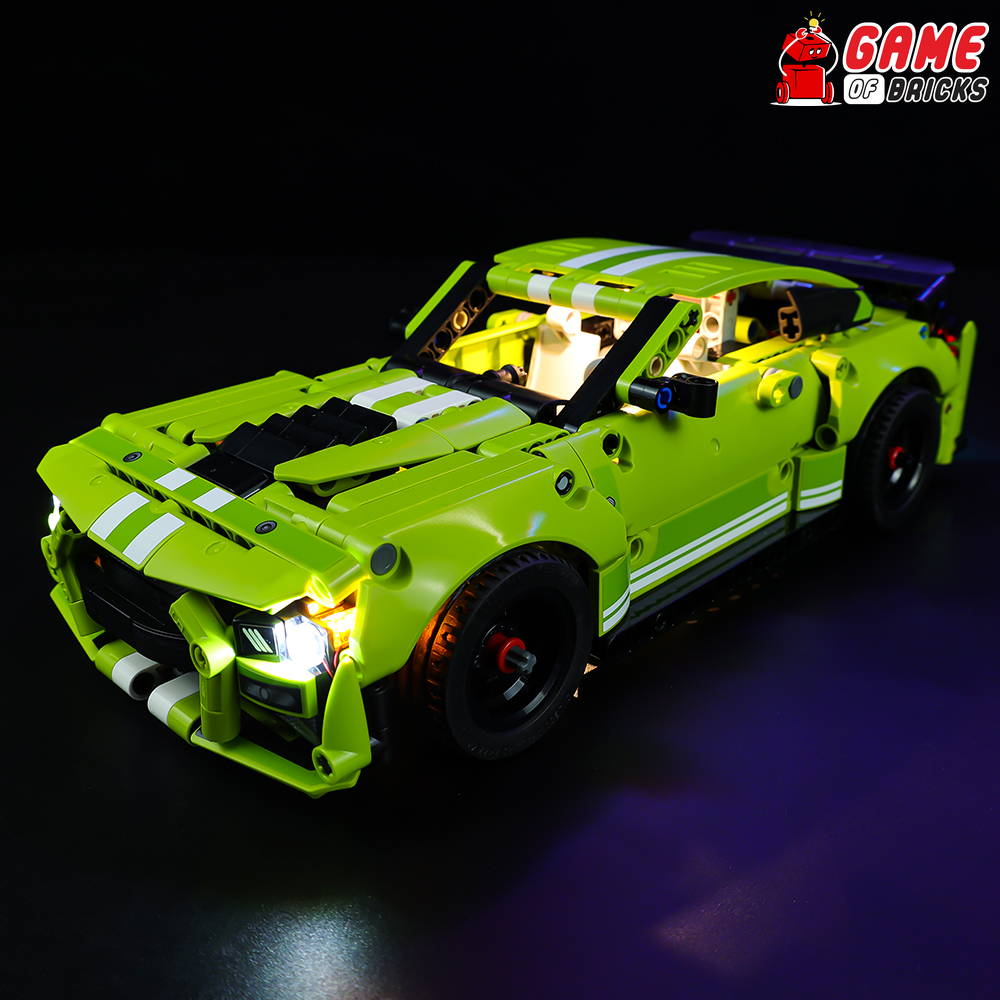 1. INSTALL LIGHT KITS CAREFULLY.
Installation our Lego light kit is a delicate process and requires great care. Ensure that you have inspected all light kits purchased and that they are good to go for installation. Then if you are new to the process, take time to read through the instructions found in the manual to be sure you have all my takes to move forward. Also, take time to read through safety measures that have been put in place to ensure you are not unknowingly setting yourself up for failure. Once all the necessary research has been carried out, carefully follow the instructions from the manual to bring your set to life. Handle each light kit with care so as not to accidentally damage it as you install it. The installation process should not be rushed. So if you seek to establish our light kit, then make out time for it.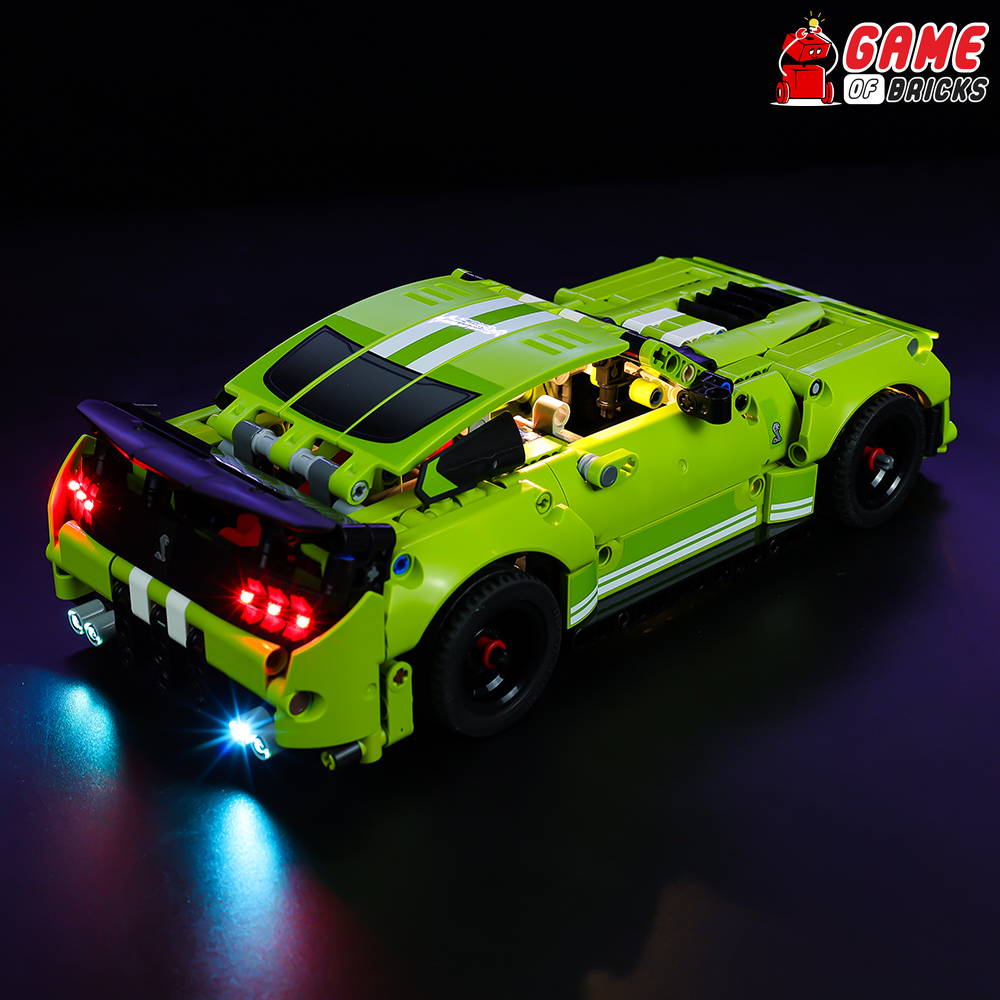 2. TEST ALL INSTALLED LIGHT KITS.
By following all the advice from the manual, you would have successfully installed your light kit. Now is time to tie up loose ends. You can do this by taking time to inspect the already installed light kits and accessories carefully. Check the lights and the wire safety. Also, check out for signs of short-circuiting. If you notice any problem, you could do well to fix it. But if, after all, your tests, all looks good and safe for all to come in contact will, then you could put your Lego Ford Mustang Shelby GT500 on display for all to see!
---