An upgraded play with LEGO Hogwarts Wizard Chess 76392 Set
By

Nikita P.
/
July 30, 2021
Harry Potter has blessed the screens with so many awesome adventures and supernatural phenomena. But not all is as fascinating as the wizard chess game.
This game was so amazing due to the fact that the wizards who played, didn't have to lift a finger to get their thoughts acted out on the boards. They just thought of a move and boom! The pieces made their moves a reality.
A lot of amazing wizard chess was played, with amazing moves and Clare strategies. These pieces could not only be manipulated to action by a wizard's mind but could even destroy other pieces on the board of needed.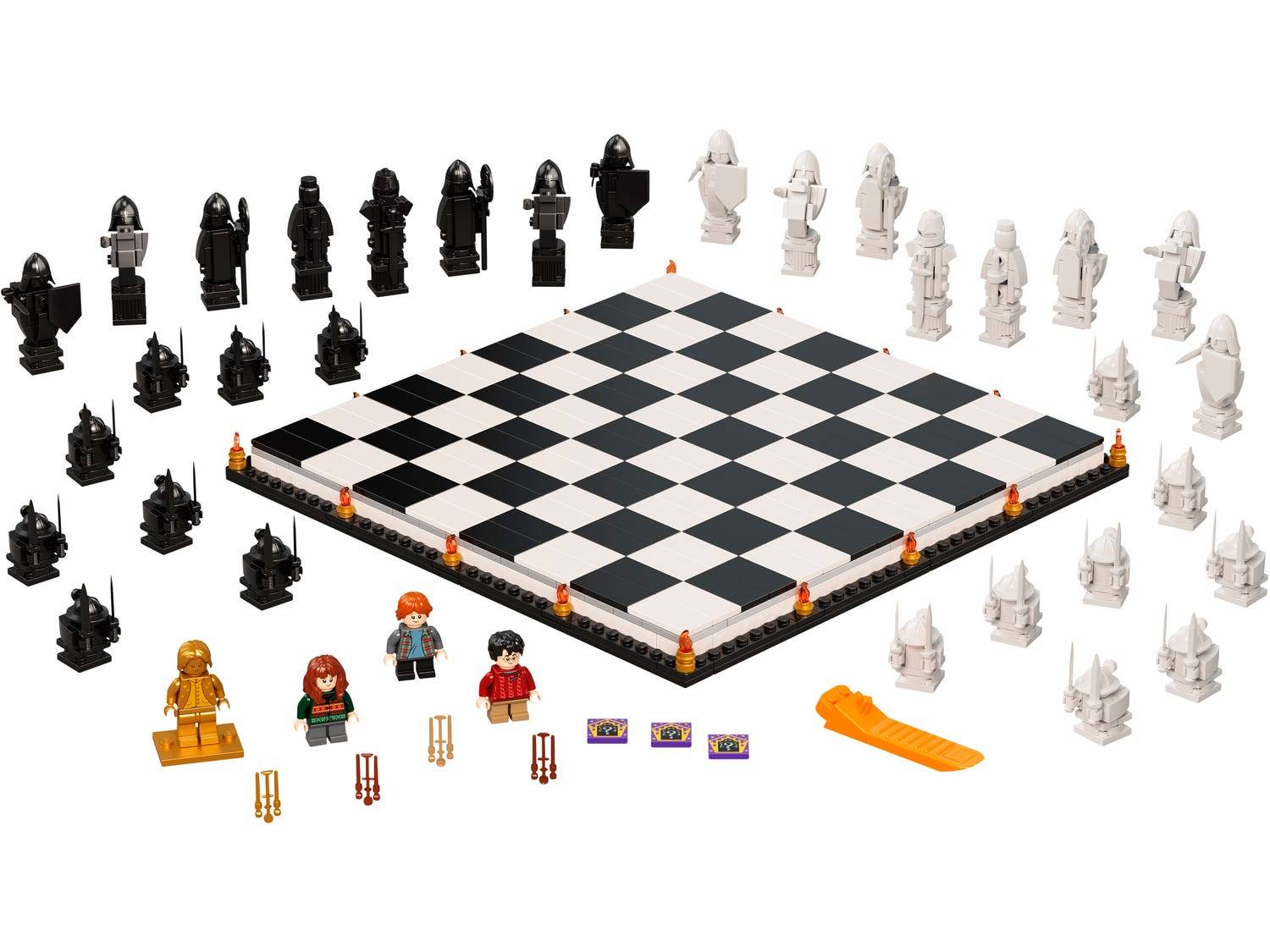 Would you like to play chess like a wizard in Harry Potter? Well, you can with the Lego Hogwarts wizard chess set. With this set, you not only get to rebuild this amazing chessboard with all its pieces, but you also stand the chance to recreate iconic game scenes from the movie. This Lego set also offers amazing Minifigures for a much better experience.

BUILDING EXPERIENCE FOR THE LEGO HOGWARTS WIZARD CHESS SET.
This set is a medium-size board designed with over 800 pieces. With the Lego Hogwarts wizard chess set, you get the chance to recreate an authentic wizard chessboard with all its amazing pieces set for an amazing wizard chess match.
And once you are done building, you could either sit tight and enjoy an endless board game, wizard-style with two you wizards to motivate you, or you could switch to a world of role play, creating endless scenes both from the movie or from your imagination.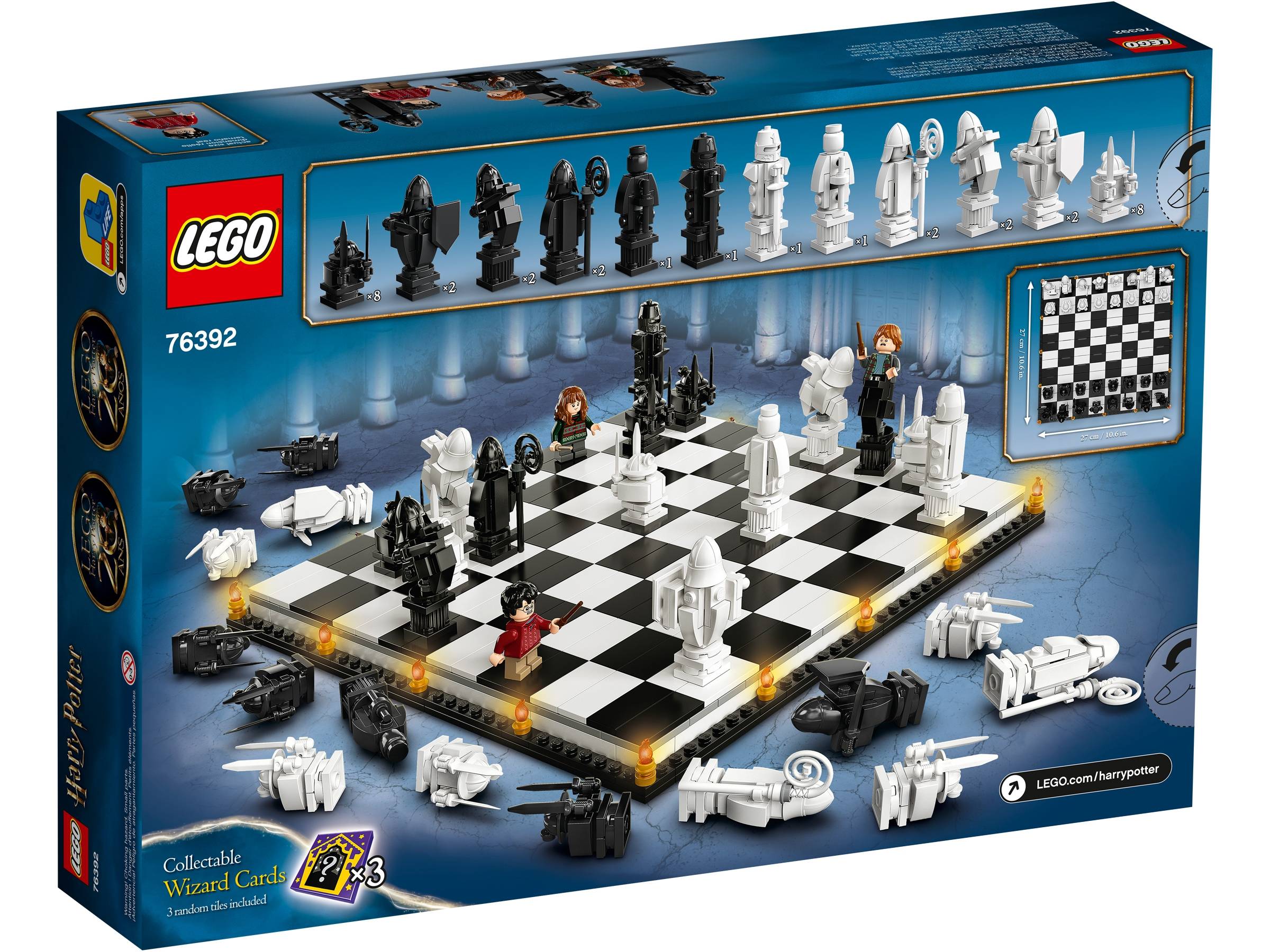 The fun thing about this set is the fact that it does not take much time to put together. So if you are a fan of the chess game you can get to playing the game with your opponent forgetting that you first had to put the board together. And for even more fun you could play the game with Harry potters Minifigure on one end while playing against Hermione Granger, just like in the movie.
FEATURES OF THE LEGO HOGWARTS WIZARD CHESS SET.
The Lego Hogwarts wizard chess set has a lot of cool and amazing features which help your wizard's chess experience even more exciting. This section will look into some of those amazing features.
• SIZE.
Well for size, this set is just big enough for a comfortable chess game, with over 800 pieces, about 876 to be precise. This gives you the space needed for an amazing chess game and contributes to an all-around magical experience.
This set also has an even square shape, being about 10.5 inches high and 10.5 inches wide. This all helps for more fun and engaging experience of chess. Then you also have about four Minifigures for added fun and role play.
This set does not only come with an authentic look and an impressive chessboard to be built but gives you amazing Minifigures for the ride. These Minifigures are to help ensure the experience gained from the set is nothing but fun all the way.
These Minifigures include Harry Potter, Hermione Granger, and Ron Weasly. You are also gifted with an additional Minifigure of Golden professor Severus Snape's for the celebration of 20 years of magic with Harry Potter. Then you also have access to 3 random wizard card titles.
• DESIGN AND USE.
The design of this set is made to look as close as possible to the wizard chess board and pieces used in the movie. Its color, size, and position reflect a pure authentic look as that of the game. But the fun part about this set is that it can be used as both a chessboard for endless games or could be put on display for all to see and admire.
This set could also be gifted to your kids assemble while helping them tap into the untouched parts of their brain. No matter how you decide to bring this set to life, you would have a whole lot of fun doing so.
• PRICE OF THE SET.
This set is not that expenses but could vary in price depending on the location and Lego store you choose to buy from. This set could be bought in Lego stores in the US and online at about 59.99 dollars.
You could also buy this set on Amazon at about 99.99 dollars depending on the availability of the set. It is also sold at about 40 euros in the UK and some parts of Europe. So if you are looking to buy this set then be sure to check out the platforms listed.
The most recommended place to get this set though is from any Lego store regardless of the location for you can always rely on their prices and warranty pack.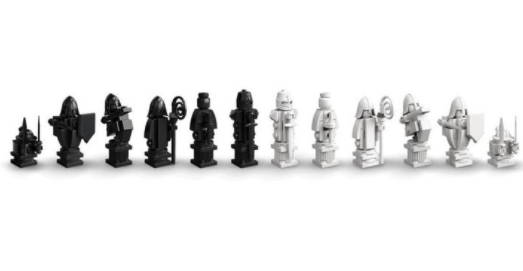 LIGHT UP YOUR WIZARD CHESSBOARD WITH OUR AMAZING LEGO LIGHTS.
Are you looking to make this set even more attractive and magical, giving you a more detailed and amazing wizard chess experience? Then what better way to make this happen than with our Lego light kit.
With our amazing Lego lights, you can light up strategic parts of the chessboard, making each piece move look special and breathtaking. But you may be wondering just how to make this happen, successfully installing this light kit to get the desired effect.
Well, installation of our Lego light kits could be achieved following the care instructions as shown in our installation manual and some simple universal steps that will be listed section.
1. FINISH BUILDING YOUR SET BEFORE INSTALLING YOUR LIGHT.
This is a very important step to remember. It is very important that you successfully build your board before installing your light kit for this will help the installation process to work smoother and will also help you know just what installation style perfectly soothes your set.
Once you have successfully installed your light kit, then you can move to the next stage.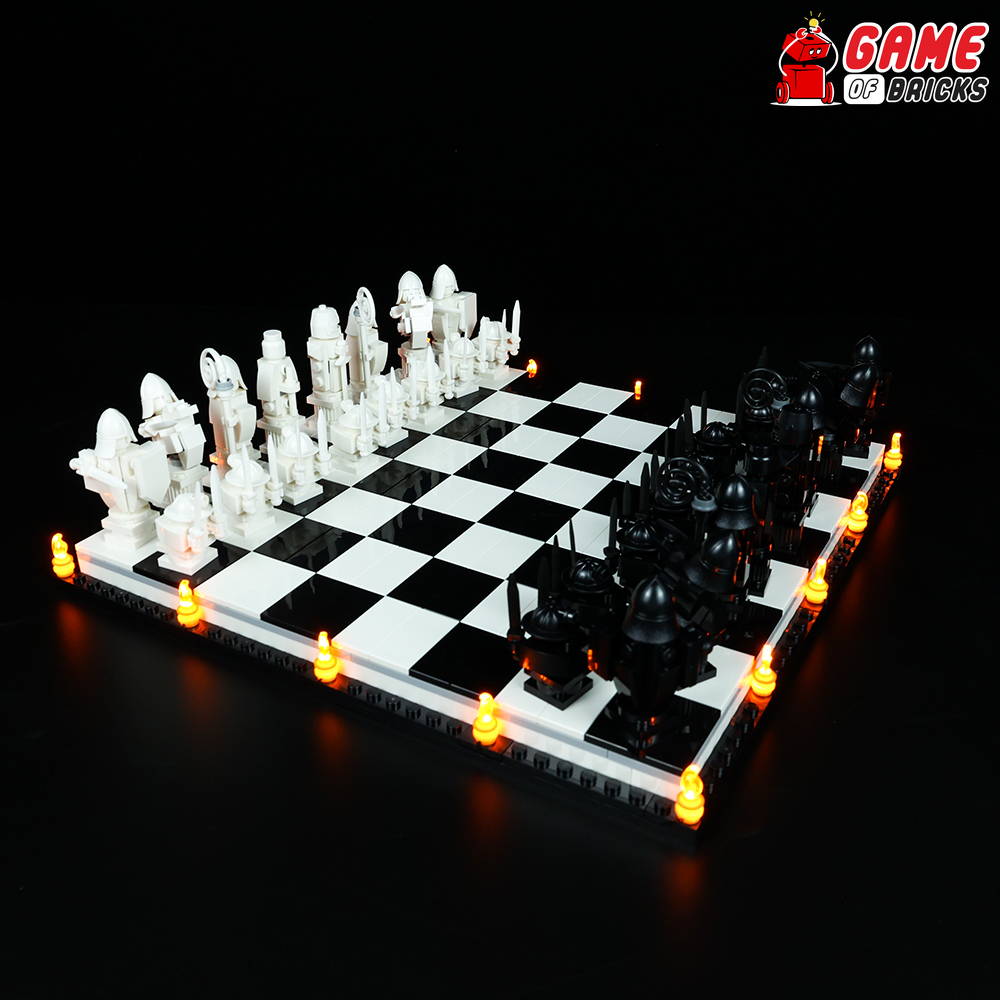 2. CAREFULLY INSPECT ALL LIGHT KITS AND ACCESSORIES.
Due to shipment issues, it is common for light kits and accessories to get misplaced. So before you jump into installing your light kit and accessories ensure that all parts work properly and there are no missing parts as this could frustrate your installation process.
Fortunately, though game of bricks offers a warranty on all light kits and accessories purchased through them and can help get you a replacement for your missing accessories. But if your checks come out a success and you do not need any replacements, then you can move over to the next step.
3. INSTALL YOUR LIGHT KIT AND ACCESSORIES PROPERLY.
This is the step you have been waiting for. It is time to install your light kit and accessories. The can be done successfully if the instructions given by the manuals are met. Ensure that all light kit wires are passed through the bricks and are connected properly.
By the time you are done all light kits and accessories must be installed neatly and beautifully.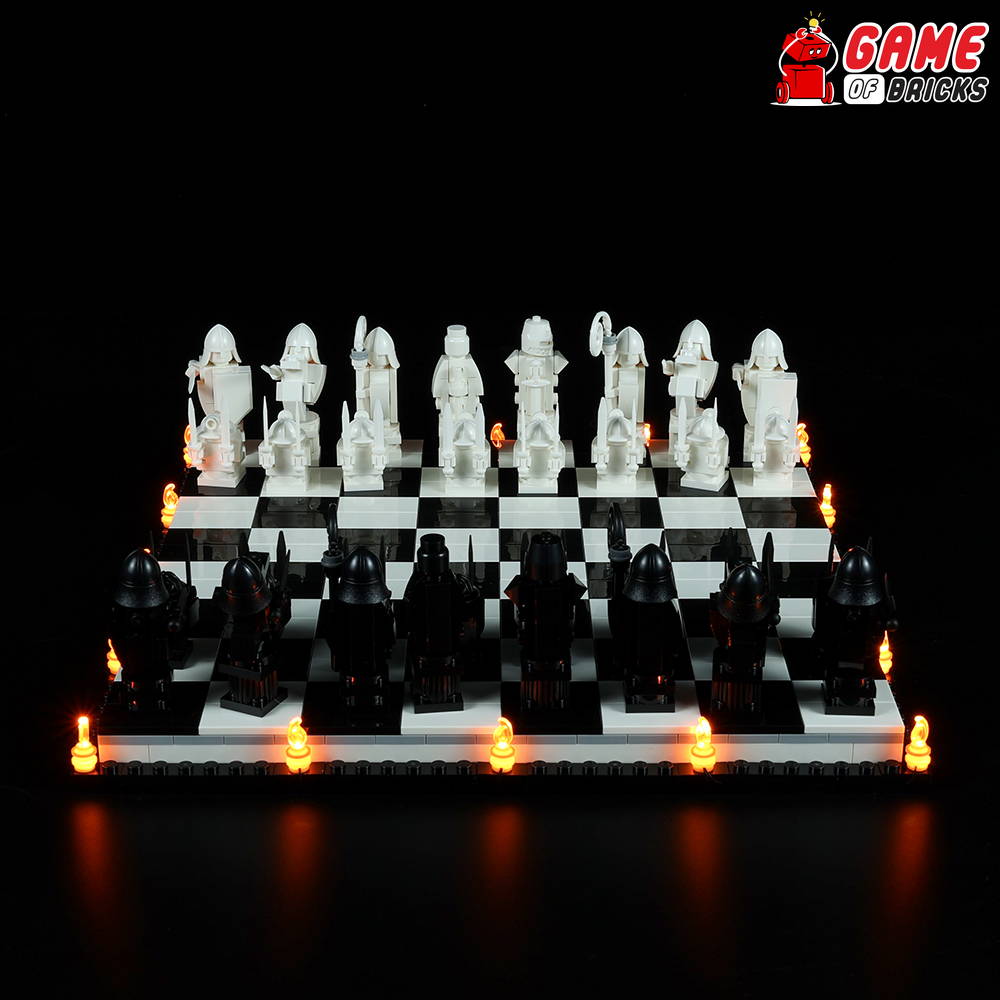 4. TEST YOUR LIGHT KIT AND ACCESSORIES.
Once you have successfully completed your installation, it's time to test it out. Test each light and ensure it works perfectly. Some light kits are designed to go off and on for effect so if that happens, check the manuals to ensure it is just a feature of your kit.
Once all your checks are looking good, then you can enjoy your wizard chess with each move lightened up!!!