An inspiring upgrade for the LEGO Imperial Light Cruiser 75315 Set.
There are practically no Star Warsfantastic; who does not know of the imperial light Cruiser. This famous warshipwas featured in season 2 of the Starwars movie and was used by the Navy as a detachedpatrol vessel to communications ships and capital ship support. It went by manynames, the Aquitens -class command cruiser, Jedi light cruiser, and Republiclight cruiser.

This light Cruiser was reworked by Kuat Drive Yards and was more than just a detached patrol vessel. They also used the Cruiser to protect imperial assets, acting as a support to large battle groups. It also served as an armed transport and communications ship. This ship went on some fantastic adventures in the star wars franchise.
Would you like to relive some of this iconic moment from season two? Like the hero v villain fight in season 2 of the movie? Well, you can, with the Lego Imperial light cruiser set. This set is designed to replicate well its movie counterpart. It even features impressive details and even cool weapons from the movie. And to make your build even more fun and creative, Lego also includes minifigures of the cast from the movie to make your world of role-playing more enjoyable.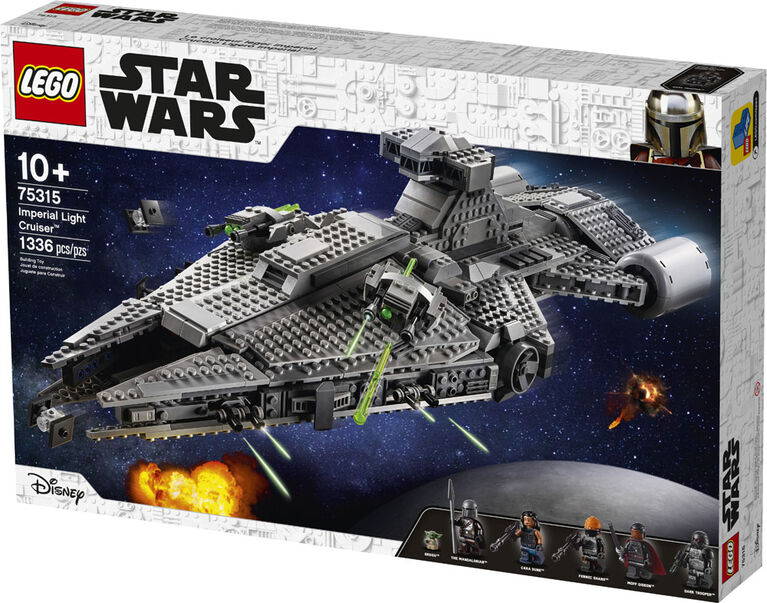 BUILDING EXPERIENCE FOR THE LEGO IMPERIAL LIGHT CRUISER SET.
With the Lego Imperial light cruiser set, you get not only a detailed set but a build that is not so challenging. For a set of this size, the building should be complicated, but instead, it has a build that will keep builders engaged and leave an amateur Lego builder looking and feeling like a pro.
With this set, builders will install two rotating turrets with spring, also fully loaded shooters. Then you have the impressive representation of the two mini TIE fighters and, of course, a launcher. The set also comes with a hatch, which gives easy access to a cabin compartment, which hosts a hologram tablet and storage for electro binoculars and other accessory elements.
Then once you are done building this set, sit back and recreate scenes from the season 2-star Wars franchise, including the Heroes V Villans standoff. It could be achieved only with the inclusion of five impressive minifigures. Overall this set is the perfect gift for both old and new Lego and star wars fantastic and can be put together by builders of all age groups due to the step-by-step manual that comes with the set.
FEATURES OF THE LEGO IMPERIAL LIGHT CRUISER SET.
Well, just like all other Lego set, the Lego Imperial light cruiser set comes with a lot of incredible details, which help it maintain its uniqueness and stand out in a world of already impressive Lego StarWars sets. Everything from its build to its iconic details, down to even minifigures, this set has just what it needs to stand out. This section will look closely at some of these unique details.
• BUILD.
As far as a build is concerned, this set is not lacking in this area, for it would be hard to miss. Everything from shape to color and size makes this set hard to miss, even when put among other Lego sets. But that's not all that makes this set build impressive. This set is also very durable because it is made from top-quality materials and stronger bricks.
It helps give the set a tight grip once attached but doesn't stop it from easily detached with a slight pull. So no need for you to worry about this set efficiently breaking on you.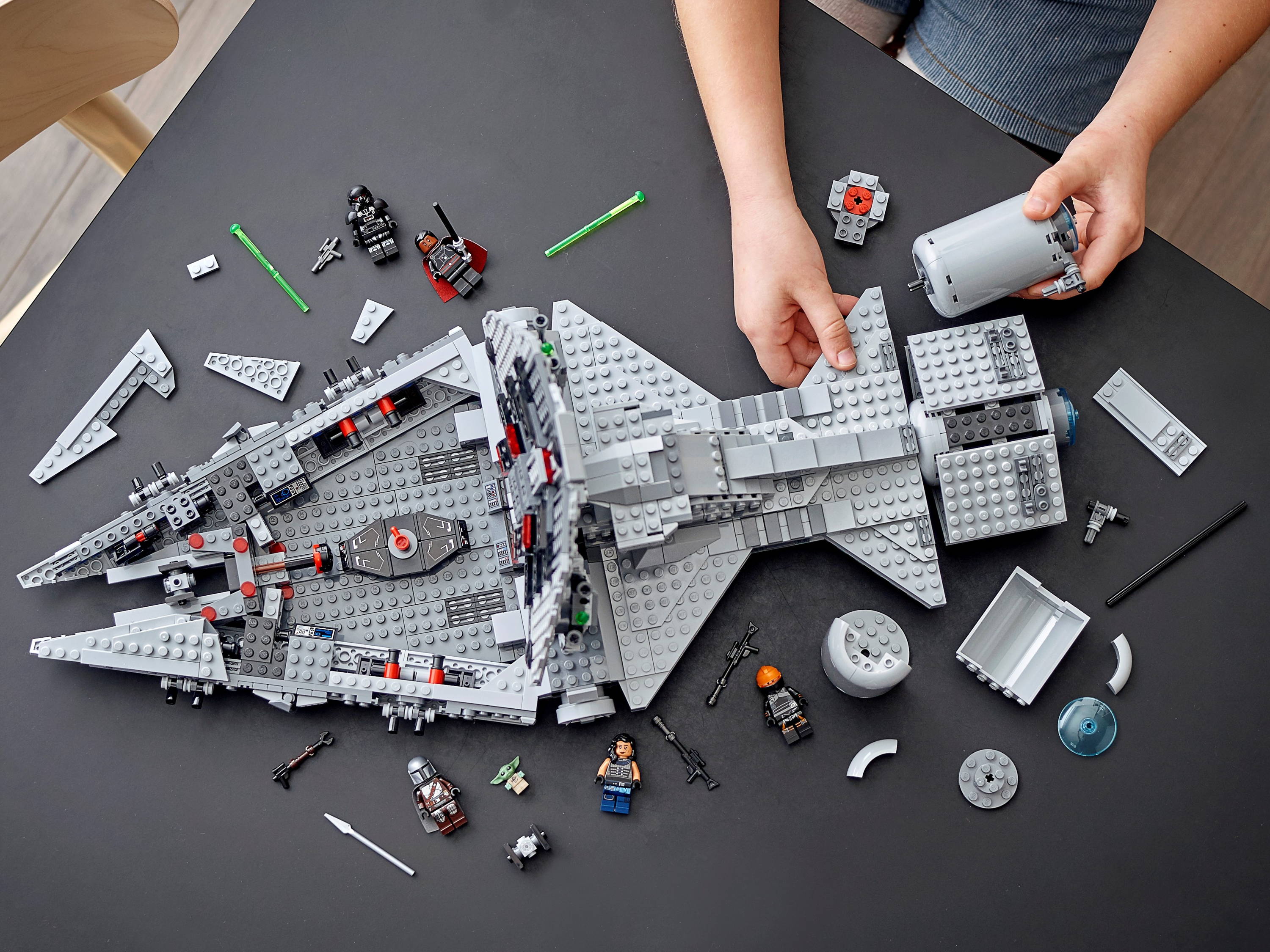 • ICONIC DETAILS AND COOL ATTACHMENTS.
With this set, Lego left nothing to chance, giving you a set that is as close as possible to its movie counterpart. Not only that, but it also gives you a better experience with the addition of excellent tools and weapons as found in the Starwars movie.
These fantastic tools and details include two rotating turrets with spring-loaded shooters, two mini TIE fighters, a launcher, and a hatch that helps give easy access to a cabin that contains a hologram tablet and storage for electro binoculars and other accessory elements. This set also comes with cool weapons, like the Mandalorians Amban phase-plus blasters, a spare, and Moff Gideon's dark saber for hero and villain play.
These details and features help add to a satisfying build and a less challenging one due to the step-by-step manual added to the set.

• SIZE AND MINIFIGURES.
The Lego Imperial light cruiser set could be a large set featuring 1336 pieces of premium quality bricks and unique details. When fully built, the set has a size ratio of about 5inches high, 22inches long, and about 8.5inches wide. The Lego Imperial light cruiser set is perfect as a display set, captivating all who look at it.
It is not alone; it comes with five Lego minifigures featuring essential characters of the Starwars movie. These characters include the Mandalorian, Cara Dune, Fennec Shonda, Moff Gideon, and Dark Trooper. And as a bonus, Lego also includes a Minifigure of Baby Yoda.
It means that with the Lego Imperial light cruiser set, you not only get a fantastic building experience but also get the chance to engage in interactive role-playing.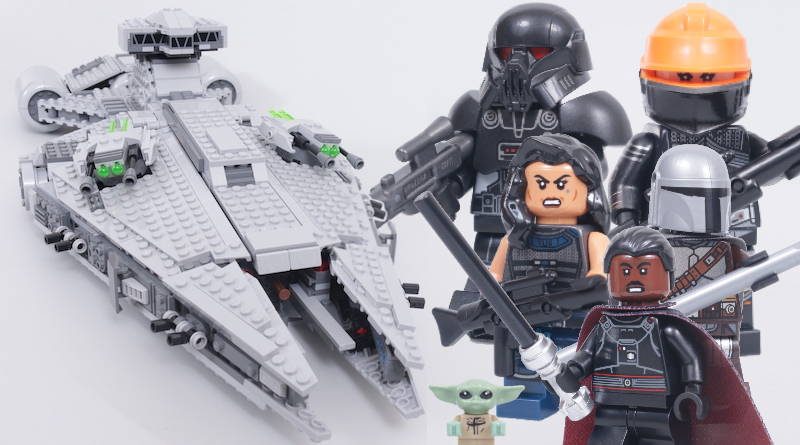 • SET PRICE.
The Lego Imperial light cruiser set, like other Lego sets, differs in price depending on location and availability factor. You can buy this set through lego.com, Lego stores, and even on Amazon. This set has been rated the second most expensive set in 2021, only behind the R2D2 set.
This set is sold both on lego.com or Lego stores in the US for 159.99 dollars. It is sold for about 149.99 euro in the Uk, which, if converted to dollars, would make it more expensive. But as a result of the sets availability rate being slightly lower around other Parts of Europe, the set is a bit more expensive, going for about 159.99 euros.
Well, looking at the details of this set and its overall build, with premium quality materials, don't you think the set is worth the price?
MAKE YOUR SET EVEN MORE EYE-CATCHING WITH OUR AMAZING LEGO LIGHT KITS.
If your wish is to make this set even more captivating and irresponsible, installing our special light kits is the way to go. Installing our Lego lights will not only bring life to the set but will make it look even more magnificent. Are you new to our special light kits? Not to worry, each light kit comes with an easy step-by-step manual for installation, whether it's a standard light kit or a remote control one.
Here are a few universal tips to take to heart while following your instructions manual to install our special light kit.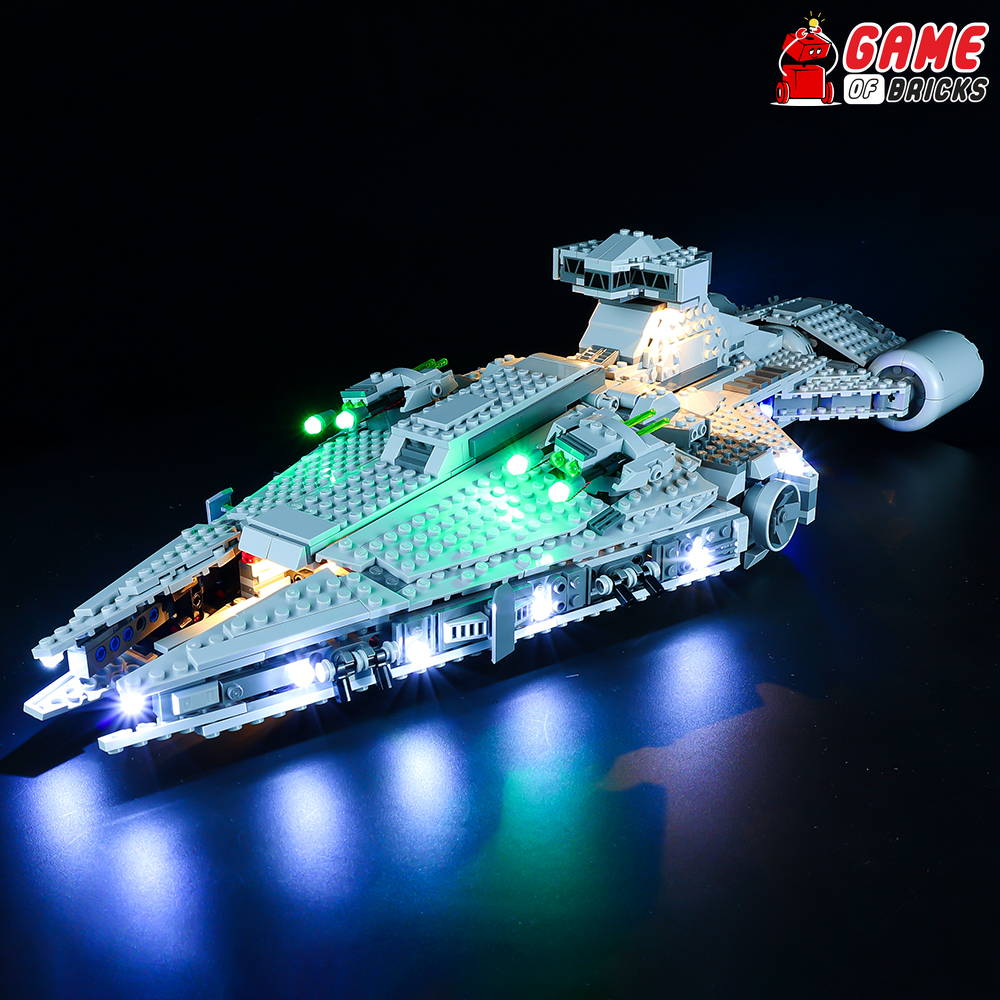 1. COMPLETE YOUR LIGHT CRUISER FIRST.
You may be tempted to cut corners or build and install simultaneously as a new light kit installer. Though it's a rooky mistake, it could be costly to the successful installation of your light kit.
Finishing your set first will help you properly devise a plan and know which light kit will be more comfortable for your set. It will also help you be more prepared for challenges you would face as you progress. Once all your bricks have been put in place and your set looks to your taste, then you can move forward.
2. PROPERLY CHECK AND INSTALL YOUR LIGHT KIT.
Well, you must run a thorough check on your light kits and accessories; that's why it's the second reminder. This check is vital because it is common for light kits and accessories to be misplaced during shipment to be transferred from one hand to another. So make sure to run a proper check on all light kits and accessories, and if there are any damaged or missing parts, feel free to report, making use of your warranty card.
Once you are done with all checks and everything looks good, you can now install your light kits. If you are new to this, note that all light kits and accessories must pass through the bricks with only the bulbs left visible. Ensure to use more of the manual during this process. Remember, light kits and accessories are very delicate, so be very gentle with it and don't try to force it if it doesn't fit.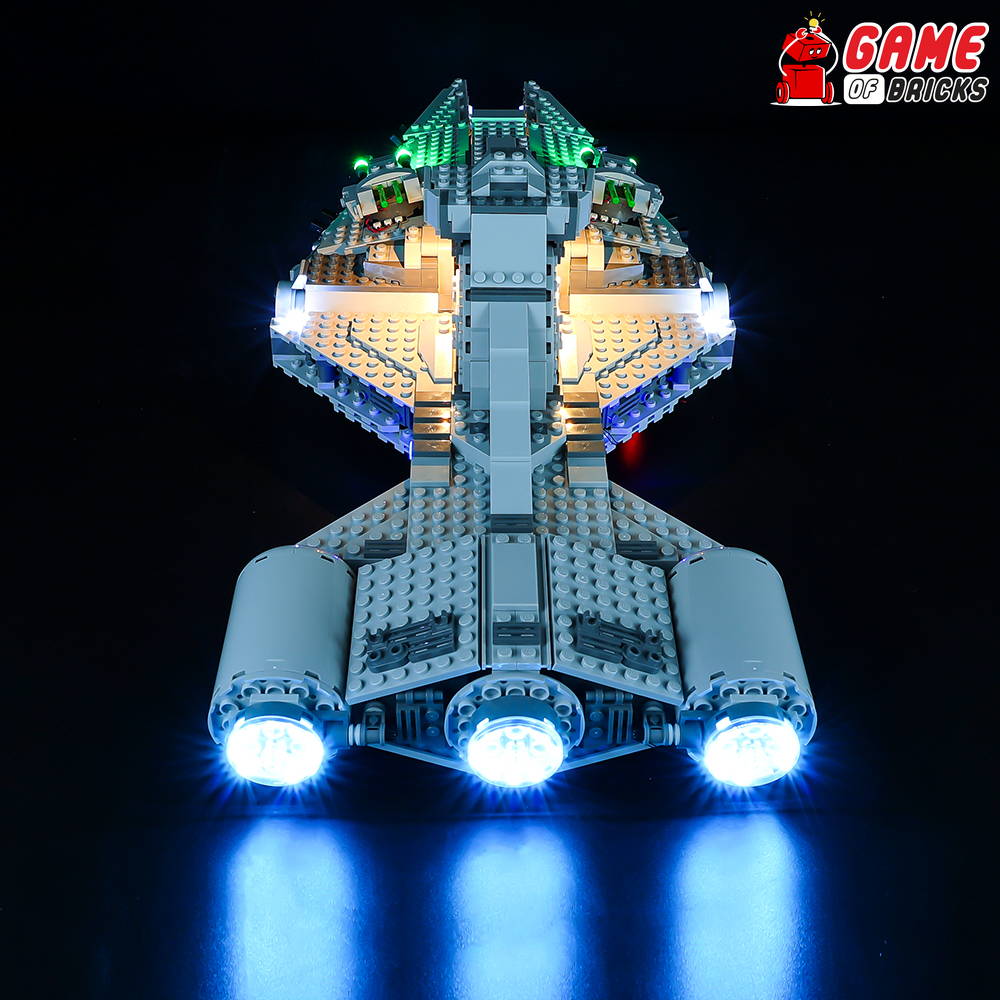 3. TEST OUT YOUR LIGHT KIT.
By now, you must have been done installing your light kit before running it thoroughly, first due to a test run. As you test run your light kit, lookout for a break in transition or short-circuiting, which will help signal a problem with your kit. Ensure to use the correct battery power to avoid overload. If all checks out, then light up your set for all to see.
---