An Architectural Journey with LEGO Architecture Skyline Collection: San Francisco 21043
By

Eve Alessa Arevalo
/
July 10, 2023
The LEGO Architecture Skyline Collection has long been an avenue for both architectural enthusiasts and LEGO collectors to traverse iconic cityscapes from around the globe. Today, we're turning our attention to the San Francisco 21043 set, a miniaturized rendition of the 'City by the Bay'. This set captures the spirit and style of San Francisco in a way that's both engaging to construct and aesthetically pleasing to display.

Design and Features
a. Main components or areas
The San Francisco 21043 set is composed of an array of features that any San Franciscan or visitor would recognize. This includes the city's emblematic 'Painted Ladies' houses, the towering Salesforce Tower, Coit Tower, the Golden Gate Bridge, and the Transamerica Pyramid. At 565 pieces, it strikes a good balance between complexity and accessibility.
b. Minifigures
Contrary to most LEGO sets, the Architecture series, including San Francisco 21043, does not include any minifigures. Instead, the focus is on creating a cityscape with buildings and landmarks at a scale that approximates their relative sizes.
c. Accessories and decorations
The set includes a variety of unique bricks to replicate the distinctive architectural features of the landmarks. For instance, the Transamerica Pyramid is built using transparent elements for its distinctive glass façade. The set also includes a 4x32 baseplate and a decorative San Francisco nameplate for display purposes.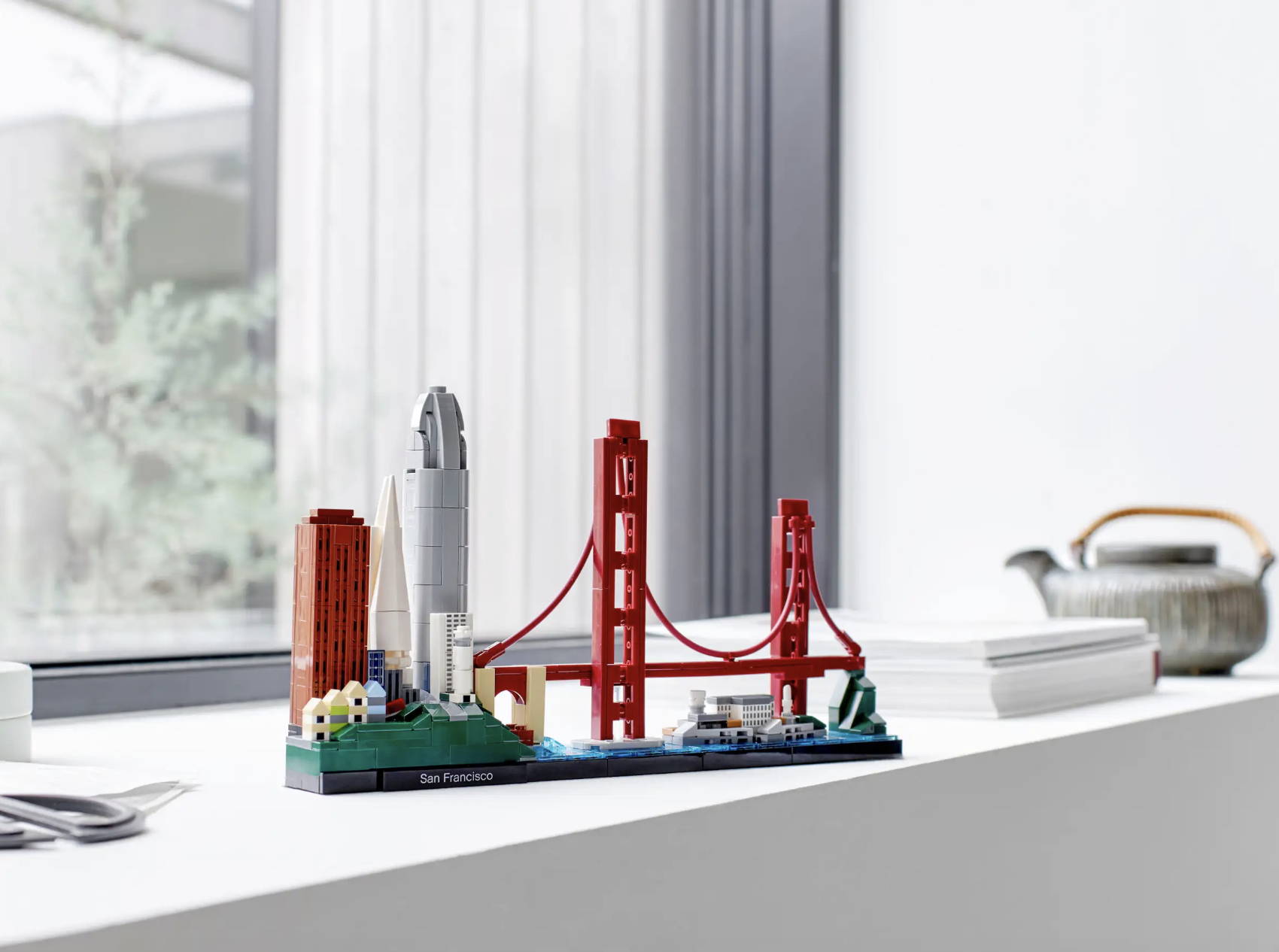 Building Experience
a. Complexity and engagement
The set offers an engaging build for those aged 12 and up. With 565 pieces, it's not the most complex set in the LEGO Architecture series, but it has enough intricate elements to keep builders interested. The repetition in the Golden Gate Bridge and the 'Painted Ladies' houses provide a satisfying rhythm to the build, while the construction of the skyscrapers introduces enough variety to keep the experience fresh.
b. Instruction manual and building process
The instruction manual is a highlight, combining building steps with interesting tidbits about San Francisco and its architectural history. This enriches the building process with educational value, making it feel like a journey through the city's heritage. The steps are clearly illustrated, and the pieces are conveniently sorted into bags corresponding to different sections of the build, making the process streamlined and enjoyable.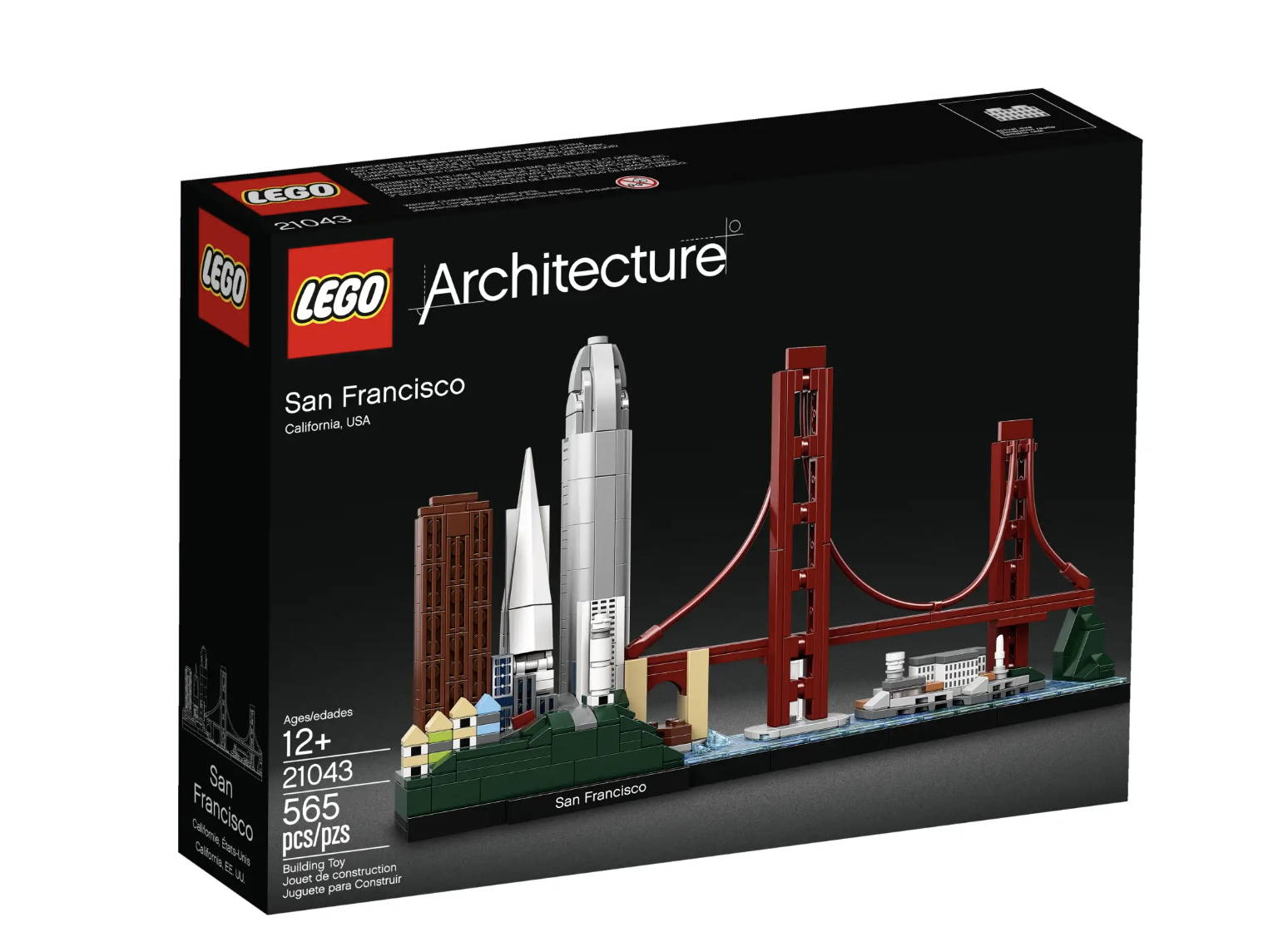 Playability and Entertainment Value
a. Interactive features
As with other sets in the LEGO Architecture series, the San Francisco 21043 set doesn't incorporate traditional interactive features like moving parts or playable scenarios. Instead, the interactive experience comes from the assembly process and the satisfaction of seeing the cityscape come together.
b. Opportunities for imaginative play and storytelling
While it might not offer traditional play opportunities, the set allows for plenty of imaginative exploration. It can inspire discussions about urban planning, architecture, or San Francisco's history and culture. For older builders, it can serve as a unique décor piece, sparking conversations and bringing a miniature version of the city to their living room.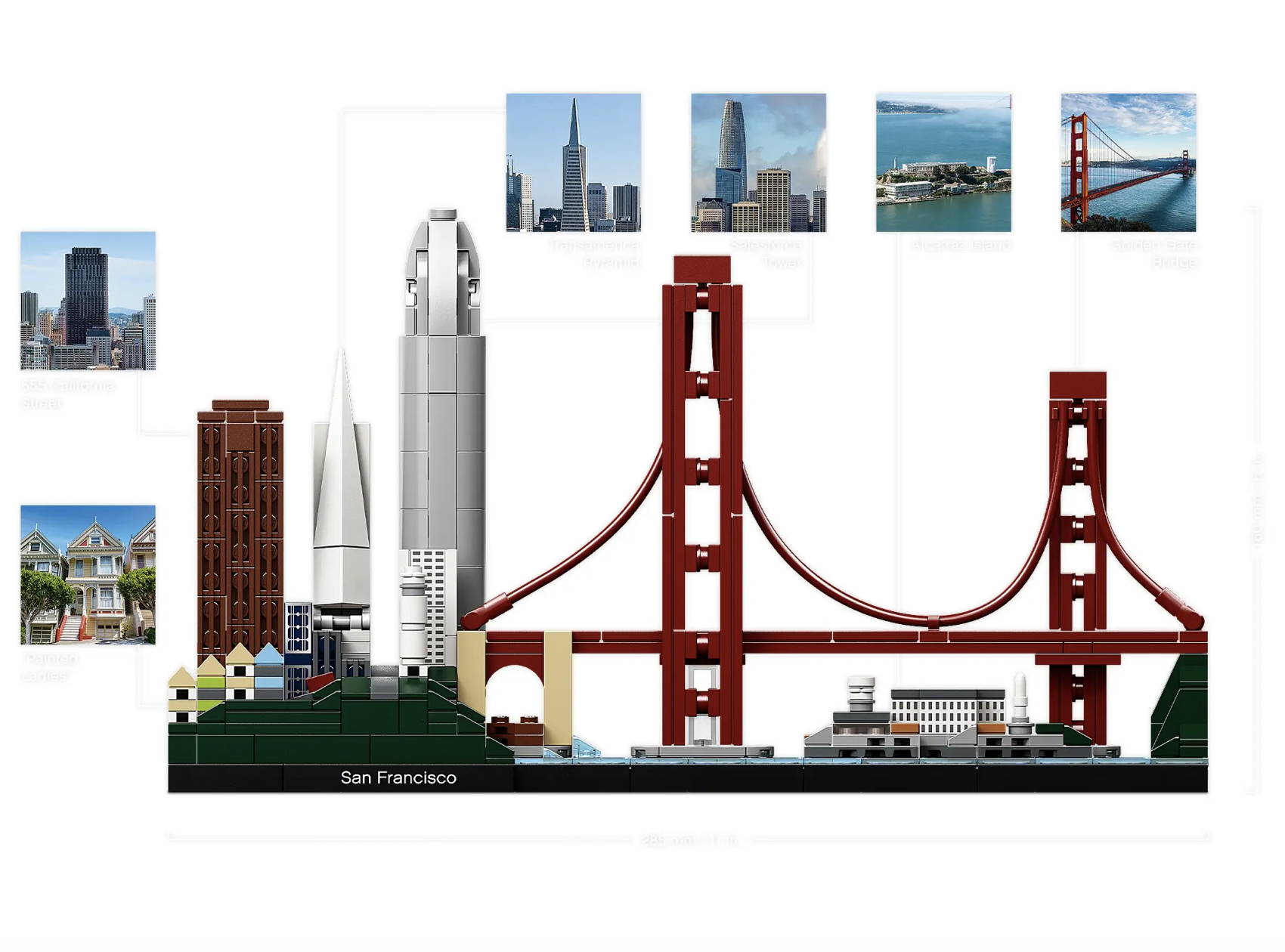 Value for Money
a. Number of pieces and design
Given its 565-piece count and the level of detail in its design, the set offers good value for money. It's not just about the bricks – the thoughtful selection of landmarks and their accurate representation contribute significantly to the set's value.
b. Compatibility with other LEGO sets and themes
The San Francisco 21043 is part of the LEGO Architecture Skyline Collection and fits perfectly with other sets in the series. However, due to the specific scale and theme, it might not blend easily with other LEGO themes like City or Star Wars. However, for those interested in architecture, city planning or geography, this set is a fantastic addition to their collection and a piece of decor that incites conversation.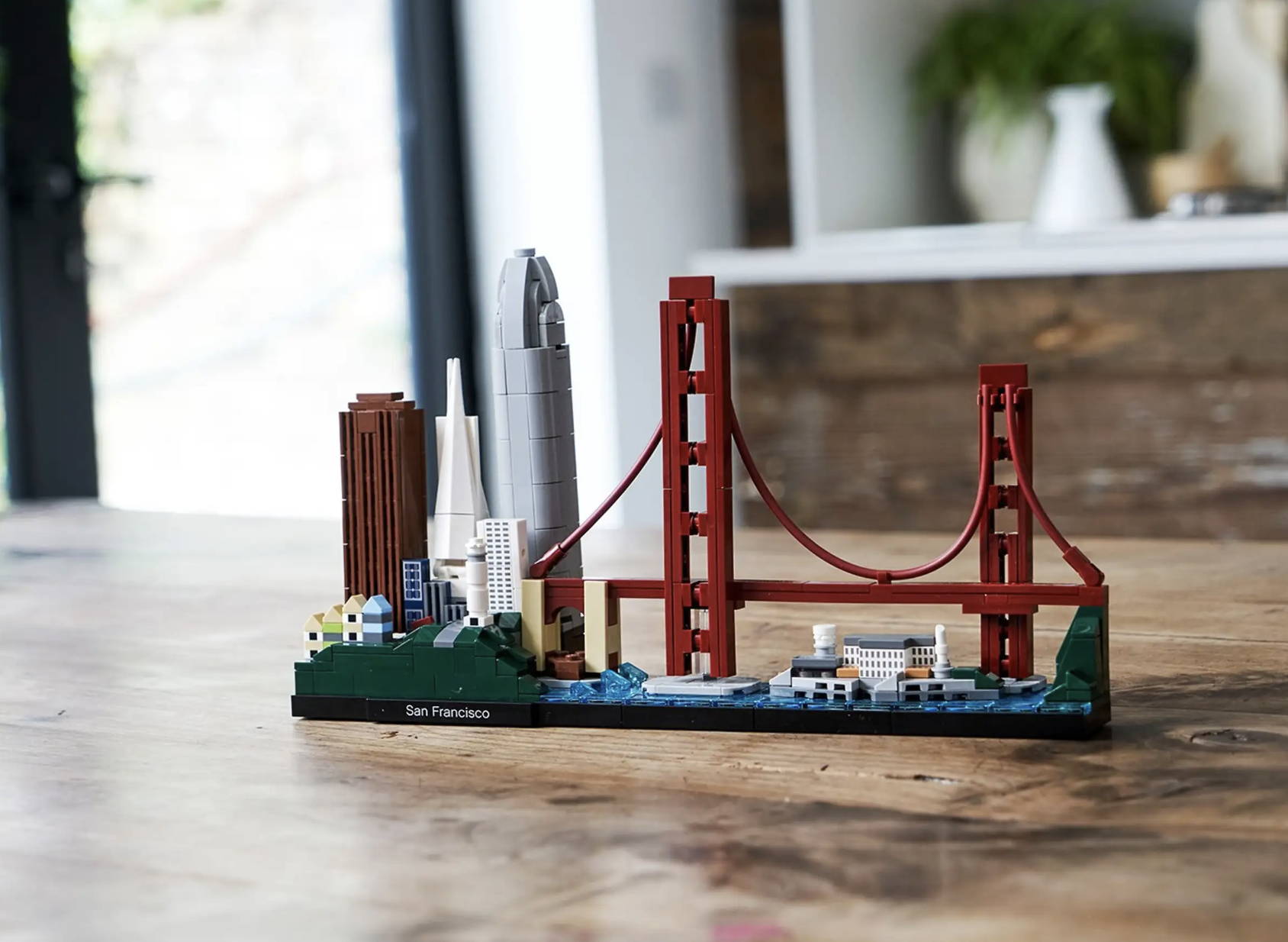 Pros and Cons
a. Pros
The San Francisco 21043 set offers a captivating building experience, combining architectural precision and interesting historical trivia. It's a sophisticated model that manages to capture the spirit of San Francisco with a surprisingly small number of bricks. As a bonus, it's compact enough for display on a desk or shelf without taking up too much space.
b. Cons
On the downside, the lack of traditional play features like minifigures or moving parts might disappoint some builders, especially younger ones. The unique scale, while necessary for the architectural accuracy, means it doesn't mix seamlessly with other LEGO themes.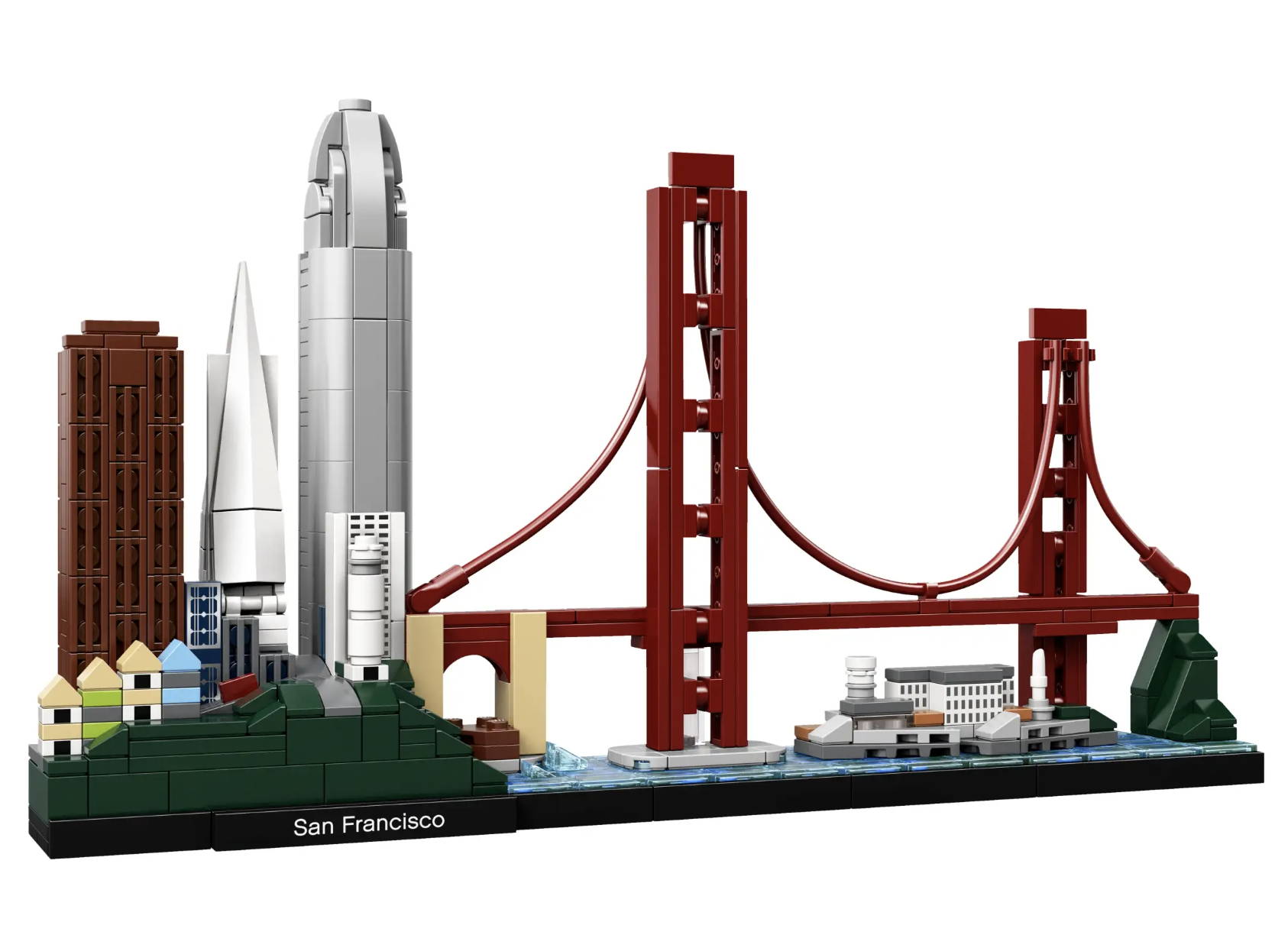 Final Thoughts and Recommendations
a. Summary of the set's appeal
LEGO San Francisco 21043 is more than just a toy or model; it's an engaging, educational journey into the heart of one of the world's most beloved cities. The selection of landmarks and the accuracy with which they're portrayed makes this set a standout within the LEGO Architecture series.
b. Target audience and overall value
While the set may not be ideal for those looking for traditional LEGO play, it's a great pick for older builders, architectural enthusiasts, or fans of San Francisco. Its educational value, combined with the satisfaction derived from the building process, makes it a worthy investment.
In conclusion, the LEGO San Francisco 21043 set marries architectural elegance with the beloved pastime of LEGO building. It may not be your typical LEGO set, but it's a beautifully crafted model that promises an enriching building experience and a stunning display piece. Whether you're a lover of architecture, an aficionado of San Francisco, or a LEGO enthusiast, this set is a wonderful addition to your collection.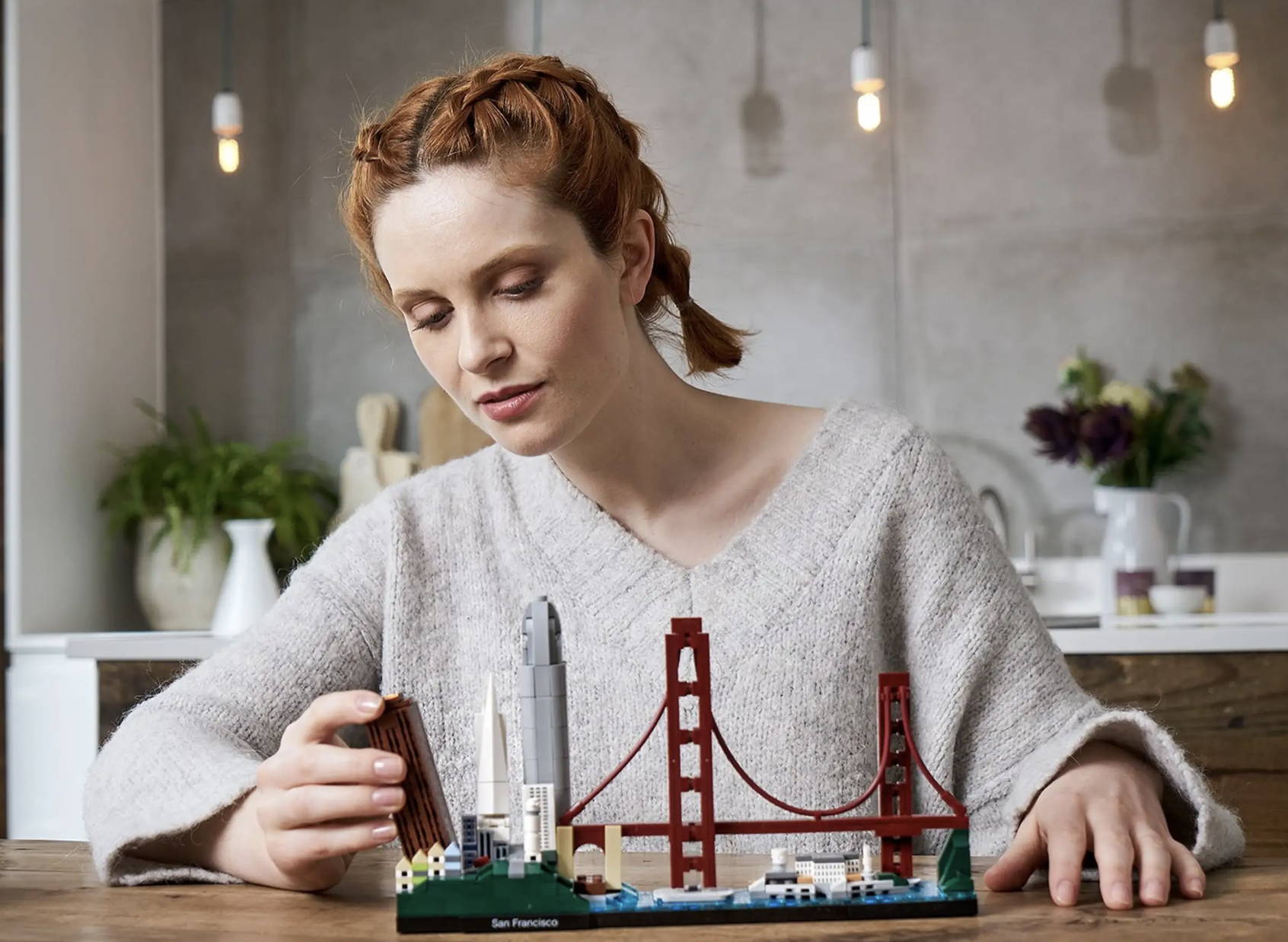 A Mesmerizing Addition to San Francisco: Game of Bricks' Light Kit (21043) Review
San Francisco, with its iconic landmarks and stunning architecture, has long captivated the hearts of locals and tourists alike. Game of Bricks, a renowned company in the field of LEGO light kits, introduces their latest creation: the Light Kit for San Francisco (21043). In this review, we will delve into the features and benefits of this light kit, analyzing its easy installation, enhanced details, customizability, durability, and any minor downsides that may arise.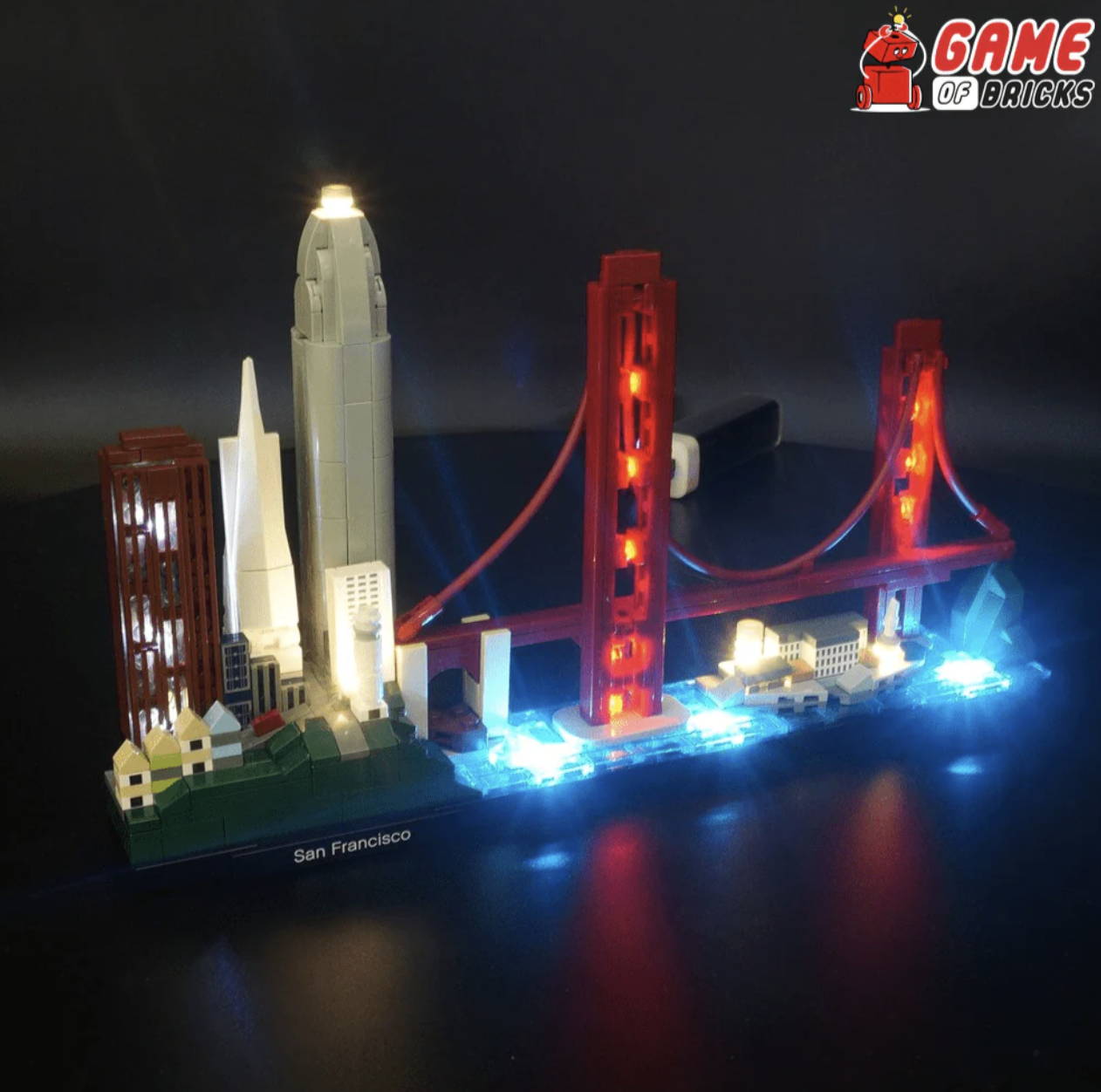 Easy Installation
One of the standout features of Game of Bricks' Light Kit for San Francisco is its effortless installation process. The kit comes with a comprehensive and user-friendly instruction manual, accompanied by clearly labeled components. The wiring is neatly organized and easily connects to the existing LEGO set, ensuring a hassle-free installation experience for users of all skill levels. Within minutes, the cityscape of San Francisco comes alive, radiating a vibrant and enchanting ambiance.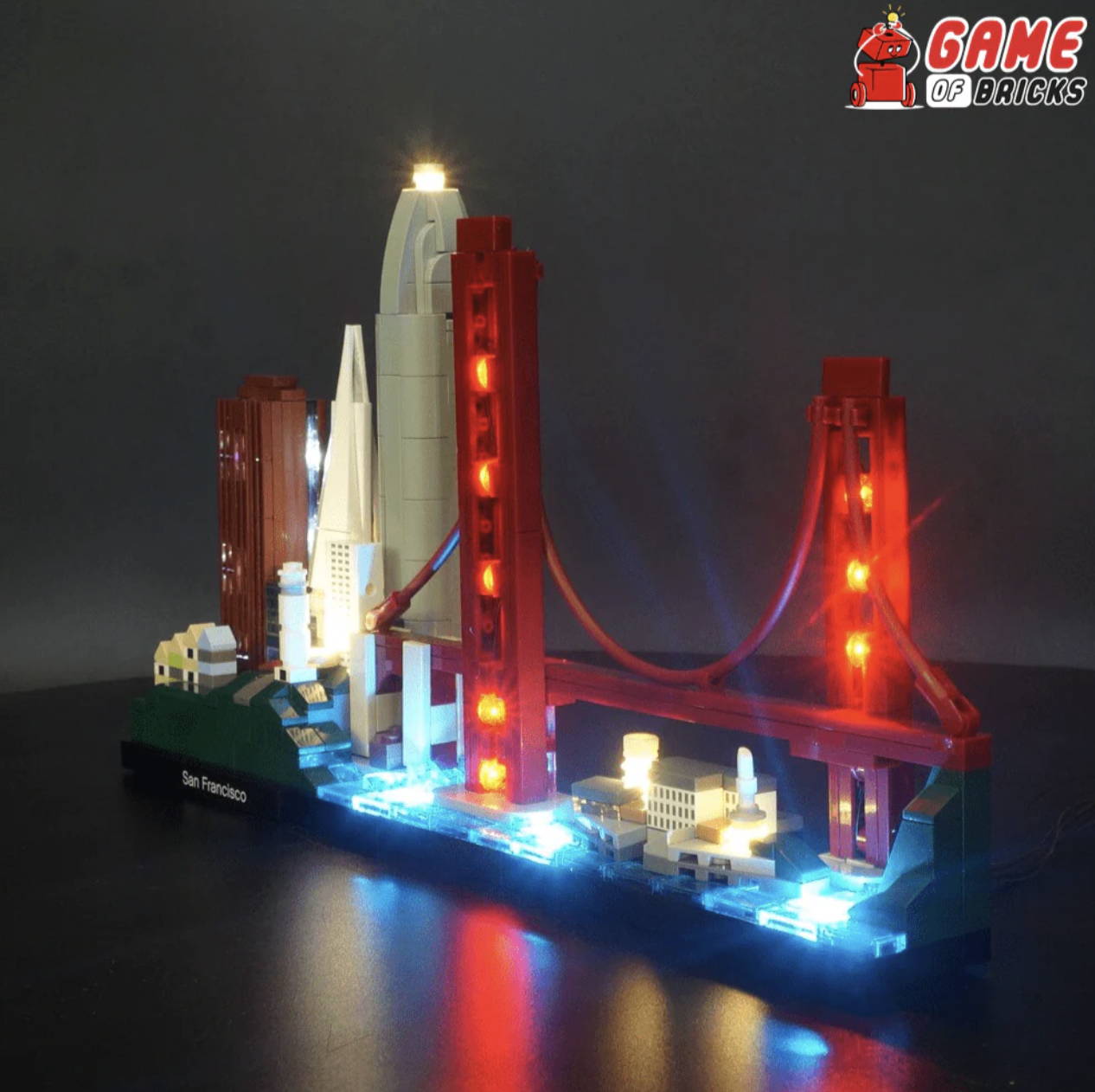 Enhanced Details
Game of Bricks' attention to detail truly shines through in the Light Kit for San Francisco. Each LED light is strategically placed to accentuate the architectural intricacies of the LEGO model. From the intricate Golden Gate Bridge to the illustrious Transamerica Pyramid, every landmark is meticulously illuminated, bringing a new level of authenticity and realism to the LEGO set. The warm glow of the lights adds depth and dimension, enhancing the overall aesthetic appeal and making it a remarkable centerpiece in any collection.
Customizable
The Light Kit for San Francisco offers ample room for customization, allowing users to tailor the lighting effects according to their preferences. With the included accessories, such as extra lights and connectors, users can personalize their LEGO model to create unique lighting patterns and ambiances. Whether it's choosing the brightness level or adjusting the placement of lights, Game of Bricks empowers users to express their creativity and transform the San Francisco skyline into a personalized masterpiece.

Durability
When it comes to durability, the Light Kit for San Francisco lives up to Game of Bricks' reputation for high-quality products. The LED lights are designed to be long-lasting, ensuring years of enjoyment without the need for frequent replacements. The wires are sturdy and discreetly hidden, preventing any unsightly disruptions to the LEGO model's appearance. Additionally, the components are constructed with durability in mind, ensuring that the lights remain securely in place, even during handling or movement.
Minor Downsides
While the Light Kit for San Francisco is an impressive addition to any LEGO enthusiast's collection, it's essential to consider a few minor downsides. Some users may find the installation process a bit time-consuming, requiring patience and attention to detail. Additionally, the light kit's price point might be slightly higher compared to other similar products in the market. However, these minor drawbacks are overshadowed by the kit's overall quality and the breathtaking effect it brings to the LEGO model.
Game of Bricks' Light Kit for San Francisco (21043) is an exceptional product that adds a touch of magic to the already captivating LEGO San Francisco model. With its easy installation process, enhanced details, customizability, and durability, this light kit is a testament to Game of Bricks' commitment to providing high-quality lighting solutions. While there may be some minor downsides, they are easily outweighed by the mesmerizing transformation this kit brings to the LEGO set. Elevate your LEGO experience and let the iconic cityscape of San Francisco shine with Game of Bricks' Light Kit.