A Winter Wonderland in Bricks With Lego Snowglobe 40223
By

Eve Alessa Arevalo
/
September 20, 2023
As winter approaches, there's nothing quite like the magic of a snow globe to transport us to a winter wonderland. But what if you could create your own snowy world, brick by brick? Enter the Lego Snowglobe 40223, a delightful addition to the Lego seasonal collection that captures the charm of the holiday season in a compact and charming design. In this review, we'll dive into the various aspects of this set, from its design and features to the building experience, playability, value for money, and more. Whether you're a Lego enthusiast or simply looking for a festive decoration, read on to discover if this snow globe should find a place in your collection.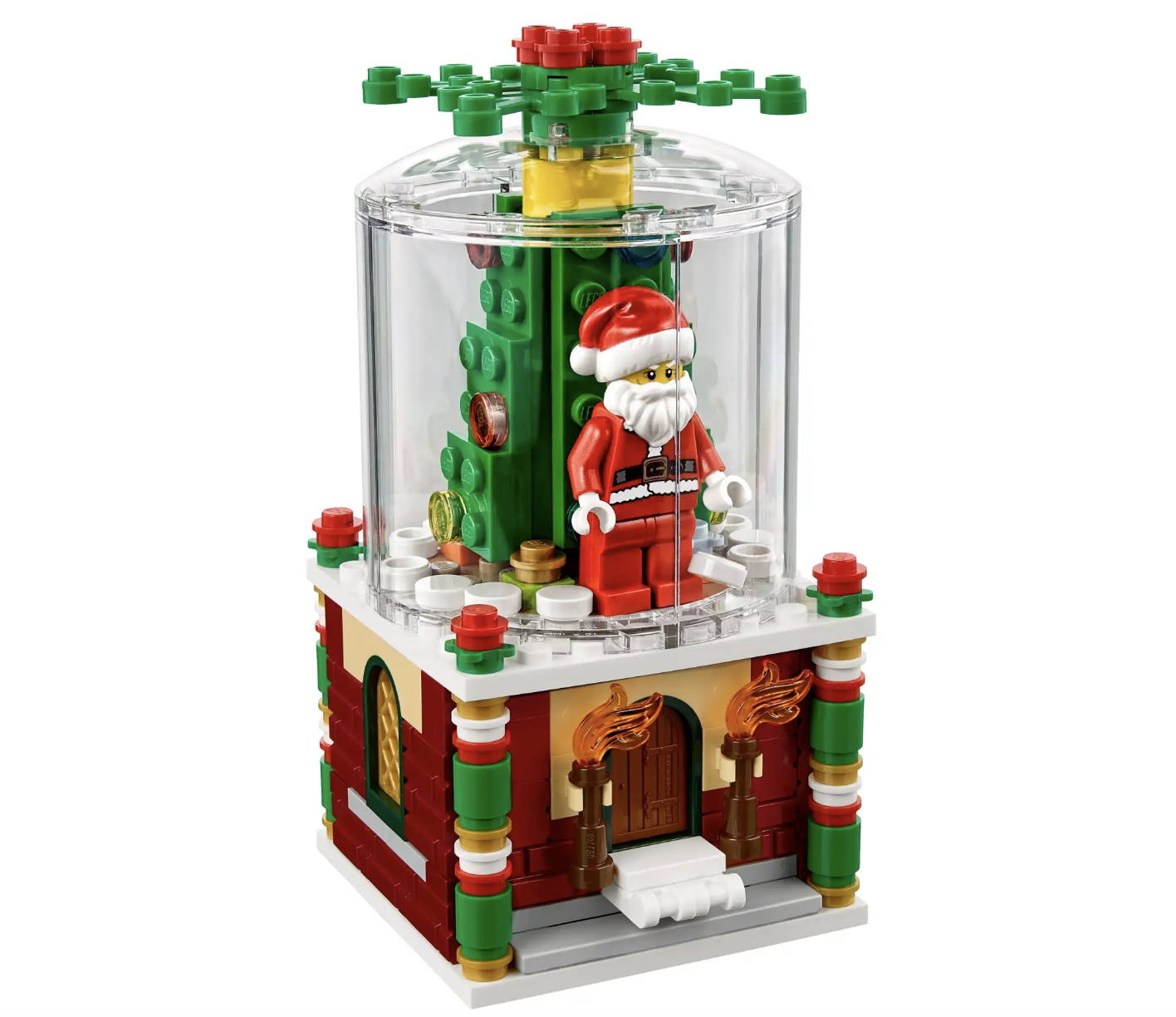 a. Main Components or Areas

The Lego Snowglobe 40223 consists of 215 pieces, thoughtfully selected to recreate the essence of a winter snow globe. The build begins with a sturdy circular base adorned with white snow-covered bricks. As you progress, you'll construct an elegant archway, complete with a pair of lampposts and a charming bench, all blanketed in snow. The centerpiece of the set is, of course, the snowman, a cheerful figure with a carrot nose and a black top hat. Surrounding the snowman is a colorful collection of gifts and presents. These elements come together beautifully to create a winter scene that evokes a sense of nostalgia and warmth.
b. Minifigures
While the Lego Snowglobe 40223 doesn't feature traditional minifigures, the snowman and the various gifts and accessories take center stage, embodying the holiday spirit. The snowman's design is endearing, and the attention to detail in its features is remarkable. Additionally, the choice of colors for the gifts adds vibrancy and diversity to the set.
c. Accessories and Decorations
What sets this snow globe apart is its use of transparent bricks to encase the winter scene. The dome-shaped globe adds an enchanting touch, allowing you to see the snowy wonderland from all angles. The snowflake decals on the globe contribute to its overall charm, and the golden base adds an element of sophistication to the design.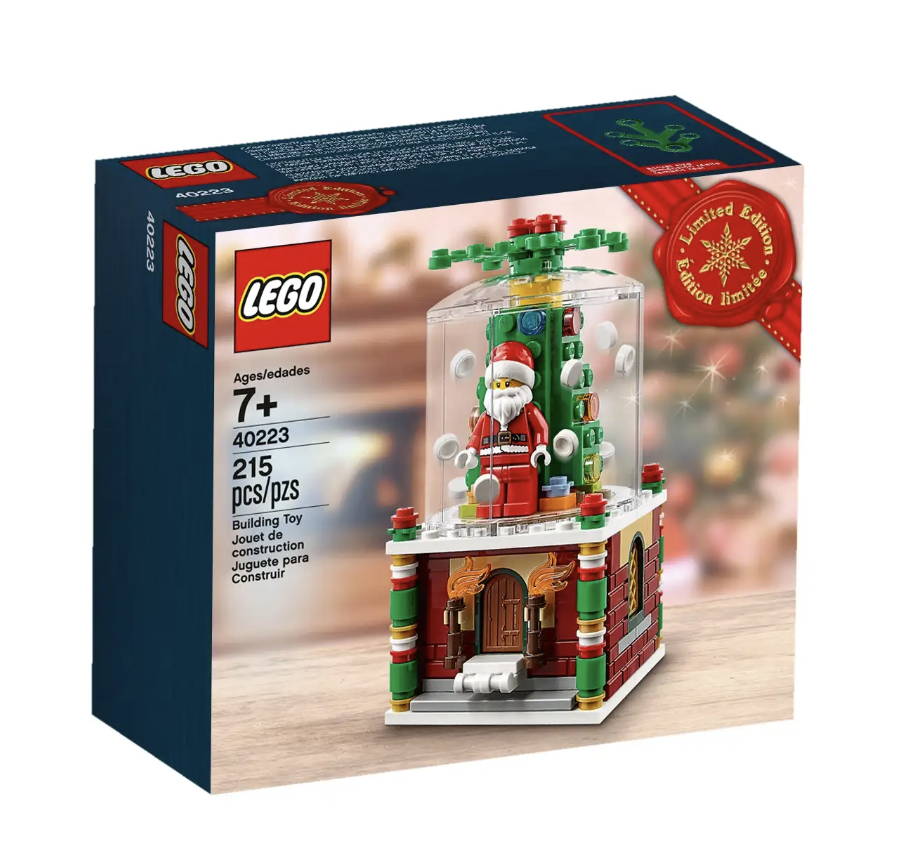 a. Complexity and Engagement

The Lego Snowglobe 40223 is a joy to build, making it suitable for both beginners and experienced Lego builders. Its 215 pieces are well-organized in numbered bags, ensuring a smooth and engaging building experience. The construction of the archway and snowman is particularly enjoyable, with clever building techniques that make the most of the limited piece count.
b. Instruction Manual and Building Process
The instruction manual is clear and easy to follow, with step-by-step guidance that eliminates any confusion during the building process. The suggested building order allows for a seamless flow, and the occasional design notes provide insights into the reasoning behind certain building choices. Overall, the build is satisfying, and it's rewarding to see the snow globe take shape as you progress.
Playability and Entertainment Value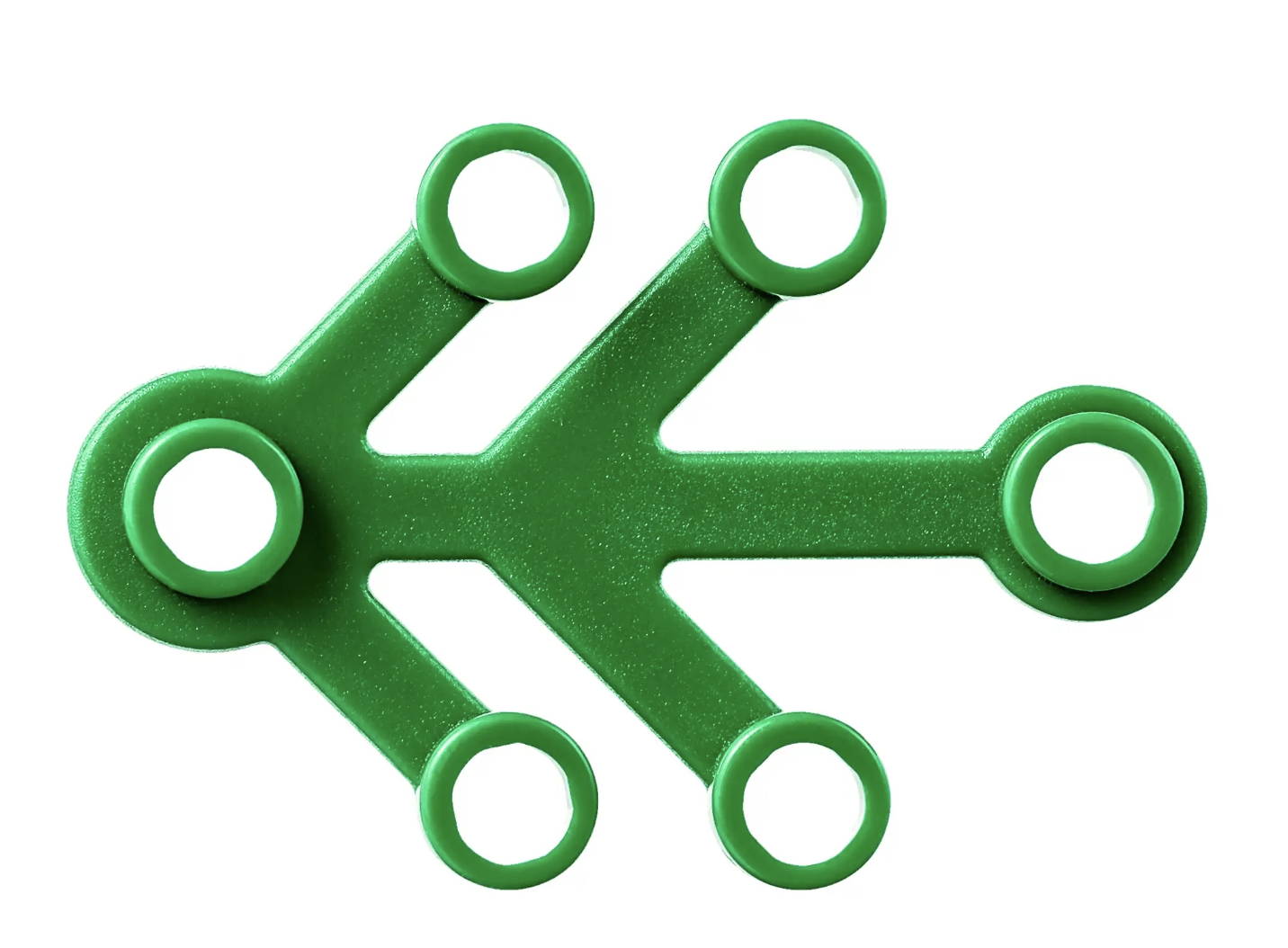 a. Interactive Features

While the Lego Snowglobe 40223 is primarily a decorative set, it does offer some interactive features. The dome can be easily removed to access the interior, allowing you to rearrange or adjust the snowman, gifts, or other elements to your liking. This versatility adds to its entertainment value, as you can change the scene to suit your mood or the season.
b. Opportunities for Imaginative Play and Storytelling
While not designed for extensive play like traditional Lego sets, this snow globe provides opportunities for imaginative play and storytelling. Children and adults alike can create their own winter narratives, with the snowman as the central character or by incorporating other minifigures from their collection. Its compact size also makes it easy to incorporate into larger winter-themed displays or dioramas.
a. Number of Pieces and Design

With 215 pieces, the Lego Snowglobe 40223 strikes a balance between affordability and intricate design. Its thoughtful selection of elements and the unique transparent globe design make it worth the price. Additionally, the set's seasonal appeal makes it a valuable addition to any holiday-themed Lego collection.
b. Compatibility with Other LEGO Sets and Themes
While the Lego Snowglobe 40223 is not part of an official theme, it complements other winter and holiday-themed Lego sets seamlessly. Its size and design make it a versatile addition to any winter diorama or display, and it can easily be incorporated into larger creations.
a. Pros

• Captures the holiday spirit with a charming winter scene.
• Thoughtful design with attention to detail.
• Engaging and enjoyable building experience.
• Versatile for imaginative play and decoration.
• Value for money with 215 well-chosen pieces.
b. Cons
• Limited playability compared to traditional Lego sets.
• May not appeal to those not interested in seasonal or decorative Lego sets.
Final Thoughts and Recommendations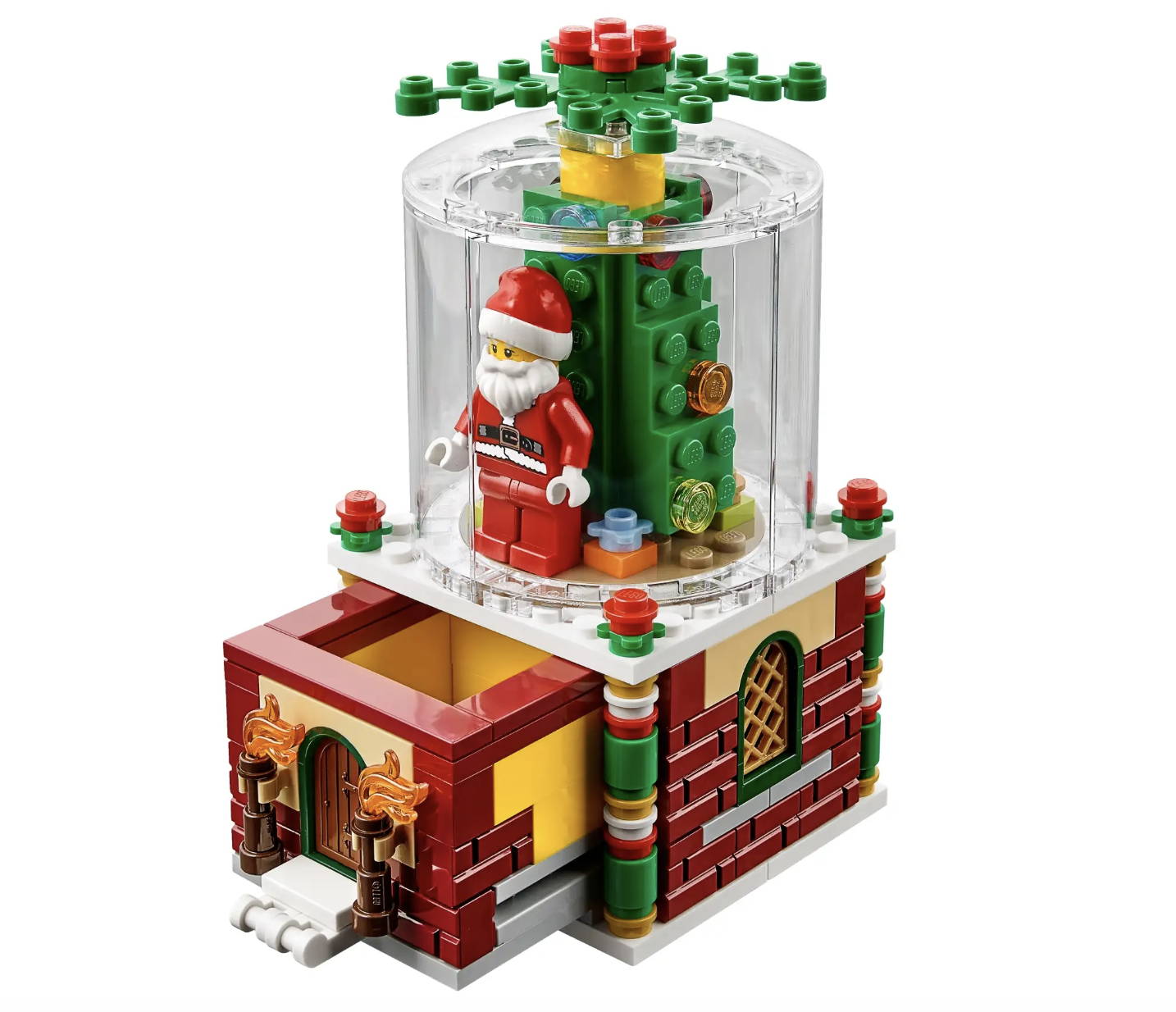 Summary of the Set's Appeal

The Lego Snowglobe 40223 is a delightful addition to the Lego seasonal collection. With its charming winter scene, elegant design, and engaging building experience, it captures the holiday spirit and offers an opportunity for imaginative play and decoration. The set's value for money and compatibility with other Lego sets make it a versatile choice for Lego enthusiasts of all ages.
Target Audience and Overall Value
This snow globe is a must-have for Lego collectors who appreciate seasonal and decorative sets. It's also a wonderful gift idea for Lego enthusiasts, young and old, who want to add a touch of winter magic to their collection or home decor. While it may not provide the same level of play as traditional sets, its charm and versatility make it a valuable addition to any Lego enthusiast's inventory.
In conclusion, the Lego Snowglobe 40223 is a delightful representation of the holiday season in brick form. Its enchanting design, engaging building process, and versatility make it a valuable addition to any Lego collection, and it's sure to bring a touch of winter wonderland magic to your home. So, if you're looking to capture the holiday spirit and add a unique decorative piece to your collection, this snow globe is worth every brick.
Lighting Up Winter Magic with Game of Bricks' Light Kit for Snowglobe 40223
As snow globes have always been symbolic of the enchantment of winter, the introduction of lighting serves to amplify this magic. When I stumbled upon the Light Kit for Snowglobe 40223 by Game of Bricks, it promised to do just that. An offering by a company well-known for enhancing the LEGO experience, the kit promised to transform the regular Snowglobe 40223 into a dazzling masterpiece. But did it hold true to its promise? Let's find out.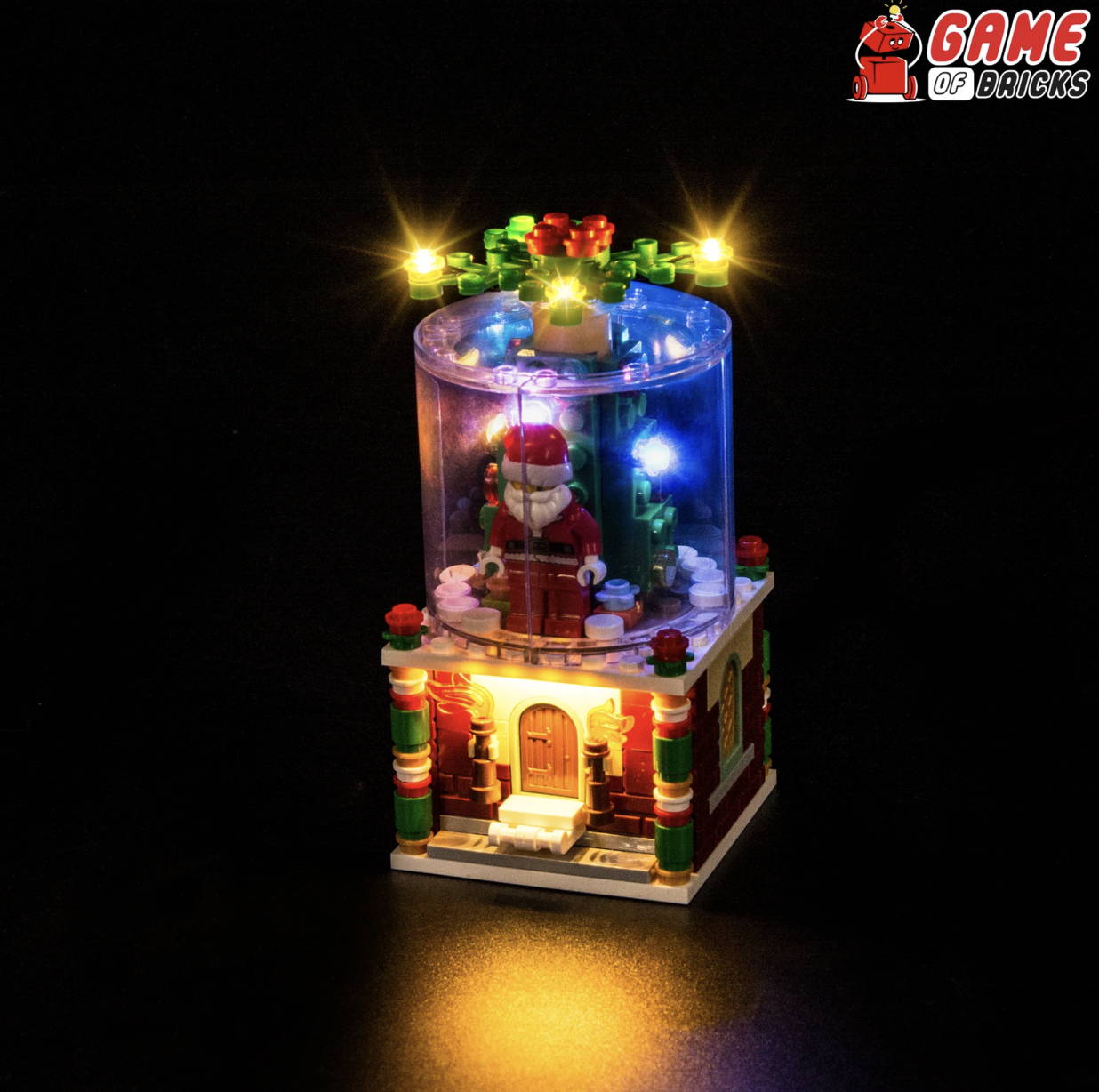 Easy Installation:
Diving into the box, the first aspect that stands out is the user-friendly nature of the kit. It comes with a straightforward manual that even those unfamiliar with LEGO or light installations will find simple to follow. The connections are intuitive, and within minutes, your snow globe is ready to shine.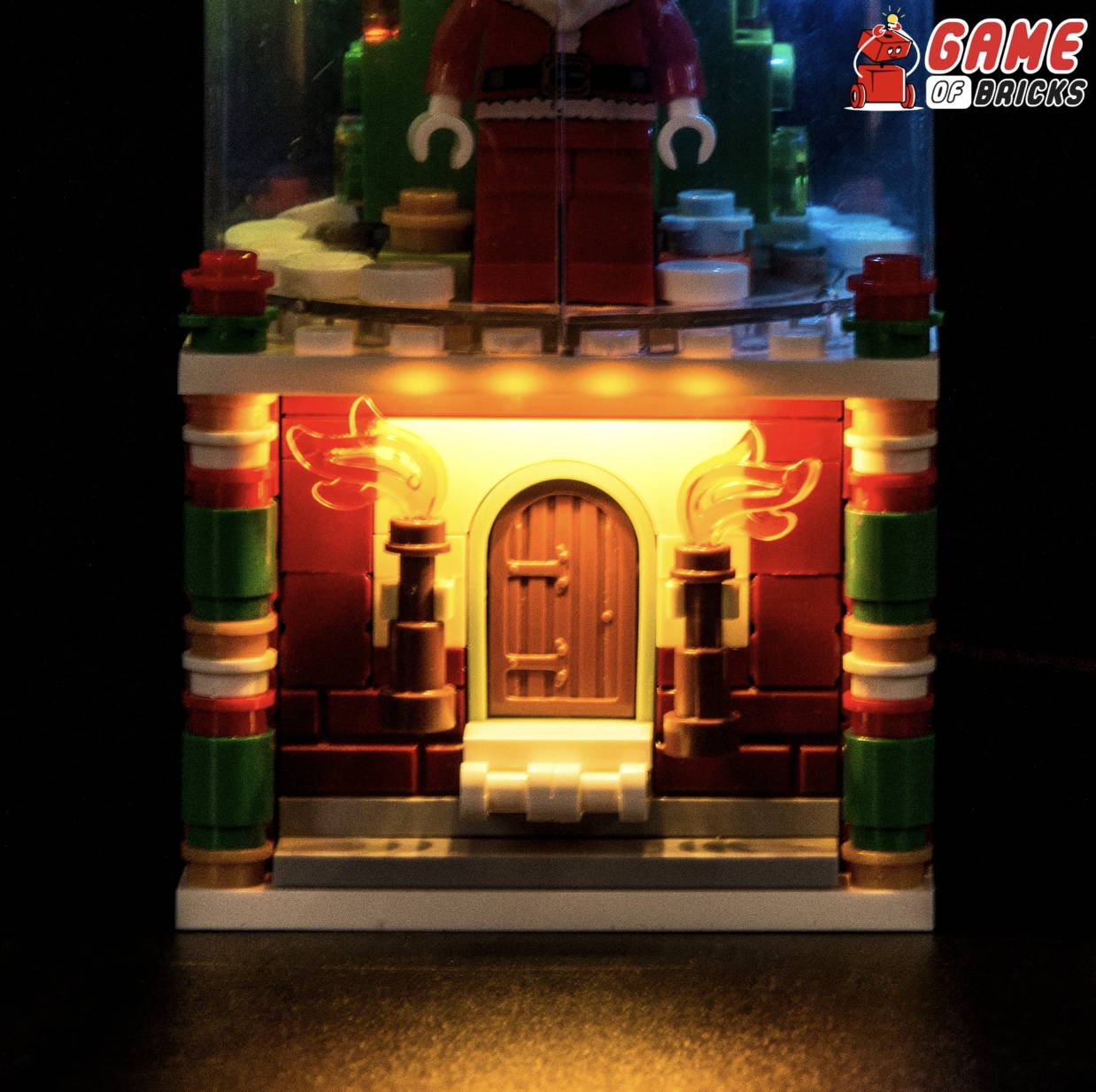 Enhanced Details:
The lighting not just illuminates the snow globe but accentuates the intricate details that often go unnoticed. Whether it's the miniature snow-covered trees, the tiny house, or the delicate snowflakes, the LED lights make sure every detail stands out. Game of Bricks has ensured that the lighting captures the essence of winter by casting a soft, frosty glow over the entire piece.

Customizable:
What I truly appreciated about the light kit was its customizability. With multiple brightness levels and a range of colors, users can set the ambiance according to their mood. Want a calm, snowy evening feel? Or perhaps a brighter daytime glow? The kit has you covered
Durability:
Considering the often delicate nature of LEGO builds, the durability of the light kit is commendable. The wires are thin enough to be discreet but sturdy enough to handle regular adjustments. The LED lights themselves have a long lifespan, ensuring that your snow globe will remain illuminated for countless winters to come.
Minor Downsides:
While the kit is impressive, it isn't without its minor hiccups. The battery pack can be a tad bulky, posing a slight challenge in seamlessly integrating it with the display. Additionally, a remote control would have been a welcome addition, making it easier to switch between different settings without manually fumbling with the setup.
The Light Kit for Snowglobe 40223 by Game of Bricks is more than just a set of lights; it's an enhancement to the overall LEGO building experience. While the minor downsides prevent it from being perfect, the positives heavily outweigh the negatives. It's easy to install, highlights the enchanting details of the snow globe, and offers a customizable experience that caters to every user's mood. If you're looking to add that extra touch of magic to your Snowglobe 40223, this light kit is the way to go. Let your winter wonderland shine brighter and more magical with Game of Bricks.