Reach Peak Disney Royalty with LEGO Elsa's Magical Ice Palace 43172
By

Eve Alessa Arevalo
/
August 27, 2023
The LEGO universe is vast and diverse, bringing to life many of our favorite tales, characters, and locations. When it comes to the magical world of Disney's Frozen, LEGO has indeed managed to capture the enchantment with its Elsa's Magical Ice Palace (43172). This set promises hours of imaginative play and a journey into Elsa's fantastical realm. Let's dive into its offerings.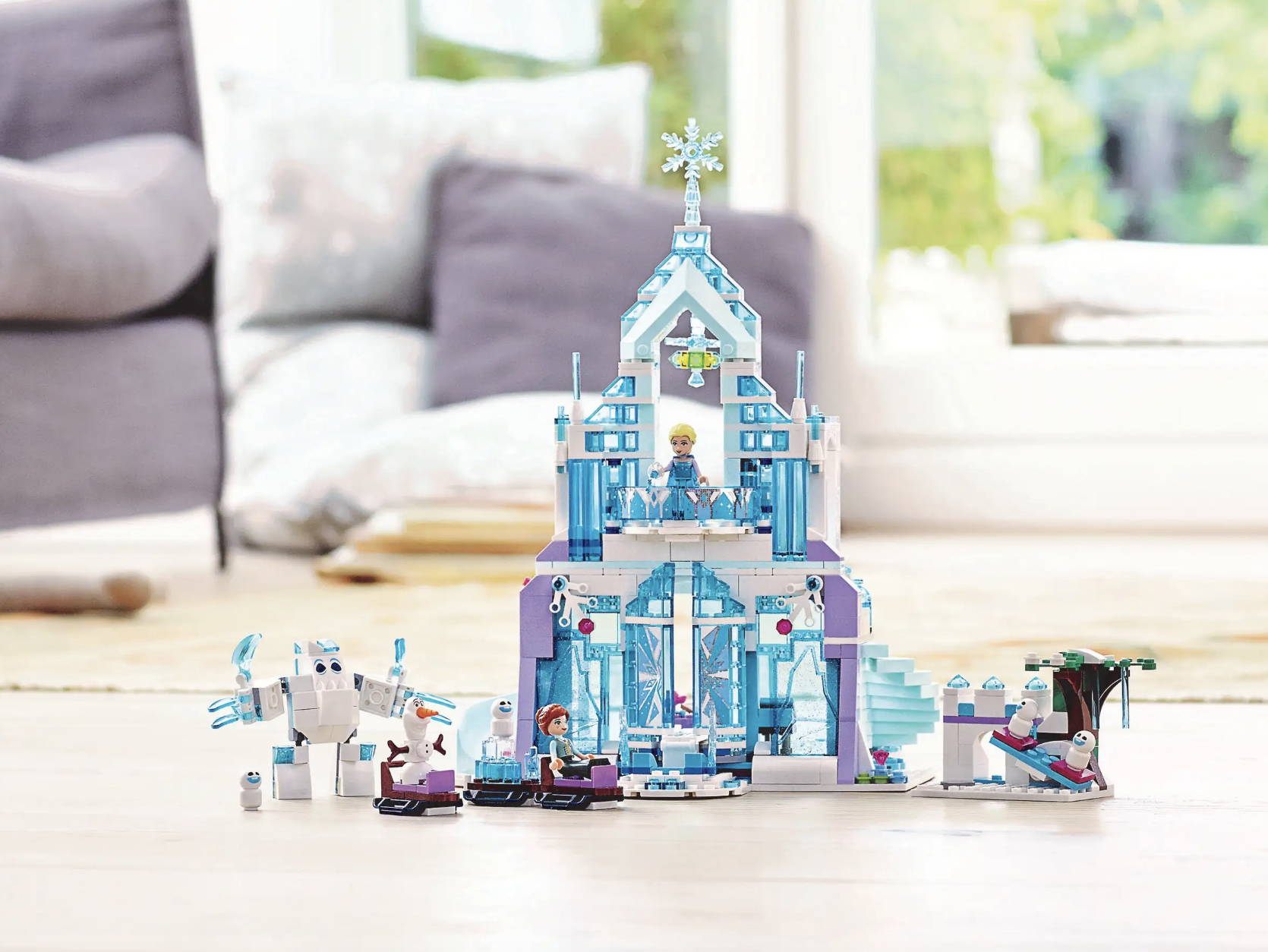 a. Main Components or Areas The star of this set is the intricate Ice Palace. A grand façade of clear blue and white bricks forms Elsa's castle with beautiful crystalline structures, elegant balconies, and a grand entrance. Beyond the palace, there's also a play area with a snow fort and a tree adorned with icicles.

b. Minifigures Every LEGO tale is brought to life by its characters. The set includes Elsa and Anna mini-dolls, capturing the essence of these beloved princesses. Their loyal companion, Olaf, and a little snowgie are present, as is the enchanted marshmallow bodyguard.
c. Accessories and Decorations LEGO has paid attention to details with numerous accessories that decorate the set. There's Elsa's throne, an ice cream bar, a music stand, a rotating dance floor, and even a sliding bridge to recreate some of the movie's iconic scenes.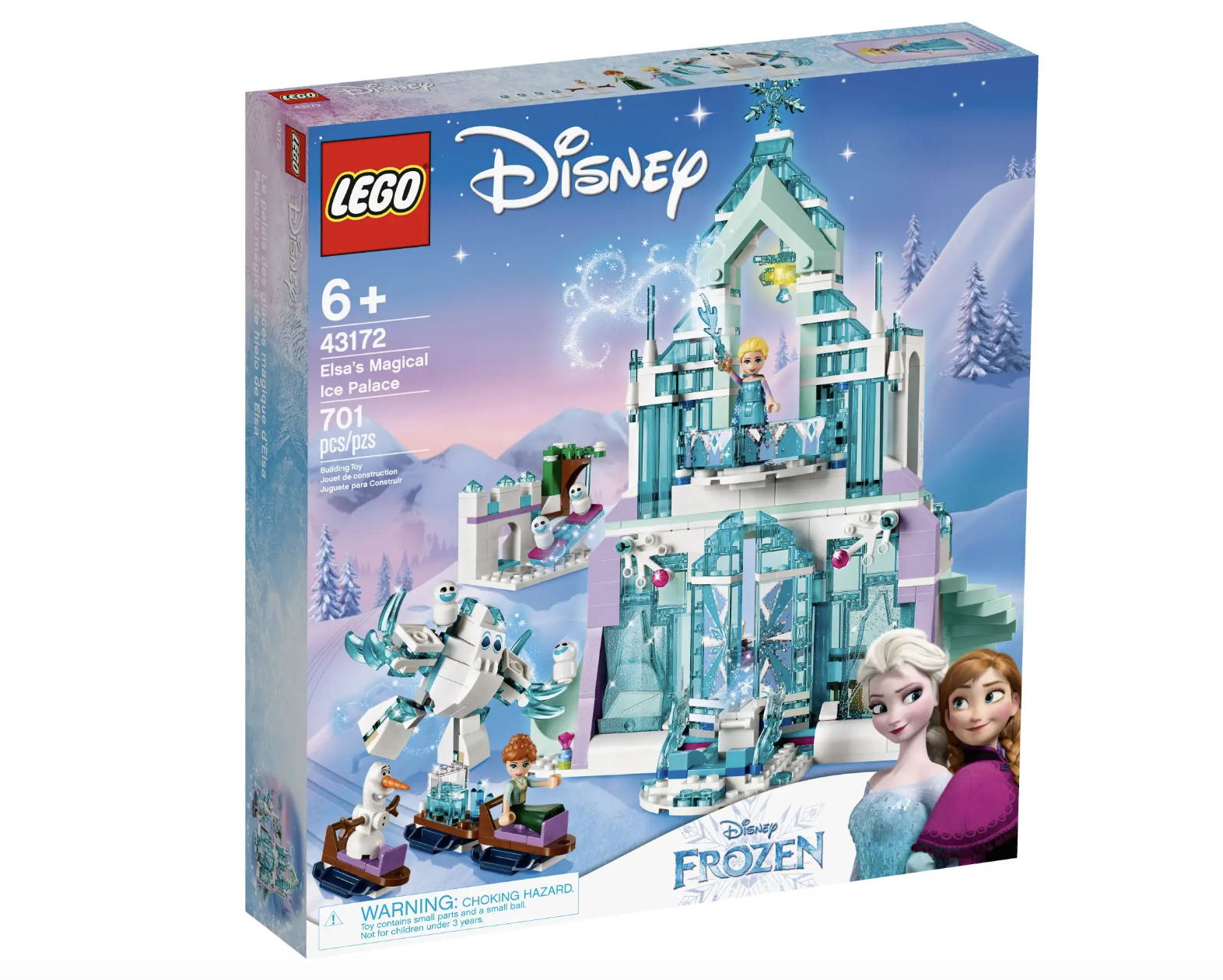 a. Complexity and Engagement The 701-piece count of the set suggests a medium-level complexity. Aged 6 and above, both beginners and intermediate LEGO builders can enjoy assembling Elsa's realm. It's a blend of straightforward stacking and some intricate detailing, striking a balance between challenge and fun.

b. Instruction Manual and Building Process True to LEGO's signature style, the instruction manual is clear and easy to follow. The steps are laid out with detailed illustrations and numbered bags ensure a smooth building flow. Each segment is carefully structured to provide an incremental sense of accomplishment.
Playability and Entertainment Value
a. Interactive Features The palace is more than just a static display. The sliding bridge, rotating dance floor, and a secret staircase that can be activated to recreate Elsa's magical reveal are some of the interactive features that amplify the play value.
b. Opportunities for Imaginative Play and Storytelling Once the build is complete, the storytelling begins. Kids can recreate scenes from the Frozen film, come up with new adventures for Elsa and Anna, or integrate the set with other LEGO stories. Olaf's antics, Elsa's magic, and Anna's adventures are the beginning – the rest is up to the imagination.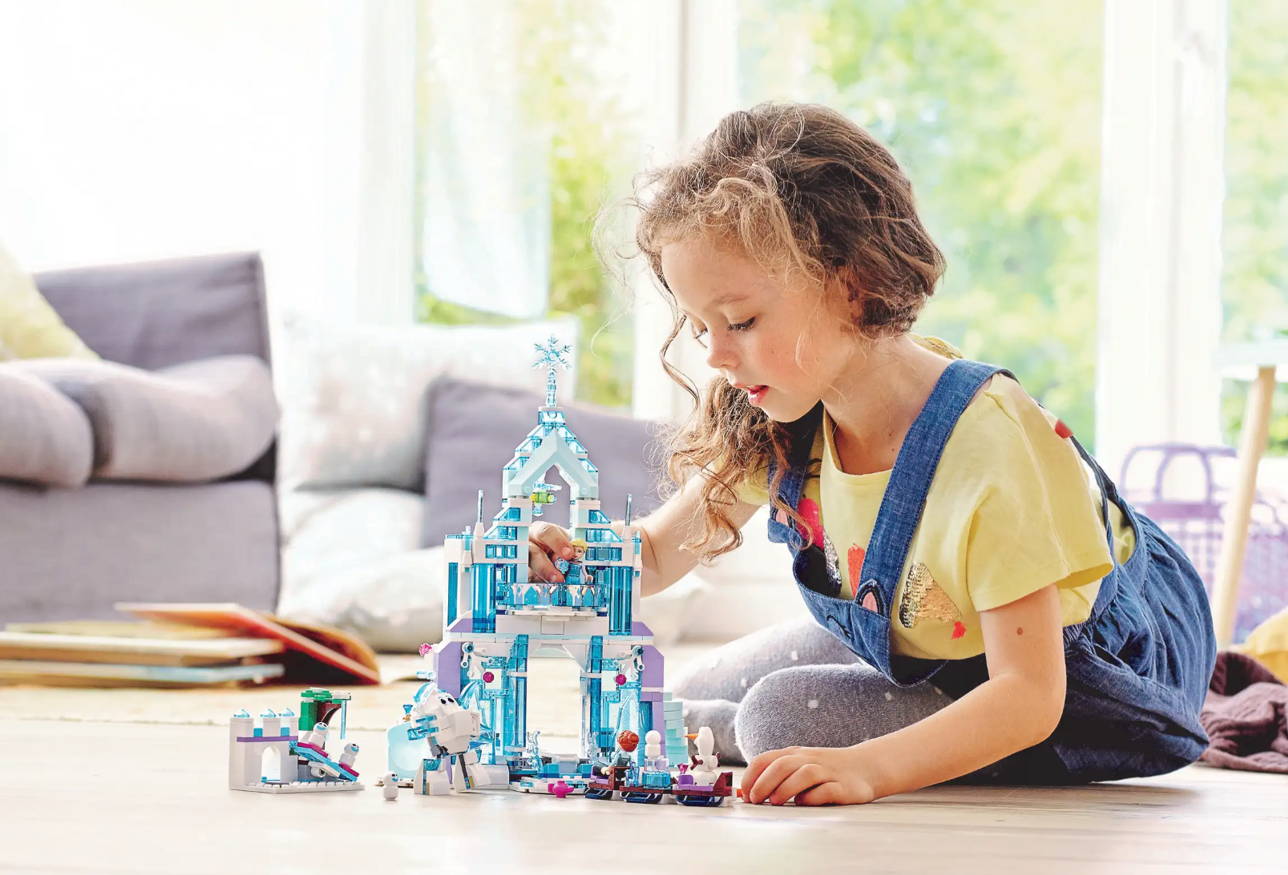 a. Number of Pieces and Design With 701 pieces and an intricate design, the set offers a substantial build experience for its price point. The transparent bricks, unique colors, and decorative elements make it a visually appealing creation.
b. Compatibility with other LEGO Sets and Themes This palace integrates seamlessly with other LEGO Disney sets. While primarily a standalone piece, creative builders can easily merge Elsa's world with other LEGO stories, expanding the narrative possibilities.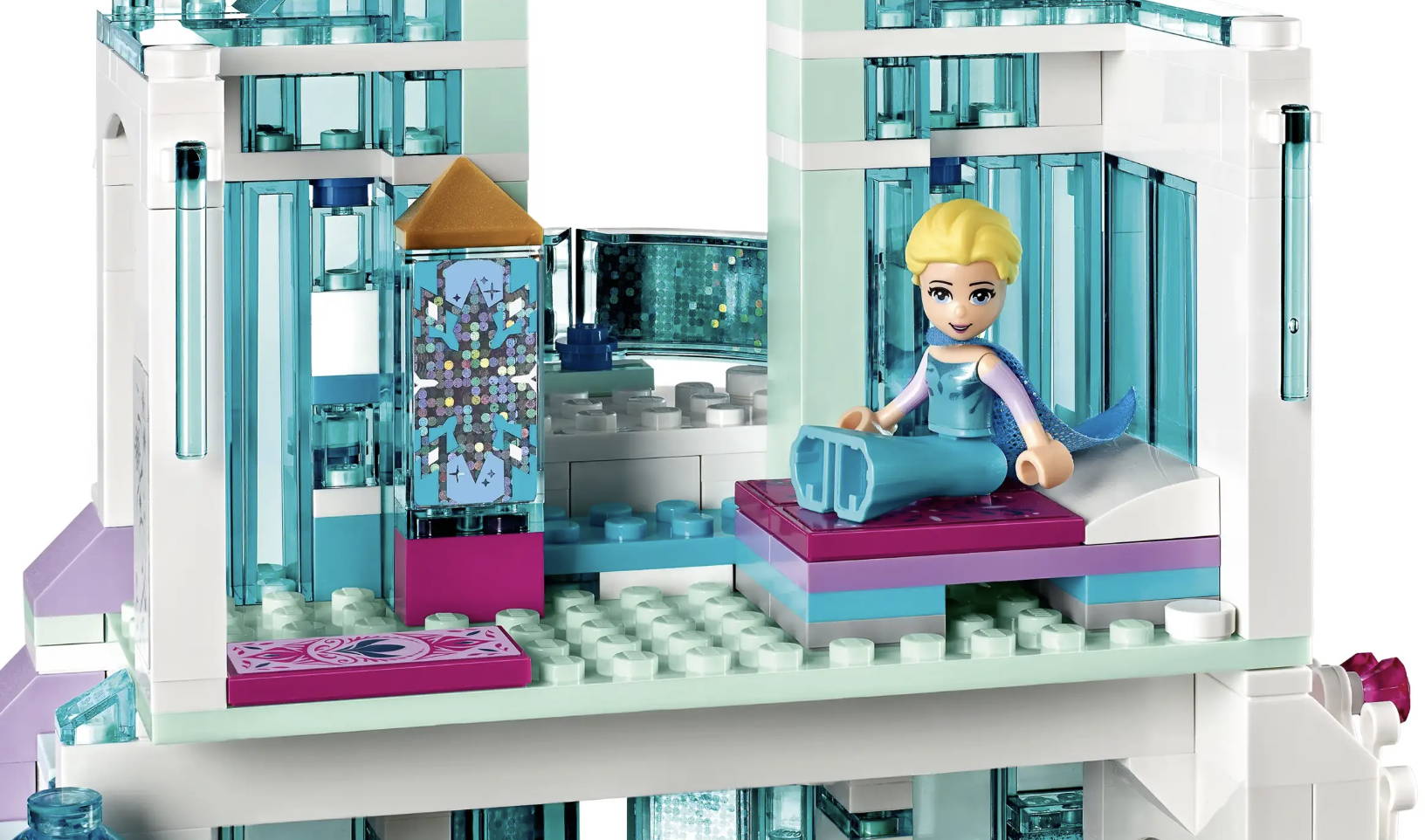 a. Pros
• Detailed and authentic representation of Elsa's palace.
• A balanced building experience for various age groups.
• High playability with multiple interactive features.
• Wide array of accessories to enhance the narrative.
b. Cons
• Some of the smaller pieces can be challenging for younger builders.
• The palace's delicate design might be prone to accidental breakages during play.
Final Thoughts and Recommendations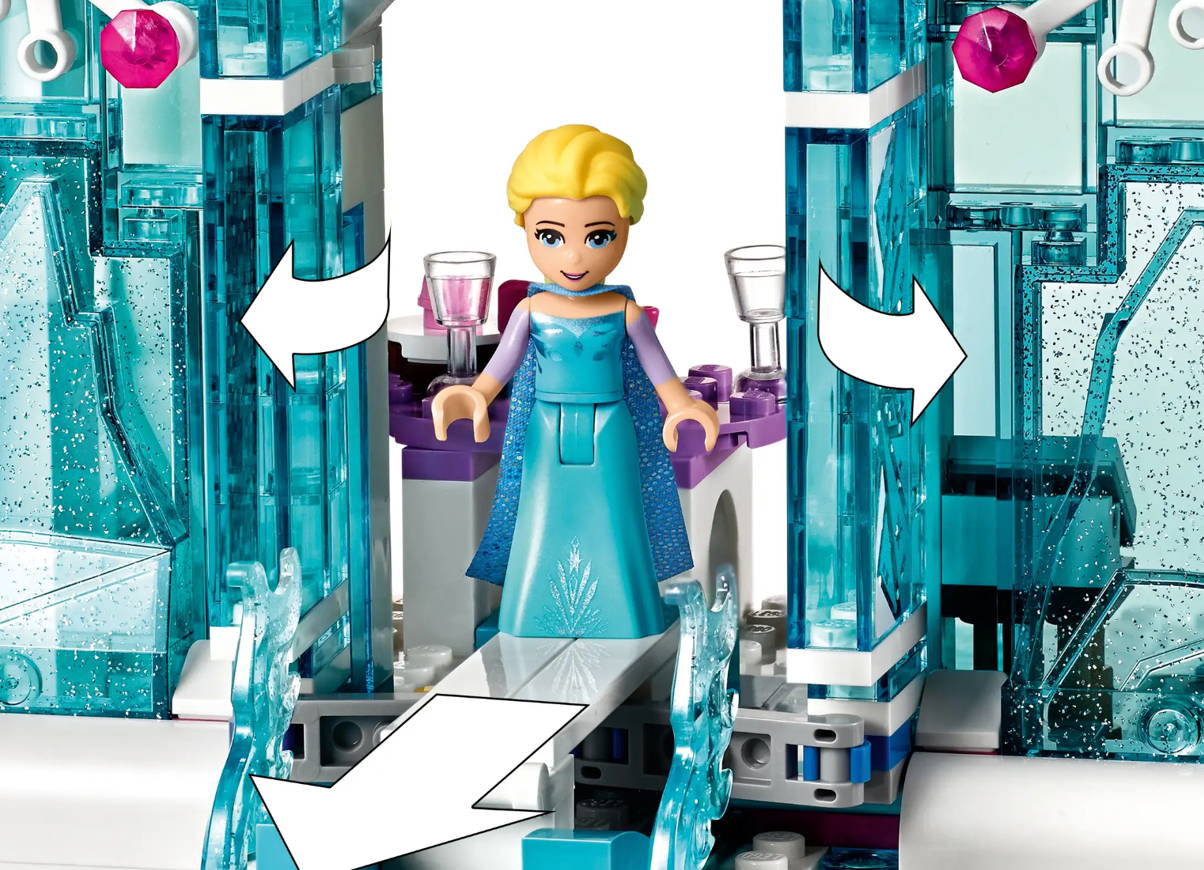 a. Summary of the Set's Appeal Elsa's Magical Ice Palace (43172) is more than just a LEGO set. It's a passage into the Frozen universe, offering builders a dual joy: the pleasure of creation and the thrill of storytelling. With its enchanting design, numerous accessories, and rich playability, this set is a crown jewel in the LEGO Disney series.

b. Target Audience and Overall Value While primarily targeted at young builders aged 6 and up, the set has enough charm to captivate older fans of the Frozen universe. It offers great value both as a collectible and a playset, making it a worthy addition to any LEGO enthusiast's collection.
In conclusion, LEGO Elsa's Magical Ice Palace (43172) is a testament to LEGO's commitment to blend creative building with storytelling. Whether you're a Frozen fan, a LEGO aficionado, or both, this set promises a magical experience worth every brick.
Illuminating Elsa's Palace - The Game of Bricks Light Kit for Elsa's Magical Ice Palace 43172
Every LEGO enthusiast knows that an exquisite set deserves a lighting upgrade, and when it comes to Elsa's Magical Ice Palace 43172, a favorite among collectors, the expectation is even higher. Enter the Light Kit by Game of Bricks, a name known for transforming ordinary LEGO sets into luminous masterpieces. But does this kit live up to the reputation? Let's delve into the details.
Easy Installation
One of the primary concerns when it comes to additional components for a LEGO set is the installation process. Game of Bricks seems to be well aware of this concern and has made it remarkably simple, even for those who might be new to such enhancements. With a detailed instruction manual and components that fit seamlessly with the LEGO bricks, setting up the lights is as intuitive as it gets. No need for any technical expertise; if you can build with LEGO, you can easily install this light kit.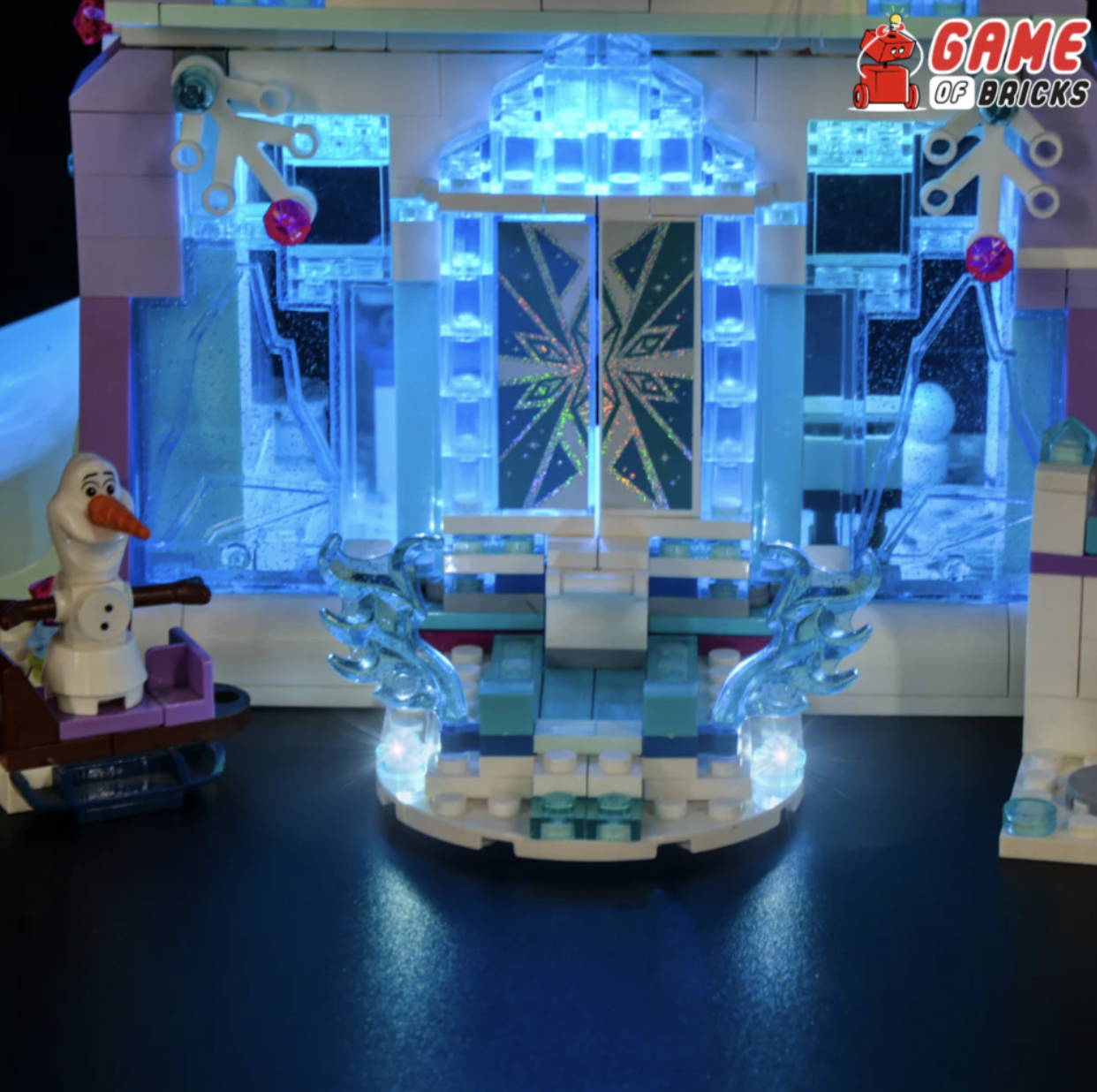 Enhanced Details
Elsa's palace is all about the shimmer and shine, representing the magic of her powers. The Game of Bricks Light Kit elevates this aspect to a whole new level. Once illuminated, the intricacies of the ice palace, from its towering spires to the ornate windows, become even more captivating. The lighting not only emphasizes the architectural elegance of the set but also creates an ambiance that truly represents the enchantment of Elsa's world.
Customizable
One feature that sets this kit apart is its customizability. Game of Bricks has provided various lighting options, allowing you to set the mood as per your preference. Whether you want a serene glow that mimics the Northern Lights or a dynamic shimmer to showcase the palace's majesty, the choice is yours. The included remote control also makes it easy to adjust the brightness and switch between different lighting modes.

Durability
Another noteworthy aspect of the Light Kit is its durability. The LEDs used are of high quality, ensuring they last long and maintain their luminosity. Additionally, the wires are both thin and sturdy, meaning they won't easily break and can be discreetly integrated into the build. Game of Bricks appears to understand that LEGO enthusiasts invest not just money but also emotions into their sets, and thus, durability is paramount.
Minor Downsides
No product is without its flaws, and while the Game of Bricks Light Kit impresses on multiple fronts, there are a couple of areas where it could have done better. Firstly, for those who are not familiar with LEGO light kits in general, the initial setup might feel slightly overwhelming due to the sheer number of components. While the instruction manual is detailed, a few more visual aids or perhaps even an online tutorial could be beneficial. Secondly, the batteries for the remote control are not included, which, though a minor inconvenience, feels like an oversight for a product of this caliber.
All in all, the Game of Bricks Light Kit for Elsa's Magical Ice Palace 43172 is a must-have for any serious collector. It not only accentuates the beauty and magic of the original LEGO set but also adds a layer of enchantment that makes the palace come alive, especially in dim settings. While there are minor hiccups, they're overshadowed by the brilliance of the lighting, the attention to detail, and the durability of the components. For those looking to breathe new life into their Elsa's Magical Ice Palace, this light kit is nothing short of magical.