A magical way to upgrade your LEGO Ice Castle 43197 Set
By

Nikita P.
/
July 17, 2021
Are you a fan of Disney stories? Then youmust definitely know and love the movie frozen. Ever since the release of themovie frozen, it has seen great success, with some of the characters, if notall have been loved and supported by both Disney and non-Disney fans alike.
A lot of places and environments weredepicted in the movie frozen 1 and 2. Some of these places include the Enchantedforest, Arendelle, The Southern Isles, and of course Elsa's Ice Castle. Themost famous though, out of all these locations,which even your five-year-old will remember, is the Ice Castle of our belovedqueen Elsa.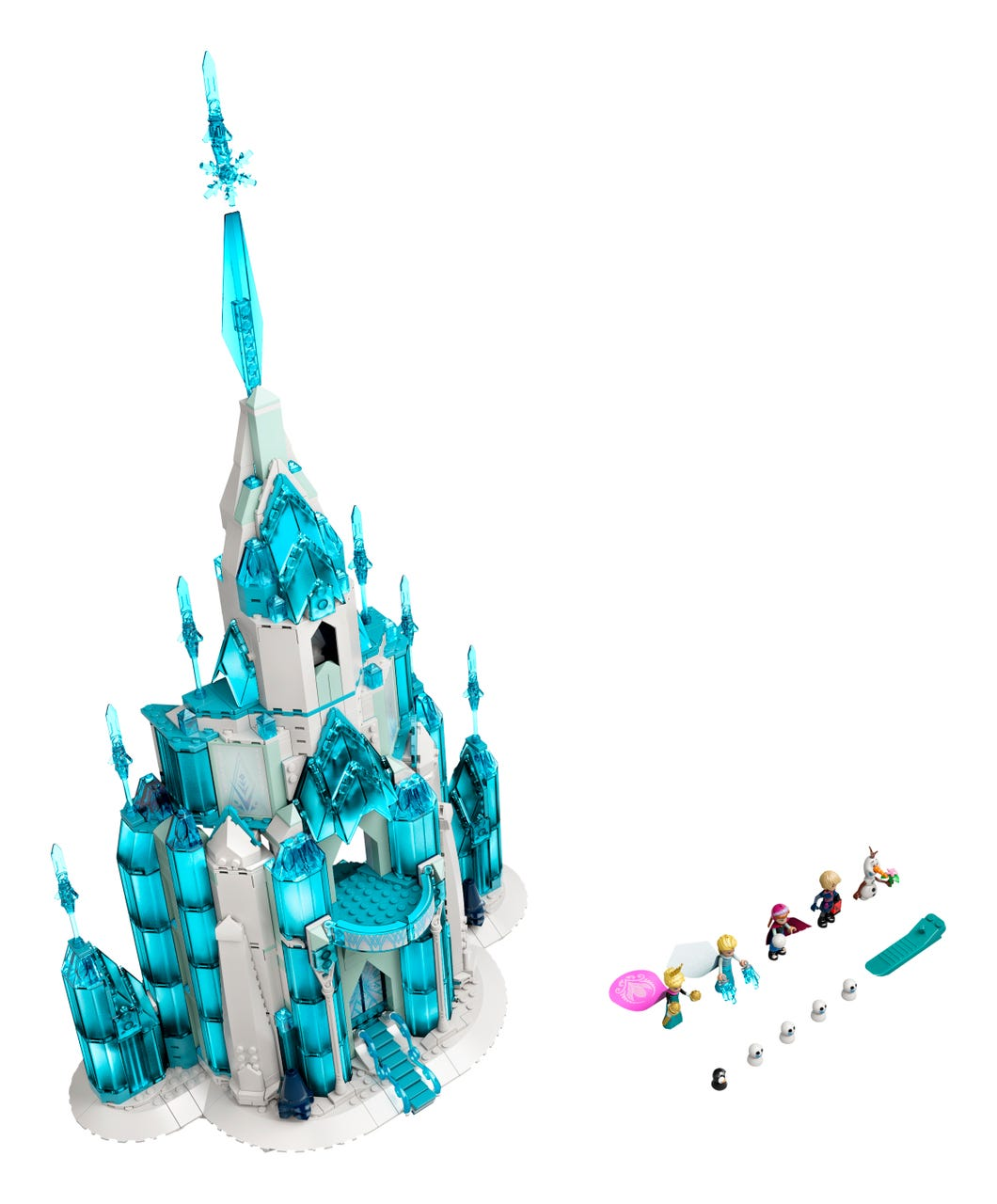 This castle was not originally icy but wasmade that way by queen Elsa herself. This castle originally looked cold andscary, but later regained its magic and look as beautiful as ever. There arelots of people who admire this beautiful and magical fictional place. Are youone of them? Do you wish you could have a smaller yet similar look-alike tothis amazing castle?
Then long no more, for your wait is finallyover!! With the release of the Lego, Ice Castle 43197 set you get the chance tobring together a replica of the original Ice castle of Elsa from frozen. Thisset will leave any Lego and Disney-frozen fanatic in awe of the impressivedetailing of this amazing set.
BUILDING EXPERIENCE FOR THE LEGO ICECASTLE 43197 SET.
Are you a fan of a challenge? Then this isjust the set for you. This set posses a challenging build with authenticdetails from the movie. This set is suitable for young builders from ages 14upward and could keep even the most experienced builder hooked for hours,trying to bring this set to life.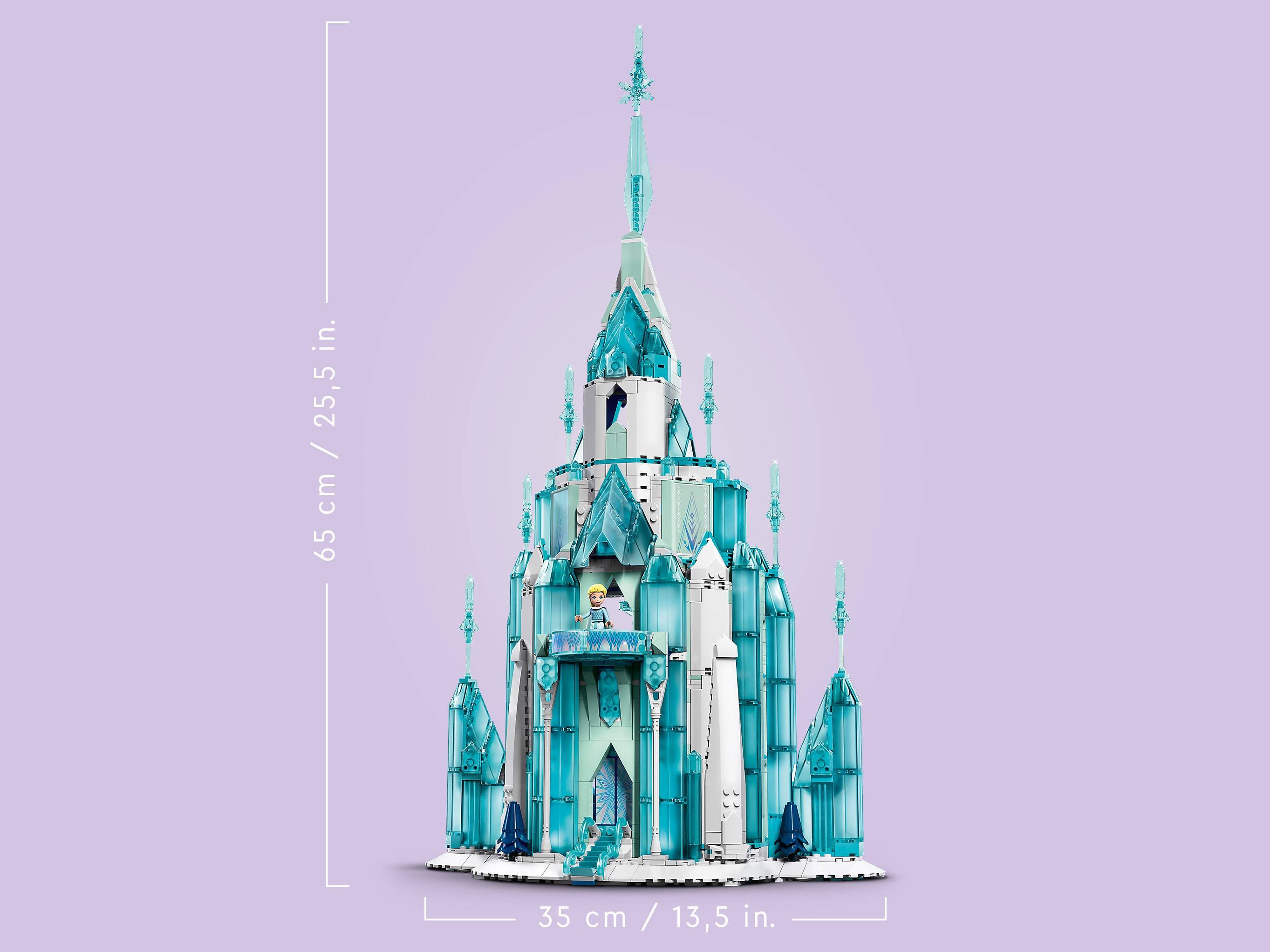 What makes this set more fascinating tobuild, is the fact that it comes with a digital building plan, which helps takethe building of this set to a better whole new level. The digital building planincludes features like zoom, rotation, and even ghost mode. This digital plandoes more than make building easier, for it helps wet the apatite of builders,making them more enthusiastic about building.
So if you are in search of a set that willkeep your teenage kids engaged, or maybe you looking to unwind and relieve yourselffrom the stress of the day, entering into a world of magic and love, then thisis definitely a set fit for you to build.
FEATURES OF THIS AMAZING SET.
This Lego Disney ice castle set comes witha lot of amazing features and details. This part of this article will highlighta few of those features.
1. IMPRESSIVE DETAILS OF THIS SET.
This set features a lot of impressive details, which helps make the set easily recognizable by Disney frozen fans. One of these features is the frozen build of the set. The bricks are detailed to replicate the crystal Clare ice of the movie counterpart. The frozen look on each brick is so detailed that you may feel as though you may freeze by touching a single brick.
Another impressive detail is the authentic design of the castle. Well, noticed the word authentically? This word is you to help you understand just how well and precise the building structure is. The set is designed with two grand staircases leading up to the throne room, a great hall, and the famous balcony where Elsa sings the famous "Let it go" musical number, and many more impressive and authentic structural details.
2. SIZE AND MINIFIGURES OF THIS SET.
This set lacks nothing when it comes to size. The set stands proudly tall with over 1700 pieces, about 1709 to be precise. All these pieces are gifted with impressive and unique detailing, which helps add to the overall beauty of the set.
This set will not be complete without its Minifigures. Thankfully Lego did not fall short in this area gifting this set with four outstanding Minifigures of familiar and of course, very important casts of the movie. This set also features an additional four Lego Snowgie figures.
The main Minifigures include two versions of Elsa, both in her coronation and iconic look, her sister Anna, with Kristoff, and snowman Olaf. With these characters, you are opened to a world of impressive role-playing and endless adventures.
3. DIGITAL BUILDING PLAN.
A lot of our Lego sets come with their very own building plan. This plan is designed to help both experienced and inexperienced Lego builders to have both a smooth and enjoyable building experience. This time, with this set, Lego is stepping up the game with a more cool and impressive digital building plan.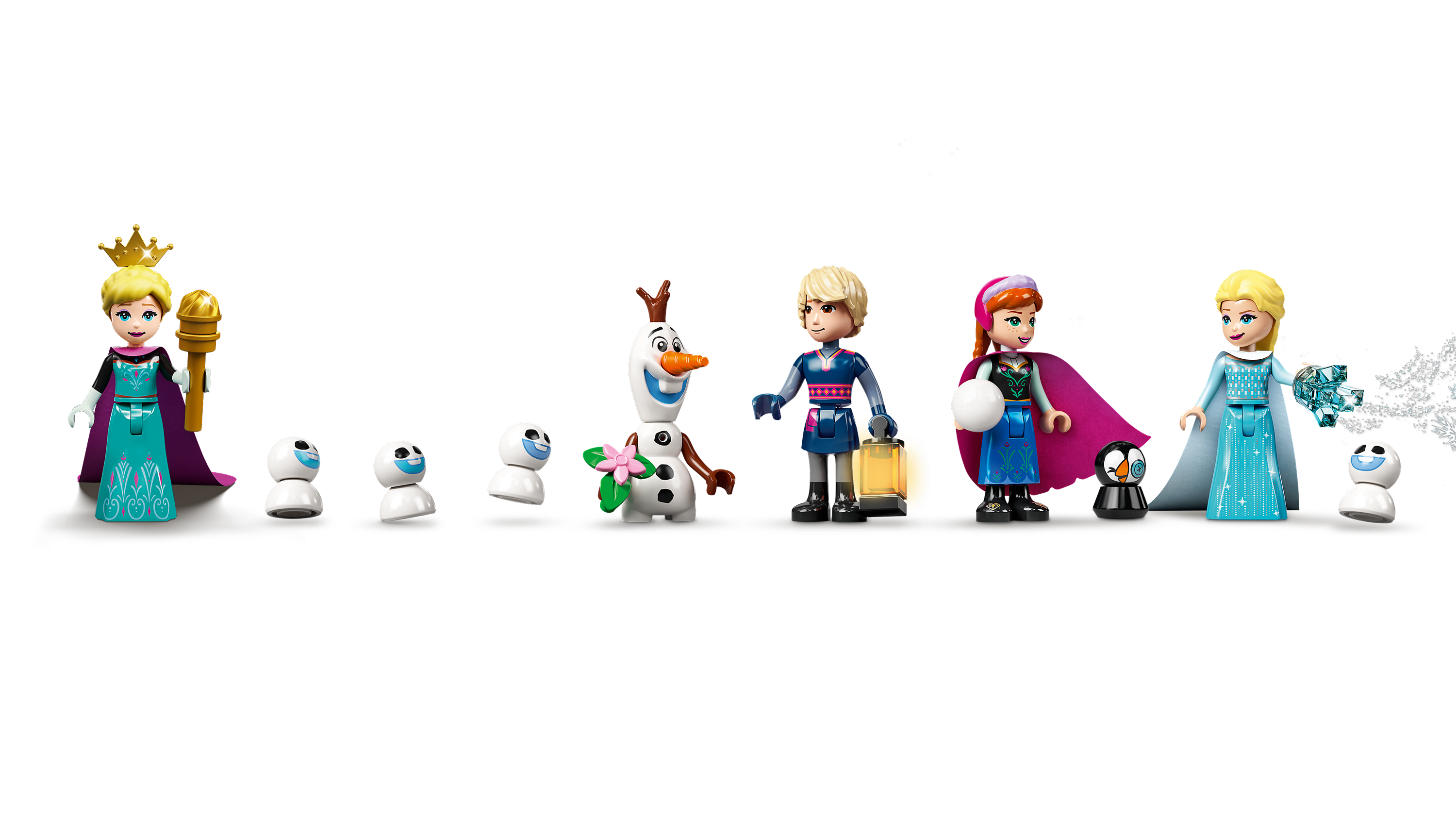 This plan helps change the game plan, giving you more fun and exciting building experience. Some of the features of this plan include a three-dimensional plan which you can zoom, rotate, and even set to ghost mode. This plan is designed to help you know just what you are trying to achieve while also whetting your appetite to build.
4. ENGAGING BUILD.
This set is designed to be fun and engaging. It could keep even the least enthusiastic Lego builder inspired to build. The set makes each difficulty seem less difficult, and with its 3D building plan, new Lego builders could feel like professionals bringing this set to life.
This set is made to keep builders of all ages engaged, uncovering the secrets of this amazing ice castle, while bringing it to life in a matter of hours. So if you are looking for an engaging set for a new Lego project, then this is a set just for you.
5. PRICE OF THE LEGO ICE CASTLE 43197 SET.
This set, like other Lego sets, varies in size, depending on your location and the store you choose to buy from. It is highly recommended that you buy this set from any of our Lego stores around the world. And if don't have access to Lego stores in your area, then you can easily purchase this set from our online store.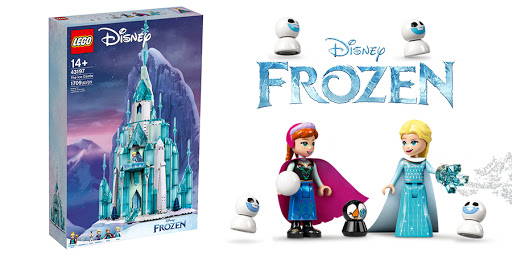 This set is sold at about 199.99 dollars in our Lego store in the US and our online store. If you live in Australia, then you can get this set for about 349.99 dollars. This is a result of its limited shipment to Australia. For those in the UK, you can get this set anything from 54.99 to 74.98 depending on your location.
MAKE YOUR LEGO ICE CASTLE CRYSTAL CLARE WITH OUR AMAZING LEGO LIGHTS.
The Lego ice castle set is more than beautiful. The set is magnificent and will stand out in a line of Lego collections. But do you know what will make this set even more amazing? Our Lego light kit. With our Lego light kit, you can perfectly illuminate this set making it shin-like crystals reflecting through light.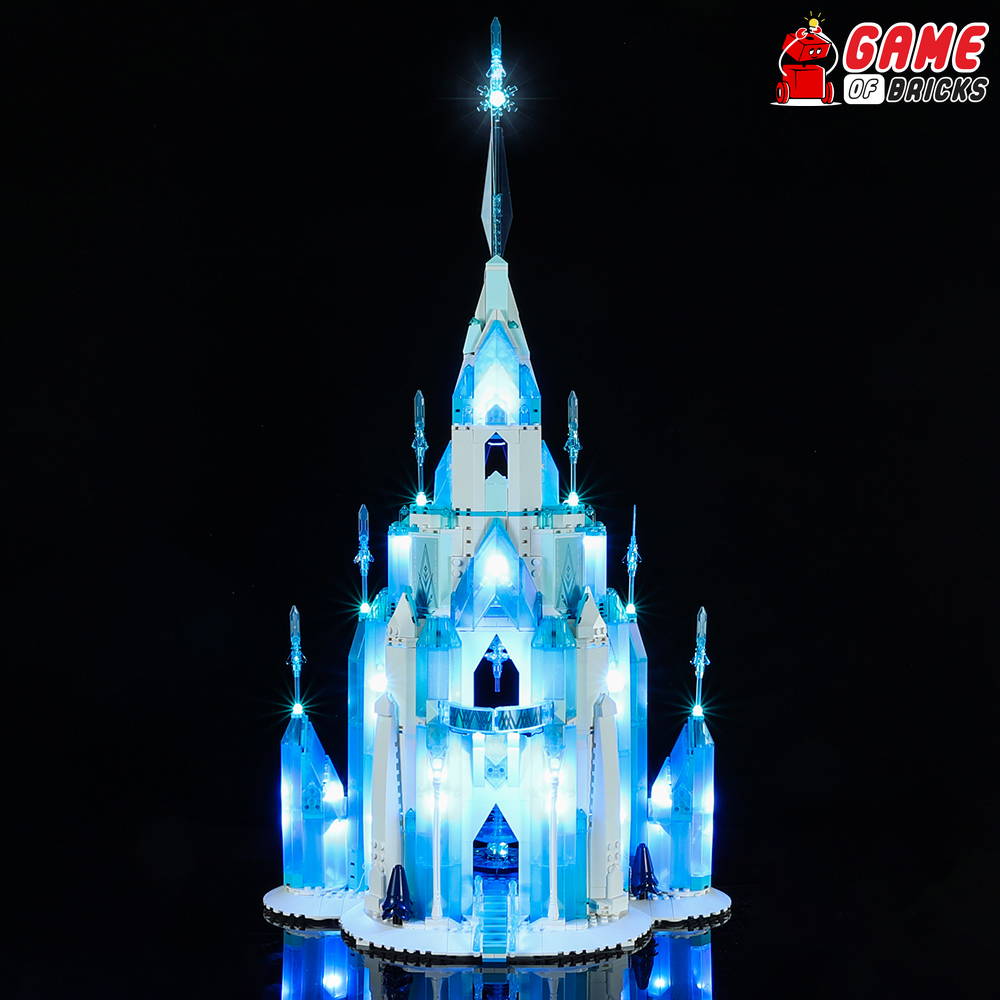 But how can you successfully install this light kit perfectly? Well with our manual and keeping these few tips in mind, you can successfully install your very own light kit.
1. COMPLETE YOUR SET BEFORE INSTALLING THE LIGHT KIT.
The first and probably most important thing to remember. Without first completing your set, you will not be able to successfully install your light kit. If you try, it will be like trying to build a house without a plan or a piece of land but only with your building materials.
So before you set out to install your light kit, ensure that you have successfully completed the building of your Lego ice castle.
2. INSPECT ALL LIGHT KITS AND ACCESSORIES.
Once you are done putting together your Lego ice castle set, don't jump to installation just yet. This is the time for you to make a thorough investigation and inspection of all light kits and accessories. This will help you ensure that everything is in perfect order.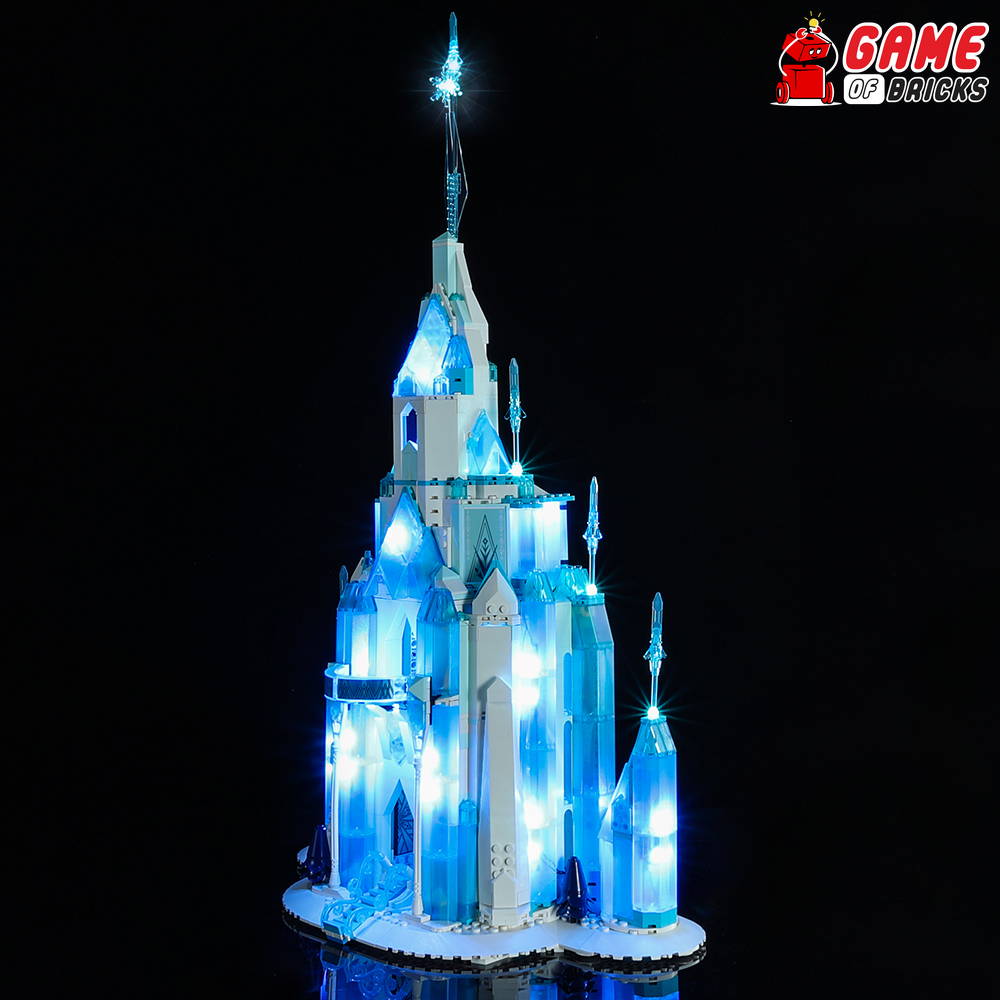 This inspection is very important especially if you happen to buy this light kit from our online store like game of bucks. This is needed because light kits and accessories can get damaged or even missing during shipping. But not to panic, if you do find anything about your kit, game of bricks offers a 30days return policy. So now that you have properly carried out your inspection, it's now time to move over to the next step.

3. PROPERLY INSTALL YOUR LIGHT KIT.
By now you must have gone through all the steps listed above, and you are ready to install your light kit. Here are two very important things to remember, which will help you through a successful installation.
• All light and accessories must pass through then bricks and must be interconnected smoothly to ensure that there is no short-circuiting as a result of overly tangled wires
• If a wire does not fit properly, do not force it to. Doing this may damage your light kits and accessories for they are to be handled with care.
• BONUS STEP: make sure to test all light kits and accessories at once to ensure they all work properly. Make sure also to use the right volt, for this will help enable long-term experience.