LEGO Volkswagen T1 Camper Van 10220: Its Detailed Review
By

Nikita P.
/
December 06, 2019
The LEGO Volkswagen T1 Camper Van 10220 is designed to resemble one of the most iconic mobiles that ever existed, which is the Volkswagen Kombi. LEGO is known to create things that remind us of things that we love around us, and they could not pass up the thought of creating this iconic vehicle.

Both the interior and exterior were created to look exactly like the Kombi. Have you stepped into a camper van, there is a great chance that you will notice that the beautiful features in the LEGO Volkswagen T1 Camper Van 10220 will remind you of a real-life Kombi.

The LEGO Camper Van, when released, was loved by a lot of Volkswagen fans.

Immediately you open the box, you will notice two sticker sheets, instruction manuals, as well as fifteen bags of parts. The parts are not numbered, which may be an issue for some builders, but it was designed to be challenging.

Features of The LEGO Camper Van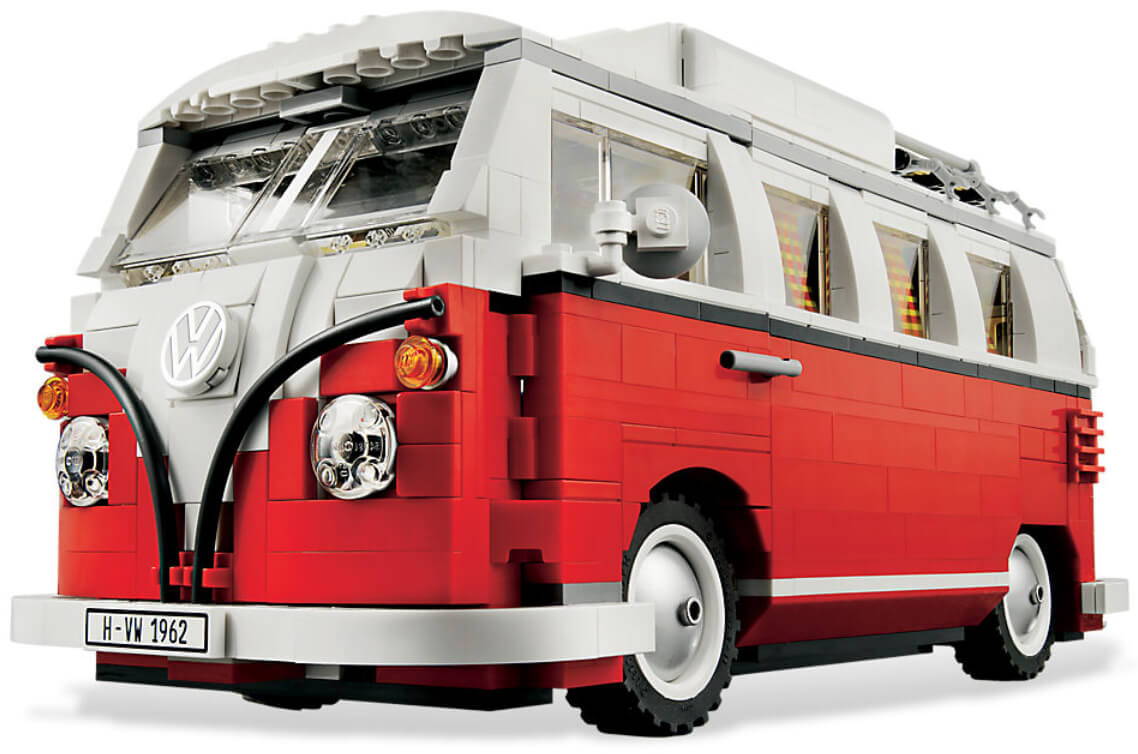 The LEGO Volkswagen T1 Camper Van 10220 is around 6" high and 12" long. It is one build that people would enjoy, as it has 1332 pieces. Who would not want to put together that architectural marvel in the LEGO camper van? Virtually no one would give up this adventure. It is one of LEGO's advanced models.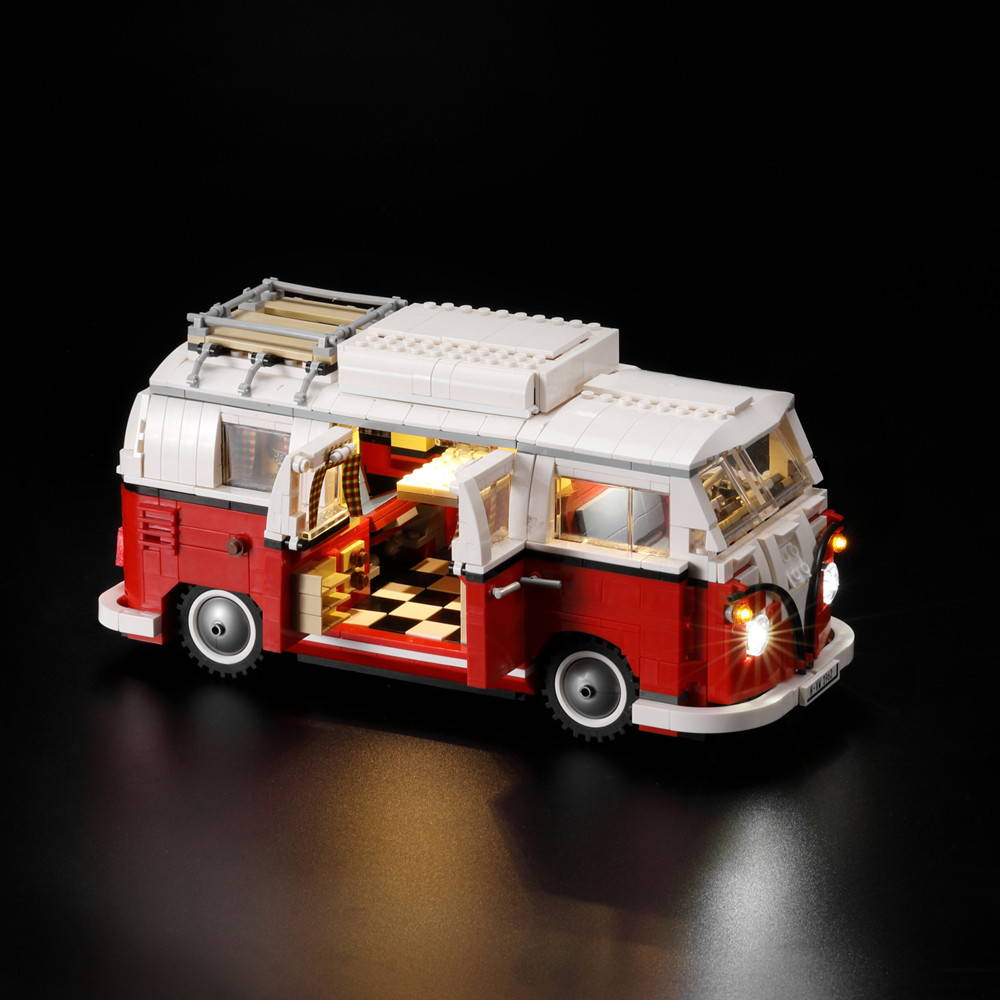 When it comes to the interior of the LEGO 10220 Volkswagen T1 Camper Van, we can't help but applaud LEGO for its paying attention to details, even the tiniest ones. You will see tiny glass cups and plates there. What about its realistic looking sink, frying pan, and so on? One thing that might puzzle you is where the hairbrush is sited. It is close to the pan. When you look at it well, it may not be a hairbrush, but a scrub brush for the pan.

The LEGO van comes with a fold-up table and its rear bench that can be converted to a bed. Those are the sights that one would fancy. What about its detailed dash and controls? If not that the LEGO camper van if small, maybe, we could have fitted in it, and driven around the place with it, with its precise controls.

It comes with the 1960 hippy themes that remind us of how a camper van usually is. Apart from the aforementioned, the LEGO 10220 Volkswagen T1 Camper Van also has a Lava lamp and Green plants. Yes, you read that right.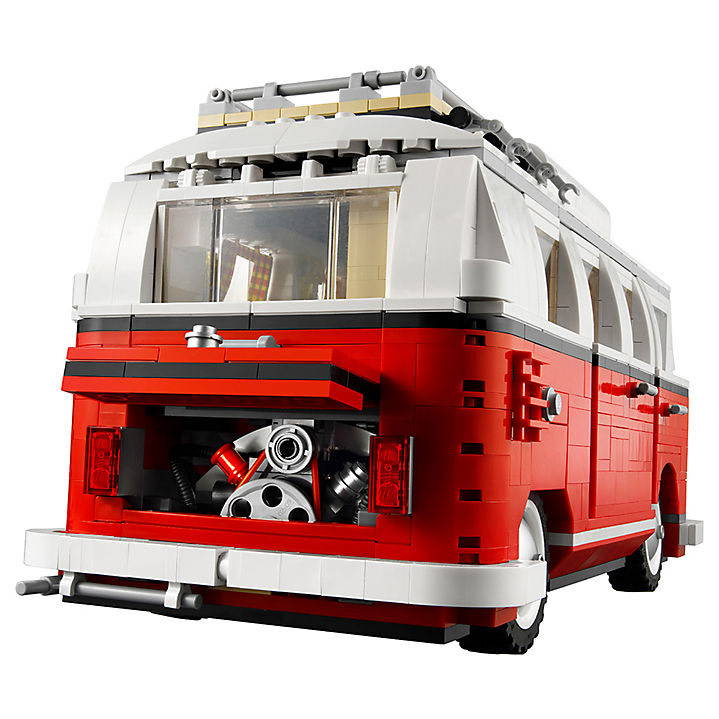 When you look at the LEGO Camper Van, your eyes will notice that it is a true replica of what a camper van is. It comes with the orange hue that reminds us of a typical van. Apart from that, the LEGO Camper Van comes with doors that open and close like rear engine door, Pop up the roof, as well as the Shiny VW logo.

Building The LEGO Volkswagen T1 Camper Van 10220

Building this LEGO camper van will leave you excited. If you have made a LEGO vehicle in the past, it will begin with the chassis, and after that, you place the engine on it. The engine is a delightful sight, as it comes with the right details like hoses, fan belts and so on.

After that, you should erect the engine compartment cover and rear lights. You see those seats that you can fold flat to form the bed, you can erect them there.

Once you are done, make the cab section. This section is built with the gear stick, pedals, and seats. After that, you put the rear doors, table, glass, as well as the lava lamp.

Now, the bottom half should have been completed. You should move your attention to the windows. They all have curtains. After that, install the cupboard that has tiny artwork and a mirror sticker.

You will notice that the artwork has a surfboard which possesses the initials JH.


When I saw the window frames, I had no choice but to fall in love with them. They are drained to be both smooth and clean. They make us feel that they were designed by clever people.

You will then insert the rear windows and windscreen, after which, you add the roof, roof rack, as well as the pop-top part.

Every part that we came across made us smile, as we reminisced about the Volkswagen camper van that we live had. You will notice that the orange curtain fabric cleverly cloaked the fundamental Technic mechanics.

Lastly, you will notice the iconic front panel and hub caps on the wheels. Insert those, and you are good to go.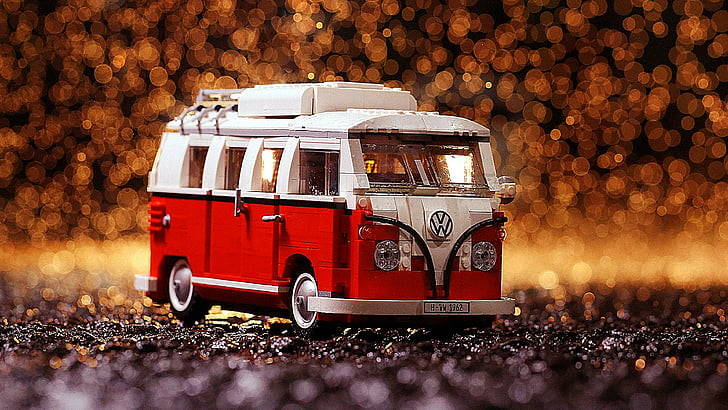 Of course, we did. Who wouldn't? From the beginning of the process to the end of the process, we couldn't help but be amazed at how tastefully the parts were made. One thing that we didn't fancy was the fact that the bags were not numbered. You had to take some time trying to find out the different parts. After that part, it is quite easy to couple every part together, as it was quite easy.

If you are building it with your friends, you may go faster. Apart from that, it is a pastime that you could share with others.

You may notice a bit of repetition, but there is nothing to worry about. The stickers may annoy you, but overall, it was a great experience.

Who wouldn't want to have a piece of automobile history in their LEGO collections? Every LEGO fan would fancy this. Any LEGO enthusiast that loves challenging building process would love. Getting this LEGO set is like killing two birds with a stone. You have access to exhilarating building experience and a piece of automobile history with you.