Teleport from the present to the past with the LEGO Vintage Taxi 40532 Set.
By

Mark Gini
/
April 19, 2022
When you hear the word vintage, it signals something from the past or an artifact put on display in a museum. Well, that's just what taxis from the 1990s are called. These taxis were designed to be flashy and very colorful. These sorts of taxis are known as Vintage taxis. These taxis were intended to be very comfortable, consume less fuel, and easily maintain. This made these taxis very popular, even down to this day. Have you been in one of these taxis wondering how Lego made it to be so comfortable? Well, if you have, then you are not alone.

What if you had the opportunity to recreate a replica of one of these vintage taxis? Would you take the opportunity? Well, if yes, then you can be happy. With the Lego Vintage taxi 40532 set, you stand a chance to recreate a replica of one of these iconic cars in all its glory. You could feel like an engineer bringing this set to life. Do you have friends or family members crazy with the Lego Vintage set? Why not give him this fantastic set as a gift? You would be so glad you did. This set also has a great building experience. Let's find out what we stand to benefit from building this set? Let's find out now.
BUILDING EXPERIENCE FOR THE LEGO VINTAGE TAXI 40532 SET.
The Lego Vintage Taxi set offers builders an opportunity to travel back in time. The set adapts its car design and look, like that of a 90s Vintage Taxi. You could bring this set to life at any place and at any time. All you need is a workable space and enough room for your set. You could also decide to build this set with a companion. This makes creating a whole lot more fun and engaging. So if you have relatives or acquaintances who share the same passion as you, why not try getting in touch with them. To get the best experience building this Lego set, you can try setting out a specific time to get the job done. It would be great to avoid any distractions as you build. Taking this step would help you connect better with your set.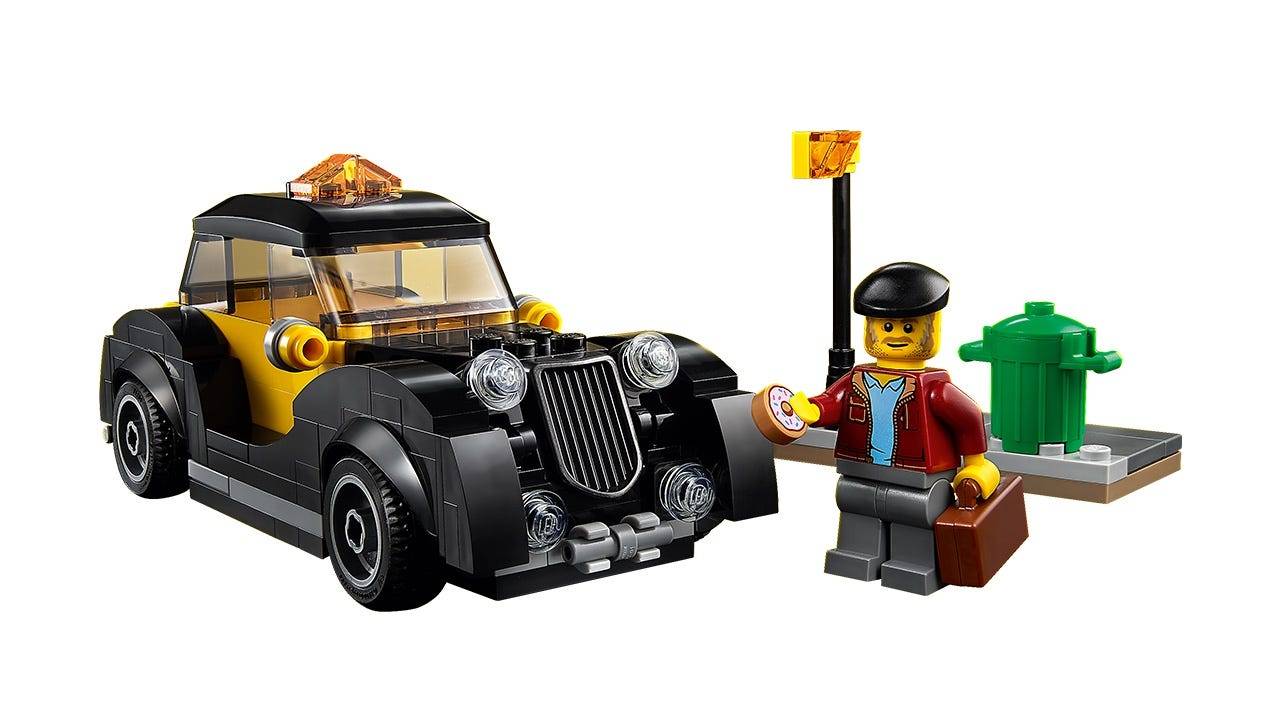 It could get a bit complex building along the way. This is because of the number of details you would include in this set. Lego feels your pain and has added clear building instructions to help smooth your current path. So if you face any roadblocks as you bring your Lego Vintage Taxi to life, you could quickly consult the manual for clarity. The Lego Vintage taxi set is relatively easy to build and may not even require this manual if you are an experienced Lego builder. Overall, you would enjoy bringing this fantastic Lego set to life in all its glory. Note that this terrific Lego set comes with more than enough small brick pieces. Little children could easily swallow these pieces. So ensure to keep this set far from the reach of your little ones when you are not working with them. The Lego Vintage Taxi set also has some cool features. Let's look at some of them.
AMAZING FEATURES OF THE LEGO VINTAGE TAXI 40532 SET.
The Lego Vintage Taxi set offers Lego builders some unique features exclusive to the set alone. This section will help us see what those features are.
• FUN AND COLORFUL THEME.
The Lego Vintage Taxi gives builders something enjoyable to look at. The set comes in different shades of colors and which you could easily find on taxis, both old and new. This set is also a vintage set and can easily be used as such. This set would be perfect as a display masterpiece because the set's bright color scheme would not be easy to miss as a display set. The set also has a colorfully dressed taxi driver with a briefcase. This makes it very easy to practice imaginative roleplaying with this set.
• REALISTIC SET DETAILS.
The Lego Vintage Taxi set also offers impressive and realistic details. This detail enables the set to stand out in a world of Lego sets. Enjoy the opportunity to include unique set features like a headlamp, well-detailed and textured tires, a siren, and a taxi driver with his briefcase. These features make the set appealing to the eye and very realistic. Take your time to include all these features while creating a perfect scene for your taxi and its driver. Doing this will make your interaction with the set engaging and satisfying.
• TOP-QUALITY MATERIALS.
This beautiful Lego set is made from the best materials. This makes them highly durable and long-lasting. This means you could be having this set and in perfect conditions ten years from now. This could only be possible due to Lego's obsession with perfection. As a result, all sets go through a quality assurance check before being released. Lego also wants to make sure all sets are safe for you in any environment and is very aware that this particular set features small bricks that little kids could easily swallow. So to avoid this from happening, it would be best you keep your Lego Vintage Taxi set out of the rich of children when you are not using it. There would also be a reminder based on that on the package box of the set.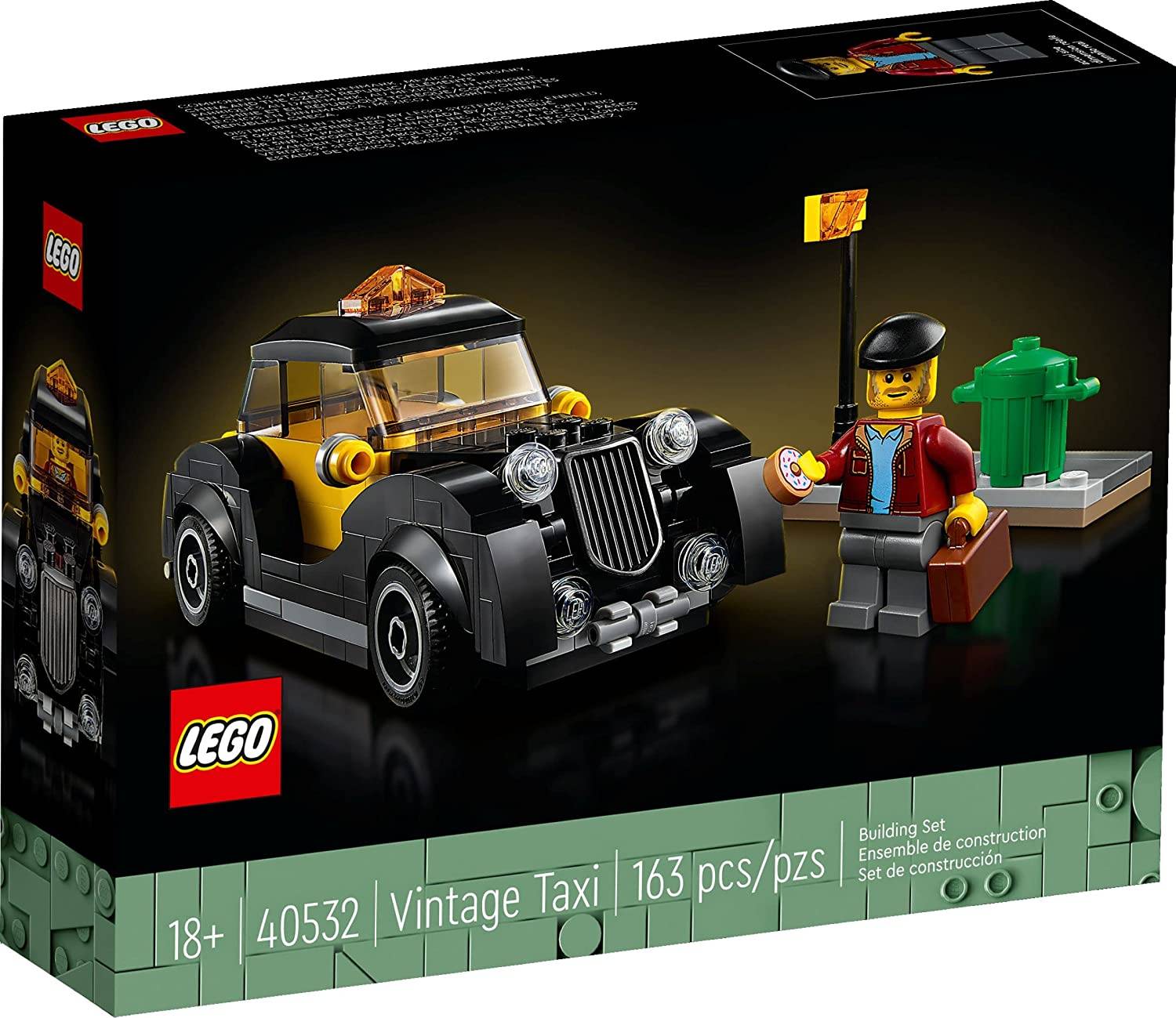 • SET SIZE.
Well, this Lego set could be considered a small Lego set. It could be easily put together in minutes or even just an hour by a true Lego expert. This is because the set comes with a total of 163 pieces. You could use this Lego set for fun competitions with friends to determine who is a more skilled Lego builder. You could even include a timer in the mix to make the game even more enjoyable. The set's overall look and display ratio are perfect with the set's visual presence. This helps make the set an excellent set.
• SET PRICE.
You could purchase the Lego Vintage Taxi set at any Lego store in your area. And if you do not have access to a Lego store in yohttps://amzn.to/3Me4nD5ur place, you could purchase this set straight from the Lego website. If the set is out of stock, you should check other websites for assistance with the set. But note that the set could be generally higher at any different store you seek to store you might decide to purchase the set from. At Lego stores or the Lego website, www.lego.com, you could get this set for as low as 49.99€. This is relatively cheap in comparison with other sets. This affordable price is another reason you should not hesitate to include this set in your Lego collection. But there is another reason – let's find out more!

MAKE YOUR LEGO VINTAGE TAXI FASCINATING WITH THE HELP OF OUR SPECIAL LIGHT KITS.
Yes, you could make your Lego Vintage Taxi set even more beautiful with the help of our unique light kits. Our light kits help bring life to Lego sets, revealing details that Lego fanatics may have overlooked. Each Lego set has its own uniquely customized light kits you could purchase directly from our website, www.gameofbricks.com. These lights kits all come with a thirty days warranty card. If your light kit suffers any shipping damages, you could quickly request a replacement. Our light kits are delicate and could sustain injuries that are not your fault. Feel free to report these damages and get your kits replaced if you have a fabulous light kit but have no clue how to proceed with your installation process. What could you do? Let's look at some universal steps you can take.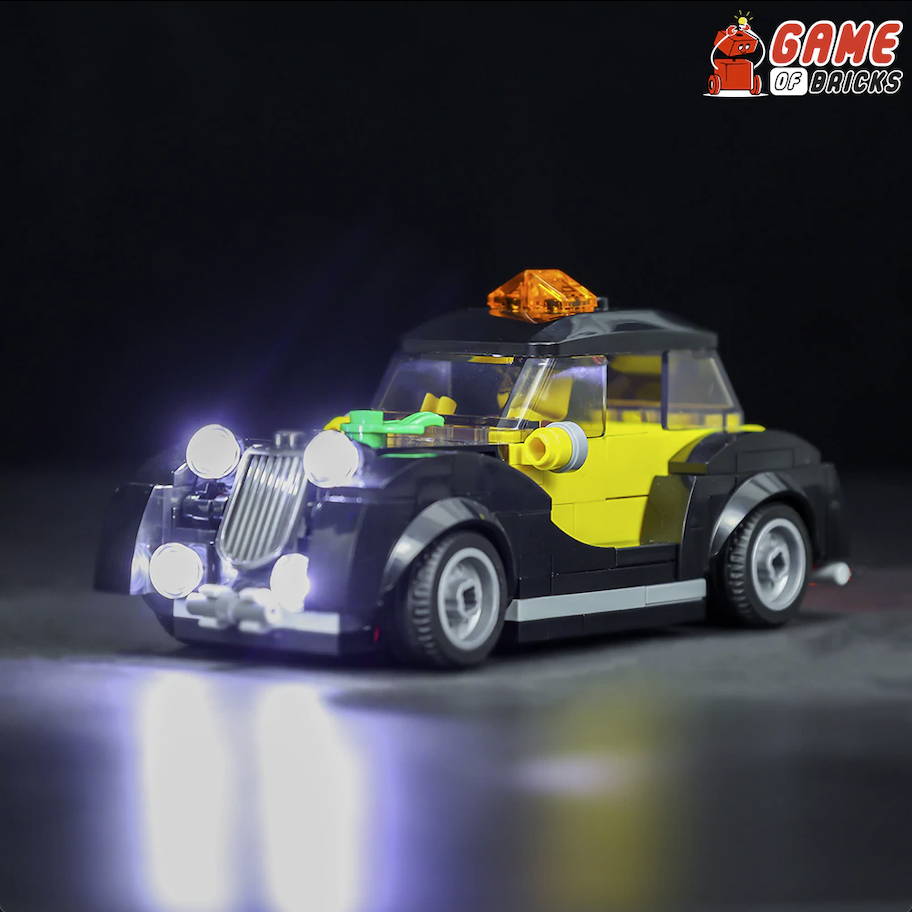 HOW TO INSTALL.
To successfully install our light kits, you would need to follow the guidelines from our installation manual. The instructions given inside the manual are clear and easy to understand. You would find it easy to use as an aid. But as you use the manual, make sure to treat your light kits with care. This would increase your chances of success as you work with them.
INSPECT ALL INSTALLED LIGHT KITS.
As soon as you have neatly installed your light kits, you can now run final checks to see if you did so correctly. It would help if you also did this to help ensure the overall safety of your light kit. Check out for sparks, signs of short-circuiting, and even the strength of your battery. Once you detect a problem, follow the instructions in the manual to repair it. But if all seems to be working correctly, you can enjoy the thrill of your Lego Vintage Taxi set by sharing it with family and friends.