Create a nice garden with the LEGO Succulents 10309 Set.
The Lego succulent 10309 set is an excellent adaptation of various real-life succulent plants. You have a transformation of about six different succulent species, which you would build separately and then put together. The Set was designed to be made by multiple people. So if you are a fan of the different types of succulent plants, you should consider buying this Lego set. This Set will also be a nice gift for your kids if you are looking to keep them productive while learning. 

There are more than ten thousand types of Succulents you could grow, and this sets you to build nine different variations separately. Build, control, and expand your Lego garden by including this fantastic Leg set on your list. Another cool thing about this Set is that you can decide to build and display half of the Set or all of it. There is no sayingt what you can achieve using this Set. All you have to do is build up determination, and you can achieve it. Let's now look at some things that make this set so special. Let's start with the sets building experience. 
What the majority of people think is that LEGO is meant for kids. However, it is far from that as LEGO transcends age. Anyone can use LEGO; kids and even adults. You may have disregarded them as simple bricks kids play with. One thing you may not know is that constructing something out of LEGO bricks is very difficult. Apart from that, it also takes time. This is why you see a satisfied look on anyone that finishes a LEGO project.
BUILDING EXPERIENCE FOR THE LEGO SUCCULENT 10309 SET.
The Lego Succulent set has a total of three building stages. In each step, you would have to build three different Succulent plants separately. And at the end of your construction, you would have recreated nine different Succulents. Once that has been done, you could decide how you would want them to be arranged. If you wish to put the Set together just the way it looks on the box, you could do that using red pins added as an accessory to the Set. Some of the plants you would be recreating, like the Orange Echeveria and the Green plant, are pretty straightforward. And these plants are part of the first stage. From stage two, your building would get even more complicated. Plants like the Moon Cactus and the Lavender Echeveria could cause some trouble building. Overall all the plants you would be building have been given authentic details to help them look as close to the original design.
If you are unfamiliar with this building technic, there is nothing to worry about because this Set comes with step-by-step instructions on building. The instructions are accompanied by pictures to help make them as straightforward as possible. The manual is split into two parts, which are both highly educative. And suppose you have been curious about the Succulent Plant. In that case, the manual contains some helpful information about the whole Plant in general and specific information on the plants you would be building. With the Lego Succulent Set, you get a mixture of both fun and knowledge, a total package. And this Set is also a team-building Set. So you will get the best out of it by building it with others. This Set has other cool features aside from its building experience. Let's now look at what some of them are. 
FEATURES OF THE LEGO SUCCULENT 10309 SET.
● NINE UNIQUE SUCCULENTS
This Set features nine unique Succulents, each with their unique look and technique for building. The building of these nine different Succulents is divided into three distinct stages. In each step, you would be recreating three succulents and then attaching them with the help of red pins. Once you are done with all nine, you could have the free hand to arrange them however you want, either using the tent pine or not. You have also been given a board containing the names of the Succulent plants you just created. This helps make your display a whole lot cooler.
● DURABILITY.
Another cool thing about this Set is its durability. Though the Set doesn't look like it, it is durable and made from top-quality material. This means you could use this Set for years without worrying about it getting damaged. Another advantage of its durability is that it makes it the ideal piece for kids into Lego. The Set is also very compatible and user-friendly. So you can be sure to get the best grip once the Set is put together. There is also a balance if you need to dismantle it quickly and transport it.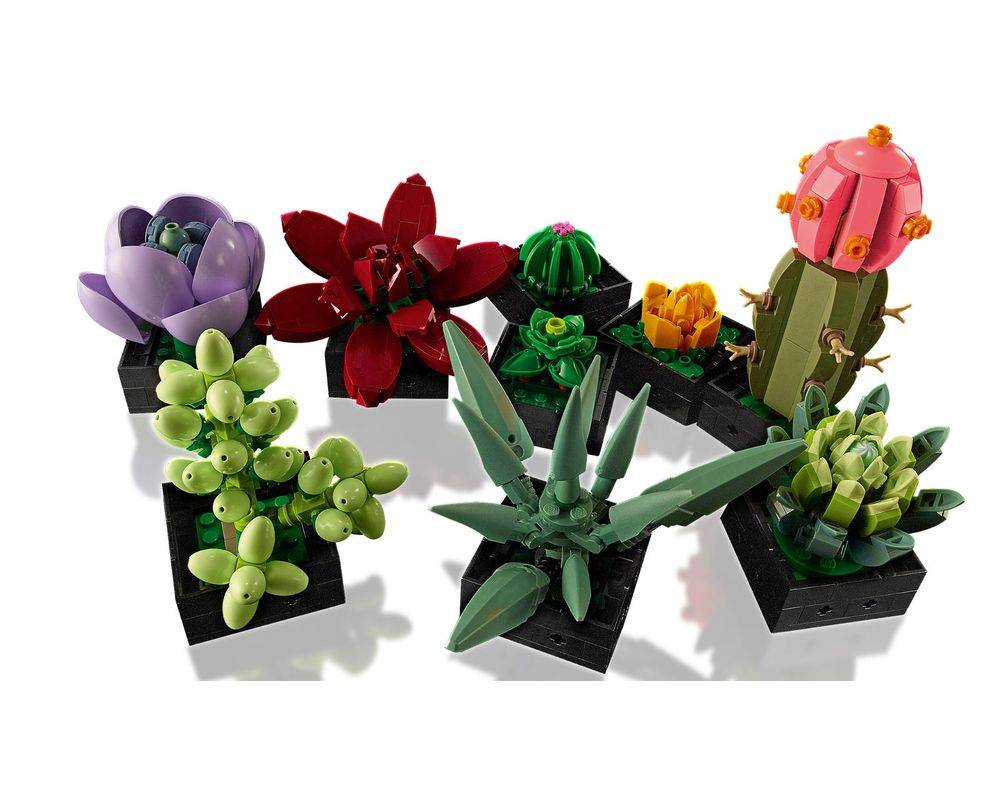 ● A STRAIGHT BUILD.
Unlike most Lego flower Sets which adopt a technic that makes you repeat a particular building method to achieve a complete set, this Lego set is an exception. With this Set, Lego designs different plants using different materials to get it done. This method adopted by Lego helps give diversity to the methods used to create each Plant. This adds a whole new kind of fun and versatility. The Set also outsources elements from other Lego Sets to achieve its unique look. This Set could be your family's next building project with all these fantastic features.
● SETS SIZE.
The Lego Succulents could be considered a medium-size Set. It contains a total of 771 pieces. When separate, you have a total of nine sets. The Set measures 5 inches high, 6.5 inches wide, and 6.5 inches in dimension when attached with the red pin. This unique Lego Set is just perfect as a display masterpiece.

● SET PRICE.
If you desire to get this Set, you could do that by placing an order directly from the Lego website. You could also call this Set now from any Lego store in your area if you are not a fan of waiting. The Set, though, could vary in price depending on your location. If you would like to worry about that, get the Set directly from the Lego website. The Set is the price starts anywhere from 40 to 49.99 dollars from the Lego website. When your order this Set from the Lego website, you are guaranteed free delivery if you live in the US or Europe. Another fantastic accessory to include in this Set would be our Lego light kit. What are Lego lights, and how do they work? Let's find out.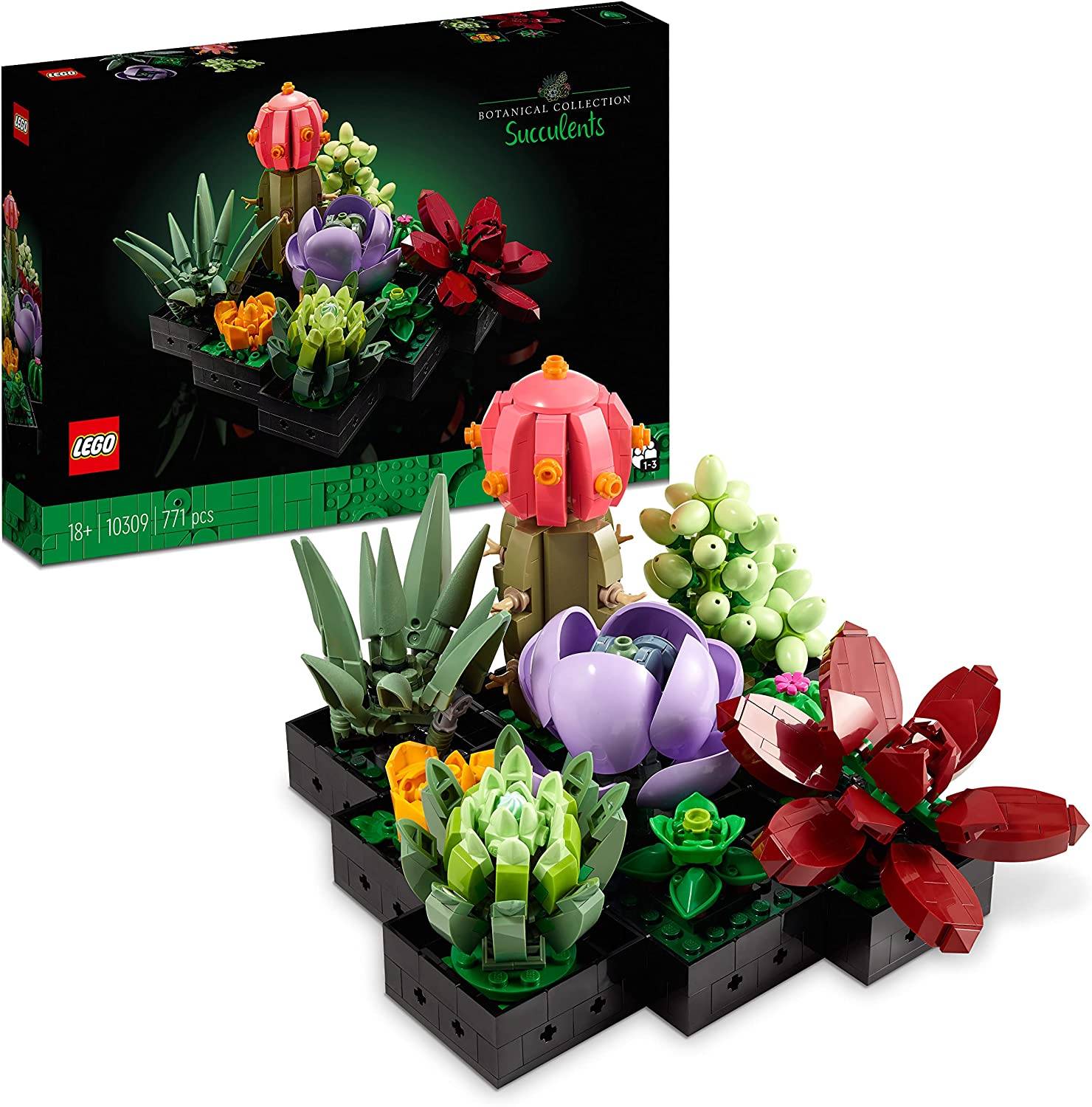 MAKE YOUR LEGO SUCCULENT 10309 SET LOOK EVEN MORE INCREDIBLE WITH OUR LEGO LIGHT KIT.
Our Lego lights are unique lights attached to Lego sets to help reveal even more details. You can only attach these light kits to already built Sets. So before you could connect our light kits to your Succulent Set, you would need to complete the Sets creation first. The process of attaching our light kits to your Set is called installation. You can install our light kits following these simple steps.
1. INSPECT YOUR LIGHT KIT.
Once your light kits have been purchased from our website, www. gameofbricks.com, you should inspect them. This process is critical because of how fragile our light kits are. If any of your Lego lights get damaged, you will be unable to complete the installation process. Once you notice any damages to your light kit that was not self-inflicted, be sure to return it immediately using the 30days warranty card your Set comes with. Once everything looks good, you can move to the next stage.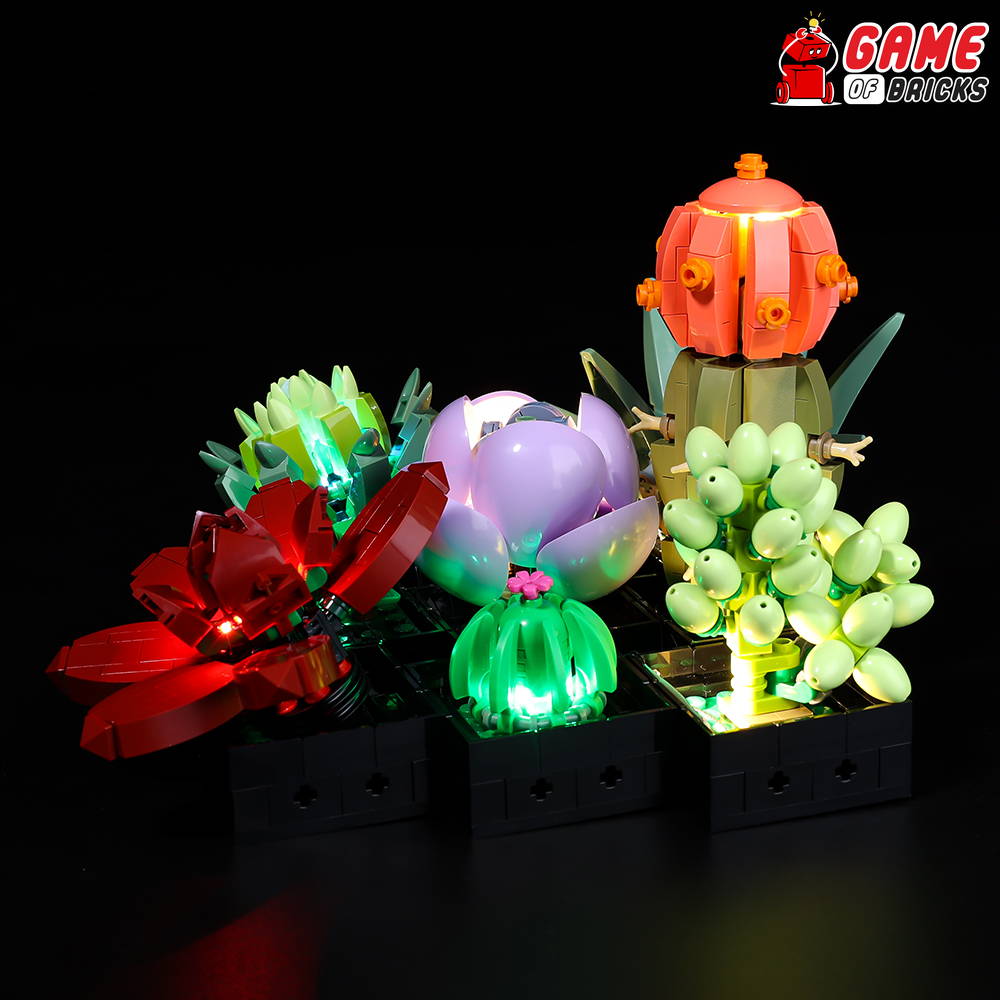 2. INSTALL YOUR LIGHT KIT.
The best and quickest way to carry out this process as a beginner is to make good use of your kit's manual. The manual contains information to complete your installation process work in the park. Just make sure to handle your light kits and accessories carefully. If you use them roughly, they could get badly damaged. If you find any instructions to be a bit complicated, you could watch instructional how-to videos on YouTube. Those videos have been seen to help show you just how it's done. Once you install the light kit, there is only one thing left: test and run them.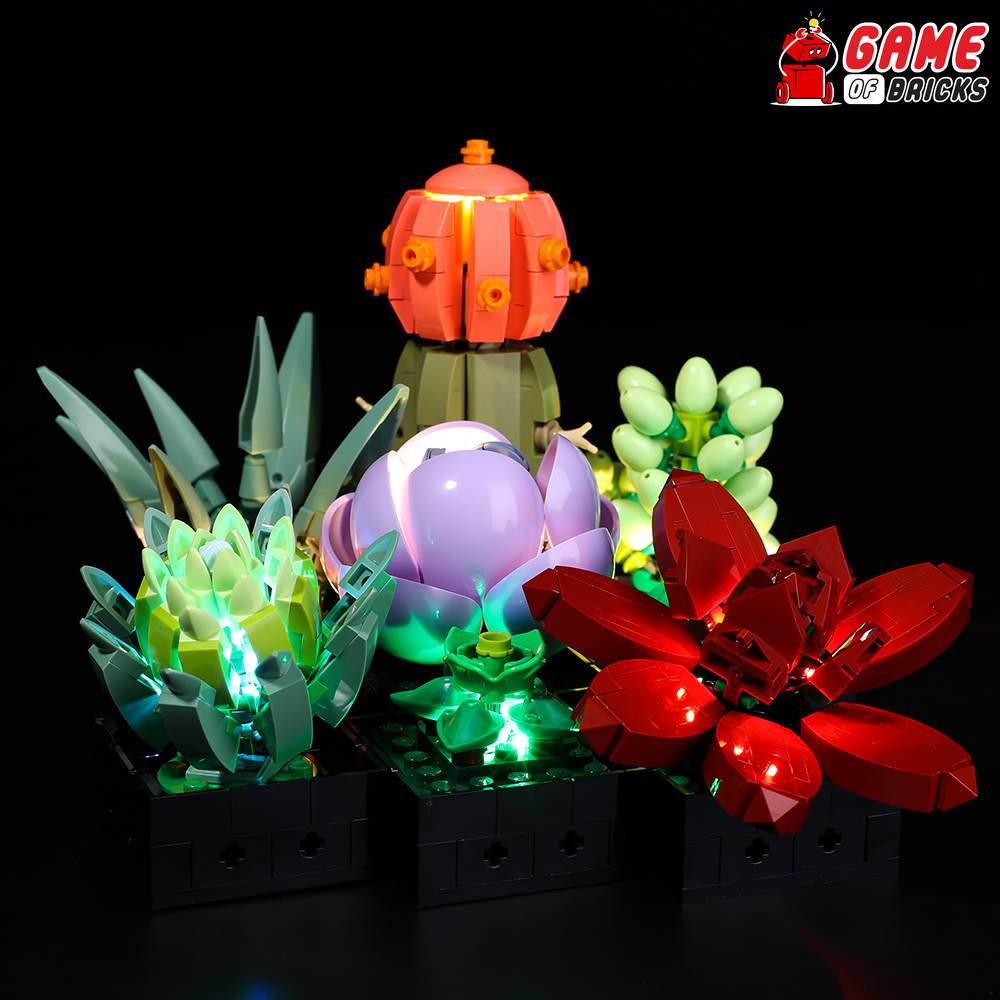 3. TEST RUN THE LIGHT KIT.
Once you are done installing your light kit, you are almost done. The only thing left is testing the light equipment to ensure everything works correctly. You can do this by testing all the light features using the switch. Another thing you can do once the light is turned on is if the Set is short-circuiting. If it is, that will help you quickly detect a problem. Once you see any problem that risks damaging your light kit, be sure to fix it. Once you are done and everything looks good, put your Set on display for all to see.
---