Top 30 LEGO Garden ideas
By

Nikita P.
/
April 10, 2020
It is no news that shut down is here to stay for a while, and many people are looking for creative ways to get busy. Your kids are at home and you need to work from home. How can you get your kids busy and intrigued, while you work or sleep? How can you get them engrossed without them spending every waking hour on the TV or a smartphone?

LEGO has come to the rescue. You can have your kids create awesome structures with their LEGO bricks. If you have numerous sets that have already been fixed, it won't be a bad idea to dismantle them and have your kids couple them.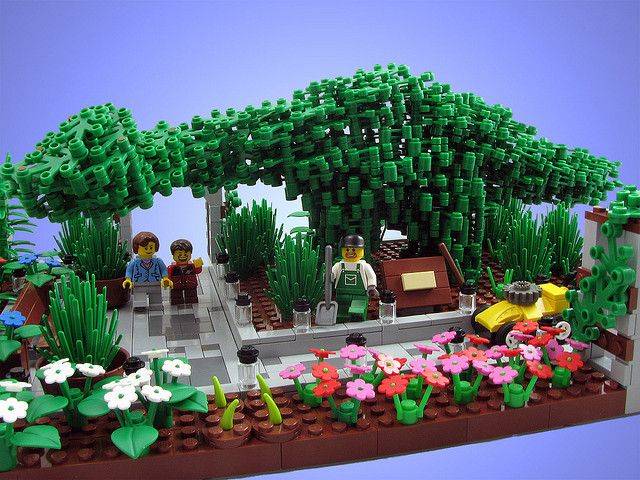 Are you looking for a way to bond with your kids that do not involve a board game, you should consider making use of Legos. You can couple it with them and create fun memories that you guys will remember for. a long time. To help you create those awesome memories, we have put together a list of awesome LEGO garden ideas that you can try out with your family members.

It is guaranteed to give you excess fun. You can even turn it into a harmless competition. Divide yourselves into two groups and build different gardens. Someone that is nonpartisan and not a member of any group can judge it. While you are doing a competition, it is important to know the aim of the competition. It is for fun only and shouldn't lead to a squabble. Below are some LEGO garden ideas that we will advise you to try out.

1. Strawberry Garden
Do you know that you can tutor your kids on the importance and fun that comes with gardening by trying out the strawberry garden?
This will be a great experience for both kids and adults, as they incorporate playful learning to every family member and friend involves.


The goal of this type of garden evokes an exciting gardening discovery in kids. You can use a number of bricks to create the tiny tin-roofed cabin that can be seen in most farms. You can also create your sample seed-beds from 372 LEGO bricks. A cabin and a farm without a Minifigure seem incomplete, you can use a LEGO Minifigure that you have around to create this. It is important to note that you can use the bricks you have lying around. You don't have to order anything. If you want to be a lot more realistic, you can consider taking a leave from the page of the game, 'Sims'.
2. Carrot Garden
If you have tiny bricks that take the form of a carrot, creating this won't be a bad idea. Like the above, you will have to possess the usual tiny tin-roofed cabin, as well as sample seed-beds.

This garden can inspire them to gladly eat their veggies at home.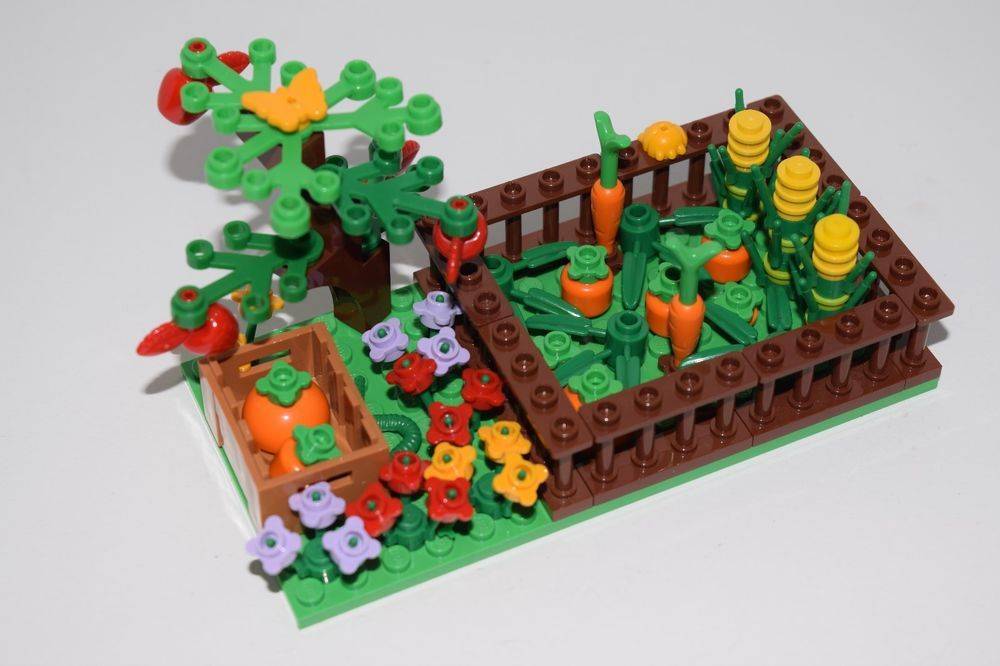 While you create the carrot garden, you can talk about how the carrots are yummy. You can use this method to not only praise the simplicity and gorgeousness of gardening but the fact that it is great for the body. Do not forget to erect the typical gardening tap. Is it possible to have a garden without a regular water supply?

3. Tomato Farm
Tomato is one of the best things that exist. This farm, as usual, will have a Minifigure that is standing in front of the cabin house. The tomato-bed comes with a lot of stakes. Apart from that, it should also have a garden tap that is erected firmly and waiting to sprinkle water on the tomato garden.

There should also be wood-cutting tools present. With the wood, the Minifigure can cut the wood it needs for its stove. You can teach your kids the need for hard work. If you want good food, you have to work hard for it.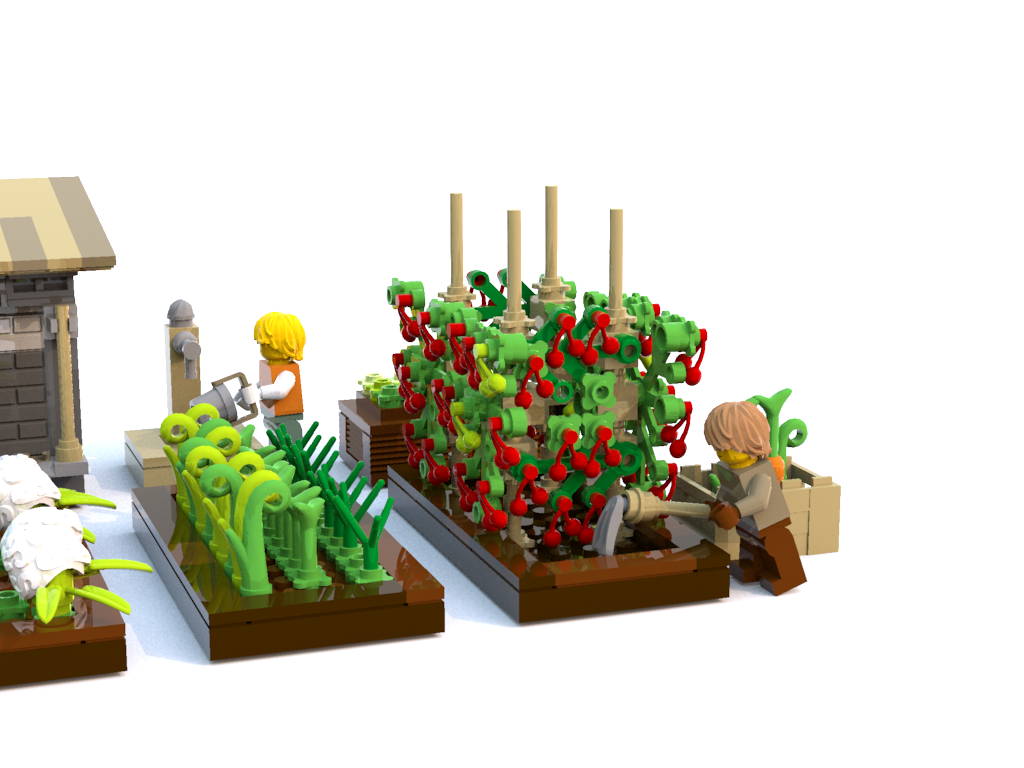 If you have a garden in your house that your kids have never been interested in, you could pique their attention via this method.

You teach them that one of the reasons for the existence of the garden is to provide the safest source for vegetables and fruit.

There, you only harvest what you wanted and you are sure of the quality of the product.

If you don't have a real-life garden, with the LEGO garden idea, you can get your kids involved in setting the real one up. They could help you turn part of your lawn to a garden because the LEGO garden had taught them that it is fun. If you don't have a yard, you could make use of a planter-box on your balcony.

4. Japanese Tea Garden
If you are a great fan of LEGO, there is a chance that you must have heard of this garden. It was by Coosey__Goosey and it was entered into a competition by its creator.

It is amongst the projects that got at least ten thousand supporters when it was uploaded on LEGO Ideas.

This piece has a number of features that stay true to the Japanese theme. It has some bonsai trees, a torii, and a pagoda. Have you ever seen a Japanese garden that doesn't have some statues dotting the landscape? The answer is a big 'no'. The fact that it has a pond made me fall in love with it for sticking to the theme. The traditional tall arched bridge was also present. This piece has joined other projects that crossed the Second 2019 Review Stage. Some of these pieces are History Museum, UCS Space Shuttle Atlantis, Gravity Falls Mystery Shack, Thunderbirds Are Go, The Office, Pursuit of Flight, and Medieval Blacksmith.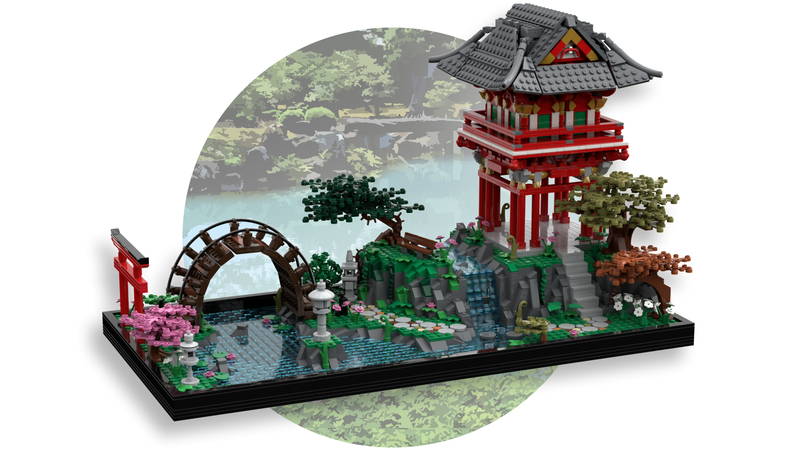 If a LEGO idea that makes its way to LEGO IDEAS is approved, it ends up becoming a new set that is available to a lot of users.

If you have a Japanese set and some other bricks, creating a Japanese tea garden will be easier for you.
5. The Climbing Vegetable Garden
If you are a farmer, you may know that creating a climbing vegetable garden may not be so easy. This is one is a masterpiece on its own. Usually, when you farm other veggies, they grow from the grand and stand erect. You don't have to stick a bamboo beam on the ground and hope that it will grow using the bamboo beam for support. You have to only plant the seeds, water it, feed it with manure and hope that it grows. This is not the same case with a climbing vegetable garden. Since they have to climb and rely on a surface for support, the farmer has to put bamboo beams or some other support system into the ground. This will give the vegetable the framework to cling effortlessly. Sometimes, the gardener ties them up. This is the same thing that you may do if you want to create a LEGO climbing vegetable garden. You could make use of regularly used items at home to create the garden.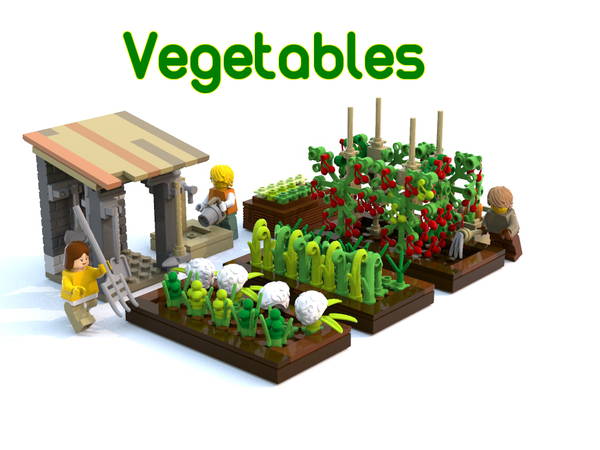 An example of a climbing vegetable is the climbing zucchini. Since only a few sets might have a figure of zucchini, you can make use of a sausage.

6. The LEGO Broccoli Farm
This farm is expected to have soft soil. You can get a brown parcel and fill it with soft soil to give it the brown look of soil. There are tiny figures of broccoli in existence, but if you don't have, you can use any tiny figure that reminds you of broccoli.
Do not forget to have a shed erected. You could use your bricks to create the shed. Be creative with how you create your shed. A Minifigure can also be present tending to the broccoli farm.

7. The LEGO Cabbages Farm
Usually, cabbages are planted alongside broccoli, but if you want to spice it up, you can decide to separate them as we did. Like the above, you need a brown parcel that can be stuffed with soft soil. You can also make use of brown LEGO bricks that look like soil.
There, you should couple your cabbage figures to the brown LEGO bricks. You can create the figure of a water tap close by watering it up.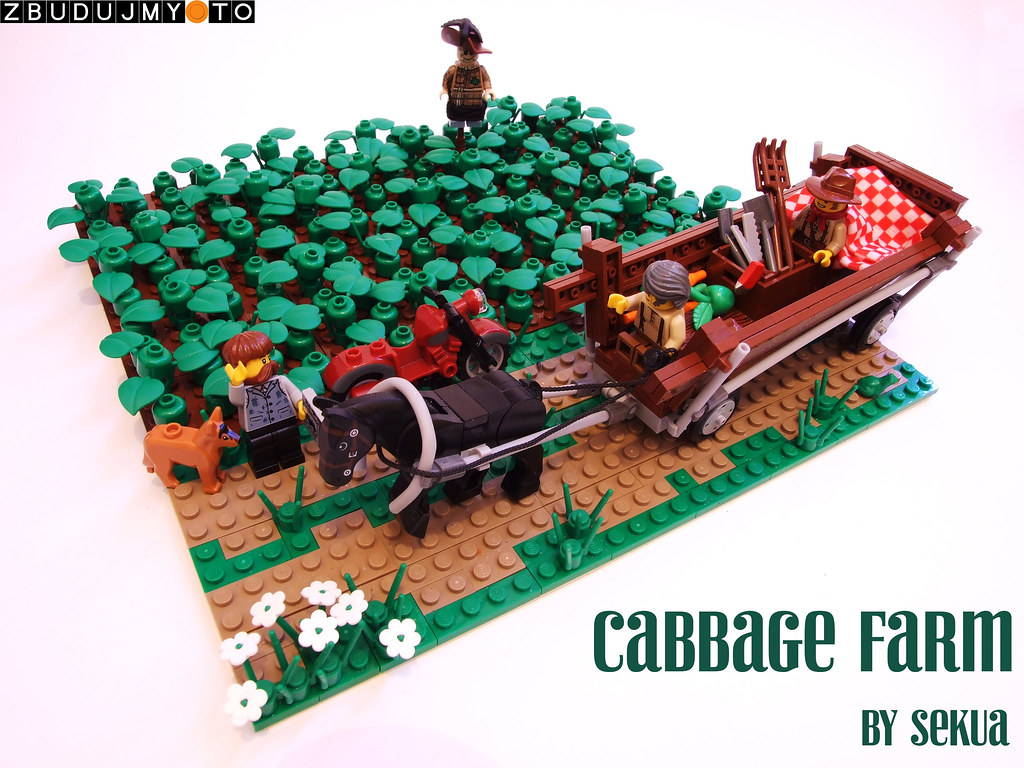 A Minifigure of a farmer or any mini-figure of a human character can be placed there holding onto a farm tool.
8. Winter Log Cabin
Have you ever wanted to see a farm during the winter, you can now create one like that. It seems like a plain white paper that seems like snow was used to represent the snow.
The LEGO Winter Log Cabin has a number of features like:
Bed,
Sink,
Stove,
Oven,
Windows,
Fireplace,
The bookshelf that has books,
Telephone, as well asPaintings. If you look well, you will also see a mailbox that is seated in front of the log cabin.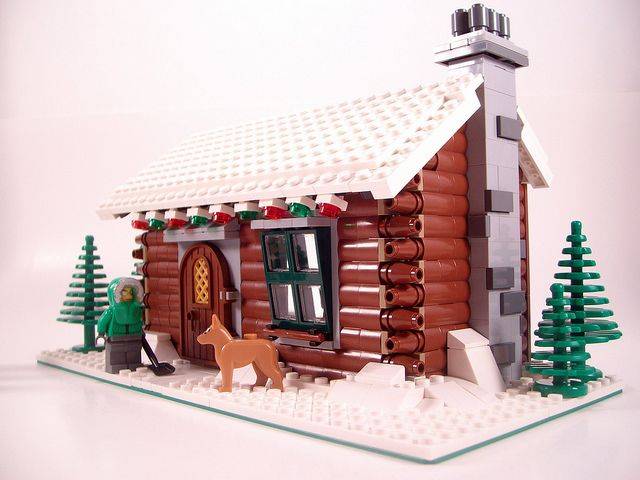 If you want to access it inside it, you have to detach your roof. To make this, you may need up to 600 pieces.

It is important to note that like its name state, the Winter log cabin is expected to be when the snow is falling.

9. Gigi's Farm
According to the creator of this project, he did it to help his niece and nephews have fun. She wanted to ensure that the image of these kids was grabbed.

According to the creator, she grew up in a game, meaning that she had excess fun there. She was able to ride around and play in the hay barn. To give her younger relatives a feel of her young life, she created this.

It is designed to replicate her replicate the fun she had in her grandparents' home. The old wooden farm is there, and you can see farmers doing things like mucking out the stables, taking the delivery of hay into the barn, feeding the chickens, and so on.

There are also the cows that have to be milked.

Replicating Gigi's farm may not be a bad idea. It will teach your kids that there is fun in farming.

10. Sasquatch's house
If you have plated the Sneaky Sasquatch video game on Apple Arcade, then there is a great chance that you may have seen the Sasquatch's house.
It is under the list of LEGO garden ideas because the creator of this project decided to create a beautiful garden around the Sasquatch's house.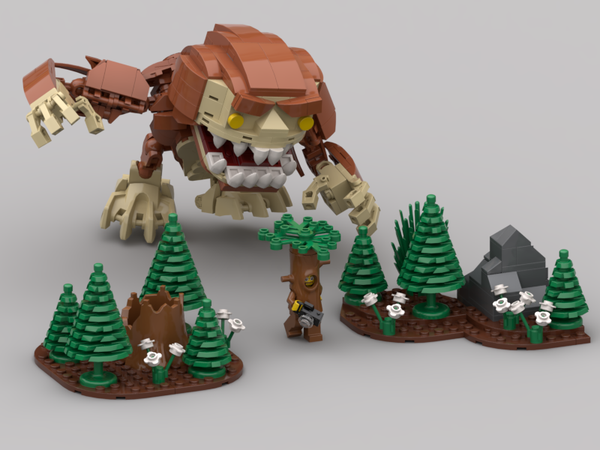 There is a car there, and some important figures that you may notice. You will see the Bear, the Ranger and Sasquatch's friend, Raccoon.

Inside the house, you will stumble on a fridge that is stocked with food. We love the fact that the house comes with a loft, which is removable.

11. Garden gazebo
This takes the form of a classy garden. It comes with a small fountain that is in the garden like scenery. There are a lot of flowers that are around the gazebo.
You can add this awesome gazebo to your city park or modular city, it will brighten it up. It can also dazzle on its own without incorporating it in a city park.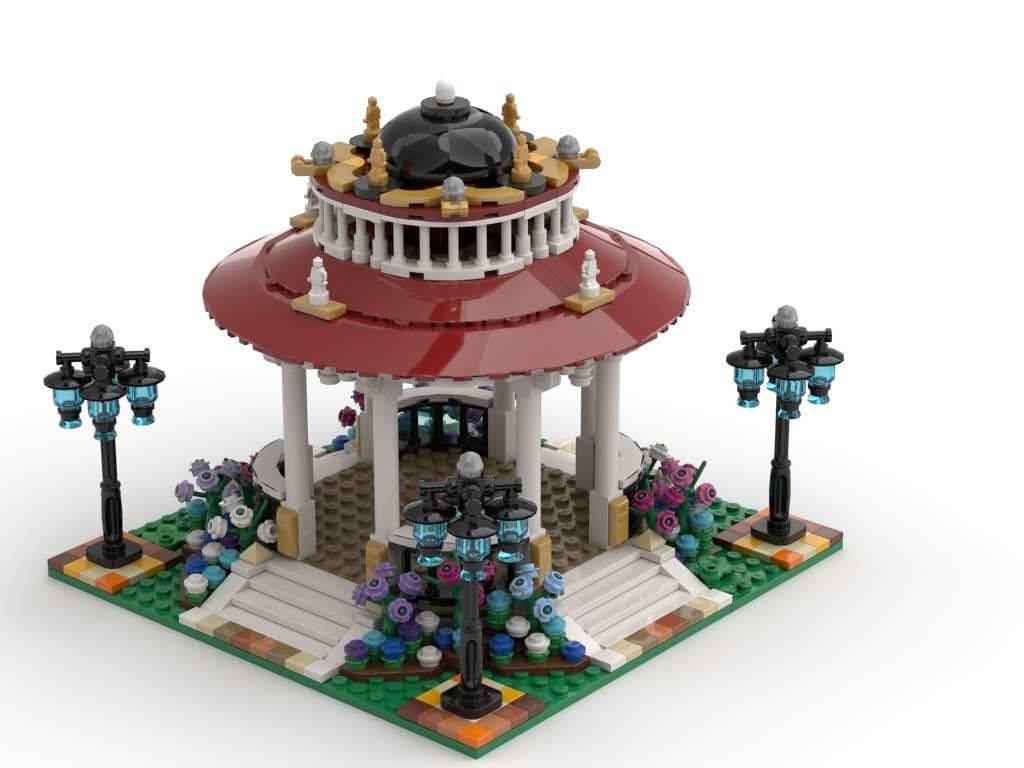 The gazebo has four staircases that are well designed.

12. Brickston park
In this park, you will see a number of features there like trees and plants. We love the fact that the scenery is dotted with those. There are both short and tall trees there, giving the perfect blend. You will also from across a modern Coffee Shop that has a removable roof.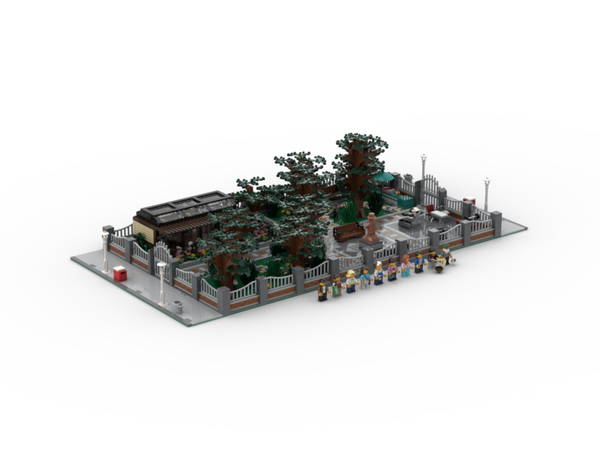 You will also see benches, statues, hit dog vendors, outdoor gym and so on. Have you ever seen a garden like scenery without cute animals like birds, squirrels and so on?

13. Living in a corn farm
Have you ever lived on a corn farm? If the answer is yes, then you are lucky. The place seems like heaven on earth and this is what this set is trying to depict.

There is a tractor present, a tagger, as well as harvesting equipment.

The Minifigures can easily harvest their corn without stress.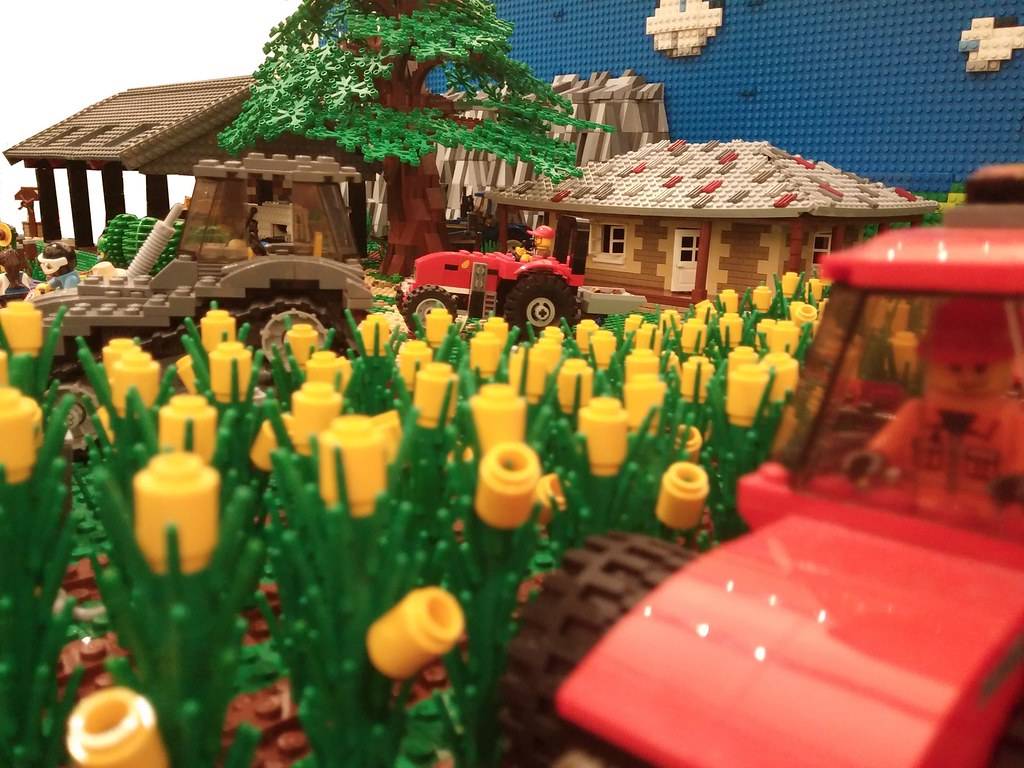 There is also a farmer's house that houses the farmer at night. Things you will see insure this house are a small refrigerator, two stoves, a movable capable TV, a blue armchair, two windows, a faucet, coffee maker, a room contains a computer and so on.

You will also come across the farmer Minifigure, looking at his farm. There is also a hen coop that houses his chickens.

14. Cherry tree garden
This us one project that I like, as it takes the form of a modular Sakura Tree Garden for your city.

It reminds me of the beautiful Japanese pink trees that we see on the internet. It comes with flowers, a cherry tree, and a bird waterer.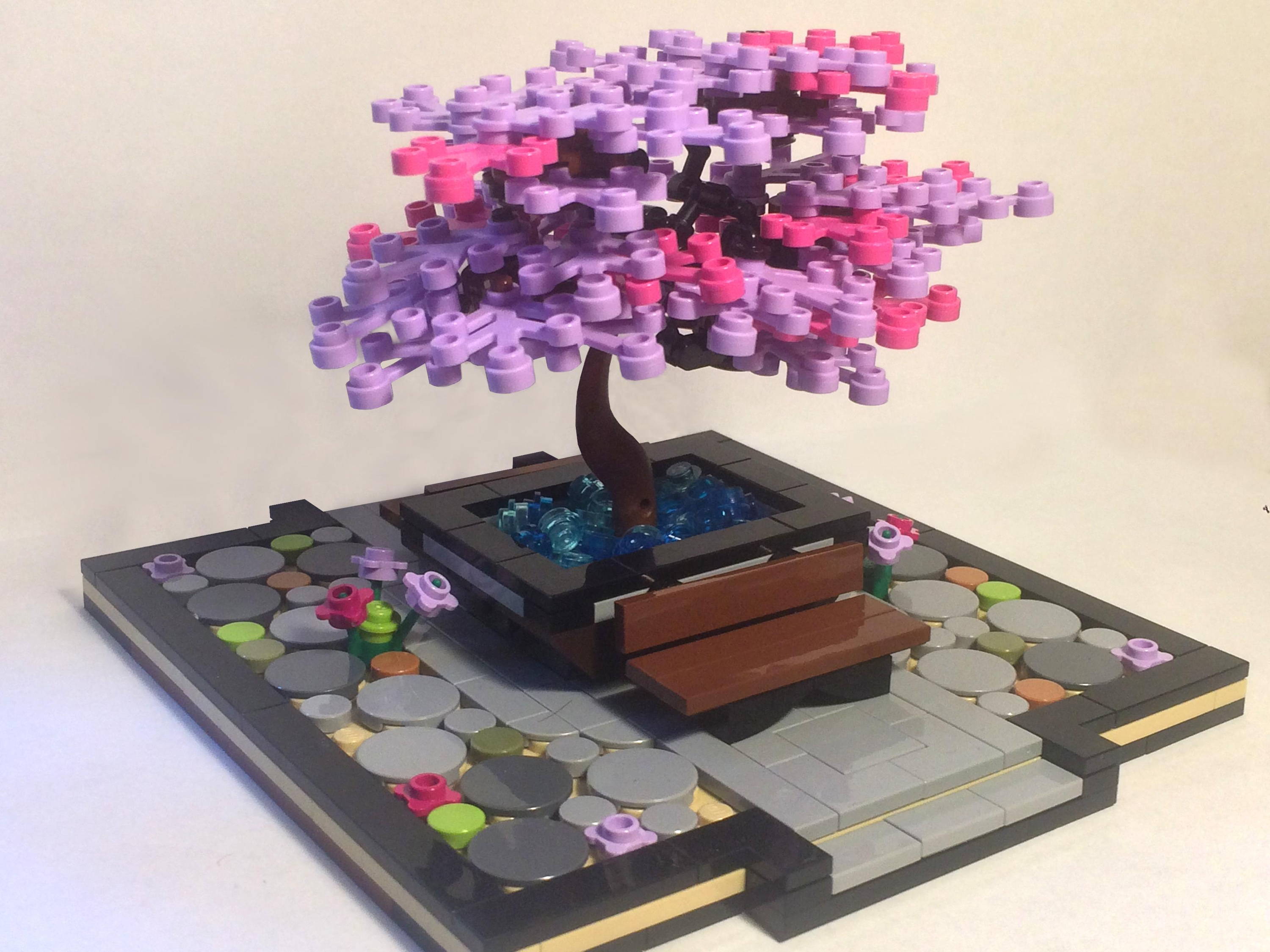 This is great for any Modular building set, as it will beautiful it. Why not turn your city pinker?

15. Four seasons Garden
Have you wanted to see how a garden will be in different seasons, then you are in luck? This project is designed to switch out the appearance of a garden in summer, spring, winter, and autumn. This project comes in a circular plate that allows you to easily move the model to get the right season.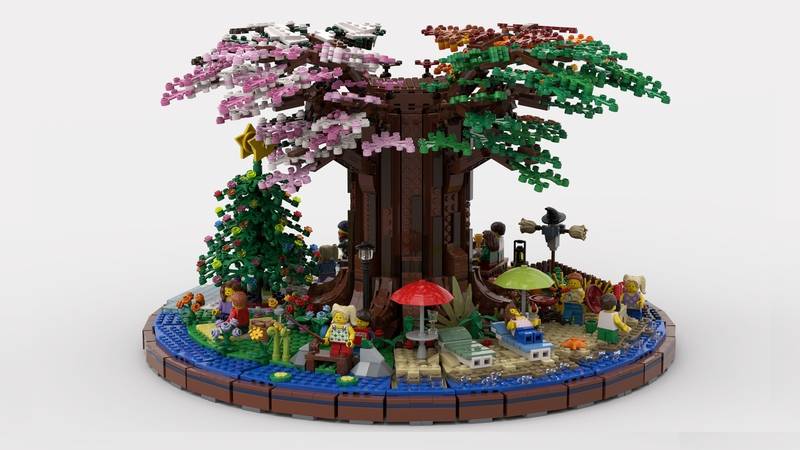 Why not have intense fun with this?

16. Botanical Garden & Research Laboratory (Hinge-Open Modular)
Have you ever been to a botanic garden? If you have, you must have noticed that it was a beautiful sight, with them experimenting with different strains and species of plants. If you put this with other modular buildings, you will be excited about how it turns out.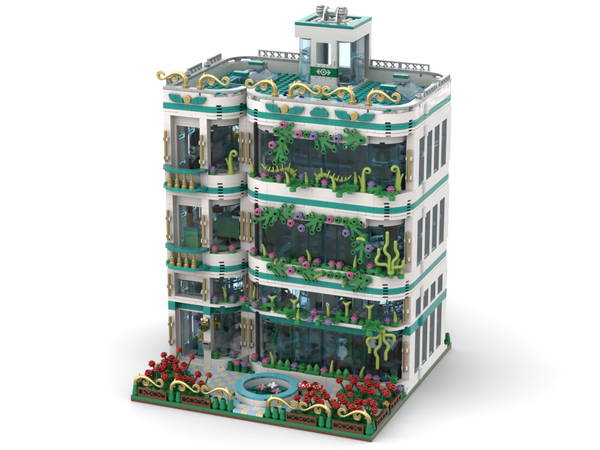 17. Peacock farm
The peacock is one of the cutest animals in existence. If you stare at it, you won't have any choice but to smile. It is also a proud animal.
Imagine being on a farm that raises peacock. The body of the peacock is made of blue curved bricks, giving a realistic look. The feet are created from wooden sticks, as well as leaves bricks

The feathers were made with white leaves bricks, layers of green, and pink leaves bricks.

There are plants and flowers surrounding the beautiful peacock that heighten the tasteful scenery.

18. The Gardener's Shack
Most gardeners, both professional and hobbyists, tend to have a gardener's shack. It is usually made up of wood or brick.

There, these tools needed by the gardener are placed there, like an ax, knife, hammer, shovel, hoe, as well as rakes. These tools make gardening a lot easier.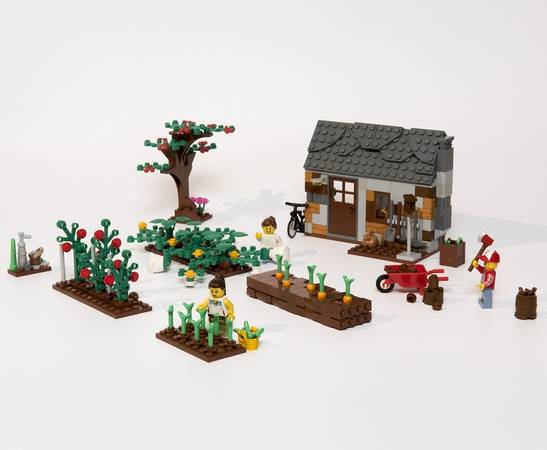 19. Green Area For Modular Building
This garden is designed to act as the green area for any modular building they have. It is no news that a green scene in a building tends to beautify the latter.

It is great for any Modular Building. It can also work in LEGO City streets, especially those that are without trees and plants. Who wouldn't want to be in a city that is green? It comes with yellow flowers, green plants and so on.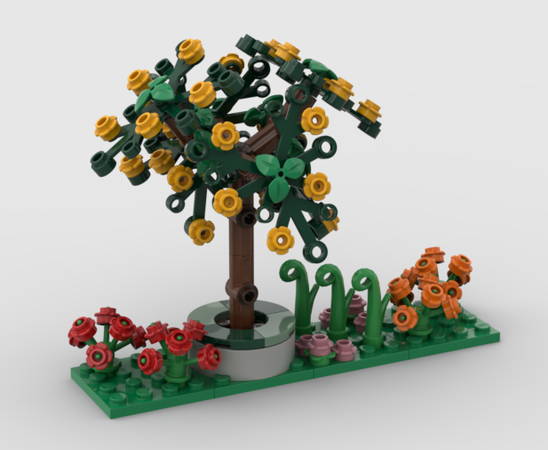 20. Nice day at the farm
This project is great for those that want to have access to fun on the farm. The dark possesses an awesome greenhouse, a veggie garden, a picturesque house, as well as an old barn. The features are adorable to the eyes.

This is designed to encourage the use of traditional farming. It also encourages the usage of eco-friendly features like solar panels, wind turbines, and so on.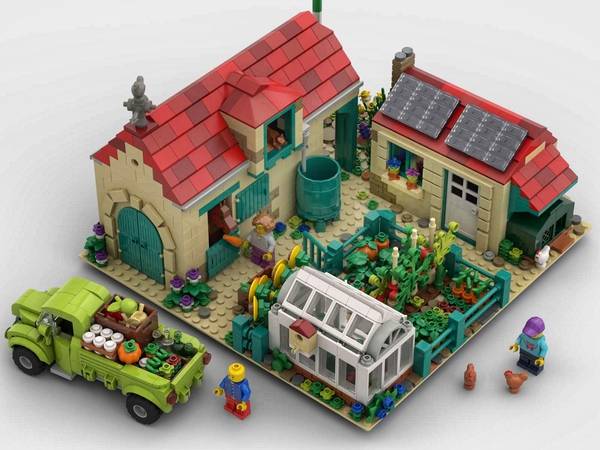 I loved the fact that they paid time to improve their beauty. You can also see things like A cabin

A trick
A silo
People moving around
Greenhouse and so on.

21. My botanical house
Have you ever wanted a botanical house? You can now have the LEGO idea of it. The creator said it was created from the numerous botanic gardens in and around Berlin that he had seen while in Berlin.

You can see exotic plants in the greenhouse. You will see plants having different temperatures and humidity levels present there. Isn't that cool?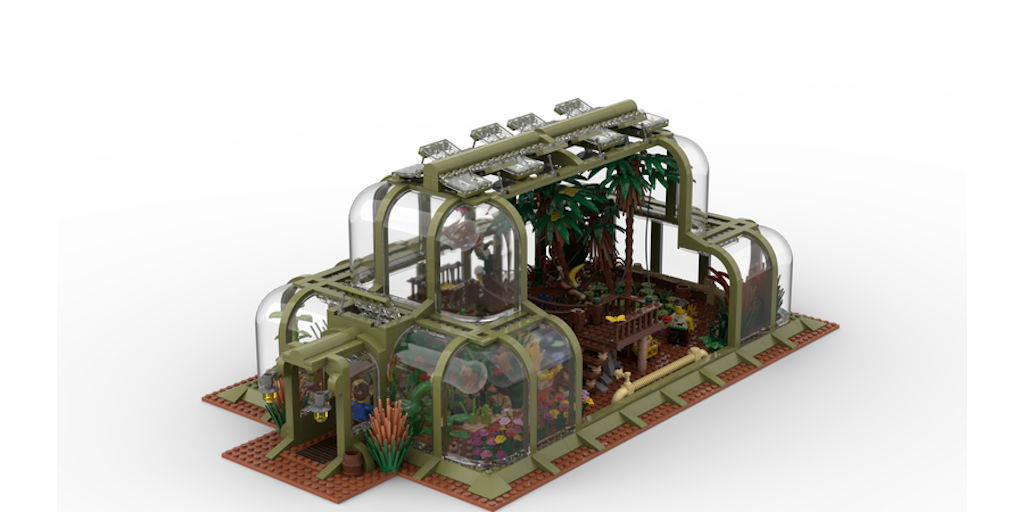 The fact that the greenhouse has big windows mean that light cab trickle in. There are also plant lights present to help the natural light. If you want to be relaxed, try this.

22. LEGO farmer van
It has a lot of fruits and vegetables stocked in it. It also has eggs and milk there too. For those of us that love organic products, you may like this one. The project is meant to have the following features:
A van for the Famer
A big supply of food
Two chickens living in a small house.
The farmer being accompanied by the daughter.


23. Old McDonald had a farm...
We grew up singing this song, and many of us loved it. I can still remember how I sang it happily as a kid.

This is what the project creator is trying to depict.

Here, the Minifigures are fighting on a farm. There is chicken wearing a suit that is releasing the other chicken. A brick suit guy is running away from a knight. There are numerous activities occurring at the same time.

24. Medieval Windmill and Barn
This reminds me of the windmill that we see in medieval movies. There is also a barn that suits the time that it is trying to depict. If you have a farm set, this will make sense, according to the pictures, released by the creator. The windmill stands tall, waiting for the breeze to move it around. There is a vegetable garden that is seated at the back of the windmill. You will see corn and carrots. In the barn are two stables for cows, two barrels, hay, and a chicken coop.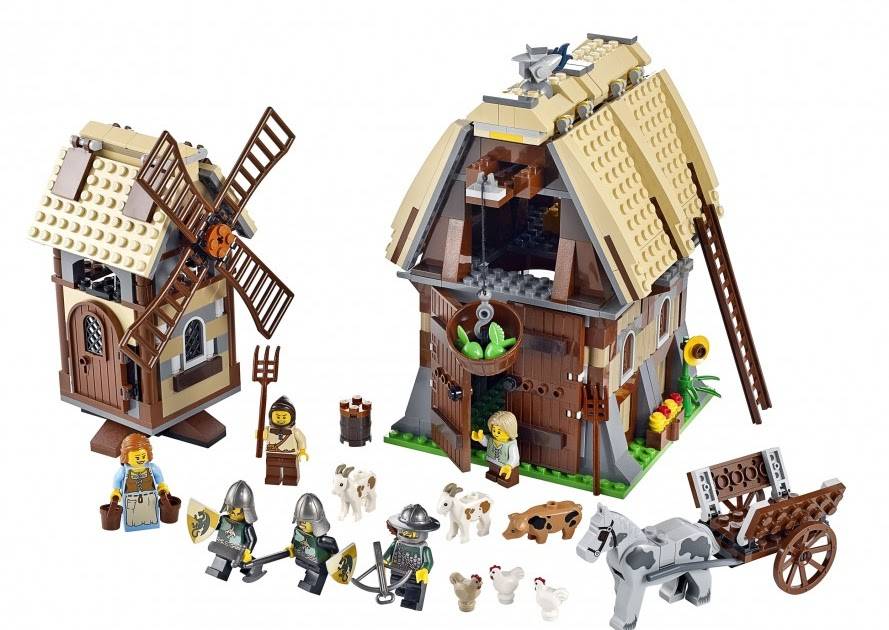 25. Red Barn
This is a barn that houses horses. There is also a kitchen and bedroom nearby. According to the project creator, you can stable your horses or park a tractor there too. It is awesome for farm activities.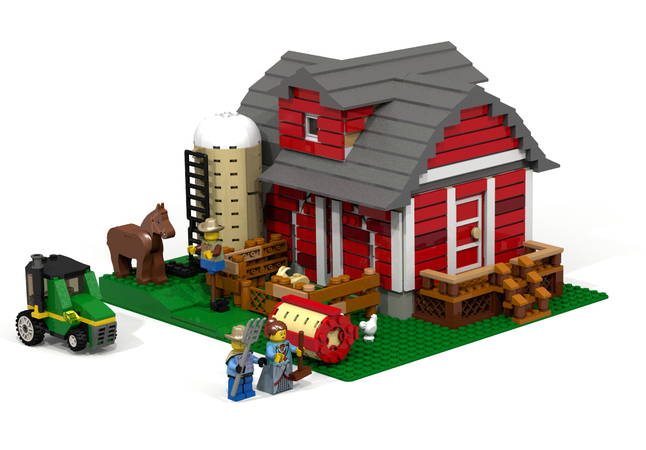 26. The Adventures of Pettson and Findus
These young men love to farm and fancy managing their tiny farm. There are a lot of trees and plants around, where they can have a new adventure daily.
The creator believes that it will be awesome.

27. Medieval Farm
Farmers were not seen as high class as others, but their work was important during that time.
This project has features like farmer's house, with a detailed interior, a pigsty, a well, and a mini crop field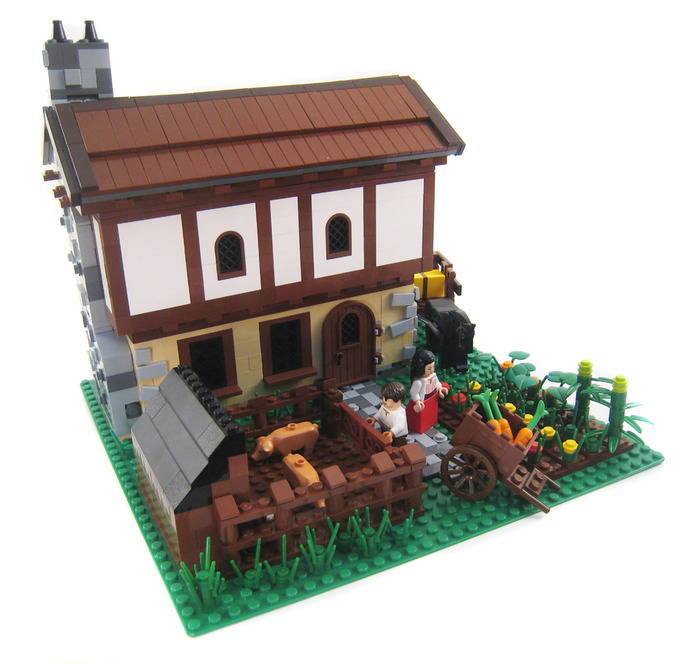 28. Japan
In this garden, you will see a farm that reminds us of the awesome features of Japan. It has a small fenced that holds chickens.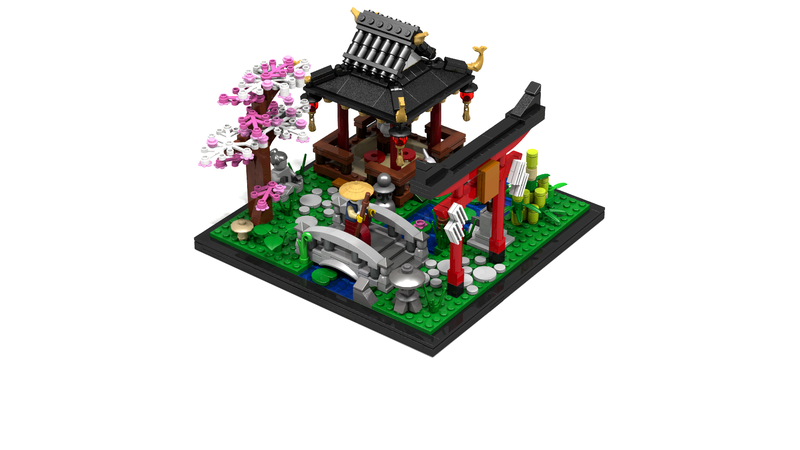 29. Mountain Farm House
This farmhouse is on a mountain that has a lot of trees and plants surrounding him. One can see the farmhouse, and it is great for a mountain climb. You can have fun experiences such as horseback ride, and so on.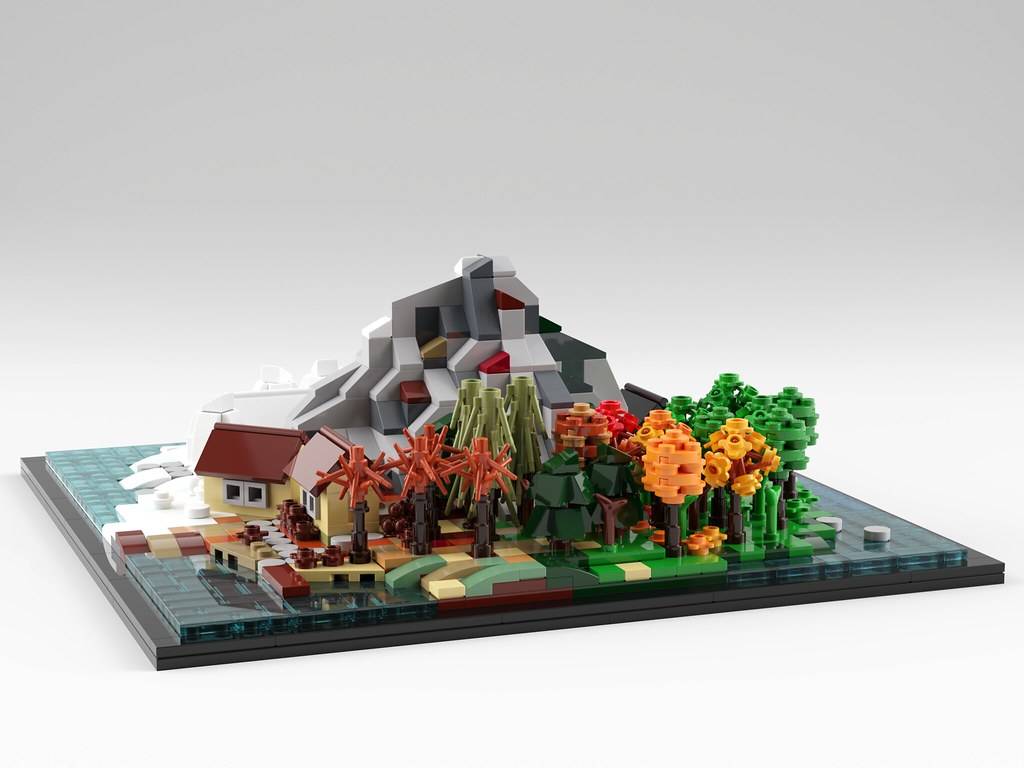 30. Farmers Goat Truck
This truck is filled with a lot of farms produces and it has goats littered in it. They are taking the foods and goats to the market to sell.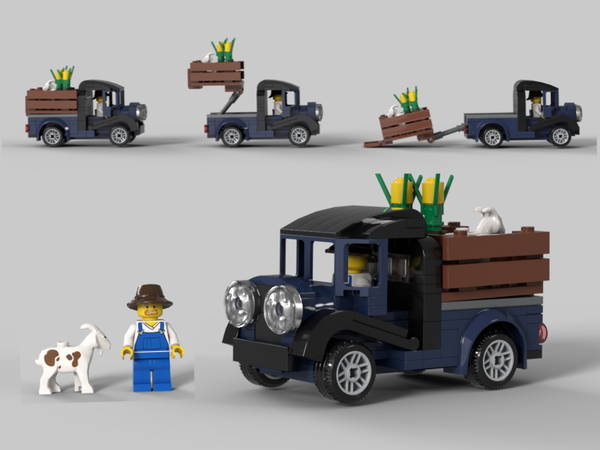 Conclusion
These are LEGO garden ideas created by a number of followers. You can look at them on Lego.com, and support them.