LEGO Santa's Workshop 10245: Its Review
By

Nikita P.
/
January 04, 2020
It is the time of the year, and we have no choice but to scream Merry Christmas to the top of our voices. There is hardly a soul that doesn't like Christmas, and what it connotes. There is hardly a soul that does not smile when they think of Christmas, and the important aspect, which is Santa Claus.

We hope that you are as happy as we are, as we analyze this LEGO Santa's Workshop 10245 set.

Are you thinking of what to gift a LEGO fan as a gift, you should consider trying out the LEGO Santa's Workshop 10245? Now, that it is Christmas, I thought it would be wrong if we ended the season without having a review of the set made.


It features Santa's workshop that is equipped with a ladder that allows Santa to climb up to his quarters when he wants to rest. Have you seen those cute elves? These elves can be seen by their workstation, churning out the cute toys and gifts that Santa gifts out during this period. It comes with play features that you can also bask in. Apart from that, you will see our favorite Christmas animals and Santa's means of transport, the herd of industrious reindeer, which carries Santa all over the world. What about the sleigh that the reindeer pull? They are cute to the eyes. Christmas won't be complete if there were no Christmas tree with a star on it. What would Christmas be without that? Definitely nothing.

Features of LEGO Santa's Workshop 10245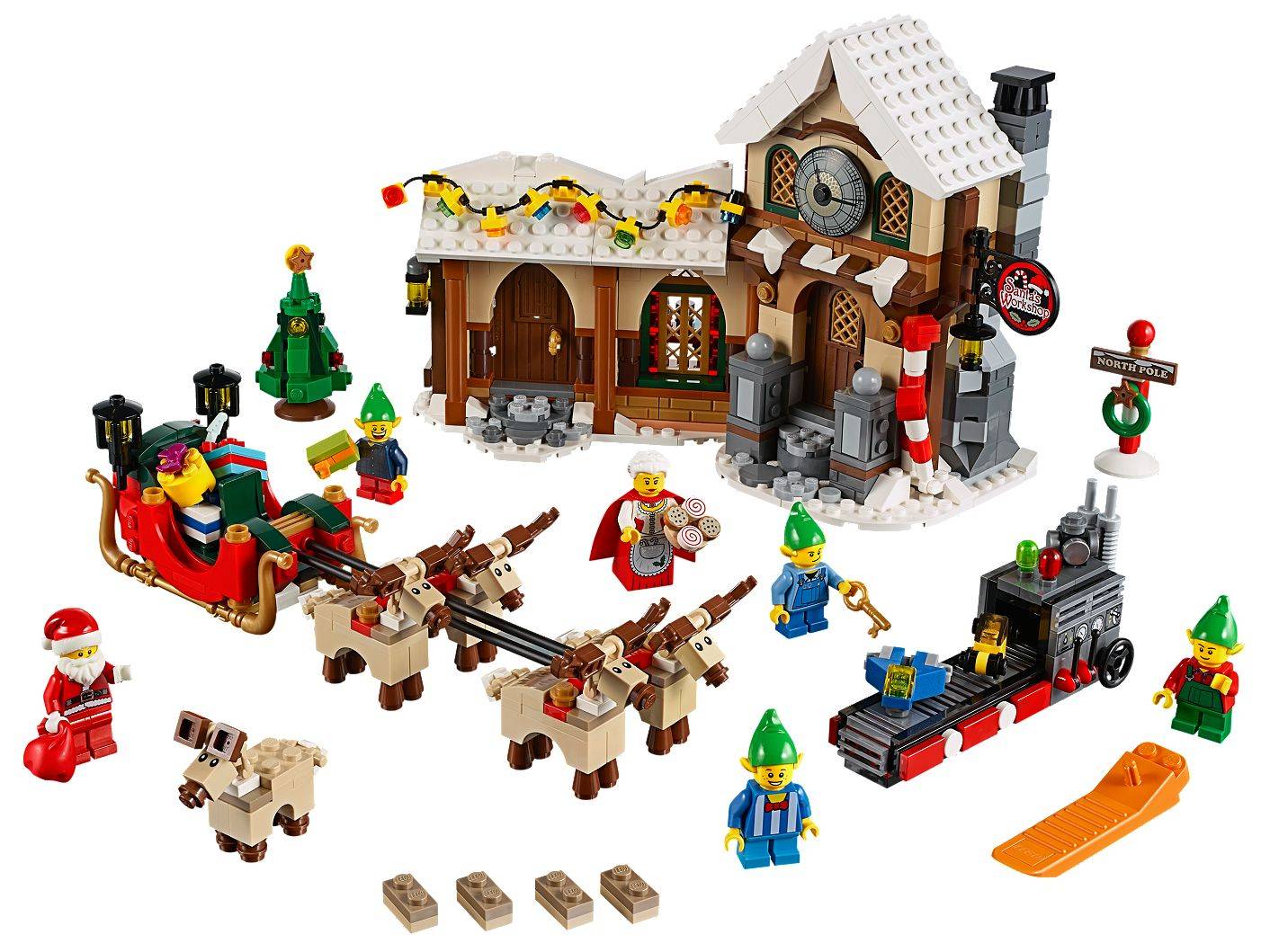 This is a seasonal set, with this edition being the latest for the time being. This Santa's Workshop was released in 2014, and it has more than eight hundred pieces, with six mini-figures, and five reindeers.
The pieces may not be up to a thousand, but we can say that the set would come out looking a bit detailed.
Some fans were disappointed when the set came out because they wanted more buildings, like a chapel, a tavern, an inn, a wooden cabin and so on, but they didn't see them. Hopefully, we expect that future models will leave us all satisfied. Can we hear an Amen?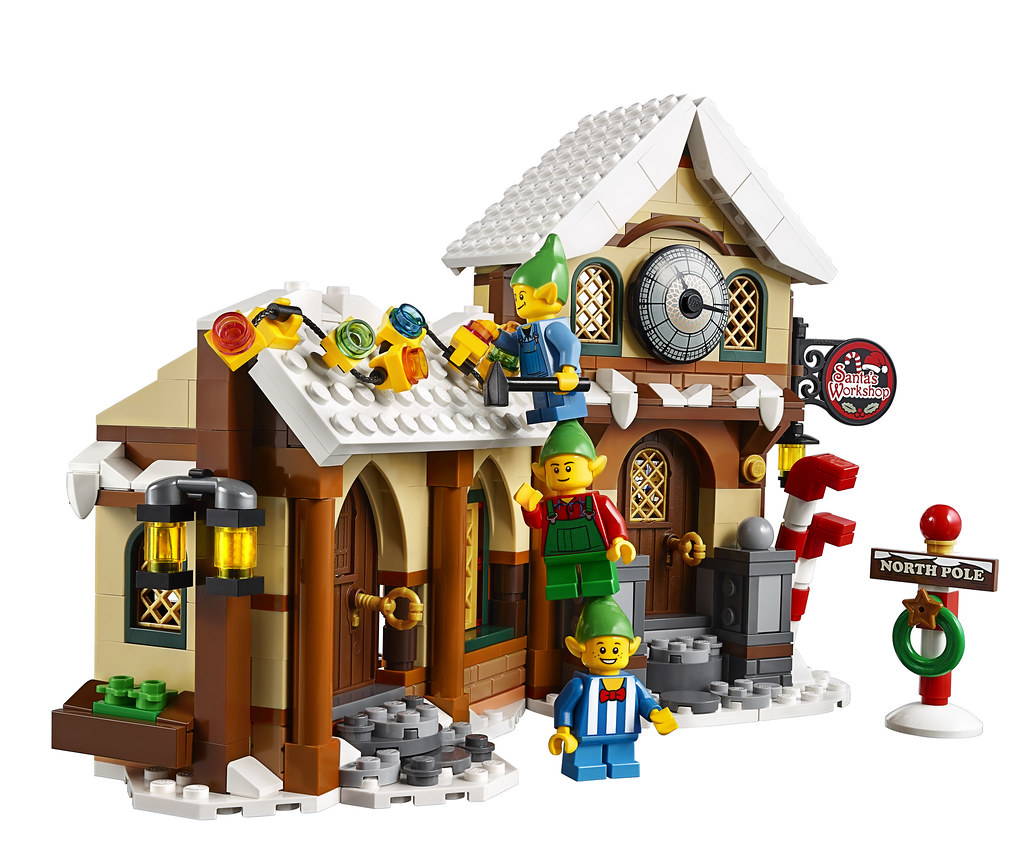 The exterior of the Santa's workshop comes with an ornate clock. It can be seen in front of the building, at the topmost part. Your eyes will also wander to the lattice windows of the LEGO 10245 Santa's Workshop. The windows possess the LEGO winter theme, as it combines both dark green and pearl gold on a tan background. What could scream more of Christmas than that? The combination of the color scheme and the clock gives the workshop the LEGO Christmas facade.

When your eyes go towards the front door, you will notice two big candy canes and the round Santa's Workshop sign.
Building the candy canes may have been simple, but we love their presence because they give the entire set a fairytale appearance. What would be the workshop be without them? Definitely, not so dreamy.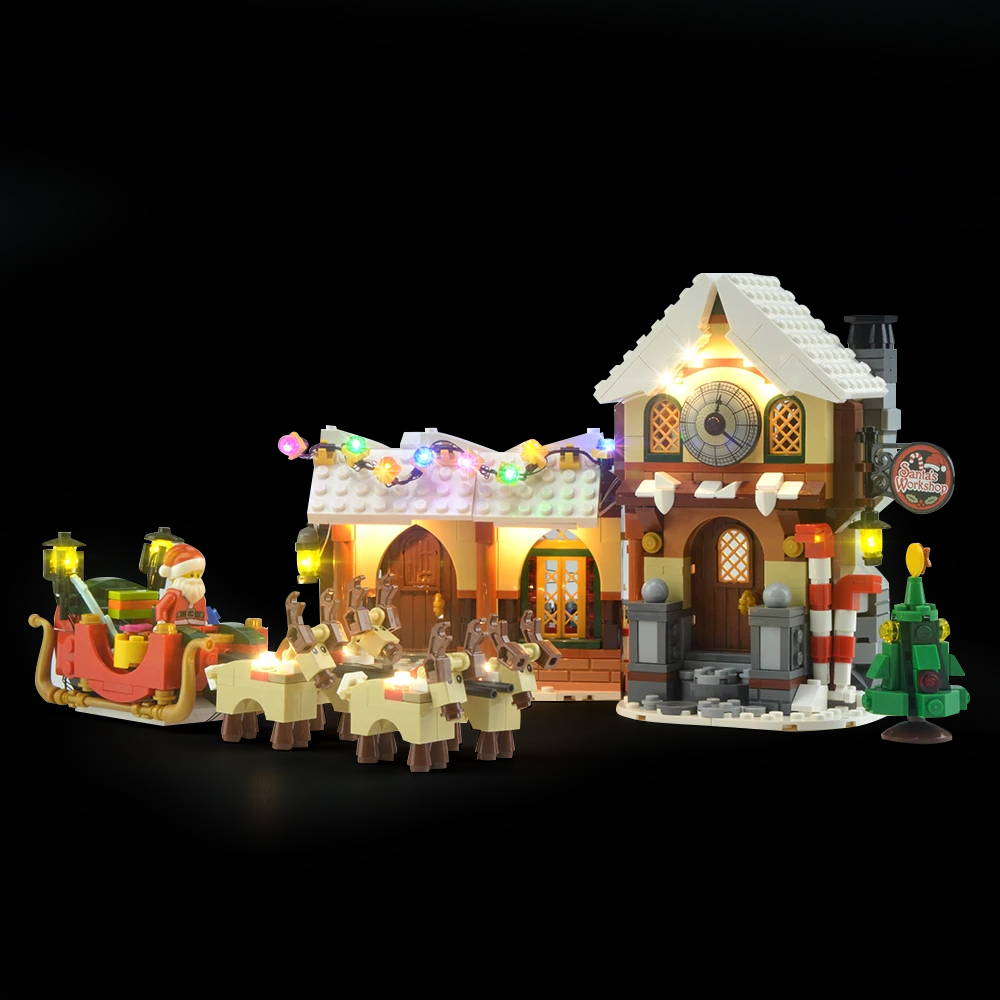 The tooth looking pieces, as well as the white cheese slopes really appealed to my emotions, as they reminded us of a bunch of snow piling up on the roof. This is a common appearance during the winter period.

All these tiny details are what make lovers of the Winter Village theme want more and more. You may notice the hidden planter box, as well as the grey phone that ended up being used as a lamp holder. You can see these on the left part of the workshop.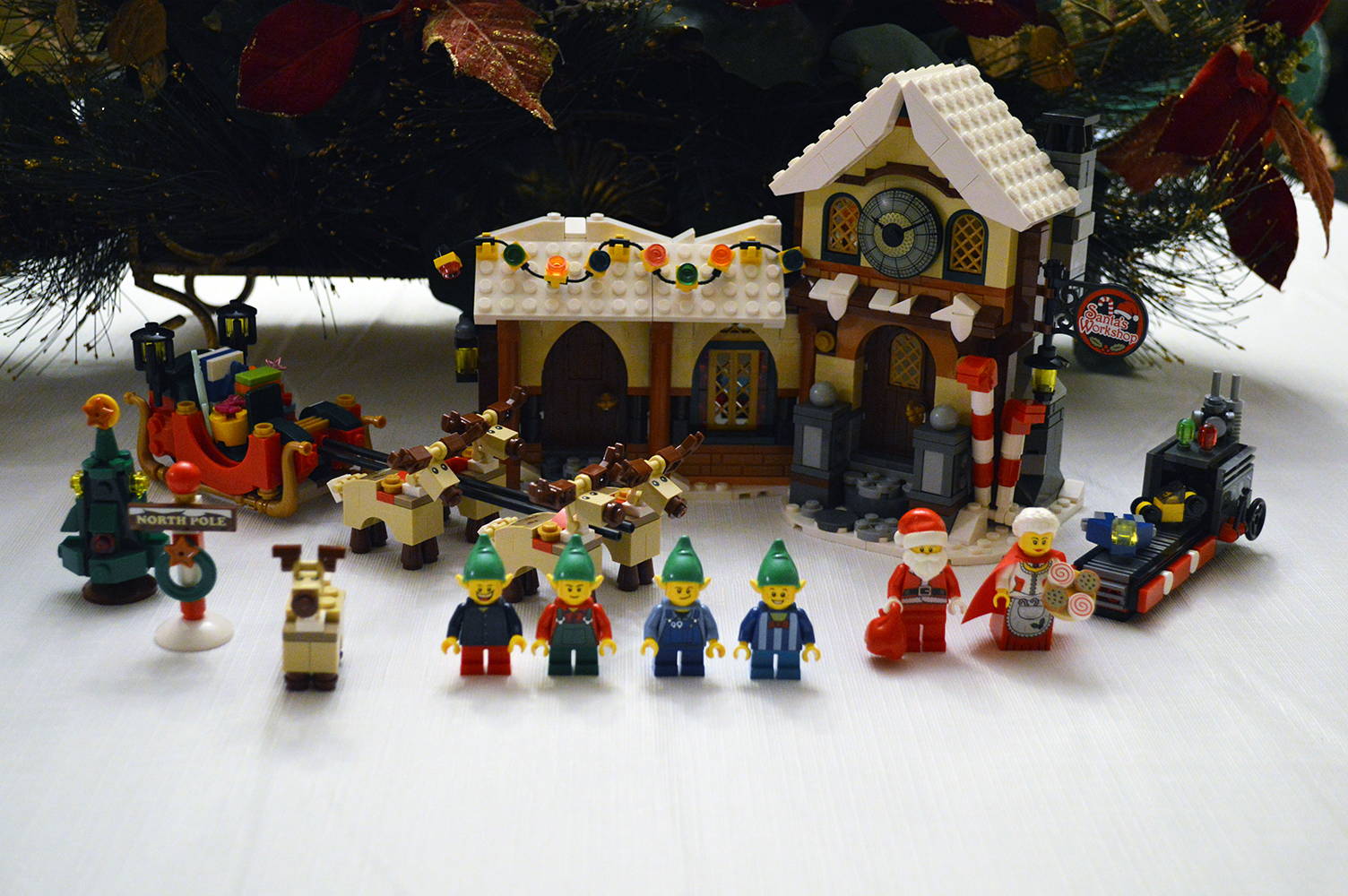 The toy assembly machine is a beauty that could be played with. There are a number of play features in this set that one could effortlessly have fun with it, and one of them has been posted.

The Elves that control the toy assembly machine are there, trying to craft out toys for Santa.

Though this may be cute, I think this part was merely placed as an afterthought. This is what I feel, as there aren't a lot of interior decorations in this Workshop.

Normally, this should have been put inside the workshop, but the fact that the building isn't big means that it can't stay inside there.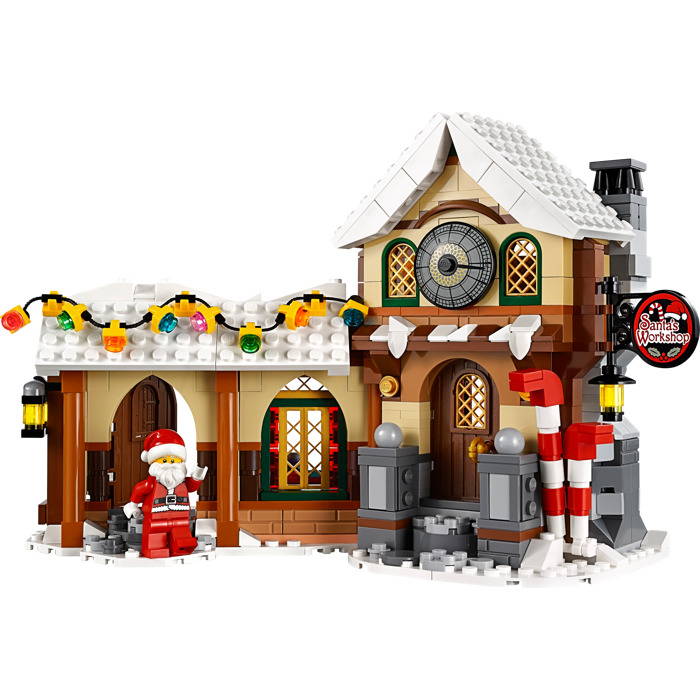 It doesn't matter whether it was created to be a core part of an afterthought, this machine is meant to be an important aspect of the Santa's Workshop.

The machine comes with the Willy Wonka vibe, as you can pull some levers, have the wheel turned, as well as flick a number of switches. Voila, the toys start coming out.

Your toy creator machine will roar to life.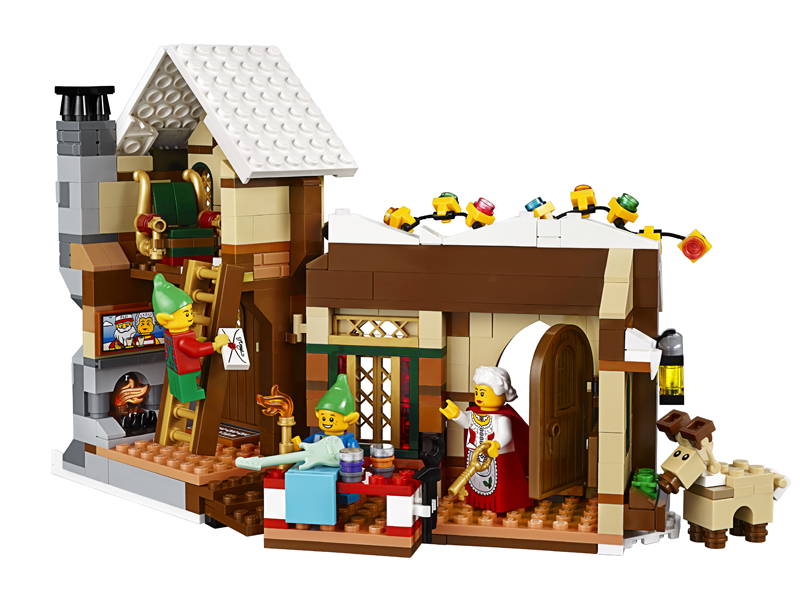 What you will use in building the Santa's Workshop can be seen in three main sections. You will notice numberings on the polybags, ensuring that the building experience is easier.

You will have access to see six Minifigures in Santa's Workshop, which have Elves, reindeer, as well as the Claus family.

Inside, you will come across the most festive couple that resides in the North Pole, which is Santa Claus and Mrs. Claus.

This couple is the most popular one in existence, as there is hardly anyone that doesn't know of their existence.

The Santa seen here is similar to the one seen in Series 8. The only difference is the sharper printing that is seen in the torso. You will also notice the present sack that is in the signature bright reddish hue that we know but hasn't been shown in any other set before this.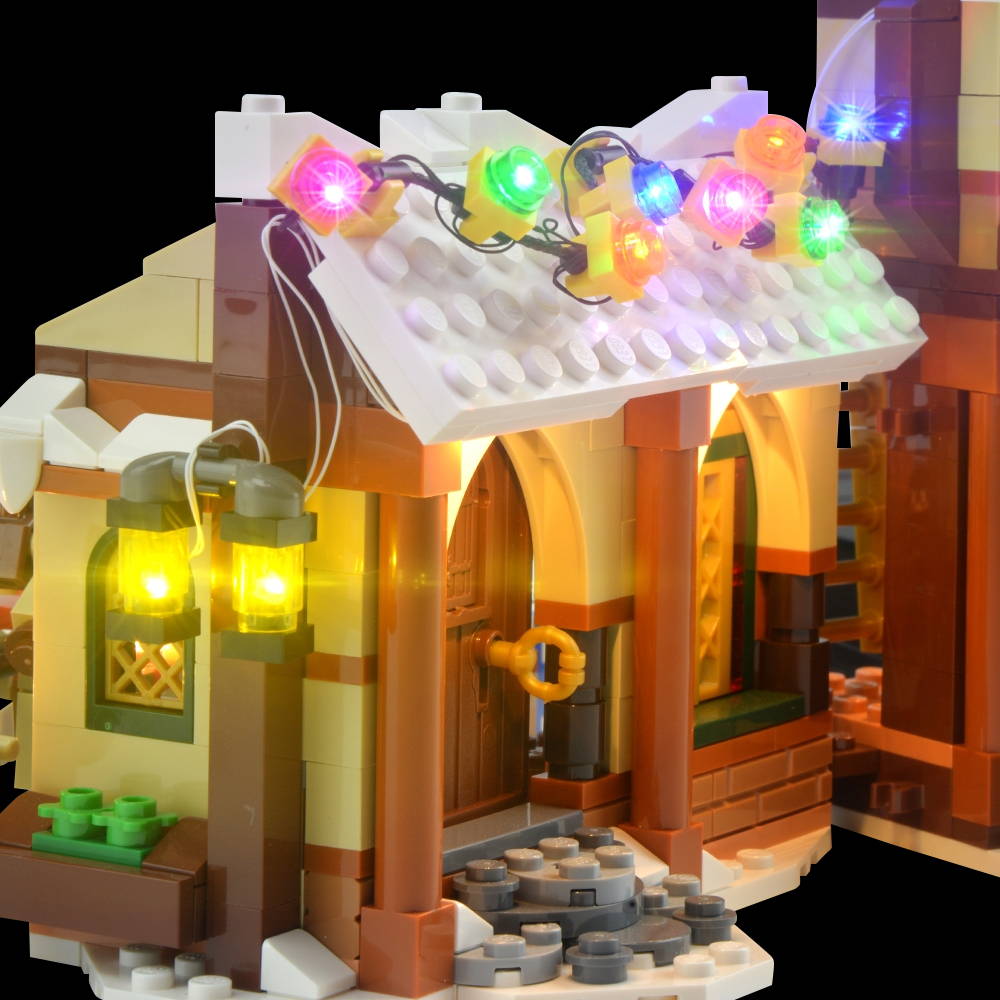 Have you stared at Mrs. Claus? She is a stunner, no wonder that Santa Claus fell hopelessly in love with her. She is adorned with a dress that has a red and white hue. You will notice its immaculately white apron that is quite little.

The torso has a number of delicate patterns that had been printed on it. The color of the neck is yellow, like her face too. She is holding a number of baked goodies in the tray, including what Santa Claus loves, which are cookies.
You will notice a cloak, though it seems a bit odd for her clothes. She ends up looking like a superhero. Maybe she needs it to keep herself a bit warm because of how cold she is where she resides in, which is the North Pole.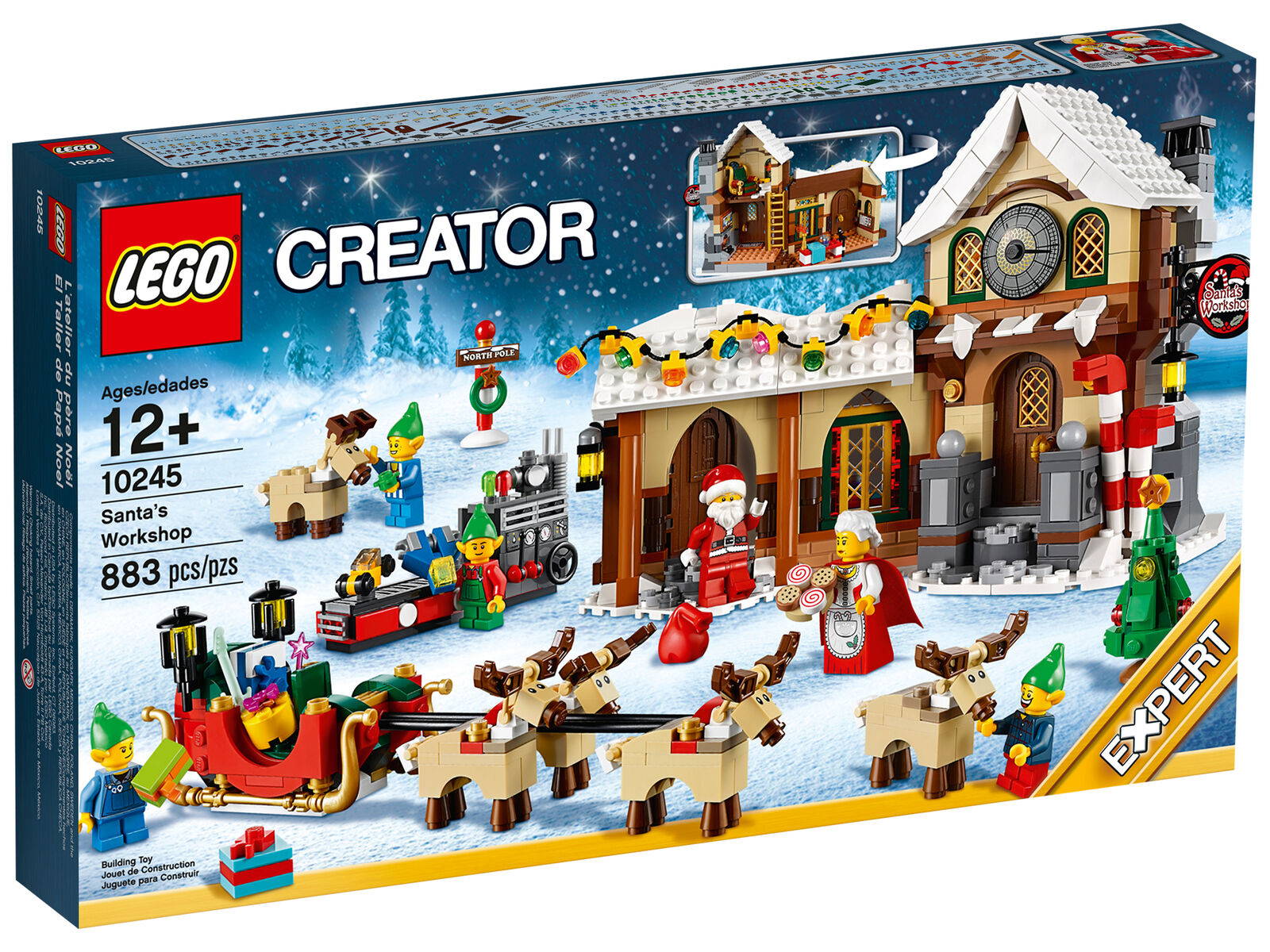 There are a number of things that one can't help but love about this set. This set would have been better if it had a number of elements, but we can deal with these. Assuming they had more pieces and parts for other buildings, it would have been a more challenging building experience that we wanted.

When we were done building, I had a lot of suggestions on how the next model should be. I felt that the workshop should have been bigger. I felt that the machine should have been able to effortlessly fit in the workshop. I felt that the Elves should have looked more interesting.

When you compare this model to the other Winter Village sets, you will notice that the former isn't as great as the latter.

Santa's Workshop has its strong points, which are far more than the flaws. There is the presence of points for a colorful cast of characters, adorable brick-built animals as well as a great exterior.

Building this is quite simple, as you do not have to possess a degree in Rocket Science before you get the job done. It takes a few hours. All you need to do is make use of instruction manual or stream a video online.

Top It Up With LEGO Lights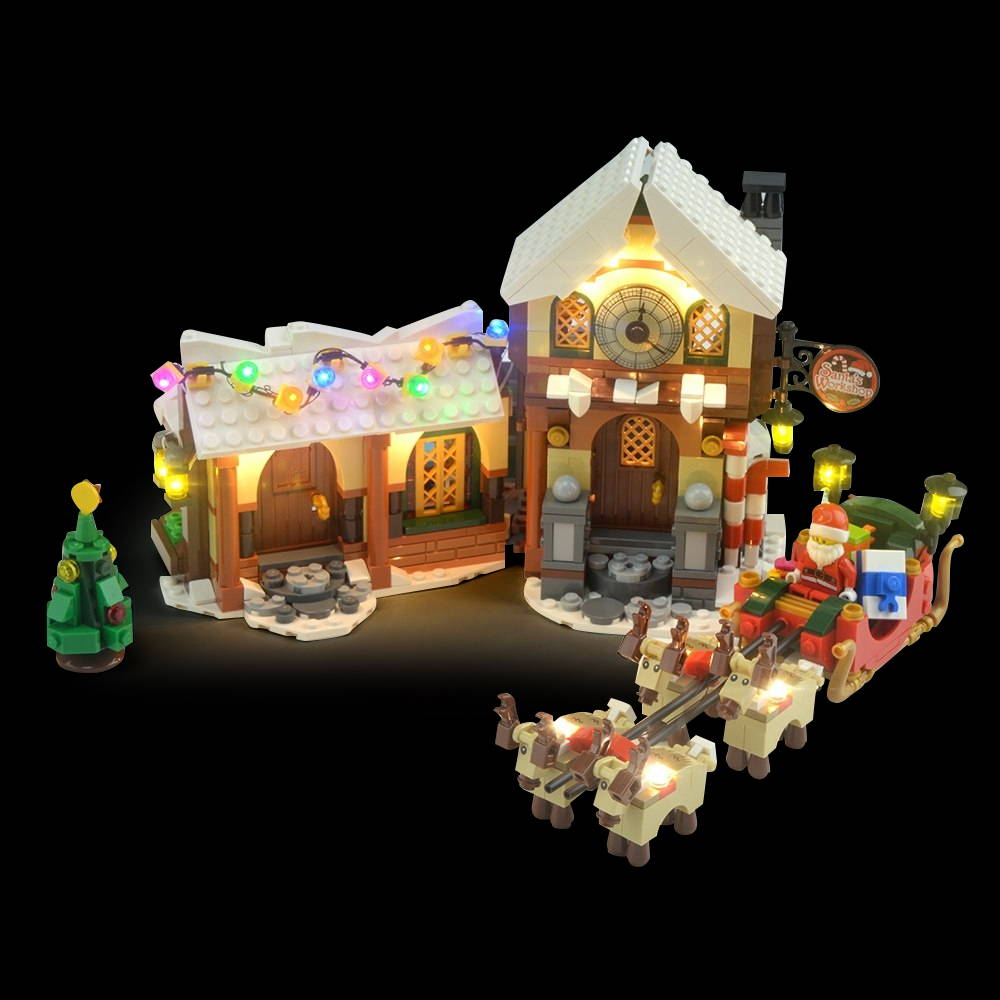 Want your set to look magnificent when on display? It won't be a bad idea to get a unique set of lights designed for it.

We love to display our completed set, and want them to look better than any other one that we have seen. You can do this by purchasing a unique set of light for it.

Apart from the aesthetic appearance that it brings, it allows others around you to know where your model is to prevent them from mistakenly messing up with it.

With the unique LEGO Lights, you could kill multiple birds with a stone. Contact us today, we will live to hear from you.


Christmas is never never far away, as one season ends we all begin to look forward to the next one. If you want an evergreen LEGO set that will never go out of fashion, the LEGO Santa's workshop is a great place to start. This is one awesome set that will never get boring.