Race with confidence with the LEGO Mopar Dodge and 1970 Dodge Challenger 76904 Set.
By

Mark Gini
/
January 09, 2022
When It comes to iconic race cars, you cannot help but talk about the Mopar Dodge, 1970 Dodge Challenger, and the SRT Top Fuel Dragster. These race cars were champions of their time. Some were used more on the race track than others, yet the fact remains that as far as race car comes, there was non more challenging than these. The Dodge Challenger was produced by the automobile manufacturing company Dodge. The first-ever use of the name Dodge as a marketing name was in 1959. It was used to market a value version of the full-size Coronet Silver Challenger. Since then, the name Dodge grew as a popular name for the company's car brand.

Are you a fan of race cars? Probably you would like to build one from the ground up. Would you be happy to create the Mopar Dodge // SRT Top Fuel Dragster and Dodge Challenger of 1970 if you had the chance? If yes, then you would be pleased no know that you can. Lego has taken time to design a single set featuring the Dodge Challenger and SRT Top Fuel Dragster, which you can build by purchasing the Lego Mopar Dodge and 1970 Dodge challenger set. This set is packed with iconic and realistic details, making excitement in any race car fanatic. Have you been in search of a set for a perfect gift for your race car fanatics? If yes, then this set should be top of your list. But what excellent experience do builders stand to get from this set? Let's find out in the next section.
BUILDING EXPERIENCE FOR THE LEGO MOPAR DODGE AND 1970 DODGE CHALLENGER 76904 SET.
The Lego Mopar Dodge and 1970 Dodge Challenger set comes with an engaging build that would help keep builders, both young and old, engaged for hours. The set also includes features that help encourage extensive role-playing, as it is a two set-piece. If you are new to Lego and looking for an easy but challenging set to start your journey with, this Lego set is just perfect for the job. This set is designed to help both young builders and builders new to Lego gain experience and confidence to move to more advanced Lego sets. If you are a parent looking for a fun and intellectual game to help keep your male kids engaged while building their mental capacity, then you should consider this set.
This fantastic Lego set is a little above 600 pieces. So it shouldn't take long for older, more experienced builders to complete. If you get a little confused as you build, you could always turn to the building instructions this set provides. Overall, this set is fun to make for children and could also be great for adult race car lovers, especially when you notice how accurate the set details are. So if you are in search of a set that is both fun and engaging in building, then you should consider getting the Lego Mopar Dodge and 1970 Dodge challenger set.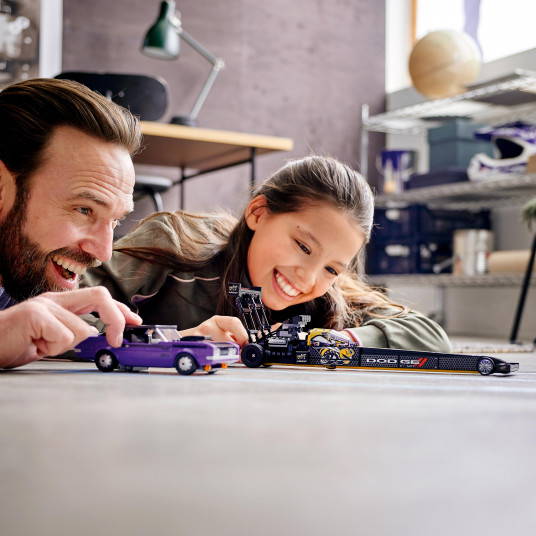 REALISTIC FEATURES FOR THE LEGO MOPAR DODGE AND 1970 DODGE CHALLENGER 76904 SET.
Though the Lego Dodge Challenger set is a little over 600 pieces, it has very authentic details that make it stand out. This section will help give more light on some of those incredible and exact details.
• A TWO-IN-ONE SET.
With the Lego Mopar Dodge and 1970 Dodge challenger set, you get the opportunity to build iconic race cars. You can decide to make both sets simultaneously or one at a time. The two sets include the Mopar Dodge // SRT Top Fuel Dragster, while the second is the 1970 Dodge challenger. Both sets are packed with unique details from their real-life counterparts.
• TWO DRIVER MINIFIGURES.
The Lego Mopar Dodge and 1970 Dodge challenger set do more than offer authentic set replicas. The set goes a step further by adding two driver Minifigures. The addition of the two Minifigures offers much more engaging role-playing than ever before. Lego builders of these sets get the opportunity to create fantastic racing moments and enjoy winning trophies with their Minifigures. These Minifigures are fully kitted with safety helmets and Dodge race suits. With the addition of these two Minifigures, you stand a chance to replicate these well-known high-performing race cars and the most epic of racing battles.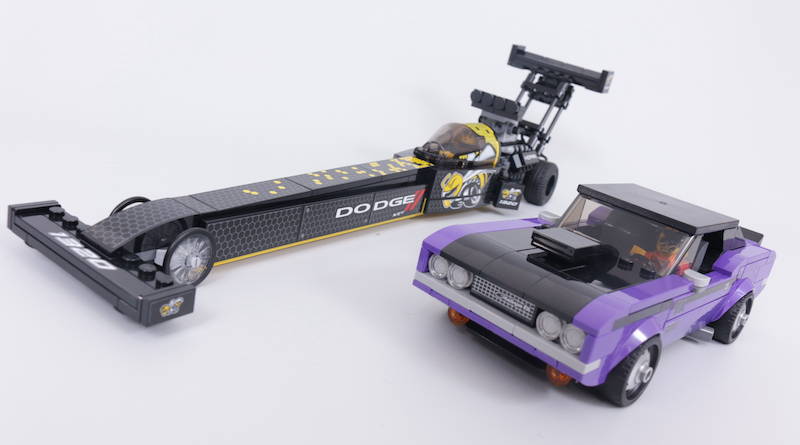 • SETS DURABILITY.
The Lego Mopar Dodge and 1970 Dodge Challenger 76904 set are designed with top-quality Lego bricks. These bricks are designed with easily attachable and detachable features. The set is also tested to ensure its safety; this means that this Lego is exceptionally safe and can be used by kids. So if you are looking for a set that is both durable and will last longer, giving you an endless building opportunity, this is the set for you.

• SET SIZE.
The Lego Mopar Dodge and 1970 Dodge challenger set is a 627 piece set packed with lots of unique details which would keep any Lego race car fanatic engaged. The set comprises two primary car buildable sets, with two Minifigures. Once fully coupled, the Lego Mopar Dodge // SRT Top Fuel Dragster is about 4 inches high, 2.5 inches in width, and 13.5 inches long. And its partner set, the 1970 Dodge challenger, is approximately 2 inches tall, 5 inches long, and 2.5 inches wide.
The Lego Mopar Dodge and 1970 Dodge Challenger set can be purchased from any Lego store in your country of location. And if you do not have one in your country, it is highly recommended you try getting it directly from the Lego website, lego.com. This will help ensure you get it at an affordable price, as getting it from any other website could cost higher due to availability issues. This set at Lego stores and the Lego website cost about 49.99 dollars. This could cost higher or lower depending on your currency denomination.
MAKE YOUR RACECAR MORE DAZZLING WITH OUR AMAZING GAME OF BRICKS LIGHT KITS.
The Lego Mopar Dodge and 1970 Dodge challenger 76904 sets are designed with the most remarkable details. But you can make your Lego cars colorful with our unique and special light kits. These light kits are designed to bring life to each Lego set they are endowed with. And they can serve the same purpose for your own Lego set. But if you are new to Lego, you may probably be wondering how to go about installing our Lego light kit. Well, before you can even think of installing our Lego light kit, you need first to ensure that you have successfully built both of your race car sets. Once you are done building, you can order our light kids, which comes with a 30days warranty card, which will help you quickly return the light kits if you notice any shopping damages. Once your light kit arrives, ensure to inspect them thoroughly, after which you follow these two universal steps for a successful light kit installation.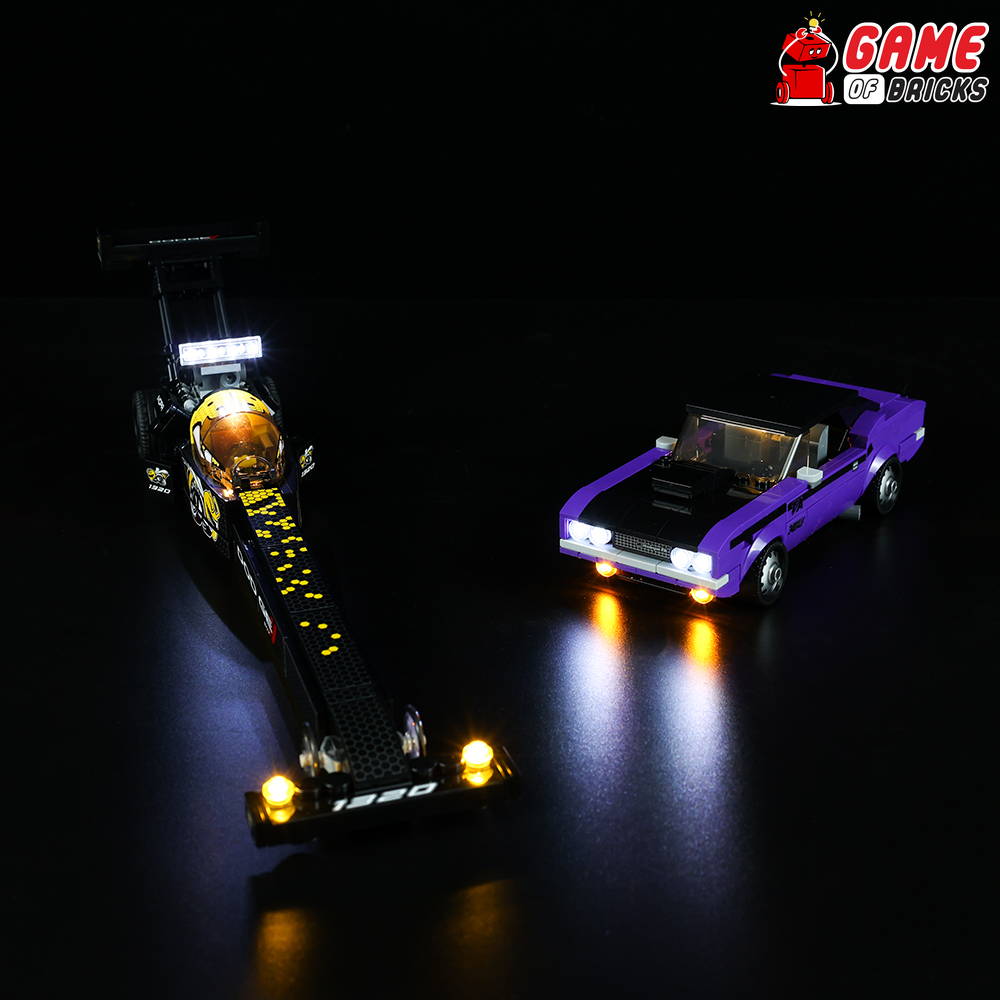 1. FOLLOW THE INSTRUCTION MANUAL WHILE INSTALLING.
If you are new to our Lego light kits, you must be good at following instructions. Each of our Lego light kits comes with a clear, easy-to-understand manual depending on the version of the light equipment purchased, whether the basic or standard version. As you install, note that your light kits are delicate, so you need to handle them with care. Also, note that each light kit and accessory must be pasted neatly through the bricks and with respect. Ensure you do not force your light kits through, for you could risk damaging your light equipment. If you follow all the instructions from the manual while handling your light kit with care, you will have success. After installing, you are just one step closer to your goal.
2. RUN TESTS ON INSTALLED LIGHT KITS.
To make sure of your safety and the safety of all those coming in contact with your light kit, you must run this test. This test would help provide a lot of things about your set. First, it would help ensure its safety, second, durability, and third, functionality. Depending on the light kit you purchased, the functionalities may vary. So to understand just one to expect from your light kit, make sure to read the feature section on the manual. But generally, during your inspection, It would be wise to look out for traces of short-circuiting and even sparks. This could help identify a problem with your light kit. Once all the checks are done, and all looks good, put your Lego Mopar Dodge and 1970 Dodge Challenger set on display for all to see.