LEGO Inspired Gifts Ideas for the Holiday Season
The holiday season is just around the corner with love, joy, and happiness to spend around. But one of the most important things about the holiday that should not be or can not be ignored is the gifts and the presents that are going to be opened, along with the smile, the laughter, and the singing, the exchange of gifts just gives a perfect blend of the goodness of the holiday season and just has a favor full of cheer and everything that the holiday is all about. And what is more wonderful than the amazing Lego-inspired gifts for yourself, your partners, and your kids, these are gifts that will want for their holiday. Enjoy this list of LEGO-inspired gifts.


1. Lego tape.
Have you seen a tape that sticks to anywhere and you can then build your LEGO blocks on it? The Lego tape is a perfect gift for children and adults in case you want to make an inspiring creation of the world on the floor illegal without letting it fall this is the perfect gift for you you cannot have a fun time building LEGO sets on your walls or fridge or anywhere else that can be used with the tape. It comes in different shapes and sizes that any size of LEGO block can fit it. You can connect the tape to anything walls, furniture, and even balls can't be left out of the fun. To play with this are 3 steps, the first is to cut it then peel it then stick it, and build your marvelous piece. This tape is awesome for customizing your designs and it is even reusable so that you can remake every wonderful piece again. It comes in different colors, which include blue, red, green, and gray.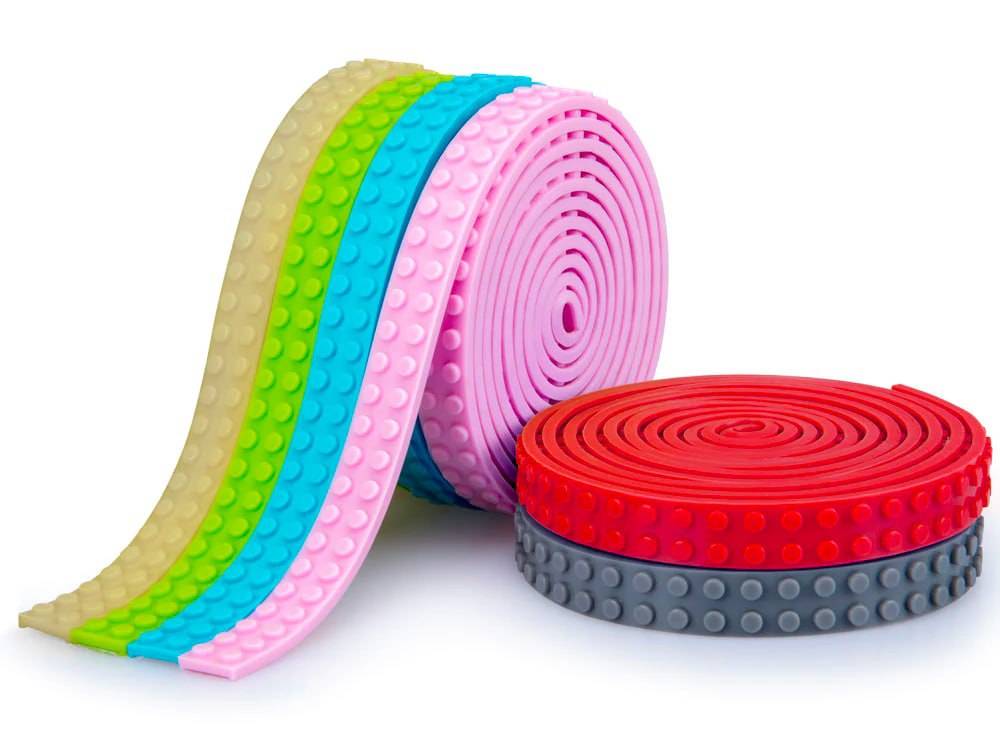 2. Lego building mat.
This is a mat made of silicone with LEGO-making platforms this makes playtime nicer to work in as it is compatible and has many varieties of pieces that can be placed together in a platform. It can easily build creativity and aid in the stability of your Design is also makes this your LEGO world larger than ever as you can have different varieties of Lego sets on this Mat. This gift is perfect for children over the age of six as they can easily use this at a corner without disturbing anyone it also helps in reducing the risks of stepping on Lego blocks which causes unbearable pain. It is 32 feet long which is the official size of a large table it is made of silicone which is soft and it has a firm grip on the Legos when attached to it. It weighs over 2. 29 lb.
3. LEGO play table.
The LEGO play table is many for children that is a size perfect for them and provides them the perfect place to draw, read, create, build, and have fun with their LEGOs. It's the perfect piece of furniture for creativity. The furniture into a table with two chairs, and it also comes with a shelf. It has other features like construction panels to build. Two drawers that act like a store where you can store all your LEGOs and toys safely it also has a fine color of White that has a beautiful form of decoration around it. It is reversible and the children we'll have a nice time playing on this Lego table where they can build their set more comfortably and let their imagination soar through the sky. This product is durable and strong for any hard or heavy leg that falls on it. It is the perfect gift to give your children so that they can have a nice platform to play with their Lego toys and store them also. For you to avoid stepping on those hard LEGOs it also comes with a smooth Corner surface to avoid injuries and protect your children from injuries that can seriously hurt them.

4. Make your very own movie.
This is the most incredible gift you can give to anyone. Get ready for shoot and action! Become the director of your movie as you bring the LEGO Minifigures to life with stop-motion animation these products give you a step-by-step guide on how to make your very own movie with your phone computer or tablet. To make funny short clips with some instructions. You can let the set do whatever you want and play different scenarios from this set. Build up your movie set with these different background settings this product also comes with over 36 LEGO elements which are a banana Pisa baseball cap and so much more it also has 6 Minifigure heads and what are clothes to dress the Minifigures with. You can mean a lot of skills with this toy you can learn the tricks of movie making at the palm of your finger I can learn an advanced skill that'll make you a pro movie maker with skills like sound effects, camera angles, and lighting. With this toy make your very own LEGO movie goes viral by making wonderful stories. This toy also comes with a book that gives you some stories to inspire you to make your own like time-lapse build, dance it out, bricks in the wild, walk cycle, magic closet, boomerang banana, it's a bird! It's a plane, my life in bricks, the great chase scene, and so on. The book is 78 pages book so the inspiration will never stop flowing, with that flow it also comes with a step-by-step guide on how to make a mini Lego movie. There are also paper backgrounds that match the form of inspiration that you are still looking for. You will also learn to make sound effects, how to perfectly make a movie set, and make a storyboard. The book also comes with tips on how to make a nice movie. This is a perfect gift to give to someone who is into movie-making. The children will surely love it.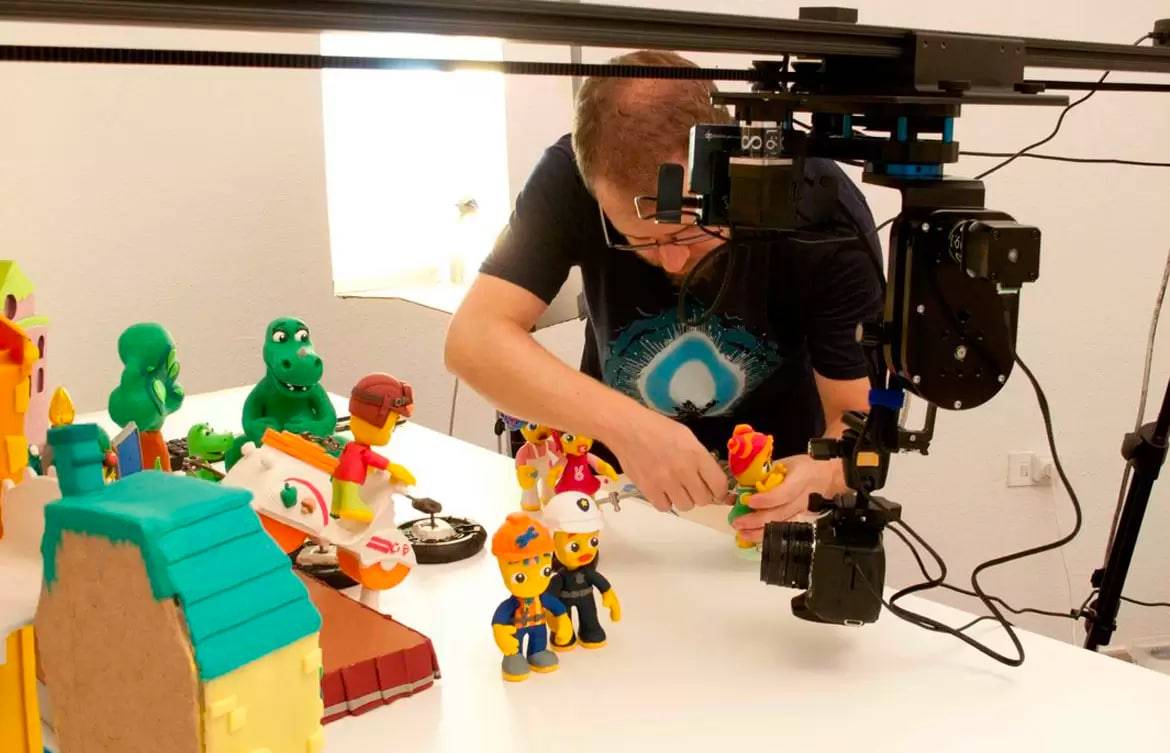 5. LEGO stationary marker.
These are LEGO makers that have 9 colors, what is unique about these LEGO makers is that some LEGO brick toppers are used to organize your utensils or put beautiful LEGO pieces to give your maker more beautification this gift is perfect for Christmas season so that love can be spread around. A nice present to give.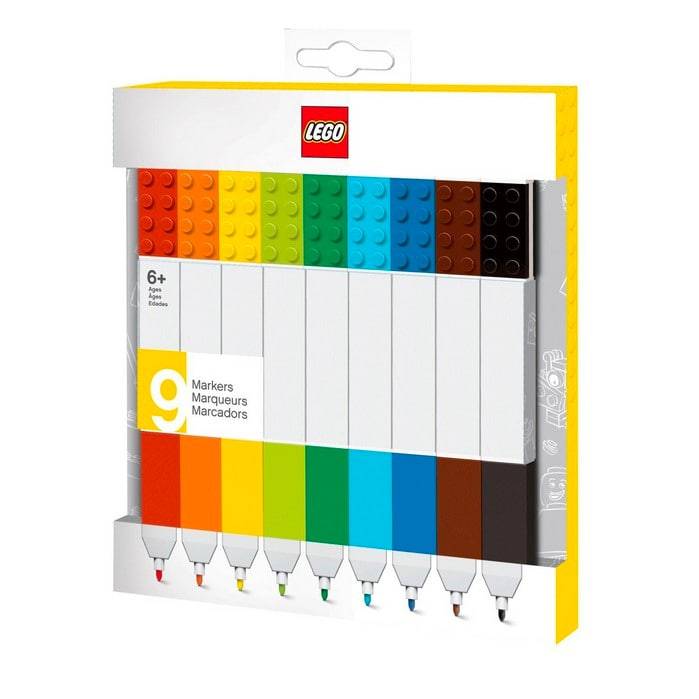 6. Lego clothes.
There is nothing more iconic than LEGO clothing, from t-shirts to costumes and pajamas LEGO clothing has been one of the most amazing clothing Style around from different designs that are printed on T-shirts like the evolution of LEGO man to adult, things that are only important to LEGO Builders and socks and pajamas to keep you warm at night after playing and building a LEGO model.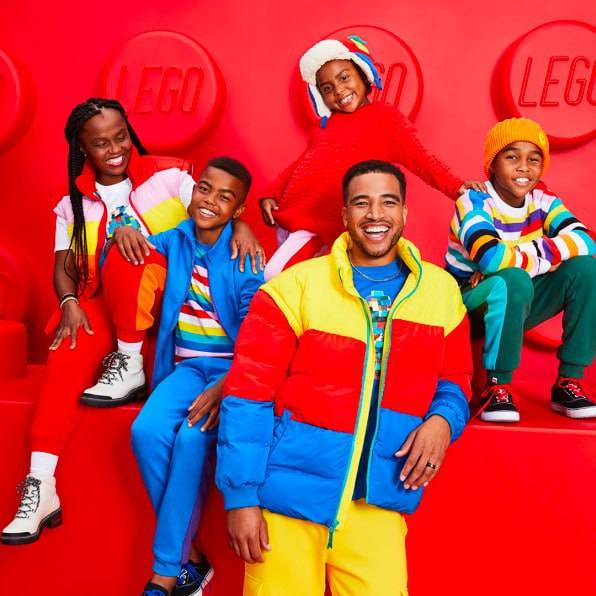 7. Lego lunchbox.
Get this amazing label design lunch box for your cute kids and let them be the coolest in school as they take it for their lunch break. The design is solely a four-brick wall that is so iconic. Which makes your perfect collection for master builders. The LEGO lunch box I was created with durable material called polypropylene with some addition to silicone handles, the perfect kit for master Builders. This means the box is solely for the mainly LEGO fans that are always ready to eat healthy lunch. This lunchbox encourages healthier eating it also has a thermal regulation system that makes your food will be long. Time after cooking makes it more fun to use and it is a conversation starter for children it is also combined with LEGO mini boxes inside to show more creativity and bring the box more lifeless. When lunch is over you can use this love works for another function such as parking storage from LEGO pieces which is very small ad portable to use. They can even be using stylish handbags to keep your child's accessories and can be taken anywhere to school or any other auntie-like family vacation. The lunch box is dishwasher proof you can easily clean it if any spills all stains get on the lunch box. It is nice and houses all the mission show food and safety requirements that can easily help your child for a better lunch experience.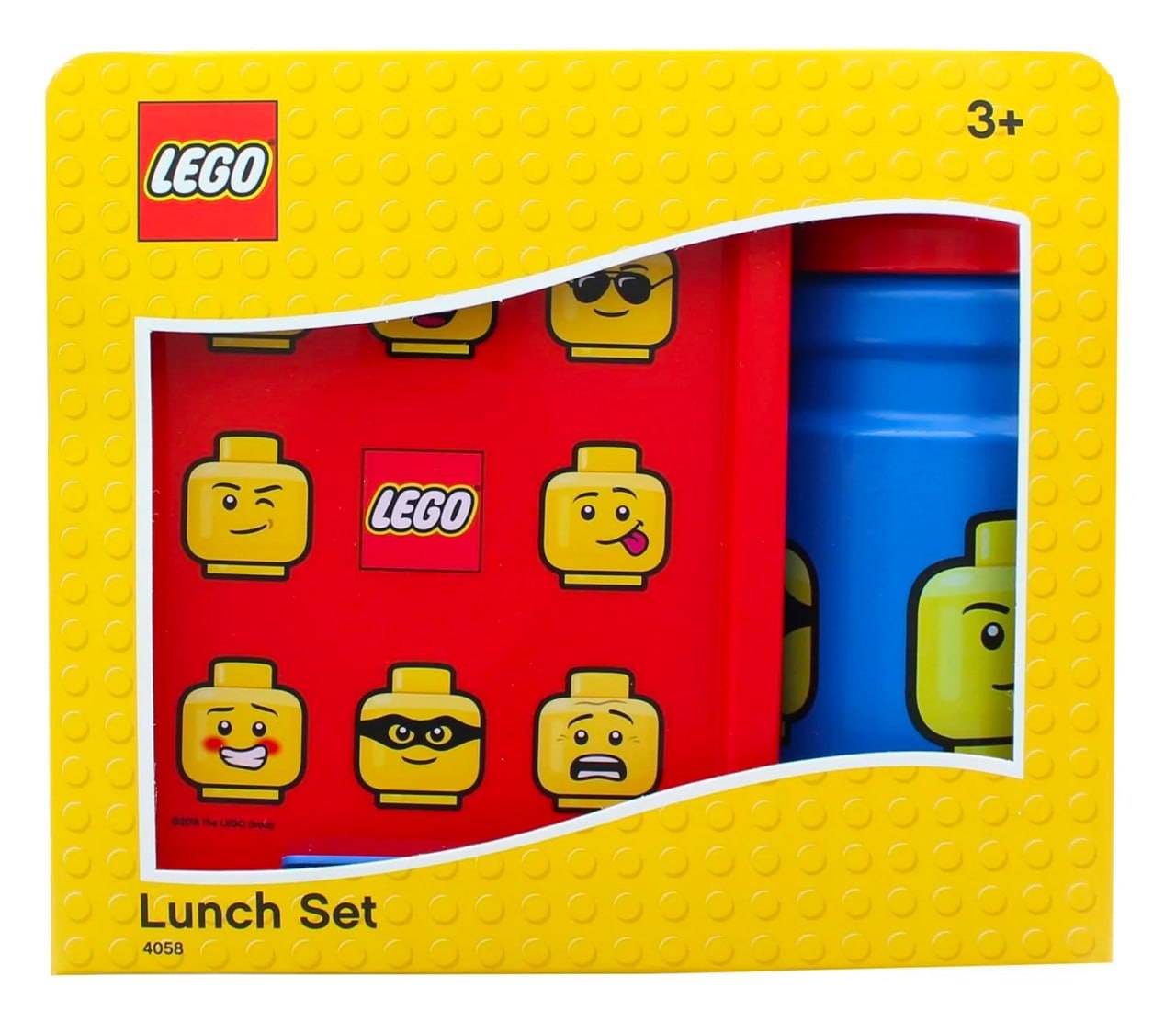 8. Lego water bottle.
How can we talk about lunch boxes without speaking about water bottles to stay hydrated? Is LEGO water bottle has a very unique design it is made of 2 and looks like a giant brick that is stuck together sometimes you really will have no idea that this Lego holds water it now looks like a piece of spy equipment. This makes it more fun for kids to drink water and encourage them to love drinking water you can also teach them to have a good and healthy lifestyle with the cool water bottle. This amazing water bottle is available in different varieties of colors and it goes very well with Lego lunch boxes and LEGO utensils. You don't have to worry about every scrubbing and in-depth washing all this Lego water bottle because it can be easily used in the dishwasher. It is very safe to use it is not toxic. Perfect for any age and a wonderful gift to give to someone special.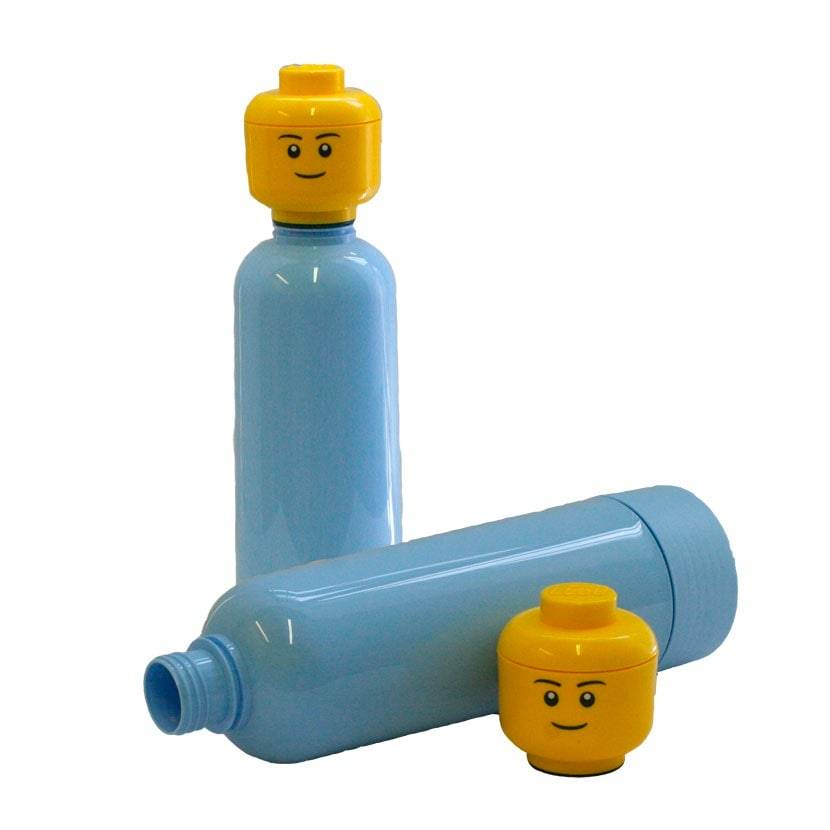 9. Lego cake mold.
Do you want to make your cake for Christmas but you don't want your typical Christmas holiday take with the trees and the jingle Bells and exciting gift you can give someone who is into baking and also adores LEGO is the LEGO cake mold which is made of silicone and has the shape of a Lego Minifigure it has a cartoon to give it to this fantasy creation it is microwave and oven safe. And it is safe to wash in the dishwasher also. You can use this cake model to mold any cake for any occasion whatsoever. It has an easy slip-out method of baking mode. It has a measurement of 13 inches wide 9 inches long and 2 inches high. The heat safety of this product is 450 degrees Fahrenheit maximum for microwave and oven. And the microwave safe is a maximum of over 150 degrees Fahrenheit.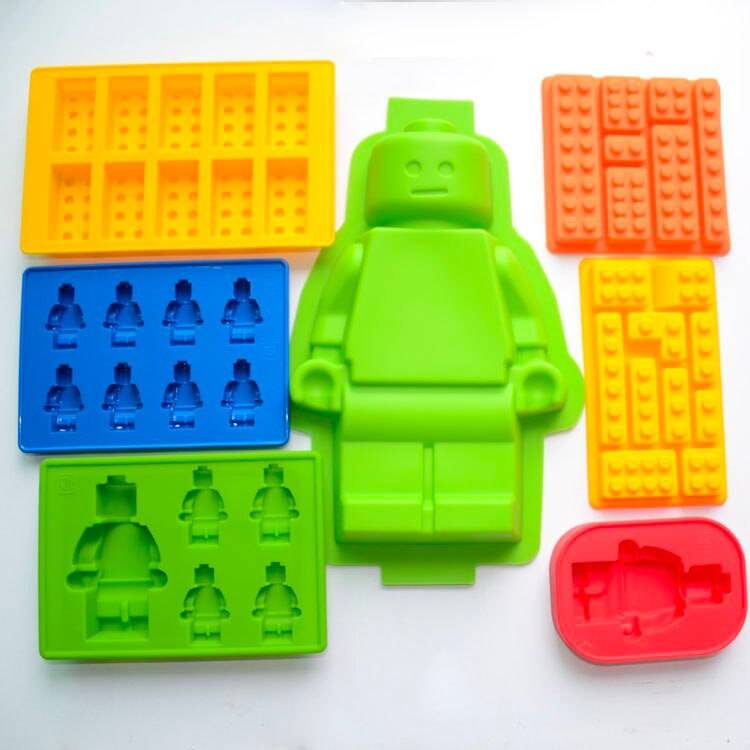 10. Lego alarm clock.
This Lego Branded alarm clock is digital and has an incredible style of a Minifigure it comes in two different colors both blue and orange it has a battery source and it comes with a mini figure that can move his arms and he is 6 inches tall it comes or so with 2 AAA batteries. The alarm clock also has snoozing functions and alarm functions and it also lights up on display. It is a wonderful gift to give to anybody of all ages. LEGO alarm clock also comes with a 2-year warranty for any damages that will be cost in it.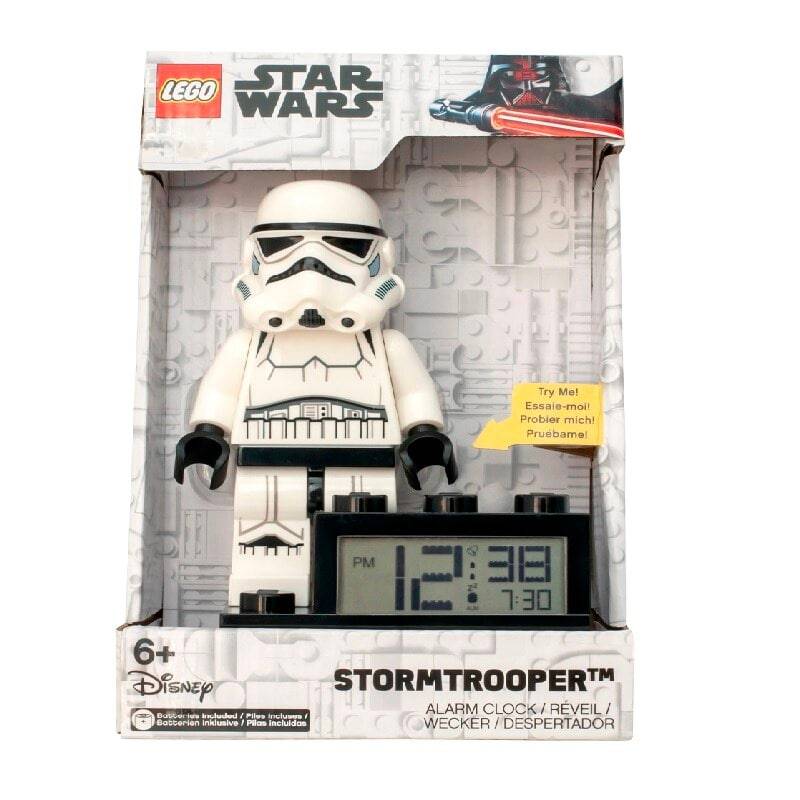 11. Lego custom name sticker.
LEGO custom-made stickers will help you to decorate your room or living room wait LEGO stickers that you can use to write your name or a message all the rooms of your house the stickers are made of beautiful colorful blocks which are very easy to maneuver and manipulate to make the letters show it can be the perfect way to decorate your child's room with beautiful LEGO colors and letters 8 letters measures about 5 inches tall and it is very durable You Can Be Moved anywhere and it's printed in USA.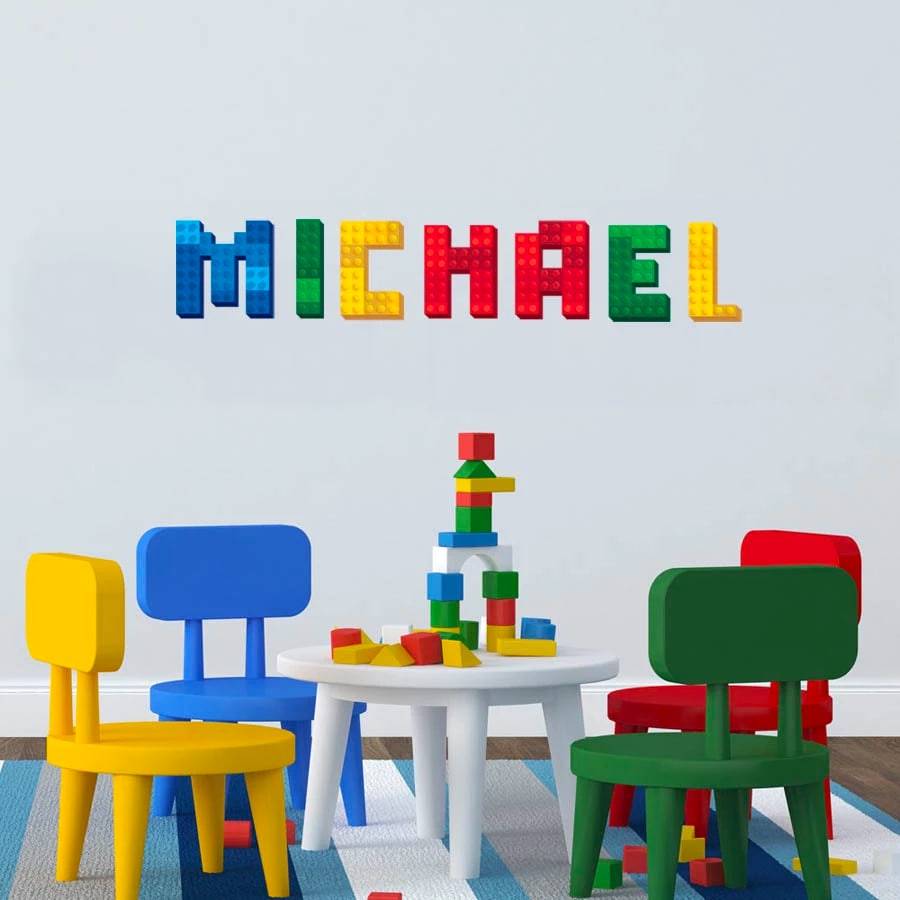 12. LEGO LED headlamp.
Need a night light in your room or you just need a headlight to read your favorite books at night the Lego LED headlamp is the perfect night for your periods the Lego LED headlight is a mini figure that has a light on his feet and has a strap around the back to put on children's head the light that comes from the Lego LED headlamp is very bright and it will be really fun to have on a child's head and it is very safe to use and also comes with its batteries it has a weight of 3.36 Oz which is not too heavy for a child of 5 to 6 years head it is 1 inch long 2 inches wide and 2.75 inches. The recommended age for this product is 5 to 15 years of age it is a perfect form of present to give to someone who loves books and likes to keep his hand free while using light.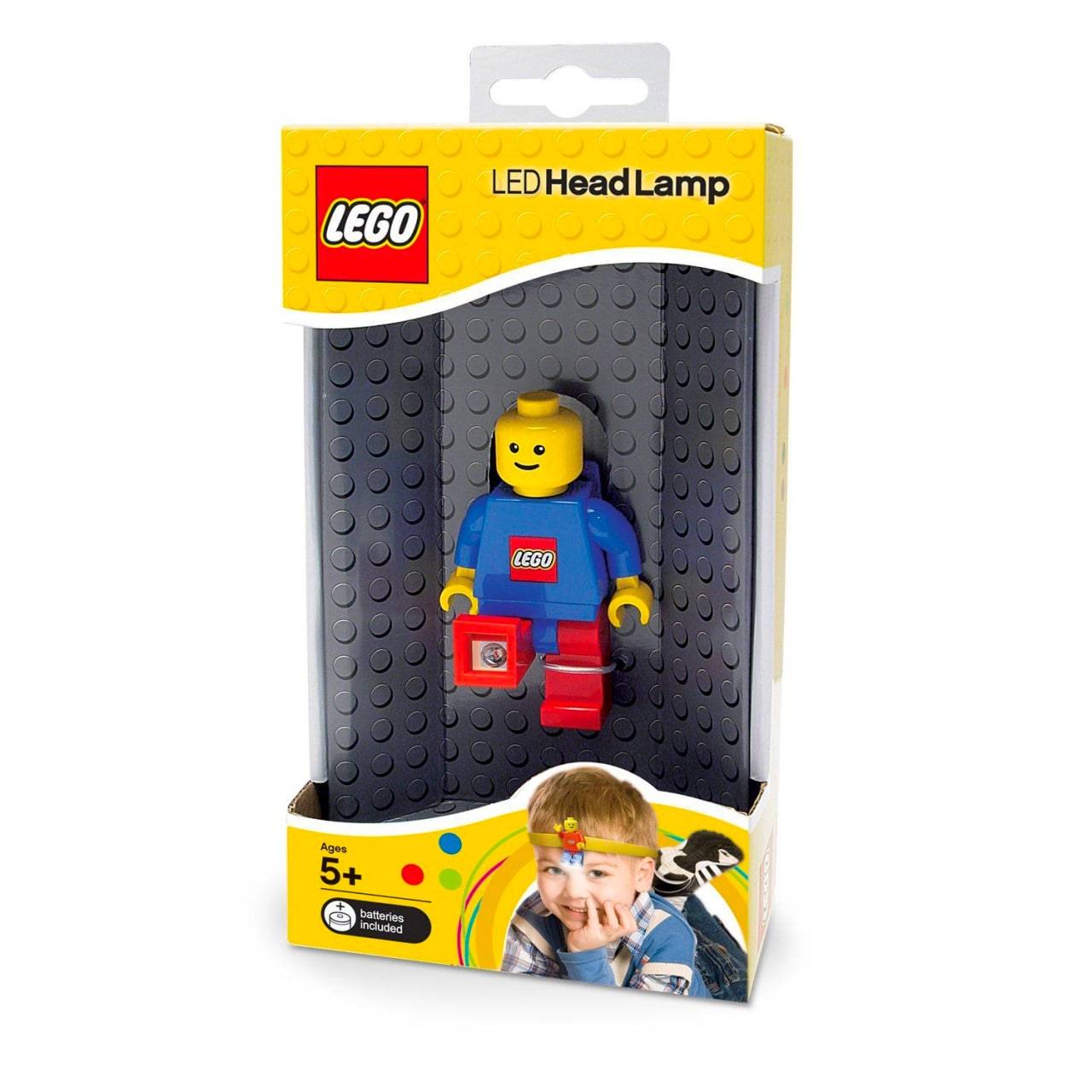 13. LEGO Monster 4 Game.
Embark on a wonderful fun time as you play this LEGO monster 4 game it is suitable for children over the age of 6 it comes in different forms of colors and it is made of plastic it is safe and has high quality this game is meant to take away Boredom and also build team working skills together this game comes with a buildable Lego dice that comes in different colors a Rulebook that has all the instructions on the game on how you can only points and travel around in the game. The game has a capacity of two to four players and can be played anytime it is good for family reunions or friend get together it is the perfect activity to practice togetherness.
14. LEGO city undercover X-BOX game.
Begin your journey with this wonderful game this has to be one of the most expensive LEGO video games ever the players overcome chase McCain In The game who is a police officer that goes undercover to hunt down dangerous criminals that recently escaped from prison like Rex fury to put a stop to his word and dangerous crimes he has committed. This game set he said that the open world of LEGO and The Adventures that chase goes on and explore and find clues on how to catch the criminal in LEGO City has a round range of 20 special districts to investigate along the way you can capture minor things like car thieves investigate vehicles capture mysterious aliens and you can find also different movie references that are hidden in the game let us not forget the Lost pigs you have to rescue and a lot of collectibles to get. It has a king pair of two who are your friends coming to enjoy this beautiful game discovering and capturing criminals all through the day enjoy this amazing Xbox game filled with fun and laughter for all ages to enjoy, this is the perfect game to give as a gift to someone interested in LEGOs and gaming.
15. Lego mug.
We all know it is not right to play with our drinks but how funny it is to use the Lego mug when you can both create and enjoy your drink at the same time your unique coffee mug drink you lots of enjoyment which can be used to hold any beverages and perfect for drinking your favorite drinks it is made of BPA-free food bread plastic and can hold water that is very hot up to 100-degree celsius but it is not useful in the microwave or oven, and it is only meant for handwashing, not dishwasher suitable. It is very functional as it can be used as a display holder for party drinks carbonated drinks juice tea coffee and safe to use can use it for your parties and any other social gathering. It can also be a very thoughtful gift to give to your family friends, loved ones, kids, or nieces and nephews. Especially for those who are huge fans of building LEGO blocks, it gives absolute police to the person while you're having your favorite drink. It also comes with different random shapes bricks which are suitable for children over the age of three.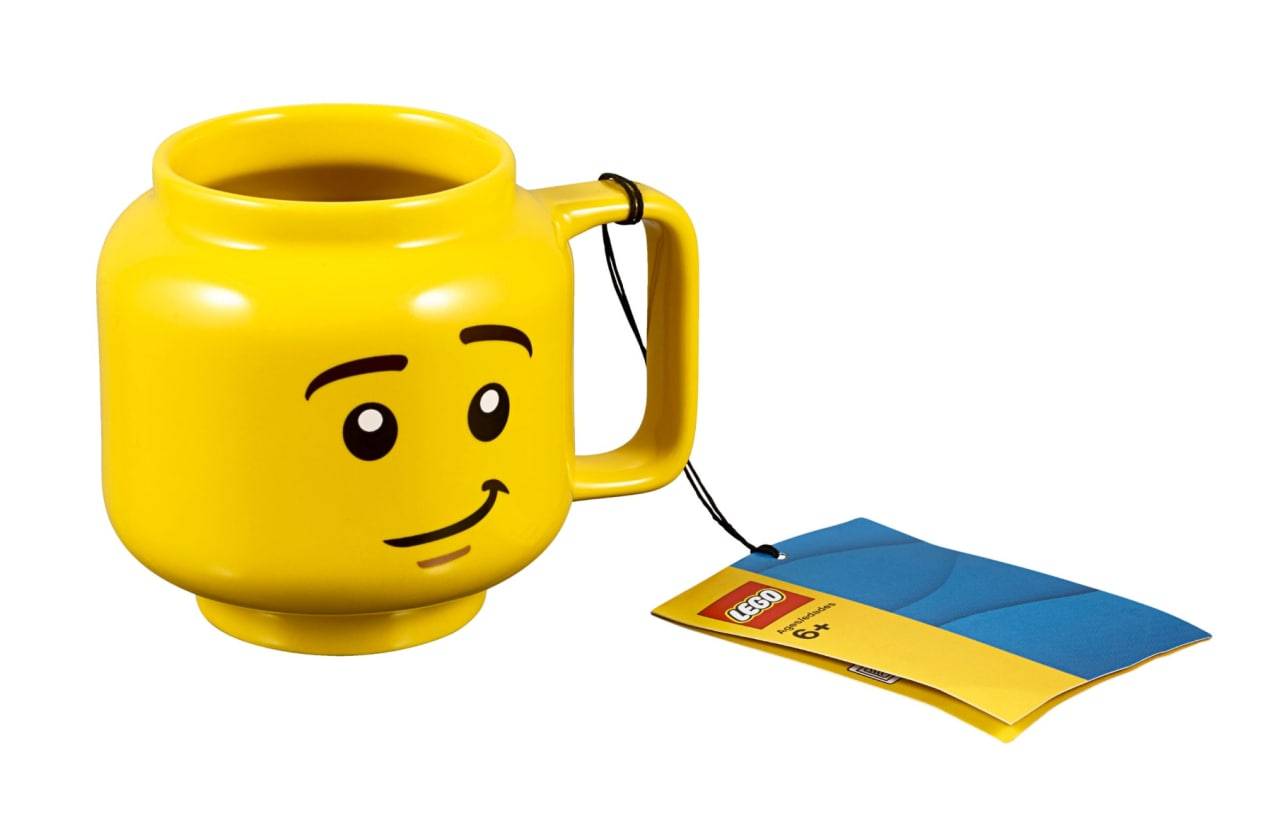 16. Lego city advent calendar.
LEGO branded advent holiday season calendar has over 24 different items including building vehicles some Minifigures and some seasonal items. The Minifigures include a jungle Explorer Santa Claus a snowboarder kid two coats guards grandma. The calendar works like each day you open a door on the calendar to discover a new surprising gift for that day you can collect all the sets are many figures and add them to your Minifigure collection this is a great gift for anyone you want to surprise this holiday season it is a fun time to spend with your family especially during the holiday to open and discover new gives each day.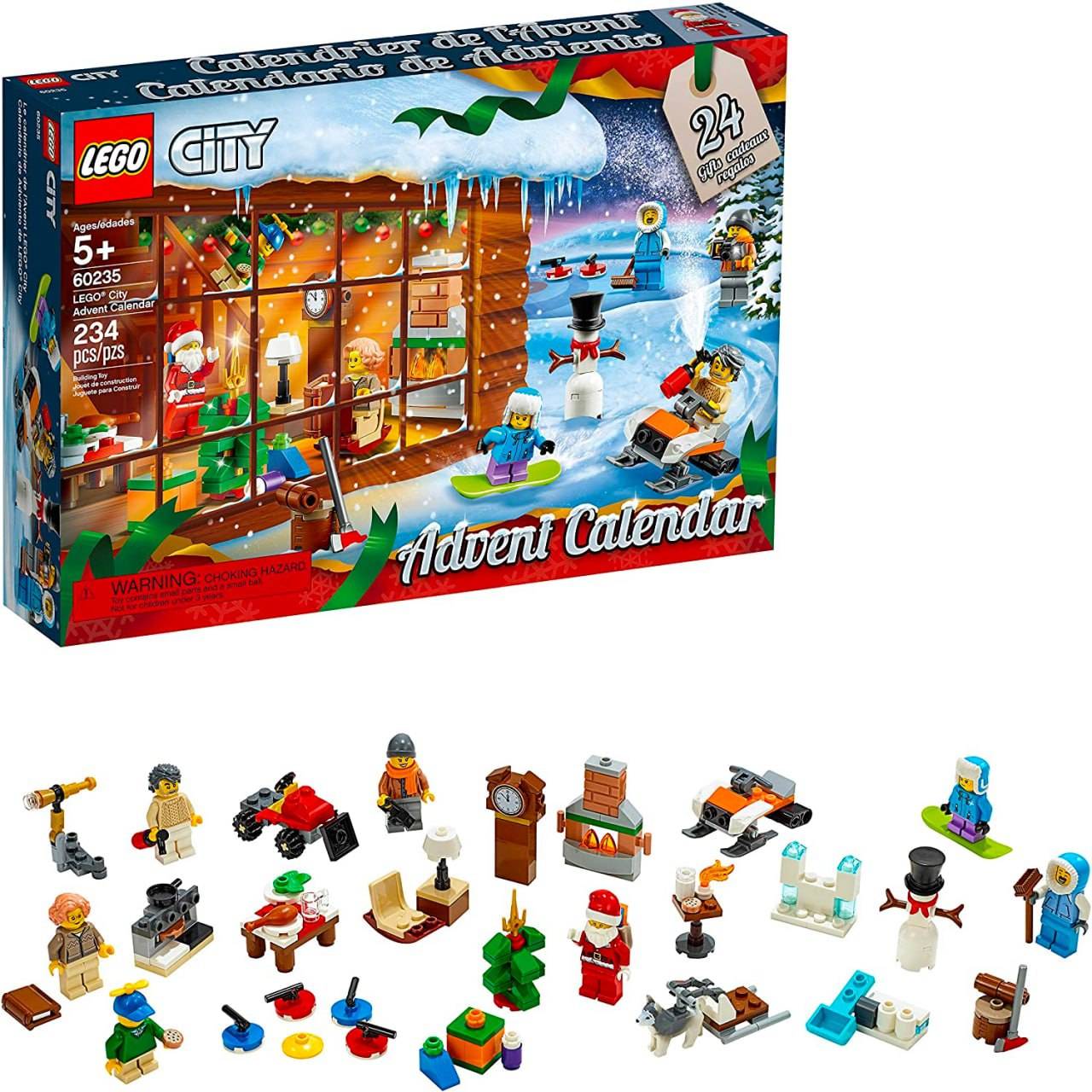 17. Lego holiday ornaments book.
Begin to spread your holiday cheer around the world from your home with this LEGO Christmas ornaments book this book is all about a step to step guide on how to make a classic Christmas globe and barrel ornament that is all made out of Lego pieces as well as how to make a gingerbread houses a tiny arcade cabinet and so much more. It has this book is packed with 15 amazing builds that come with step-by-step instructions and an easy pocket book for family activity during the holiday season. Just like how grandma brings gingerbread and holiday food goodies during the holiday the author of this book made an exception in making LEGO love not feel bored during the holiday season with their family making bonding time for the whole family more impressive it is a very nice book to read and has a lot of fun things to discover during this holiday season. A review of the book said it is a very beautiful Bond that is perfect for a Christmas present. This book is highly recommended for parents and any other person who love LEGOs and want to inspire someone on how to build Lego decoration and have a fun time with Lego-related products on Christmas. The book comes in English language and has 220 pages which are culpable for the ages 8 years and above.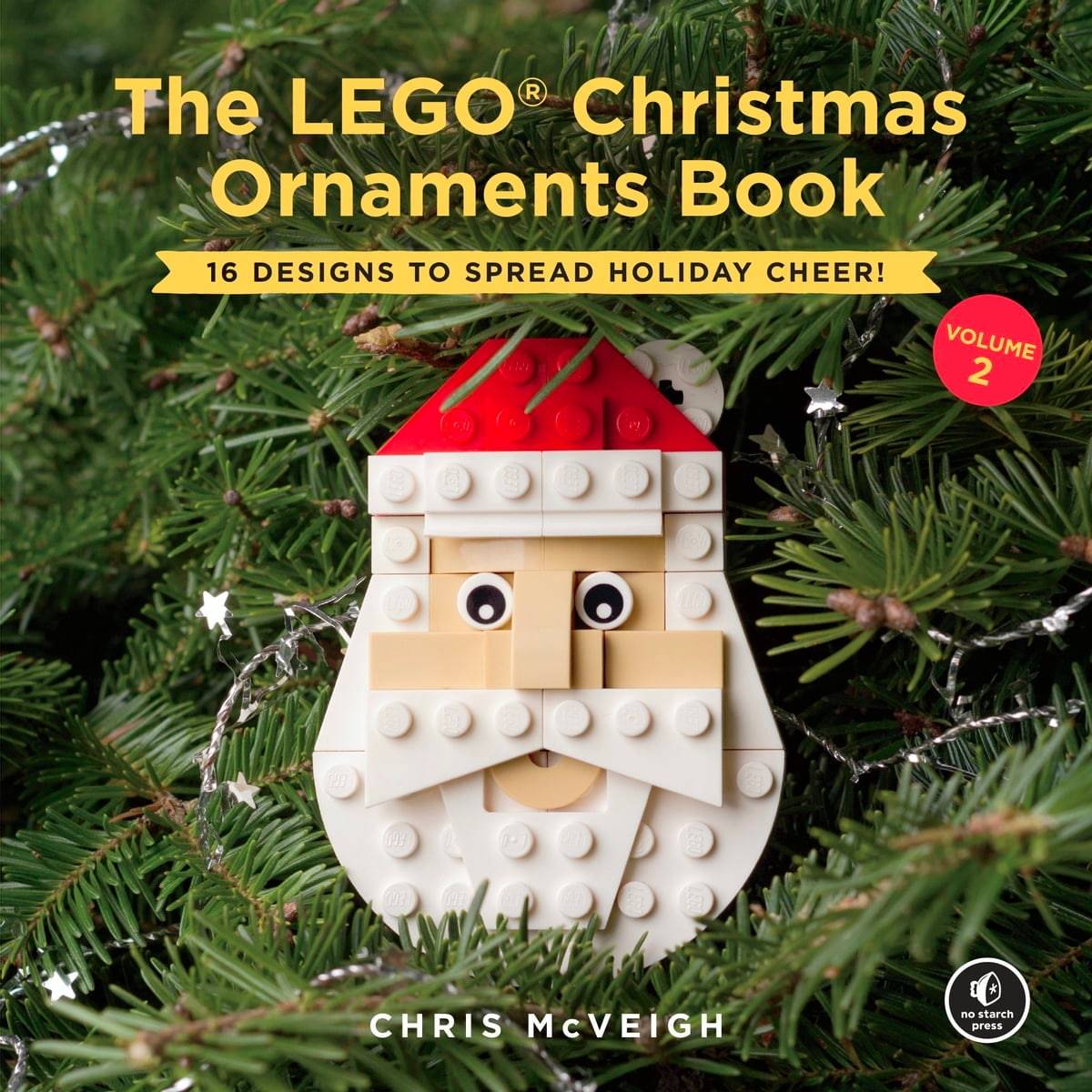 ---
16 comments
---
---