LEGO Challenge Calendar 2020
LEGOs have been around for ages and luckily, they never go out of style. New ways are incorporated daily to ensure kids have the best time and one of these ways is the LEGO challenge calendar. This is a completely fun and amazing way to inspire kids to be creative in their buildings without actually telling them what they need to do or build. This makes it a remarkable way for your kids to play at home and think outside the box. 


One of the fantastic things about playing with a LEGO challenge calendar is the fact that it can be fun for not just your kid but the entire family. It helps kids in learning and builds up their brains to become more concrete and understanding. 

LEGO challenge comes with a lot of benefits such as 
• Improving your creative thinking. 
• Helping your team spirit 
• Helps you pay more attention to detail 
• Builds your communication skills 
• Encourages following appropriate directions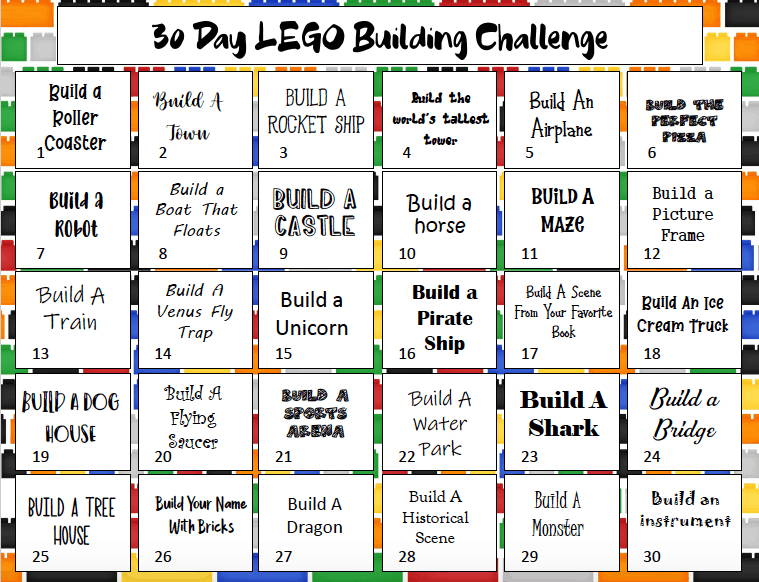 All these are reasons why LEGO challenges have been part of STEM for so long and a challenge calendar is a wonderful way to take it up a notch. 

LEGO challenge calendars can be designed based on the kid in question as they can go to the calendar each day and know what awesome challenge awaits them for that day. Of course, the calendar can be made to start at any day of the month, the state where it starts to your kid and then they can partake in daily challenges and cross out the challenges that have been done. The best part is, when all the challenges have been completed, they can start all over again. 

Challenges are usually completely open-ended and that means your kids can build something new any time they get to the same day on the calendar and without difficulty too. That way they always have something to do during holidays such as summer break without feeling bored or left out. 

LEGO challenges usually go like this;

• Make a building 
• Make something tall 
• Make a two-story structure 
• Make a bridge 
• Make something from your favourite cartoon 
• Make something from your favourite movie etc. 
Looking at these challenges, you can see they give room to your child to be creative and go with their flow. That way the next time to come back to the same day on the calendar, they could have a different perspective and make something completely different. 

What you would require for this is just a printable LEGO challenge calendar and LEGOs (any and all kinds). When you print the calendar, all you have to do is place it where you and your kid can see it and then challenge them. 


This is also a great activity in classrooms, so teachers can incorporate this into kids' daily activities after they are done with their work of course. You can also decide to make it a homework assignment. Each kid picks a challenge and takes a picture to show to as evidence they did it. 
With a LEGO challenge calendar, everyone is happy. 

---
1 comment
---
---