LEGO BMW R 1200 GS Adventure 42063 Review
By

Nikita P.
/
December 19, 2019
Since the year 1979, the LEGO brand has designed a number of motorbike themed sets but only one of these bikes is based on a real motorbike. The LEGO BMW R 1200 GS Adventure 42063 is that bike that has been designed as a replica of a real bike. In this piece, we'll take a look at this motorbike replica and discuss some of its features.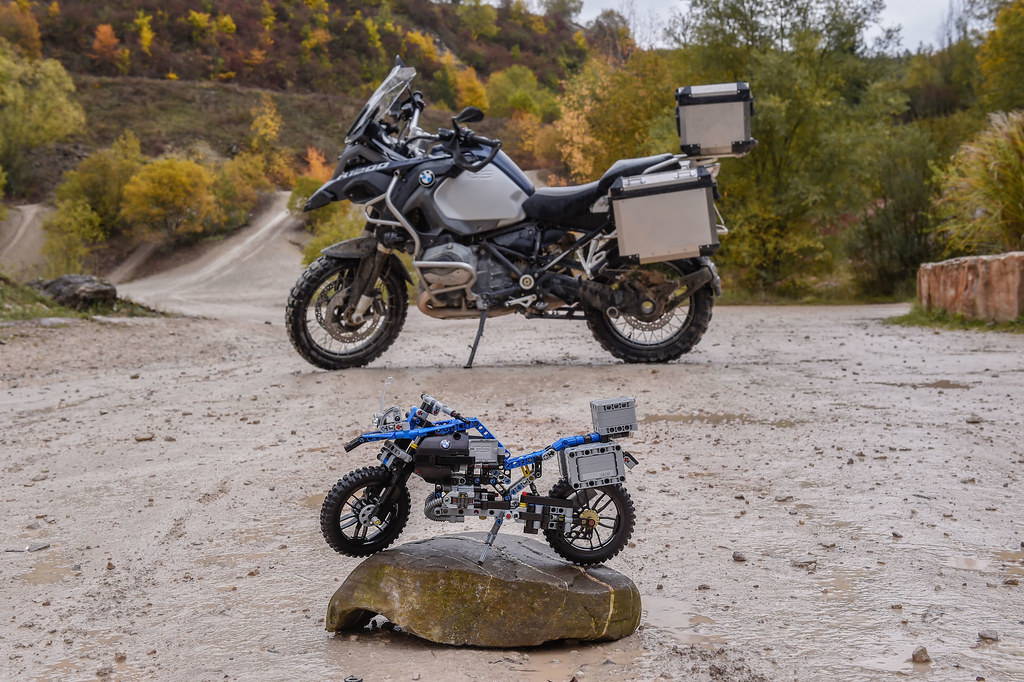 Before we dive into the review of this motorbike replica set, it is important that we familiarize ourselves with the original bike. Designed with a 2 cylinder engine, all we can say is that this motorbike is a beast. In addition to this cylinder engine, it comes with a shaft-driven wheel and a swing arm that is capable of going for about 200 kilometers per hour. Launched by the BMW brand, the original R 1200 GS motorbike is one that affords all motorbike lovers an amazing driving experience. It is fast, durable, and incredibly stronger than almost any bike you've seen.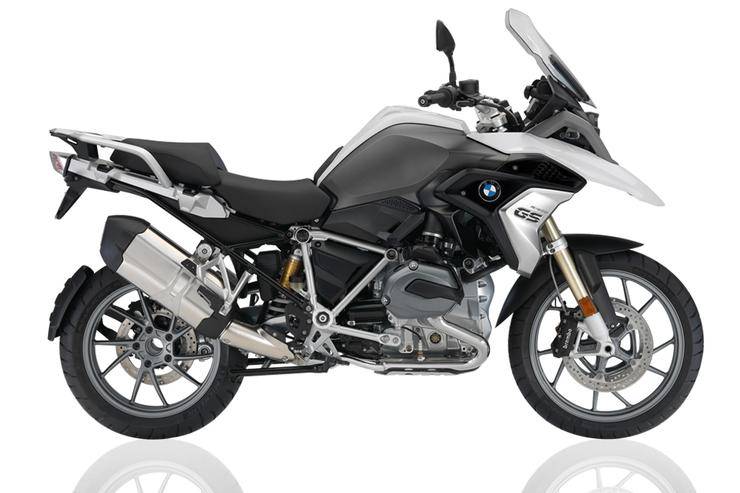 The LEGO 42063 BMW R 1200 GS Adventure
This set is currently the first LEGO Technic brand product that is built as a collaborative effort between it and the BMW brand. This is an amazing product and a complete replica of this amazing and powerful motorbike. This is not just a set but a complete package and according to the BMW and LEGO design team, it was fun and enlightening working on this product.
In over 40 years of its history, the LEGO Technic brand has launched over 25 bikes, but this bike is completely different from the others. First, it is the largest of the bikes designed and is currently the only bike to be made as a replica of a real one. These features make its structure different from what is seen in the other sets. When it comes to building Technic branded motorbikes, all builders have to do is simply join a handful of angled liftarms, a couple of wheels, and a shock absorber together.
When it comes to building this set, the structure makes it different. Some of the main features of this set include the drive shaft which you will find inside its body. The duty of the drive shaft is to connect the dual cylinder engine to the rear wheel. Instead of having a very large gear on the rear axle that is enforced by a chain drive, the LEGO BMW R 1200 GS Adventure sports a nicely designed compact mechanism similar to what you'd see in a BMW vehicle. If you look closely beneath the bike, you'd see a few gears and a shaft. Also, you'll see the Technic brand's 40th anniversaries beam sticker too.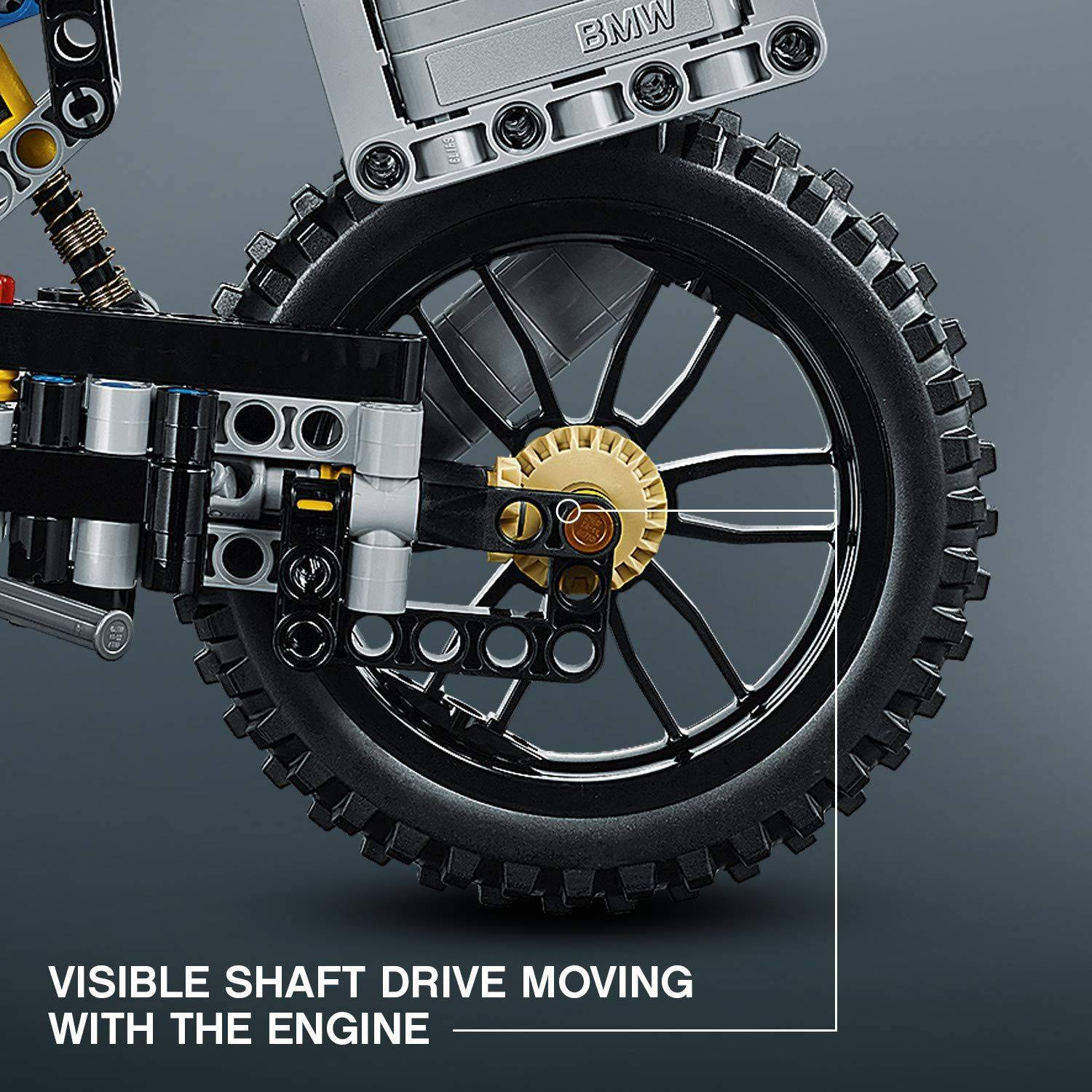 The only functioning mechanism on this bike is the two-cylinder engine which is one of the most common features you'll see on any of the Technic branded sets. The advanced nature of this motorbike is one of the reasons why most people would think that it should come with the 6 cylinder engine which is not just powerful but also rare.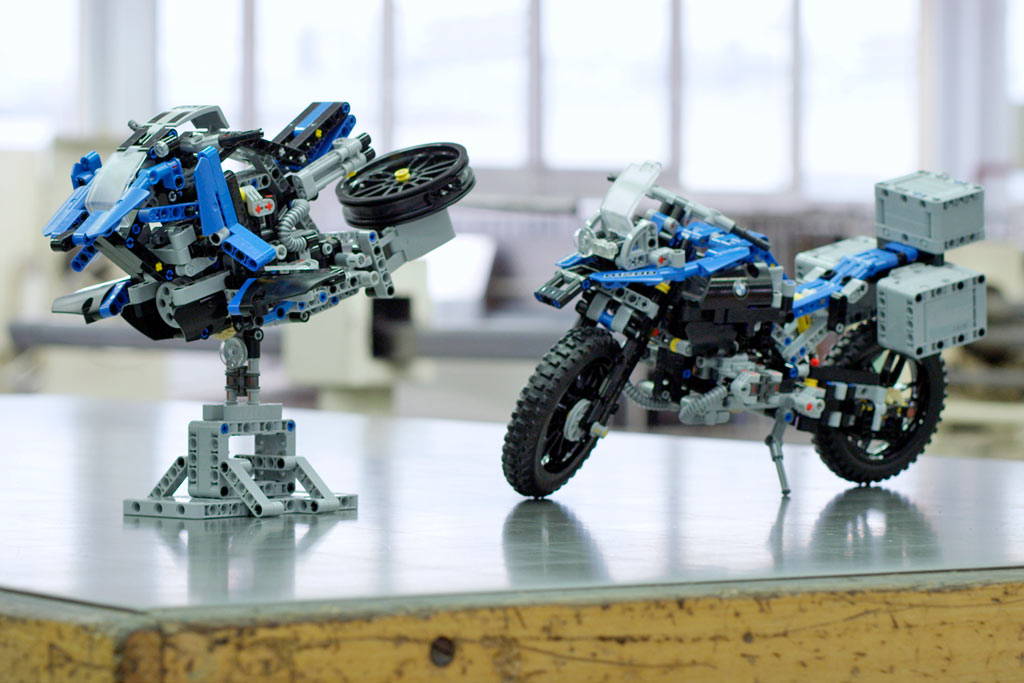 Over the years, most users have openly criticized the instruction booklets found in most LEGO brand sets for either being too heavy or thin. Some have criticized it for being too much. While that is the case, you will find it surprising to know that the instruction booklet of the GS 1200 Adventure has been received with open hands. It is not too thick, not too think, neither is it heavy or hard to understand. It is a brilliant booklet that only tells us that much work was put into it to ensure that users like it. This is a good move by the Technic brand and this tiny yet significant move is proof that they value their customers and will improve their services to meet their every need.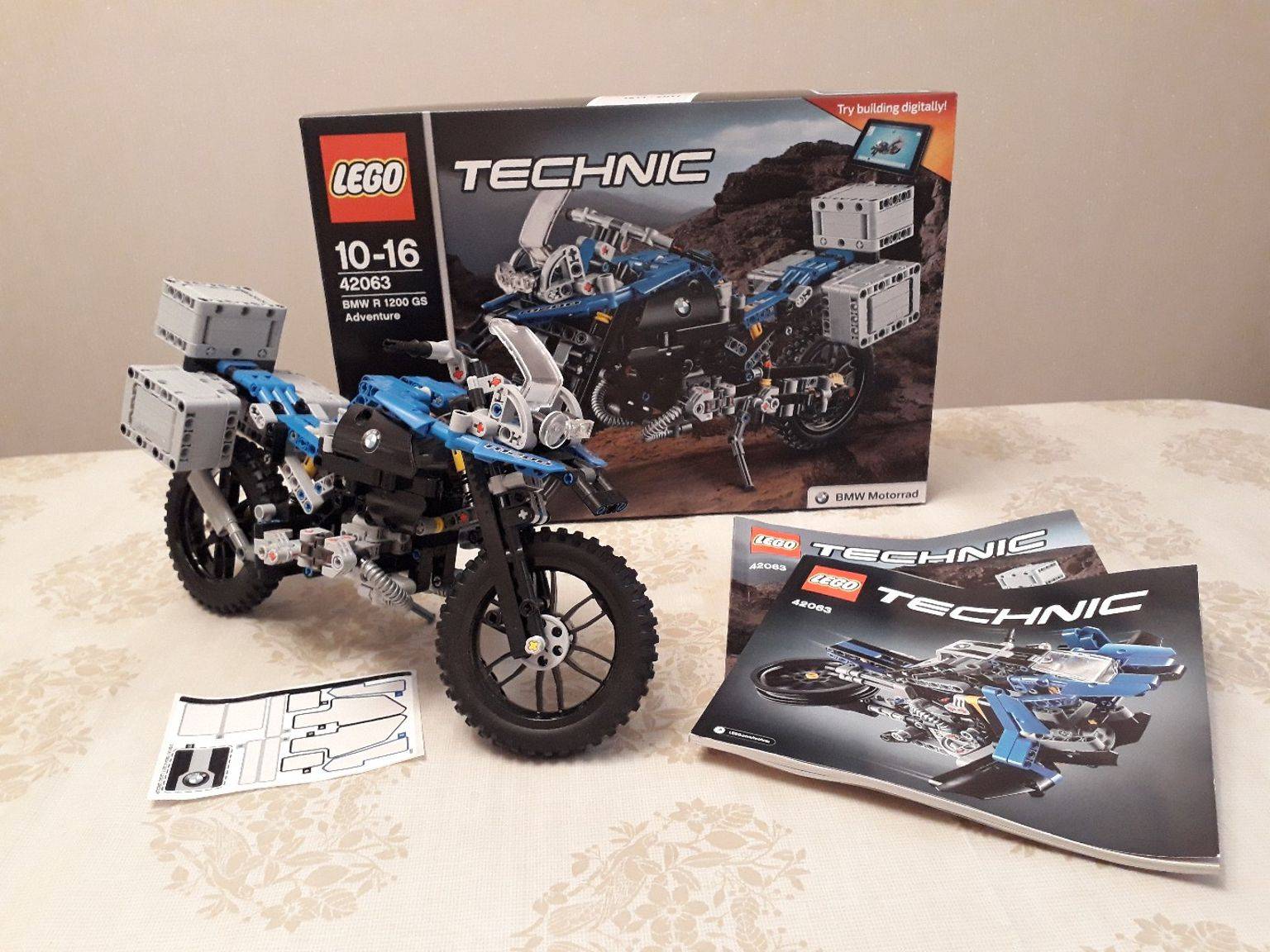 Quite cheaper than most of the other sets like the Porsche 911, the GS 1200 Adventure 42063 set does not offer that exciting feeling that the former's booklet offers. In this booklet, 6 pages are dedicated to displaying the pictures of this set. Another area this booklet fails is the fact that it does not contain helpful information about the motorbike itself. For example, there are no pages dedicated to telling the builder why choosing the GS 1200 46023 is a viable option.
If you've seen the original motorbike, you'd know that it is beautiful beyond words. It has this simple yet classic look. When the news got out that the LEGO Technic brand would launch the exact replica of this motorbike, most fans were of the opinion that it would be quite difficult to get the design of the exact replica. The LEGO and BMW team charged with the responsibility of designing this set did a fantastic job when it comes to replicating this powerful yet elegant motorbike. While the LEGO 42063 BMW R 1200 GS Adventure is the largest and tallest Technic bike, they managed to make it as elegant as it could be. The 603 pieces of this set were placed in the right position, thus, adding to the aesthetic feel of this motorbike.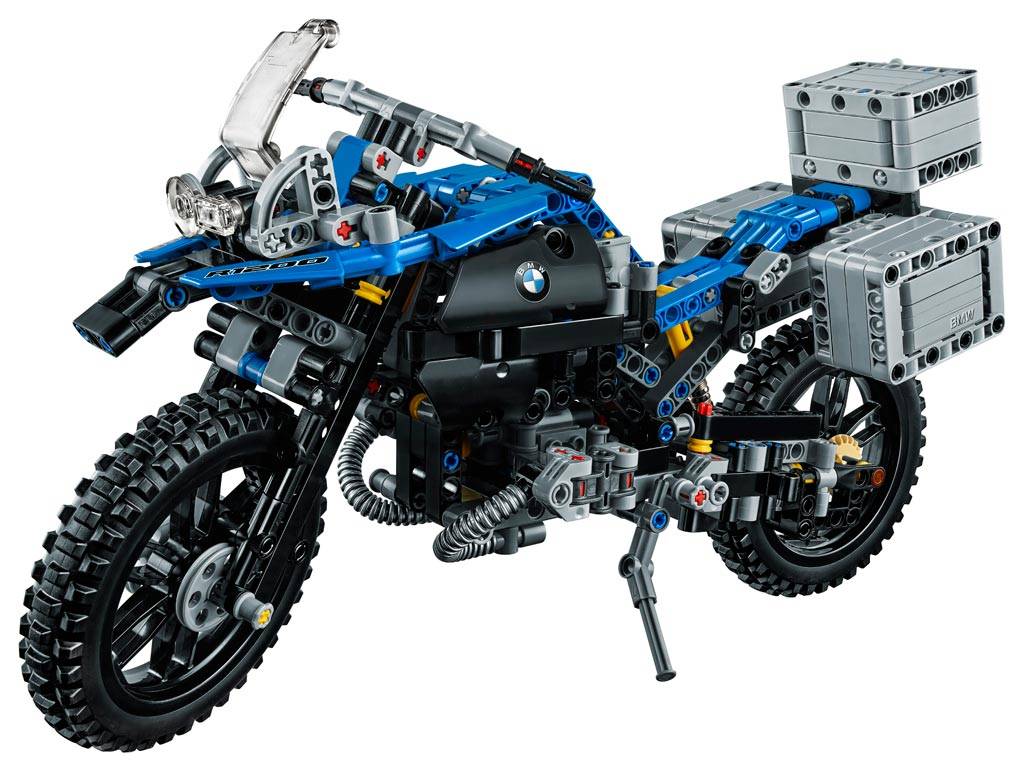 One of the most endearing design features of this set is the smart and beautiful combination of about three different kinds of panels placed on each side of the bike's front. It is a smart and elegant way to fill the space there. This set is decorated with silver, red, and blue which are used for the upper panels of this motorbike. A smart selection of panels and blue beams capture the beautiful shape of this bike as well as its body. Most of the parts found on this bike do not look like BMW parts except the front panels that are found around the windscreen. They are edgy and sharp and they reflect the style of this bike at the same time proving how useful these Technic panels are. This is the first time we'll see a transparent panel used in the building of any of the Technic LEGO set.
While this panel looks very cool, when you start building, you will find out that it's one of the trickiest parts of their motorbike. You may find attaching this panel not too difficult but the problem lies in attaching the sticker. With a size of about 1 and half of a tile, this sticker once placed perfectly fits the panel and adds to its aesthetic appeal. According to some reviews we have received from users, it takes them nothing less than 10 minutes to get this sticker fixed properly. Most of the users have further revealed that even after they've successfully fixed the sticker to the panel, they were not satisfied with the result they got. Some have had to change the way it was initially fixed about twice or more. While this adds to great building experience, it is something that should be looked at. You also have to apply the stickers for the panels found on the other side of the bike.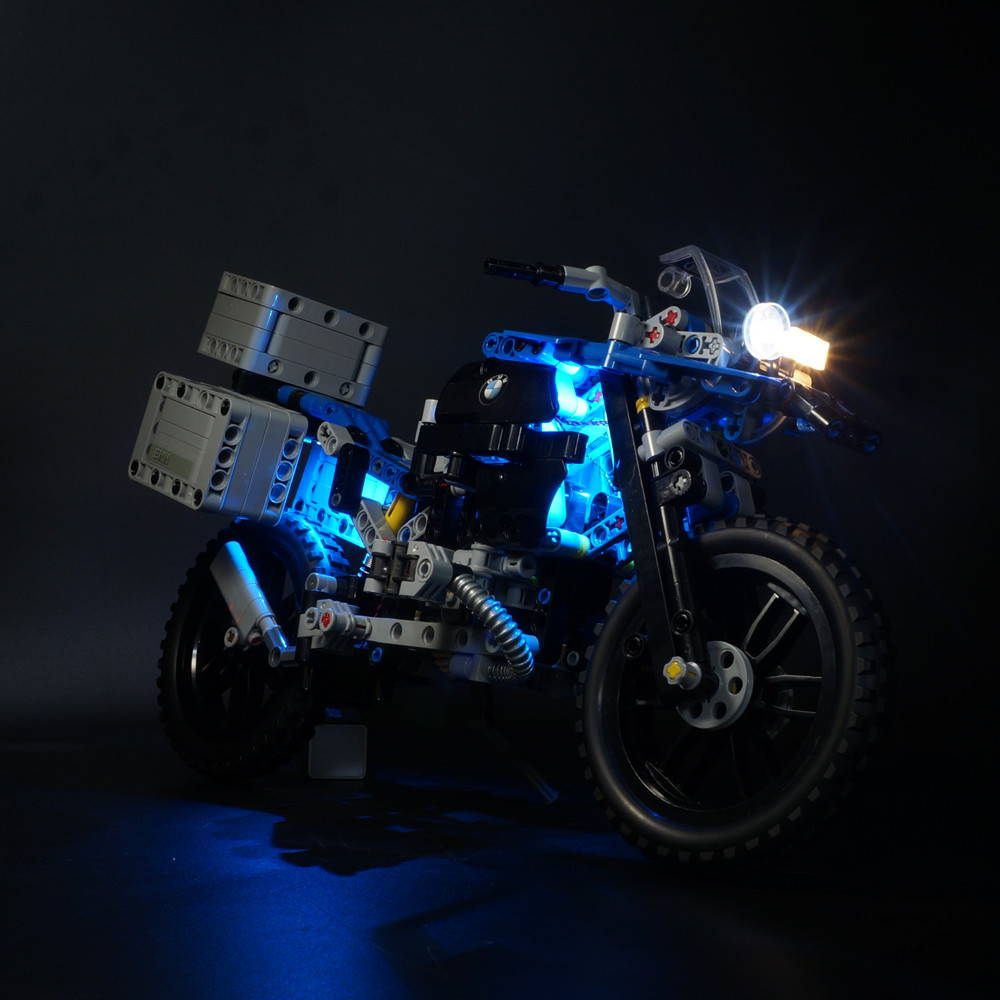 Like most of the other LEGO Technic branded products, this LEGO bike comes with a luggage box that sports the BMW logo and is home to some of the parts of the bike. Surprisingly, this LEGO 43063 GS 1200 Adventure set comes with black wheels. If you dig deeper, you will find out that this is the first time in over 40 years that a Technic LEGO bike sports a dark wheel. The last three bikes designed were adorned with dark grey wheels but this particular BMW bike replica is different. The black wheels add to the overall beauty of this bike.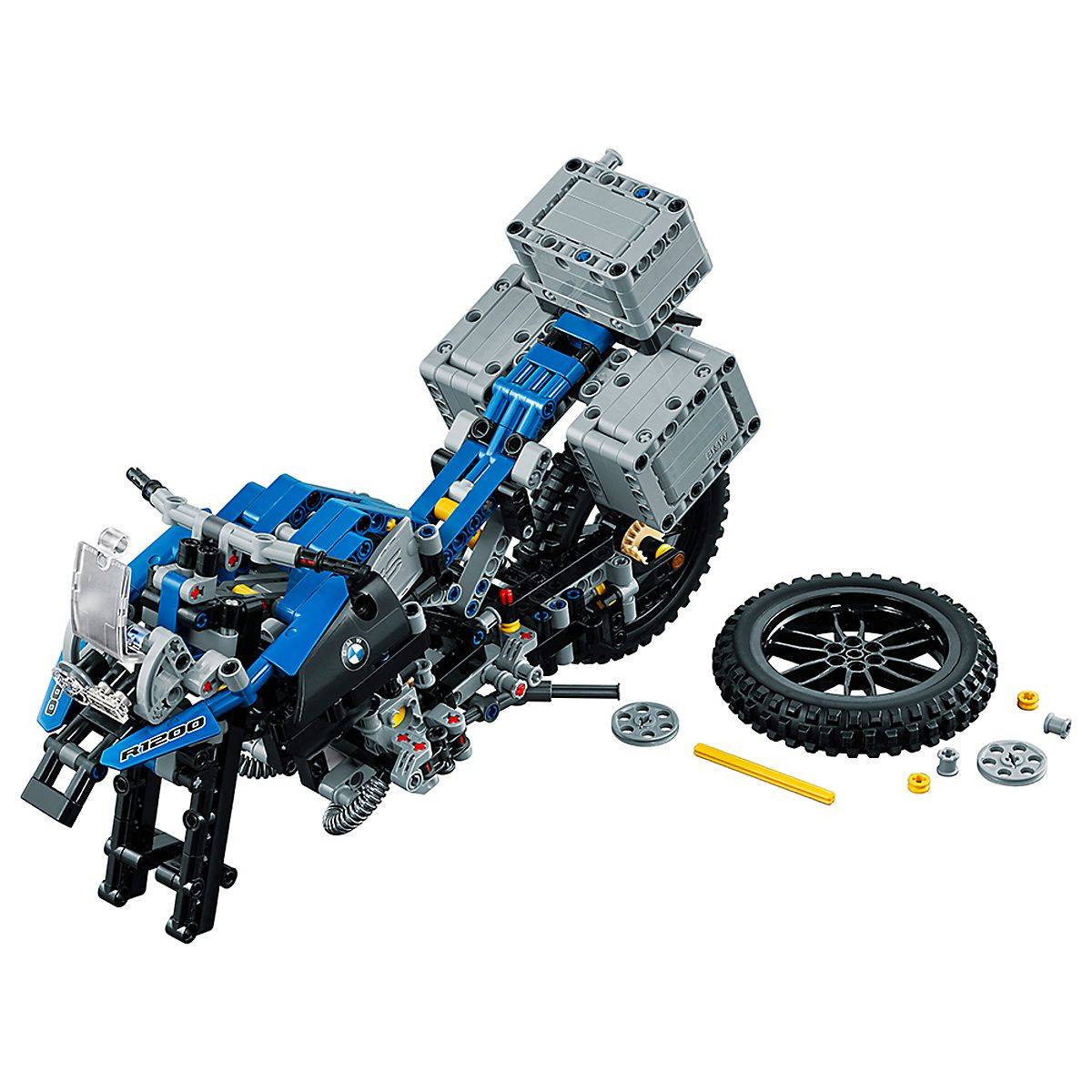 While we have discussed the various aspects of this LEGO bike, it is best that we discuss how this bike looks like when it is finally built.

If you successfully complete this bike, you'd see that it is beautiful (that's if you look at it from certain angles though). While the appearance generally matches that of the original BMW bike, there are certain things that are not right. If you've not seen the original bike, then there's every chance you may not notice these things. However, those who have seen the real bike may fault this bike for a couple of reasons.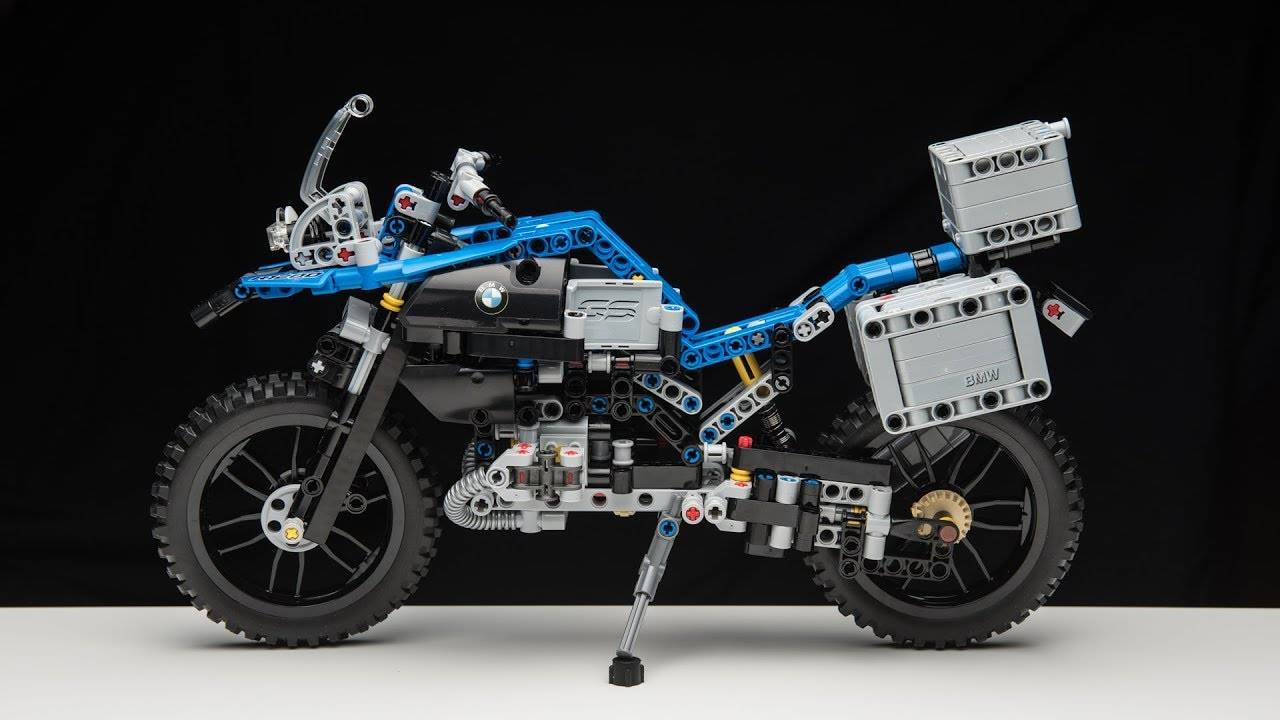 One of the main issues of this bike is the slight gap that is found under the seats. This gap is evident if you look at it from the side. While the real bike sports this gap, it is not as large as that of this set. The gap makes the bike look less like the original version. Another issue of this bike is the front-tip which does not look right. While this is not a huge problem, it also reduces the overall beauty of this set.

Like most of the other Technic brand sets, users can download the building instruction app from their respective play stores if they want to make the most out of this exciting set.

The 42063 LEGO BMW R 1200 GS Adventures come in a very beautiful box. Images of this motorbike from various angles are placed on the front cover of this box. When you buy a set, it should be properly sealed.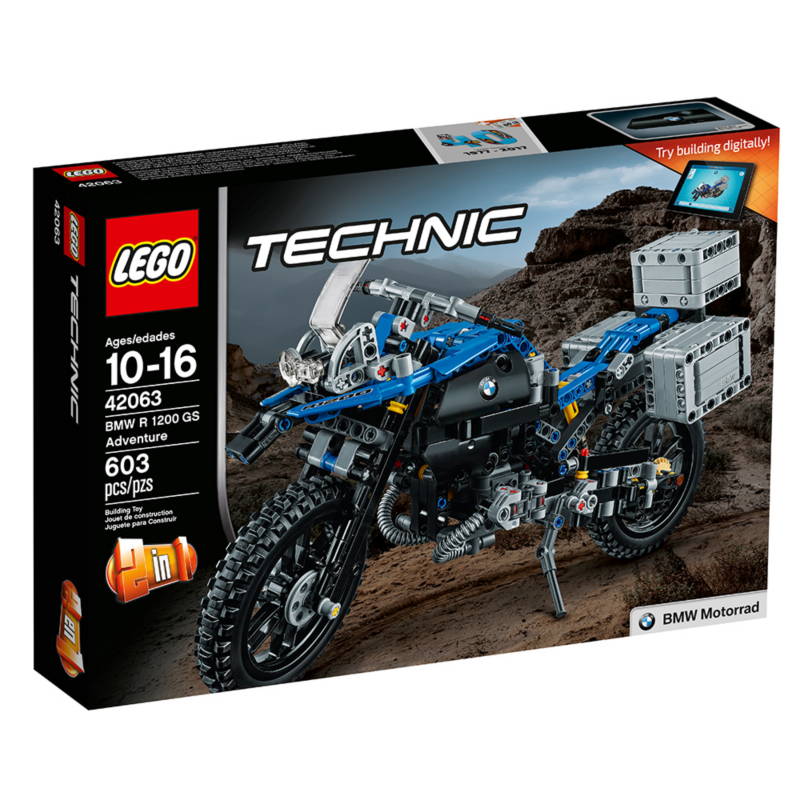 When you unbox this set, there are a couple of things you'd see. First, the wheels, the instruction booklets, and the other parts of the motorbike. Being a dual model LEGO bike, you'd find two instruction guides there. The first booklet contains helpful information on how best you can build this set. However, it does not contain information on why you should settle for this set instead of some of the others. Most builders are of the opinion that the reason for the exclusion of this information is because they want you to try it out and see why it is better than the others. That worked though because most of those who have tried building this bike have all attested to its exciting building experience.
The second instruction booklet contains information on how you can build the B-model of this bike. While most sets with over 500 pieces come with bags numbered according to the various parts to be built, the LEGO 42063 BMW R GS 1200 Adventure happens to differ in that regard. The 603 pieces of this bike are all found in one bag. This is seen as an advantage and as a disadvantage too. It is an advantage in the sense that builders do not have to open a different bag each time they're building a part of the motorbike. On the other hand, it is a disadvantage because it becomes difficult to find the right piece for each part of the bike.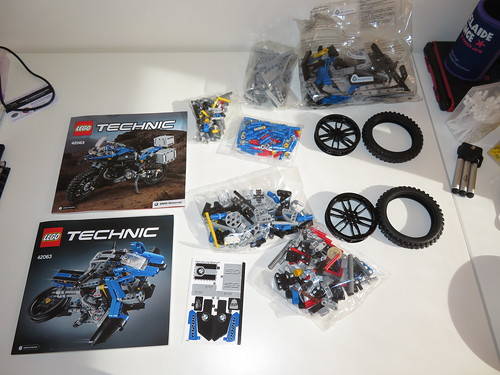 In addition to the bags, there are spare parts in this box as well. If for any reason, some of the parts you own are missing, there are a couple of spare parts you can make use of to ensure that your set is built. In essence, the package of this set will definitely gain your attention.
The LEGO BMW R 42063 GS Adventure is one fantastic Technic set that will offer you an exciting building experience. Like most of the other sets designed by this brand, this LEGO bike has a balanced building difficulty level. It is perfect for first time and expert builders alike. Also, bikers would love this set as well. Aside from a couple of issues mentioned in this piece, this is arguably the best bike designed by the Technic brand in its 40 years of existence. The collaboration with BMW paid off as this bike looks almost like the original version.

Light Up The Road And Dazzle
If you want to make your awesome bike into something special, check out our amazing LEGO Lights made specially for your Superbike. It's bright, fun and will surely add some color to your formidable collection.


This piece has discussed extensively this amazing bike. We have talked about its design which has been said by most people to be one of the best exterior designs they have seen on any of the 25 other LEGO bikes.

Truly, this is an amazing product that affords you the opportunity to build this powerful BMW bike from scratch.