Drive through dangerous paths with the LEGO All-Terrain Vehicle 42139 Set.
By

Mark Gini
/
June 21, 2022
All Terrain vehicles are known for their durability and strength. They were designed to be used on rough terrain and places where most cars would not be dear to them. The Vehicle comes with a power steering and smooth steering wheels. But the most significant thing about this VehicleVehicle is its tires. The tires have a rough surface, making them grip easily to the ground and move through even the harshest roads. The VehicleVehicle also has a low maintenance cost because everything is vital and protected.

Are you a fan of this VehicleVehicle? If so, then you would love Lego's adaptation of this Vehicle. Lego has put all its creative genius into building the Lego All Terrain Vehicle 42139 Set. This is a wLego Technic Set, so you can expect the building to be technical. The Set also comes with elements representative of the engine, bodywork, and tire, which you can build. Do you have a child who loves Lego Technic sets? Then it would be best if you considered getting him this Set. The Set is not only good-looking but also educative in the build. The Set also offers an excellent building experience that would keep your viewers engaged for hours. How? You may wonder. Let's find out.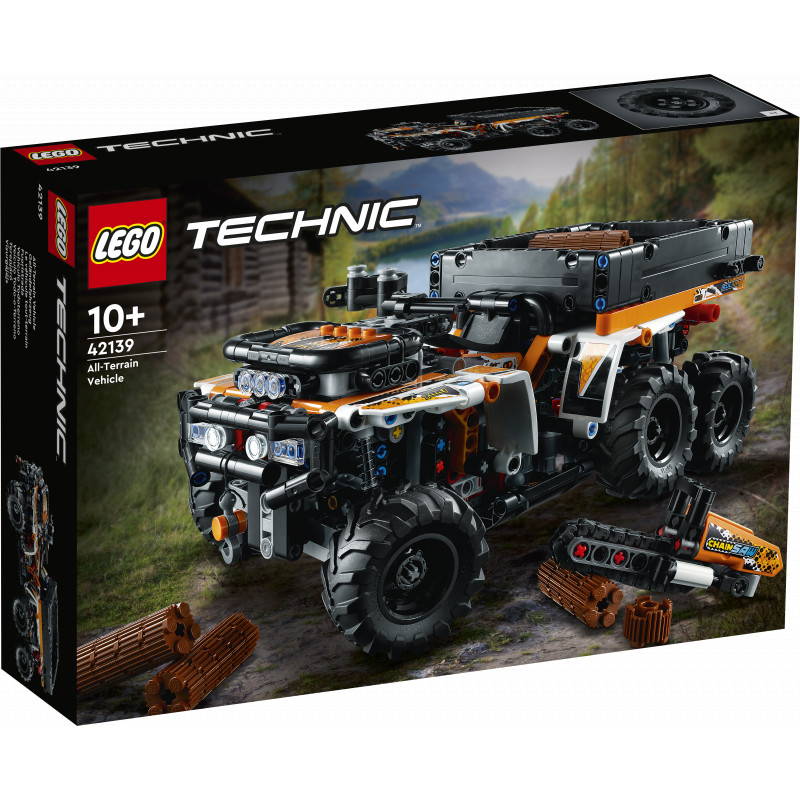 BUILDING EXPERIENCE FOR THE LEGO ALL-TERRAIN VEHICLE 42139 SET.
The Lego All Terrain set comes in three building stages. Bricks for each stage are numbered in the plastic bags carrying the pieces. This makes it easy to know which bagged pieces are for each stage. The bags labeled 1 are pages containing buildable pieces for the engine. Then with the bag marked 2, you have parts for building the front and back bodywork and covering up the engine. The second stage is when the building becomes interesting. This is also when you are most likely to use Lego building techniques to bypass possible complications. With the third and final, you would have to build the rims for the four tires and then attach them to them. The Set also comes with some cool accessories to help, like wood and a chainsaw, which you could put in the trunk compartment of your Set.
If you are experiencing difficulties with your Set, you do not need to worry. This is because this Set comes with excellent, easy-to-understand building instruction. In these instructions, you get clear direction, along with images it helps you clearly understand what you need to do. So if you encounter any problems while building this Set, check the manual for assistance. If you have kids you want to keep productive, you could use this Lego set to get that done. The Set is very engaging and could keep kids occupied for hours building. There is no limits to what you and your kids can achieve if you decide to build this Lego Set. Overall, the Lego All Terrain set would be fun for builders of all ages. The Set also contains excellent features. Let's consider what these features are.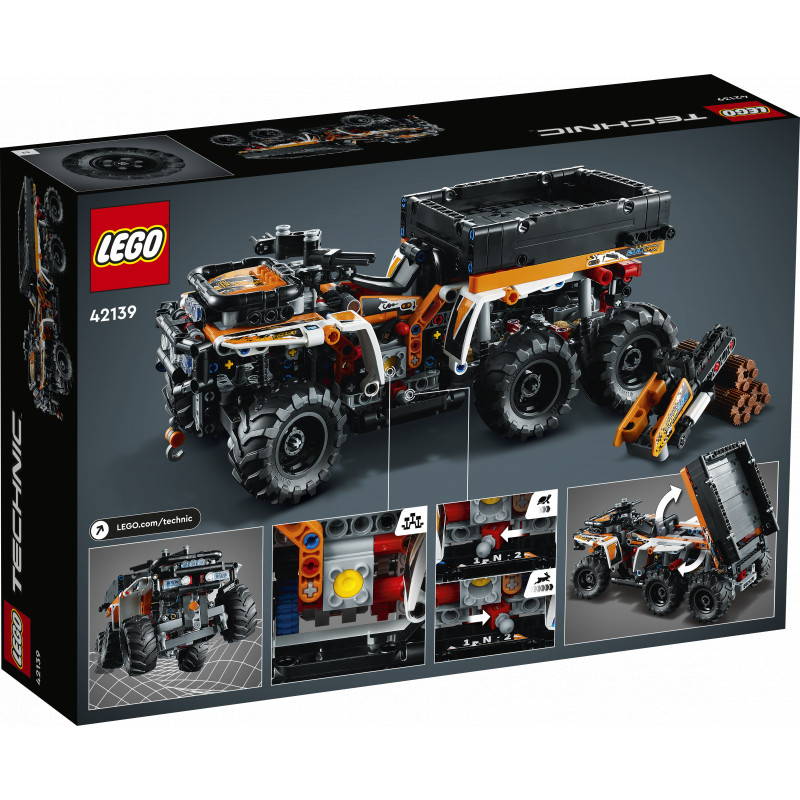 AUTHENTIC FEATURES FOR THE LEGO ALL-TERRAIN VEHICLE 42139 SET.
● AUTHENTIC DETAILS.
The Lego All-Terrain Vehicle set has been designed to look close to its modern real-life counterpart. The Set not only has a brick representation of genuine parts but also has designed stickers to help it look more realistic. An additional cool thing about this Set is its Tail Gate, which functions as a real-life one. The Tail Gate can be controlled by red leather. Another cool feature that makes this Set even more realistic is the suspension under each of the six tires. The suspensions are supported by springs which makes them stronger. This nifty feature makes the Set a whole lot more realistic and makes the Set look and feel thicker.

● A NETWORK OF GEERS.
Another thing that makes this Set even more spectacular is the gears that connect with the Sets pistons—this cool feature allows you to switch in between Geer, thus controlling the speed of the Set. To increase the speed of your All-Terrain Vehicle, you would need to move the gear forward. And if you want your Set to move slower, you would need to move the equipment backward. These excellent features would help you get your Set's whole experience. Enjoy endless trips with your Lego All Terrian Vehicle and this unique feature.
● ADDITIONAL ACCESSORIES.
The Lego All-Terrain Vehicle also comes with additional accessories. These accessories make the Set look more realistic. If you have kids into imaginative role-playing, this feature will help make their imaginations go wild. The Set comes with a Lego chainsaw accessory and wood. These accessories are built to fit perfectly into the trunk of your All-Terrain Vehicle set. The Set also has a terrific feature that allows you to dump the trunk and put it back in place.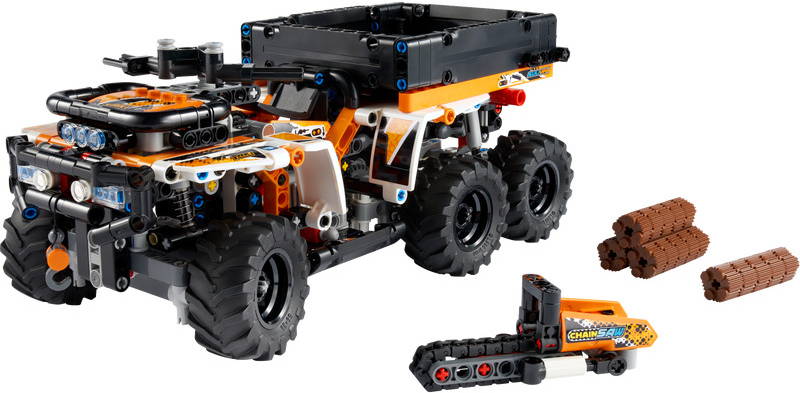 ● SET SIZE.
The Lego AllTerrain Vehicle Set could be considered a medium-size Set. It comes with a total of 764 pieces. These pieces are not that much when compared to other Lego Technic Sets. But then again, it's just the right amount of pieces needed to keep kids engaged for a long time. When entirely built, this Set is a joy the watch and play with. At completion, this Lego Set should stand at about 4inches high, 10,5 inches long, and 5 inches deep. With this Lego Set, children can learn a lot about the All-Terrain Vehicle by simply building. This makes this Set a fun learning tool.
By now, you are probably wondering how you will get your hands on one of these super cool Lego Sets. Well, you could get this Set from any Lego store in your area. You could also check shops around you if you don't have access to a Lego store. If you don't have access to a store or are probably just lazy about going through all that stress, you could get the Set directly from the Lego website. This Lego Set is sold for about 70 to 100 dollars, depending on your location and the value of your currency. This price is pretty reasonable for all the features and accessories added to the Set. even after doing all this, your Set is still not completed. You would need our Lego light to help add more life and beauty to your Set. How does it work? Let's find out!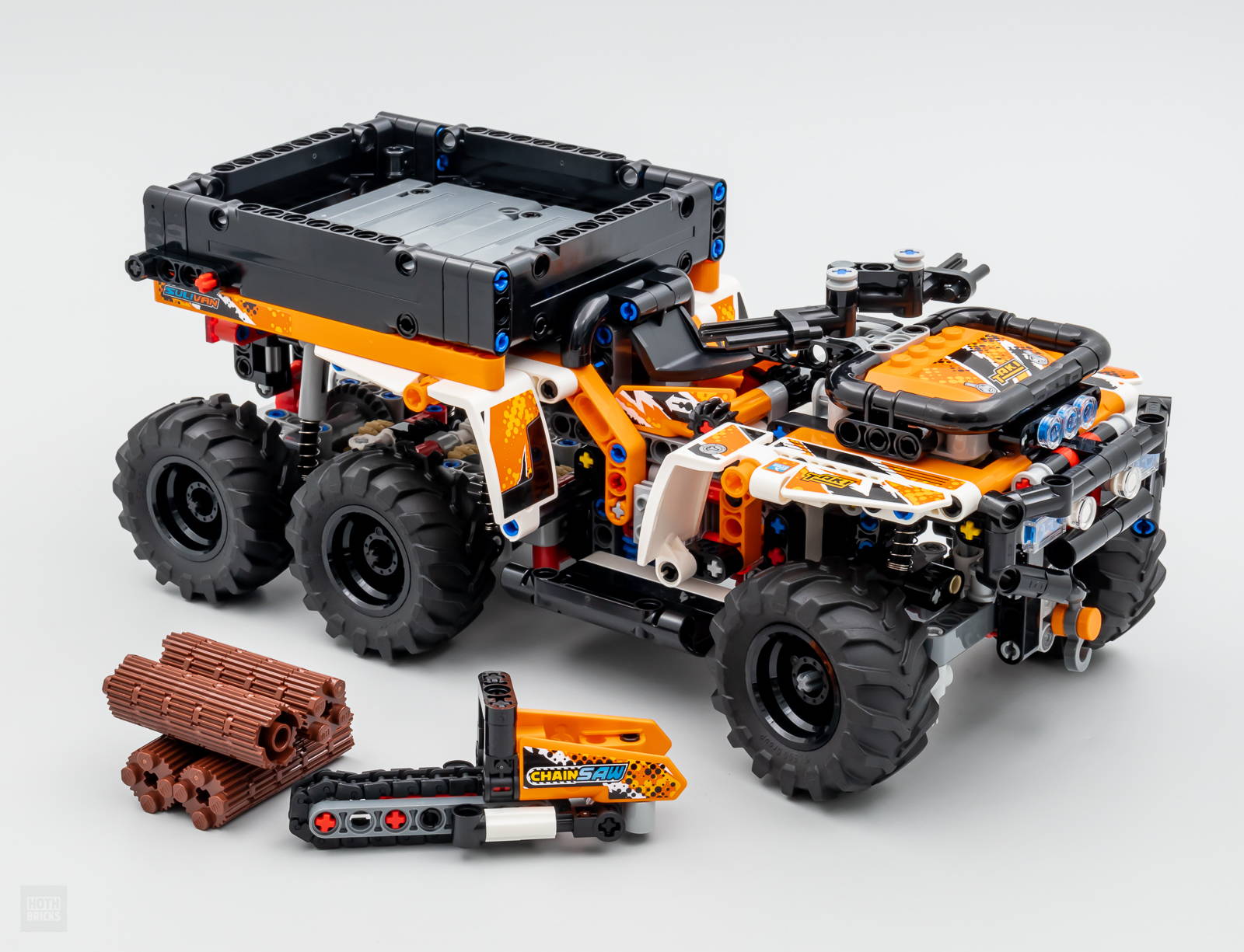 MAKE YOUR LEGO ALL-TERRAIN VEHICLE SET LOOK EVEN MORE LOVELY WITH OUR SPECIAL LIGHT KITS.
Our Lego light kits are special ones designed to be installed only on Lego. These light kits help add more life and beauty to your Set. They are also very safe and easy to use. But if you are new to our light kits, you probably wonder how to carry out this process perfectly. You could do that following these rules.
1. INSPECTION.
The first installation phase is inspection. This process should be carried out as soon as your light kits arrive. Your light kits are exceptionally delicate and can be damaged during shipment. Once you notice any damages or missing parts, you could make use of your warranty card to get it replaced. Once that has been accomplished, you can now install your light kit.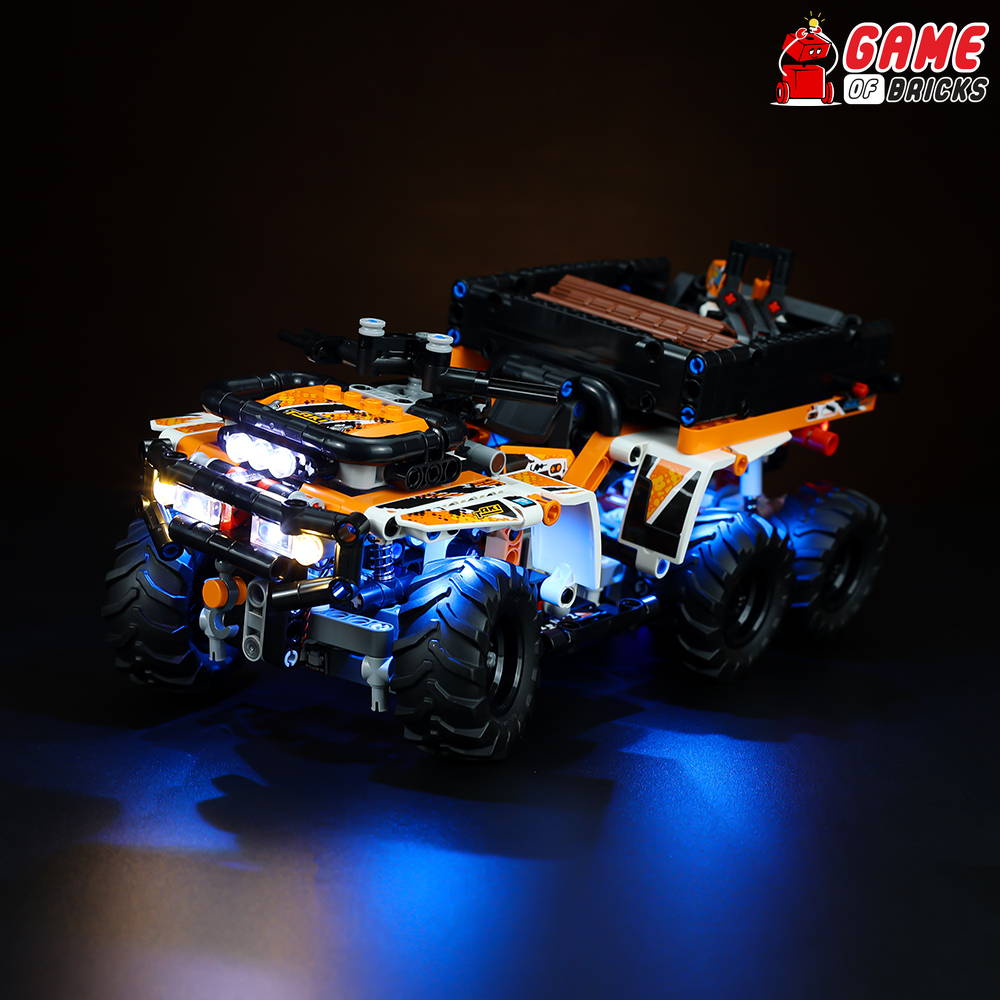 ● INSTALL.
To successfully install our light kit as a beginner, you would need to use the instruction manual each light kit comes with. As a beginner, starting with the primary light kit is also recommended, which is pretty simple to install. Once you have become familiar with the installation process, you can move to the standard light kit, which is much more complicated to install.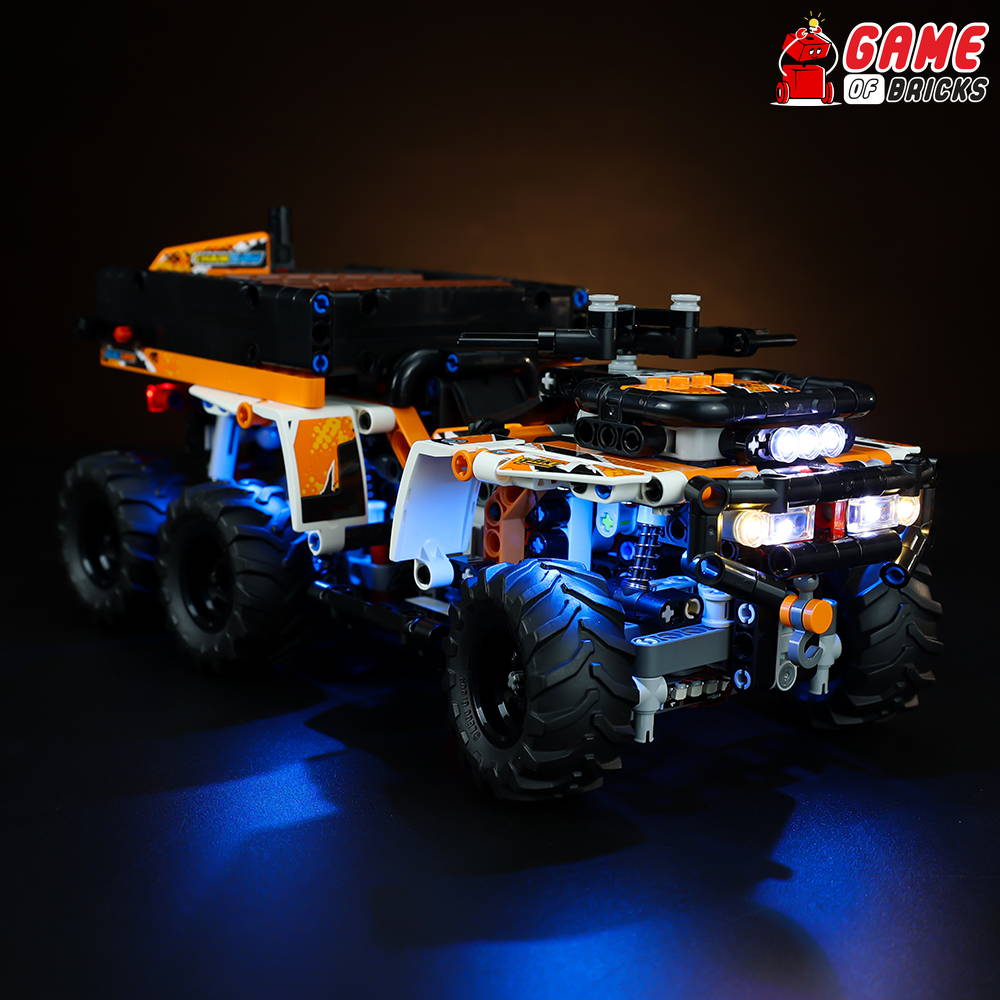 ● TEST RUN.
Once you are done installing this Lego Set, you would need to test run it. As you test run the Set, search out for signs of short-circuiting. This would help you quickly detect and solve whatever problem your Set is posed with. Another place you should be concerned about is your battery. Make sure you have the correct battery for the job. The batteries play a very integral part in your light kit's performance and life span. So if you notice that your Set is not powerful enough to power Set consistently, it would be best to change it. If after test running your Set and all looks good, enjoy showing off your Set to friends and family.