Build like a pro with the LEGO Ford F-150 Raptor 42126 Set.
By

Nikita P.
/
October 30, 2021
Are you a fan of pickups? Then you must know of the ford f-150 raptor. This fantastic product is by far one of the most durable and sophisticated pickups in the car industry. It not only has a powerful V6 engine but also comes with suspended wheels. This makes this set able to drive on the worst possible roads with ease. The truck's tires are designed to grip tightly at whatever surface they come in contact with to make your journey even more effortless. The ford pickup truck is perfect for any business you would like to use it for, whether for corporate business, or maybe you would prefer to carry this truck on all your travel through town for work. This truck can also be used as a loader for your groceries or maybe your farm or construction equipment. Has your dream been to own one of these bad boys? What's stopping you? Could it be the cost that comes with owning a powerful automobile like this? Well, if that's how you feel, then you are not alone.

The fact remains that you can own one of these bad boys without having to think of insurance. And as a plus, you even will get to build your very own truck from scratch. Sound exciting, right? Well, all this could only be possible with the release of the Lego Ford F-150 Raptor set. This set is a replica of the Ford pickup truck. And it comes with fully buildable authentic features. This set could be just what you've been looking for, well, if you are a fan of the Lego Ford F-series. Well, just what does this set have to offer as regards build? Let's find out.
BUILDING EXPERIENCE FOR THE LEGO FORD F-150 RAPTOR 42126 SET
Well, Lego/Ford fans will be very impressed with what Lego has come up with regarding this set. The Ford F-150 Raptor comes with many authentic details, which make it look identical to its real-life counterpart. As a result, this set will be a nice gift for your friend who follows, religiously, the Ford F-series. This set may be attractive, but that does not stop its construction from being challenging. This is because the Lego Ford F-series is all part of a Lego buildable set for adults. This means that the set has been designed to challenge adult builders already familiar with Lego sets.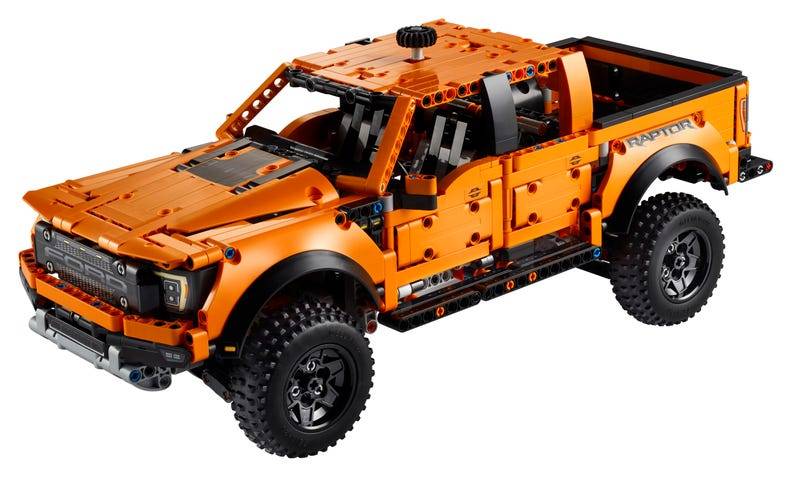 So if you are new to Lego, this set is probably not a good place to start your building career. This set could take lots of hours and exclusive devotion to complete, but the reward at the end is very satisfying. If you would like your building time to be even more fun, then why not try making it a family project? Or you could even invite close friends over. As they say, there is no greater power than teamwork. Overall, the Lego Ford F-150 Raptor has a satisfying build and would be great as a display set. So as you build your Ford F-150 Raptor, what features do you stand to bump into? Well, we will find out in the next section.
FEATURES OF THE LEGO FORD F-150 RAPTOR 42126 SET.
The Lego Ford F-series is packed with many original features, and since the Ford F-150 Raptor is part of the series, you should expect nothing less. Well, let's look more closely at some of these fantastic features of the set.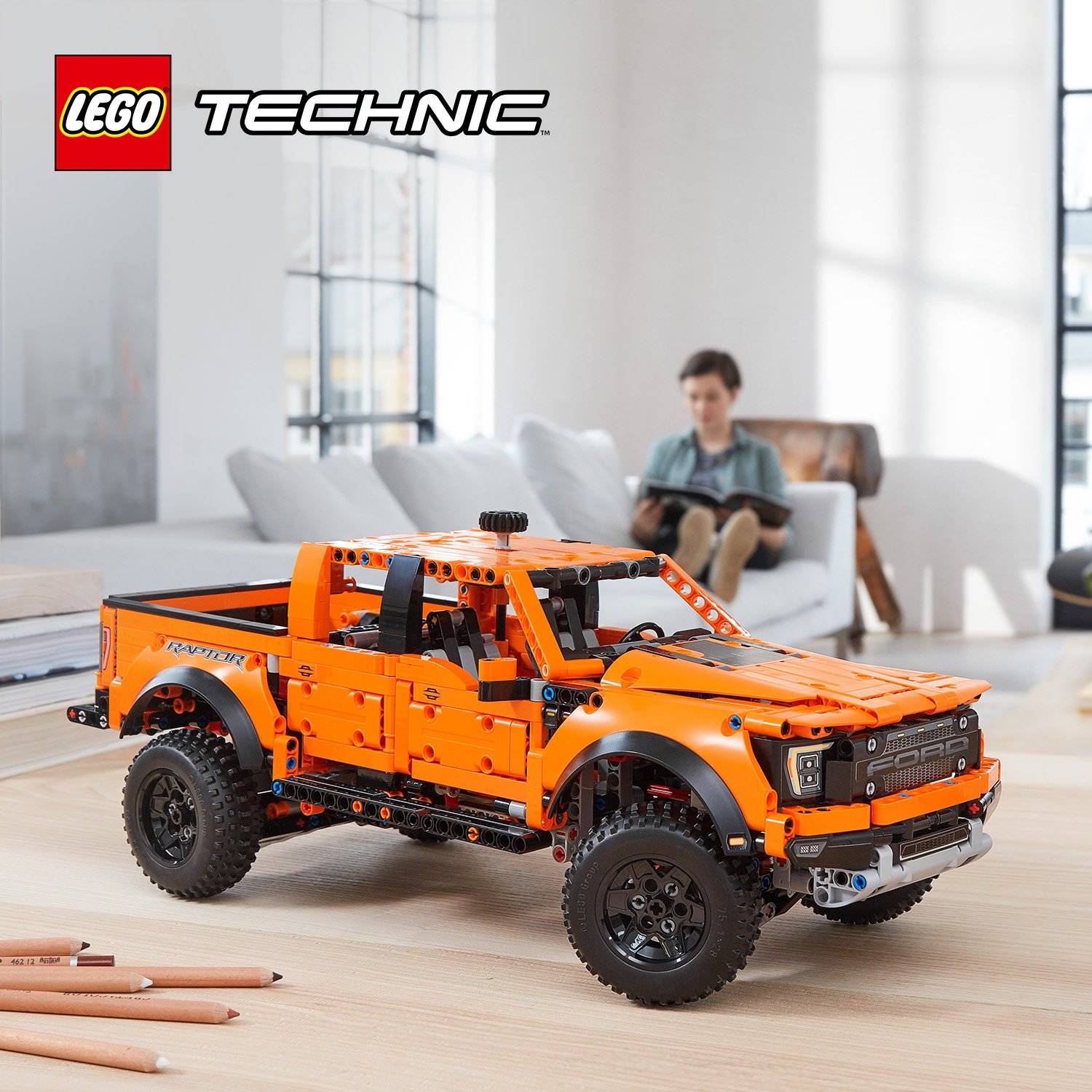 • AN AUTHENTIC LOOK.
The Lego Ford F-150 raptor set is designed with lots of authentic details. The goal was to make this set as close as possible to its real-life counterpart. As a result, Lego went all out to ensure this set was as realistic as possible. To make this happen, Lego was able to redesign the truck, incorporating features like the powerful V6 engine with a rotating Piston, suspended wheels to help give the set height. It also has doors that could be opened and closed quickly. And even a trunk that could be opened or closed with ease. The set also gave great attention to the tires of the truck. The wheel texture looks realistic and shows just how durable this set is, both real-life and as a Lego set. Builders aspiring to learn the features of the Ford F-series could learn a lot about building this set.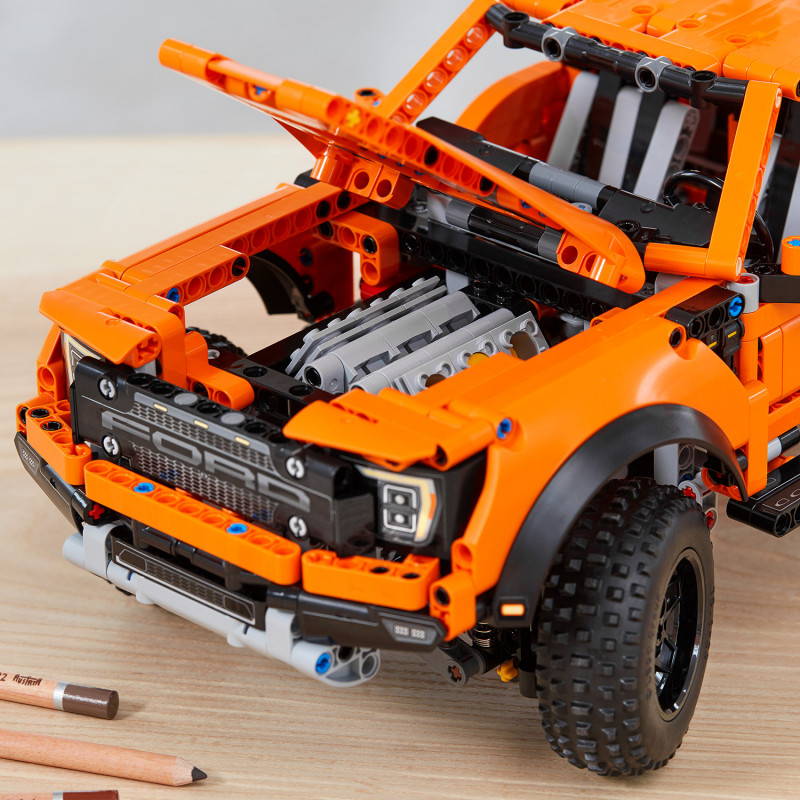 • A FLASHY DISPLAY OF MASTERPIECES.
Well, as far as beautiful displays go, this set is a masterpiece. This is all thanks to the high-quality material used by Lego in the production of this set, the bricks used by Lego are durable and shiny, and smooth. If that wasn't enough, Lego went even further to ensure that the color combination was just perfect and as realistic as you would find on the actual car. The bricks fit perfectly and lately, almost eliminating lines that signify adjoining pieces. This set is a set you could proudly put on display for all to see.
• SET SIZE.
The Lego Ford F-150 Raptor could be considered a medium size set. It comes with over a thousand pieces of high-quality bricks, about 1379 pieces, to be precise. All brick pieces as been thoroughly tested for durability and compatibility. This set has also been tested to ensure it's safe to use. The Lego Ford F-150 Raptor, when built, is about 6 inches high, 17inches wide, and 18 inches in dimension. This set is just the right size and can be moved easily. This means you can carry this set anywhere you go, comfortably.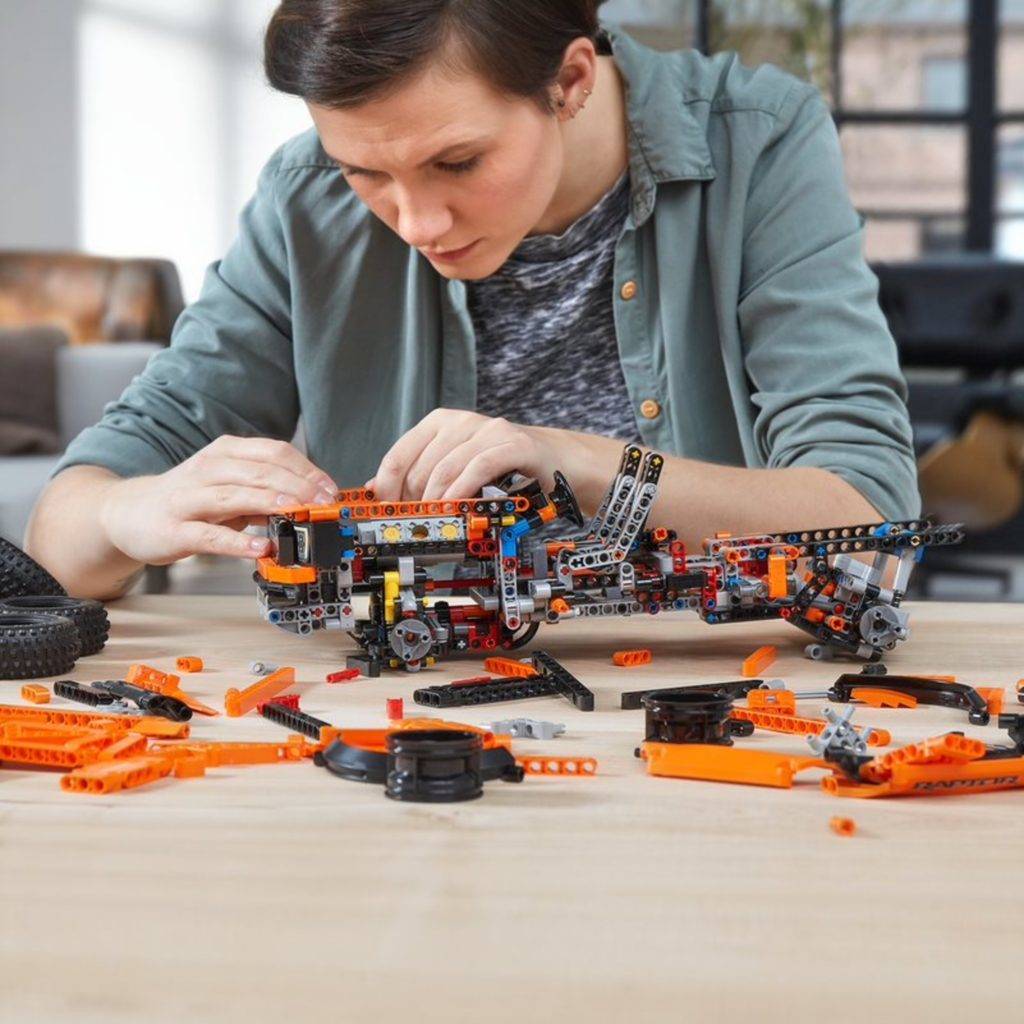 The Lego Ford F-150 Raptor, like other sets before it, varies in worth and is priced differently depending on the location, store, and currency value. This means that the set could be low in price in one country and very expensive in another. The availability of the set found also contributes to the price of the set. The best place to get this set from, which will help guarantee the set's price, is directly from the Lego.com website. The price of this set on the Lego website and Lego stores in the US is fixed at 99.99 dollars.
MAKE THIS SET LOOK EVEN MORE AUTHENTIC WITH OUR GAME OF BRICKS LIGHT KIT.
Lego sets are unique, but with the addition of Lego lights, the set becomes exceptional. The Lego Ford F-150 could be made to look even more magnificent with our amazing Lego lights. Are you new to our Lego lights? Well, this section will highlight some universal steps to make your light kit installation a lot smoother. Well, let get to it, shall we?
1. COMPLETE YOUR FORD F-150 SET FIRST.
Well, before you can enjoy installing your light kit, you must have a set first. That means that you would need to build your Ford F-150 Raptor first. So, take your time in the building of this set and ensure that you do it right. Once you have successfully built your Lego set, you can then move to the next step.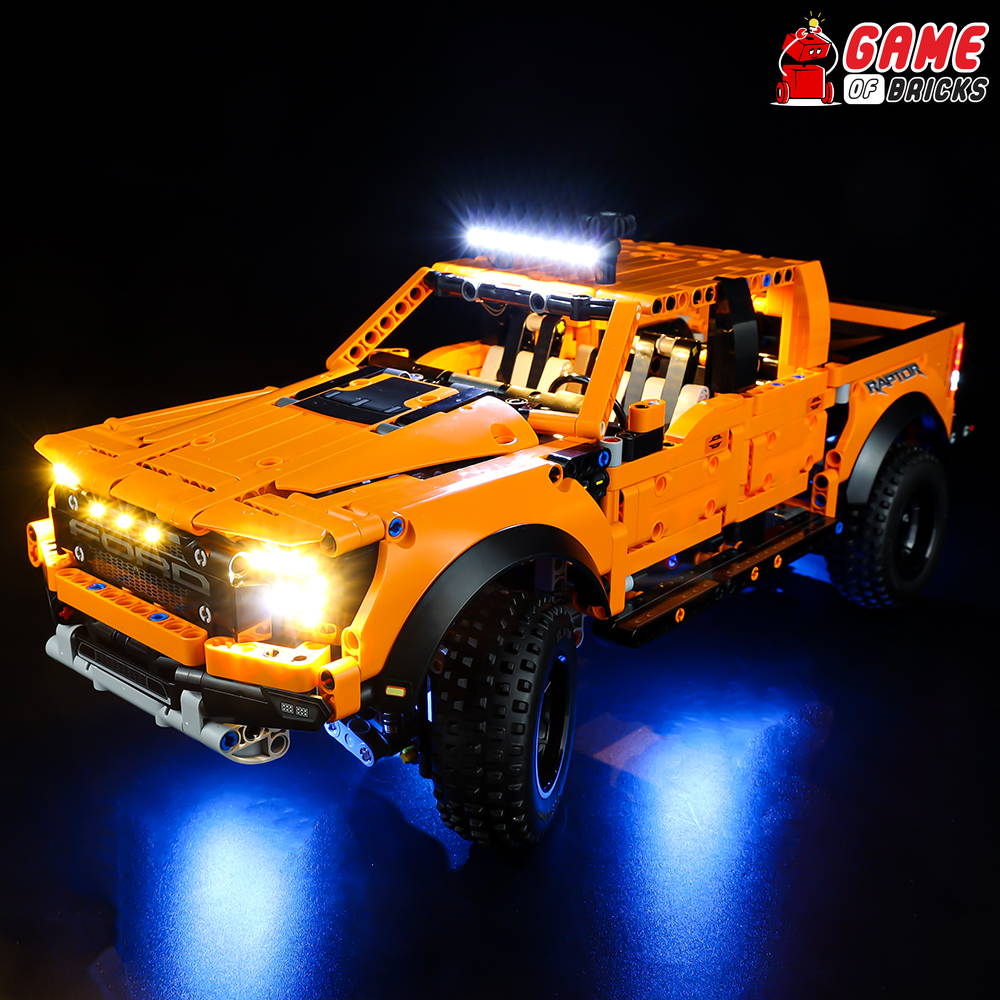 2. INSPECT YOUR LIGHT KIT ONCE THEY ARRIVE.
The second most crucial step is to inspect your light kit. This should be done as soon as they arrive. Your inspecting them is to ensure that they did not come with any damages or cut wires. So ensure you take your time to inspect your light kit and ensure everything is okay. If this is the opposite and you detect a problem, then do not hesitate to take the necessary measures to replace each damaged light kit promptly. Once that has been done, then you can move on to the next stage.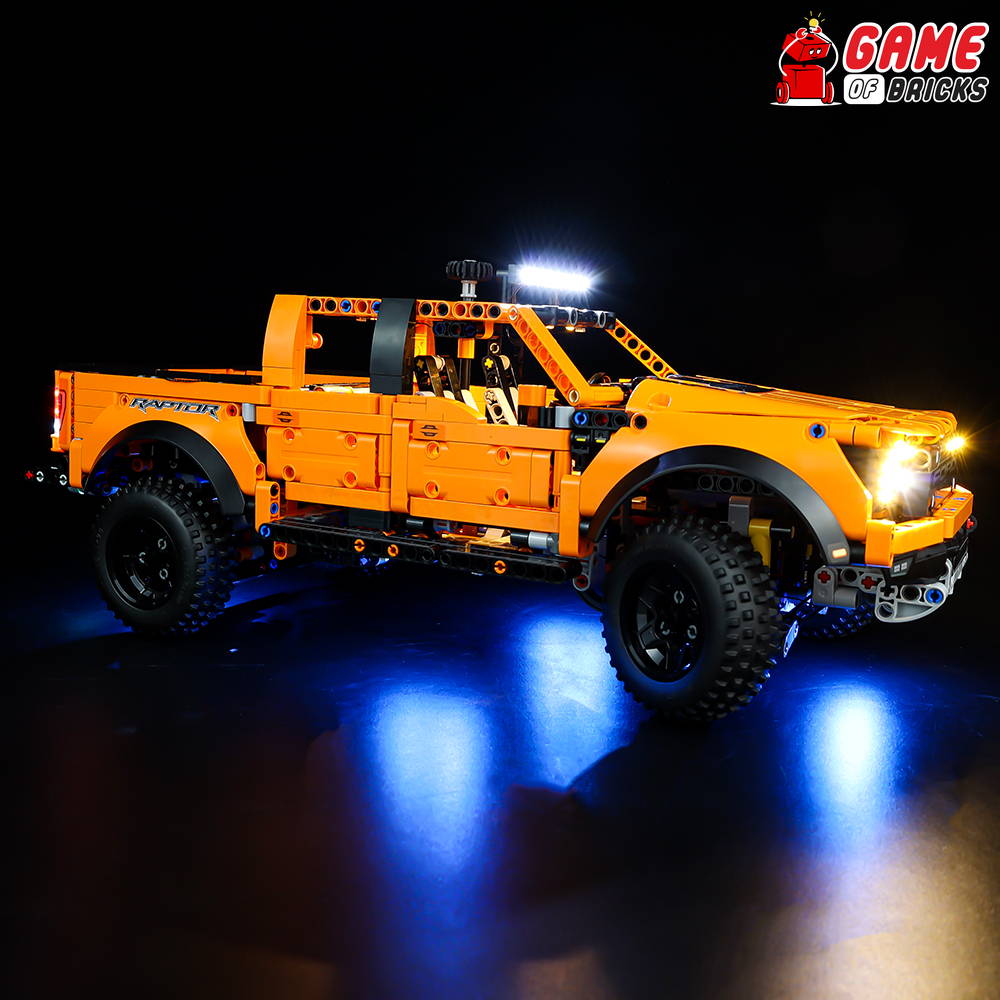 3. PROPERLY INSTALL YOUR LIGHT KIT.
Now it's time to install your light kit. If this is your first time, you should start by making good use of your instruction manual. This manual contains step-by-step instructions that will help your installation process to be as smooth as possible. As a tip, make sure that all light kit wires pass safely through the bricks. Make sure you take your time while installing this light kit. If you try to hasten the process, then you risk your light kit getting damaged. As you pass each light kit wires through the brick, make sure not to force it through. Once you are done installing, you have just one more thing to do.

4. RUN PROPER TESTS ON YOUR LIGHT KIT.
As as you are done installing your light kit, then you are almost done with the process. But before you go to show off your kits to your friends, make sure you run a safety test first. This test would involve checking for signs of short-circuiting and ensuring that the kit is safe to be displayed in the presence of children. Once all your checks have been done and all looks good, proudly put this set on display for all to see.