Fun upgrade for your LEGO Hogsmeade Village visit set 76388
This is another amazing place featured in the Harry Potter movies, and is known and loved by all and about any Harry Potter fan out there. This is an all wizards village located according to the movie, in Britain.
This village was founded by Hengist of wood Croft and was frequented by students from the Hogwarts school. This was because the Hogwarts school was not so far from the village, with only a railway station separating the two from each other. 
This was a really small village featuring cottages and shops, with enchanted candles hanging in trees during the holidays. This was also the place where Harry Potter visited while running away from the hands of the guardians.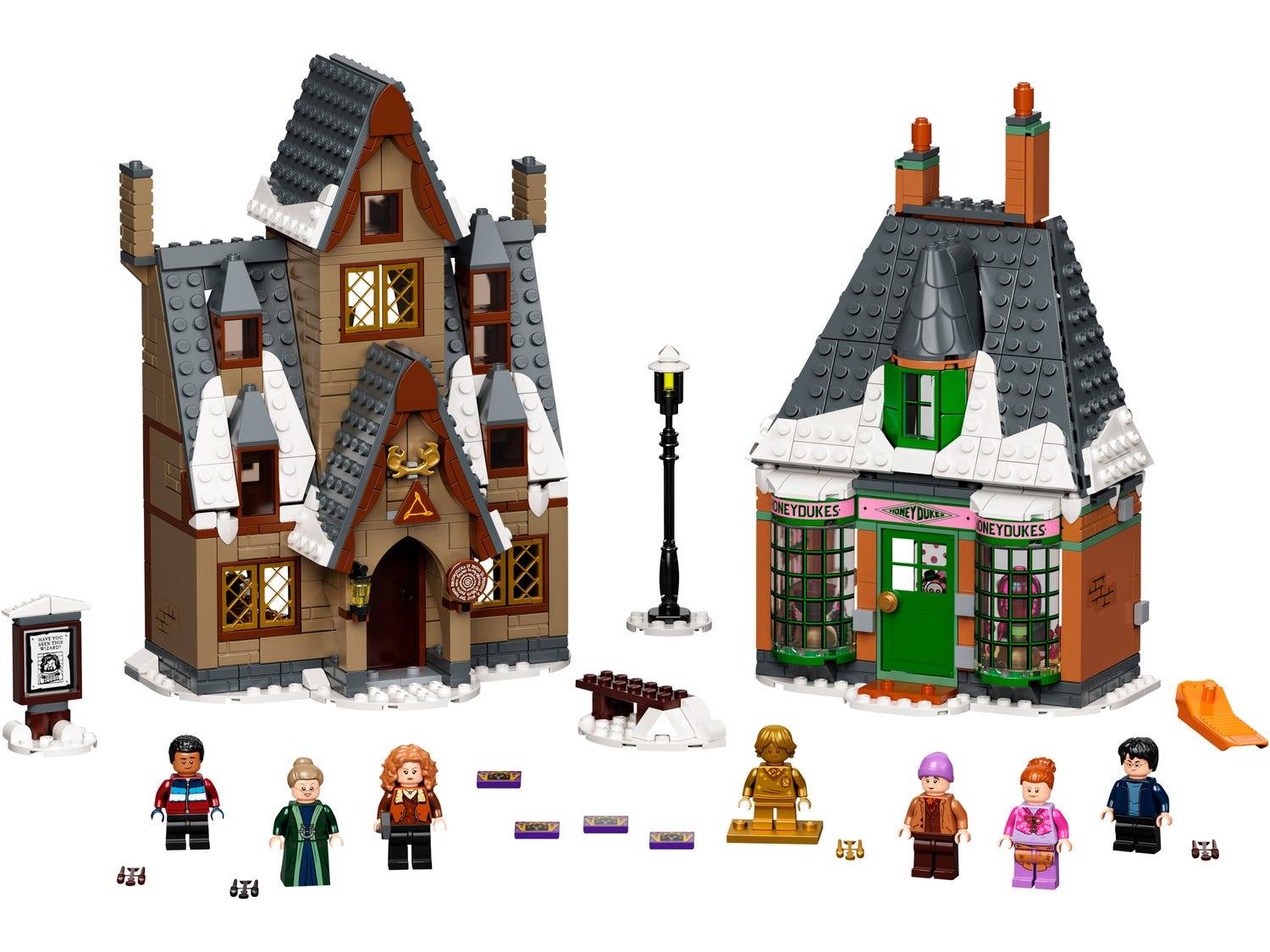 Lego Harry Potter fans out there will be pleased to know of the Lego release of a set that will represent this great village in all its glory. This set will allow Harry Potter fans to recreate scenes from the village in the Harry Potter movie. 
This Lego set features authentic details, like the detailed expression of the snow that covers the houses, with six Minifigures. This set features the two-story building of honey duskies candy store, and three broomsticks pubs. All this will give all those with a good imagination and an unending scene. This set is very good also for keeping your children Engaged all day and every day.
So you would enjoy building this amazing set while displaying it among your world of Lego creation.

BUILDING EXPERIENCE FOR THE LEGO HOGSMEADE VILLAGE VISIT SET.
This amazing is a large set with authentic detailing of about 851 pieces and six Minifigures. This set was designed to look exactly like its movie counterpart and will leave any Harry Potter fan flowing with excitement.
This set has some impressive details that will keep both you and the old engaged while fixed in trying to express all its details accurately. Instead of having to build the whole city which by far will be a great Lego project, you will only be building some iconic locations of the village, that was featured in the movie 
One iconic location is the candy store of Honey dusky which is two stores tall. You will have the chance also to represent the snow on the roof of the building and floor. This set also allows you to recreate both the inside and outside of each building to look very impressive.
Once you are done building, engage your children in some amazing role-playing by recreating some of the memorable scenes from the Harry Potter movies. This act alone will keep the bond between you and your kids ever closer as you go on a tour around this beautiful and magical village.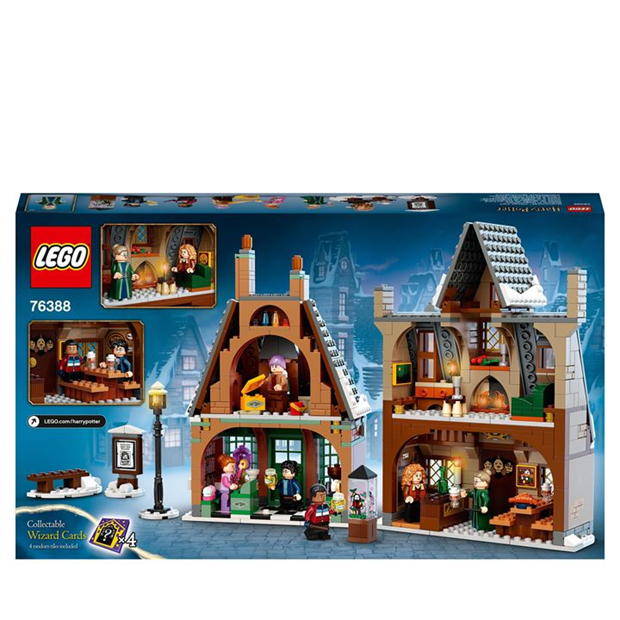 Whether young or old, the Lego Hogsmeade village visit set will keep you both engaged, and with the number of impressive features and detailing that will have to be done, with a warm and yet satisfying result, will leave any Lego Harry Potter fan excited and motivated.
FEATURES OF THE LEGO HOGSMEADE VILLAGE VISIT SET.
This set comes with a lot of impressive details and features, which all add to the beauty of this amazing set. This section of this article will focus on the amazing details of this set.
• AUTHENTIC DETAILS.
This set features some very amazing details, making it look as close as possible to its movie counterpart. Some of these details include an authentic building structure with familiar buildings from the origin movie counterpart.
One of those familiar buildings represented is the Honey duskies candy store. This building is two stories tall and has amazing details to help make the building look as detailed and close as possible to its original counterpart.
Then we have the beautiful snow detailing to help the set have that beautiful winter feeling as it is portrayed in the movie.
• SIZE OF THE SET.
This is another exciting feature of this amazing set. This Lego Hogsmeade village visit set comes with over 800 pieces, making it a set that quite large. Coupled with detailing that is just breathtaking, leaving any Lego Harry Potter fan feeling as though he was in this city.
When put together, this set is about 8.5 inches high, with amazing rooftop details, and about 11.5, inches wide. Overall, if you are looking for a Lego set that will help keep your children Engaged for hours, magically putting their creative juices to work, then this is definitely the set to get.
• AMAZING MINIFIGURES AND ACCESSORIES.
One of the most amazing things you look forward to when getting a new Lego set is its Minifigures. Why? This is because though the bricks are fun, without those amazing Minifigures, role-play will be practically impossible.
And for a set that big, featuring a Popular Hogsmeade village, it just won't be the same without its Minifigures. Thankfully, Lego has gifted this set with not only Minifigures but familiar Minifigures relating to characters of the movie and an exclusive character Minifigure.
These Minifigures include Harry Potter, Professor McGonagall, Mister Flume, and Misses Flume, and not to forget the golden Ron Weasley Minifigure.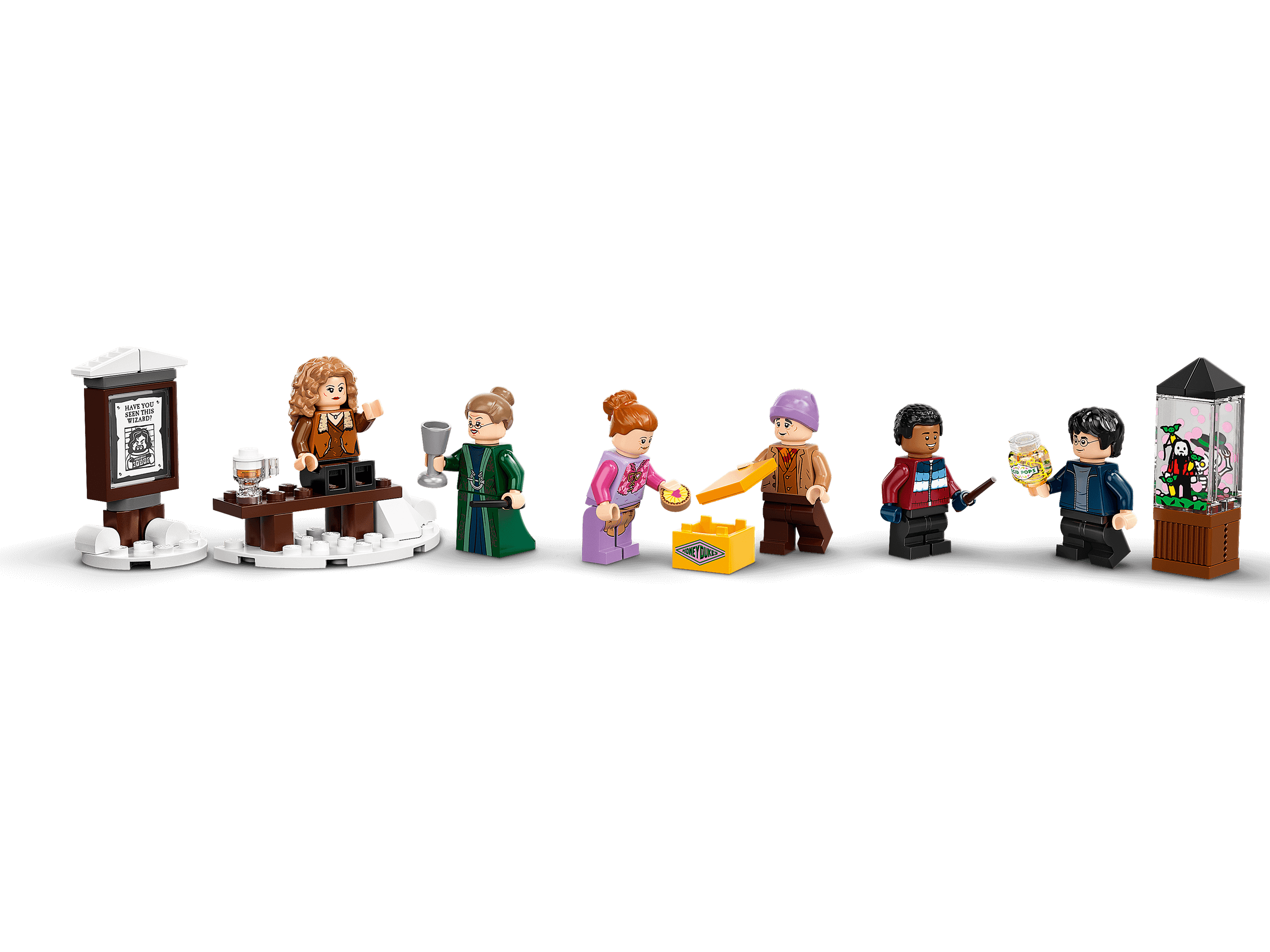 This set also features cool accessories like three similar buildings to make the fun creative experience of the set even more fun and creative. Then to add additional beauty to the set, it also includes benches and Snow. Then just for fun Lego even added 4 random wizard cards titles just to make for a world of unending fun.
• PRICE.
By now you are probably wondering how much this amazing Lego set is worth. Well, Lego prices defer depending on the location and dealer, but if you are interested in buying this set online through Lego store in the US, then you would expect to get this toy for about 139.99 dollars. But if you are located in the UK, then you can get this set at about 61.99 to 70.99 Euros.
No matter where you are in the world, you don't have to worry, you could get this set and any Lego stores around you. And if it is out of stock, then you could just order it from any Lego online store.
LIGHT UP THE LEGO HOGSMEADE VILLAGE VISIT SET WITH OUR SPECIAL LIGHT KIT.
To finish up his already amazing Lego set, light up is street lights and buildings with our amazing light kit set. These light kits could be selected according to preference and features and can be found in Lego stores and other outlets connected to Lego like game of bricks.
Most people though, shy away from including this amazing and important feature in their set, simply because they feel as though it will be too difficult to install and will cause them a lot of stress. Well is that what stops you from getting our special light kit? Well, that is not a problem. With game of bricks, you get light kits with easy step-by-step details of how to perfectly install each light kit.
Plus you have a full thirty days warranty, for returning the light kit if it is missing some accessories due to shipment or it just isn't working properly.
If you are now ready to get your very own light kit, to perfectly brighten the mood in your little Hogsmeade village, then these are just a few things to take to heart.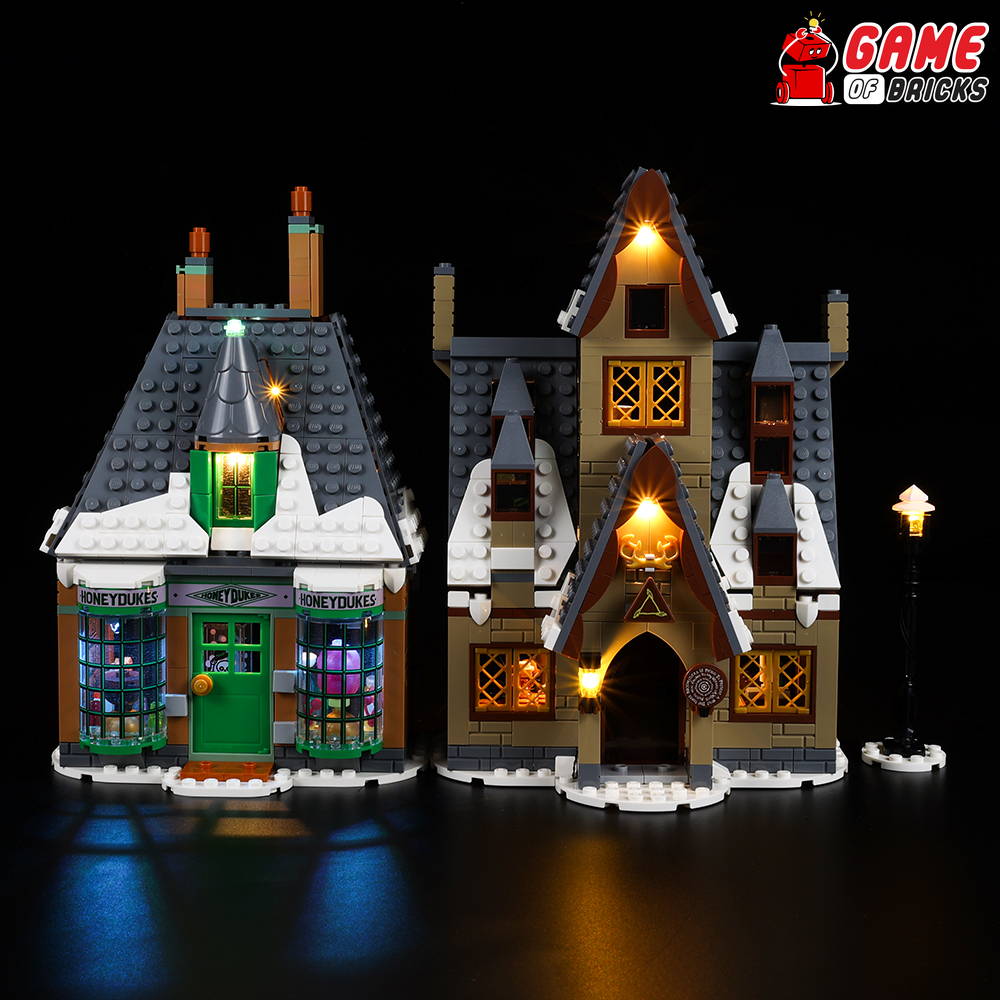 1. FINISH BUILDING YOUR SET BEFORE INSTALLING THE LIGHT KIT.
This is important to remember because a lot of Lego fans who install Lego lights make this mistake. This is probably due to excitement at seeing their set light up.
The fact is that if you decide to install the light kit simultaneously as you build it would be like constructing a house without a building plan. So you see how dumb that idea is right? So please do not make such a mistake.
And keep in mind that the light kit is not running away, so take your time to ensure a well-built and detailed set first, to enhance the effects of the light kit, when installed.
2. INSPECT EACH LIGHT KIT AND ITS ACCESSORIES.
You must have been done with the building of the set. It is now time to do some final checks on your light kits and accessories.
You would have to inspect each of the Accessories carefully to ensure that you did not miss something worth taking note of. Once all your inspection meets your taste and looks sharp and ready for installation then you can install.
But if it does not, kindly send your complaint to the store you bought the item from for an immediate replacement.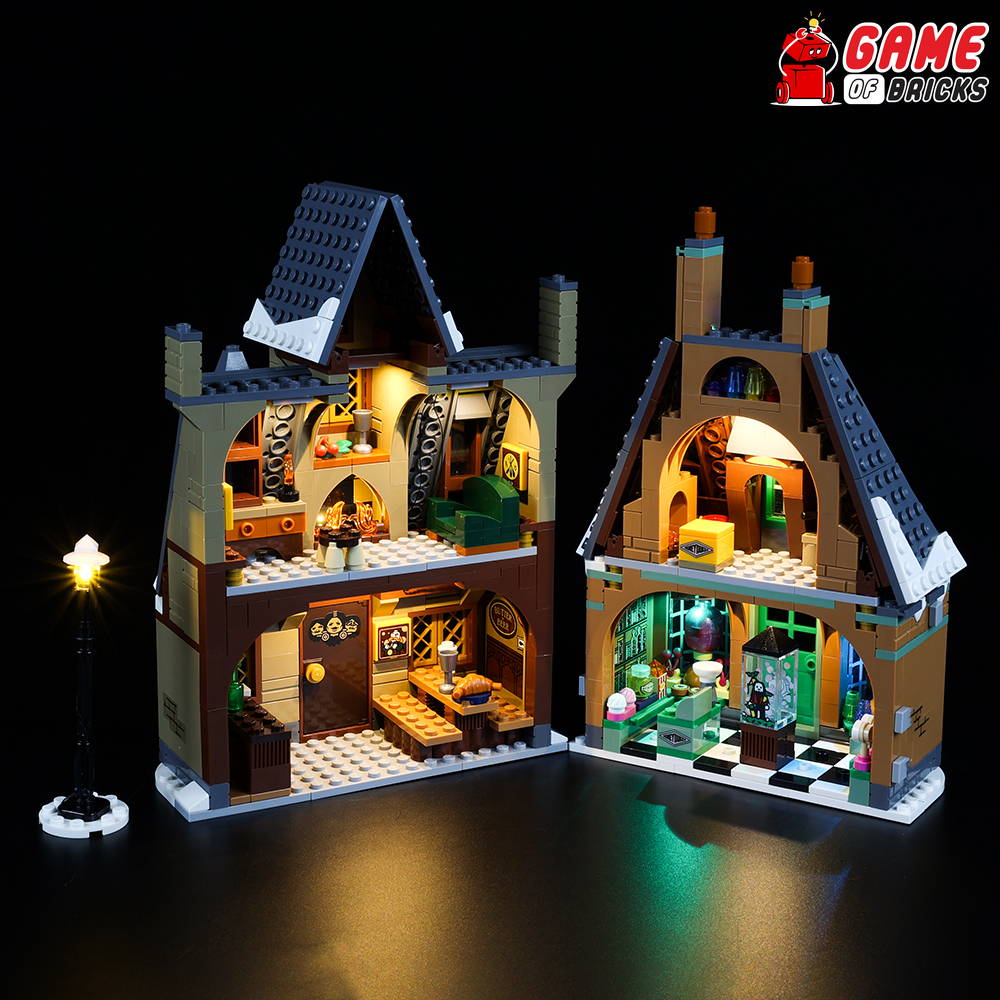 3. PROPERLY INSTALL YOUR LIGHT KIT.

This is the moment you have been waiting for, it's time to install your light kit. The only thing to remember is that all light kits and accessories should be neatly passed through the bricks only leaving the bulbs showing.
By the time you are done installing your light kit, there should be no wires sticking out through the bricks, it must have a smart and sharp finish. So if any light kit accessories are difficult to pass through don't force it, try using it for another place where it will go in much more smoothly.
Once all this is done you can now test out your special light kit, putting the set on display while you are at it!!!

---