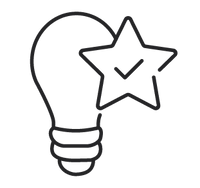 Premium
Quality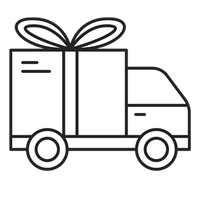 Free
Delivery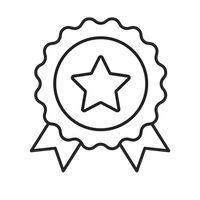 2 Years
Warranty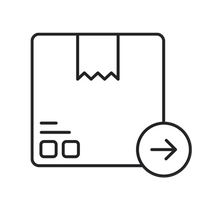 1 Business Day
Dispatch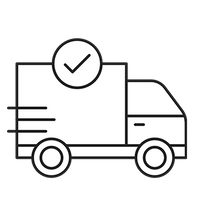 3-12 Days
Delivery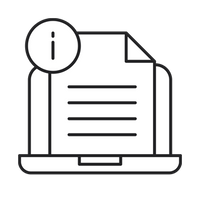 Instructions Both PDF
and Online
A JOURNEY THROUGH CELLULOID MAGIC
Take a nostalgic walk through Disney's cinematic universe with the LEGO Walt Disney Tribute Camera 43230. Step behind the lens and discover the magic that captivated millions. Feel the allure as you slide the matte box forward to reveal the iconic lenses. Our LEGO Lights guide your way, casting a gentle glow that makes each moment you capture a part of film history. The lights can be turned on and off by opening and closing the director's clapperboard.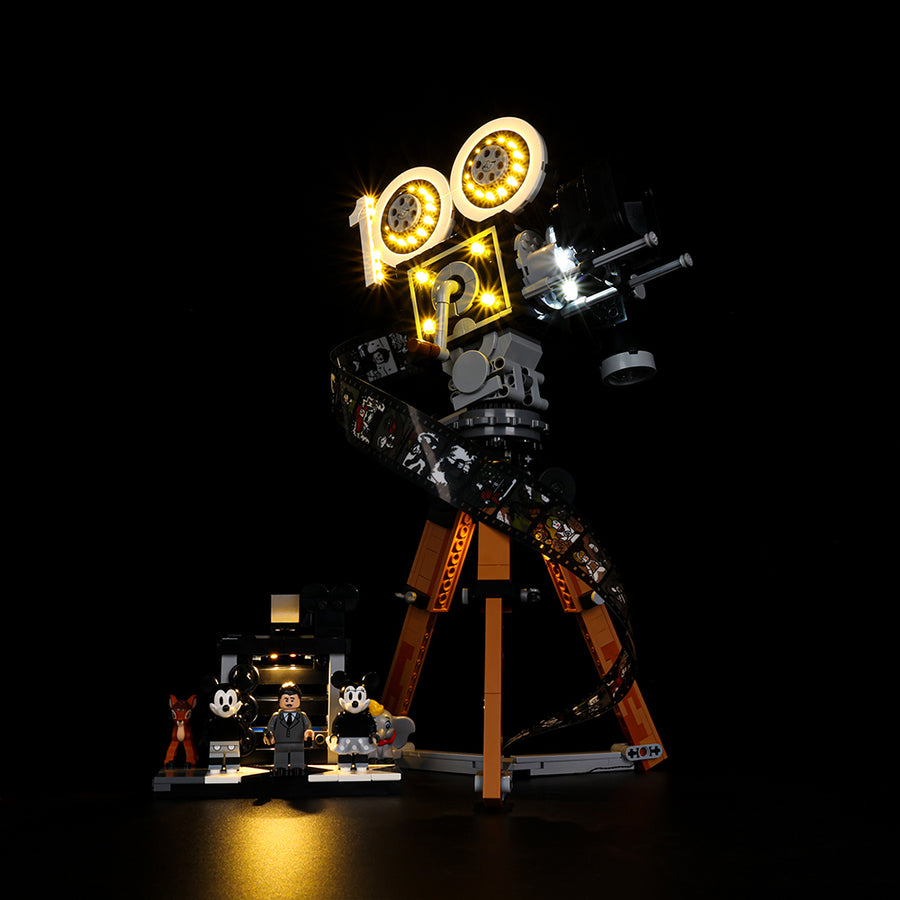 CINEMATIC EXPLORATION
Navigate through this stunning recreation, spotlighting a vintage-style film camera, a multiplane camera, and other filmography artifacts. As our LEGO Lights cast their glow, witness the intricate details come alive, reminiscent of the earliest Disney classics.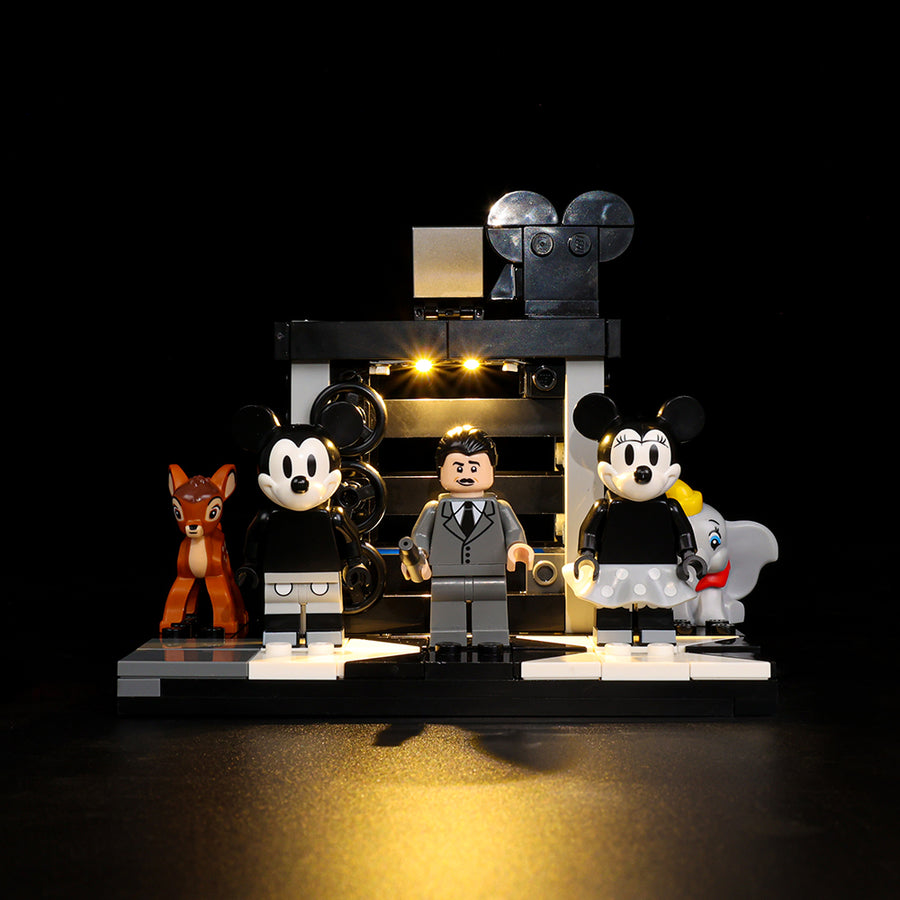 CAPTURE ICONIC SCENES
Assemble the director clapperboard display featuring 5 iconic LEGO ǀ Disney characters. Immerse yourself in the art of storytelling, made even more enchanting with our specialized lighting effects.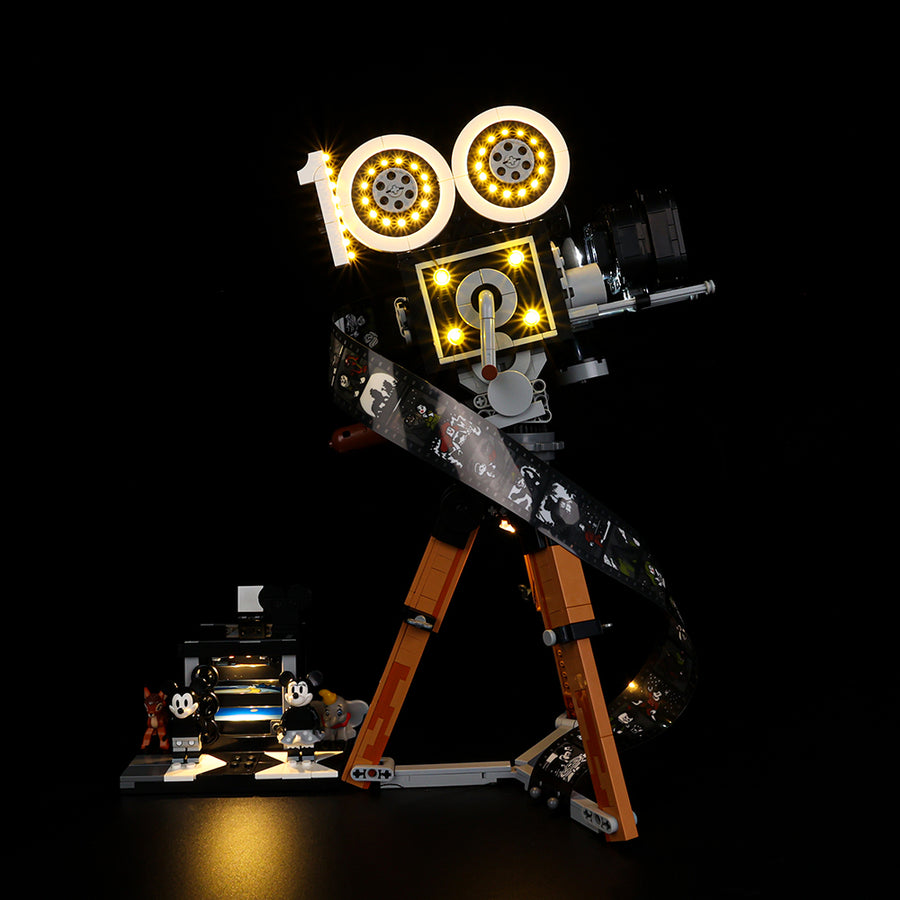 REEL IN THE MAGIC
Become a part of the storytelling process as you engage with this intricate LEGO set. Not just a static display, each component from the vintage-style camera to the multiplane setup is a functional piece of art. With our LEGO Lights casting a spell of illumination, you can almost hear the click of the clapperboard and the whirl of film reels spinning to life.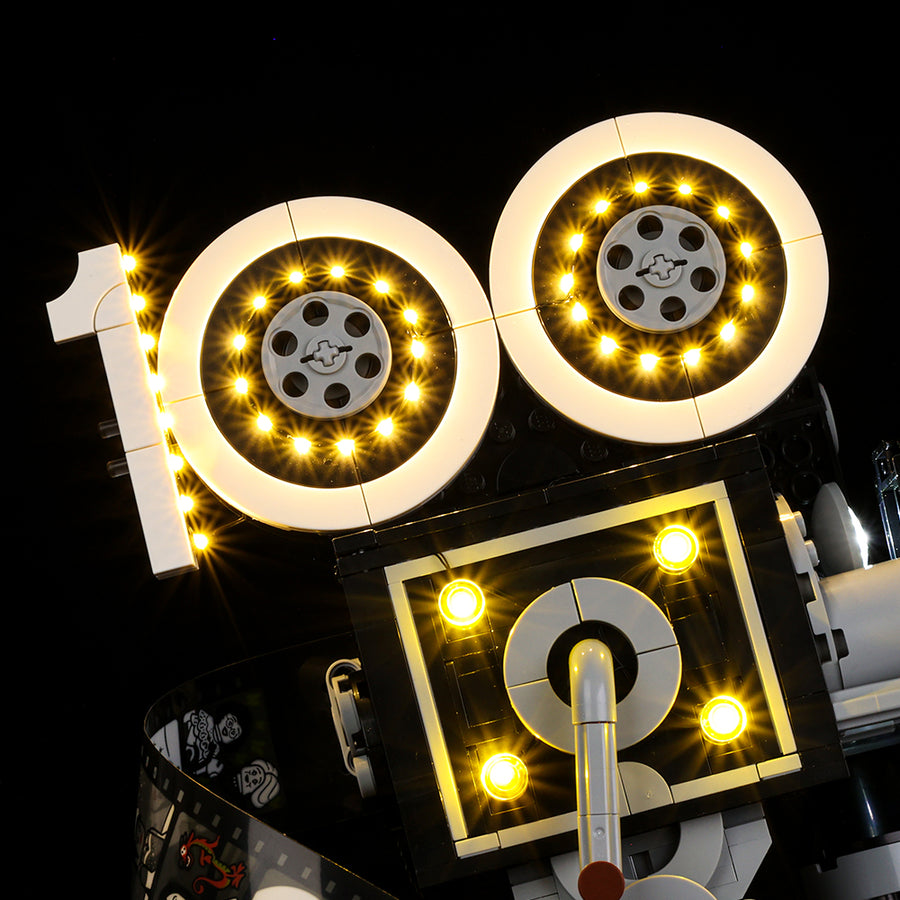 A SYMPHONY OF NOSTALGIA
Pair this Tribute Camera with your other Disney memorabilia and create an awe-inspiring ensemble. Powered by our LEGO Lights, your collection will be transformed into a magical cinematic universe.
OPEN THE MAGIC DOOR
Unveil the secrets behind classic cinematography. Open the hinged back panel of the vintage-style camera to peer into its inner workings. The gentle illumination from our LEGO Lights creates a sense of wonder, capturing the true essence of film.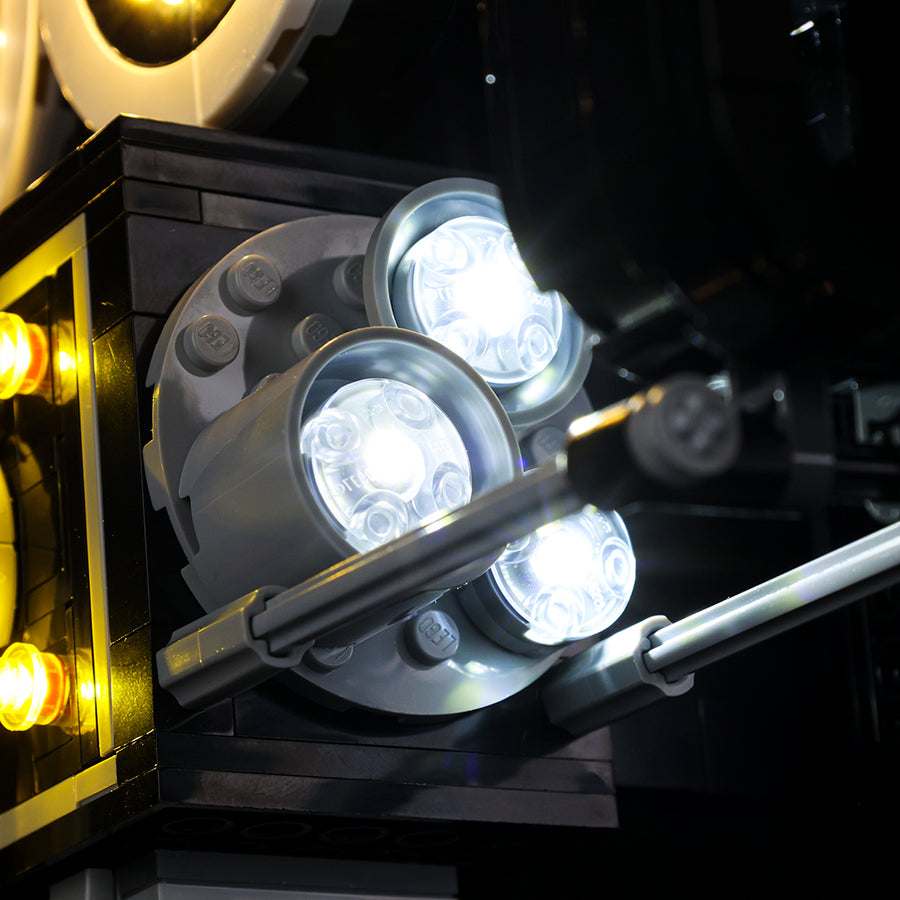 A COLLECTOR'S DREAM
Whether you're a budding filmmaker or a Disney aficionado, this set is more than a mere display; it's a slice of history. Illuminate the timeline of film and animation, turning your passion into a spectacle to behold.
About Game of Bricks
Game of Bricks makes it a point of duty to provide you with the best LEGO lights for your sets customization. Quality of LEGO Light Kits is our speciality. This set is a light kit only. Model is not included.
Readers Section
A Disney Centenary Highlighted by LEGO Lights
Commemorate Disney's monumental 100th anniversary with this exquisite LEGO® ǀ Disney Walt Disney Tribute Camera (43230) set. As a unique and memorable collectible, the set features iconic Disney characters and objects, all further embellished with LEGO lights. Designed to captivate Disney enthusiasts aged 18 and over, this multi-item tribute set includes an old-fashioned movie camera, director's clapperboard, and a multiplane camera—each elegantly spotlighted by LEGO LED lights.

A Gallery of Beloved Figures
The set comes complete with three LEGO® ǀ Disney minifigures: Mickey Mouse, Minnie Mouse, and Walt Disney himself, as well as Bambi and Dumbo LEGO animal figures. When you add LEGO lights to these characters, the set turns into an even more magical display.

A Challenge for the Imaginative
Let your passion for Disney and filmography converge in this intricate build, teeming with unparalleled details. Bring each element to life—especially the iconic movie camera and clapperboard—with the radiance of LEGO LED lights.

Snapshot-Ready Display
Measuring at 37 cm (14.5 in.) in height, 21 cm (8.5 in.) in width, and 19 cm (7 in.) in depth, the movie camera itself stands as a substantial display piece. When coupled with the other items and accented with LEGO lights, the set serves as an arresting homage to your Disney devotion.
Delivery
After your order has been confirmed, you can expect to have it delivered to you soon enough as our dispatching time is between 1-3 business days (usually it is just 1 business days).
During busy periods dispatching time can take up to 8 business days. (examples: Black Friday days / Christmas time)
We offer free shipping worldwide. Delivery time to most countries takes from 3-12 business days.
Warranty
Our lights kits are backed by free support for 2 years after purchase. We offer free shipping in the first year, but in the second year, you will have to pay a 5 euro shipping fee.
Returns
You may return most new, unopened, or damaged items within 30 days of delivery for a full refund.
Disclaimer
We would like to let you know that we sell only lights for LEGO sets. We have specially-built lights to beautify and bring your LEGO creations to life.
LEGO® is a trademark of the LEGO Group of companies which does not sponsor, authorize or endorse this site.