Upgrade your heroic experience with the LEGO Daily Bugle set
Everyone I know is a fan of the Marvel collection of movies, and are also a fan of one of the most iconic and loved marvel hero spiderman. And if you are a fan of the spiderman movie, then you must definitely be a fan of the daily bugle. 

This was the place where our famous superhero worked as a photographer, helping the daily bugle get photos that will help in the fight to keep the city safe. If you are a fan of spiderman and the Lego collection, am pleased to announce to you the arrival of the Lego daily bugle set.
This set is very beautiful, with all its features, as close as possible to the design of its original counterpart. This set also features exciting Minifigures of popular casts like spiderman, spider Gwen, Green goblin, and so on. It is an impressive four stories structure like its original counterpart and has the impressive heading of the daily bugle just at the top of it.
With this set, you would have an unending thrill of fun and adventure, as you help build a structure that will keep the marvel universe safe.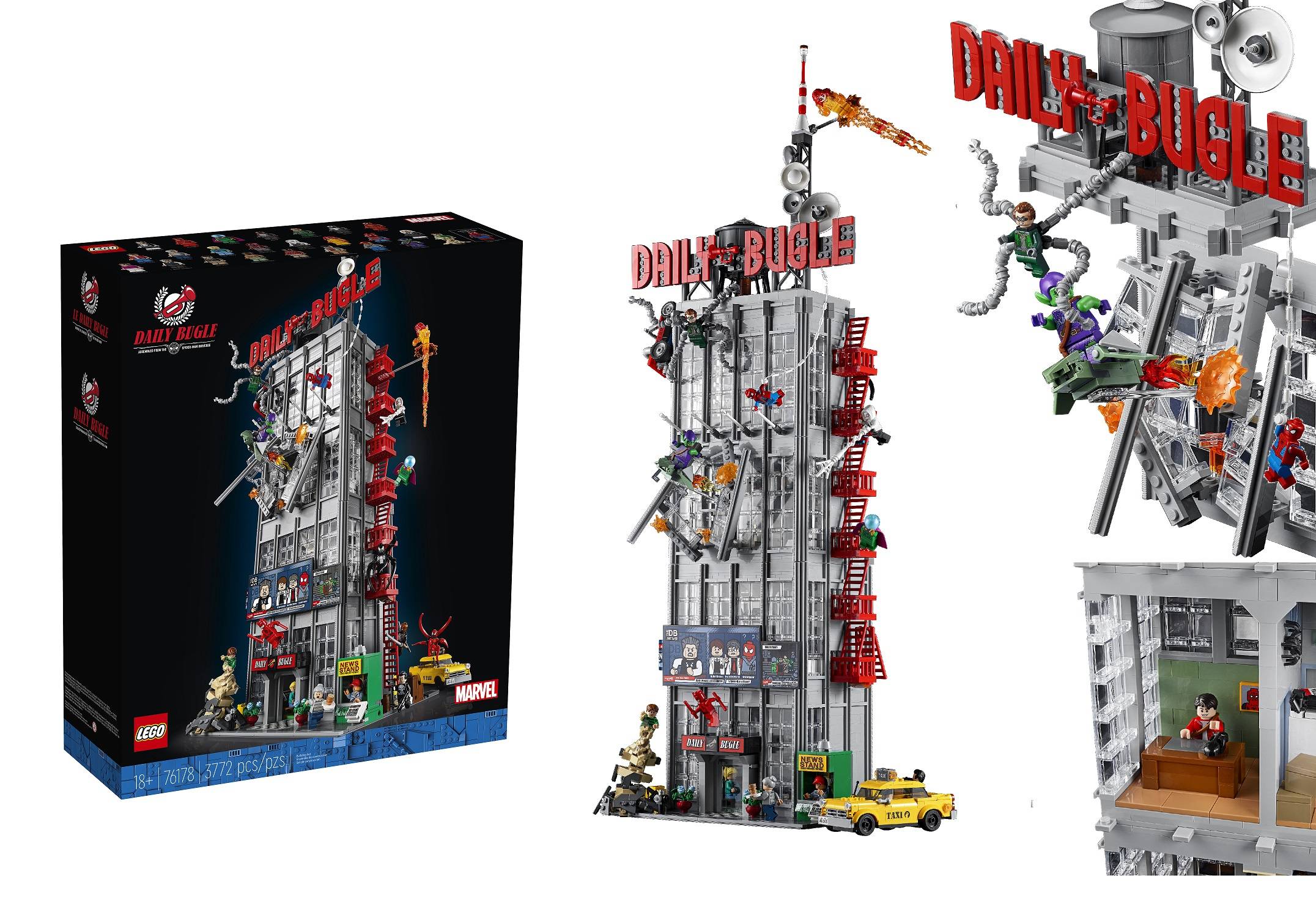 BUILDING EXPERIENCE FOR THE LEGO DAILY BUGLE SET.
This is a very big Lego set, with a very precise building style. It is designed to replicate the daily bugle as the one in the movie. It comes with over 3000 pieces, and 25 Minifigures. This set has amazing details, and once your done building you can enjoy the thrill of exploring the entire four detailed flours.
This set is quite different from other Lego sets, because of the intricate design of each flour. It will require great concentration to achieve the desired look. Each flour has its own unique design and will require that you are precise in your detailing. It also comes with a taxi cab and five exclusive characters to the set.
Gain the full thrill of this set, increasing its building experience, by adding other Lego marvel sets to the mix. Sets like marvel heroes and others like it could be used side by side this set. This set may take a long time to build and to achieve all the details, so don't start on the project if you are not ready for it.
I recommend that you start on this set after a long stressful week, using the thrill and fun that comes from building your very own media house to unwind and relax. You can even invite other Lego fanatics to help with the building of the set.
Overall, this is a set worth building and is worth its price. It will really be a great addition to your Lego collection and can be either placed on a shelf or put on display for your fellow Lego lovers.
FEATURES OF THE LEGO DAILY BUGLE SET 76178.
This set is quite detailed and designed in such a way that it properly replicates its original counterpart. It's has a lot of cool features that make it stand out as a set worthy of admiration. This section will cover some of the amazing features of this set.
• SIZE.
This set is known for its large build, with over 3000 pieces. It has very detailed stories, with 25 Minifigures, and a taxi cab.
This set is an insane 32 inches tall, this makes it the largest Lego marvel set ever created. This makes building fun. The most amazing thing about this set is that, though it has a huge amount of Minifigures, about 25 of them, the set is still large enough to contain them all.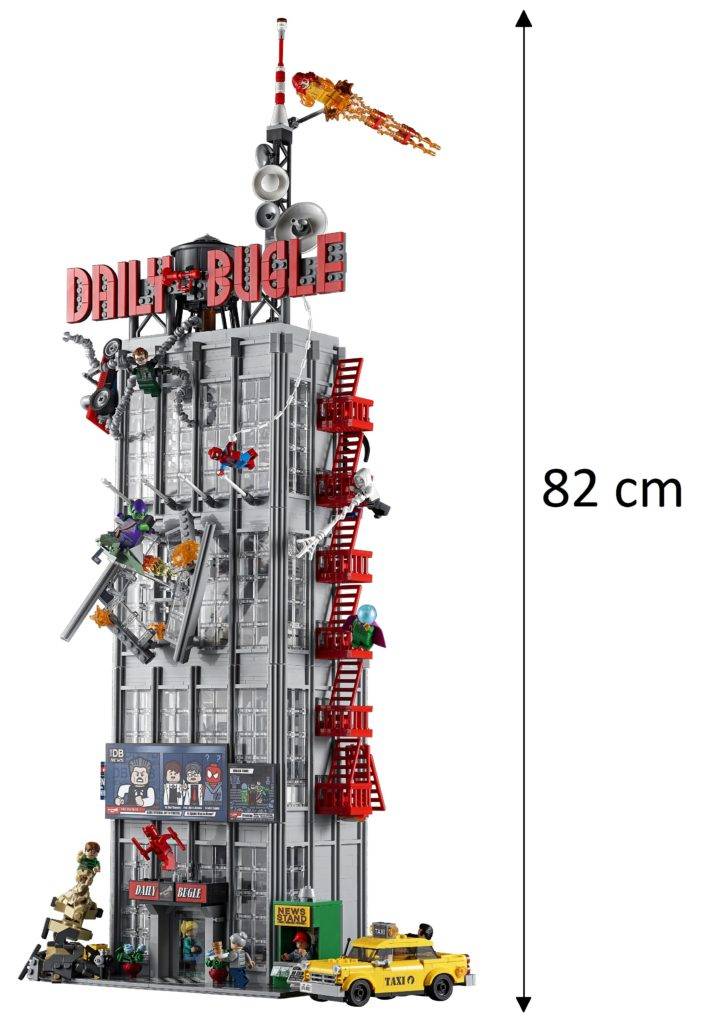 • BUILD.
This set is very unique, not only in its size but also in its build. The set is designed to perfectly replicate its movie counterpart.
This makes it extremely detailed with each flour getting its own unique design to perfectly resemble its original counterpart. The set features the detailing of the roof, the side structure of the building, and a mini carpark, which is followed by a taxi cab.
Because of the intricate design of this set, any Lego marvel fanatic should consider adding it to their collection. With this set, you will have an unending amount of sense you can recreate, which will beBecause of the intricate design of this set, any Lego marvel fanatic should consider adding it to their collection. With this set, you will have an unending amount of sense you can recreate, which will be accompanied by endless fun.
• MINIFIGURES.
This set comes with an insane amount of Minifigures, about 25 of them. This Minifigures represents members of the original spiderman movie storyline, some of these characters include, spiderman, venom, spider Gwen, Green goblin, Peter Parker, octopus, Miles Morales, and so on.
This set also comes with five exclusive characters. They are exclusive because they are directly made for the set following the plot that this particular daily bugle sets design was taken from.
The rest of the Minifigures are used to make the set more fun and increase the number of senses you can recreate. Imagine venom attacking the daily bugle, with a lot of distressing civilians there, while spiderman rums to the rescue. No matter the sense, this set gat you covered.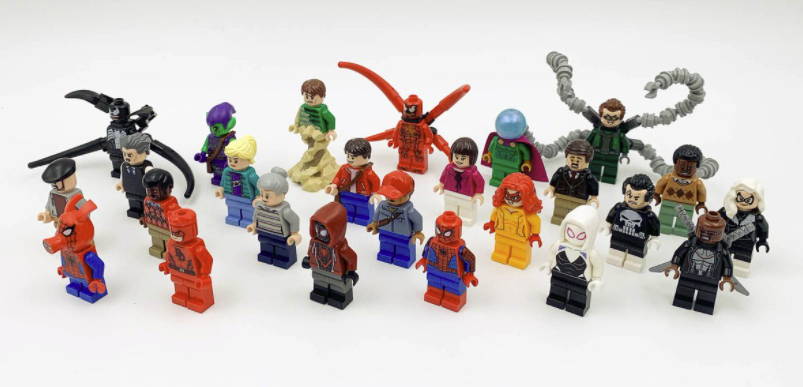 • ADDITIONAL FEATURES.
To even increase the fun that comes with this set, Lego also included a few extra features to add to the overall beauty of the set and make the set look more realistic.
Some of these features include a taxi cab, exclusive Minifigures, and some awesome gear that comes with each of the Minifigures.
This set is quite expensive and can vary in size, depending on the country and geographical territory. The Lego daily bugle set is sold at an affordable yet expensive, 299.99 dollars, and 277.99 euros in the UK, and a very expensive, 499.99 dollars in Australia.
The fact is that this set expensive matter where you buy it from, so unless you are a crazy marvel Spider-Man fan who loves Lego brick building, I'll suggest you go for something cheaper.
But If you truly would love to buy this set, but doubt whether it would be worth it, then I can assure you that you will be truly satisfied once you are done building this set.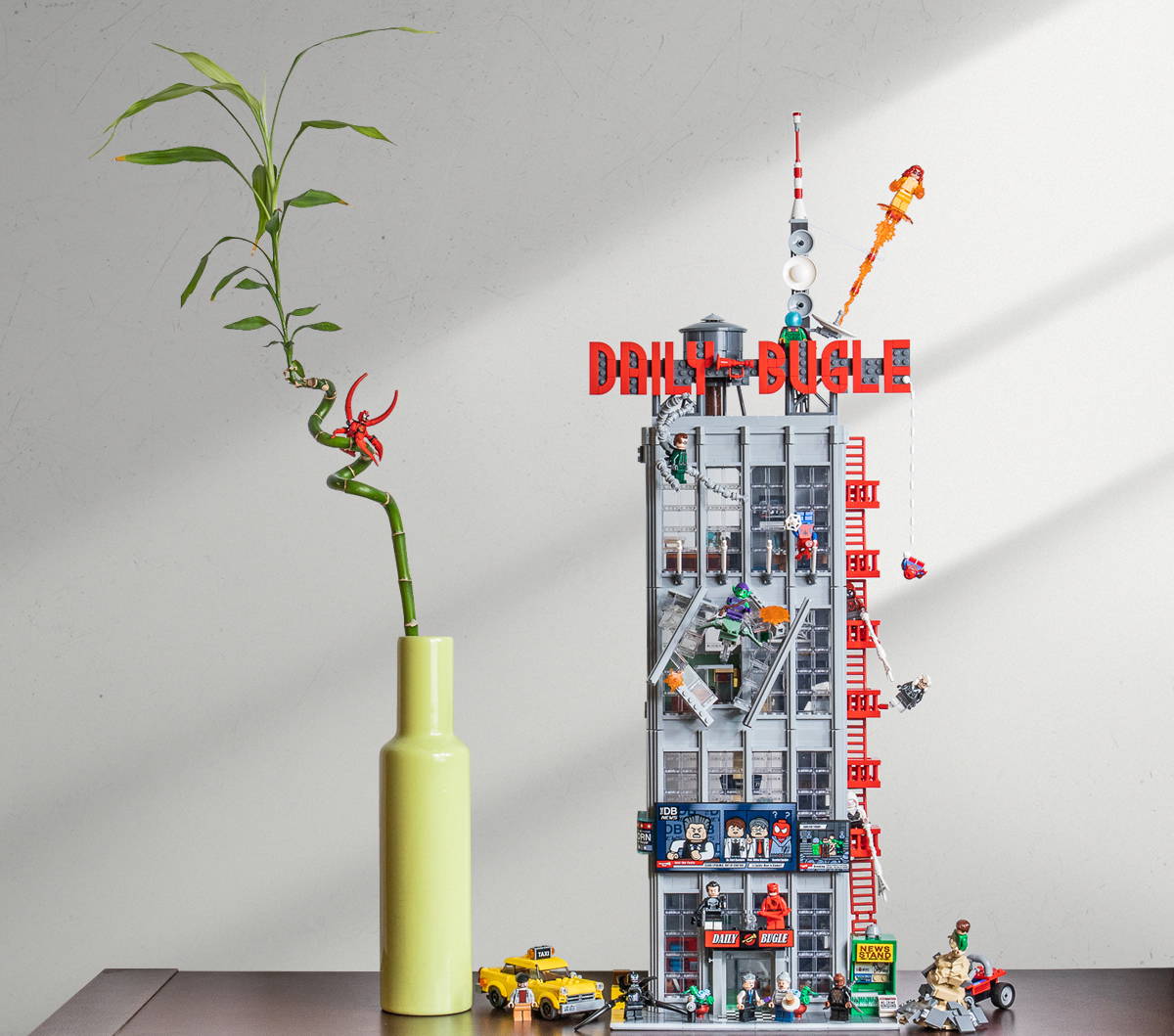 MAKE YOUR LEGO DAILY BUGLE SET LOOK EVEN MORE CAPTIVATING WITH LEGO LIGHTS.
This set is very beautiful and well detailed, and all its features, make it already looking stunning. But you could make this set look even more beautiful and stunning with Lego light kits. Many Lego fans sometimes see the installation of the light kit as a whole lot of work and not just worth it.
Do you feel the same way, then I can assure you that you are wrong. Installing the Lego light kit is quite easy, and if you follow the step-by-step instructions, you will find that installing of the light kit is quite easy.

Before we go into the general steps to follow while installing a light kit, you need to know that there are some special light kits that come with special features. These light kits most of the time have their own unique way of installing. But no matter the Light kit you want to install to enhance your Lego set, these few steps still apply.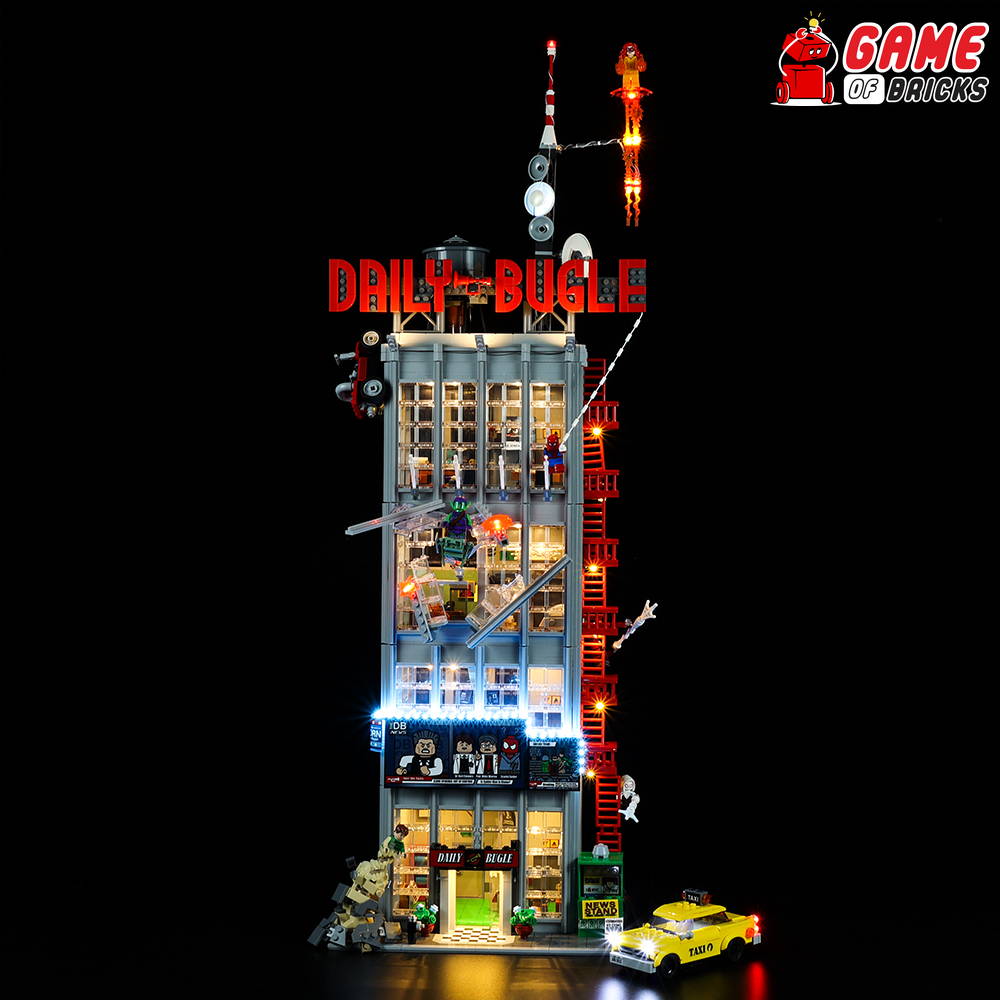 1. COMPLETE YOUR SET BEFORE INSTALLING LEGO LIGHTS.
It is very important that you follow this simple, but very important step. Most people are tempted to follow shortcuts, buy installing the light kit as they are building.
This is not a good idea. This is because if you are to Properly positions your light kit well for a great experience, you would need to first build your set.
If you do not complete the building of your set then you will not be able to know where each light kit is to fit in. So don't be lazy about it, take your time and Properly build your set.
2. RUN FINAL CHECKS ON YOUR LIGHT KIT.
Now it is time to run Proper checks on your light kit. It is common for your light kit to be incomplete, and come missing some parts. Not to worry though for, the game of bricks will always help with replacing the missing parts of your light kit at no added cost.
So, once you have done all your inspection and it is all looking good, then you can now move over to the next step.
3. INSTALL LIGHT KIT WIRES UNDER EACH LEGO BRICK.
This is the third and very important step. Make sure that each of the wires for the light kit Properly fits into each Brick. Make sure you do not forcefully fix the light for it could lead to either damaging of the light kit, or short-circuiting.
Make sure that everything is well packed and all wires are hidden. By the time you are finished make sure that there are no wires exposed, so as to give you a standard look once done.
4. TEST YOUR LIGHT KIT.
This is the fourth and final step. It is now time to test the light kit. Your goal at this point is to ensure that all the lights are working properly and that there is no short-circuiting.
At this point, I also recommend that you check the voltage and ensure that it is the proper amount required. This will ensure that no wires burn. Once all this is so done, you can now enjoy the added glory and magnificence of your Lego daily bugle set.
---