LEGO Rally Car 42109: Its Review
By

Nikita P.
/
January 09, 2020
We have waited and waited for the coming of the LEGO Rally Car 42109. Many of us have waited for at least four years, and we are happy that it is finally out. Finally, the manufacturers decided to collaborate with Top Gear, an automotive TV show Top Gear.


This race car comes with 463 pieces, as well as a Technic CONTROL+ app. You could turn the experience into a digital marvel, with this app. It is accompanied by a Bluetooth controlled smart hub, an XL motor, and a big motor. If you want to control it, you can do it with your device.
The LEGO Top Gear Rally Car 42109 came out on 26 December 2019, and immediately it touched down, a lot of us couldn't get enough of it. It is no surprise as the manufacturers collaborated with the Top Gear team to create this marvel.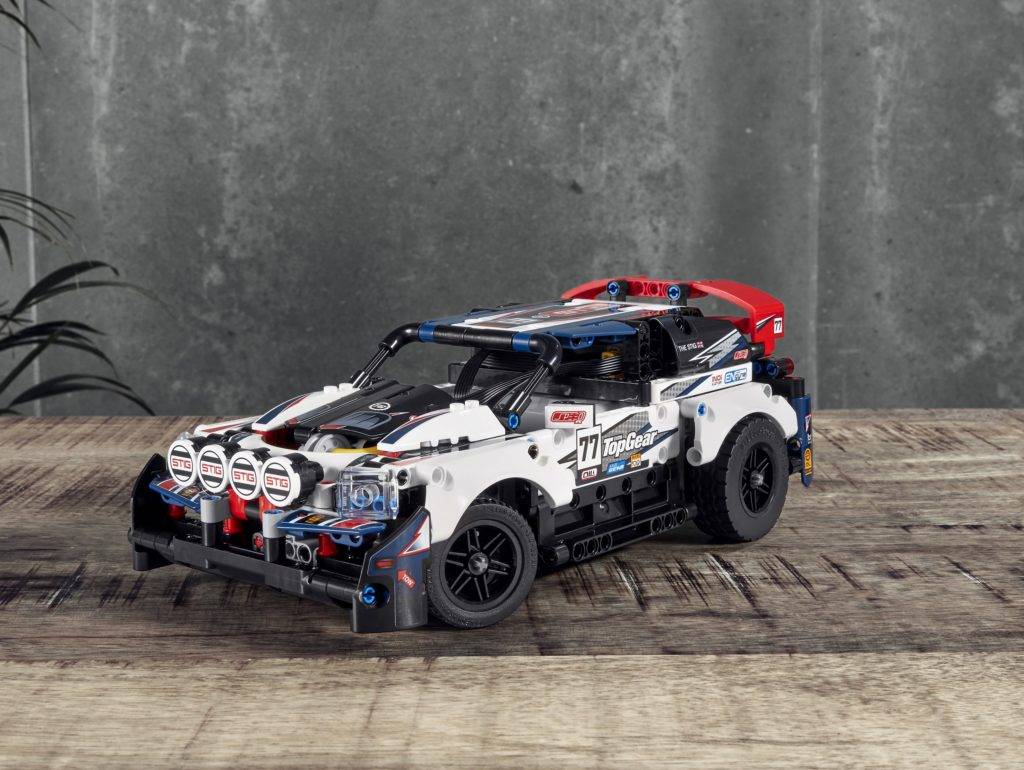 The whole set has numerous stickers, and that can be seen in the sticker sheet. For me, I felt the stickers were numerous but that is merely my thoughts. To me, the sticker on each panel seems so much to me. Well for normal rally cars, I think the stickers may not be so much. These cars tend to have numerous sponsors, hence the stickers have to be on the vehicle.

One thing that a lot of fans couldn't get enough of is the remote control nature.


The incredible features of this set make it worth every cent that was spent on it. It comes with Technic components like motors, Bluetooth hub, and so on.

Collaborating with Top Gear is a great business venture, to me. They have a large following all over the world, especially in the UK. If you watch the BBC, there is a great chance that you have stumbled on this show.

When it comes to race cars, this is one of the best in existence. It comes with 463 pieces and has the following measurements: over 10" (26cm) long 5" (14cm) wide, and3" (10cm) high.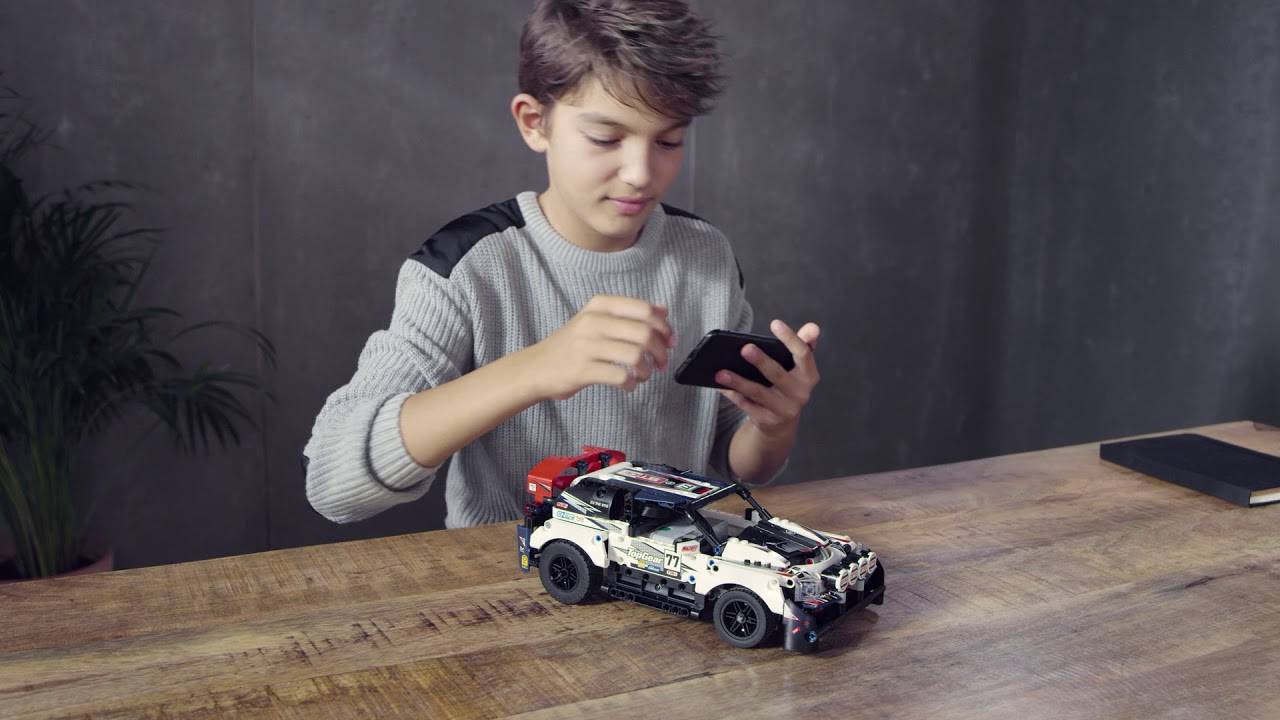 This toy car is the right one to play with or put up on display.
If you are looking for a moderately sized car, this is the right one for you. It is important to more that this is not compatible with the LEGO Power Functions systems.

When you look at the underside of the vehicle, you will notice it is somewhat boring. You won't see any suspension or drive train. It comes with only two motors that move the vehicle, making it quite simple.

From below the vehicle, you can easily have access to the vehicle. The big 7x11 frames ensure that the vehicle has the needed strength to move about.

When you stare at the side view of the car, you will tend to notice some misses. At the back of the door, you will notice a tiny gap between it and the front of the black panels.

When you look at the panel that had the inscription, "The Stig" on it, there is a great chance that you would feel it would have made better sense if there was a stud forward.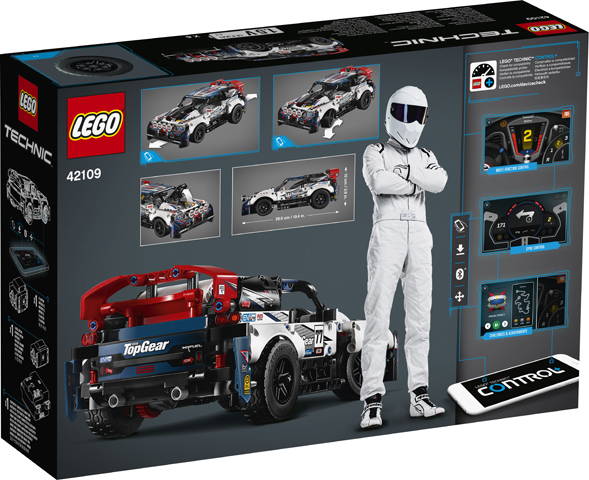 The fact that the tires came with different sizes appealed to me. I feel that they were made that way to ensure that the steering system had easier clearance. Apart from that, they also gave the vehicle an aggressive posture. The only issue that I may have with the varying sizes is the fact that the smaller ones are too tiny compared to the bigger ones. Other than that, the tires are great.

It would be wrong if I went on without writing about the app. It can only be accessed by an Android or Apple device. You can easily control this vehicle with the Powered Up remote feature, and the manufacturers expect that you would utilize this feature.

It is advisable that before you procure this LEGO car, you see if the Technic Control+ app is compatible with your device.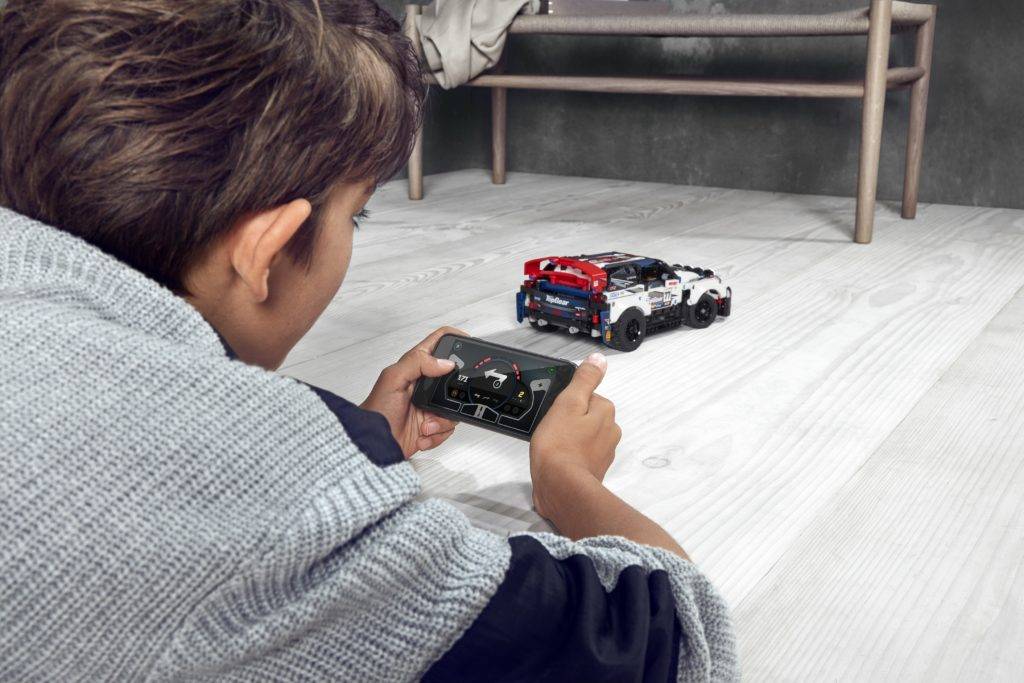 In the app, you can make use of the steering wheel on there to control your vehicle. The handbrake controls the vehicle, though it isn't so effective.

There is a throttle on the right, as well as a "manual transmission" if you wish. In that mode, you can easily change to any of the three gears. You can get involved in a race, and do much more.

When you open the box of your LEGO Technic vehicle, you will notice a sticker sheet, manual, electric stuff, as well as non-numbered bags of parts.

The sticker sheet has numerous stickers and they are made up of a lot of references and puns linked to TG.

We love the fact that it comes with new parts like the mudguard panel which is in white color.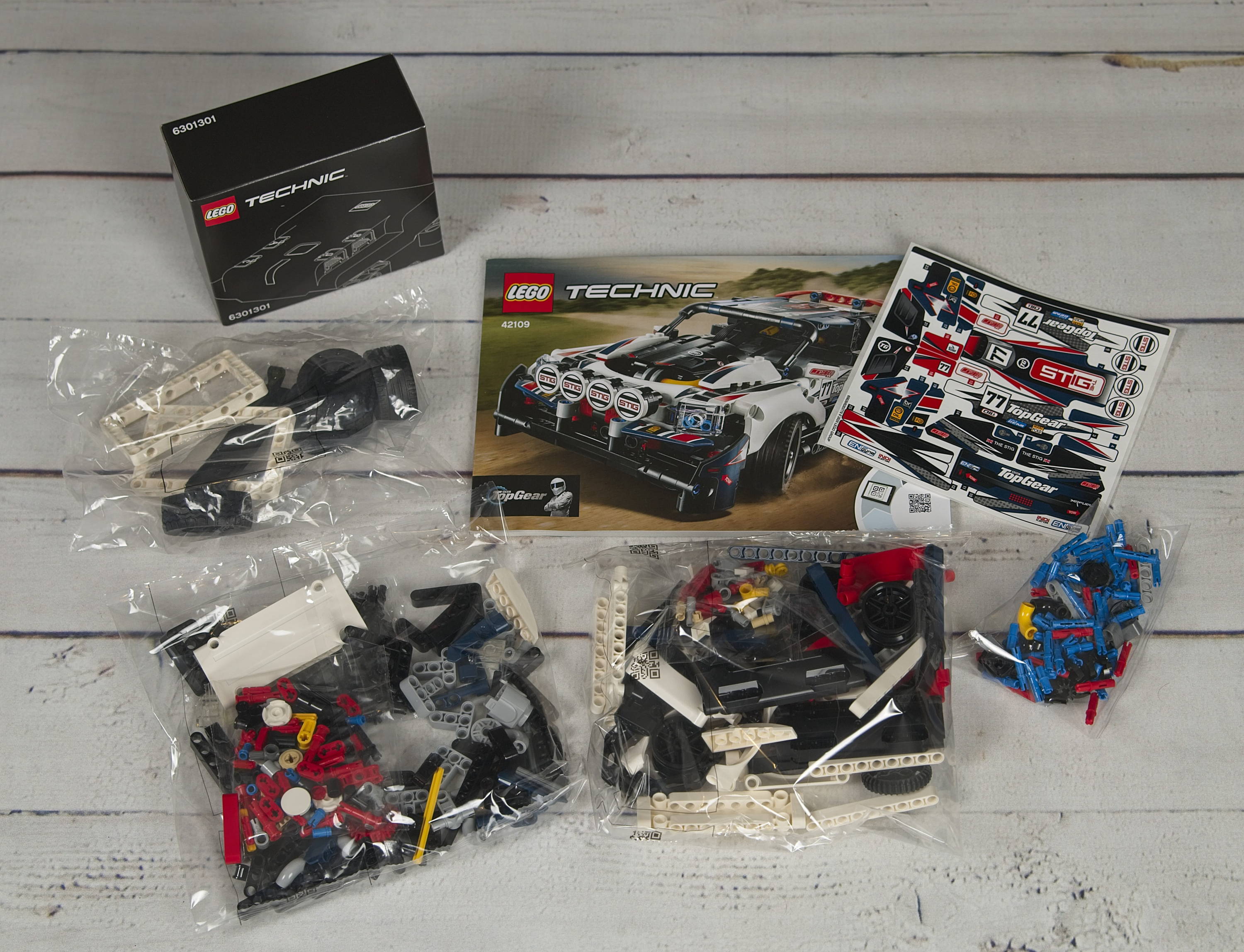 The interior is made up of basically what you will see in a regular car like the gear, steering wheel, dual exhausts, brake discs, new cable management clips in a number of hues, as well as other engine components.
There is a great chance that you may be a race car fan that has always envied the Stig from Top Gear. If you are, then you will love this set.

You will enjoy building this car and embracing the different elements that allow the car to work.

Heighten the fun by trying out the Technic CONTROL+ App. This app allows you to have access to swift movements, with numerous endless play combinations. I couldn't get enough of the sound effects. They seemed genuine and made me feel that I was a participant of Top Gear.

There are numerous controls that we could use. You could have your vehicle braking in one second, and accelerating in the next. You could have it reversing, and tackling the different obstacles.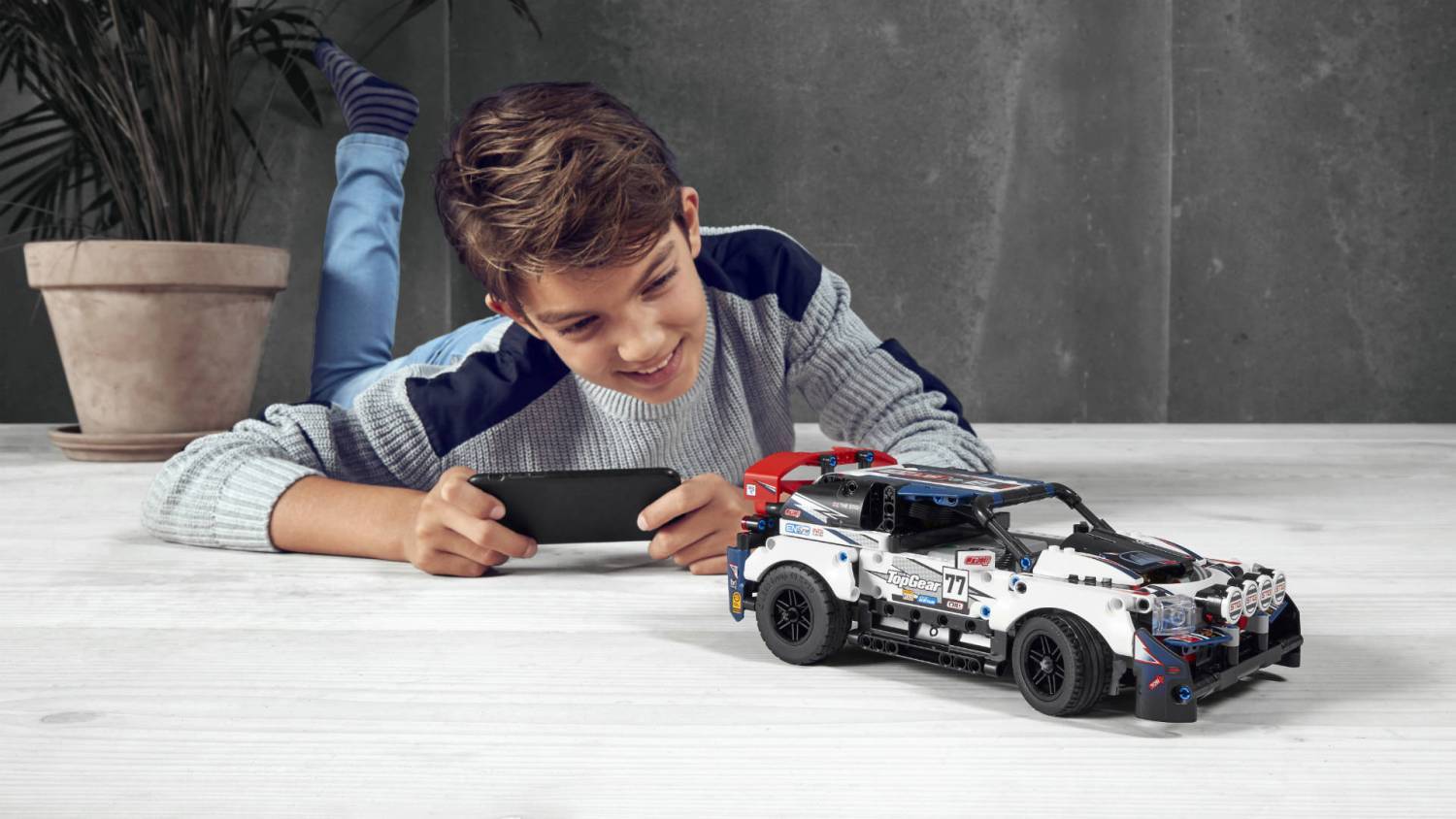 The app allows you to have access to real-time feedback. Who wouldn't want to tap that? I, for one, fancy such.

On the app, you could also have access to interesting content. If you are someone that hates being bored, you should consider trying this out.

Like every set out there, this one comes with an instruction manual that guides you through the entire process. Building this is intriguing and can pique the interest of your kid in engineering and parts of a vehicle.
If you're Technic fan that has built numerous racing car sets, this maybe walks in the park because, as usual, it starts with the chassis. You begin the installation of the simple drive system, placing the rear axle.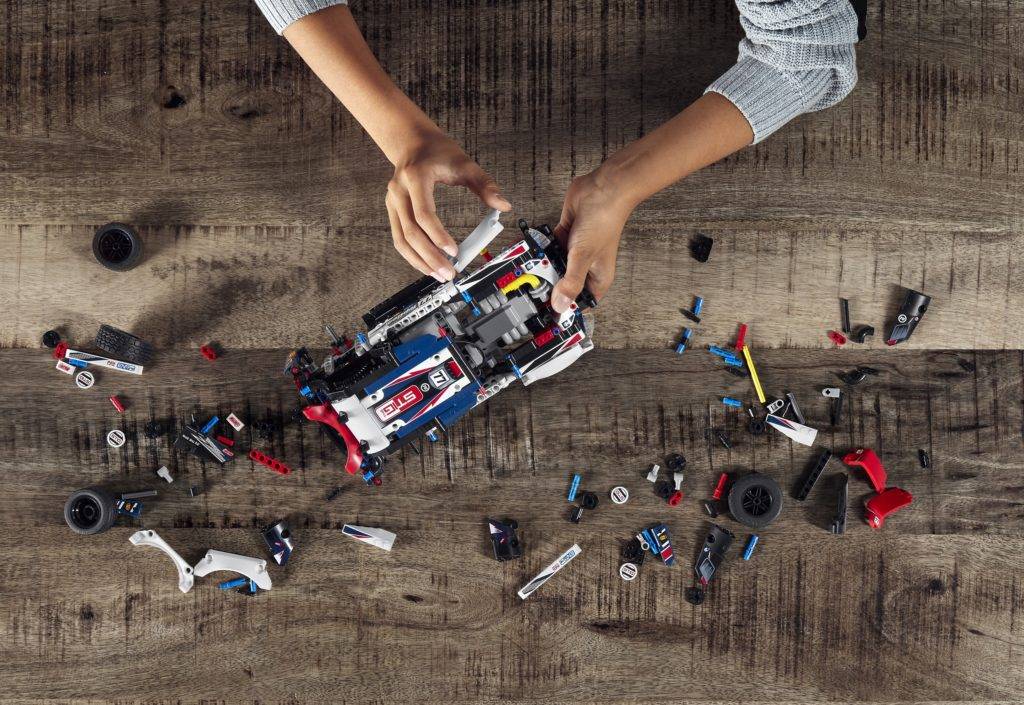 It is advisable for those starting out to stream the building process. When I started out the process of building my first Technic set, it wasn't easy. I made errors that left me annoyed.

I appreciate the brand new cable management clips that are in this set. I have mentioned this before.

After the chassis, installing the steering wheel is the next line of action. The L motor comes bearing a tiny gear that interacts with the gear rack in order for the vehicle to work.
The final step of the build is adding the body panels. Well, is that really the last step? Well, you still need to slather the stickers on the body. The stickers are usually numerous. The question you should ask yourself is if you love a naked car, one with too many stickers or a few stickers.
We love to display our completed set, and want them to look better than any other one that we have seen. You can do this by purchasing a unique set of light for it.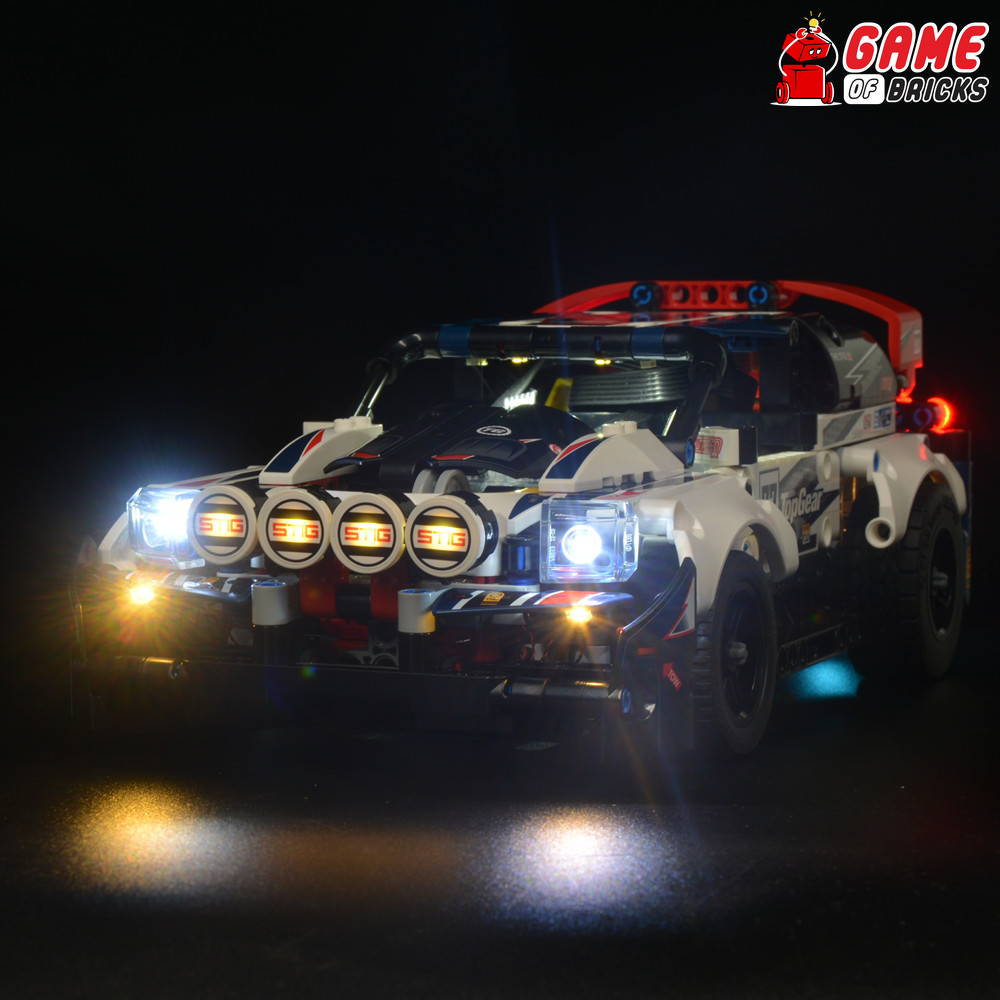 Apart from the aesthetic appearance that it brings, it allows others around you to know where your model is to prevent them from mistakenly messing up with it.

With the unique LEGO lights, you could kill multiple birds with a stone. Contact us today, we will love to hear from you.

Vehicles are things that I love. I could spend long hours coupling different sets together, and I wouldn't be bored. This may cloud my judgment on this set. Well, judgment is subjective and it is basically my opinion.
The issue I could see in this vehicle has been stated above, but to repeat myself, I feel the tires were mismatched. As a fan of few stickers, the numerous stickers in the sticker sheet annoyed me, but I am not one that would allow my vehicle remain nude.

All in all, this car is something that every fan of race cars should have.