Recreate epic Star-Wars movie moments by building the LEGO Mandalorian Helmet 75328 Set.
By

Mark Gini
/
March 17, 2022
There is no movie with a much bigger fan base than the Star Wars movie franchise. And because of how successful it was on the day of release, numerous films and series were released. One of which was named " The Mandalorian". This Star Wars series was released in 2019 and was met with positive reviews. As a result, several episodes were made, and before long, the series grew to be the number one choice for star wars fanatics. The series follows the life of a bounty hunter named Mando and the series of epic adventures and dangers he passes through.

Do you a love the Star Wars: The Mandalorian series? Would you be happy to recreate epic scenes from this movie? Well, if you are a fan of imaginative role-playing, then the Lego Mandalorian Helmet would be worth building. This Lego set allows you to remake one of the most iconic pieces from the Mandalorian Movie – Mando's helmet. This set is packed with many unique details that would help keep you engaged for hours. Do you know a friend who is a fan of star wars? Then you could make his day a whole lot better by gifting him with this set. The Lego Mandalorian Helmet also offers a satisfying building experience. How? Let's look into that together.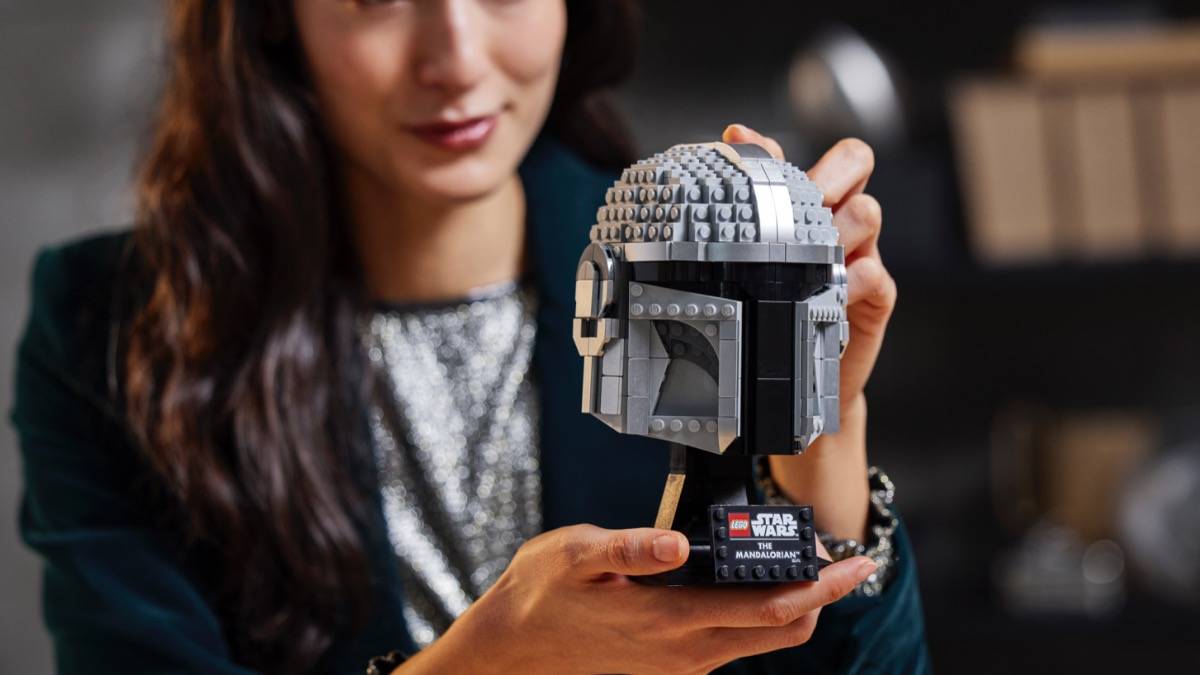 BUILDING EXPERIENCE FOR THE LEGO MANDALORIAN HELMET 75328 SET.
Just like any other set in the Lego Star Wars collection, the Mandalorian helmet is filled with lots of unique details. Lego went all out to ensure that all features look as close as possible to the Mandos helmet in the Starwars series. The bricks come in different shades to illustrate where the lightning is coming from. Each brick is also made top quality material, making it easy to work with. Do you have kids that are a fan of Lego? Why not build this unique set together as a family? Doing this would be both fun and encouraging. You can make this set your family's next Lego project. Each brick piece is designed to look as though it was metallic. This helps make the result more realistic.

The set also comes with clear building instructions designed to help with the building. With building instructions that are so clear and straightforward, you would not need to worry about hitting a roadblock. This also means that your building process would be as smooth as possible. The building of the Lego Mandalorian helmet is both engaging and genuinely satisfying. And, you can use it as a display set for your office table. The set even comes with a stand and a name tag to make displaying it all the more fun. Overall, the Lego Mandalorian helmet building would be very satisfying and worth doing. You would stand a chance to relive epic moments from the movie by building this set. So sorry if you search for a set that would be fun to make and get your imagination buzzing; this set is the way to go. The set also comes with some cool features; what are they? Let's find out.
REALISTIC FEATURES FOR THE LEGO STAR WARS MANDALORIAN HELMET 75238.
The Lego Mandalorian helmet set comes with a few significant features that make it unique and worth spending money on. Let's now look at these features.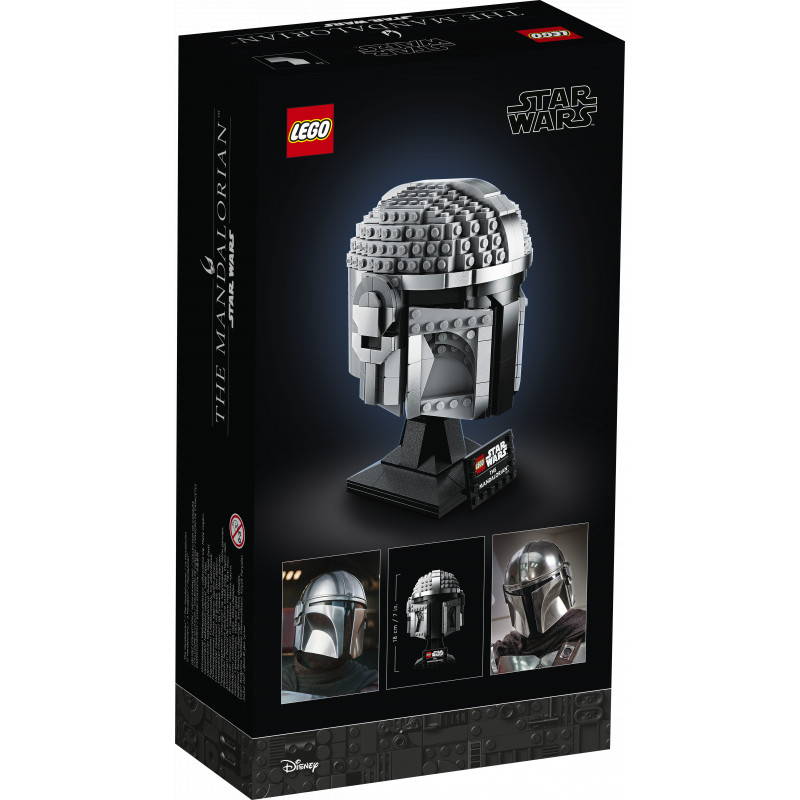 ATTENTION TO DETAIL.
This Lego set is was designed to replicate Mandos's helmet. And since the Mandalorian helmet is made of metal, Lego did a lot, making sure that each brick piece is as close to the metal as possible. This metallic feel is made possible thanks to Drum-lacquered set pieces. The brick pieces also come in different shades of grey to make them look even shinier. Every detail of this set is as accurate as of its star wars movie counterpart. So building this set would help refresh your memory and move you to try and recreate some of your favourite scenes from the movie. So make sure nothing stops you from including this set in your Lego collection this year.
SERVICES AS AN AMAZING DISPLAY SET.
The fact that this set is a helmet from one of the most-watched star wars series is enough to make it museum-worthy. But that's not all, and Lego has gone a step further to make it display-worthy. They have done this by including a display stand that attaches to the set. This display stand also features the set's name, making it perfect for your office table. You could also put this set on display alongside other Lego sets like it. Always be proud to show off your set's beauty to the world.
SET SIZE.
Another thing that makes this set suitable for display is its size. This set comes with the perfect ratio for display. This set is about 7 inches high, 4 inches wide, and 4.5inches deep when put together. It also comes with a total of about 584 pieces. This is an ideal display size and can be seen even far distances. And with the result that is so satisfying, you would be glad to have such a set size.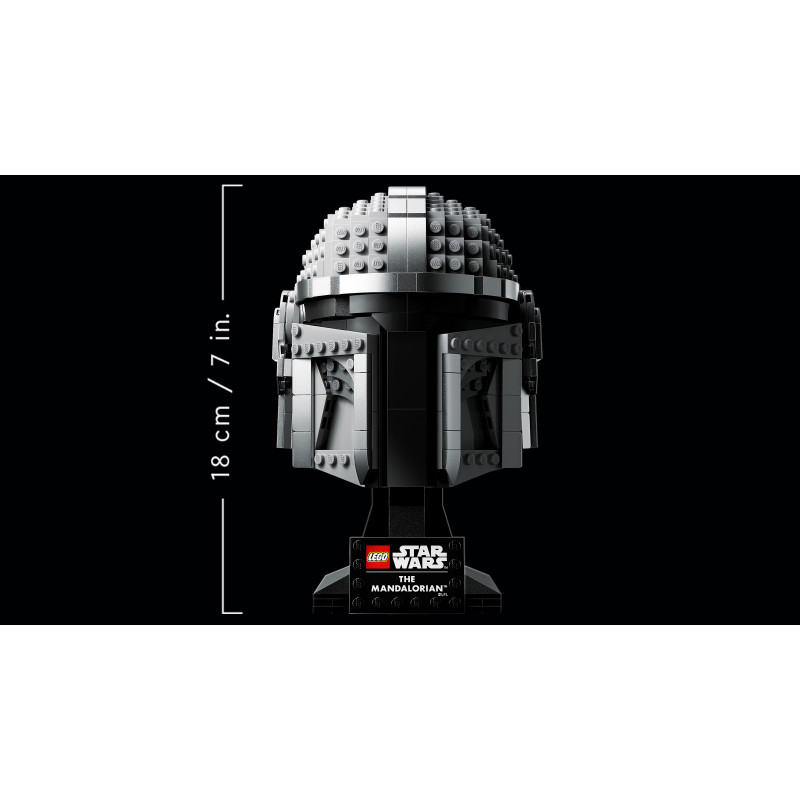 Now, for the moment you have been waiting for, let's talk about the set price. But first, where can you buy this set? Well, You could purchase the Lego Mandalorian helmet set from Lego stores in your area. If you can not find a Lego store, you can get this set straight from the Lego website. And if you have checked both store and the website, and still you can't find the set, or it's out of stock, then you can check Amazon. The set is usually sold at 59.99 dollars. But if the set is out of stock, you could expect it to go higher when Lego finally restocks. This is generally because of the increase in demand. And the inability of Lego to meet all their customer demands. Aside from this, It would be worth it to include this set in your collection. And to make this set even more beautiful, you could add another cool feature to it – our special light kit.
MAKE YOUR LEGO MANDALORIAN HELMET 75328 SET EVEN MORE ELECTRIC WITH OUR LIGHT KIT.
Are you wondering what our Lego light kits are? Our Lego lights are external features added to Lego set to help increase the overall look. Our focus with our lights is to help bring out the most delicate and most hidden details of the Lego set. Your Lego Mandalorian Helmet set is beautiful but could be made to be even more perfect with our light kits. Each set has its unique light kit sold separately at www.gameofbricks.com. As soon as the website opens, search for the set you are working with the light kit. And choose to purchase either primary or standard light equipment. As someone new to Lego, it would be best to select a basic light kit for starters. Once you have gotten it, you can then move to a standard light kit. As your light kit arrive, make sure to inspect all of them. If you suspect any damages, feel free to report it so you can get it replaced. Once all light kits have been carefully inspected, it's now time to install them.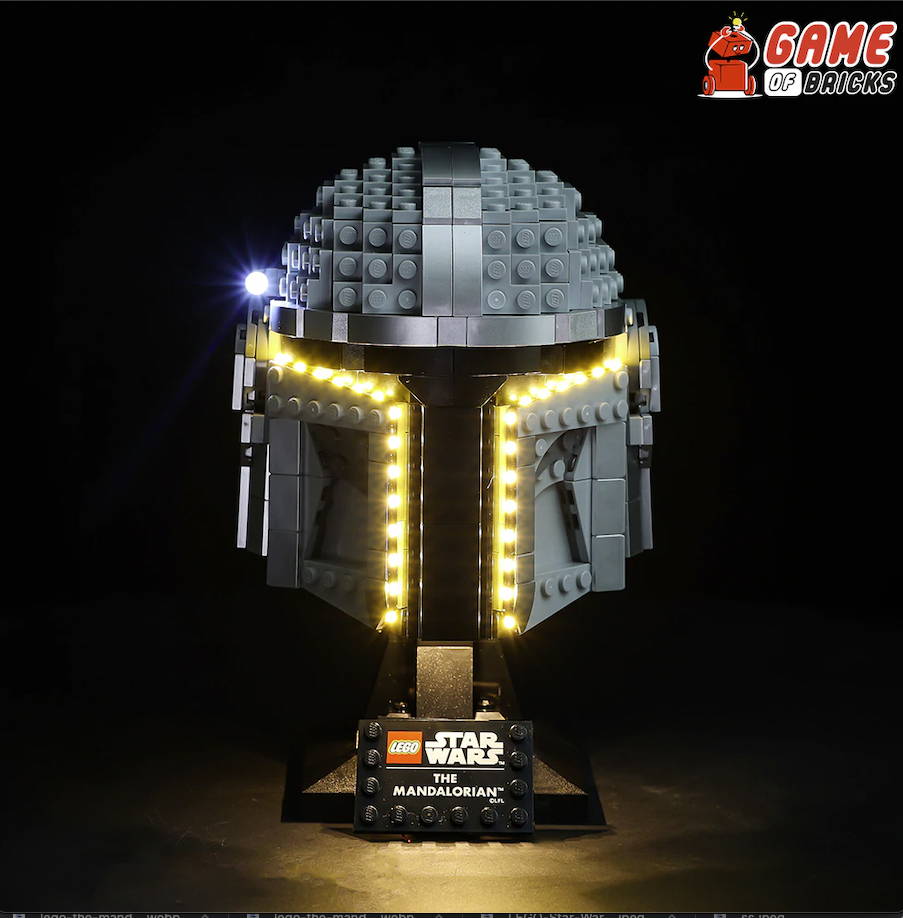 HOW TO INSTALL.
Our Lego light kits come with a clear and straightforward installation manual. This would be very effective in helping you install your light kits successfully. The manual contains diagrams and step-by-step guidelines for you to follow. Just remember to handle your light kits and accessories with care. This is important because our light kits and accessories are very fragile and easily damaged. So do not try to install your light kit forcefully. If you abide by the instructions in the manual, you will be good to go.
INSPECT ALL LIGHT KITS INSTALLED.
Once you are done installing all your light kits, you need to inspect them. You want to make sure your light kit is safe for people of all age groups to see and interact with. So search out for signs of short-circuiting and sparks. Also, make sure that all the lights power correctly. Ensure that the battery you are using is strong enough to power the light kit. In the end, you would need your light equipment to last a lifetime if possible. So take your time to run these tests. If you notice any issues, try and fix them immediately. But if all is good, feel free to show your Lego Mandalorian helmet to the world.