LEGO 40466 CHINESE NEW YEAR PANDAS REVIEW
The LEGO Group has publicly released a group of Lego sets that have been inspired by the New Year festivities of China. The LEGO Brickheadz 40466 Chinese New Year Pandas is one of thesweetest available. Even though the year 2021 is the Ox year.
In the culture of China, the panda is usually known as a symbol of a lot of things. These reasons are because the designers chose this. After all, the animal represents good fortune.The panda trend is not going to leave any time soon. 40466 New Year Chinese Pandas has managed to deliver a Panda gaming that's so cute and its build can be done quite quickly too.
This has the Brickheadz theme and the name of the Set is the 40466 New Year Chinese set. It was released on January 1st, 2022. The price of this Lego set is €19.99, or $19.99. It has two hundred and forty-nine pieces.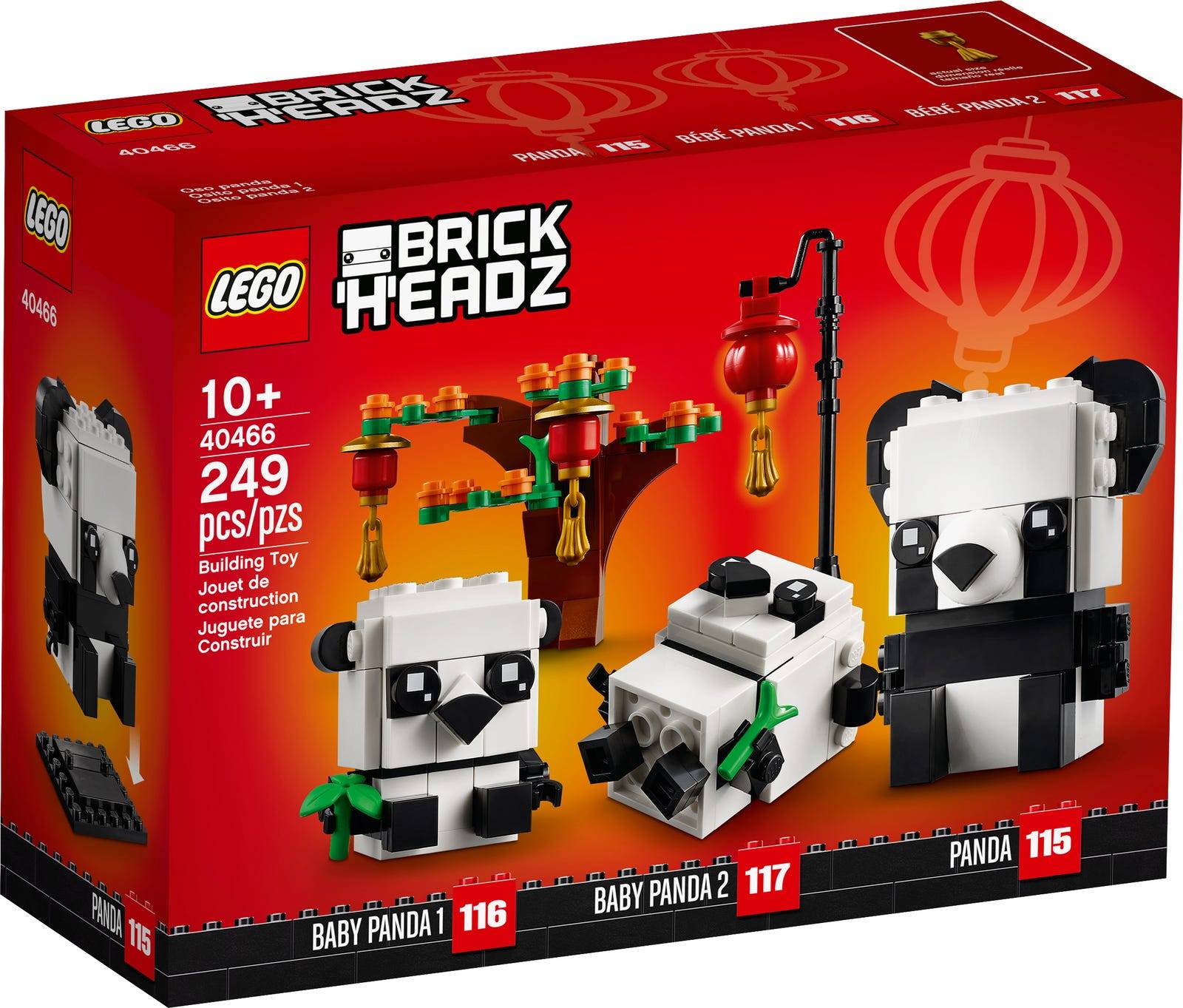 The Build of this Lego set
We all know Pandas have blocky shapes naturally and they are very well suited to Brickheadz style. This could get seen most distinctly in the ways that the torsos of adults are builtusing few 2x2 bricks and 2x2 bricks. It takes a shape of a recognizable bear with haste. In contrast, these little feet are created using 1x2 bricks that are topped using tiles m as these Pandas sit in a particular position,many different pieces that exposed studs on the sides are all utilized to get different body angles. Though this could look simple, the face could add plates and tiles to 4x4 and then remake different panda markings. Thesewhite and black fur would end up representing the yin and yang balance. These pieces mix looks wonderful. These all include inspired particular usage of white doomed bricks which serves as round snouts.
These all give baby pandas poses that add way diverse and these keep things from remaining repetitive. They are quite smaller than the adult and these rely on more 3x3 parts. To geta Panda that loss down, you would need to make use of a Technic brick that has a hole that's put into the back of the set. These could then get connected to the pin in the stand that corresponds. These baby pandas arevery cute. They make use of 1x1 bowed tiles that have little ears. Giving these little stalks of bamboo. These all increase the display value which is available and adorable.
All these three pandas cone out using their stands. Though the adult panda has one which has more decorations. There see arch and roof bricks which are brown. These make the trunk ofthe orange blossom tree that without surprise makes use of orange studs like flowers and this is also dotted using red Minifigure head lanterns.
Characters available in this Lego Set
This Lego set does not have included Minifigures. The charm of these bears that are monochromatic has gotten captured beautifully. Both these Chinese and Panda lanterns represent goodluck. So this 40466 is filled with positivity.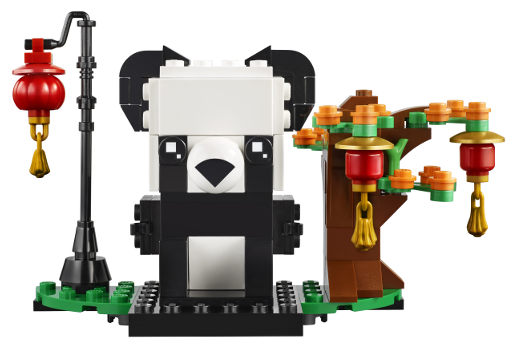 The Price of the LEGO Set
This would be very amazing and would melt the heart of any dad. If you are a mom with kids, you can guide them to make this LEGO Superhero card with LEGO Minifigures such as Batman, Superman, Hulk, and any other superhero character that fits in.

When you first look at this Lego set, the 40466 New Year Chinese set looks as it would serve for great money. These three figures have matching stands for their price tag and this seemstruly reasonable. Though you calculate and do the mathematics, a lot of things do not add up like that. The 40441 Shorthair Cats had about two hundred and fifty pieces. This Lego set has a piece less than this one and itcosts more too. Looking at this from a price per piece perspective, the price tag does not truly fit all of this. Though the model is great, it could be okay to wait patiently for a discount.
If you celebrate the lunar festival or you wouldn't like to, the 40466 New Year Chinese Pandas serve as great models that are fun to build and they look really cute when displayed.These would make great good luck presents. These are things all of us in the world need for the year 2021. These would also serve as lovely symbols of strength on your desks as you work from your apartment.
The Story of Nian and the Spring Lantern Festival is not just the only New Year Chinese themed set which were released in the year 2021. For all the fans of Lego brickheadz, you wouldget to enjoy these because they are so cute and lovely.
You could hate them or love them but in the end, you always need to respect the staying power, Brickheadz longevity, and how they could evolve from primary pop culture license and itsbase theme to a seasonal core theme that has a foray occasionally and a license that's themed.
For you to celebrate this Chinese new year, you should enjoy it with a trio of Pandas. These could be a little bit odd as a result of the Pandas not being really a New Year Chinese thing.These Pandas are Chinese but they are not included in the celebrations. 

To recap, the name of this Lego set is New Year Chinese Pandas.
Its set number is 40466 and it has two hundred and forty-nine pieces.
This is exclusive to Lego brand retail stores. It got released in January 2021.
We all know that Pandas are very well known in China. It is their national animal and they are so very cute too. If you have not spent some parts of your life enjoying videos of Pandasall across the internet, you have not had a good living you know.
Several Brickheadz builds are quite generic. These Pandas are not different. Thanks to the factor of the form, the builds are quite straight forward. There are only minor techniquesand details which could be used to make these designs varied.
If you have created one of them, you might have built all of them. 
One of the things that you should look forward to would be as you create these builds, they should get represented using a pink 2x2 brick. These are all great to see some green bricks.They represent all of the Bamboo that they eat.
Also, you could make love to the Baby Pandas which have little tiny brains. These represent the 1 c 1 studs. One of them does not have a green core.
Here you'll see the Pandas as they have been completely built. These Pandas are known for their very low libido levels and they are quite determined to make themselves leave theworld by not wanting to create more kids. It is quite nice that they have included two babies. These could be a hope sigh, a sign of optimism. Trying to beat the odds too.
Do you know that breeding is not high on the priority list of a Panda? This does not help their population numbers. There's also the loss of habitat. These are not helped by thefact that they have just a day yearly when female Pandas could get pregnant. 
BABY PANDAS
These Baby Pandas are little versions of the big Pandas. They both clutch green shoots too. These are because the only things Pandas love to eat is nothing other than bamboos.
Unlike several other different brickheadz that stand upright. One of these baby pandas is meant to remain posed. Lying on its back. This is so very cute.
For you to make this lie down on its back, there's a little hole available there that connects this to a pin that lets it swivel on its back.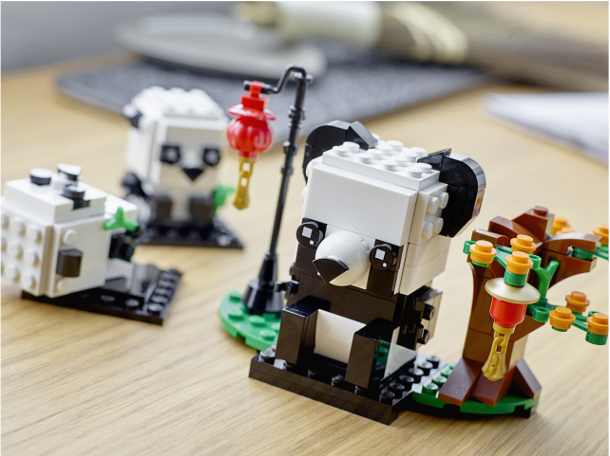 BIG PANDA
These big Pandas are also available in the Brickheadz pose. It can found sitting down on its bum. These are all white topical looks for a Panda.
The use of these quarter tiles for panda noses would be nice pretty touches.
Pandas enjoy sleeping and eating. They could spend more than fourteen hours eating in a day. Consuming up to Thirty-Eight kilograms of it daily. Bamboo is not so nutritious. They needto consume a lot or they would just die. It is also their only food.
This could be where the New Year Chinese connection comes along. The big Pandas come with their own expanded platforms. These have trees and poles with Chinese lanterns that hang tothem. 

Pandas also like staying across Mandarin trees that have orange studs on the leads. There could be lanterns that hang on these trees too. Anything these pandas feel would make them lookgreat, they would love to pose around it.
So that's all about this Lego 40466 New Year Chinese Pandas set. If you are a fan of Pandas generally, or China as a place or Lego sets, then this Lego set is for you. You wouldenjoy this set because it is easy to build, it doesn't have lots of bricks and anyone can comfortably have fun with it. Have fun and enjoy.

---