Coolest Lego Set Ever? The Story Behind The 3,662-Piece Grand Piano
The new LEGO Grand Piano, which a hobbyist designed, might be the most spectacular construction set ever created as thousands of people have voted online for it. This LEGO set for adultfans has a realistic hammer action with twenty-five working keys. 3,662 pieces will be assembled to build this unique set that can be controlled with the Powered-Up app of LEGO to play different music.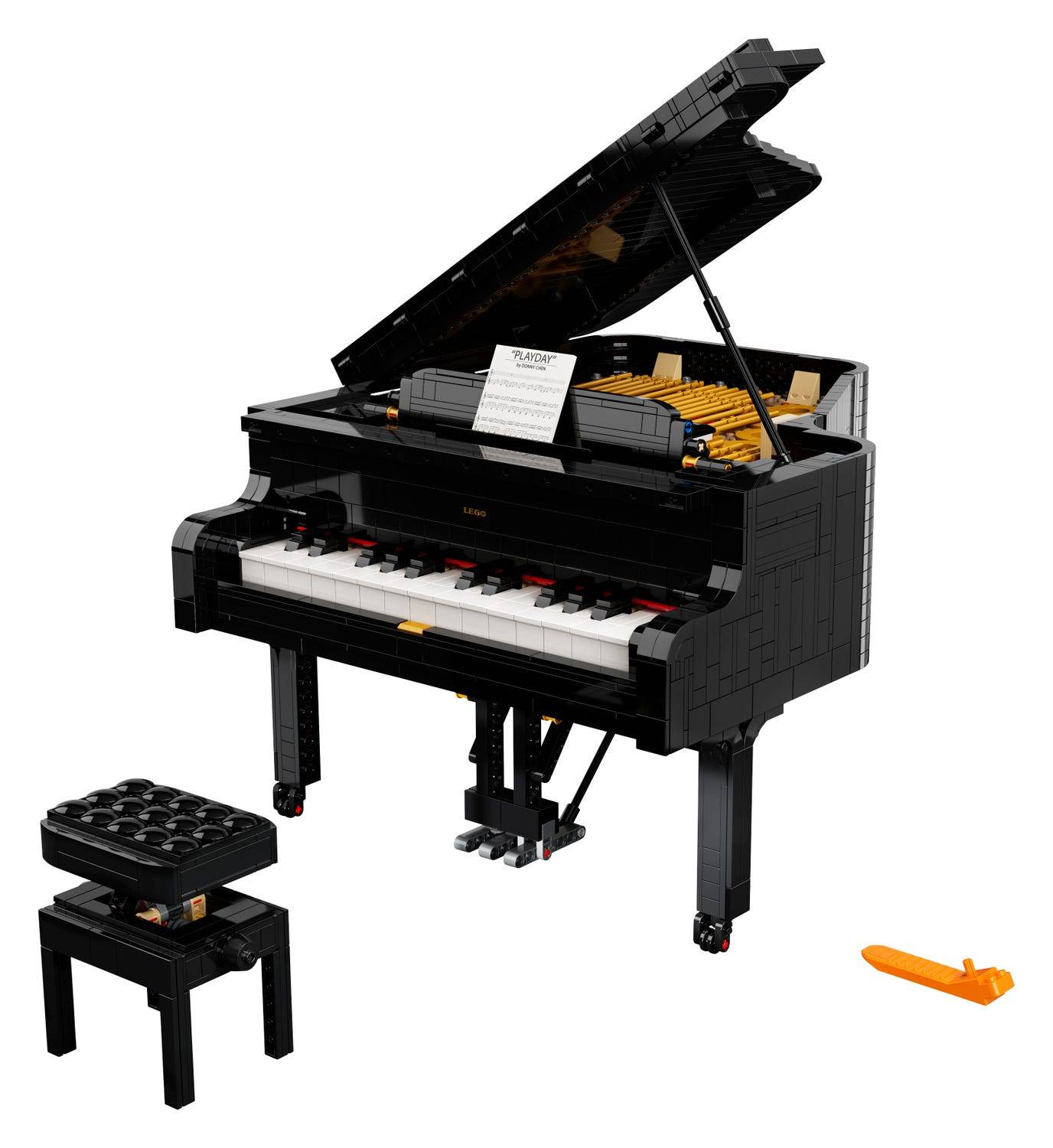 This Piano is just like the LEGO Ideas Pirated of Barracuda Bay, Ideas Friends, and Central perk as they all inspired by fans. They will just get their concepts submitted to the LEGOdesigners and they will get it done if approved. Donny Chen, who is a pianist, and one of the LEGO enthusiasts, came up with the piano idea. After the design, one music sheet containing what Chen composed was added to thebox. The piano is not just an ordinary toy, but a creation of art. Its height is over 8.5", while its width is about 12". When the piano is closed, the depth will be 13.5".
There were still more things that I needed to know about this set, so I went to Billund, Denmark, to the headquarters of LEGO to connect with Woon Chee Tze, the man who designed thisawesome piano. This same man made it possible for this piano to be at this level today.


In this article, we are going to talk about the interview conducted with Woon Chee Tze, the man behind the design of this masterpiece. Let us get on with the interview to learn moreabout this wonderful piece of creation.
Please tell us a brief story about this Grand Piano. How many hours, days, months, or years were required tocreate it?
Woon Chee Tze: Donny Chen was the person who submitted the concept to the LEGO designers and about 10,000 people votedonline for it. When we checked the whole functions of the model, we saw that they were amazing and that it may take longer for LEGO bricks to come up with something like this. So, our final decision was to make it one of LEGO'sofficial products. For us to develop a product, we will work for about 1 – 2 years, this includes sketching as well.
Woon Chee Tze: I am not into the playing of the piano. But, my wife is a piano player and teacher as well. She wasmy source of inspiration. To me, I viewed it as an opportunity to combine our passions for LEGO and music together. While I was designing this model, I checked different piano brands and then mixed some common features ofthe other brands to complete the piano. The fans would not be happy if they get something completely different from what they voted for. So, we still had to maintain the overall size and shape of the voted concept even ifwe will build it to match our standards and product quality.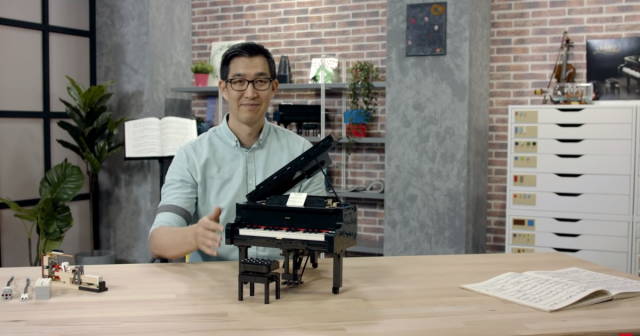 What was the strongest challenge you had while creating this model?
Woon Chee Tze: To tell the truth, I have never created a challenging and complex model like this. This is because there are a lot of moving parts to it. The challenge here is to ensure that the whole parts work smoothly, besides, LEGO bricks are to be used for this. My happiness is that we still succeeded in replicating many functions of the real piano into a smaller model. Another challenge is building a sturdy and solid casing as only 3 wheels will elevate and support the completed piano.
Woon Tze Chee:
I feel happy when this set is in action, this includes every single key, damper, and hammer we tried our best to make this set authentic. We had even planned the details in the actual piano, including the colors and everything.
Cool. How were you able to know the LEGO pieces that you will make use of? Does it require just modeling (computer-generated)? Or would the finished product be rendered, thereby using pieces to reverse engineer?
Woon Chee Tze: I often use the function or look of what I want to achieve to determine the elements/pieces that Iwill make use of. Working with LEGO bricks for some years now has improved my mental library. If not, I would have to digitally browse them out.
When I am working, I make use of both digital and physical tools since there are different advantages of each method. Building physically allows me to test the functionality and stabilityof the model, while with digital building, I can make a cooler shape of the model because it will allow me to places the pieces on my preferred side. I mostly worked physically while building the Grand Piano as the model hasa lot of functions, and the stability must always be tested.
How many exclusive pieces were used to create the piano?
Woon Chee Tze: I made use of 2 exclusive pieces that a graphic designer, Marie Crystal Fontan, designed to createthis set. For the piano's brand, we placed a gold-printed LEGO logo on the fall board's inner side. But, before we could do that, we must seek approval, which we did. The music sheet that features Donny'ssong titled "play day", is the second exclusive piece that was used. When he submitted his concept on the LEGO Ideas platform, he made use of this same music.
Could you please tell us what differentiates MOC – My Creations – from the official LEGO creations?
Woon Chee Tze: As a fan, I make use of my free hours to build MOC. Whenever I am building a MOC, there is no needfor me to be worried if it can be used to play on multiple times, or how other people would build theirs. My main focus is to make it look the way I desire it to, and I may even decide to make use of techniques that wouldnot compulsorily withstand rough handling.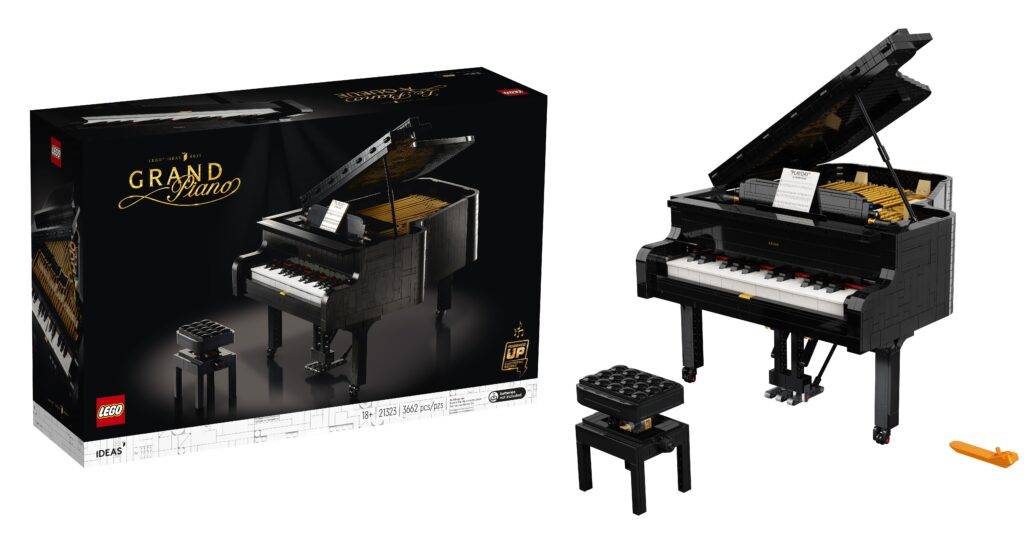 This is not the case with the official LEGO products. Here, I focus mainly on delivering the best model that has fun play details, a high-quality and safe product. The building techniquesthat I will use would allow the model to pass through several tests. We have a project team that will also give us feedback, and this includes the graphic designer, marketing, building instructions designer, model coaches,and element designer. The point is that everyone will contribute to crafting the model until it gets to the final form.
Playing with LEGO at all times seems to be a great job. So, how can a person apply to get that kind of job?

Woon Chee Tze: Oh, yeah. I can call it the best job! We are not only opportune to play all day with LEGO, but everythingabout the culture of the company is also fantastic, including friendly, helpful, and fun colleagues. I have always been a fan, so when I caught sight of the job posting some years back, I applied. The application was onlineand you are to send your portfolio and CV. If you get shortlisted, they will invite you to Billund, where they have a workshop on recruitment design. There, you and other participants will be given multiple design tasks tocomplete within two days. Then, after some time, the company will notify you if you are successful.
I do not believe that you must have a degree in design before you can work here. Although many designers have, there are many more working here who do not have. LEGO is just about aplaying system. I can tell you that if you are passionate about using LEGO bricks to build and are constantly exploring more creative building methods, then you can also be a great LEGO designer.

Which other LEGO sets did you design?
Woon Chee Tze: I joined the team in the year 2016and the first team I worked with was the LEGO super Heroes. Sincethen, I have been working together with several other LEGO teams like the Jurassic World, Overwatch, Harry Potter, and many more. Some recent sets that I have worked on are Junkrat & Roadhog, D.Va & Reinhardt, WreckingBall, Hogwarts Express, Chinese New Year Temple Fair, and Hogwarts Clock Tower. I can say that working on this Grand Piano Model is a great honor and is also refreshing and exciting.
Is there any other thing about the Grand Piano that may interest readers?
Won Chee Tze: Yeah. The project has a working title "Schroeder". This title was derived from the characterin the Peanut comic who plays a toy piano perfectly.
Here is another story. When I heard that we are going to produce the LEGO Grand Piano, I wished that I could work on the project. But, it was unfortunate for me that I had another projecton hand at that same period. I felt disappointed that the opportunity to work on this Grand Piano Model is lost. The project was assigned to Andersen Steen Sig he was to handle the model's electronic components and itsfeasibility. Later, Andersen's attention was needed somewhere else to work on another project. Coincidentally, I had completed the other project that I was working on, quickly, I jumped into the project. Interestingly,things turned out how I wished it to.
---