Celebrating the Lunar Year in Style: A Review of the Lego Chinese New Year's Eve Dinner 80101
By

Eve Alessa Arevalo
/
June 18, 2023
In the world of LEGO, there's no better way to welcome the Lunar Year than with the intricate and culturally vibrant Chinese New Year's Eve Dinner Set (80101). Released as a part of the Spring Festival sub-theme within LEGO's diverse catalogue, this kit has been crafted to celebrate the richness of the Lunar New Year, offering a fascinating insight into one of the most widely celebrated events around the globe. This review will delve into its design, building experience, playability, value for money, and some notable pros and cons.

Design and Features
Main components or areas
The primary setting of this set is a beautifully detailed traditional Chinese home interior, providing a cosy backdrop for the festive meal. The layout encompasses a main dining room furnished with a table, chairs, and a television, a well-equipped kitchen, and a patio adorned with intricate patterns and red lanterns. Key features such as the revolving Lazy Susan, a staple in Chinese family dinners, and a functioning, vintage television set contribute to the appeal of this set.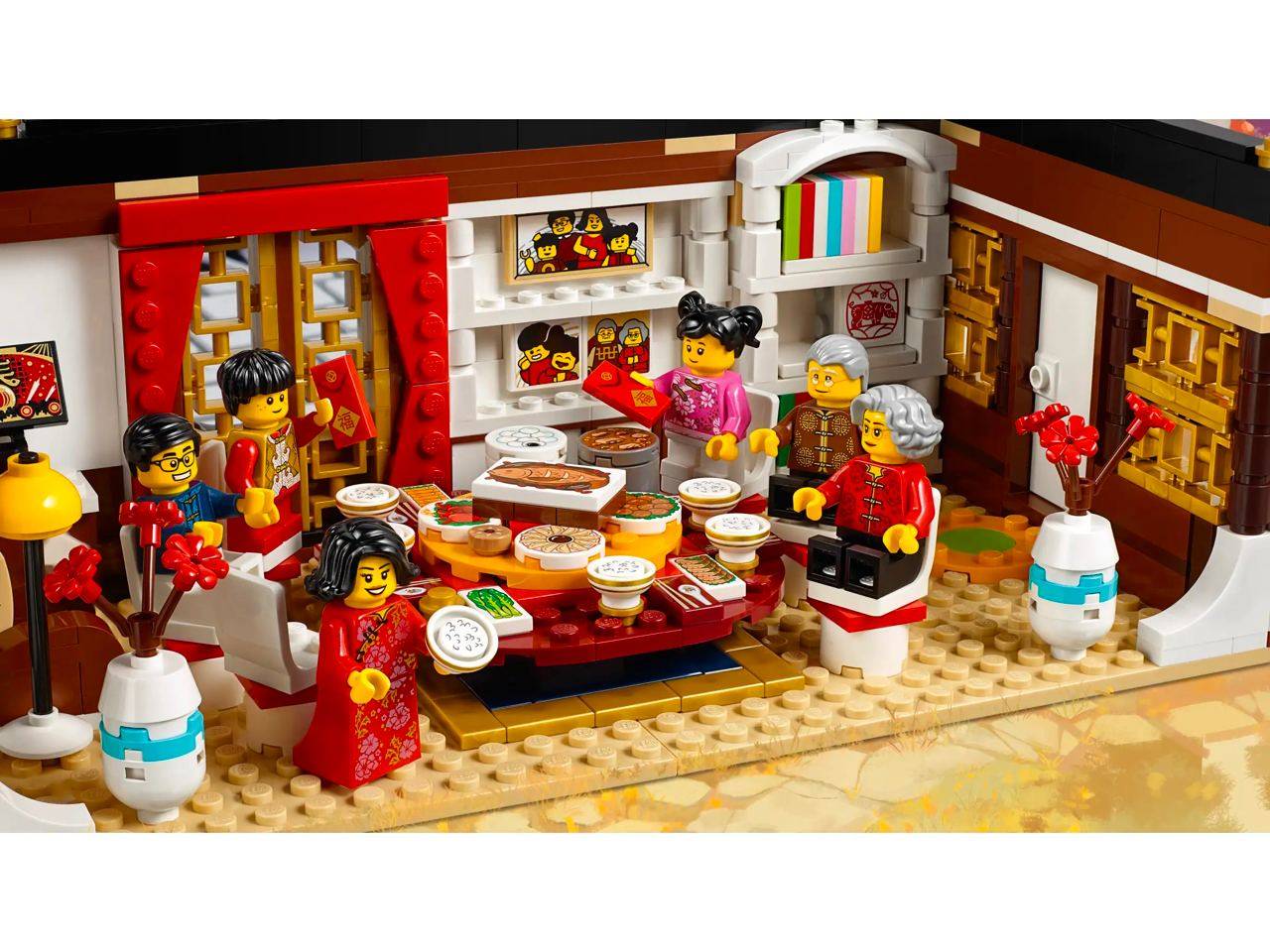 Minifigures
Six unique minifigures - grandparents, parents, and two children - make up a multigenerational family that is all set to dig into the feast. Each minifigure exhibits distinct expressions and is dressed in culturally appropriate attire, reflecting the diversity and vibrance of Chinese culture.
Accessories and decorations
A hallmark of this set is the extensive array of accessories and decorations. This includes everything from authentic Chinese dishes such as dumplings, shrimps, chicken, and fruit to more festive elements like red envelopes (Hongbao), couplets, and stickers for the TV screen showcasing a popular Spring Festival Gala program.
Building Experience
Complexity and engagement
Comprising of 616 pieces, the set strikes a great balance between complexity and engagement. It's neither overly complicated nor too simplistic, making it an enjoyable build for both younger builders and adult fans of LEGO (AFOLs).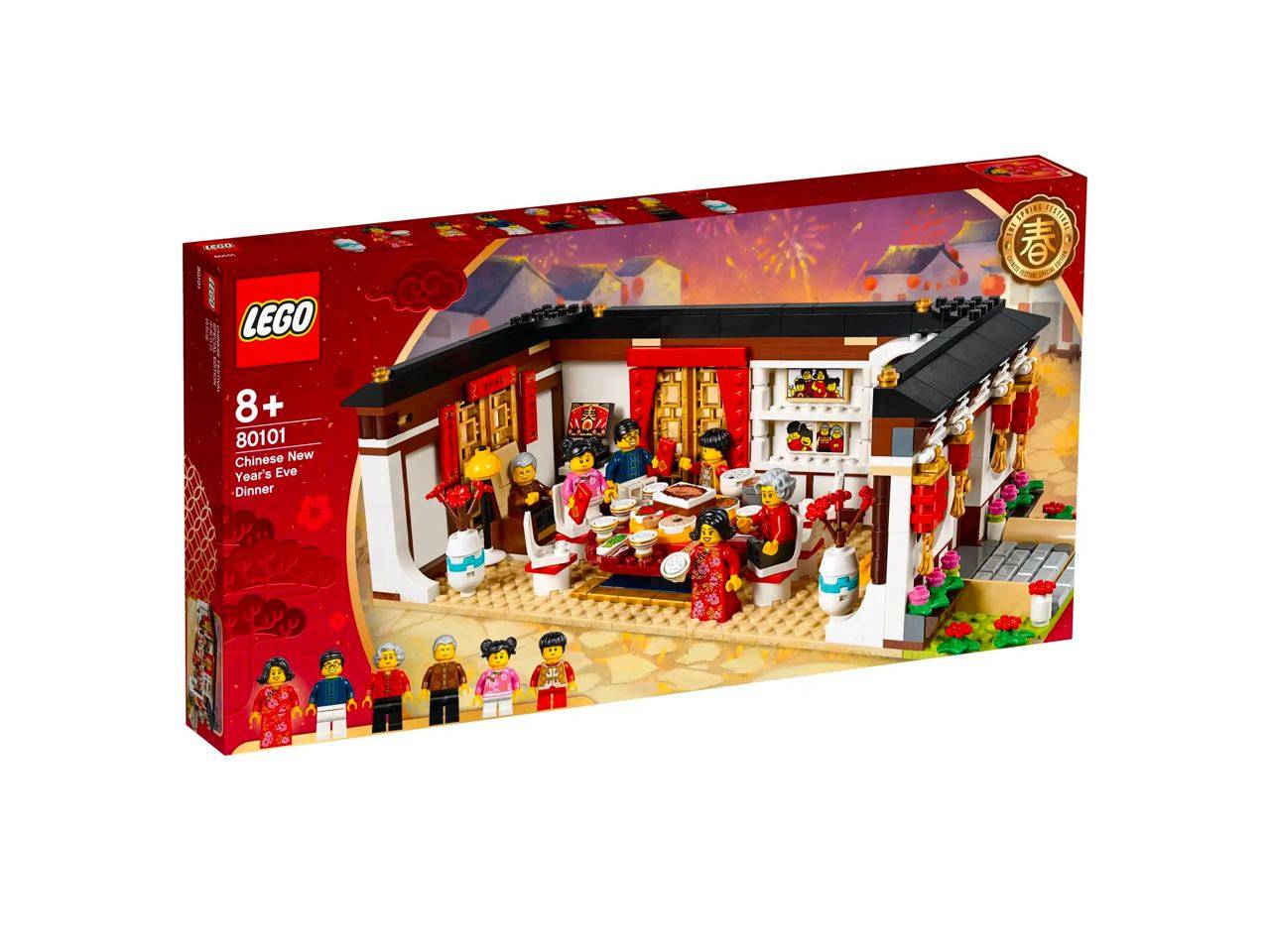 Instruction manual and building process
The instruction manual is clear and straightforward, guiding builders through the process with detailed step-by-step visuals. The building process itself is satisfying and immersive, allowing builders to gradually see the elements come together to form a lively and festive family dinner scene.
Playability and Entertainment Value
Interactive features
Interactive features such as the functioning TV set, the revolving Lazy Susan, and detachable sections of the house add a significant play factor to this set. The meticulously crafted details provide a sense of realism, making it easier for children to immerse themselves in imaginative play.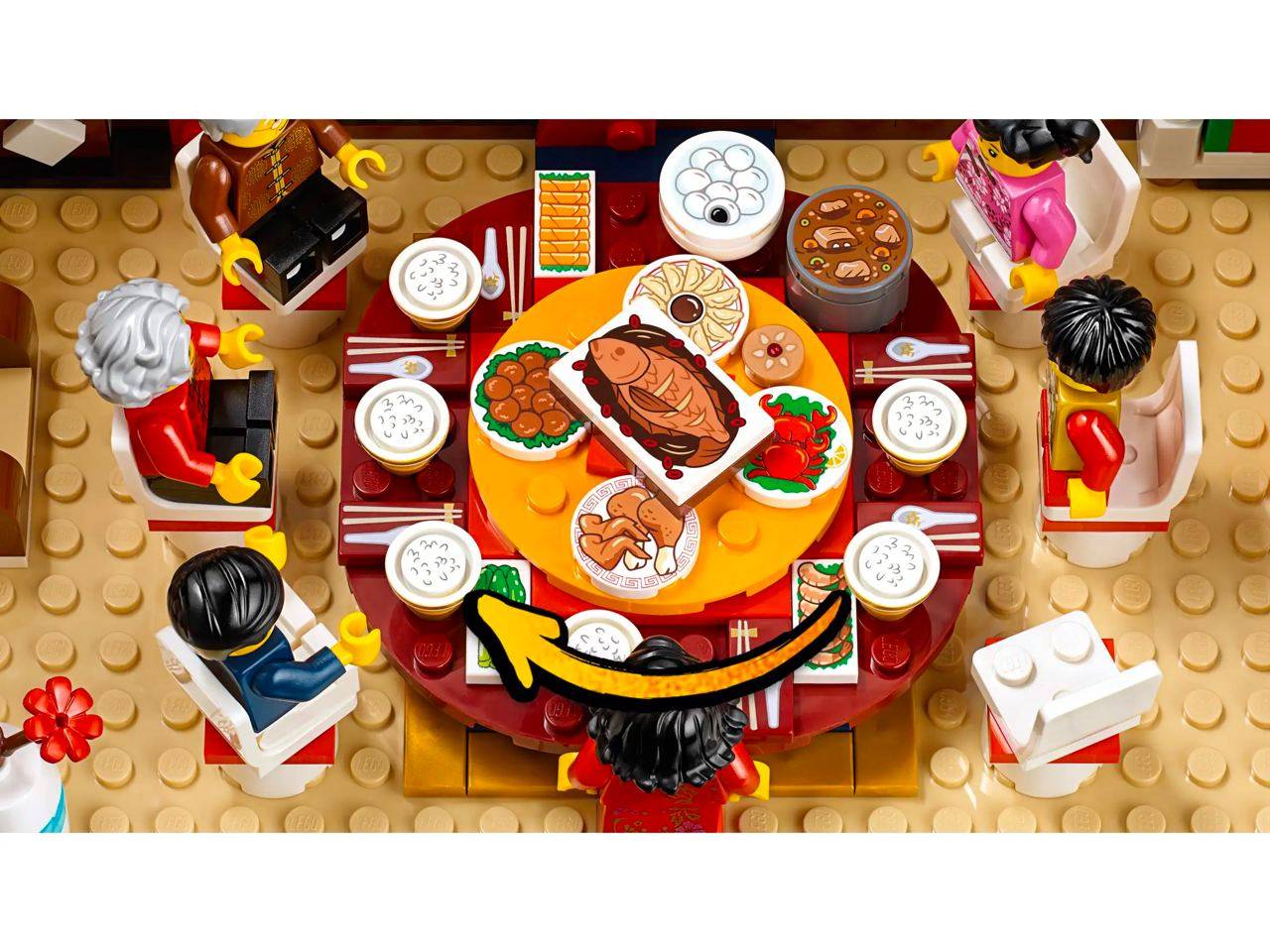 Opportunities for imaginative play and storytelling
With a variety of minifigures and detailed elements, this set opens up opportunities for extensive storytelling and imaginative play. Children can reenact a family gathering, create narratives around the Lunar New Year celebrations, or even integrate the set with other LEGO themes for expanded scenarios.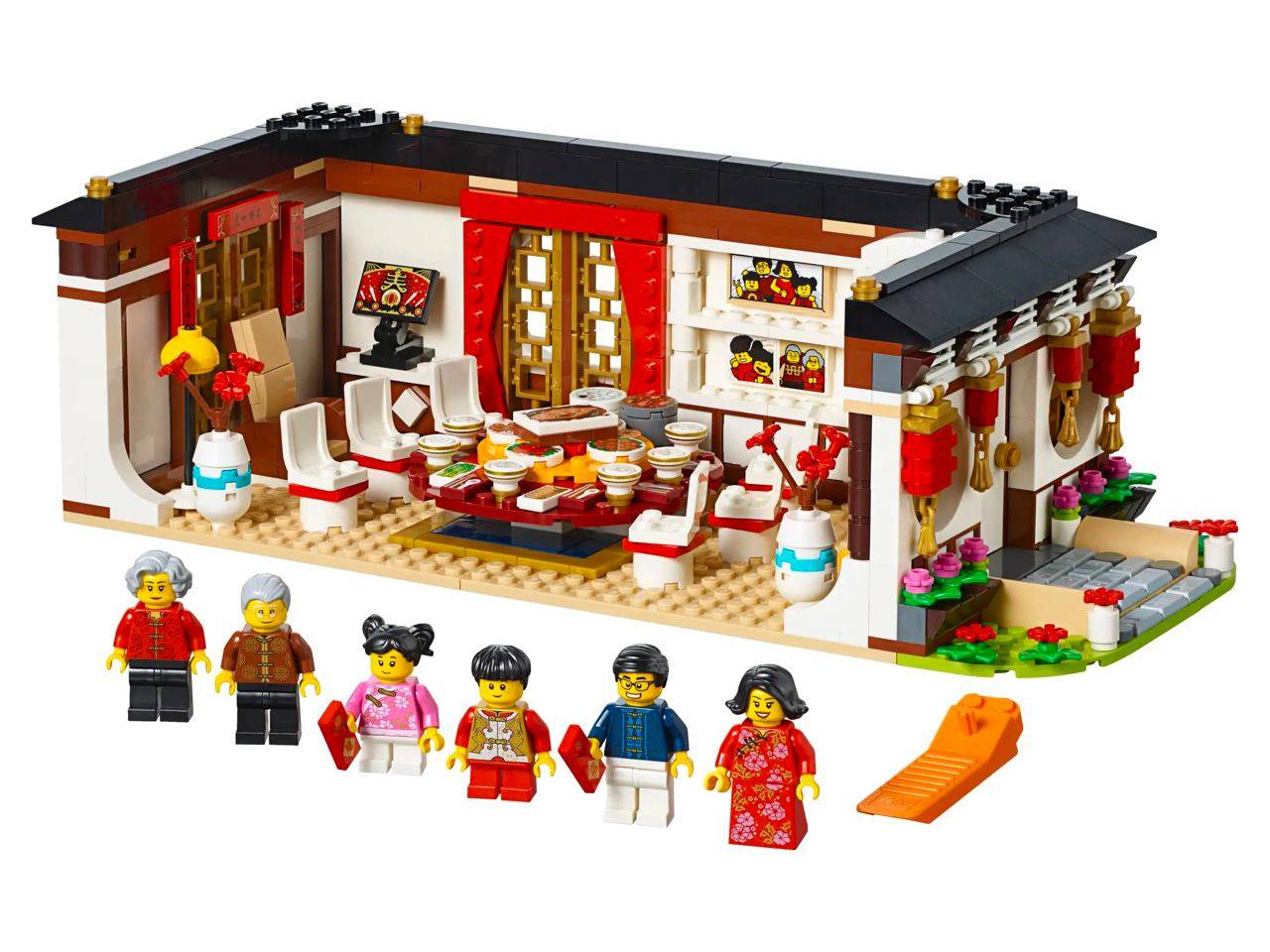 Value for Money
Number of pieces and design
For a set with over 600 pieces and an extremely detailed design, the Lego Chinese New Year's Eve Dinner 80101 presents good value for money. While it's priced higher than some of the smaller LEGO sets, the level of detail, array of minifigures and accessories, and the overall build quality justify the cost.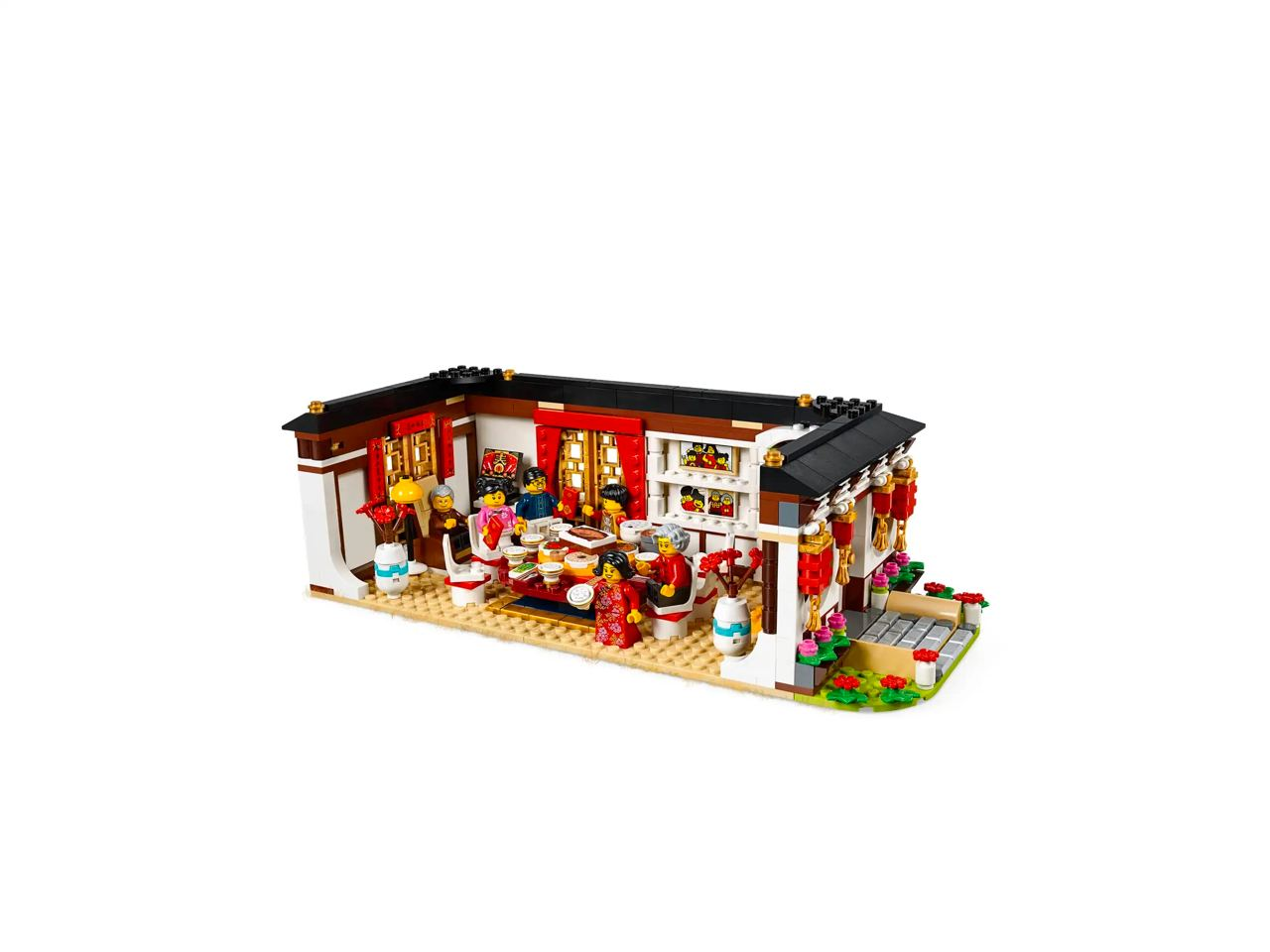 Compatibility with other LEGO sets and themes
The set is highly compatible with other LEGO sets and themes, allowing for further expansion and creative play possibilities. It can easily blend with other City sets or be incorporated into a wider LEGO universe.
Pros and Cons:
Pros
The Lego Chinese New Year's Eve Dinner 80101 excels in design details, minifigure variety, and the number of accessories. The cultural authenticity is another commendable aspect, as LEGO has managed to capture the essence of a traditional Chinese family dinner with remarkable attention to detail. The set also encourages diverse and imaginative play due to its interactive features.
Cons
While this set offers plenty, it might be slightly intimidating for very young builders due to the complexity of certain components. The price could also be a deterrent for some, considering it's a relatively small set in terms of physical dimensions. Lastly, the stickers for detailing, rather than printed elements, might disappoint a few LEGO enthusiasts.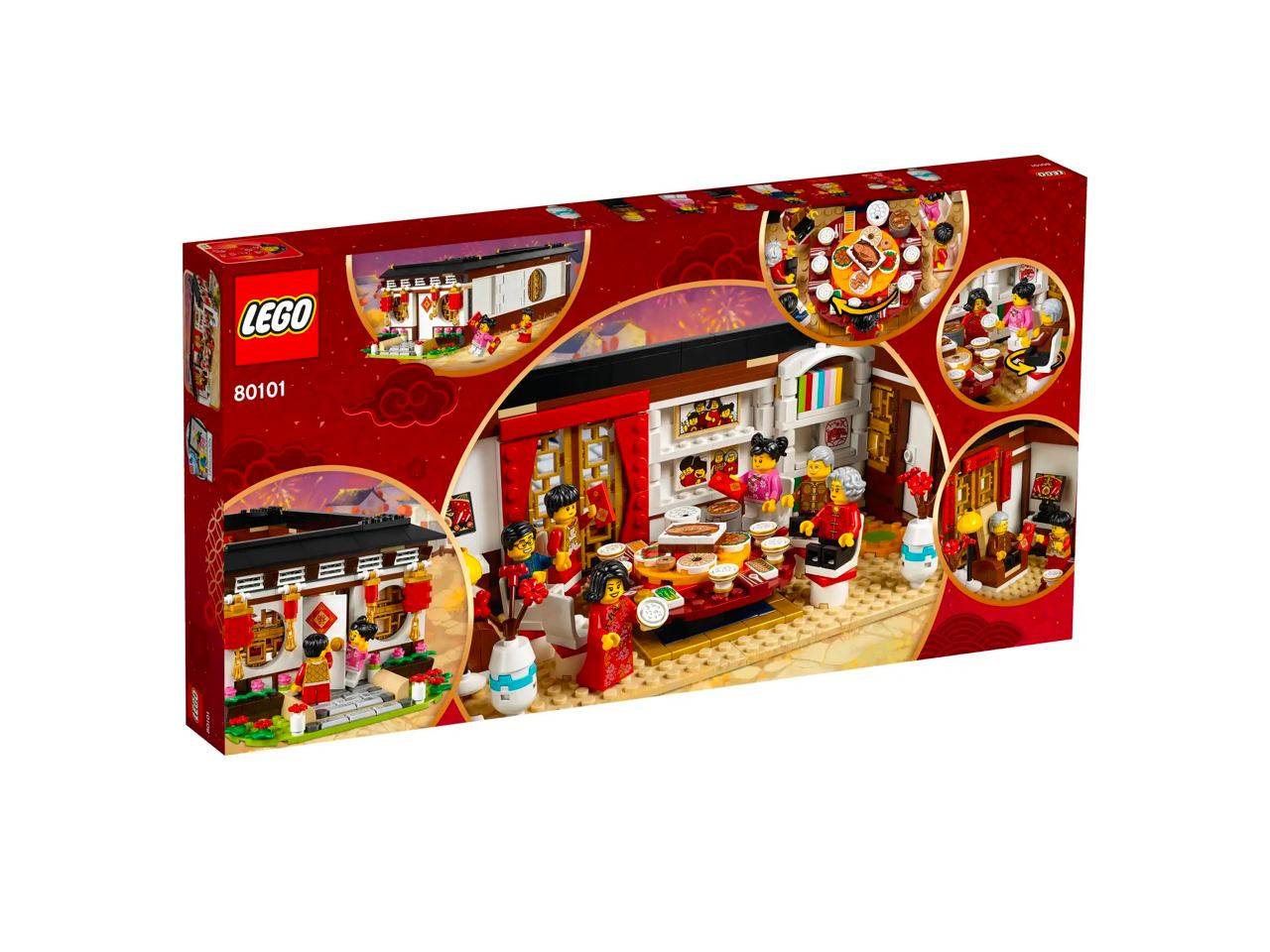 Final Thoughts and Recommendations
Summary of the set's appeal
The Lego Chinese New Year's Eve Dinner 80101 is an immersive and beautifully crafted set that brings the richness of Lunar New Year celebrations to life. Its intricate design, vibrant minifigures, and the array of culturally significant accessories provide a charming and authentic building experience. The interactive features and storytelling opportunities it presents make it not just a collector's item but also a wonderful playset.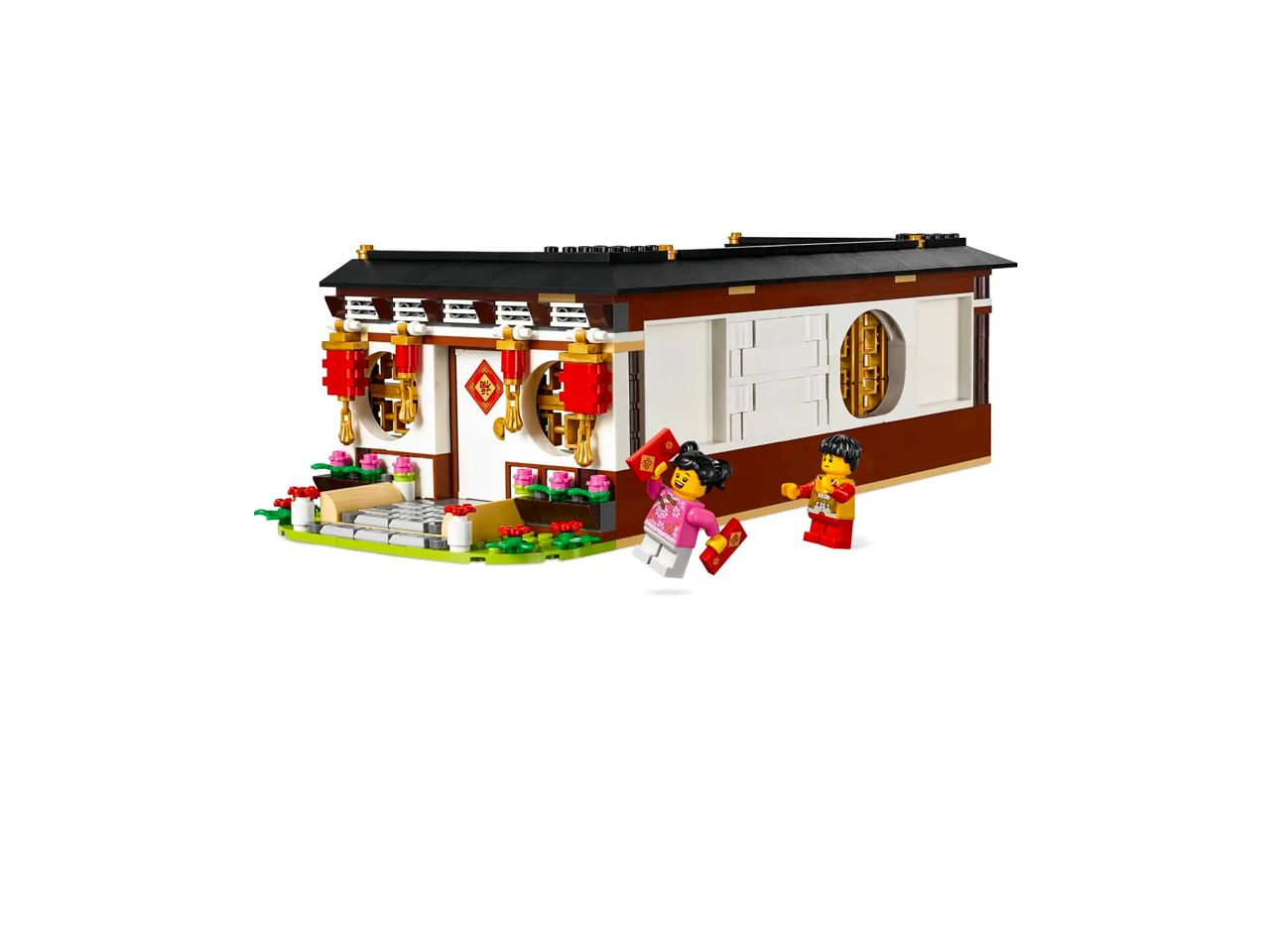 Target audience and overall value
This set will appeal to a broad audience, from young LEGO enthusiasts eager for creative play to adult fans who appreciate the cultural significance and intricate design elements. Its price-to-piece ratio and the extensive play possibilities offer solid value for money, making it a worthy addition to any LEGO collection.
In conclusion, the Lego Chinese New Year's Eve Dinner 80101 is a fantastic amalgamation of cultural celebration, architectural detail, and imaginative play. Whether as a gift, a collector's item, or a playful learning tool about Chinese traditions, it undoubtedly holds a unique spot within the vast LEGO universe.
A Radiant Celebration: Game of Bricks' Light Kit for Chinese New Year's Eve Dinner 80101
Chinese New Year's Eve dinner is a momentous occasion filled with joy, tradition, and vibrant festivities. To add an extra touch of brilliance and warmth to this auspicious event, Game of Bricks presents the Light Kit for Chinese New Year's Eve Dinner 80101. This meticulously designed lighting accessory aims to elevate the festive ambiance, making your celebrations even more memorable. Let us explore the features and benefits of this light kit.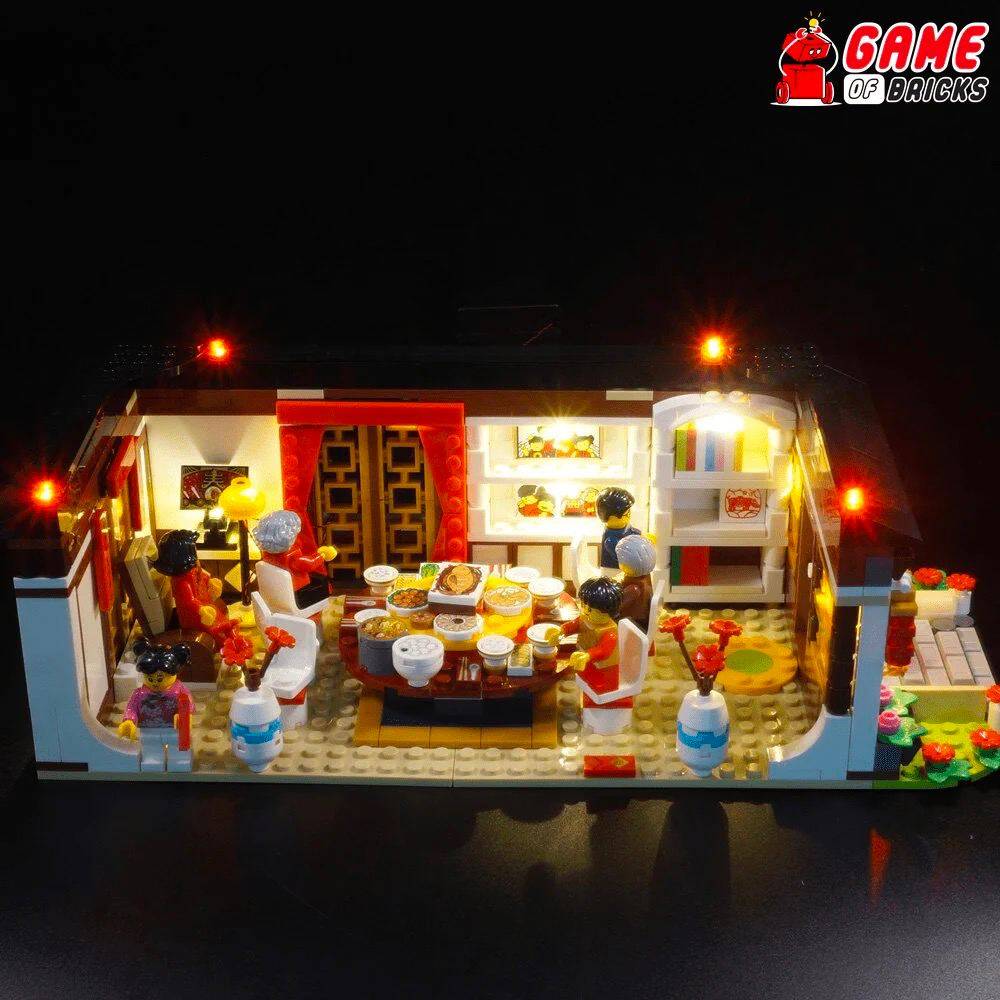 Easy Installation
Setting up the Light Kit for Chinese New Year's Eve Dinner 80101 is a breeze. The package includes clear and concise instructions, ensuring a hassle-free installation process. The components are thoughtfully organized, making it convenient to connect the lights to your festive dining scene. With minimal effort, you can quickly bring a radiant glow to your Chinese New Year's Eve dinner setup.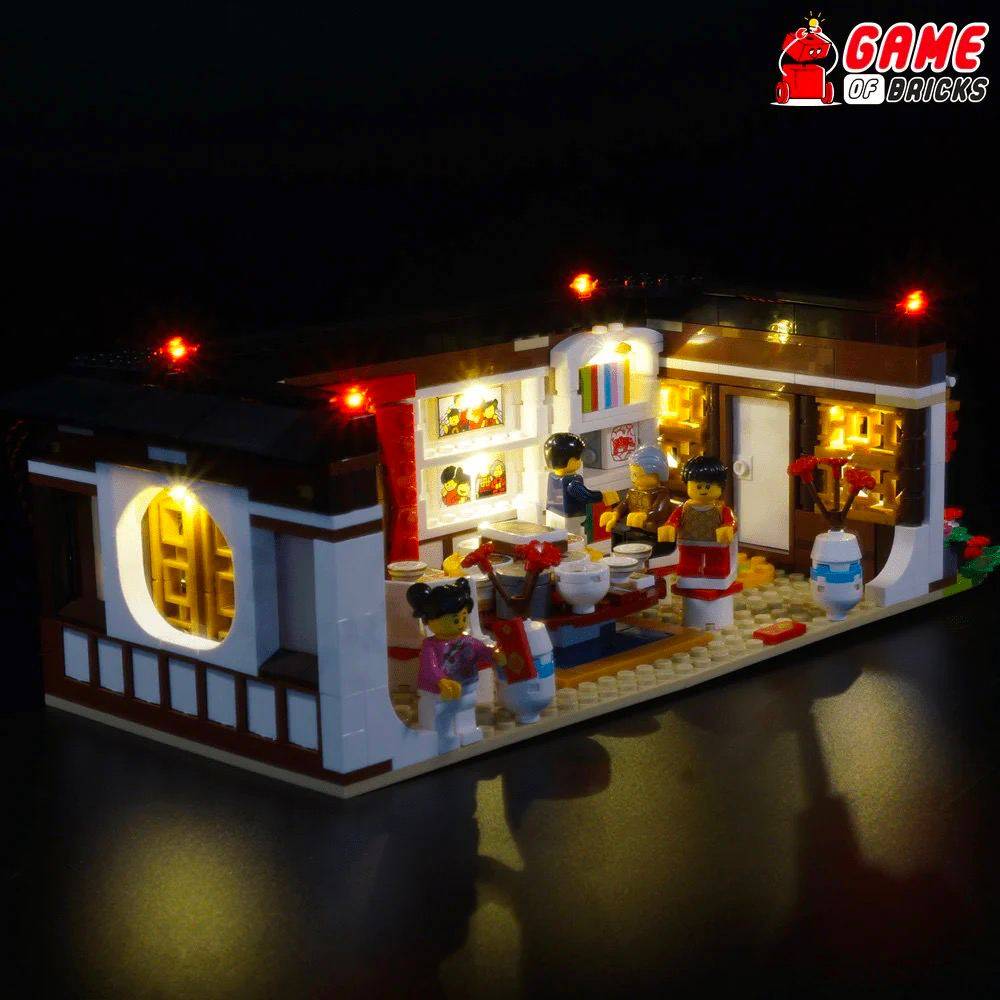 Enhanced Details
The light kit excels in enhancing the intricate details of the Chinese New Year's Eve Dinner 80101 set. The soft and warm LED lights beautifully accentuate the vibrant colors and textures of the festive decorations, bringing them to life. Whether it's the intricately designed lanterns, the elegant dining table, or the elaborate backdrop, every element is bathed in a gentle glow that adds a touch of enchantment to the scene.
Customizable

Game of Bricks understands the importance of personalization, and the Light Kit for Chinese New Year's Eve Dinner 80101 allows you to tailor the lighting to your preferences. With adjustable brightness levels, you can create the perfect ambiance for your celebration. Whether you desire a cozy and intimate atmosphere or a lively and radiant one, this light kit empowers you to customize the lighting according to your mood and the overall theme of your festivities.

Durability
Built with high-quality materials, the Light Kit for Chinese New Year's Eve Dinner 80101 guarantees durability and longevity. The lights are designed to withstand continuous use, ensuring they will shine brightly throughout your celebrations. The components are securely connected, minimizing the risk of accidental disconnections or malfunctions. Game of Bricks' commitment to quality ensures that this light kit will serve as a faithful companion for your future Chinese New Year's Eve dinners.
Minor Downsides
While the Light Kit for Chinese New Year's Eve Dinner 80101 is an overall exceptional product, it's important to mention a couple of minor downsides. The wiring for the lights could be slightly longer, as it may limit flexibility in the placement of the lights within the set. Additionally, the battery pack could be more discreetly designed to seamlessly blend with the set's aesthetic. However, these drawbacks are negligible in comparison to the kit's overall performance and are easily mitigated with a little creativity.
In conclusion, Game of Bricks' Light Kit for Chinese New Year's Eve Dinner 80101 is a fantastic addition to your festive celebrations. Its easy installation, enhanced details, customizable lighting, and durable construction make it a standout accessory. Despite a few minor downsides, the kit's ability to bring a radiant glow to the Chinese New Year's Eve Dinner 80101 set is unparalleled. Elevate your festivities and create lasting memories with this remarkable light kit, adding a touch of enchantment to your Chinese New Year's Eve dinner.