Upgrade your imaginative build with LEGO the LEGO Thors New Asgard 76200 Set
By

Nikita P.
/
September 06, 2021
Avengers infinity war was known to be oneof the most epic MCU movies of all time. All avengers fans far and widecouldn't stop thinking and talking about the movie all year round. Marvel fans becameeven more excited with the release of the Avengers Endgame movie. Fans were soeager to see just how the famous avengers would undo all the harm caused byThanos. But what we did not expect to see was just how each member of theAvengers would be affected by the damage.

Well, one famous and most powerful avengerwho was significantly hurt by the whole ordeal was our beloved god of thunder, Thor.He was so affected by the destruction of his home planet, Asgard, and the deathof his brother Loki and all of Asgard, Thor blamed and hid in what will laterbe called his new Asgard. There, he wallowed away in grief while trying tocompensate for his pain by playing fortnight, drinking boos, and devouringcountless pizza boxes. As a result, he grew fat and timid, low in spirit andenthusiasm to try and pick up the pieces.
Watching all this happen to Thor mustindeed have left you speechless and wondering, what went wrong in this powerfulman's life, which would lead to him falling this low? Could you have found abetter to deal with the situation if you were in his shoes or giving the chanceto direct his scenes? Well, you can achieve all that and more with the Lego brother'snew Asgard 76200 set. Unlock a world of imaginative role play with this set. Recreateand create scenes from the original marvel Endgame movie. With this new Legoset, the sky is truly your limit with the amount of fun you can achieve withthis set.
BUILDING EXPERIENCE FOR THE LEGO BROTHORS NEW ASGARD 76200 SET.
This Lego set is designed to help bothyoung and old tap into their imagination, recreate amazing scenes, and engagein endless role-playing. This set also allows builders to dive into Thor'spersonal space in his new Asgard as you build each compartment down to minor details.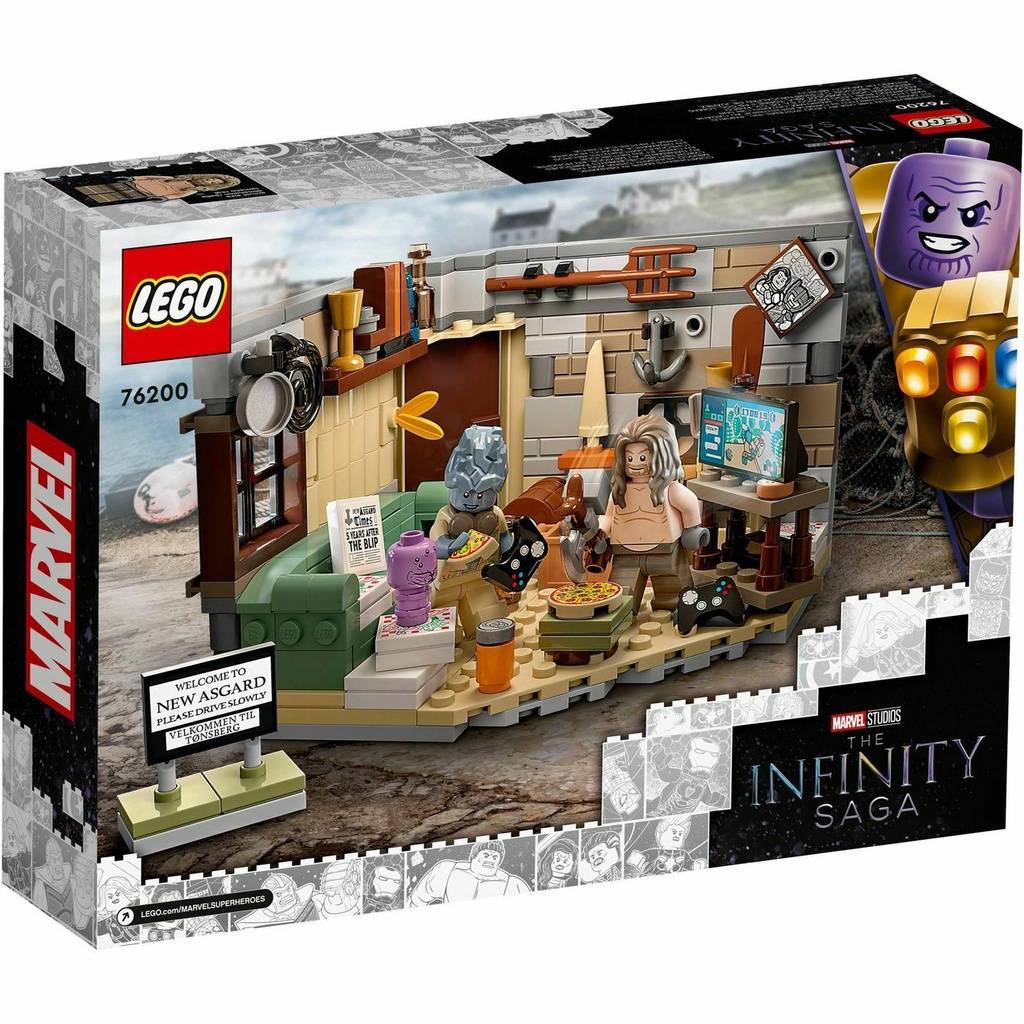 This set replicates Thor's hideoutperfectly and features authentic buildable details, like the Stormbreaker ax, acouch, a TV set, a gaming console, and pizza boxes. The set also comes with twominifigures to make imaginative play a whole lot more fun and exciting. All thesefeatures are solid Lego bricks, safe but firmly attached, and easy to detach.
This Lego set will be a fantastic gift to giveany Lego Avengers fan. You could also use this fantastic set as your family'snew project. It can help to bring each member of your beautiful familytogether. Whether it's an imaginative set you are looking for or just afantastic display set with authentic details, the Lego Bro Thor's new Asgardset is just the right fit.
FEATURES OF THE LEGO BRO THORS NEW ASGARD 76200 SET.
Like all other Lego sets, this Lego set comes with many unique features that help separate each set from the former. Let us now look at some fantastic features which set this Lego set apart from other Lego avengers sets out there.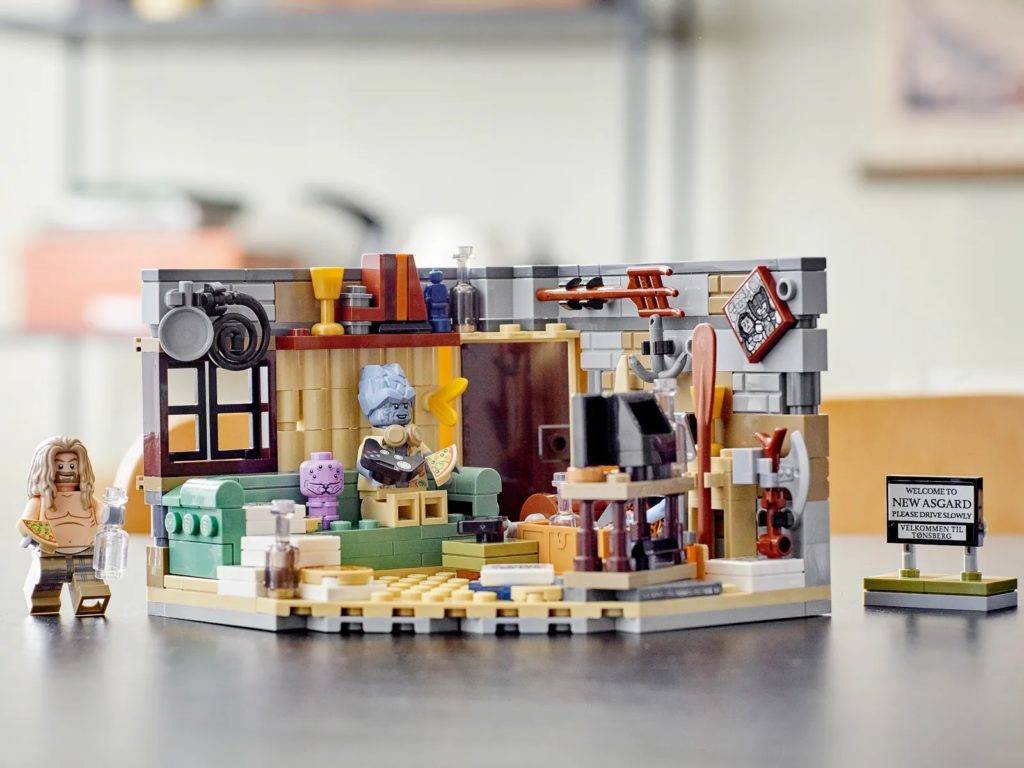 • AUTHENTIC LOOK.
Bro Thor's new Asgard set is designed to completely replicate the look and feel of new Asgard, where Thor wallowed away in pain and grieve. Everything in this Lego set is perfectly positioned to replicate the new Asgard to the best of Lego's ability. These features include a buildable mike, a couch, a Stormbreaker ax, and much more.
All these details and features make imaginative role-play a lot more fun. You could recreate tons of unforgettable scenes from when the avengers found Thor in his new Asgard.
• ITEMS AND ACCESSORIES.
Lego has added some fantastic items and accessories to make this set look even more realistic, engaging, and highly rewarding once completed. These items and accessories further add to the authenticity of the set. Some of these fantastic items include a Stormbreaker ax, a gaming console, a replica of the couch featured in the Endgame, a TV set, and pizza boxes as well.
You also get two minifigures of bro Thor and Korg, which helps add to the beauty of the set and makes it easier for builders to relate to this epic scenery. With all these incredible details to implement to this set, builders can get lost in this set. Are you a busy parent looking for something fun and brain-stimulating to keep your 7year old engaged in while you are away? Well, this is just the set equal for the task.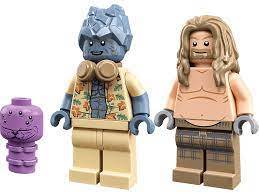 • SET SIZE.
This set, like most Lego sets, is size-friendly. It's big enough to serve as a display set yet small enough to be easily transported from place to place. This means that if you are a builder looking to share your building accomplishments or want to rebuild this set in different locations and with different people, you can with this portable Lego set.
This set comes with just 275 pieces of pure bricks. It is 3 inches high, 4.5 inches wide, and 4.5 inches deep. This set could be displayed in your office or maybe on your shelf alongside other unique Lego sets.
• Set price.
Like other sets from the Lego Avengers collection, this incredible Lego set all vary in price depending on the location, availability, and personal worth of materials used in creating this set. Recommended places of purchase for this set includes lego.com and Lego stores. But you can equally find this set in other stores with chances that it might cost higher to purchase.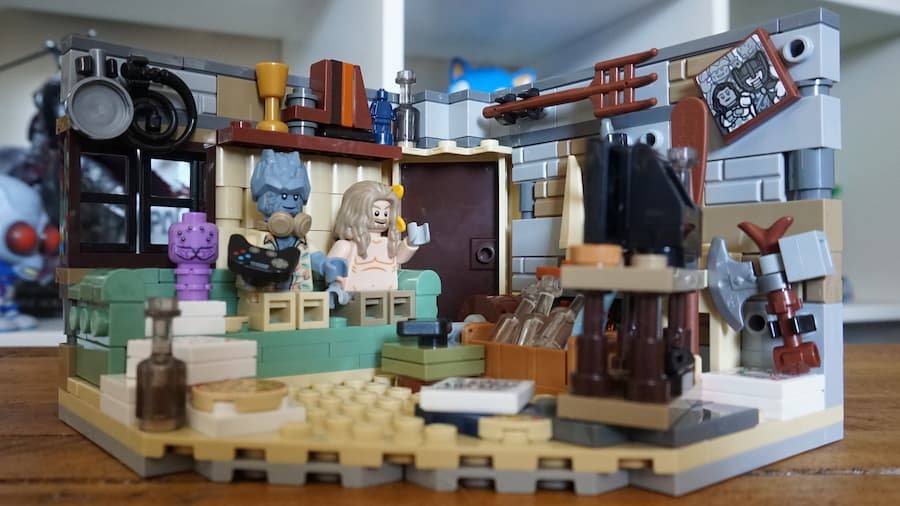 The price of this set via lego.com and Lego stores in the US is about 29.99 dollars. This set could also be purchased in Lego stores in the UK for about 27.99 euros. This set could cost a bit more in Lego stores in Australia due to the availability. The price of this set could be anything from $29 to 49.99 dollars respectively. If you wish to purchase this set directly from lego.com, you will pay less at 29.99 dollars.
MAKE YOUR SET LOOK EVEN MORE REALISTIC WITH OUR AMAZING GAME OF BRICKS LIGHT KIT.
Well, the Lego bro Thor's new Asgard set already looks insanely realistic and striking, with all its authentic details. This set, though, could be made to look even more realistic with our Lego light kits. These unique light kits bring out the beauty of this set and bring to the lamplight hidden details of this set, thus adding drastic improvement to the set's overall magnificence. But how can you tap into the awesomeness our light kit provides? Well, you can achieve this by following these universal steps.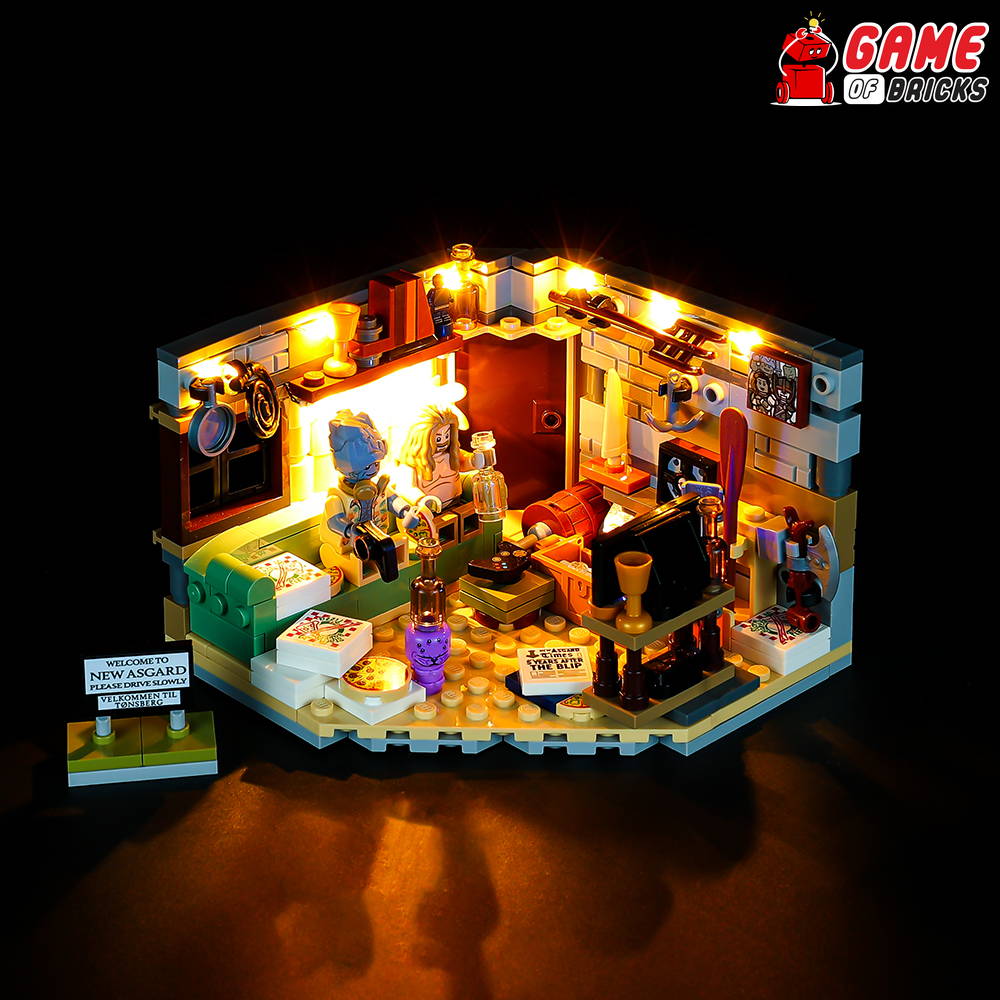 1. COMPLETE THE BUILDING OF YOUR SET FIRST.
Instead of just jumping into the building of your light kit spontaneously, endeavor first to complete your new Asgard set first before installing our light kit. This is basic but is the most crucial step for success in the installation of your light kit.
Finishing your set first will help you properly plan for your installation. It will also help you correctly predict the challenges you will most likely face while installing your light kit. As soon as you finish building this set, you can finally move on to the next stage in the installation process.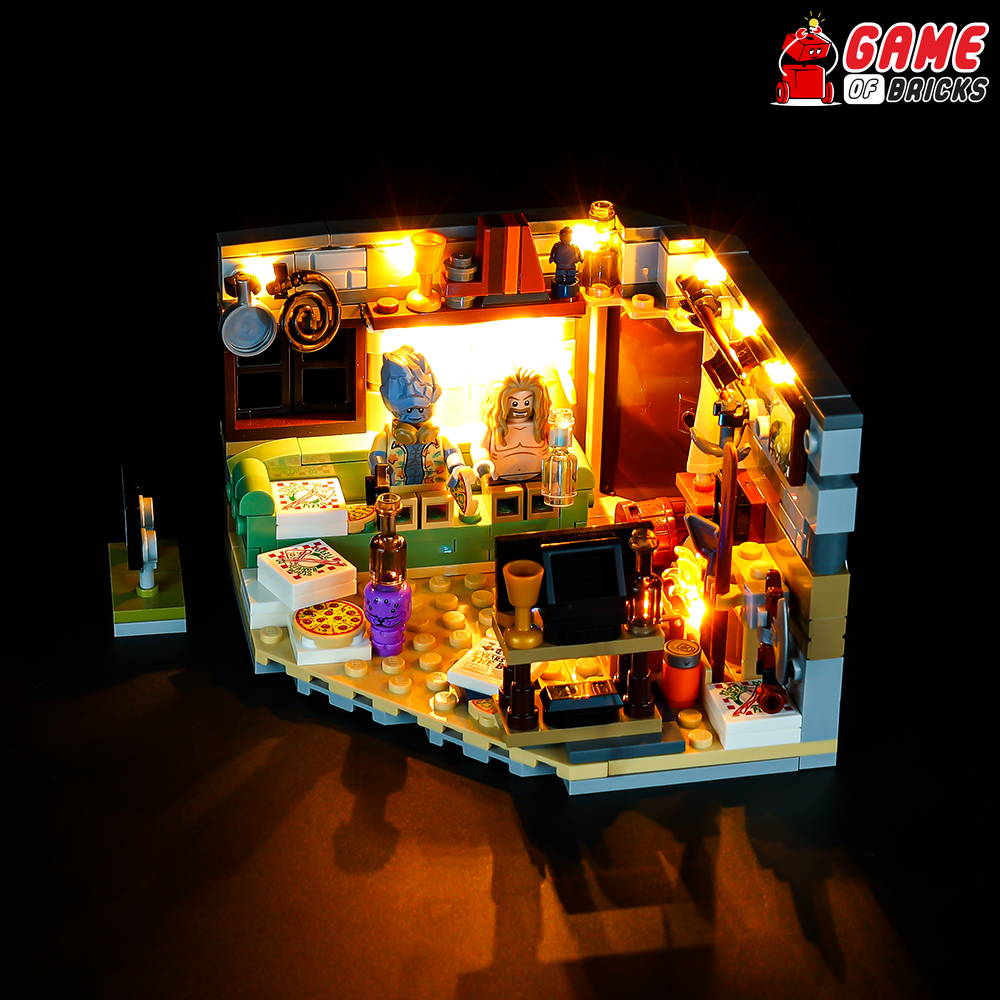 2. RUN THOROUGH CHECKS ON LIGHT KITS AND ACCESSORIES.
It's almost time to install our fantastic light kits. Before moving straight to installation, stop and take your time to run thorough checks on each light kit and accessory. These checks are essential because it is prevalent for light kits and accessories to go missing during shipment.
Taking your time to run thorough checks on your light kit will make it easier for you to detect problems and faster. If you find any issues with your light kit, don't hesitate to use your warranty card to fix it. If all turns out ok after all, you can now move on to installing your light kit.
3. INSTALL YOUR LIGHT KIT AND TEST YOUR LIGHT KIT.
It is now time to install your light kit. If you are new to this, ensure to make good use of the step-by-step instructions found in the light kit instructions manual. Ensure not to forcefully install, for you may end up damaging your light kit. Each Lego light kit and accessories must neatly be passed through each Lego brick.
Imidiatly you'er done with the installation of your Lego light, ensure to test it out first to ensure it's safe and correctly installed. Also, check out for any signs of short-circuiting, for it could be signs of a problem with your light kit. As soon as all checks out, a show of this set's magnificence, thanks to our special light kit.