A new way to upgrade your LEGO Camp Nou – FC Barcelona 10284 Set.
By

Nikita P.
/
September 12, 2021
The thrilling Camp Nou, one of the grandest stadiums of all time, is owned by the mighty Catalan team, Barcelona. This fantastic stadium has had fans witness memorable moments, like the champions league win of twenty sixteen and the over ten times winning of the Spanish domestic league.
The camp Nou is not only a great stadium but a home to both Fc Barcelona fans and players alike. What's makes this stadium an unforgettable one is the amount of love and passion expressed by the millions of fans on every match day. And then have the more intimate team anthem, known and song to welcome our favorite players into the pitch. Unfortunately, though, not every Barcelona fan has witnessed this breathtaking scene. You like to have your very own matchday experience at Camp Nou, wouldn't you? Well, you can now, with the Lego Camp Nou- FC BARCELONA set.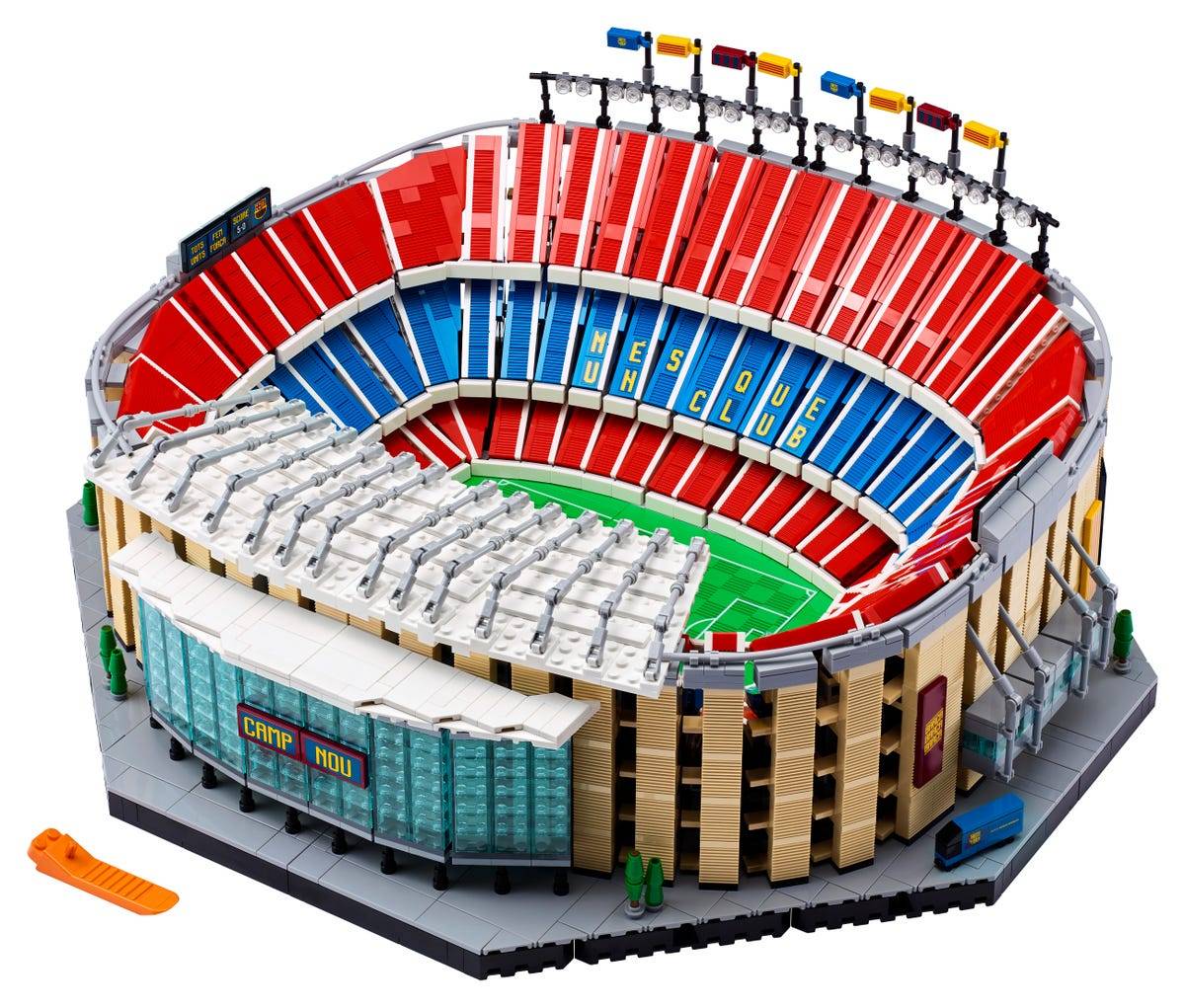 This fantastic set allows each Barca fan to relive every match, recreating the matchday atmosphere to fit their very own feeling. And with the incredible realism giving to this set, it is just the perfect gift for any Lego Barca fan out there.
BUILDING EXPERIENCE FOR THE LEGO CAMP NOU-FC BARCELONA SET.
Lego Barca fans can enjoy recreating perfect match day scenes with the Lego Camp Nou- FC Barcelona set. Bring together a perfect Lego Camp Nou stadium with authentic details, making it as close as possible to its real-life counterpart. This Lego set also posses a challenging build and could take a significant amount of time to put together. So if you desire an easy build, this is not a set for you.
The Lego Camp Nou- FC Barcelona set may be challenging to build because of its authentic details and gives builders a feeling of fulfillment, seeing every piece come to light. Barca fans can build the camp Nou from scratch and understand more how the Barca stadium was designed. This is thanks to the instructions manual, which holds a blueprint of the arrangements of each of the compartments of the camp Nou. With this schematic as your guide, you would recreate the player lobby, VIP entrance, the pitch, the park, and more.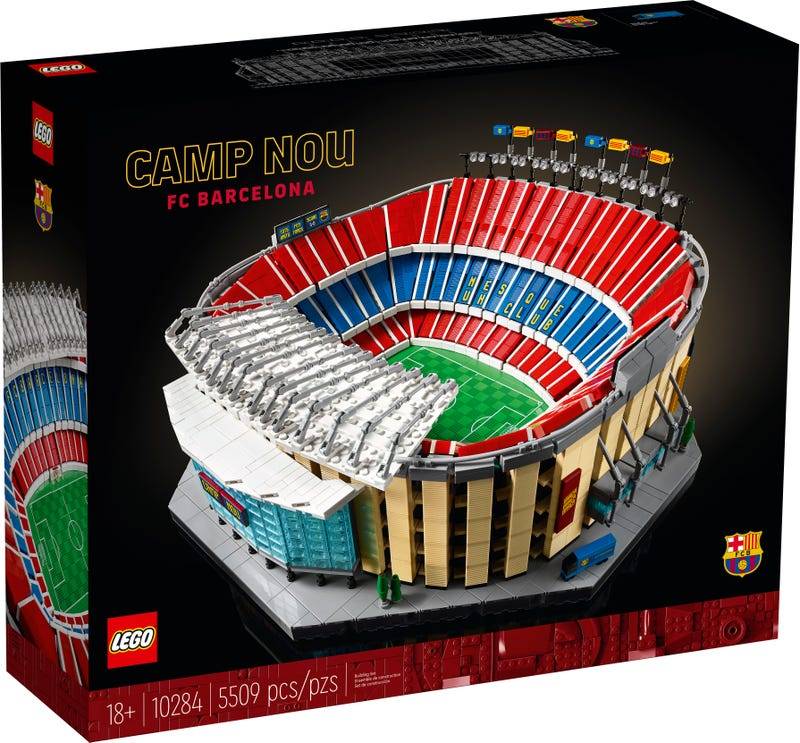 This set can be your next big family project. Build your kid's love for Barca and football as you build the Lego Camp Nou-FC Barcelona 10284 set together.
AMAZING FEATURES OF THE LEGO CAMP NOU-FC BARCELONA 10284 SET.
Other than the thrill Barca fans will feel from just owning this set and building it. They are also gifted with cool authentic features, making this set as close as possible to its real-life counterpart. Lego has worked really hard to include almost all these iconic details in this fantastic set. Let us look at some fantastic features of the Lego Camp Nou FC Barcelona set.
• A CHALLENGING BUILD.
Have you been looking for a set that will challenge your experience as a Lego builder? If no set has been able to meet the challenge, I can assure you that this particular set will. This set is full of authentic details plus many brick pieces at about 5000 plus pieces.
This means it will take experienced builder hours to put together and require builders to be precise to represent these authentic details. It is even recommended that more than one experienced builder embarks on this building journey.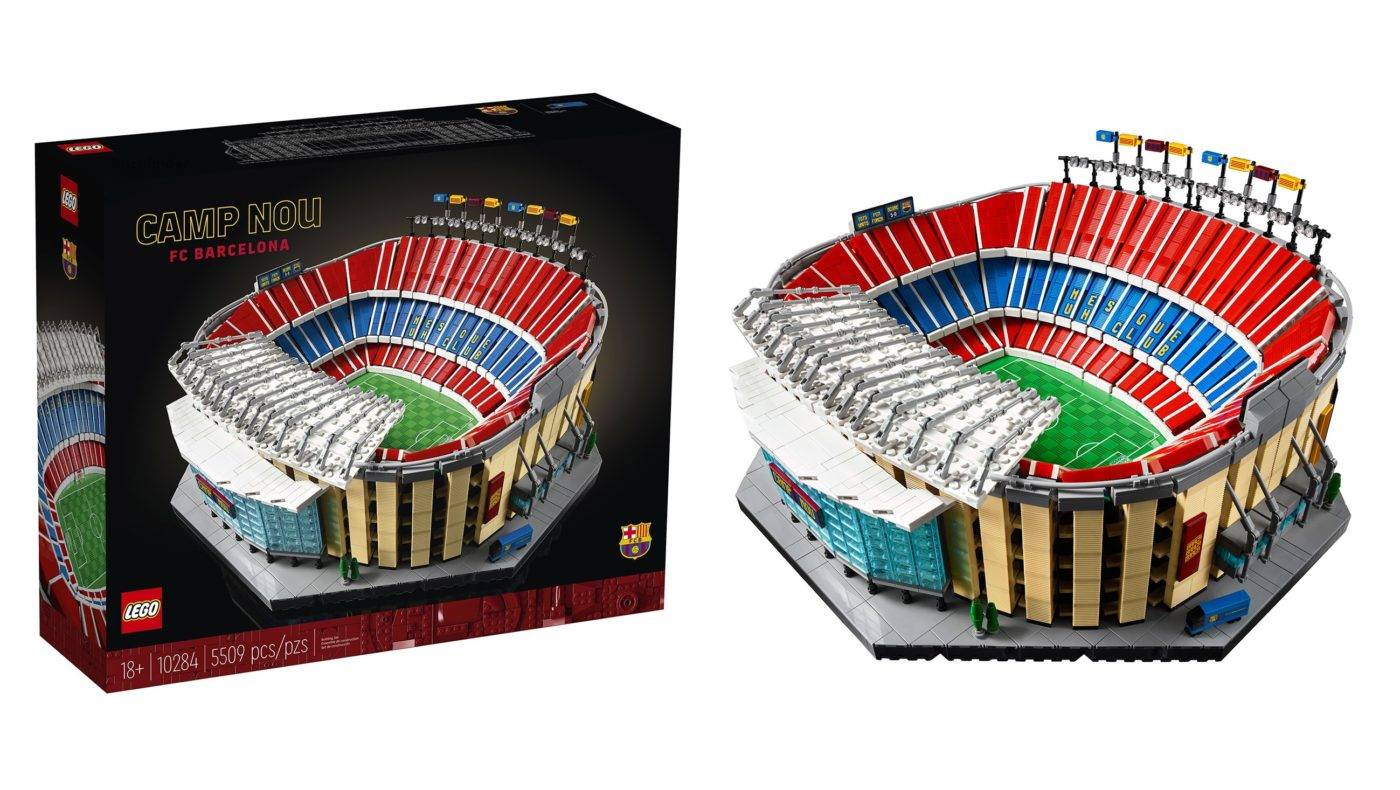 • AUTHENTIC DETAILS OF THE SET.
The Lego Camp Nou-FC Barcelona set comes with some of the most authentic brick detailing ever seen in a Lego set yet. Everything, from the pitch to the chairs, walkways, and stands, has a realistic feel. The stadium represents what FC Barcelona as a club and the Camp Nou as a stadium is known for.
This fantastic set also allows builders to split the stadium into five separate sets to access some of the more hidden compartments, like the dressing room, VIP entrance, players tunnel, and the covered tribunal stand. The set also features a scoreboard, just like the one in the natural camp Nou stadium. All these authentic details and features give Lego Barca fans a more satisfying building experience.

• SET SIZE.
The Lego FC Barcelona set is considered a large display set, consisting of more than 5000 pieces, about 5509 pieces to be precise. All these brick pieces as been well tested and are safe for builders of all ages. They have also been tested and be highly compatible. This means that the bricks could both be easily attached and detached.
Together, builders will have the challenge of bringing to life a Lego Camp Nou-FC Barcelona set, which is about 8 inches high, 20 inches wide, and 19 inches deep. Spend ours recreating this fantastic stadium in all its Glory. After which, you can put this set on display for all to see.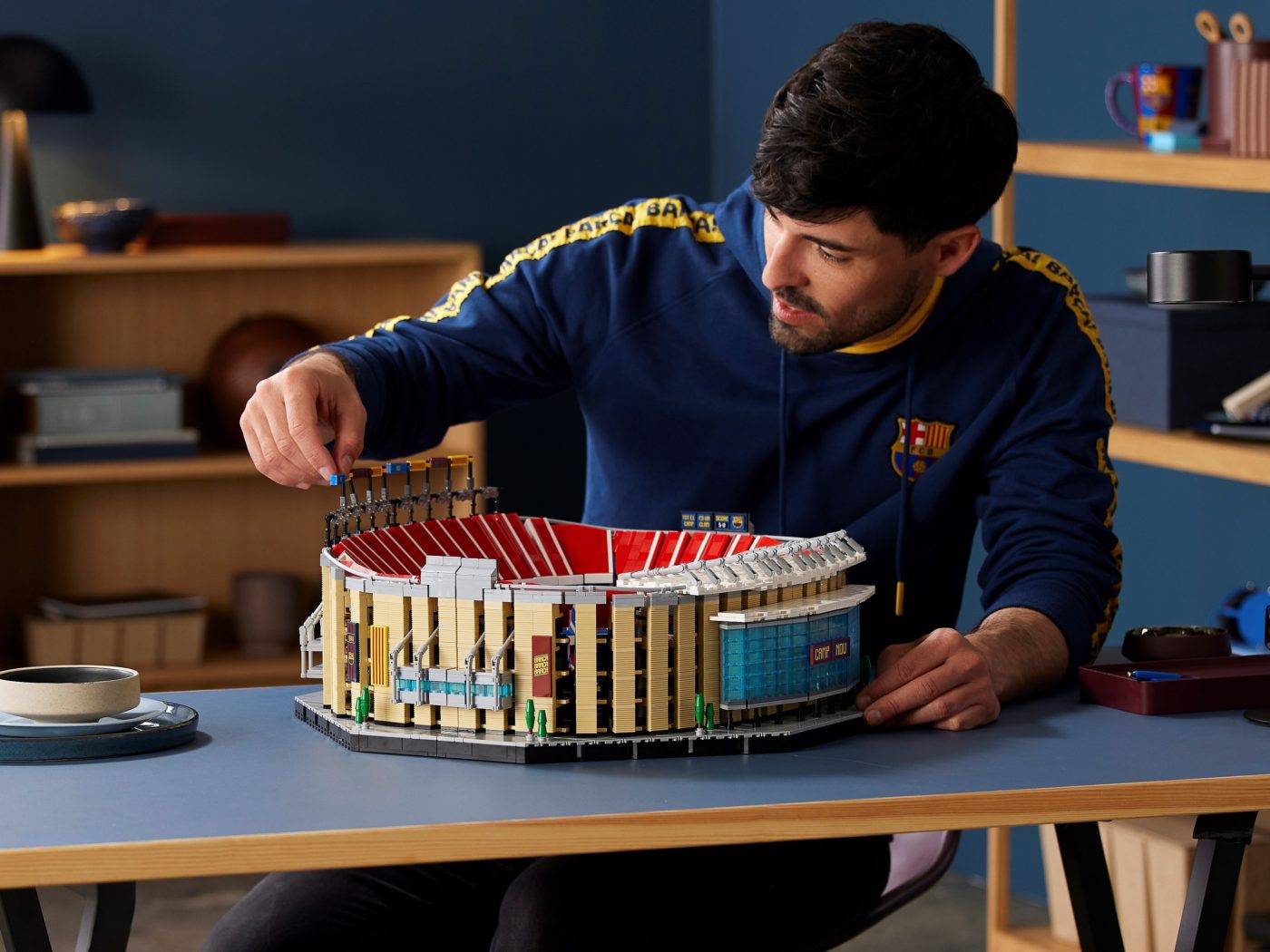 • PRICE OF THE SET.
The Lego Camp Nou-FC Barcelona set will vary in price depending on your country of residence and the store you choose to purchase this set from. It also most often depends on the availability of the set in your location. It is recommended that you purchase this set from Lego stores or lego.com. You can also find this set on Amazon, but it may most likely cost more.
You can purchase this set from lego.com or Lego stores in the US for about 349.99 dollars. You can also purchase this set for about 499.99 dollars in Australia. You can also get this set for about 299.99 euros in the UK and parts of Europe, respectively. This set is worth all the amount due to its authentic details.
MAKE THIS SET LOOK EVEN MORE BEAUTIFUL WITH OUR GAME OF BRICKS LIGHT KIT.
The Lego Camp Nou-FC Barcelona set will stand out in a world of Lego sets due to its authentic details. But this set could be made to look even more realistic with our Lego light kits. Are you new to our light kit? If so, then you don't need to fear. Our light kits could be both efficiently and successfully installed, following the Clare instructions in each light kit manual and three universal suggestions, which will be listed in this section.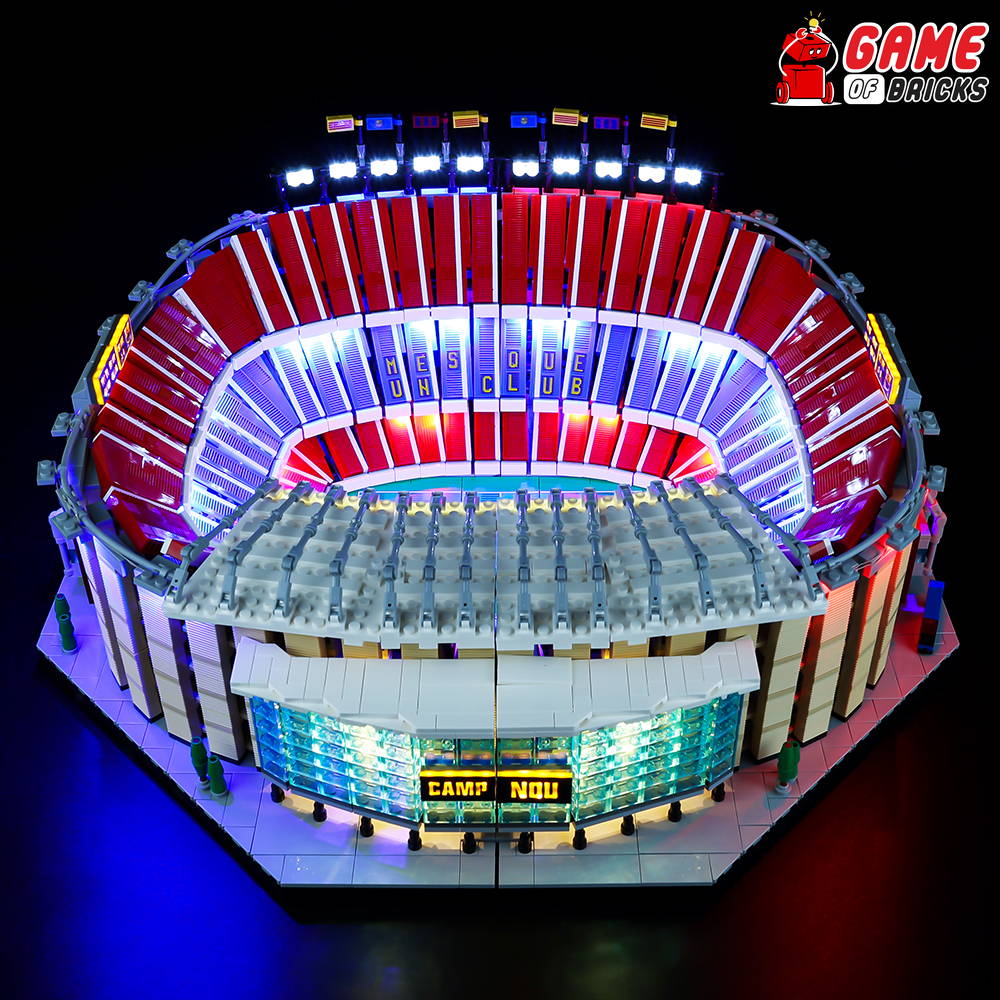 1. COMPLETE YOUR SET BEFORE INSTALLING OUR LIGHT KIT.
This step may seem basic but is essential to the success of your light kit installation. So don't get too excited just yet. Take your time to complete the building of your Lego Camp Nou-FC Barcelona set. This will help you know just what light kit will perfectly suit your fantastic set. Take your time with this set. And once you are done, it's now time to select a light kit that would best fit your stadium.
Note: Lego light kits come in a variety; some have more features than others and are even more challenging to install.
2. PROPERLY INSPECT ALL LIGHT KITS AND ACCESSORIES.
By now, the light kit you ordered most has already arrived. You must be full of excitement right now, but take things slow. Before jumping right into installing your kit, please take the time to check through each light kit and accessories appropriately.
This check Is essential, for it is common for light kits and accessories to get damaged or misplaced due to shipment issues. That's why each light kit comes with a thirty days warranty card so that you can return any damaged kit caused by shipping. Isn't that awesome? So, take your time to run through each light kit and accessories before installing.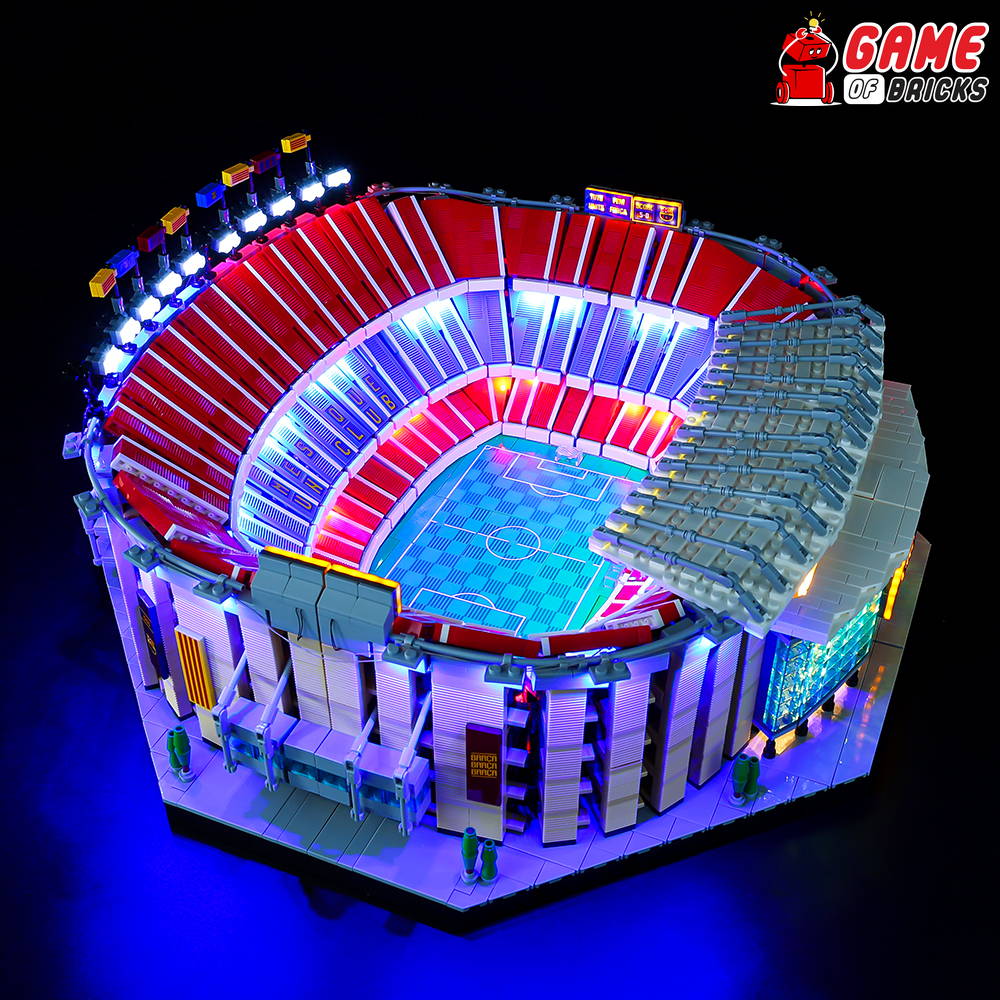 3. INSTALL AND TEST YOUR LIGHT KIT.
Now is the time you have been waiting for, installing your light kit. This can be achieved by following the Clare and simple steps outlined in your instruction manual. Ensure to make proper use of it. Remember that there are even more advanced light kits that will require a more professional hand. If you are new to light kit installation, you can start by installing a simple light kit, and then once you have gotten the hang of it, you can install an even more complicated light kit.

Once you have successfully installed your light kits, passing them neatly through each assigned brick, You can now test your light kit. Testing of your light kit is to help ensure that everything is working smoothly. Make sure to use a strong battery capacity for your light kit. This will help you achieve a more satisfying finish. Also, check out for any signs of short-circuiting, for it could help signal a problem. Once all checks out well, you can now enjoy nighttime matches in an upgraded Lego Camp Nou-FC Barcelona set.
While you're making plans for the gifts, don't forget to brace yourself for a tight appreciation hug from your dad. He is going to love the gift ideas. If you need help, you can ask an adult closeby to assist you. Making the gifts should be highly discrete as you don't want to give him a hint of what is going on. I'm sure you would like to surprise him on that day and see his flushed expression. You can tell mum or any other person to be on standby with a camera or smartphone to take pictures of that moment.