Top 20 Classic LEGO Sets.
By

Eve Alessa Arevalo
/
May 08, 2023
Get ready to make anything you can think of in the world with these incredible sets, these sets are different from the usually themed sets that we all know and love. These sets are what we call the classic sets they came in different pieces like eyes, flags, windows, wheels, iconic Lego bricks, and levers. These sets are so different from the other sets because they give endless possibilities on what to build without anything stopping you. Each set gives you a chance to build something unique each time you create something original. There are also a few ideas that are given to you in the set to get you started in your creative journey. You can create massive buildings and small animals and make an interesting adventure that will make you be playing for hours or create a masterpiece that you can use to joke with friends. And the coolest thing about these sets is that you can combine them with other classic and themed LEGO sets, this can create a massive adventure journey that will have extra side quests. These sets are suitable for everyone boys, girls, and adults, ( for children over the age of 4). These sets can increase the possibility of playing, you can be building a kingdom castle at first then later evolve to building dragons and monsters, the list is endless the chances can not stop. The adults can build an incredible piece that can be hung, and the kids can have a huge amount of playtime and increase their cognitive development. Here is the top 20 classic Lego sets you should get to expand your LEGO building abilities.

1. Lego Medium Creative Brick Box.
This set has 484 pieces full stop and it is suitable for the ages of 4 to 99 which is just for everyone in general. This Lego set is suitable for all ages and it is made for builders that want to enhance their building capacity this Lego classic set comes with over 35 different ranges of colors which rule encourages builders to Be Wild and build with Max capacity and also build up their imagination skills. It can bring endless Adventures and stories told. It comes with eyes windows and lots of wheels to make your day go set more interesting. This will increase the probability of fun never ending or stopping. This also leads to a time for never-ending construction play and car racing games with your LEGO set. Another good news about this amazing set is that you can add it to order LEGO sets if you want to add more life to your LEGO set collection and this makes it more vibrant and exciting to play with. The LEGO box also comes with a plastic container to fit all your LEGO pieces into one bag it also comes with a booklet to show you some ideas on what to build to get you started. It also comes with a green base plate which measures over 3 cm long and 6 cm wide. It is not for children under the age of 3.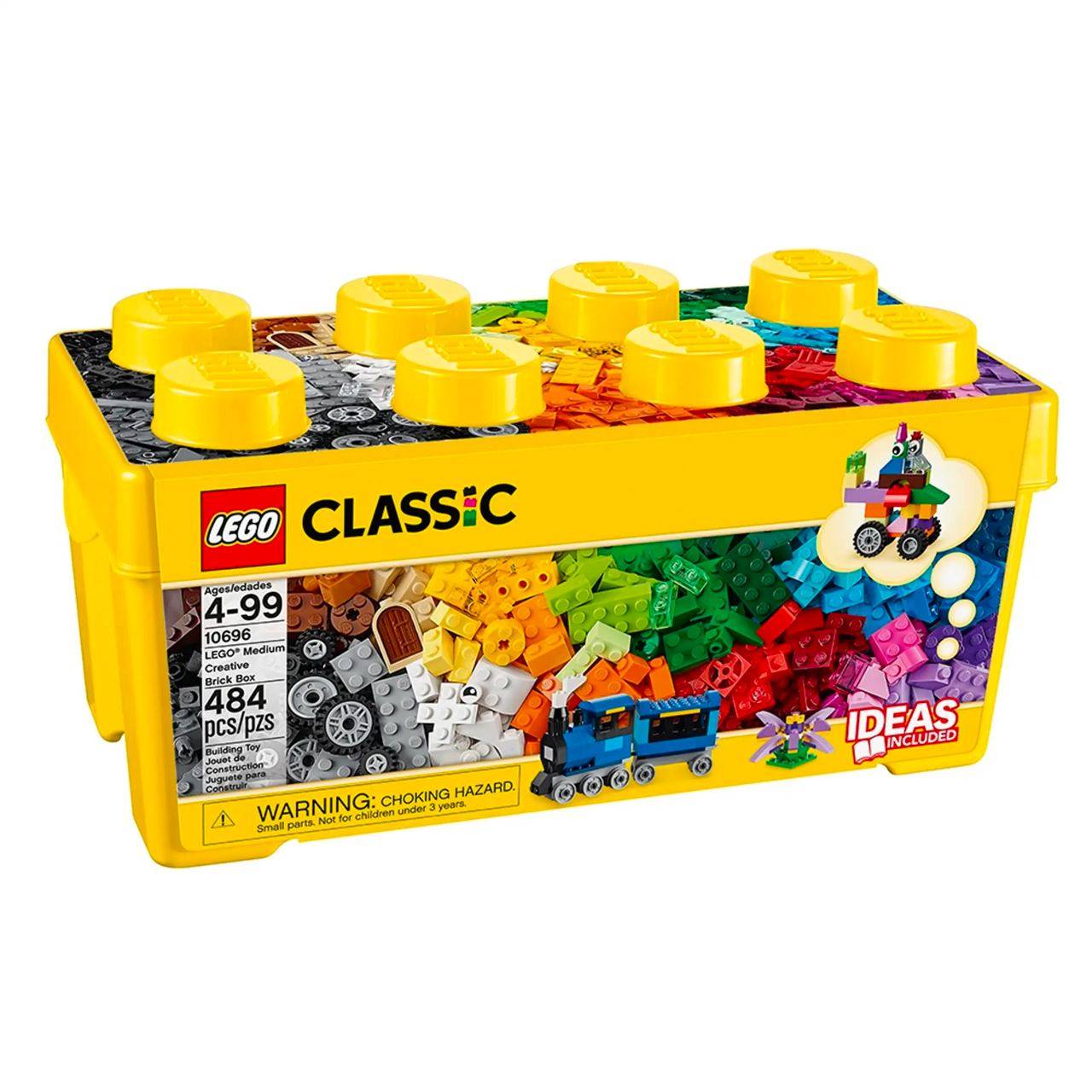 2. Lots of Bricks LEGO set.
This Lagos State is suitable for children over the age of 58, it has over 1,000 LEGO pieces and it has just been added to the LEGO collection recently. This Lego set is both suitable for beginners and pro builders. If you're looking for a Lego set that will be great play value and enhance your playing skills you can use this Lego set as a start-up point. Enjoy an Infinity often as you play with this amazing set which has countless possibility-building techniques to use. It comes in 10 right colors and the set contains a large number of breaks that are very colorful especially the original and the widely known 2 by 4 brick. This Lego sets also comes with great instructions anyway work for nice ideas to use to build specific items like an apple flower emoji car Heart House parrots guitar and so many other things you can build that are stated in the instruction book that was given in the LEGO sets. This Lego sets allows a wide range of creative play it also comes with a magazine that can help you in building instructions and it also has instructions that can be found in the LEGO app after it is installed. This is a perfect LEGO set that can be used for playtime with all the family members it also allows adults to make creative fun and teach the children how to build amazing masterpieces.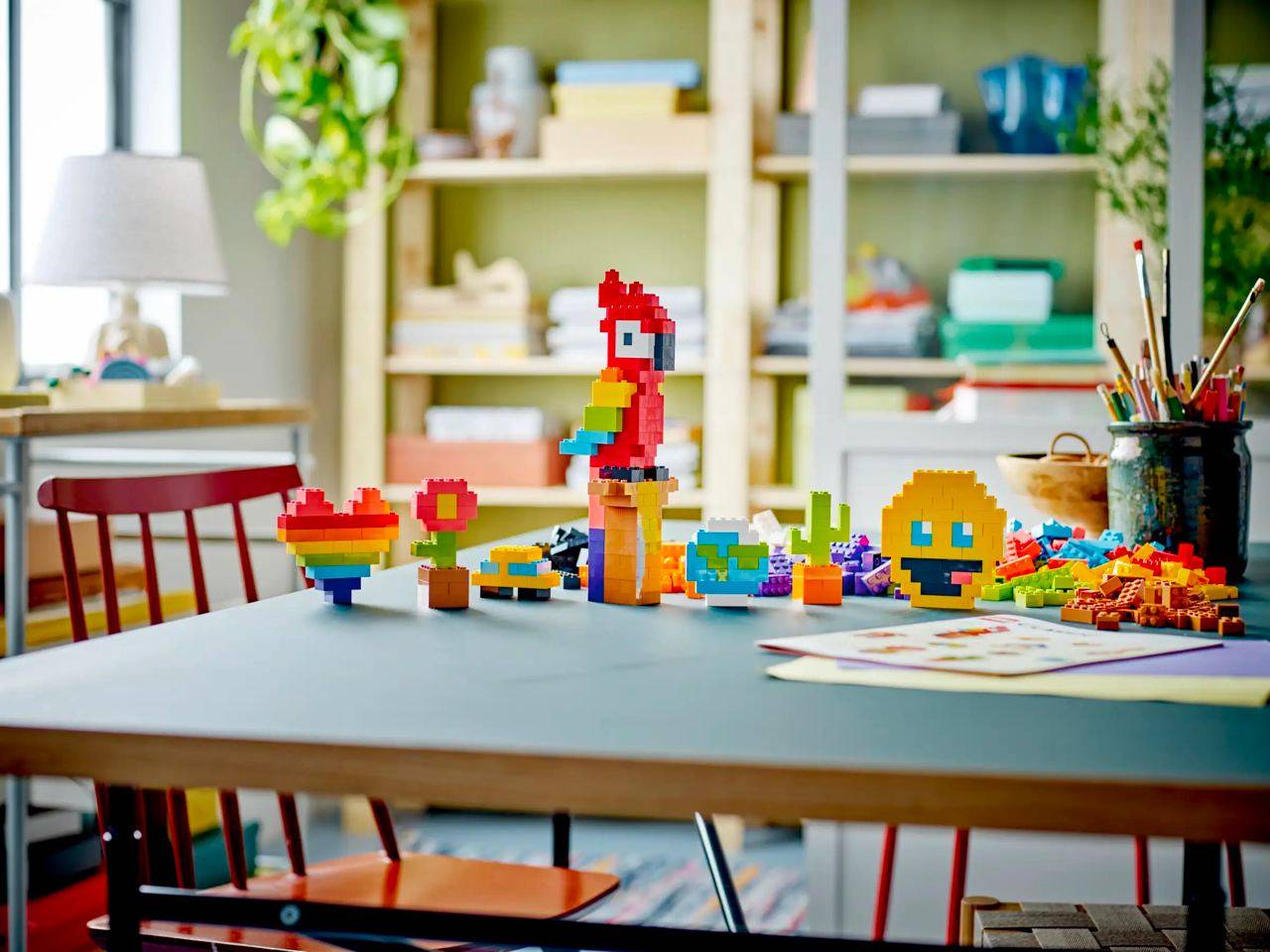 3. Creative Pastel Fun.
This LEGO piece of a total of 333 pieces and it is suitable for children over the age of five. Give joy to the vibrant 5 years old as they see these colorful and cute LEGO sets with an easy to build models which will create infinite ways of building beautiful LEGO pieces. The Lego Set is filled with soft colors brown pink green yellow purple and white. This can encourage kids to be more creative with their designs and mix of colors. The LEGO sets come in different ranges and sizes and can be added up to make amazing Lego figures like robots, clouds, ice cream dinosaurs, and cats. This can be an endless way to keep your children occupied with amazing LEGO pieces. If you need some assistance in building some LEGO models you can get some help from the LEGO app which has instructions on how to build with this Lego set. This is a great way to play with your family members and have a proper bonding time with your loved ones. Give them a boost of confidence with this amazing piece. This can be the perfect form of gift that you can give to your kids or young children.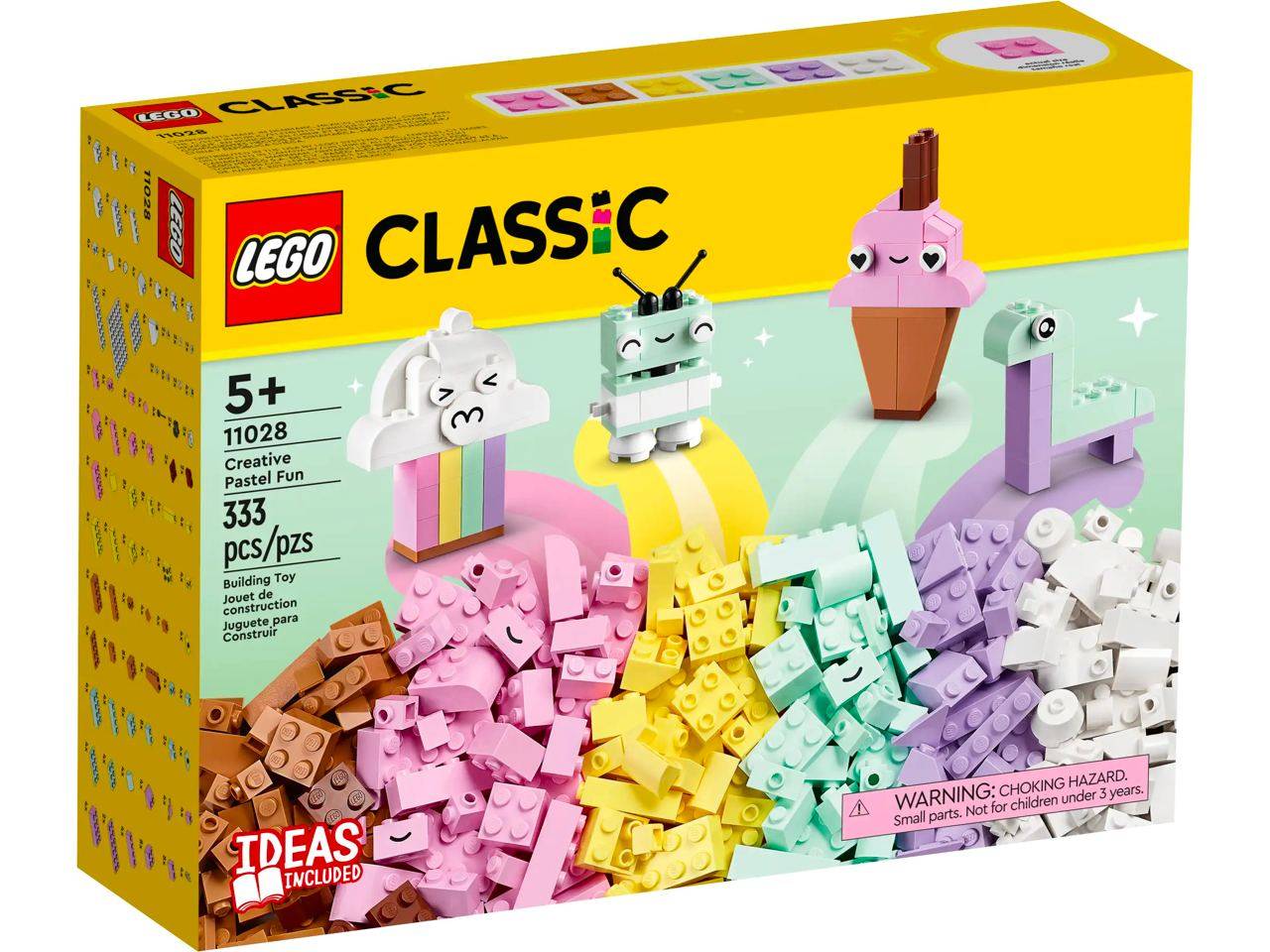 4. 90 Years of play LEGO set.
Used LEGO sets with over 1100 pieces and it is suitable for children under the age of 5 and should not be used for children under the age of 3 because it can be a choking hazard for them. Lego sets are suitable for all ages and they can bring an infinity of nostalgia and enjoyment to your LEGO sets. This Legos Ser was created to celebrate the 90-year history of Childhood toys that were made for creative play and list set comes in a rainbow form having most various colors of the rainbow who stop the Lego set has an amazing way of reminding you of the most iconic LEGO sets that were found in the early 30s as they celebrate the Childhood days of creative play it has 15 minute the creation of the Iconic LEGO toys that were found in the early yes of Lego production and also has extra blocks to create extra buildings for your LEGO masterpiece. This Lego set is meant to build the creative skills of children that will last a lifetime by opening their minds to inspiration and showing them beautiful models that will get them feeling joyful.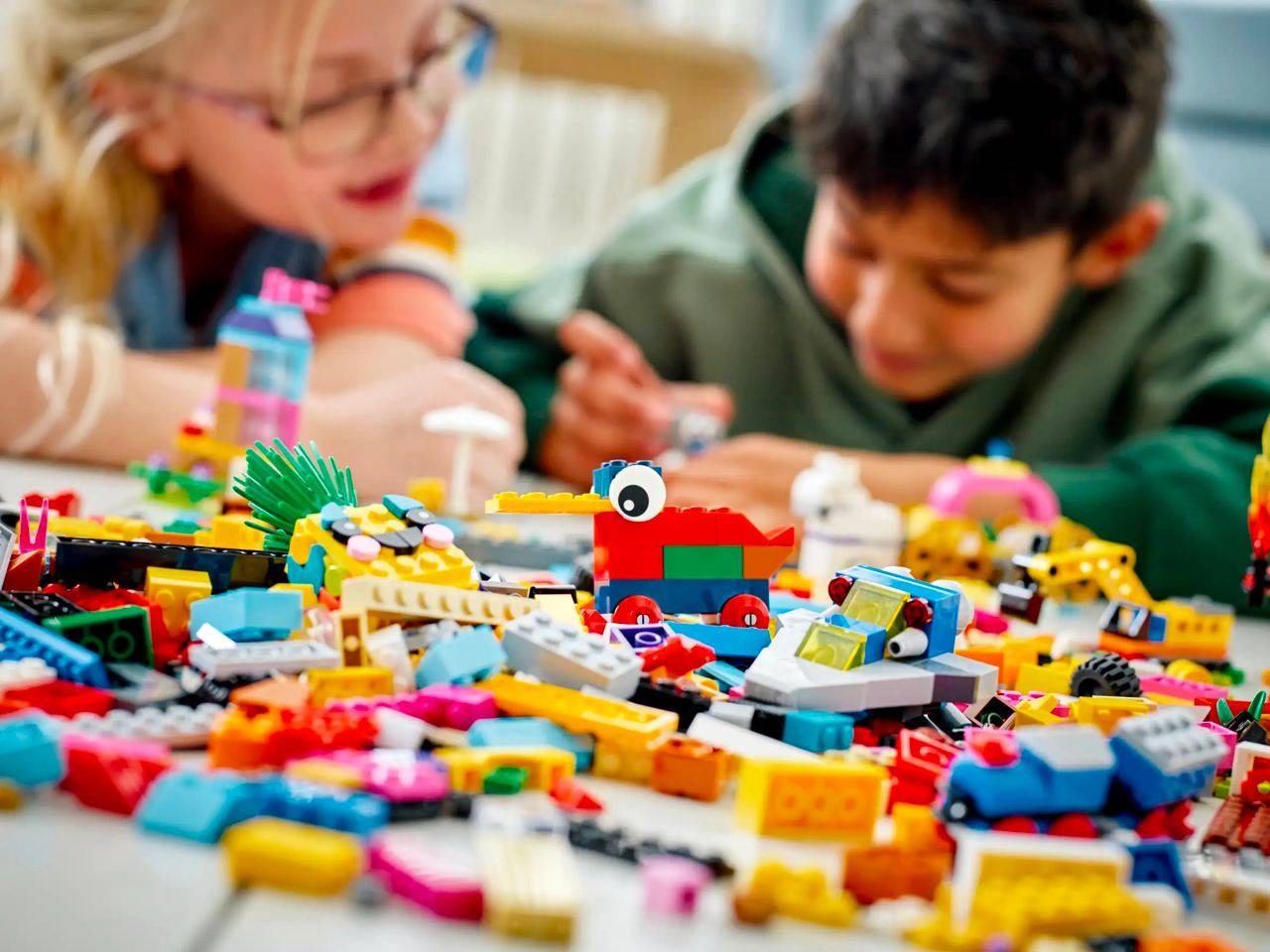 5. Bricks and wheels LEGO set.
This is one of the most impressive high-quality toy construction sites that has been busting the creative Minds of kids lately. Get your kids to play with these amazing LEGO sets that also come in wheels. Make sure that you get a lot of fun as you play with this LEGO piece that is exciting to play with. This can be the perfect gift to give to someone very special to you on a special occasion like their birthdays holidays or just something to show appreciation it is best to give it to children over the age of four as children under the age of 4 can use this as a choking hazard. Enhance your children's building skills with these 653 LEGO pieces. If you open the box of the package you can see that they are separate brick bags that can contain all the LEGO pieces that you will need for one or two buildings you can simply put the blocks into the separate bags and then put them inside and you're ready to go and play with your toys.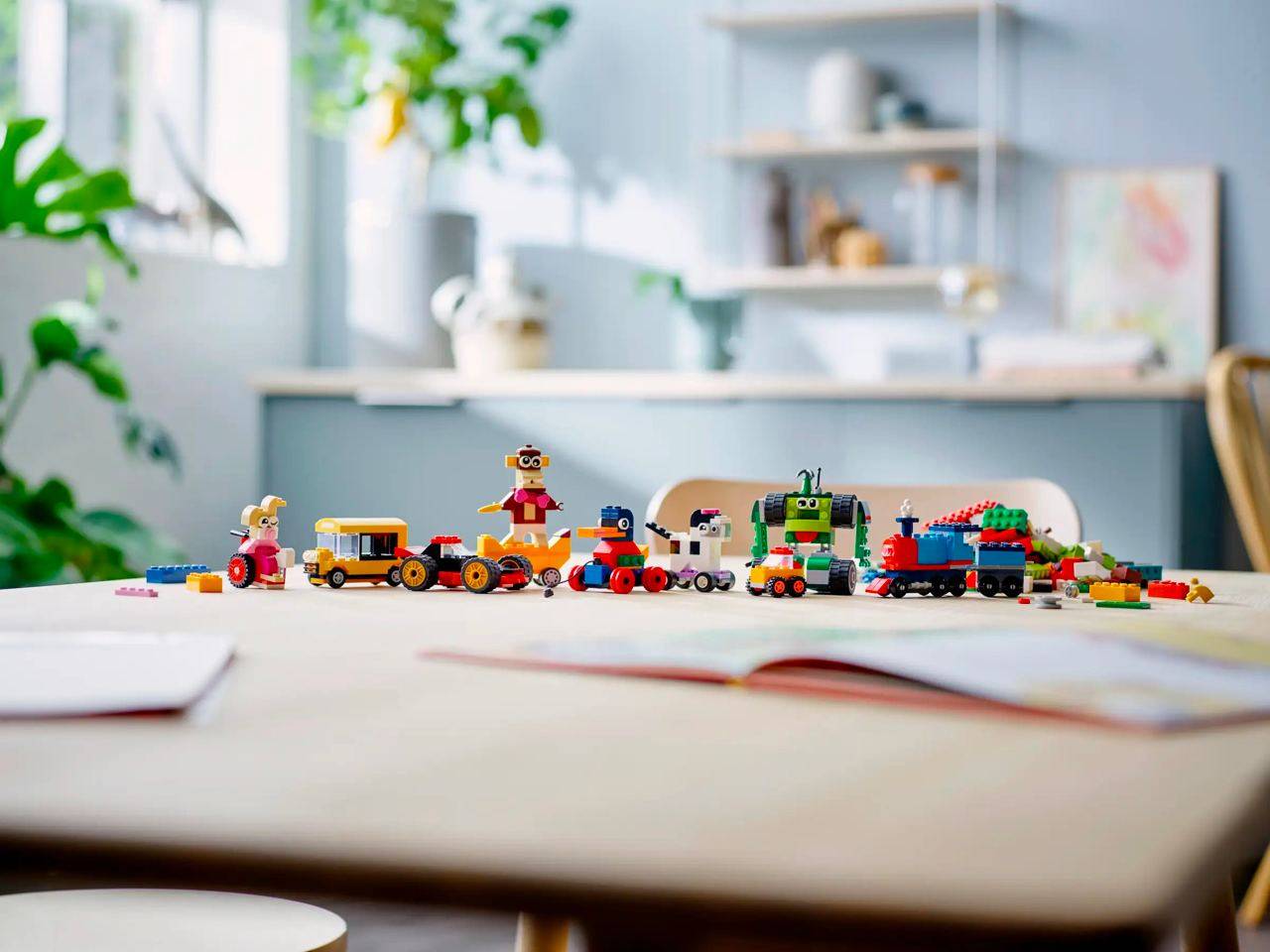 6. Space mission Lego set.
Discovered the layers of space with these incredible LEGO sets when children can build magnificent ideas with this Lego set it has 10 including model ideas to build you can also wander around and discover ways to make your LEGO building more interesting when they create their very own space toys. This Lego set can be an amazing gift to give to someone on their birthday and especially someone who loves spaceships and outer space with Lego. The best thing about the cities is that you can combine them with other sets to make an amazing story idea for you to see. There is a wide range of playsets that are amazing that will go perfectly with this set. There are some instructions in the packet 4 model ideas that comes with a building guide so that you can get baby steps on what to build first before drawing your style. It's also fun to consider building with family and friends to enhance their emotional relationship with them and build it. All LEGO toys are made of high quality and are very safely checked to ensure proper safety for your children.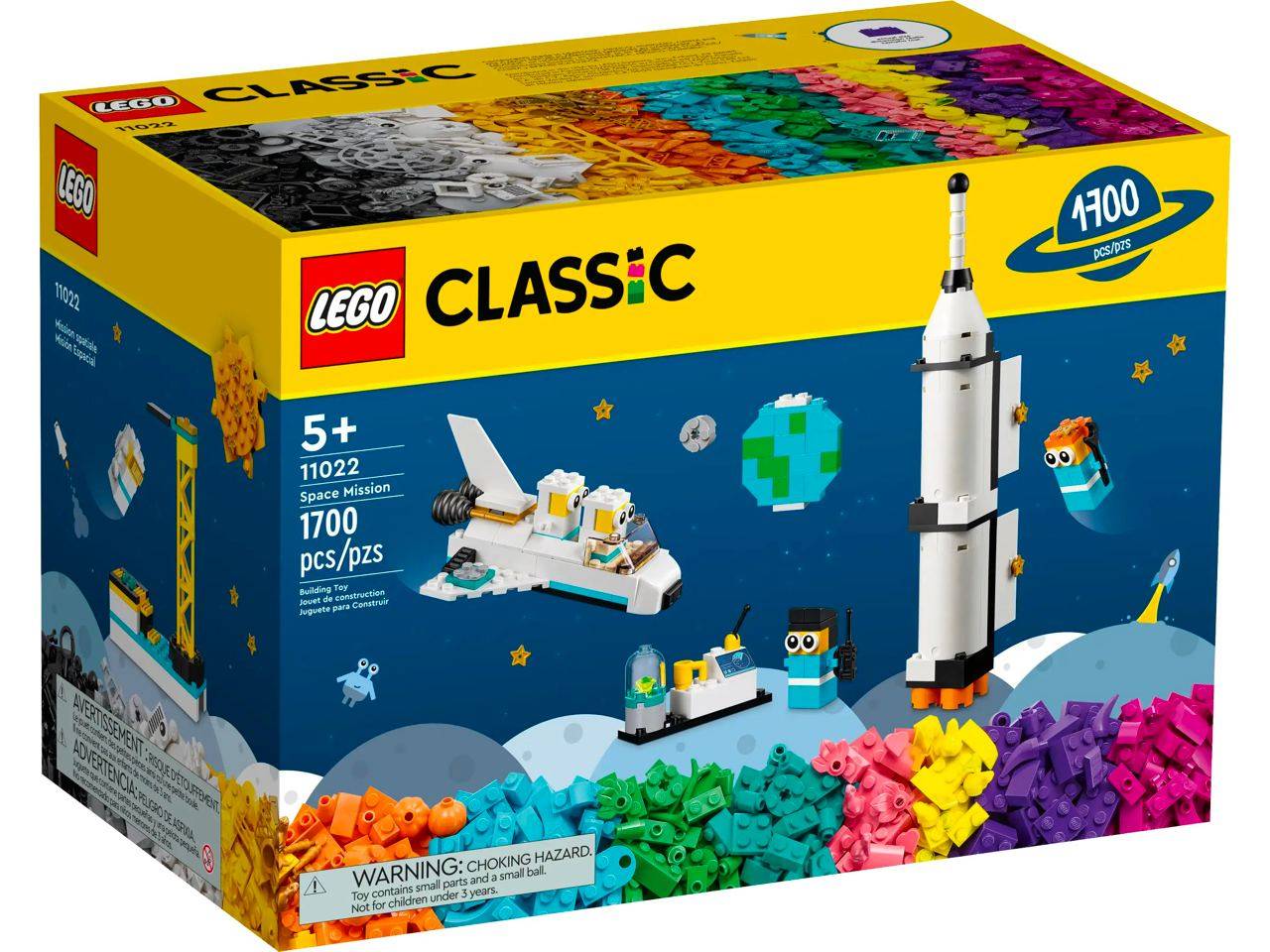 7. Large Creative Brick Box Lego set.
This LEGO set is meant for all ages and it is a total of 790 pieces it is filled with all kinds of LEGO bricks that come in 33 various colors. It has eight different kinds of windows and 8 different types of door frames this set also includes so green base plate that comes in 2 different sizes 6 tires three sets of eyes and three pairs of wheel rims. This Lego set is meant to inspire children and make them more creative with LEGO building skills there are also special pieces that help in imagining the building place all models that are shown on the box can be built simultaneously.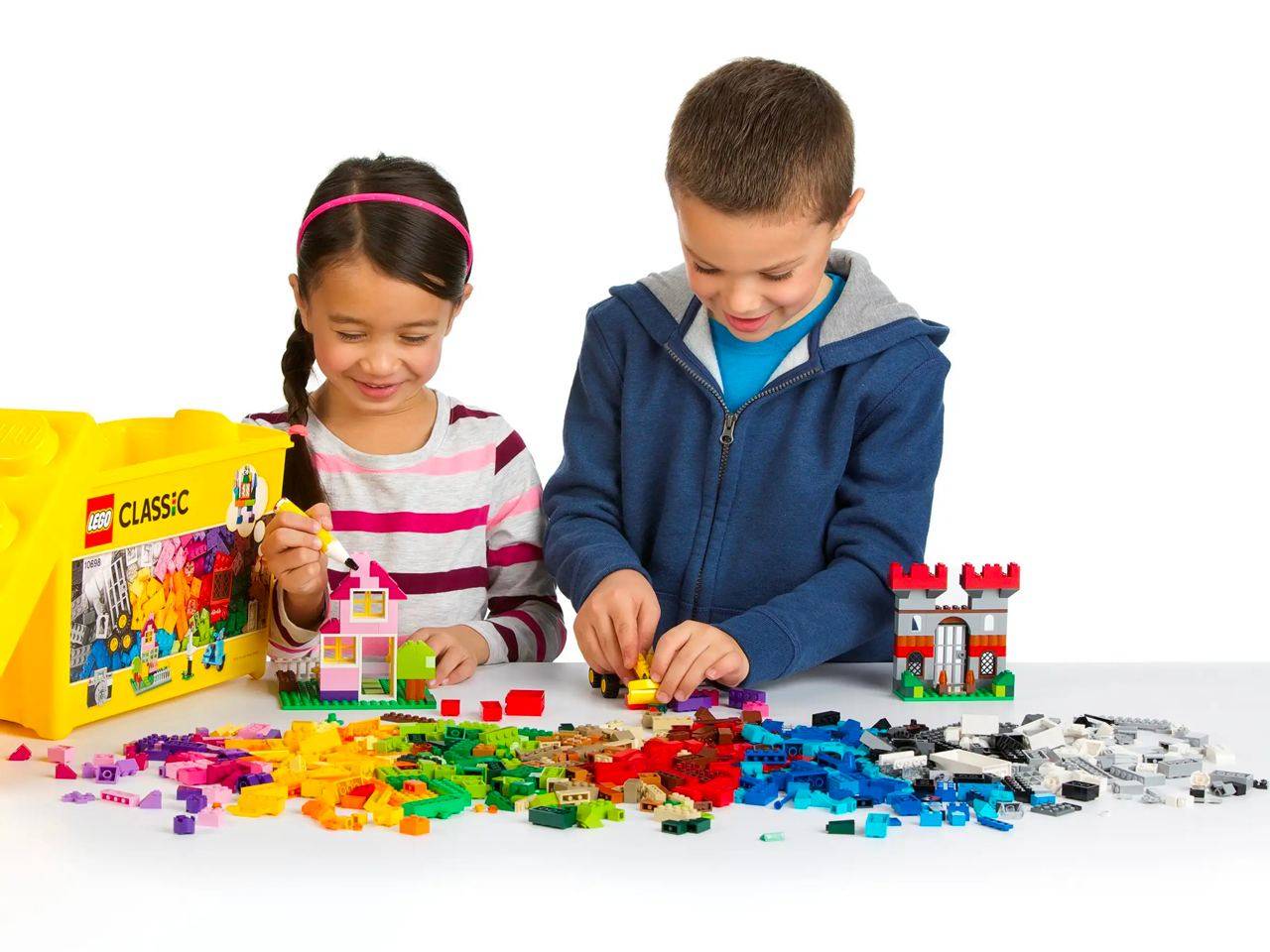 8. Creative Party Box LEGO set.
This LEGO piece is over 900 pieces and it can be played with by children over the age of five. Children under the age of 3 should not be caught playing with this Lego toy as it can be a choking hazard to them. It's time to party with boys and girls as you play with this amazing LEGO creative party box set this LEGO set gives an incredible playtime for every occasion. The Lego set has a beautiful variety of colors the pieces are grouped into 6 bags each containing some instructions that can be used to build an easy model of items like unicorn popcorn teddy bear pinata balloons small tiny presents clowns and a rainbow. He can be a nice activity to have at various celebration parties especially when the celebration party is over the creating building doesn't need to stop you can keep on building over and over again.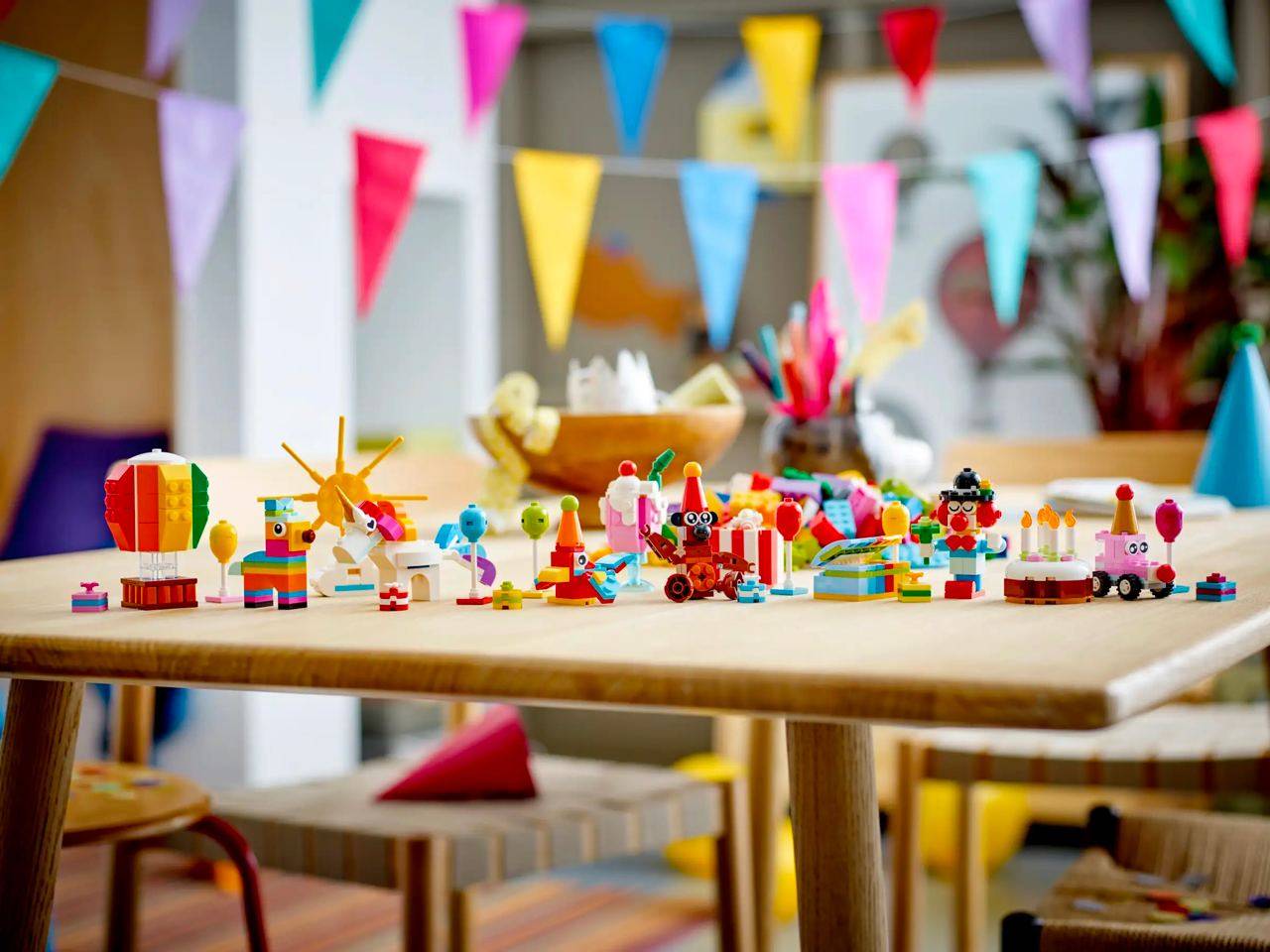 9. Creative Fantasy Universe Lego Set.
This LEGO set is meant for children over the age of five. It has a total of 1800 brick pieces. A Lego set that is filled with fun and can not only create memories but also a good time, it is filled with all these incredible myths and legendary stories that made this LEGO set possible. With different forms of bright colors that are very captivating, colors like red, blue, gold, and silver. The LEGO set also features some interesting elements that are used to build nice models like castles, dragons, knights, and some other interesting elements. This LEGO set is made for young builders that want to enhance their creative skills and also want to have fun. There is also a digital version that makes you to build with the help of the LEGO app.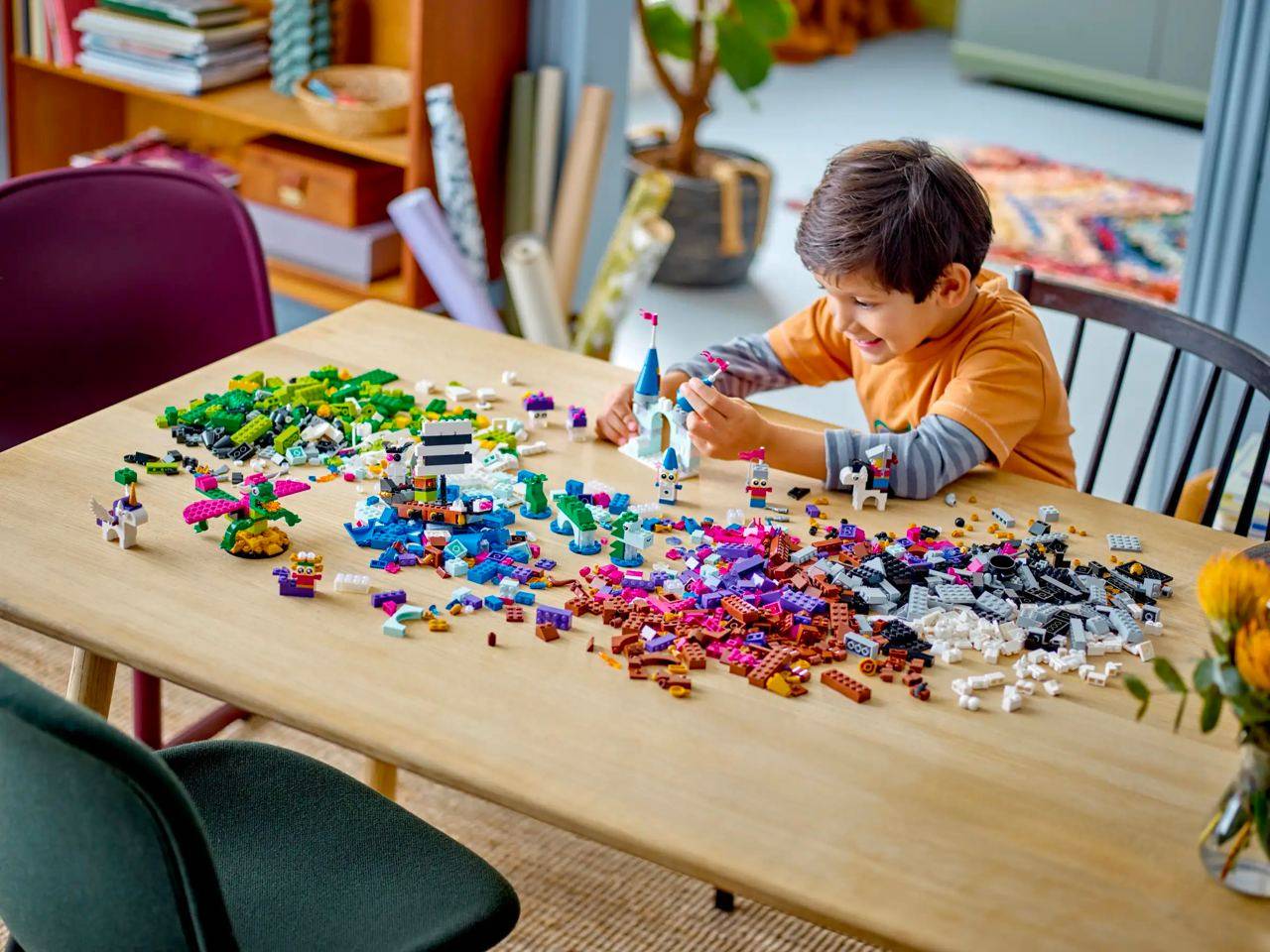 10. Creative suitcase LEGO set.
This LEGO set is suitable for all ages, it has 213 pieces. The set comes in a yellow suitcase that has a handle to carry your LEGO sets with comfort, inside the suitcase there is a component that you can separate the colors of the LEGO bricks, along with the shapes, eyes, building bricks, and wheels. It is the perfect set for beginners that just started building for the first time, it will make them more open-minded and more creative. Please ensure you don't give this LEGO set to children under the age of 3 because it can be a form of choking Hazard for them. There is a high-quality standard and high level of safety for this LEGO set as it has been tested.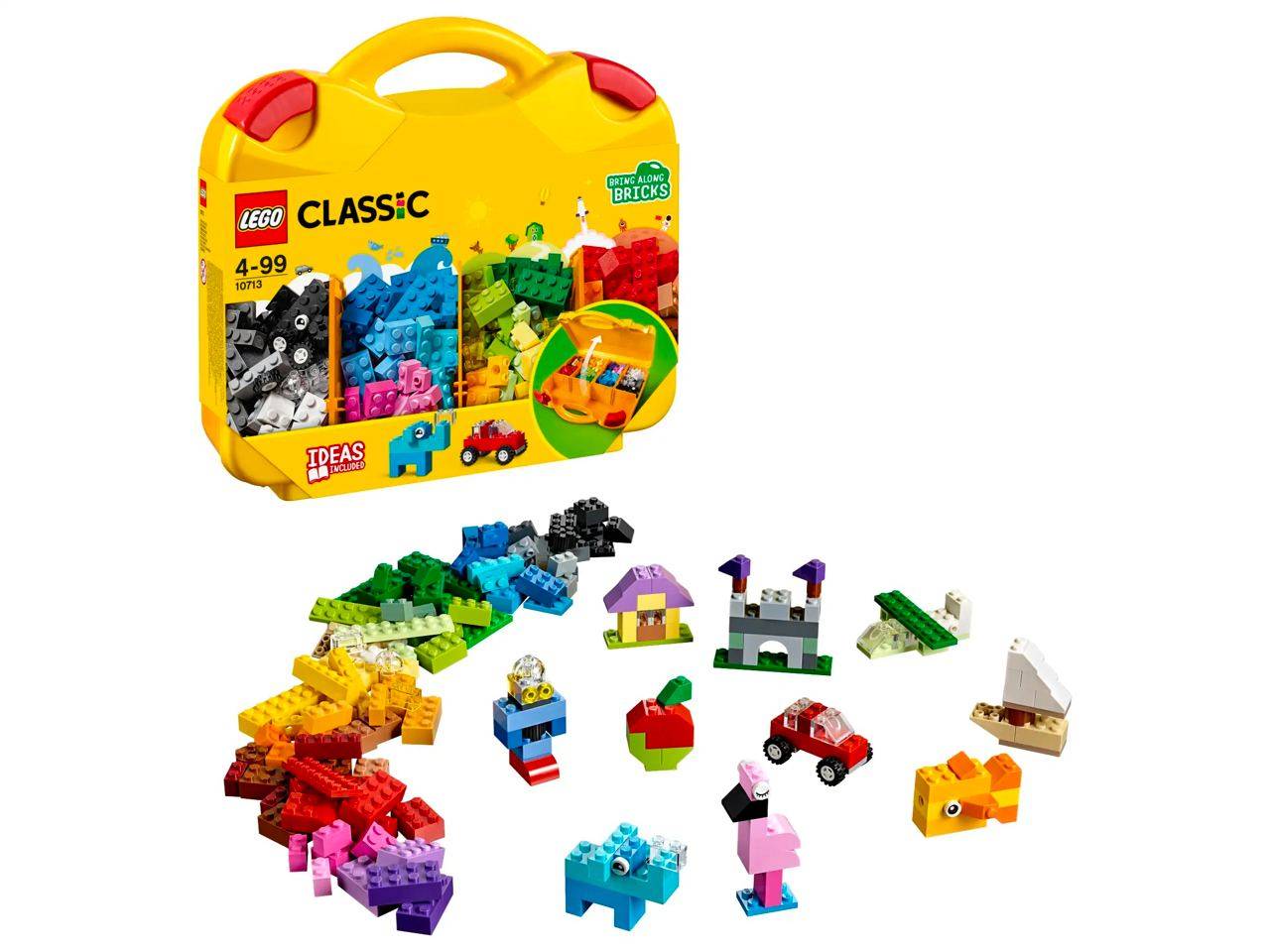 11. Creative Ocean Fun LEGO set.
This LEGO set is the perfect gift or presents for any occasion like a holiday, Christmas, birthdays, or any other form of surprise so that they can expand their Lego collections. With the amount of 333 Lego pieces, you can make your children more creative with that account of LEGO bricks. Make their imagination soar as they can combine other LEGO sets to make a wide range of incredible playtime.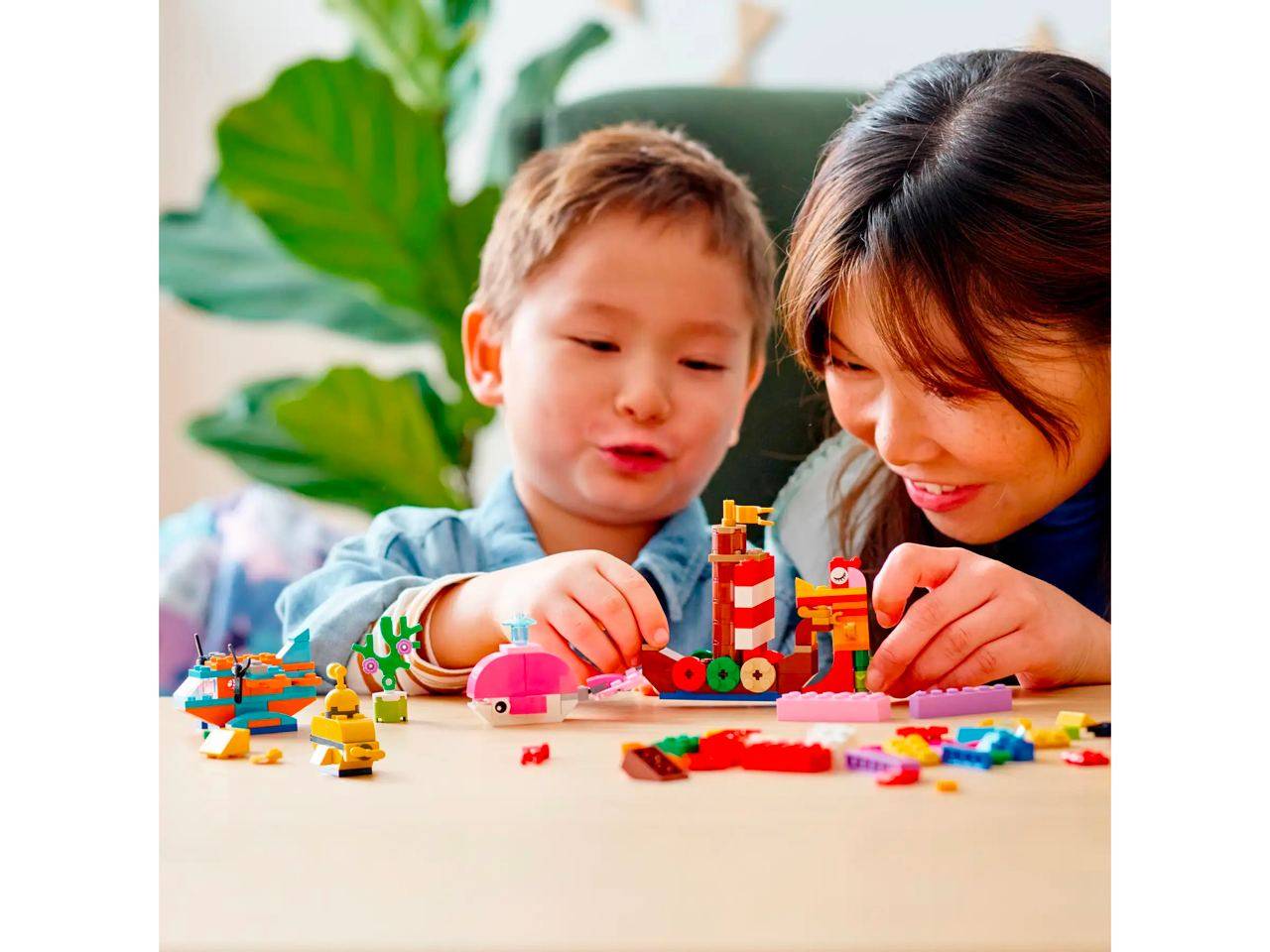 12. Creative transparent bricks.
Getting a chance to play with a total of 8 toys with these perfect places where the whole universe is made for creative enjoyment for kids to make their day. This will make an amazing gift to give to a loved one on a special day like Christmas, a birthday, or a holiday to show your love for their creativity and passion for LEGO building. Is a total brick of 500 LEGO Does this make a wild collection of transparent species research also has some original LEGO sets that were built in the early days for more fun and interactive storytime. The LEGO box also features separate bags where you can contain LEGO pieces that require two LEGO builds you can make your choice and open the brick bag and enjoy the fun that comes with it. The LEGO set also features printed instructions that help you to build some Lego models and also you can get help from the LEGO building app.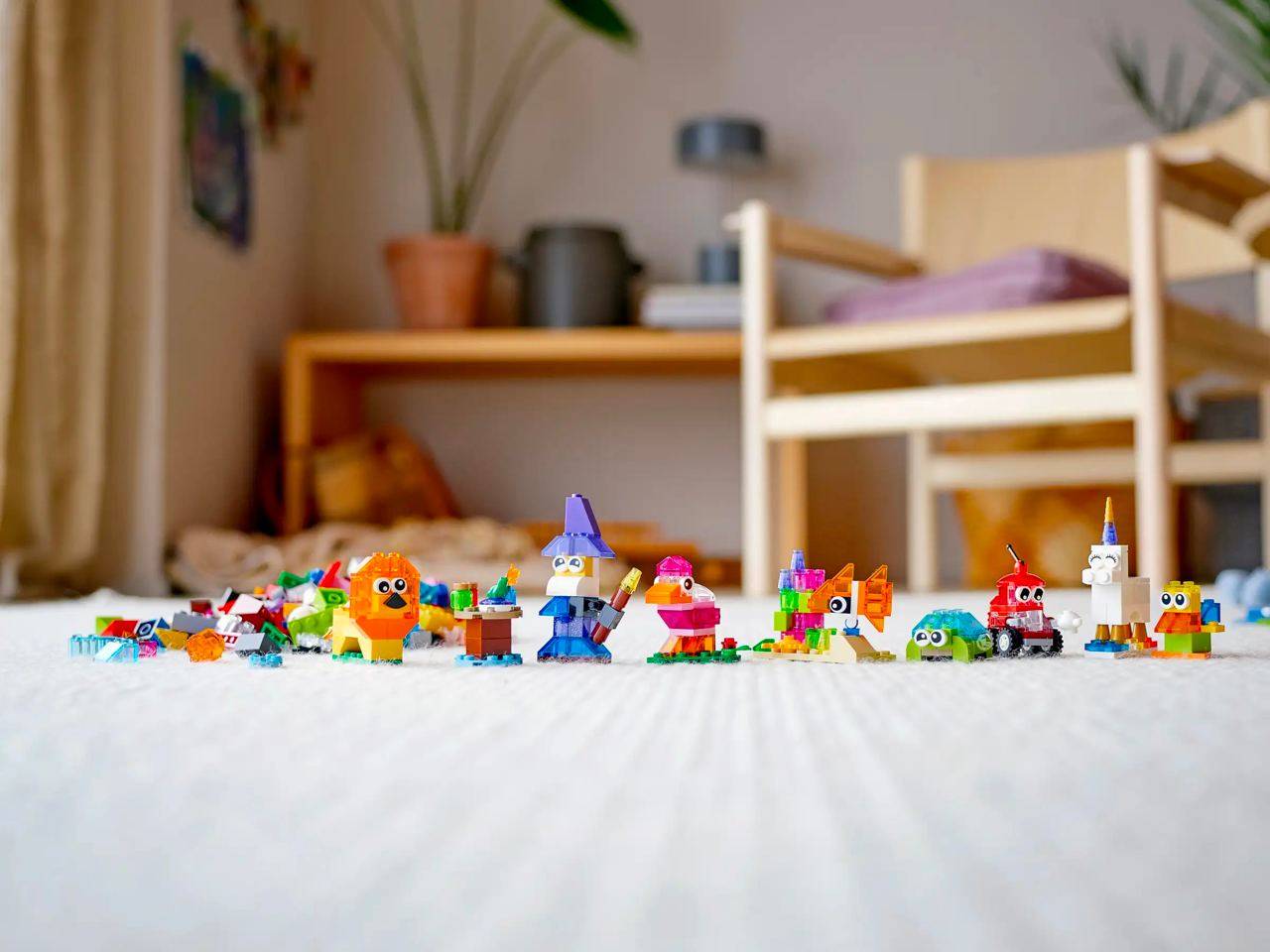 13. Bricks and functions LEGO set.
This Lego set is to leave open-minded creativity for kids who wants to expand and build creative things. It includes seven model ideas that can help to discover ways to be more imaginative as they can create their toy. This LEGO piece is suitable for children over the age of five it has a total of 511 pieces so that the kids can do whatever they want and be imaginative with a wild range of imagination. You can get more LEGO pieces and collaborate them with this piece from all the LEGO classic Ranges. These LEGO toys are being tested to ensure that all the LEGO sets meet the required safety standards and it has been proven to be of high quality.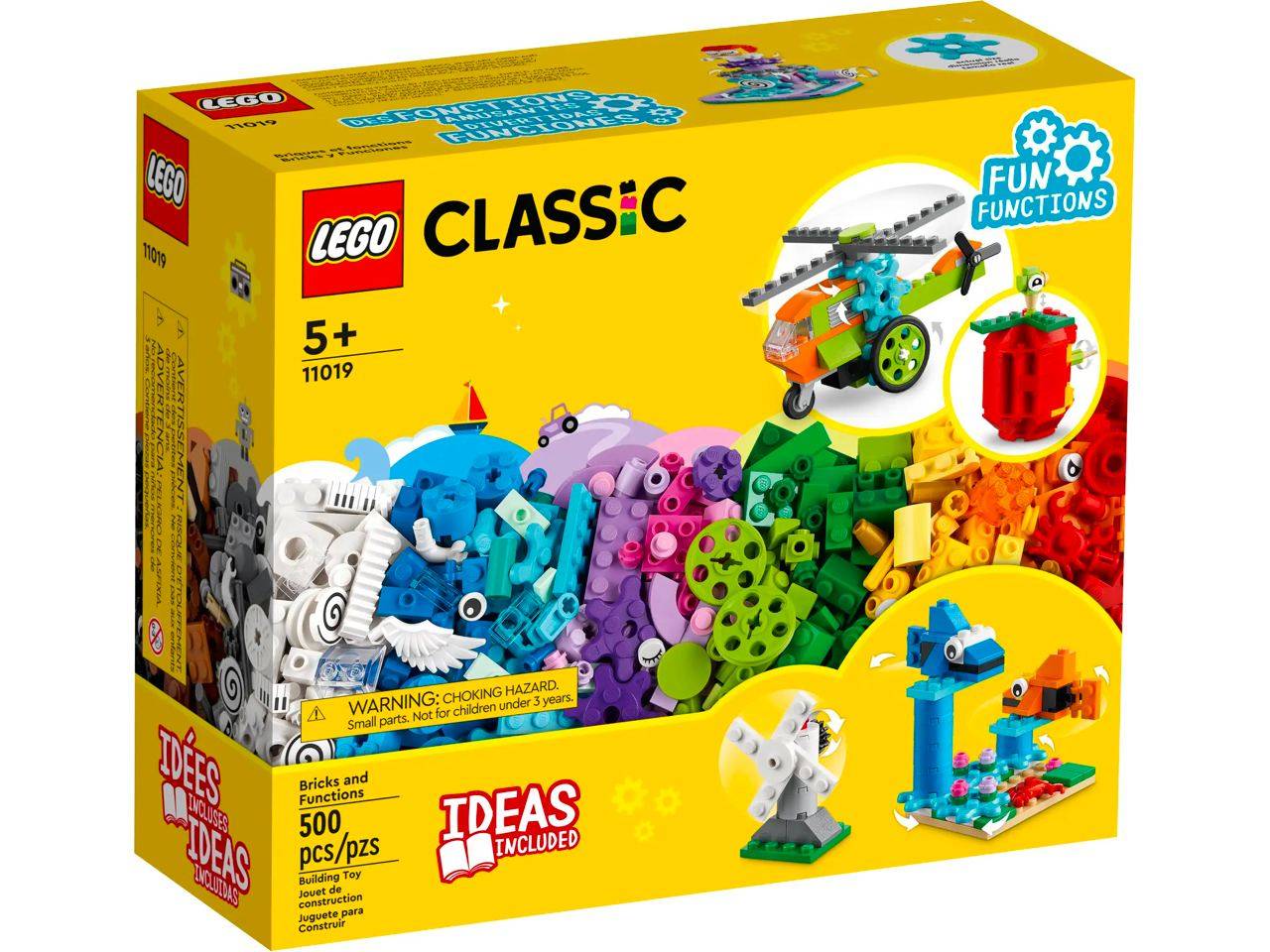 14. Creative neon fun LEGO set.
These brightly-colored LEGO building bricks come in different forms of colors which will enhance the courage of a child's passion to be more creative and use imaginative skills now. It is made for children over the age of 5 years old through all of their potentials in being creative. It has a total of 333 bricks with different sizes and shapes it also has six matching colors and 18 of the LEGO bricks have expressive eyes feature you making the kids more excited to play with the toys and bring them to life. The Lego set also comes with some model suggestions that will start up the building fun, the model includes a highlighter pen a pineapple an alien roller, and a car this also comes with building instructions so that you can learn how to build them. This is a perfect way to give kids gifts on their birthday or special day treats. This Lego set makes building more fun and interactive for children. The quality of this Lego set has been assured and make sure that they are easy to build consistent and compatible and meet the quality standards of the LEGO components they are also safety assured as the bricks have gone through different amounts of testing to ensure that they are safe.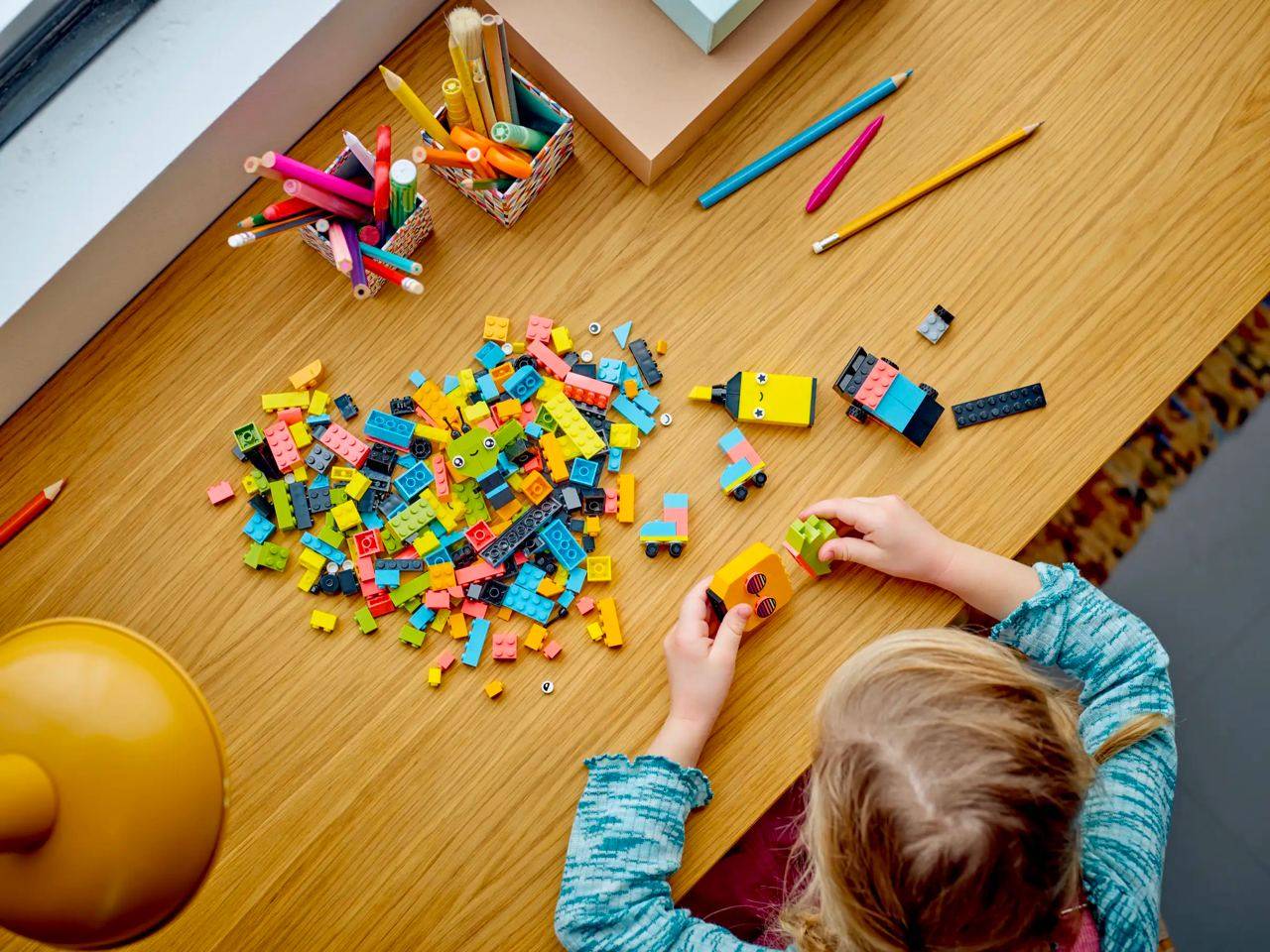 15. Creative monkey fun LEGO set.
Get ready for some jungle fun as you play with the classic LEGO creative monkey fun park it has hands-on play possibilities to entertain and make lighting and inspiration it is suitable for children over the age of 5 upwards. The Lego set also features adorable characters like the four monkeys that are using an assortment of bricks and it also comes with a lot of expressive eyes decorations and smiles to show you the expression of the monkeys the set also includes 4 banana rebuildable trees and two buildable birds. The way they created the monkey gives them the ability to have adjustable tails and double jointed Arms so they can move freely this also helps the children to be more engaged with they are toys and help with storytime. This medicine can be able to steal bananas hanging from trees and jump up and down. This would be a perfect idea to get as a gift for children for any special today a holiday or a special birthday for them, especially for most of the kids that like animals. They can be added to collections of order LEGO classic sets to enhance their storytelling and create more fun for them. The tallest monkey in this set is over 5 cm tall.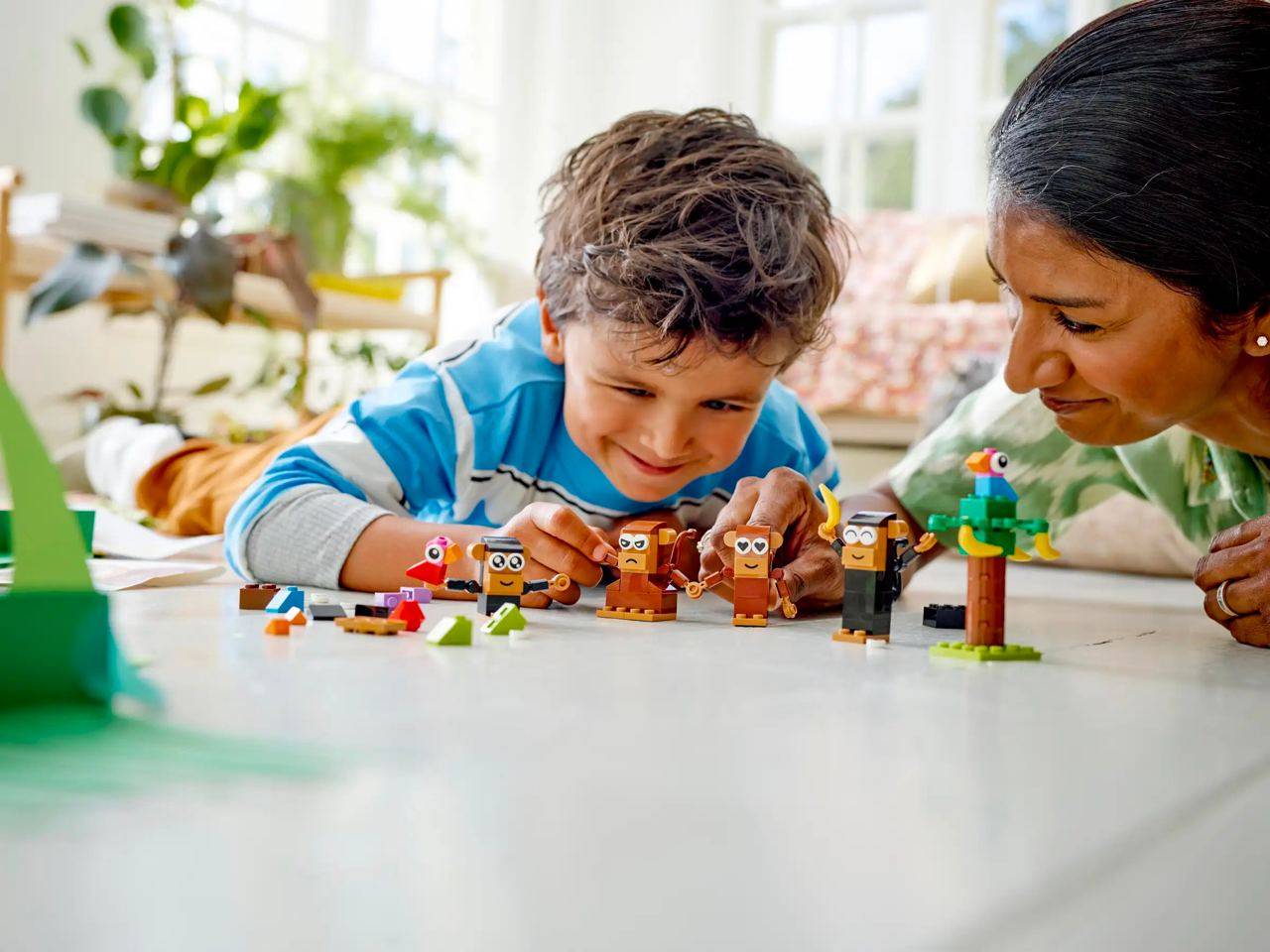 16. Creative monsters.
This Lego set has different varieties of colors for kids to use to combine various colors to make an amazing monster most of it is used for story time which makes the children very interactive with their toys. This Lego set also includes an instruction building guide it is a step-by-step process that is very interesting for children to build. These Lego sets help children with creative thinking and problem-solving skills as they play with this set. It has different variations of monsters you can create with different colors and shapes of LEGO sets.

17. Build together Lego set.
Are you looking forward to spending time with your family what's the perfect way to do it than to play LEGO Build Together set this is one of the most amazing sets of the classics it is given in a convenient sorting box where you can separate different colors of the LEGO bricks. LEGO classic helps to inspire an imaginative plane which helps them to improve their problem-solving and creative skills. They are over 24 inspiring models built to unlock children's creativity. It has a wonderful collection of colors to choose from to make your LEGO building livelier.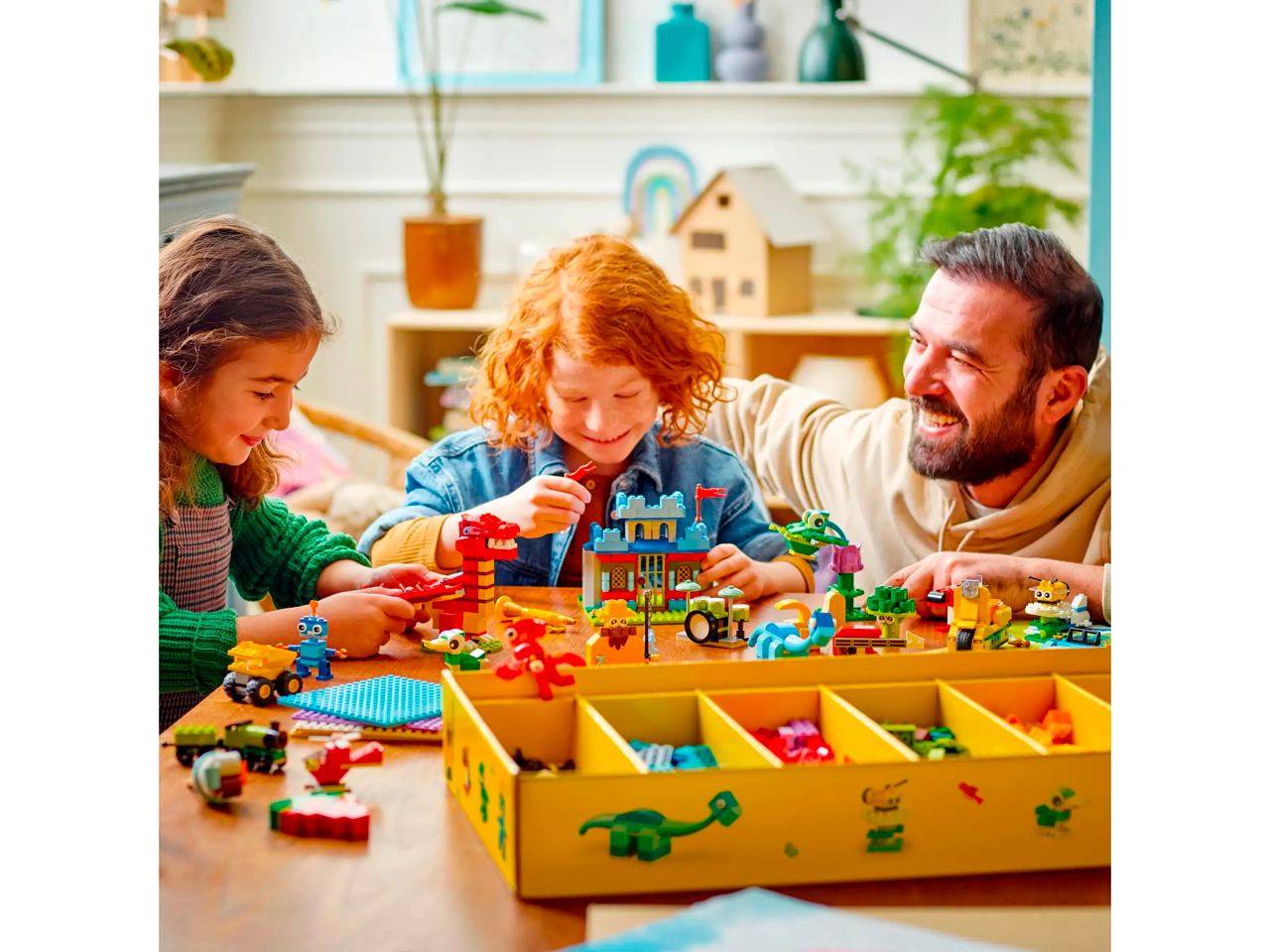 18. Around the world LEGO set.
Make your kids aware of this iconic LEGO set that is filled with creative form and a playset that will make you joyful the stables it is filled with 15 different building ideas it also includes a continent map to educate children on the areas of the world. Illegal ideas that come with this set are building animals and objects that are meant to increase children's ability to be creative. LEGO sets are meant for children over the age of four. The total number of LEGO pieces is 950 pieces so the fun will never end.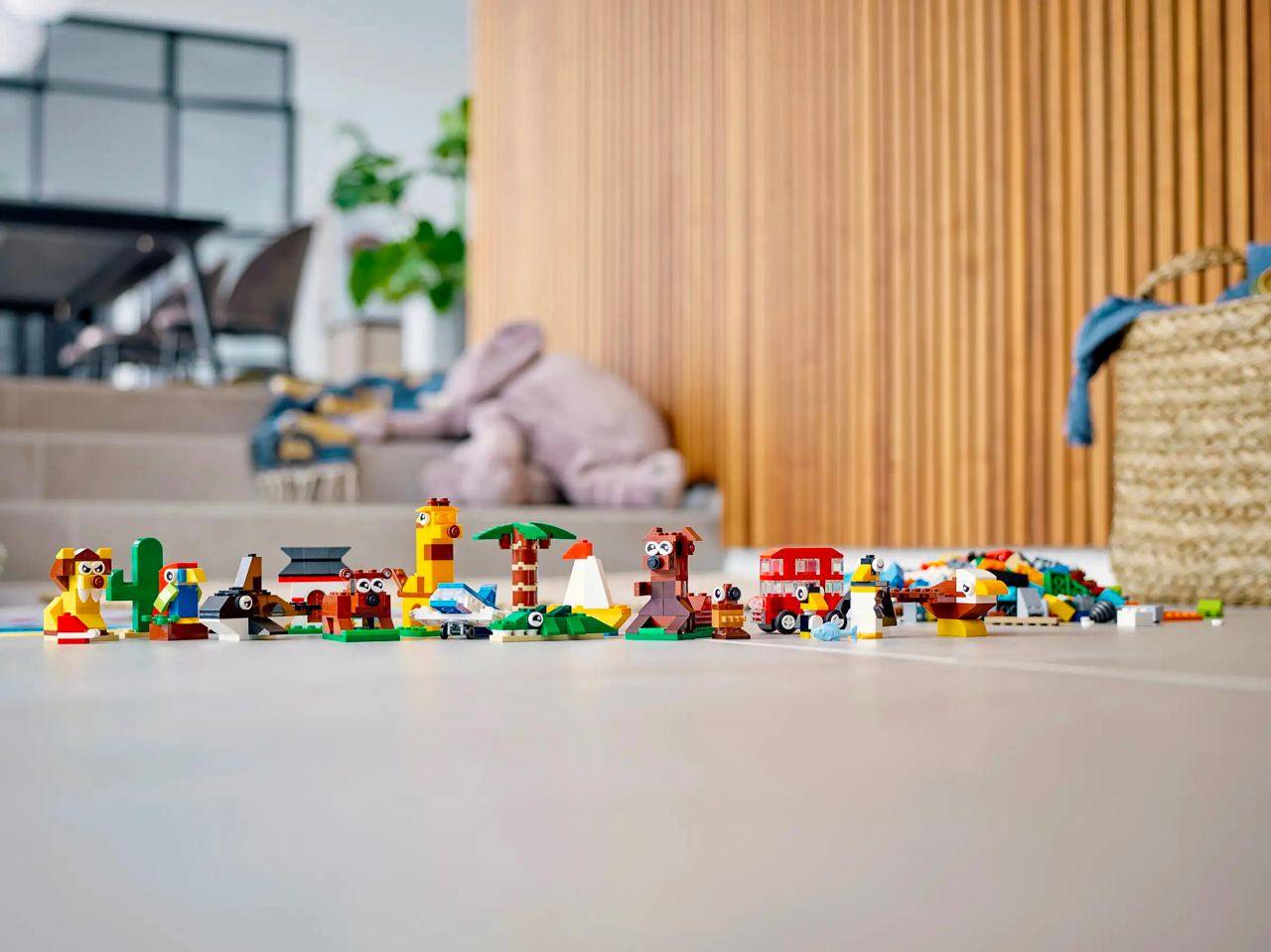 19. Green baseplate.
This is the one-piece logo play set that is meant for the Foundation of creative play to make your LEGO sets more steady as you build. It is a 32 by 32 stud base plate that gives an open landscape for all kinds of Legos making it both sturdy and durable It can contain over 1,204 to give a form playing for builders, you can be the perfect landscape for children to use the imaginative skills. It is also a gift you can give to someone very special which makes you look very thoughtful. And there are other colors of baseplate like white, blue, and gray.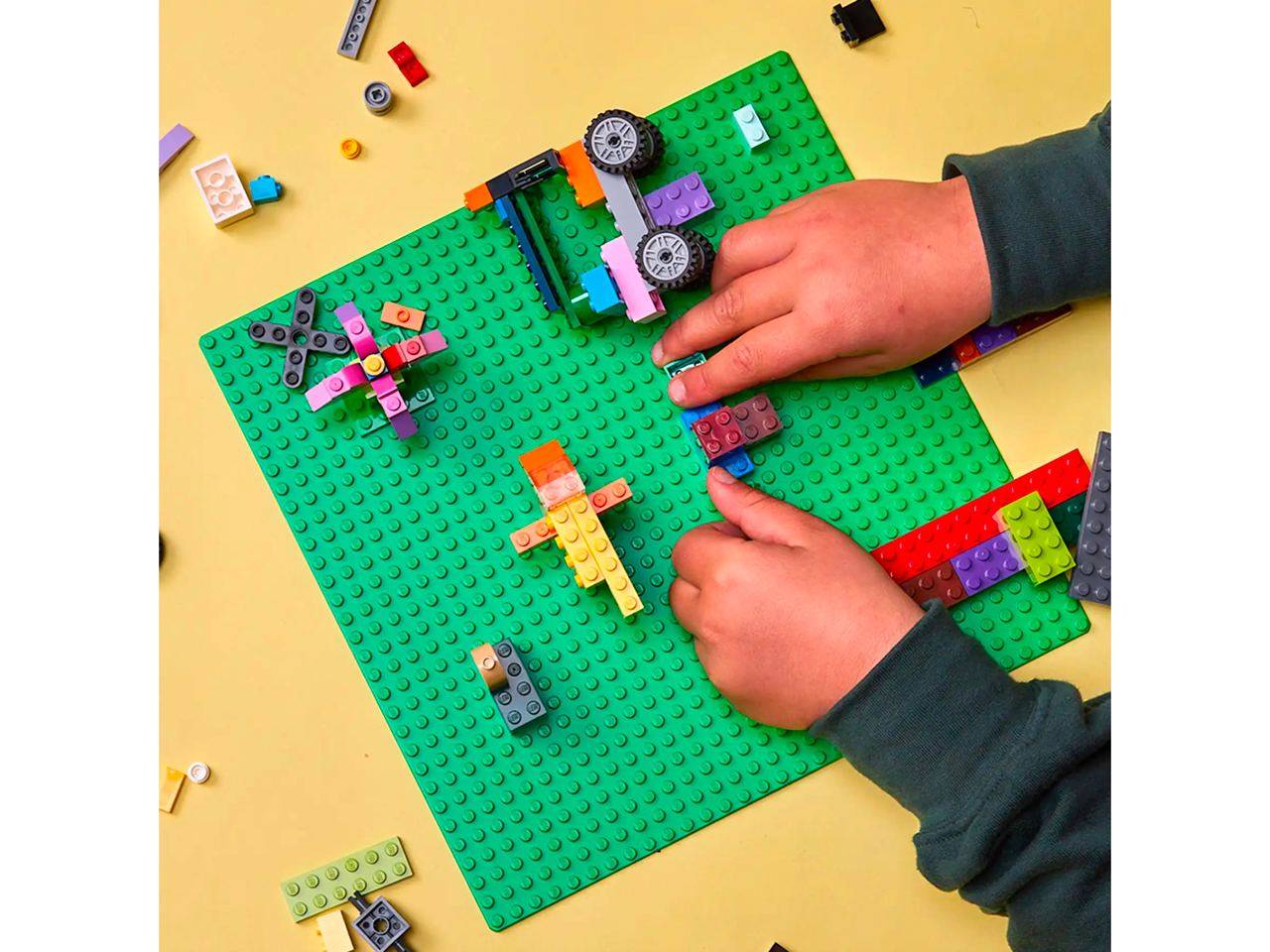 20. Brick separator.
If you're having difficulty in removing some of your LEGO pieces that are still together this is the perfect tool to have it will snap the two pieces apart after you put it in between LEGO pieces.