Leave your enemies terrified when you build the LEGO Tie Fighter Pilot Helmet 75274 Set.
The Star Wars Movie has been a huge success over the years. Due to its huge success, many movies following the first franchise were released. And now, today, there is an overwhelming increase in support from fans worldwide. There is also a large increase in the characters that are part of the franchise. We have seen incredible costumes and suits for fascinating soldiers throughout the franchise. Among these suits are the Star Trooper and TIE Fighter Pilot soldier. Among these two soldiers, the TIE Fighter Pilot Soldier is unique. This amazing and intimidating Star Wars Soldier was first. Featured in the Star Wars Empire Strike Back movie. This Amazing Soldier became very famous thanks to their armor and Helmet. But the Helmet of their brave pilot soldiers was most striking and intimidating. It's a helmet that is so intimidating and unforgettable. Once you have seen the Helmet for the first time, you will remember it quickly. 

Because of how awesome this character's Helmet is, a whole Lego set has been made that is just about its Helmet. The set is named the Lego TIE Fighters Pilot Helmet 75274 set. This Lego set has been designed to look exactly like the Helmet from the movie and is completely put together using Lego bricks. If you are a fan of the character and state-of-the-art Helmet, you will love the inclusion of the Lego team's new sets. This new set is designed to help you recreate this iconic Star Wars TIE Fighter Pilot Helmet. This set has many cool features that make it stand out as an amazing Lego set. The Lego TIE Fighter Pilot Helmet set is a set designed for adults. As a result, the Lego set will require a lot of skill and patience to put together. This is the set for you if you are looking for a set to help keep you and your kids engaged. This post will look into everything there is to know about this set, from the building experience to its features. So, let's begin with the Lego sets building experience first.
AN AMAZING BUILDING EXPERIENCE FOR THE LEGO TIE FIGHTER PILOT HELMET 75274 SET.
The Lego TIE Fighter Pilot Helmet set comes with over 700 brick pieces used to bring the set to life. And to get you in the mood to build, the Lego team packaged this set in a way that invites you to build. You get an adequate representation of the original Helmet from the box, and then alongside it, you get a representation of the already-built set. This allows you to picture what the finished set would look like immediately. You also get your Lego bricks well arranged into numbered bags, making it easy to easily find the pieces needed for each part of the building process. The building of this Lego set is very technical and would require great focus on your part if y to put it together successfully. So it would be best if you set a specific time for building this set to get everything right. If you set time out for the building of this set, you will get the best out of your building project.
The Lego TIE Fighter Pilot Helmet set could be very difficult to put together if you are new to Lego sets. The Lego team is well aware of this and has included an instruction manual to the set to help make the work easier. The information in the manual has been made as clear as possible. The manual also contains
Diagrams and pictures make it very easy to know where you are in your building project. So, with this manual, you will surely enjoy your building project. And at the end of your building project, you will have a set that will bring you great satisfaction. Aside from the amazing building experience this Lego set comes with, the Legos set also offers awesome features. Let's find out what these features are.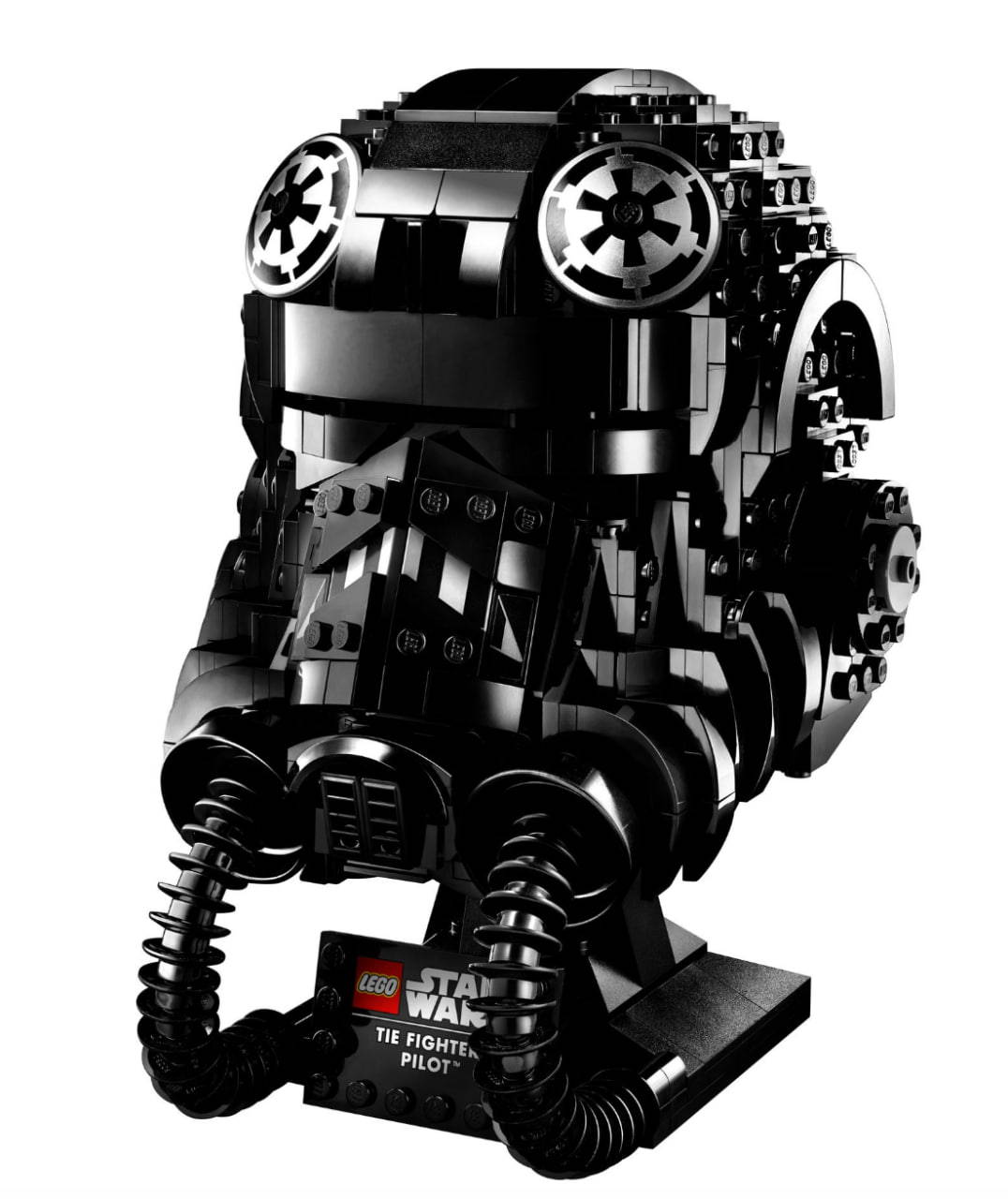 AN AWESOME BUILDING EXPERIENCE FOR THE LEGO TIE FIGHTER PILOT 75274 SET.
AN AUTHENTIC DISPLAY.
The Lego TIE Fighter Pilot Helmet set looks amazing with many authentic details. These details make this set to look exactly like the movie's original set. The fascinating thing about this set is that there are no gaps. One of the most striking features of this Lego set is the tubes that allow the wearer of the Helmet to breathe. This set's features make it captivating and could keep you glued for hours.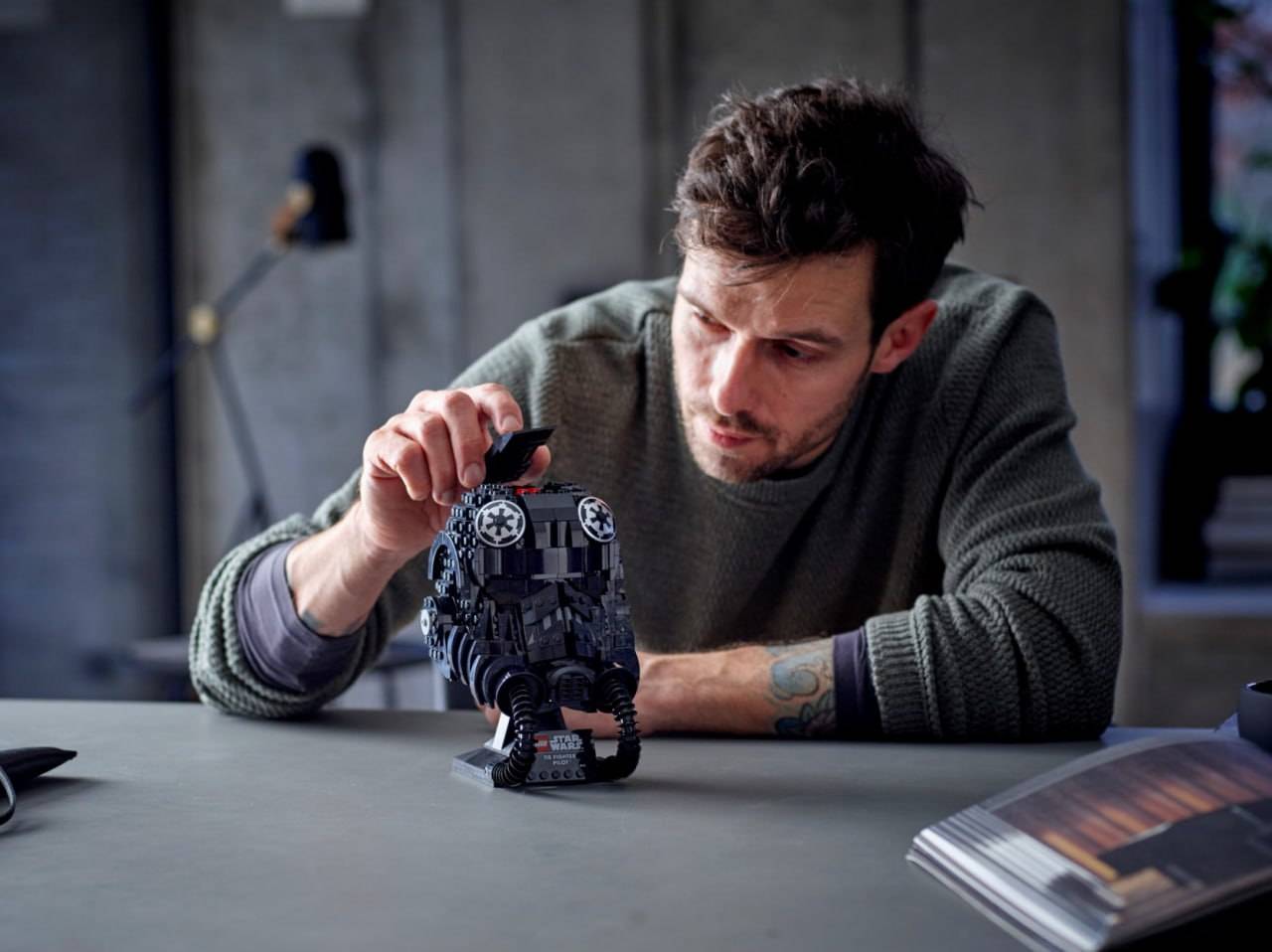 TOP QUALITY MATERIALS.
The Lego TIE Fighter Pilot Helmet set is made of the best materials. These materials have been tested to ensure they meet the Lego quality standards. All bricks from the set have a consistent quality and work smoothly together. This makes both your building and display of the Lego set very satisfying. Aside from the set being made from the best materials, the Lego set is also very safe to work with. It does not have that many tiny pieces, which means that you could build your set with kids aged seven and above present. But, the only advice would be to build on a high surface. A nice table ensures your pieces are not flying all over the place.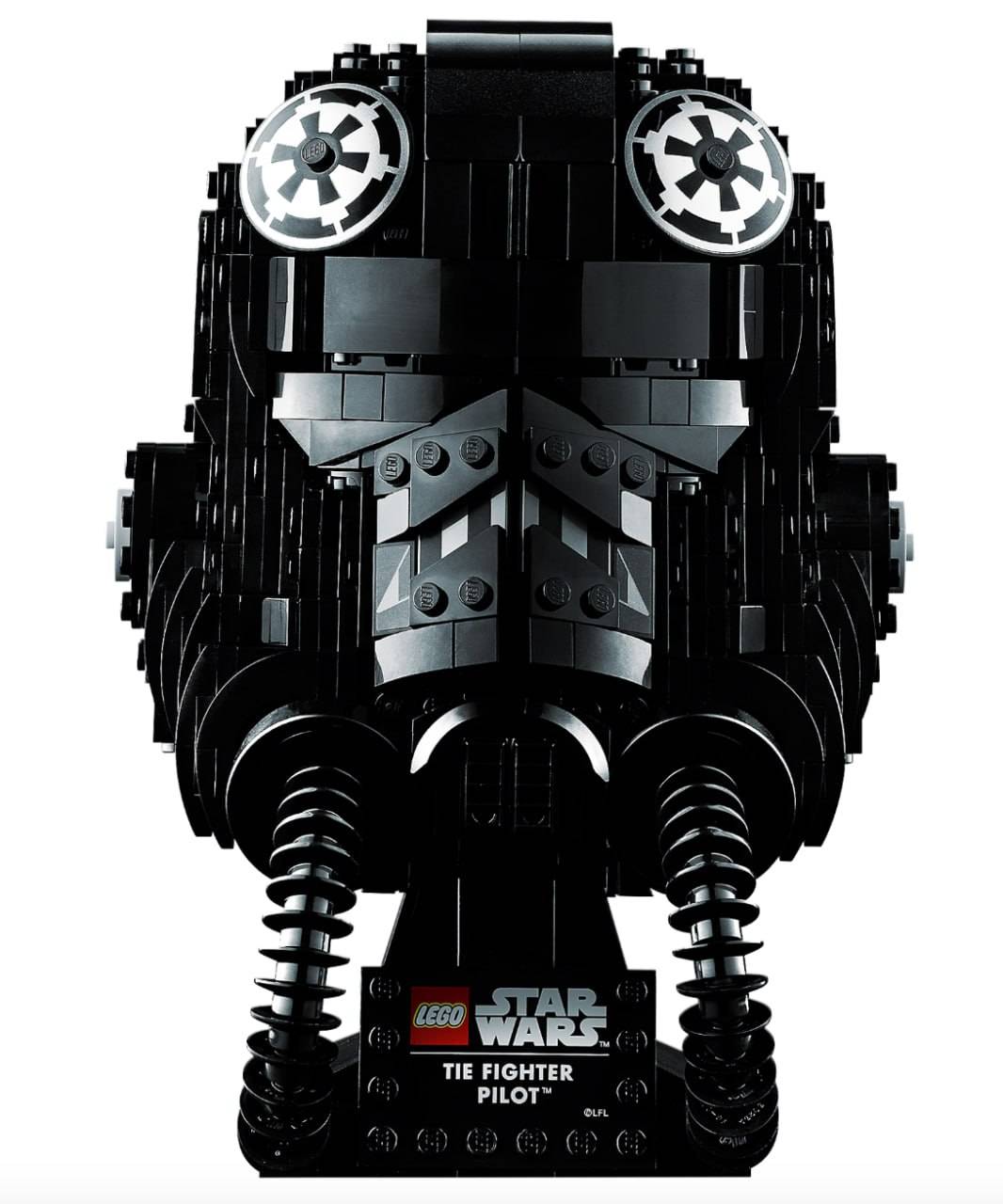 SET SIZE.
The Lego TIE Fighter Pilot Helmet set comes with a total of 724 brick pieces. These pieces include the display plate containing important information about the set. The set is portable and can be displayed on your center table or shelf alongside other Lego sets. When completely built, the Lego set measures 7 inches high, 5 inches wide, and 6 inches deep. The Lego TIE Fighter Pilot Helmet set is also a retired product, so if you wish to acquire one, you would need to buy through those who collect Lego sets. Brick fans are a good place to start. Another feature that makes this set so amazing is our amazing light kits. How do they work? Let's find out.


MAKE YOUR LEGO TIE FIGHTER PILOT HELMET SET LOOK EVEN MORE FASCINATING WITH OUR AMAZING LIGHT KIT.
The Lego TIE Fighter Pilot Helmet set has many cool features, which, as we have covered, makes the set look just awesome. But with our Lego lights, the set could look even more breathtaking. If you are new to our Lego lights, you can get one by clicking on our light kit page. Once you have successfully purchased our Lego lights, here are a few tips to help get you started.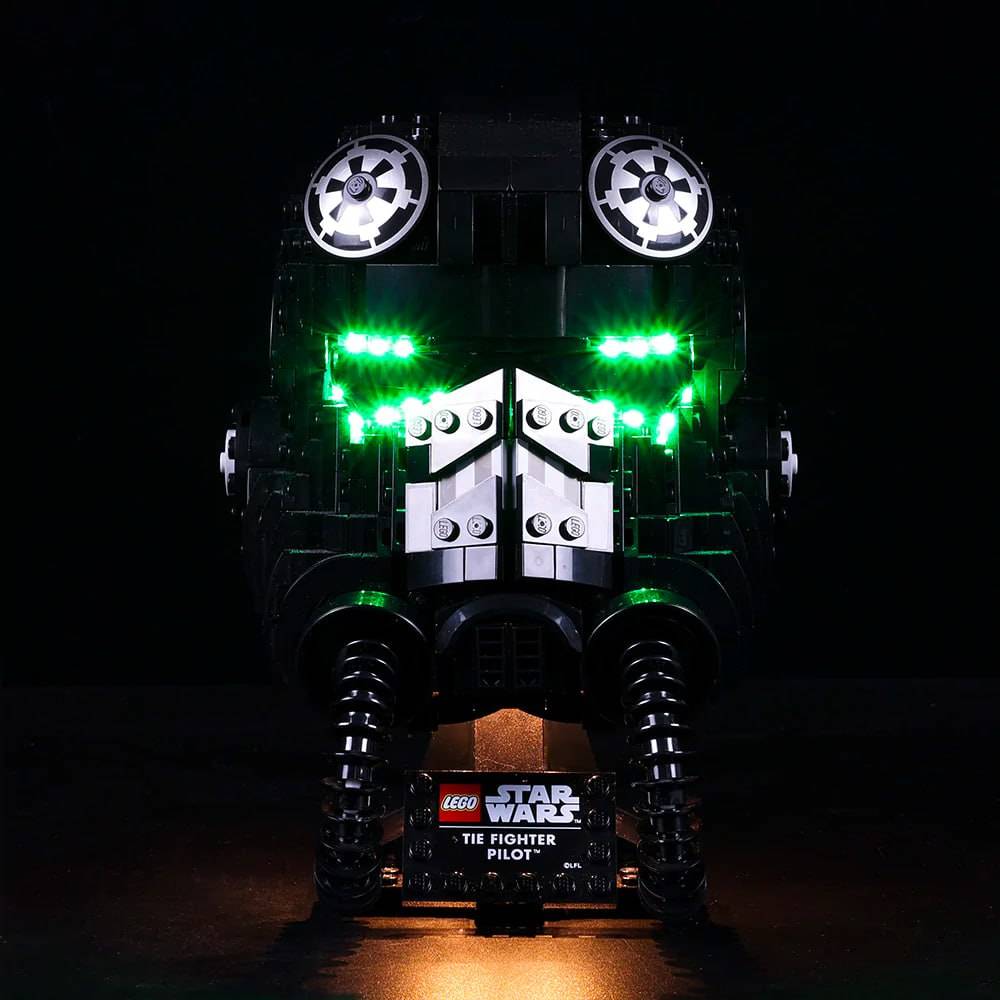 INSPECTION.
As soon as your Lego lights arrive, it would be safe for you to take a few minutes to inspect them. This ensures that all shipped lights and accessories look and are in perfect condition. It is not unusual for light kits to sustain damages during shipping. This is because our lights are very fragile. So To ensure you get premium quality Lego lights, make sure you inspect your package. If you notice any damages during the inspection, request a replacement using your 30days warranty card.

Inspection should include checking the batteries, wires, and power capacity. You would also need to look out for signs of short-circuiting. If, after your inspection, everything looks good, you can move on to the next stage.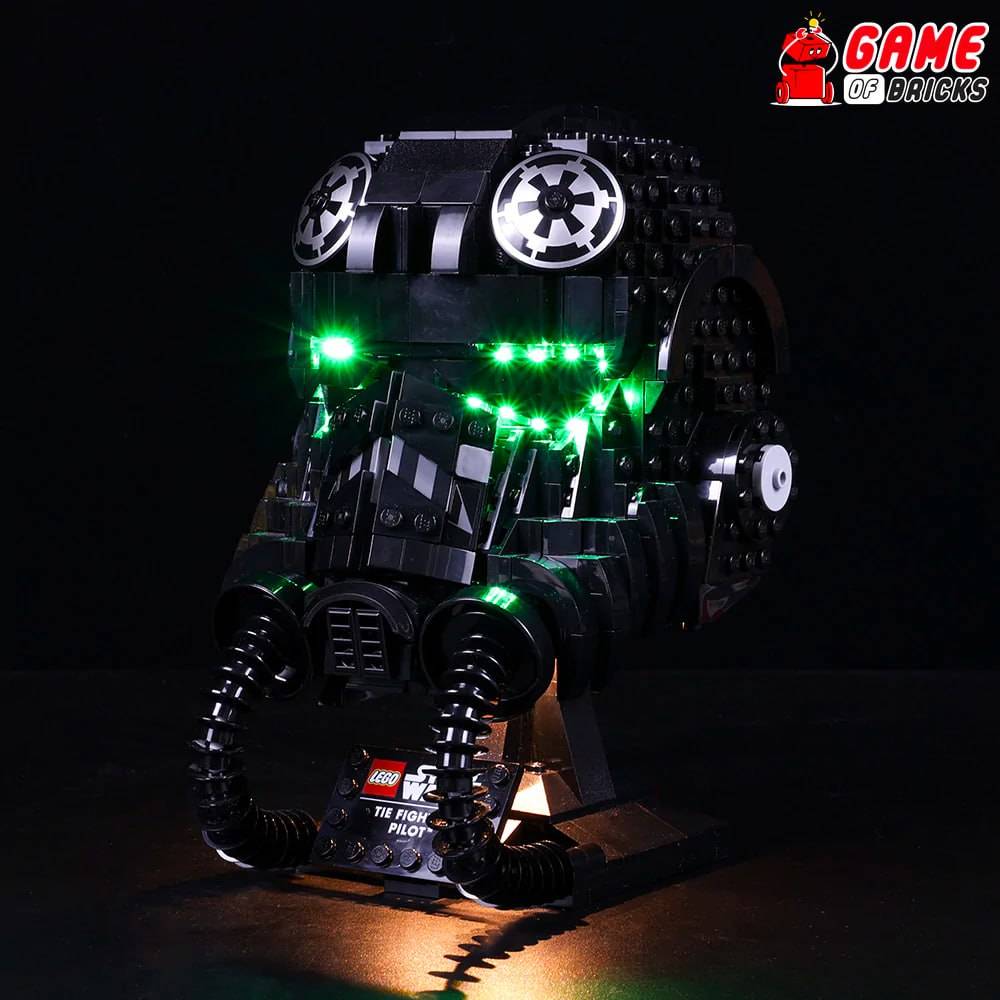 INSTALL.
You can only begin this process after building your Lego TIE Fighter Pilot Helmet set completely. To do this successfully, each light kit has a special blueprint manual to help you through the process. There are also many videos and articles you could watch and read on our website before embarking on this journey. Feel free to make use of all the recourses at your disposal.
TEST RUN.
Once you are done installing your Lego set, you can now take time off to test run it, making sure it is in the best condition. To do this, check for signs of short-circuiting, as this could help you quickly identify the problem. Once you have located the problem, be sure to fix it. Once you are sure that everything is in the best condition, you can finally relive your Epic Lego TIE Fighter Pilot Helmet set moment in style as you put this set on display.
---