Remember your favorite star wars movie scenes when you build the LEGO Scout Trooper Helmet 75305 Set.
If you are a Star Wars fan, you know what a Scout Trooper is and what makes them so different from other Troopers. But in case you have no clue, Scout Troopers, also known as Biker Troopers, are a type of Stormtroopers used on several missions by the Galactic Empire on various missions. They Are commonly seen riding on a 74-Z Speeder Bike. They have the lights armor and suit of all the Troopers and even have different designs of helmets. And like every other trooper, they are skilled, well-trained, and also very intimidating to look at. The first Scout Trooper was seen in the Star Wars movie, " The Return of the Jedi." Since then, the popularity of these guys has just kept growing. If you are a Star Wars fan, you would love owning a small Scout Trooper Figure. If that's how you feel, you would love the Lego team's new set release on April 21 of April 2021. 

The name of this set is the Lego Scout Trooper Helmet 75305 set. This Lego set, as the name denotes, is a set that focuses on the building of the Scout Trooper Helmet. This set is amazing and fully shows all the features of the Scout Troopers Helmet and would be fun to build if you are a fan of technical Lego builds. The Lego set would be good for both kids and adults who are fans of Lego sets. But this set is mostly targeted at a much more mature audience, which is why lots of technics are introduced in building this Lego set. In this post, we will cover everything there is to know about this Lego set, including the set's building experience and how Lego lights make the set look all the more awesome. If this is something that interests you, stick around till the end. 
AN AMAZING BUILDING EXPERIENCE FOR THE LEGO SCOUT TROOPER HELMET 75305 SET.
The Lego Scout Trooper Helmet set comes with over 400 brick pieces used to build this set. This set is purely for display purposes, so it only contains display features. This feature includes a stand for the Helmet, which contains the name of the set and some features. This part of the set is not to be built but added once you are done building this set. To build this set, you must set out enough time for the building work. But we can assure you that it will be worth your while. Why? Because the building of the set has been divided into stages. All the bricks used for the set are also well arranged and numbered bags to help you know where to find each brick piece you need at a particular time. This makes your building work fun and engaging. Another thing that has been seen to help new builders is playing their favorite Star Wars-themed songs in the background. This advice would help add more spice to your building project.
As we said earlier, this set is designed for more mature minds. So it would be expected to find some aspects of the building of this set challenging. The Lego team was aware of this and created an informative instruction manual to accompany the set. The information presented in the manual has been well-designed to ensure it is clear and easily understandable. The manual also helps clearly define the stages of building and what is expected of you at the end of each stage. So there is no need to worry about encountering problems while building your Lego set. Overall, the Lego Scout Trooper Helmet is a fun and engaging set to build. So save time in the purchase and building of this set. Now that we have established that the Lego Scout Trooper Helmet set is an awesome set to build, it's time to look at some amazing features of this set.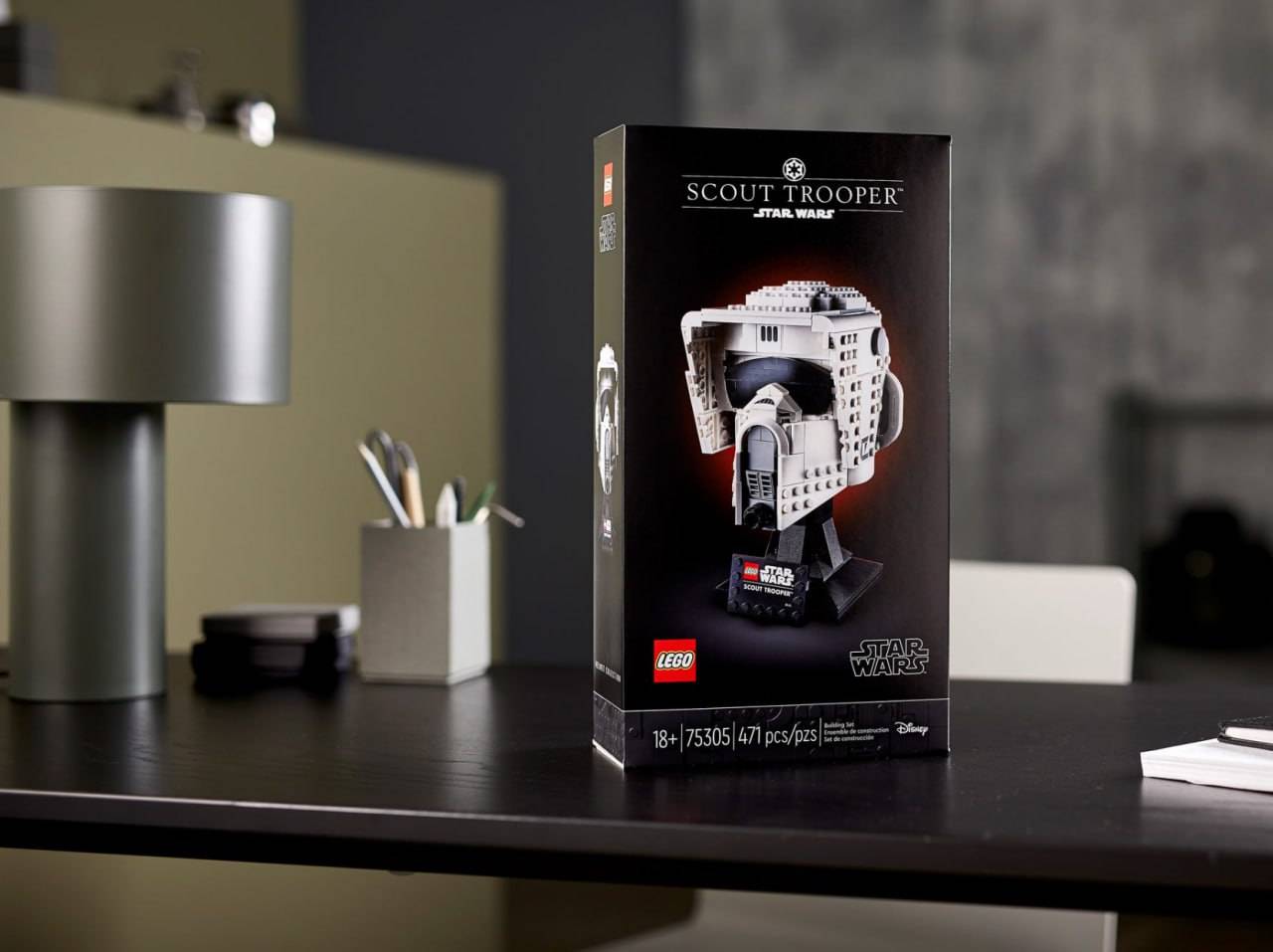 AMAZING FEATURES FOR THE LEGO SCOUT TROOPER HELMET 75305 SET.
AN EXACT REPLICA.

The look and design of the Lego Scout Trooper Helmet are truly iconic. The set has rough details that help it stay true to its original look. Everything, from the shades to the little curves here and there on the Helmet to the whole game, is so authentic. If you were to keep this set displayed, true Star Wars fans would look at it and immediately know that it is a Star Troopers Helmet. This feature alone will leave you completely satisfied after building this Lego set. So if you are looking for a super authentic and well-designed set, this Lego set is a good place to start.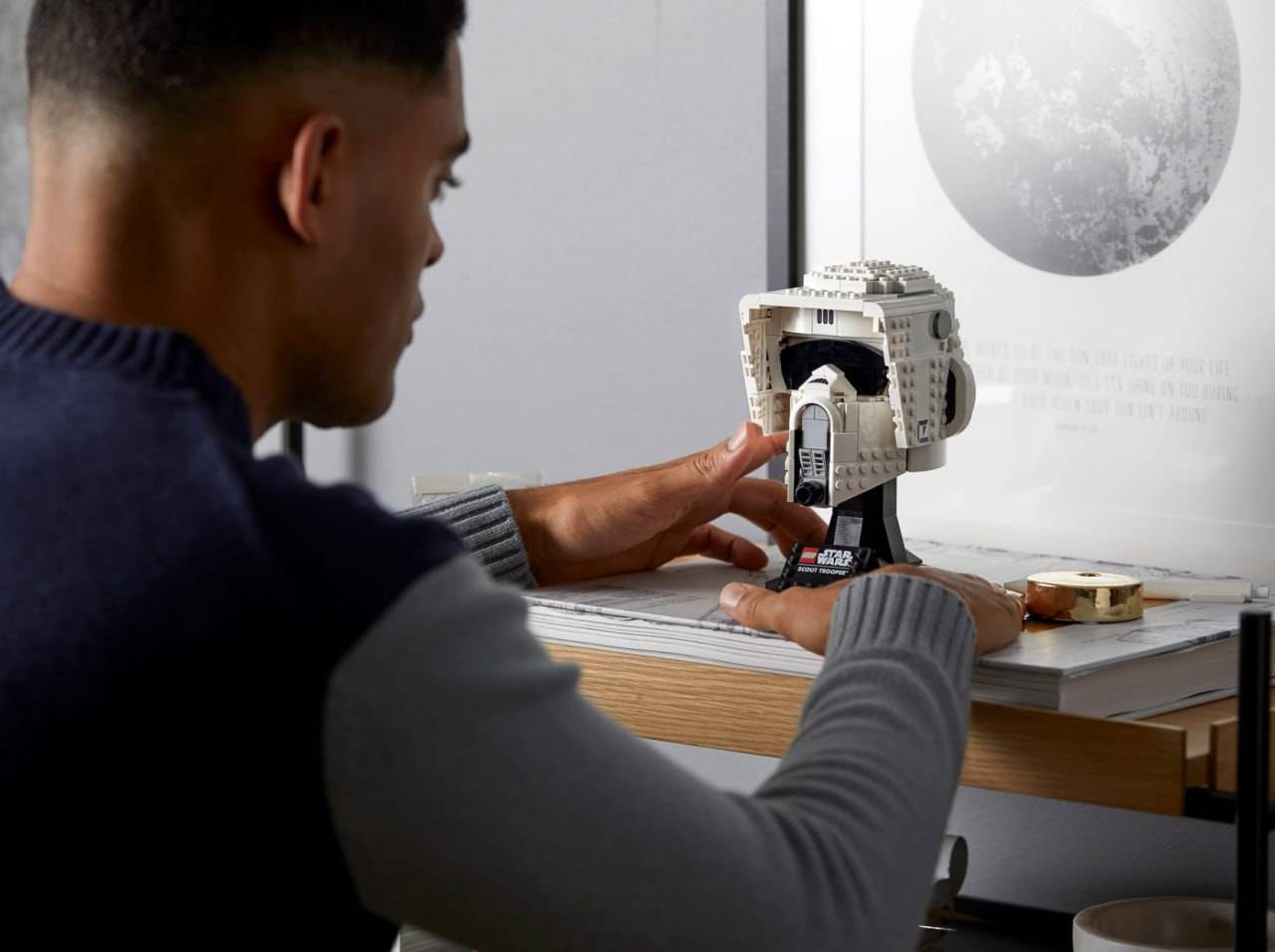 MADE FROM THE BEST MATERIAL.
Another thing that makes any Lego set good and easy to work with is that it is made from the best quality materials. This means that all the materials used by the Lego team in this set have been tested well and work. This is why you can easily attach and detach pieces when building. It is also important to note that the Lego bricks no longer break. Unless you intend to break them, the Lego bricks are as strong as they should be.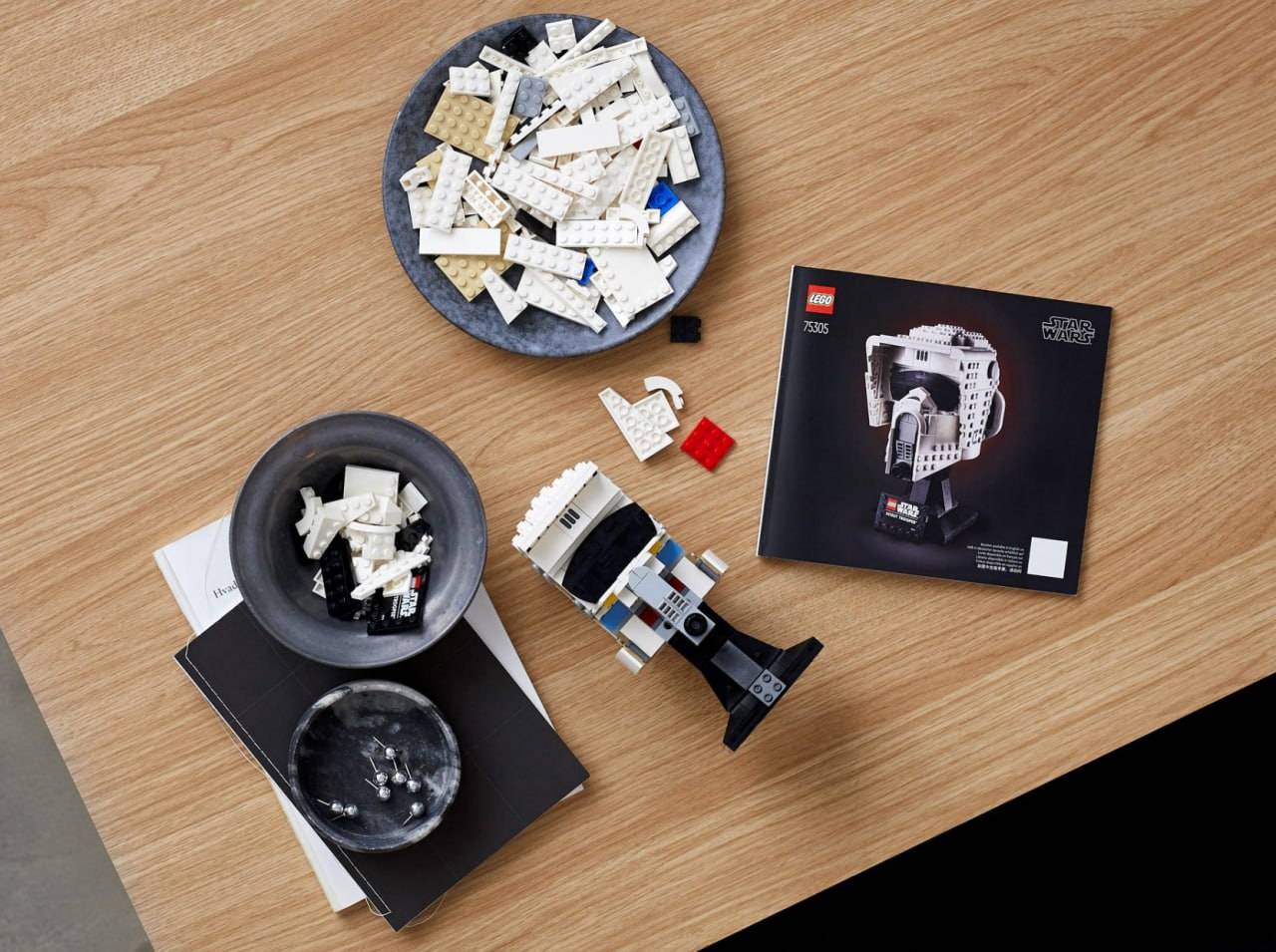 SET SIZE.
The Lego Scout Trooper Helmet is very small in size and not up to the size of a regular Helmet. This is because the Lego set comes with a total of 471 pieces. Though the Lego set is small, it could be easily seen displayed and displayed in several locations around the house. This means You could display the set on your center table of the office table. Or, if you are a true Lego fan and have a shelf dedicated to all your special sets to be displayed, you could also consider displaying them there. When fully built, the Lego Scout Trooper Helmet measures about 7 inches high, 4.5 inches wide, and 4.5 inches in dimension.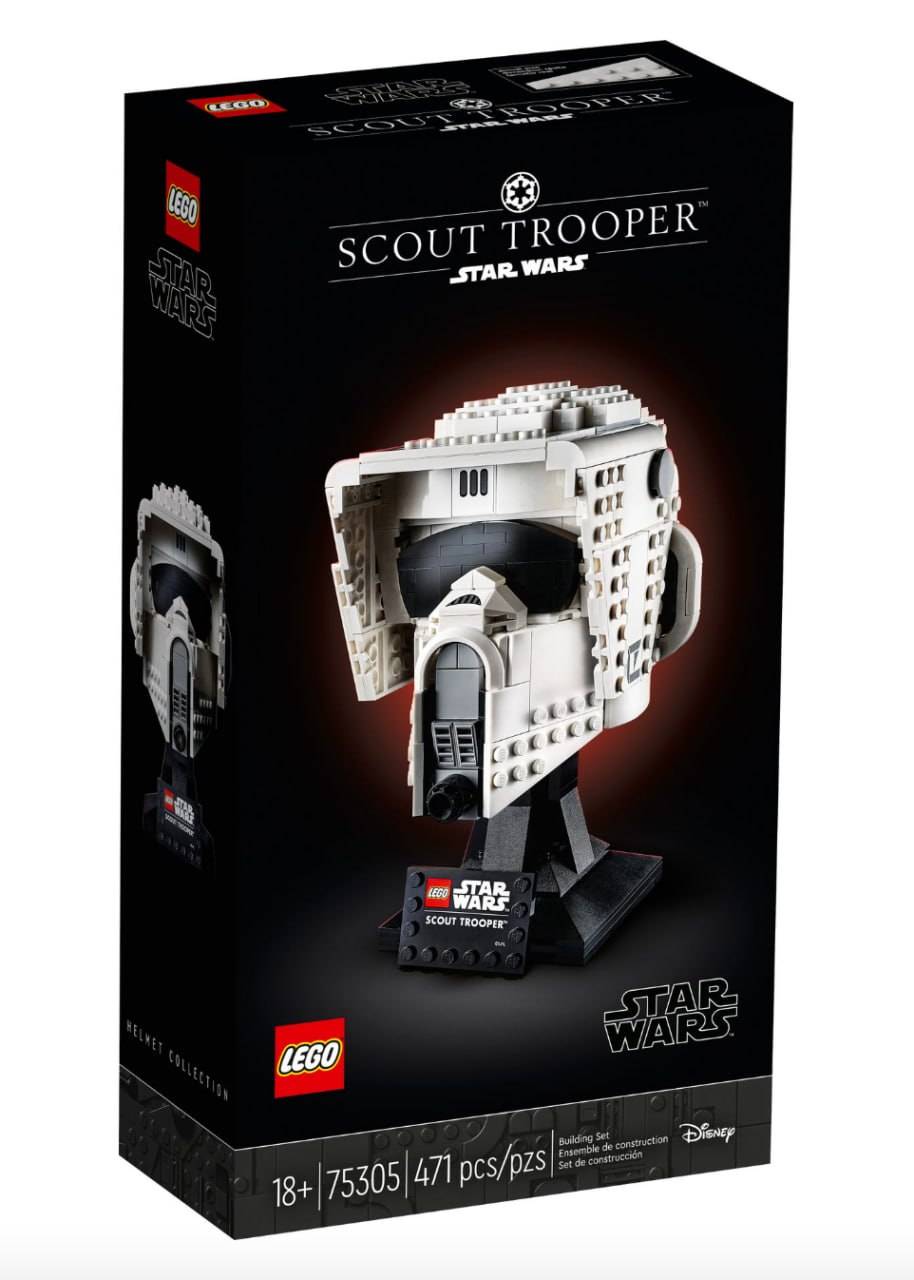 SET PRICE.
The Lego Scout Trooper Helmet is still available and can be purchased from any Lego store in your area or country of residence. You could also get this set directly from the Lego website. The set is on sale now and can be bought for as low as 39.99 dollars, which is lower than the 49.99 dollars it originally sold for. So there is no better time to purchase this set than now. So make it your goal to get one of these sets this year, 2023. And to accompany this amazing Lego set, be sure to purchase our amazing Light kits. In the next section, we will tell you why.


MAKE YOUR LEGO SCOUT TROOPER HELMET SHINE WITH OUR AMAZING LEGO-LED LIGHTS.
All our Lego lights are well tested and made of the best material, Led. This makes the way they light up different and very efficient. It is for this reason that millions of Lego fans all over the world buy our product. Once you install and start using our Lego Led lights, you will immediately see a total transformation in the overall look of your Lego set. You could purchase the right light kit for your set by visiting our Light Kit page for more information. And since installing our Lego lights could be a hassle, we have some suggestions to help get you started and ensure your success.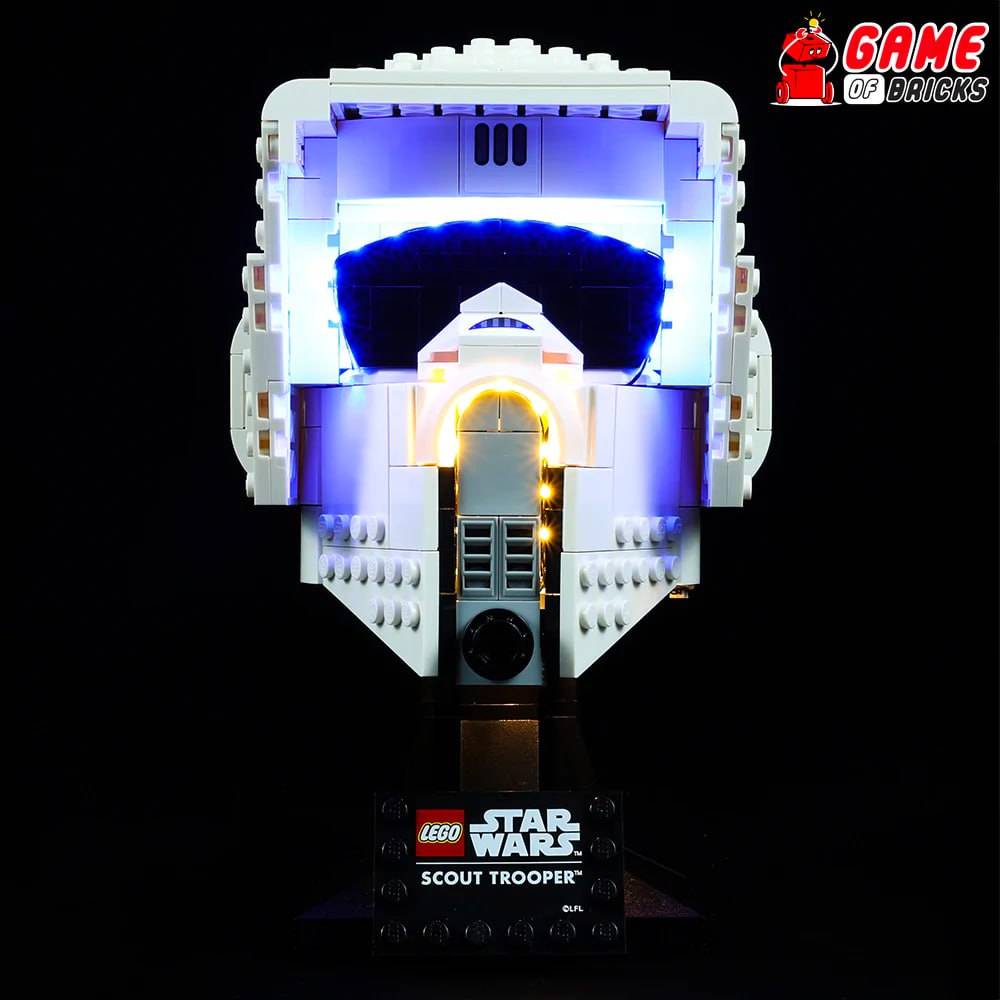 INSPECTION.
As soon as your Lego lights arrive, it would be safe for you to take a few minutes to inspect them. This ensures that all shipped lights and accessories look and are in perfect condition. It is not unusual for light kits to sustain damages during shipping. This is because our lights are very fragile. So To ensure you get premium quality Lego lights, make sure you inspect your package. If you notice any damages during the inspection, request a replacement using your 30days warranty card.

Inspection should include checking the batteries, wires, and power capacity. You would also need to look out for signs of short-circuiting. If, after your inspection, everything looks good, you can move on to the next stage.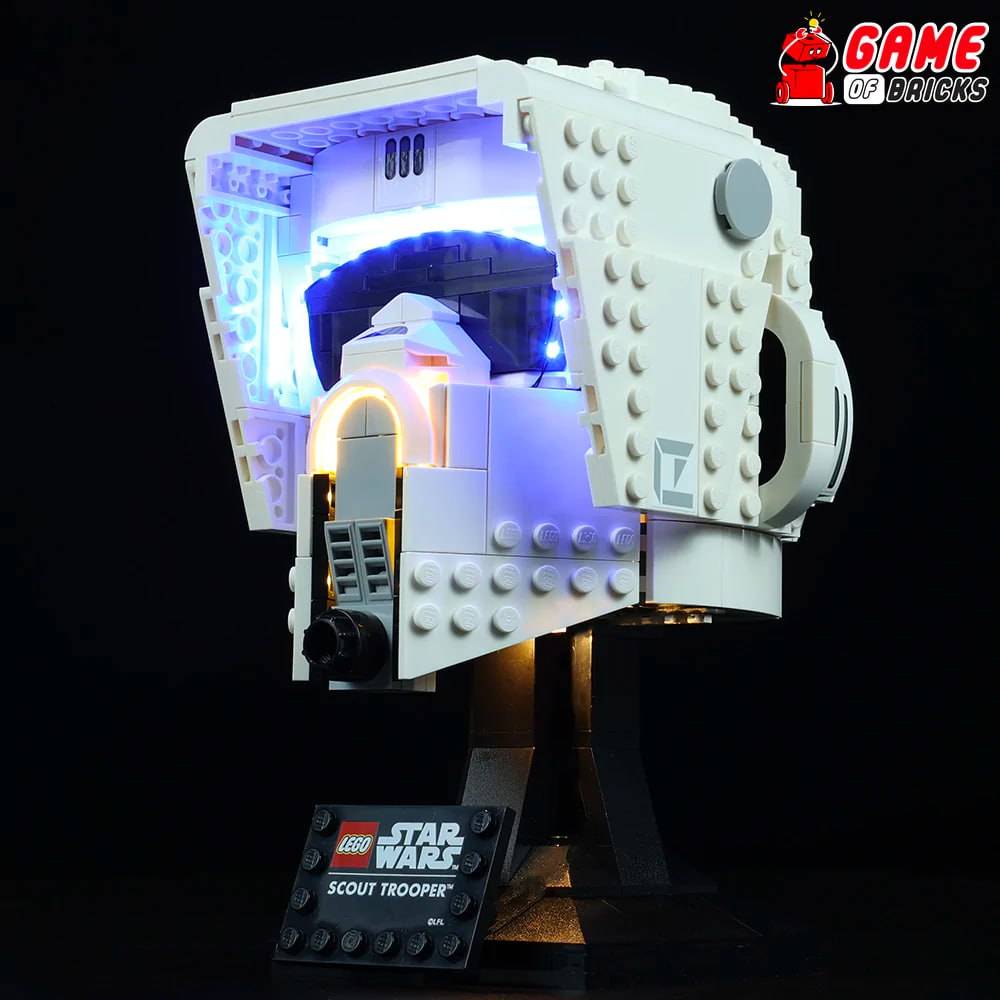 INSTALL.
You can only begin this process after building your Scout Trooper Helmet set completely. To do this successfully, each light kit has a special blueprint manual to help you through the process. There are also many videos and articles you could watch and read on our website before embarking on this journey. Feel free to make use of all the recourses at your disposal.

TEST RUN.
Once you are done installing your Lego set, you can now take time off to test run it, making sure it is in the best condition. To do this, check for signs of short-circuiting, as this could help you quickly identify the problem. Once you have located the problem, be sure to fix it. Once you are sure everything is in the best condition, you can finally relive your Epic Scout Trooper Helmet moment in style as you put this set on display.

---