Review of the LEGO Crocodile Locomotive Set 10277: Riding the Rails of Creativity and Complexity
By

Eve Alessa Arevalo
/
August 13, 2023
Introduction

The world of LEGO never ceases to amaze, bringing intricate models to life that captivate builders of all ages. One such model that blends complexity and aesthetics is the LEGO Crocodile Locomotive Set 10277, a homage to classic Swiss design and the golden age of European rail travel. Unveiled as part of LEGO's 18+ lineup, this set endeavors to provide a satisfying build experience while celebrating railway heritage.

Section 1: Design and Features
A. Main components or areas

The LEGO Crocodile Locomotive Set 10277 contains 1,271 pieces, culminating in an impressive build that stretches over 52 cm in length. The Crocodile Locomotive is characterized by an articulate design with the main engine housed between two pivoting bogies, a faithful representation of the original Swiss locomotive. A variety of colors are used in the model, with a predominant brown and black color scheme simulating the iconic design of the real-life counterpart.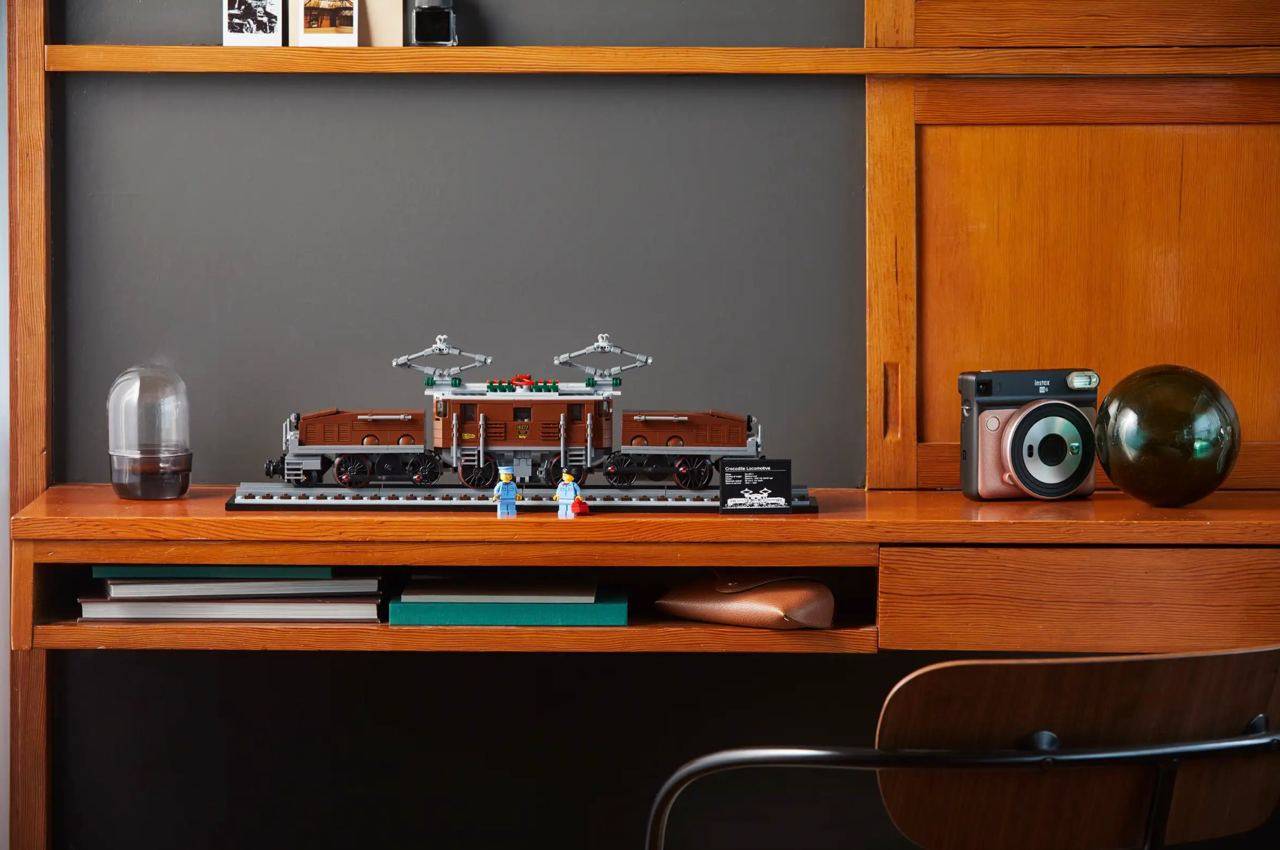 B. Minifigures
This set doesn't include any minifigures, which aligns with the other offerings in the 18+ range focused on providing detailed and realistic scale models for display rather than play.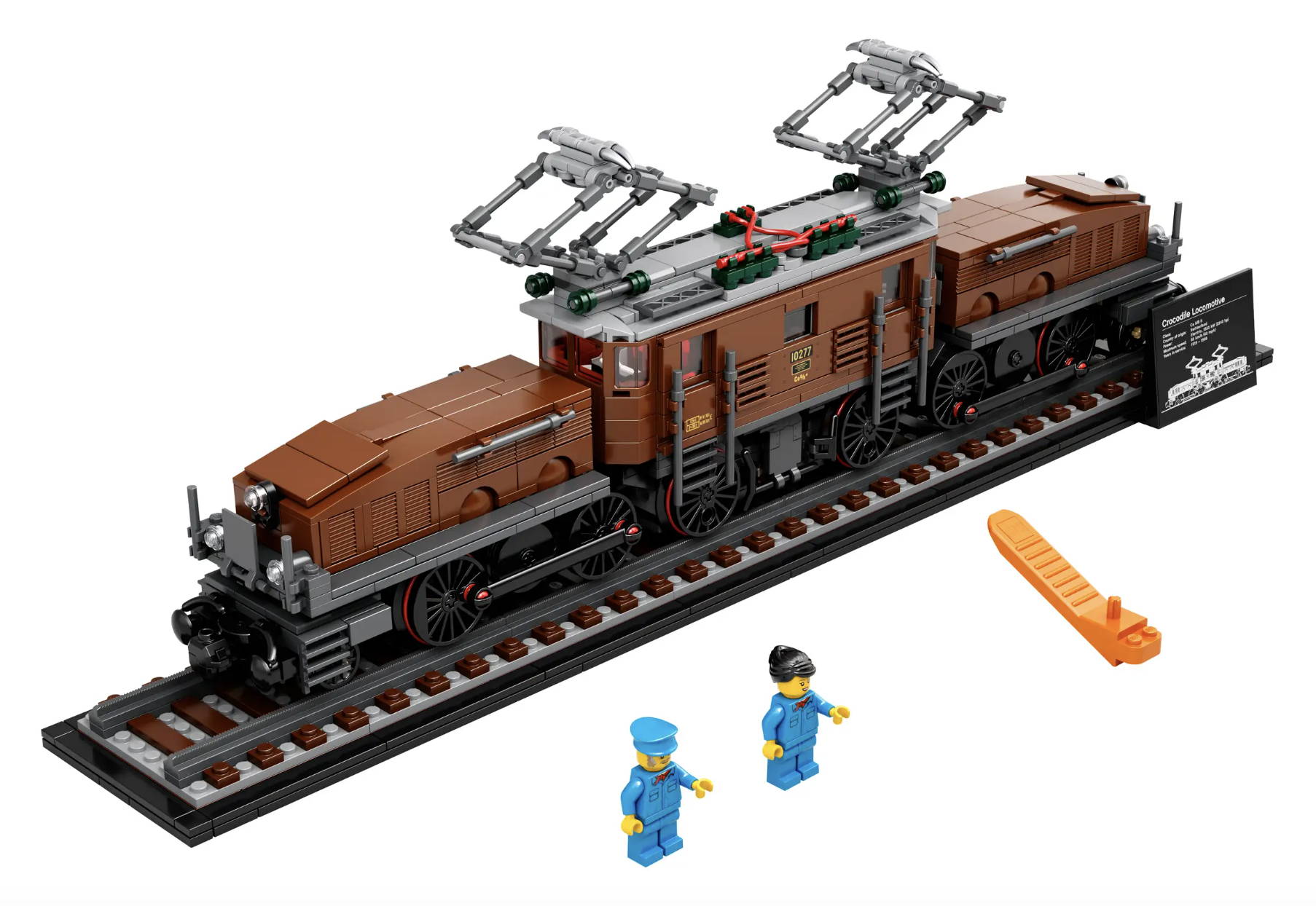 C. Accessories and decorations
In addition to the locomotive, this set includes a display track and a plaque detailing the train's specifications. The track adds authenticity to the display, while the plaque lends an air of sophistication, echoing the vibe of a museum exhibit.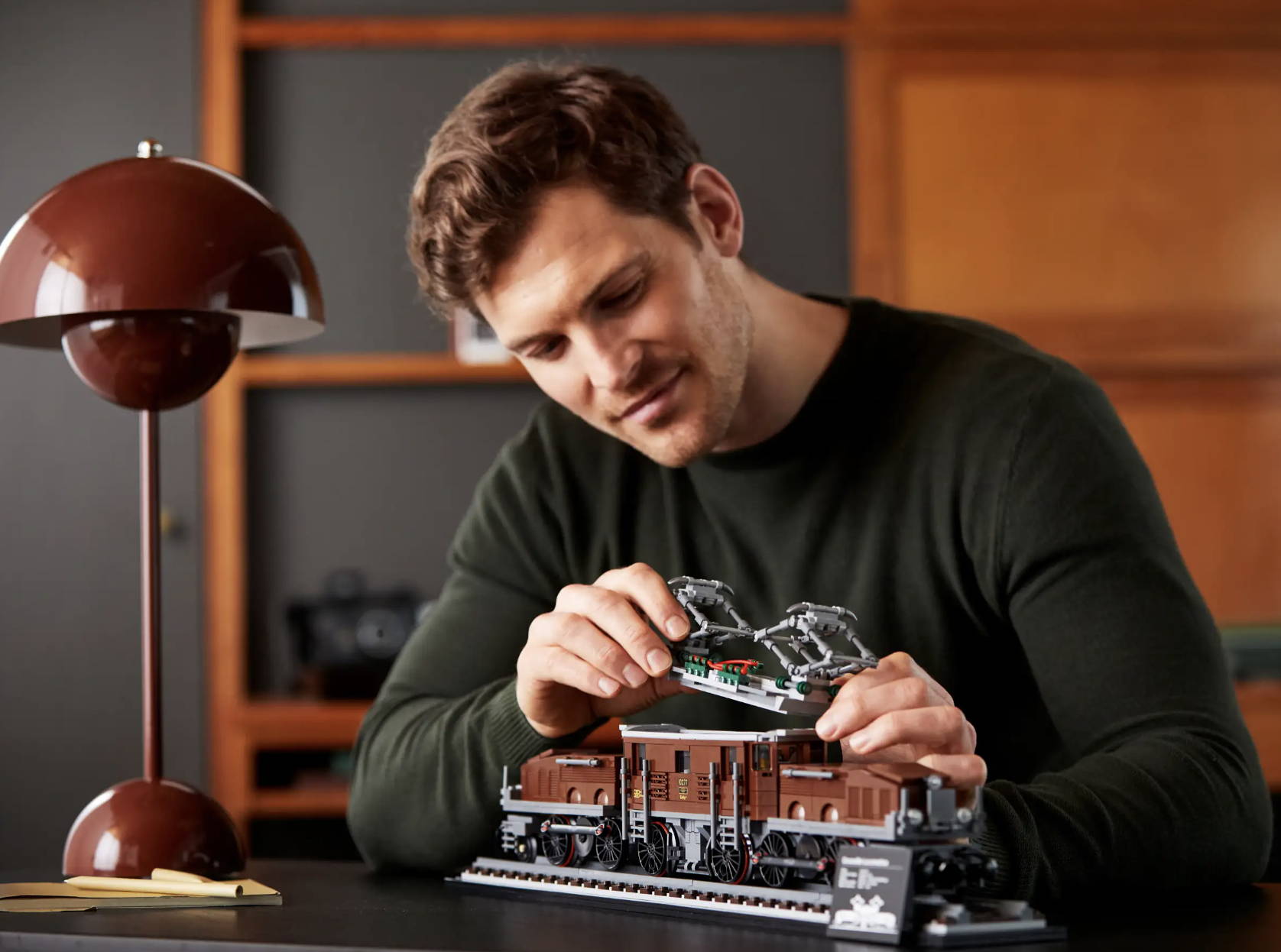 Section 2: Building Experience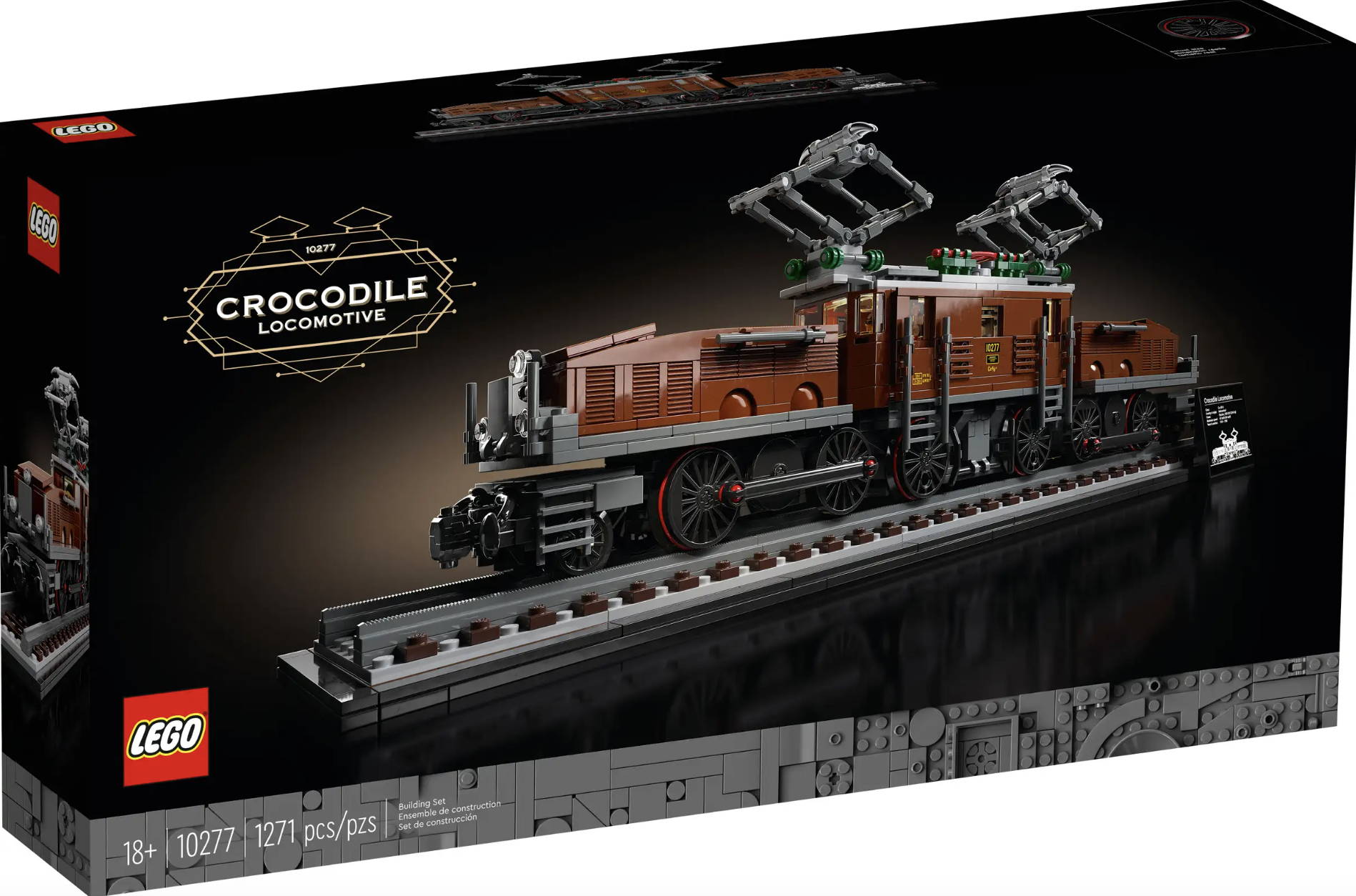 A. Complexity and engagement

This isn't a set for the faint-hearted or novice builder. With over 1,000 pieces, the build is intricate and complex, making it a delightful challenge for mature LEGO enthusiasts. There is a significant level of detail involved in assembling the moving parts of the train, requiring patience and meticulousness.
B. Instruction manual and building process
The instruction manual is comprehensive and easy to follow, and it's clear that LEGO has put thought into the building process. The steps are logically ordered, gradually increasing in complexity as the build progresses, culminating in the assembly of the signature "crocodile" form.
Section 3: Playability and Entertainment Value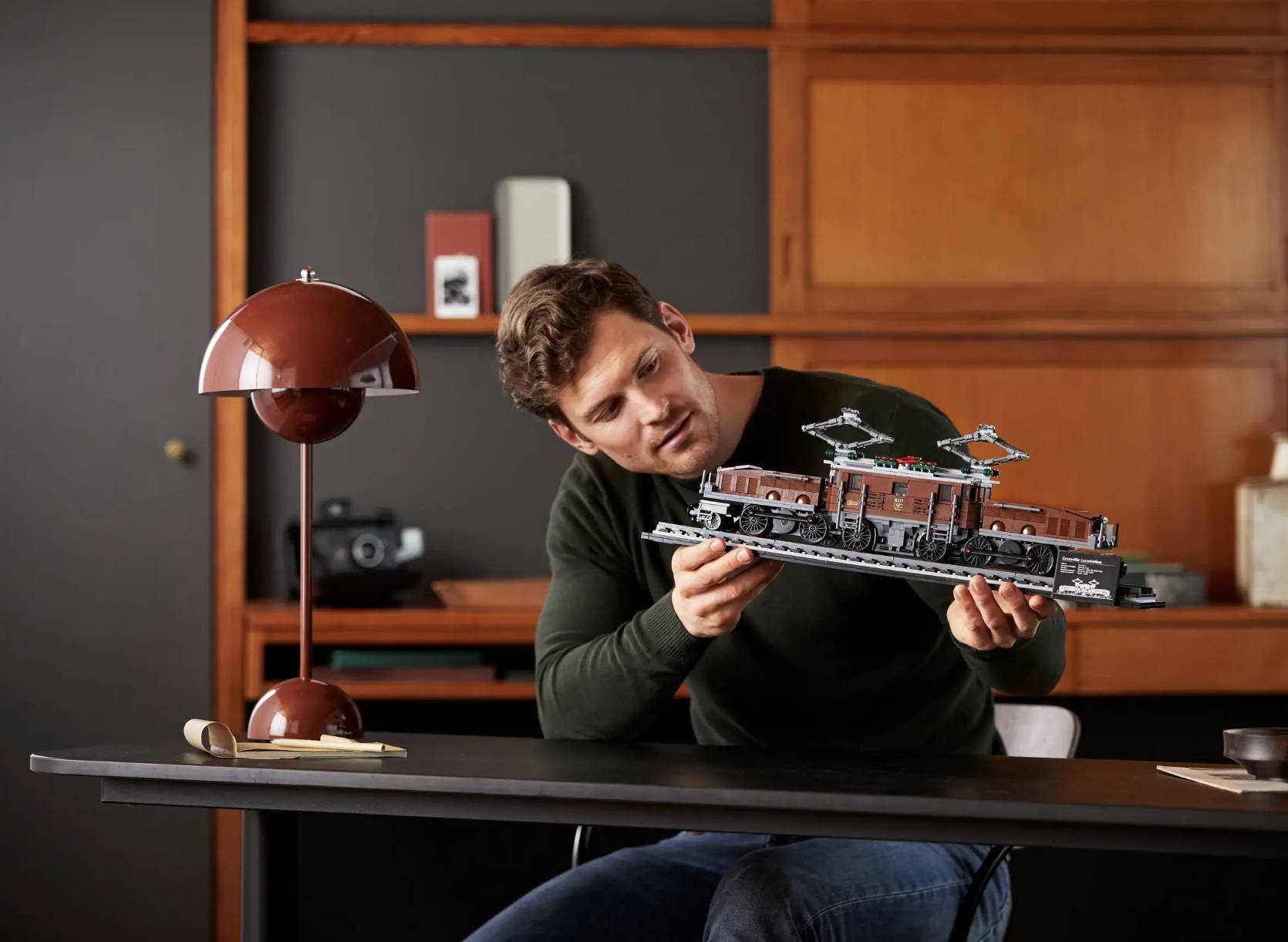 A. Interactive features

While the Crocodile Locomotive is primarily a display model, it does offer a degree of interactivity. The train features moving wheels and an articulating body allowing it to navigate around the corners of a LEGO rail system. There is also an option to motorize the locomotive with the addition of LEGO Powered Up components, sold separately
B. Opportunities for imaginative play and storytelling
Despite being designed more for display than play, the locomotive can still engage a child's imagination or spark a discussion on the history of rail travel. The train's design, coupled with the potential for motorization, creates an interesting narrative around the industrial revolution and the era of steam.
Section 4: Value for Money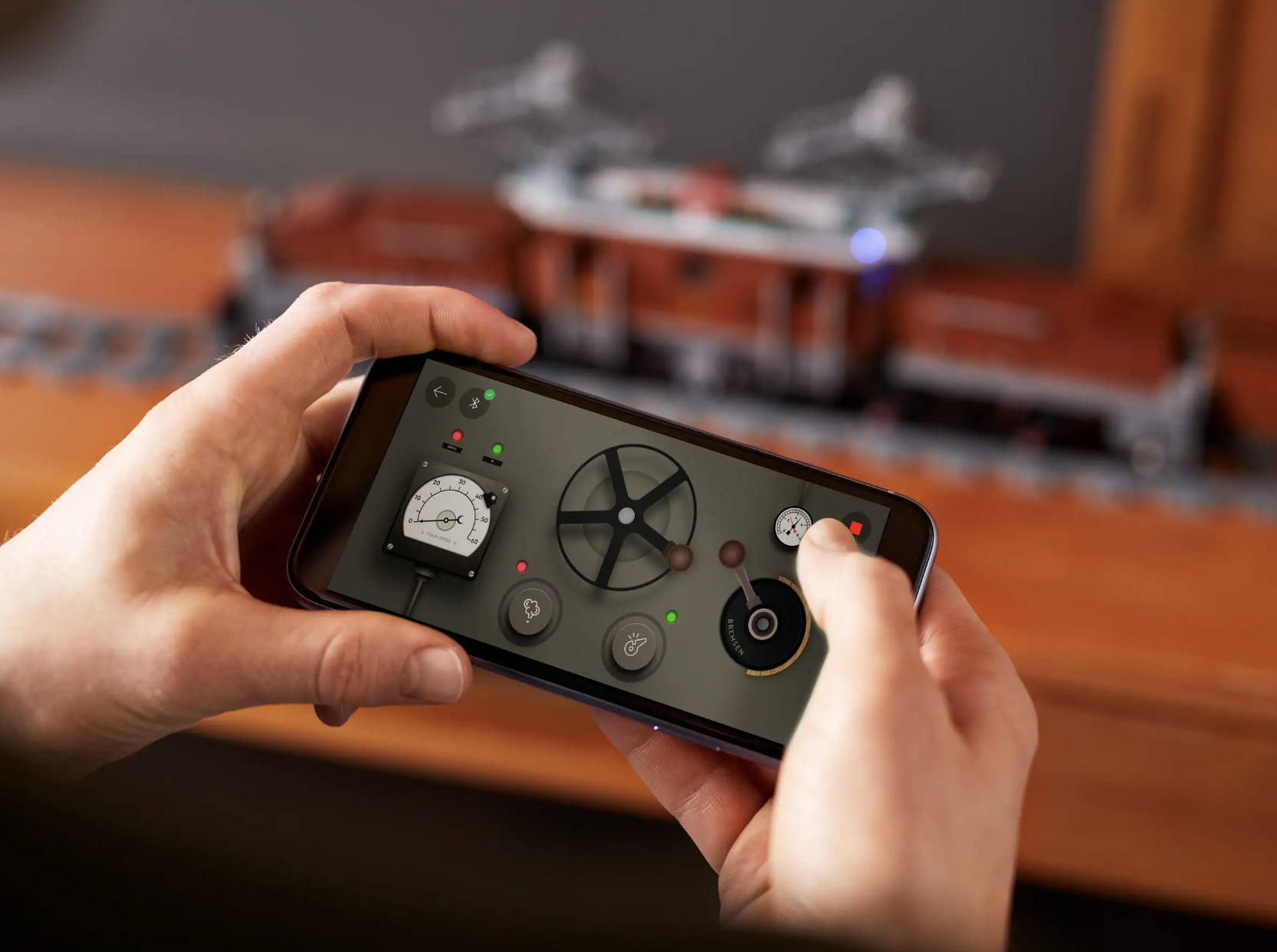 A. Number of pieces and design

At 1,271 pieces, this set offers a good price-to-part ratio, especially considering the detailed design and substantial size of the completed model. This is not a small or simple build; it's a significant project and a rewarding one.
B. Compatibility with other LEGO sets and themes
The Crocodile Locomotive is compatible with LEGO's track system and Powered Up components. This means it can be integrated into a larger cityscape or train layout. The locomotive's color scheme and design are neutral enough to blend with many other themes, adding versatility to its appeal.
Section 5: Pros and Cons
A. Pros
• Intricate and detailed design, showcasing a historical piece of engineering
• Good value for money considering the number of pieces and final build size
• Compatibility with other LEGO sets and themes allows for diverse usage and display
B. Cons
• Lack of minifigures may be disappointing to some fans
• The need for separate purchases for full functionality (track system, Powered Up components)
Section 6: Final Thoughts and Recommendations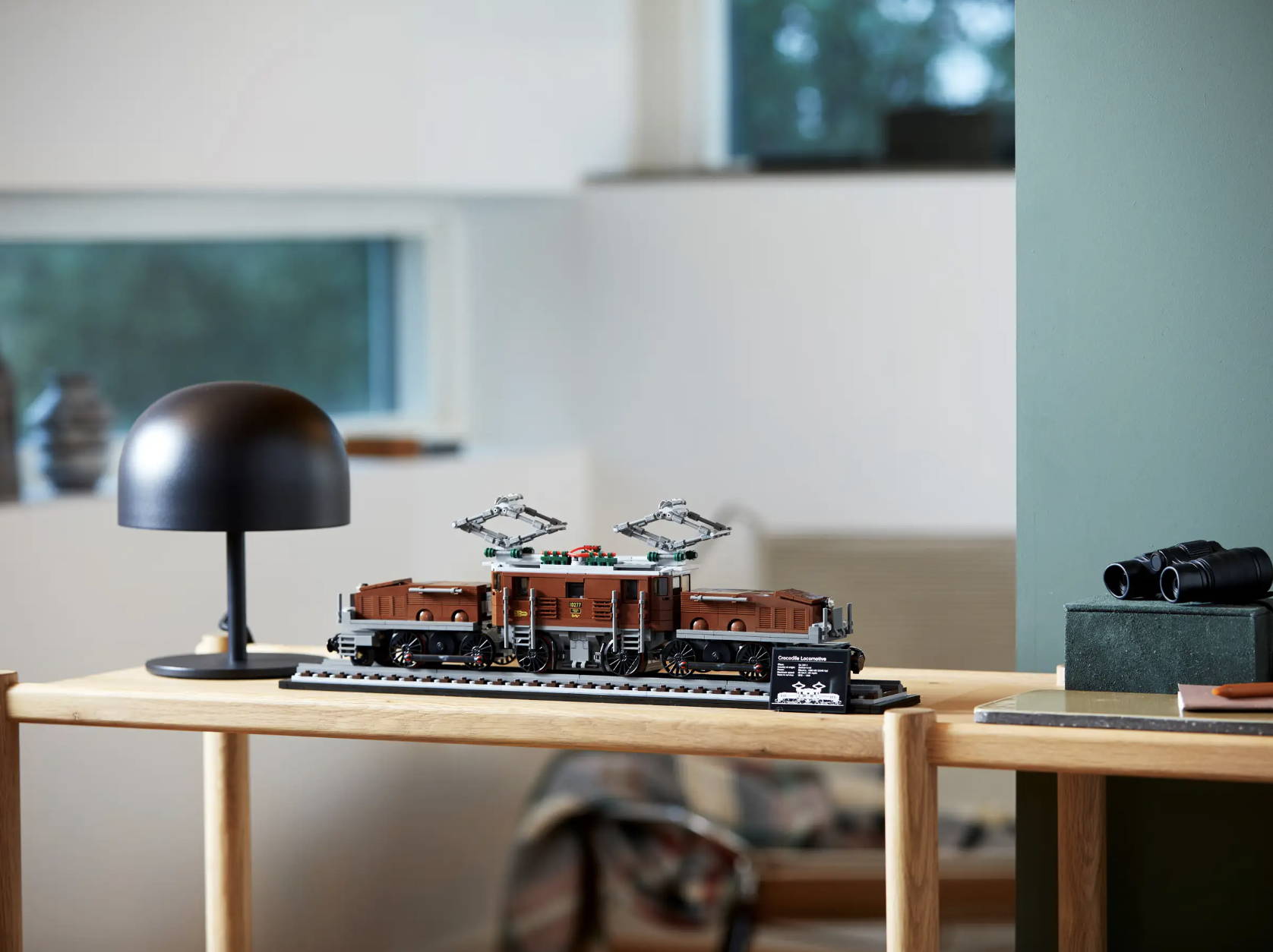 A. Summary of the set's appeal

The LEGO Crocodile Locomotive Set 10277 serves as an exquisite tribute to the golden age of rail travel. Its intricate design, engaging build process, and historical significance make it an enticing proposition for adult LEGO enthusiasts.
B, Target audience and overall value
This set is best suited for mature builders or train enthusiasts due to its complexity and historical context. It also has a place in the collection of those who appreciate expert-level builds and seek an aesthetically pleasing display model. Despite the few cons, the LEGO Crocodile Locomotive 10277 is a set that offers great value, especially if integrated with other LEGO themes, making it a worthy addition to any LEGO collection.
A Illuminating Addition: Review of the Light Kit for Crocodile Locomotive 10277 by Game of Bricks
Introduction: The Crocodile Locomotive 10277 from LEGO is a thing of beauty, a masterpiece that's as satisfying to assemble as it is to display. However, Game of Bricks, a renowned third-party company, has decided to add a little more spectacle to this set. They've developed a light kit, designed specifically for the Crocodile Locomotive, promising to bring this impressive model to life in a whole new way. But does it deliver on this promise? Let's find out.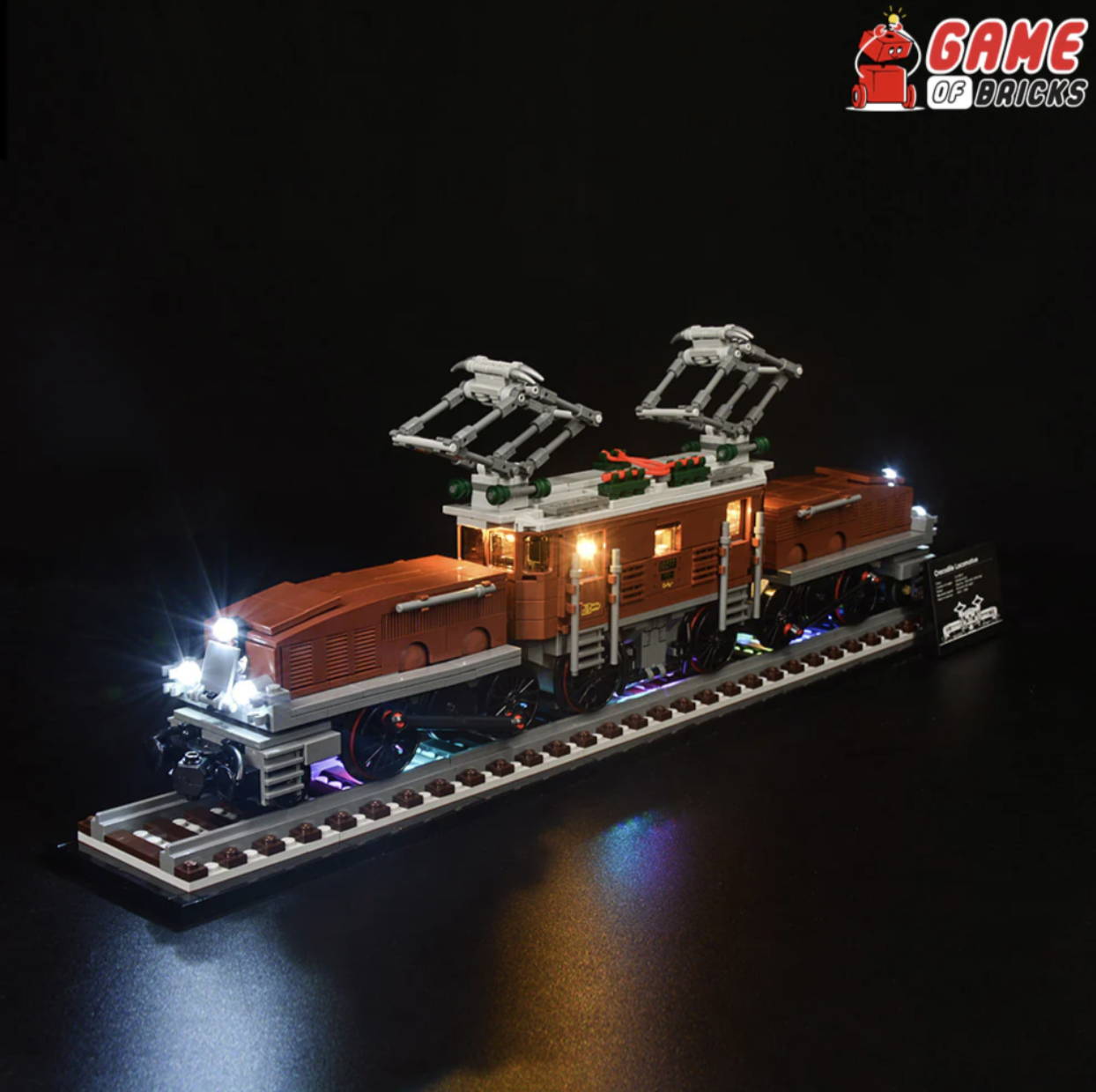 Easy Installation:
Firstly, we need to talk about the installation. Even if you're a newbie in the realm of LEGO lighting, there's no need to fear. The light kit comes with an instruction manual that's clear, concise, and easy to follow. The creators have gone to great lengths to ensure that the integration of the lights is as smooth as the original LEGO building process itself. No advanced technical skills are required; all you need is a little patience and careful attention to the guide.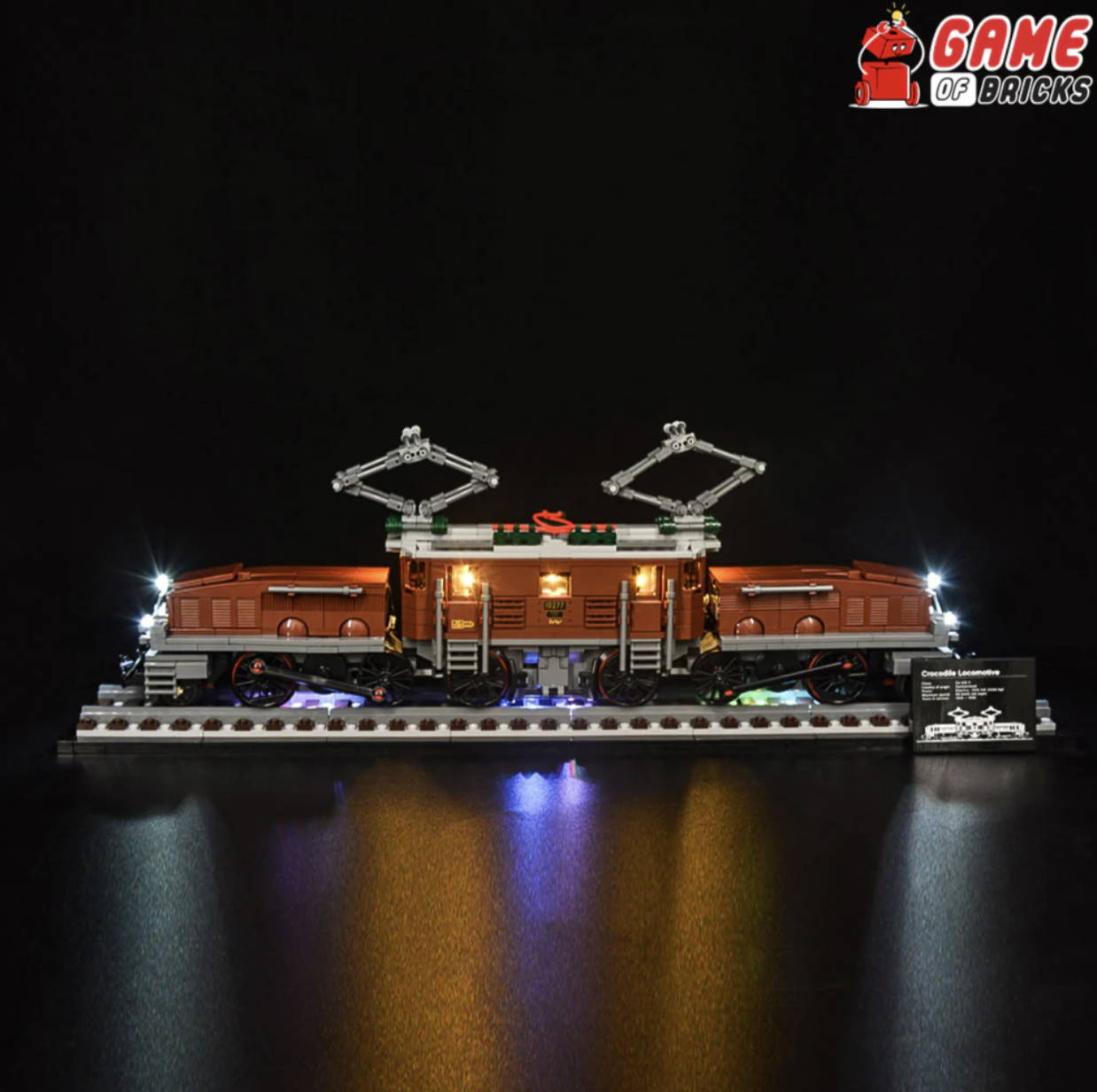 Enhanced Details:
Once installed, the effects are instantly noticeable. The Crocodile Locomotive doesn't just sit on your shelf; it comes alive. The lights are strategically placed to highlight the most intricate details of the LEGO build, casting shadows and creating an ambiance that transforms the locomotive from a static display piece into a living, breathing spectacle of light and shadow. The engine glows with a warm, inviting light, while the train's windows are illuminated, suggesting a vibrant life inside.
Customizable:
One of the standout features of the Game of Bricks light kit is the level of customization it offers. You're not just stuck with a single, static lighting option. The kit includes several different colors and modes, allowing you to change the look and feel of your Crocodile Locomotive at a moment's notice. You can set the mood according to your liking, a feature that adds an extra layer of fun and creativity to your LEGO building experience.
Durability:
Despite their delicate appearance, the lights are surprisingly durable. They are designed to be flexed, twisted, and threaded through the LEGO bricks, meaning they're robust enough to withstand typical handling during installation. The connecting wires are thin but sturdy, ensuring the longevity of the lights. Also, the power supply is efficient and reliable, providing a steady flow of energy to keep your locomotive lit up for as long as you need.
Minor Downsides:
Of course, no product is without its flaws, and the light kit from Game of Bricks is no exception. The most notable issue is the power supply's external placement, which can be slightly distracting from the overall display. Also, the tiny size of the LED lights can make installation a bit fiddly, especially for those with larger hands. However, these are minor inconveniences that do not detract significantly from the overall experience.

Conclusion:
In conclusion, the Light Kit for Crocodile Locomotive 10277 by Game of Bricks is a must-have for any LEGO enthusiast looking to bring their model to life. The kit is user-friendly, detailed, customizable, and durable, adding a new level of engagement to your LEGO building experience. While it has a few minor downsides, they are far outweighed by the sheer joy of seeing your Crocodile Locomotive come alive in a wash of light and color. The Game of Bricks has indeed delivered on its promise, turning an already great product into something truly magical.