Review: LEGO Technic Top Gear Rally Car
We've witnessed so many LEGO Technic Sets come and go, accompanied by the love they've always received from LEGO lovers. The LEGO Technic Top Gear Rally Car set just got released, and I went ahead to have a feel of what it's like!


So I figured out a lot of you might want to have this car set, but you are currently feeling skeptical about the whole thing because you aren't sure if it's going to finally worth your money, so I thought that doing a review of this LEGO car set won't be a bad idea, or would it? Great! 

So today, in this short article, we are going to be looking at the Technic Top Gear Rally Car LEGO set 42109 as well as the things you should be expecting from it. Let's jump right in!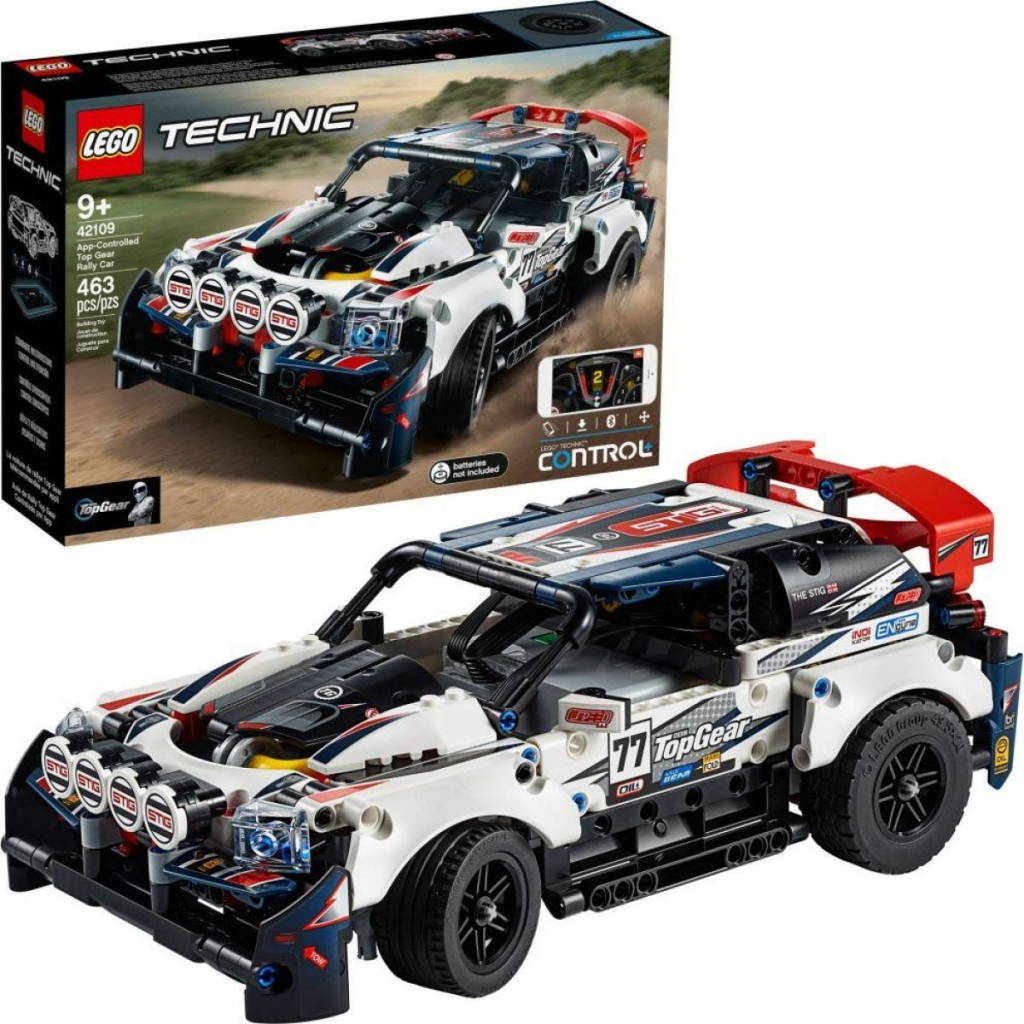 The 42109 LEGO car set is being controlled by an App. Out of the LEGO Technic Sets that have been previously released, this particular one comes off as the third one that can be effectively controlled with the recently released LEGO Technic Control app.

The beautiful thing which seems to make this car set to stand out is the fact that it's easily the smallest amongst the LEGO Technic car series but yet, it comes bearing every electronic feature that can be easily accessed through Bluetooth.

Things To Look Out for in the Technic Top Gear Rally Car LEGO 42109 set.

There are lots and lots of things to expect from this rally car in spite of its small build, and I'm going to list them below. So, here are some things to look out for in the Technic Top Gear Rally Car set:

1. This set can easily be operated through a device that consists of 3 screens. This is a great opportunity for 2 or 3 people to get involved while playing and have the best car challenge of their lives! 

2. With this set, you are assured of long hours of so much play and fun, why? Because it is controlled through an app and it's majorly powered by 1XL motor and 1 L motor, which are part of a highly programmed Smart Hub.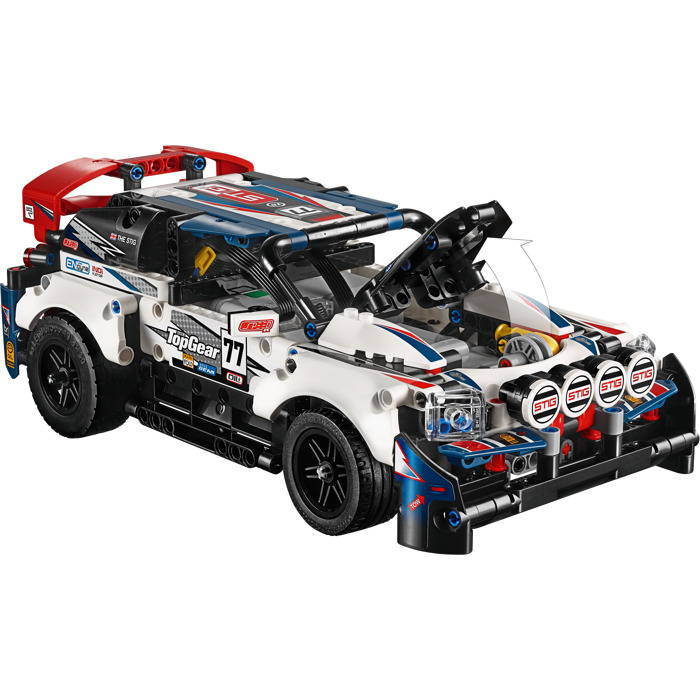 3. Very suitable for young Lego fans that are aged between 8 years and above, would really make a lovely gift for kids within that age range.

4. To play, all you need to do is to assemble the pieces of your vehicle, Build and go ahead to get the app downloaded to your phone. There are several options to choose from--- drive forward, do your reverse, accelerate, brake, etc.

5. Unlike the previous LEGO sets I had built with, This toy rally car set contains just 463 pieces of car building parts. Also, it has 3 electronic makeup which does most of the major work.

6. This LEGO set measures over 10" (26cm) long, 3" (10cm) high and 5" (14cm) wide, I think this majorly contributes to why it's sized in the perfect way, making it easy for the players to drive as they want, and display as they want too.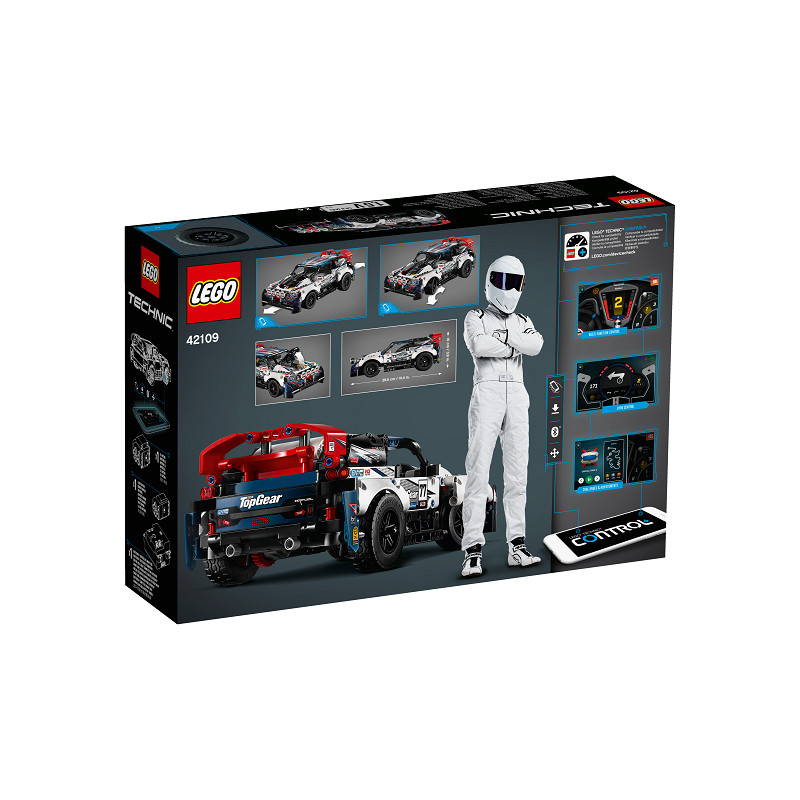 7. From all indications, you mustn't start your car building with the batteries intact. However, I noticed that if you would want to get the best out of this Lego car set together with the app, you will definitely have to insert the batteries which are 6 x AA 1. 5V.

8. Again, Using this toy car is very easy to use as it comes with a set of instructions that are easily understandable.

There isn't any way that I will talk about the Technic Top Gear Rally Car LEGO set 42109 without talking about the major feature that makes it stand out which is the control app that it features.

Just like I mentioned at the beginning of this article, this LEGO car set is the third in the Technic car series to feature a control app.

Before you can be able to gain any tangible access to this LEGO car set game, you have to, first of all, download the Technic car rally app from the Google play/app store. It's also important to note that not every smart device is able to get this app to work on it, so you need to properly read up instructions concerning the application from the frequently asked question sessions and seek useful advice.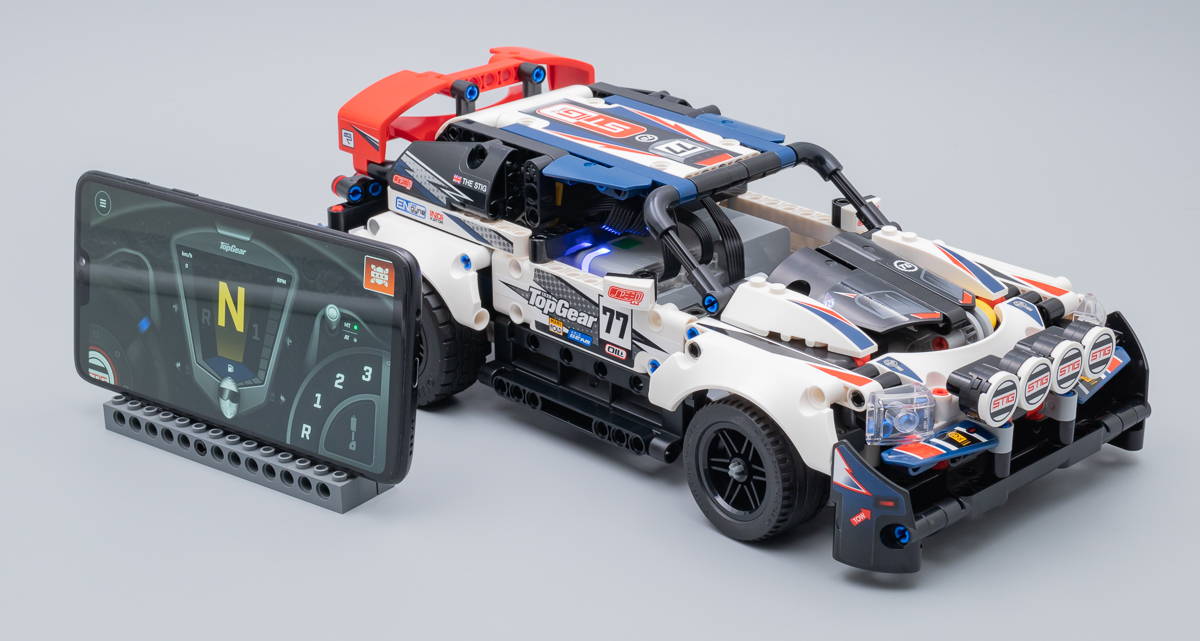 Getting the app installed on your smart device is one thing but setting it up in the right way for effective usage is another thing. Now, this is why this isn't a problem for you because it wasn't for me-- you only need to go through the process just the same way you do with other phone apps of yours, you are going to be provided with cues on what to do next by the application and ways through which you can connect it to the LEGO set.

Well, I don't know about the other people that have used this set, but I spent 3 hours trying to join everything and finally come up with something great. And this is where I feel my problem lies. 3 hours is such a long time to finish up the building but I'd like to think that it's because I'm not very experienced with Technic Sets.

The process can be described as long and worth it, yea!

This product can be gotten from Amazon and some credible LEGO stores online. It's currently sold at an affordable price of $129.99 making it one of the cheapest LEGO Technic Sets you can get in recent times.

In conclusion, I loved that this set seemed like a very hard nut to crack to me while I was trying to set it up. I tried to place the younger fans in my shoes and thought that if they were presented with Technic Lego sets often, it will avail them of the opportunity to think more and develop creative mindsets. I recommend this to everyone ---it's fun-filled, educative, and highly fulfilling!


---