LEGO Winter Village Fire Station 10263 Review
By

Nikita P.
/
December 21, 2019
Going to its 10th series of the Winter Village LEGO subtheme set, we have seen a couple of impressive sets that will definitely gain the attention of any LEGO lover. The recently launched LEGO Winter Village Fire Station 10263 has been described by most people as one of the best models of this theme. While the LEGO brand over the years has produced a number of fire stations, most people were not actually excited when the news that this set will be launched got out. However, the unveiling itself gained the attention of most people and this led to the increase in the purchase of this set. If you're yet to get this set and already wondering how it would look like, we'll discuss this set and how it differs from some of the others that have been designed.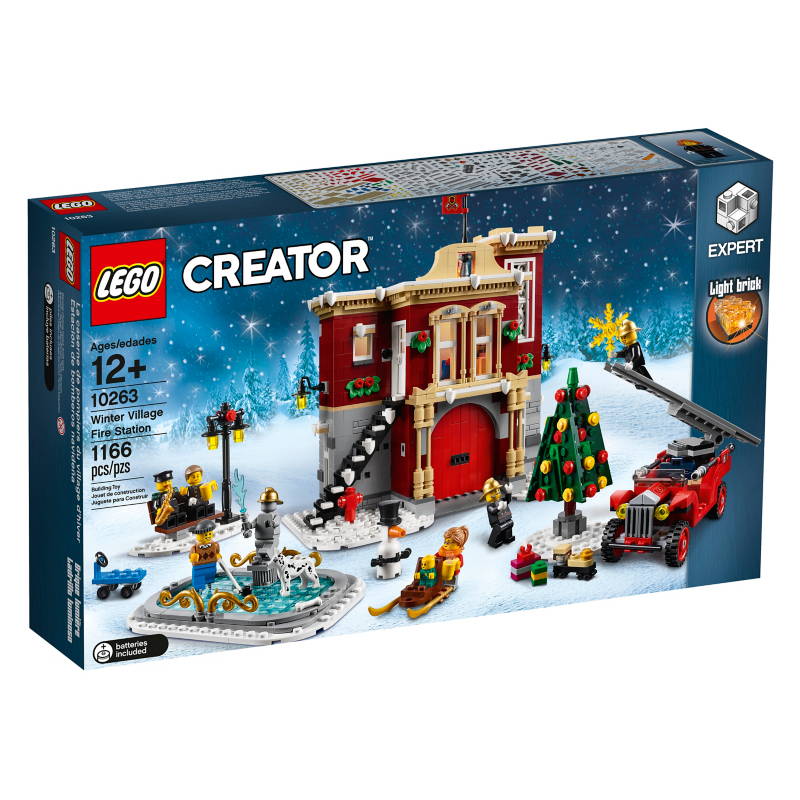 The LEGO Winter Village Fire Station 10263 is a 1,166 piece set that affords you the opportunity to build a wide range of things. It is currently one of the leading sets in this subtheme category when it comes to the number of pieces it comes with.

Unlike most of the sets available, this set comes with 6 different Minifigures and three of them being firefighters. Each of the firefighters in this set puts on a black traditional uniform that is inspired by those worn back in the 20th century. In addition to the black uniform, these firefighters sports a double breast pocket jacket with metallic buttons, a plain trouser, and a reddish-brown belt. The Winter Village theme since inception has always embraced historical events and designs, this set is not left out in any way. While none of these minifigures have a different facial expression, they feature interesting hairstyles and metallic gold helmets. One of the male firefighters in this set sports a dark tan hair which since the inception of LEGO sets has been made available in about three (3) other sets making it particularly rare.

One of the most interesting things about this set and the firefighters is that there are slight changes in the expressions and outlook of the characters. For example, the Fire Chief sports an impressive facial hair and features a slightly different uniform from that of the other two firefighters. While this is impressive, it would be a whole lot exciting if the chief sports a completely different uniform that depicts clearly his rank and superiority over the two others. Irrespective of this, you'll definitely know who the Fire Chief is at first glance.

The previous set of the LEGO Winter Village comes with a saxophonist and surprisingly, this set also has one. If you had the previous set or have seen it either online or with a friend, you will know that the attire is completely different from what this character in this set sports. This saxophonist sports a very formal and distinctive attire complemented by green epaulets and a beautiful hat. As seen in the other sets of this LEGO subtheme, the saxophonist comes with a golden musical instrument box.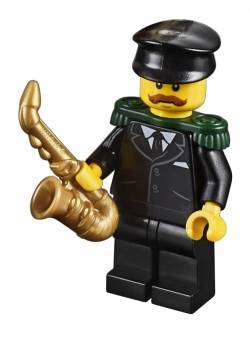 Another of these Minifigures is the two generic characters that have been included in this set to complete it and offer you a complete package. These generic characters sport wintry attires that clearly depict their environment. The man is adorned with a medium jumper nougat without any design at the back which is quite disappointing and boring, to say the least. The man carries a hockey stick and a round plate. One of the best things about this man's character is his freckled face which is not just interesting but kind of fun to look at.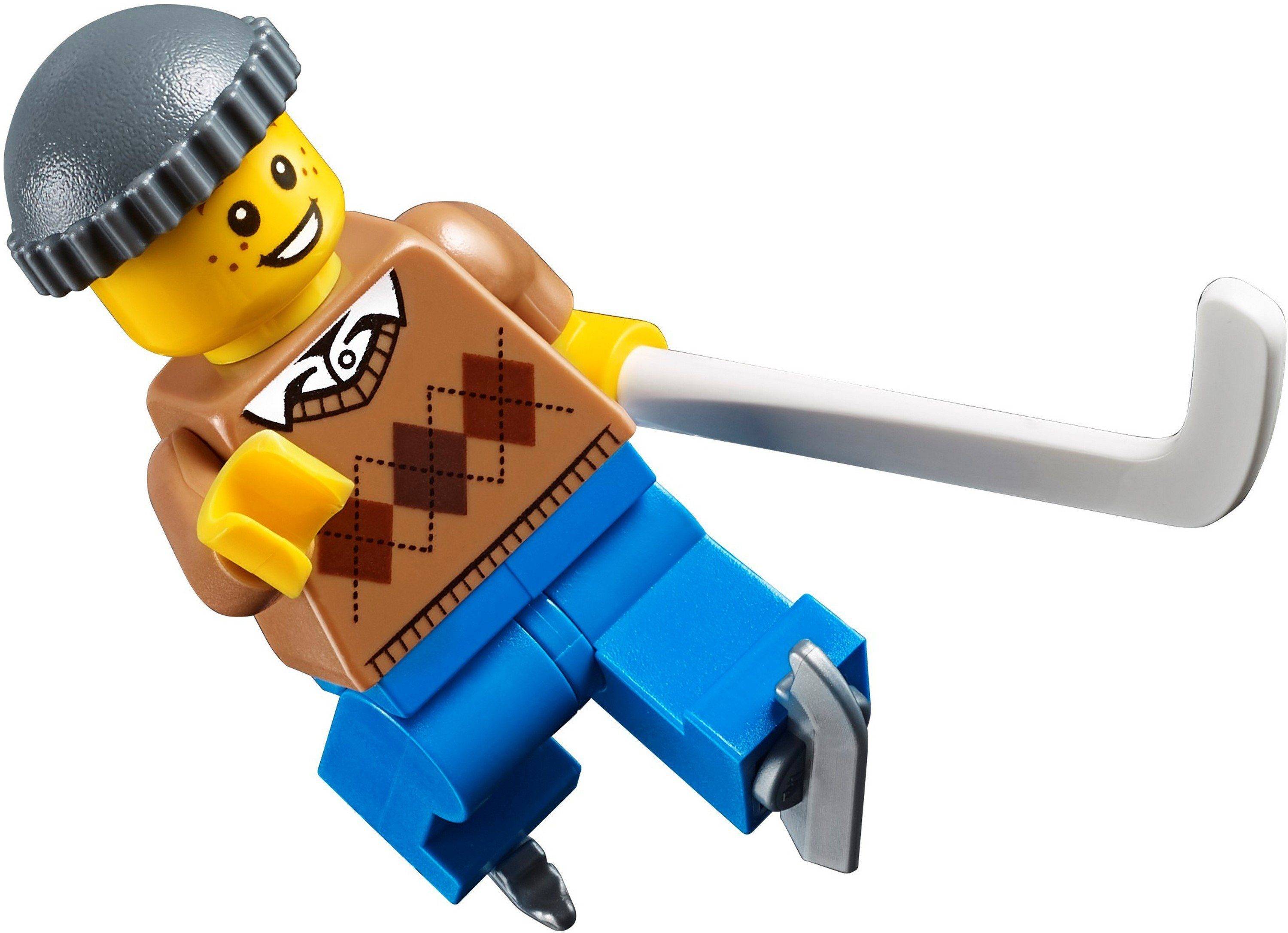 The girl's face is freckled as well and she sports a pair of glasses which corresponds well to the color of her shirt. One of the main features of this character is the scarf she adorns. This is actually the third time this scarf has appeared on any of the other LEGO sets. This makes it another rare feature of this set that separates it from some of the other sets designed and launched prior to this time. Most builders are of the opinion that this scarf should have been used in a completely different color. This is because they feel that purple which is the color of the scarf does not represent the Winter season perfectly. Irrespective of what others may have to say about this scarf, one thing we can all agree on is the fact that it looks very good on the female character.
In the last couple of years, we have seen a number of baby characters appear on these sets, the LEGO Winter Village Fire Station is not left out as there is also a baby character in the set. Most of these babies found in some sets are always looking colorful but this character in this set can be said to be the most colorful and beautiful of them all. This minifigure's teal bodysuit is adorned with a golden reindeer as well as some tiny pieces of snowflake. Unlike some of the characters that have been designed this year, this baby has a neck which contributes greatly to its aesthetic appeal.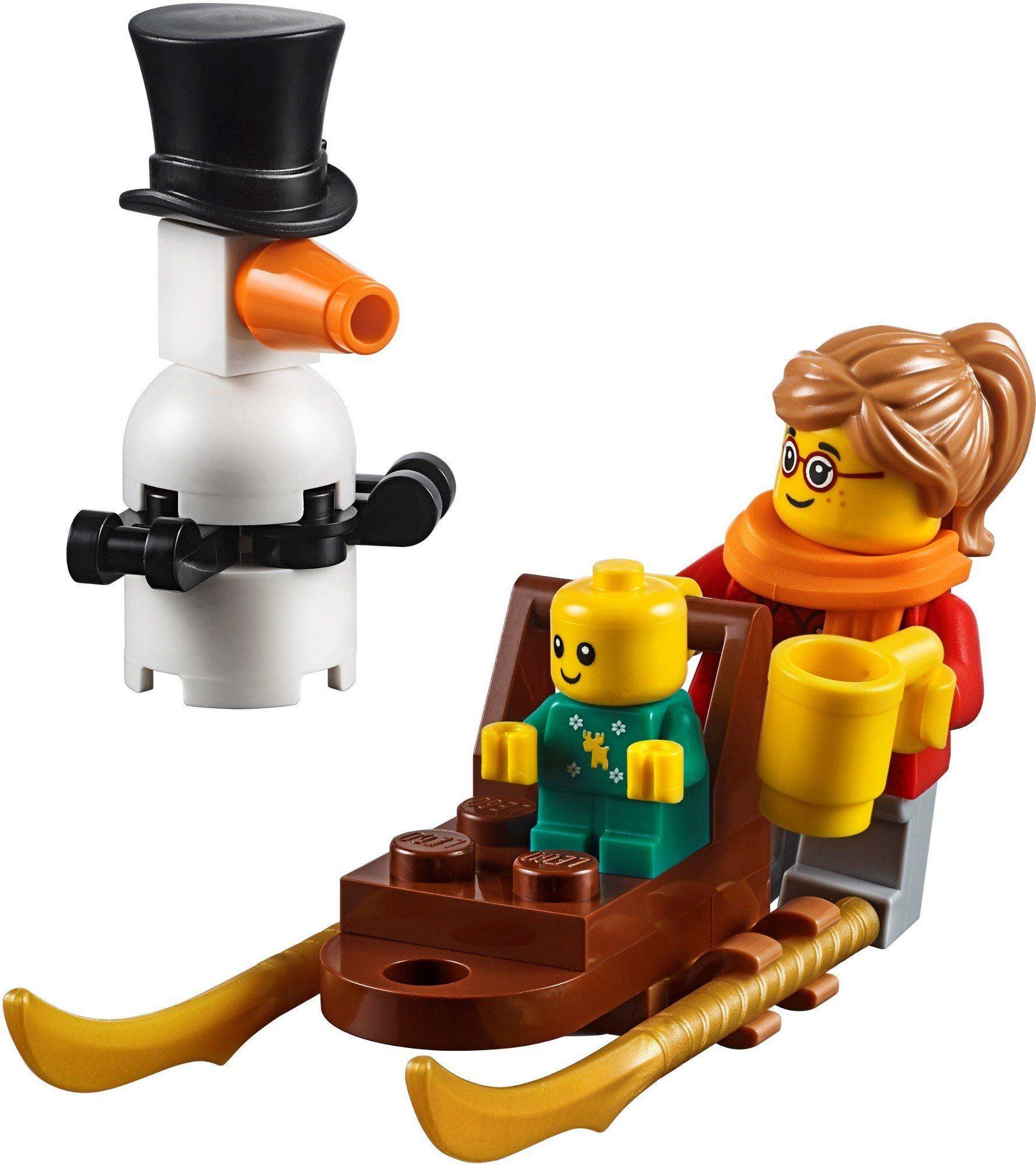 Appearing in just two previous sets, the dog found in this set is one that all would love. Back in the early 19th century, dogs were made to run along the horse-drawn engines to help calm down the horses. This set brings back this by featuring this rare dog with a distinctive black spot all over its body. If you look closely, you'd see that the ears do not actually depict the main ears of that particular dog breed. However, it is still a great addition that we all love to see.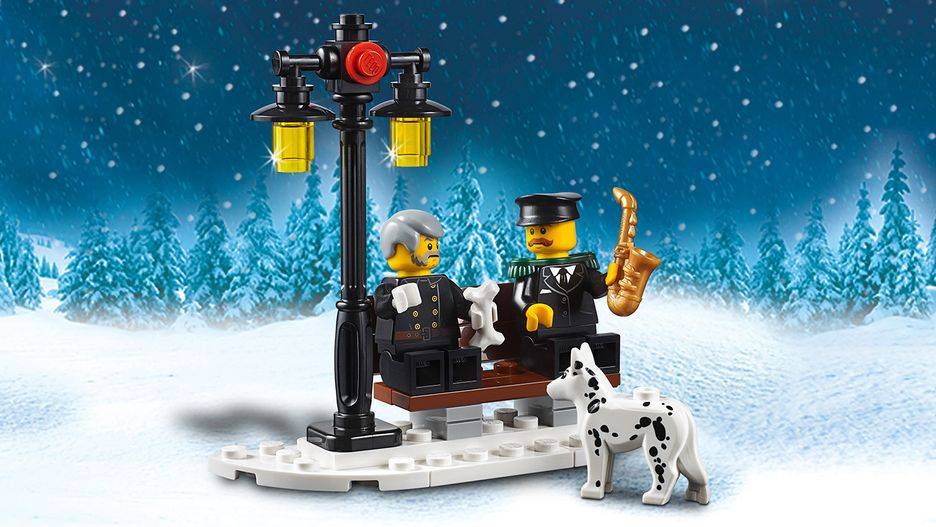 While we have discussed fully the various minifigures in this set, it is important that we discuss the building process and some of the things to expect from this set when you eventually get one.
As clearly mentioned earlier, the LEGO 10263 Winter Village Fire Station set has about 1,166 pieces. While this is good for the builders, it also becomes a challenge picking the right piece for each part you want to build. To ensure that you do not have to go through the stress, these pieces have been divided into different bags for you to pick from. That is to say that for each part you are building, there is a separate piece bag you can pick pieces from to successfully complete the building process. In this section of this piece, we'll take a look at them.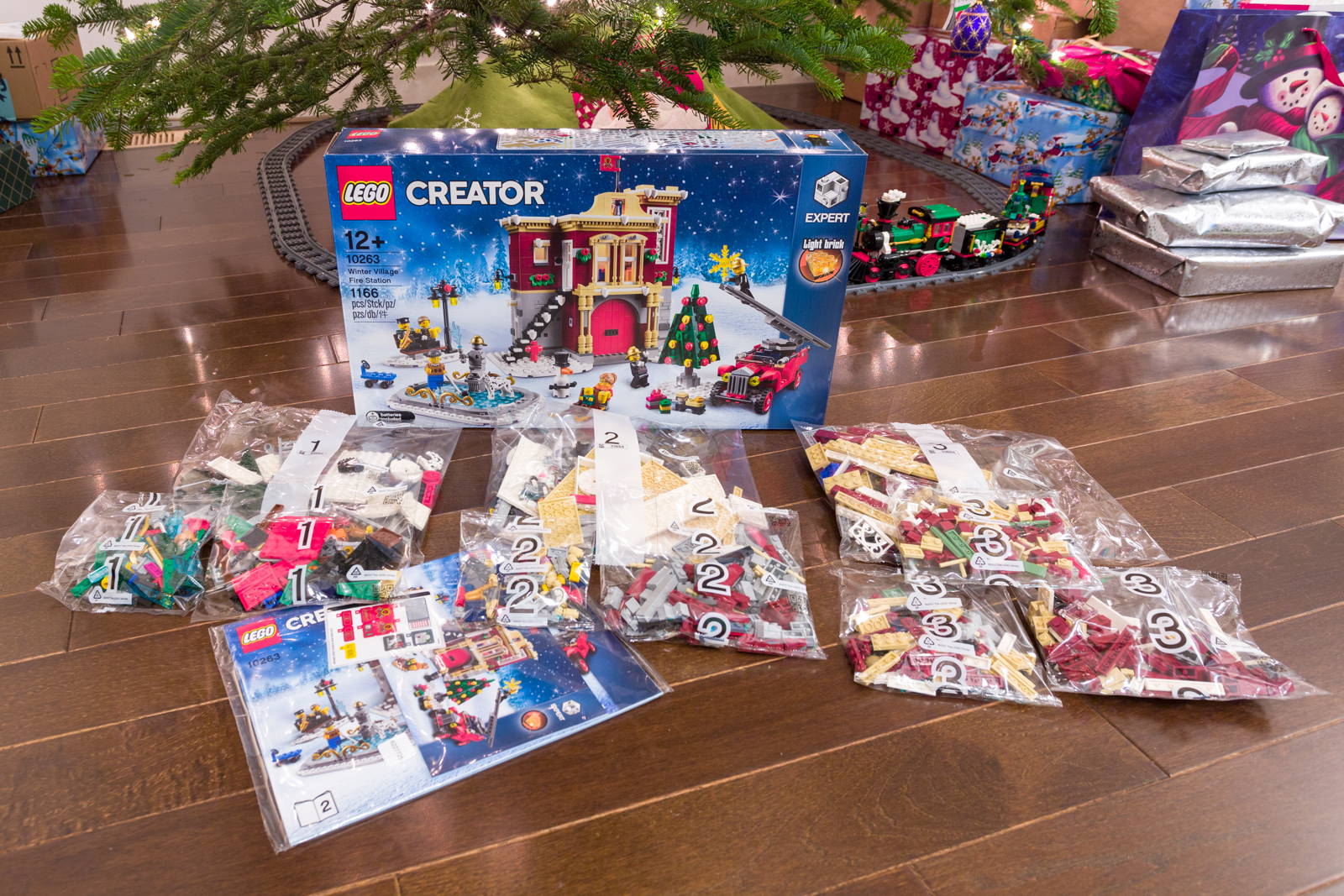 This set comes with three different bags each of them numbered accordingly. The first of these bags is the smallest of the three. It comes with an instruction leaflet that contains helpful information on how best you can set-up this LEGO Creator themed set. This bag is the smallest of them because it contains all of the ancillary structures that will be placed around the fire station once you have successfully built it. Some of the things you'd find in that bag include the Christmas tree, icy fountain, a bench, and a ladder truck. The pieces found in this set can be easily built and since it comes with a completely different instruction leaflet, one may conclude that it was designed for collaborative building between an older and younger person. Generally, the set is rated 12 and above, however, the points mentioned above could be proof that this bag is designed for collaborative building with a child that is 10 years or younger. If that is not the case, you could see it as a way for your older and younger kids to build together. Also, in your free time, you can ask them to join you to build these easy structures.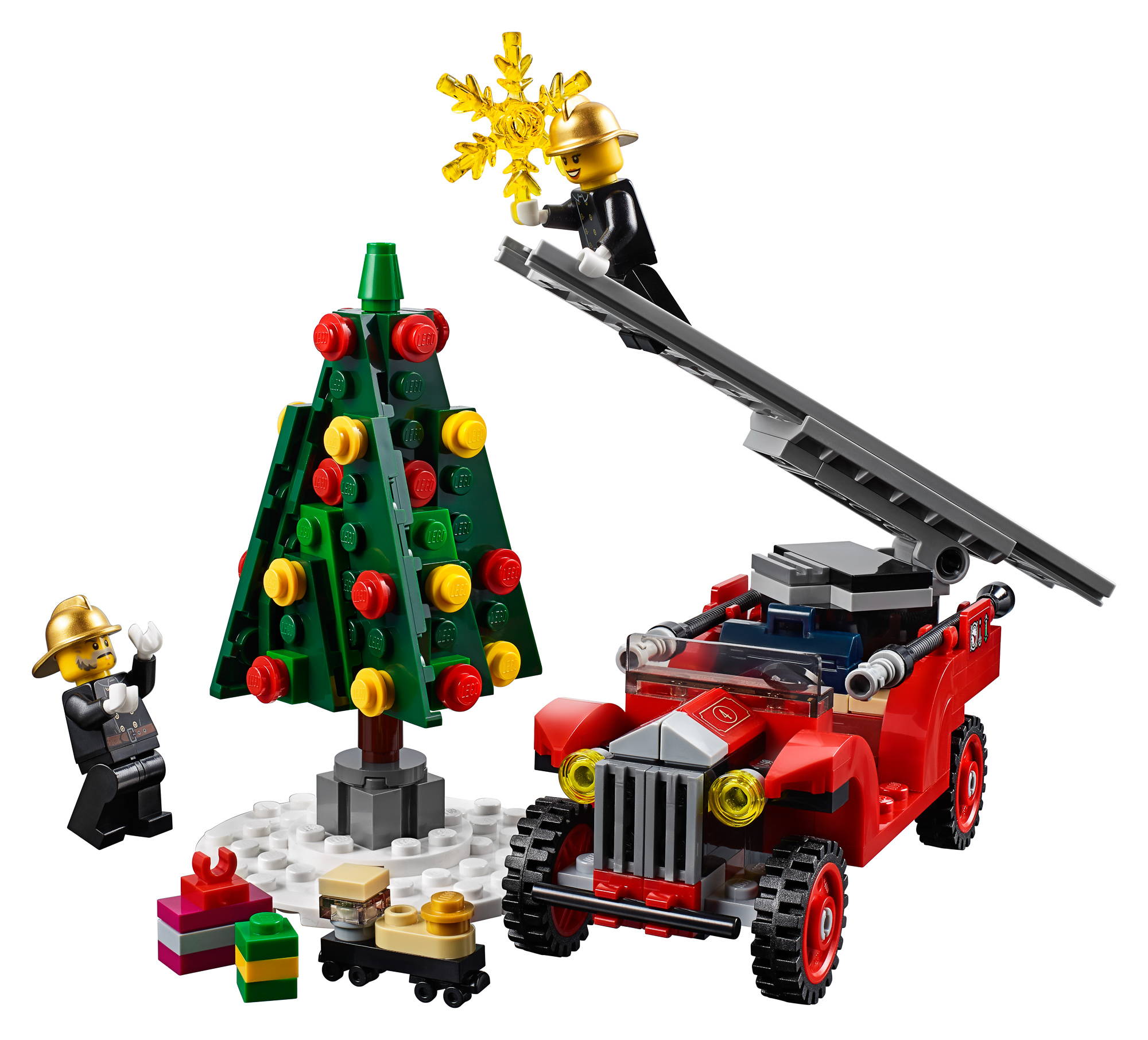 One of the most interesting things about the first bag is the ladder truck. It is a curved red wheeled truck that affords you the opportunity to rotate as you like. Another interesting piece is the Christmas tree which we all agree is beautiful and way better than most people imagined. It is made with four different panel sticks each of them set at exactly 90° from the other.

This is slightly bigger than the first bag and it contains the pieces to build the floor of the fire station. Some of the objects in this bag were not depicted on the front cover of this set. Some of these items include a garage door which is designed with a hardwood door painted red as well as an emergency box found on the right-hand side of the garage.
This bag also contains a number of pieces. One of them is the pieces of equipment used for firefighting and it is placed at the right side of the garage door. This bag contains all the needed pieces to build the garage door. There is also an instruction leaflet that contains a well-detailed and helpful knowledge of how best you can build this garage without stress.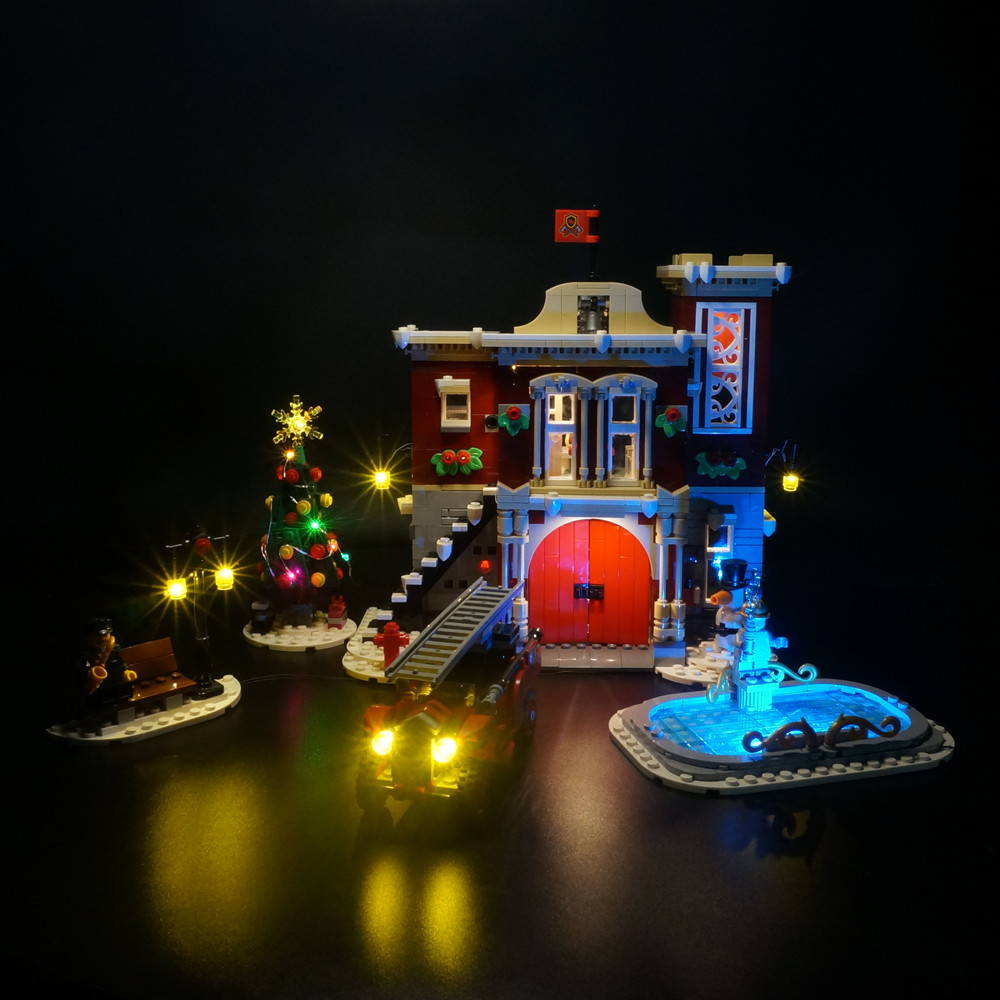 This bag contains the necessary pieces need to build and complete the upper floor of this fire station. For reasons we can't place our hands on, the architect or team in charge of the design of this floor shifts from the stone exterior which we see on the first floor to a completely different red brick for the second floor. In addition to the change in the design of the floors, the design team integrates a bell at the top with a mission style accent. It also comes with ornamental windows and according to some specialists, this building style is referred to as "eclectic architecture style".
The third bag also comes with special lights that you can add to light up the second floor of this set.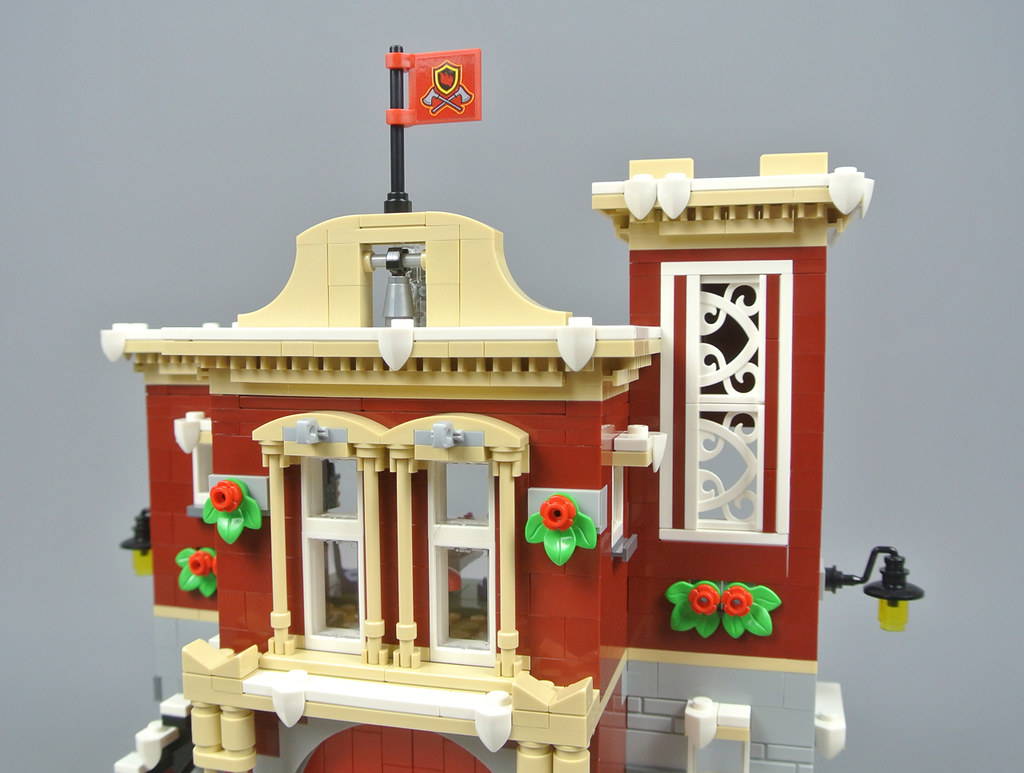 The Second Floor Interior With Kitchen And Phone
As mentioned earlier, the second floor of this fire station is a bit weird but the interior design is a sight to behold. One of the most exciting things about the interior design of this fire station is the use of clips to conveniently attach the various sections of the tower that are built on SNOT techniques. As mentioned above, this second floor comes with a special light that you can turn on conveniently to light up the floor. While this light is not as bright as most people would expect it to be, it is capable of thrilling young builders.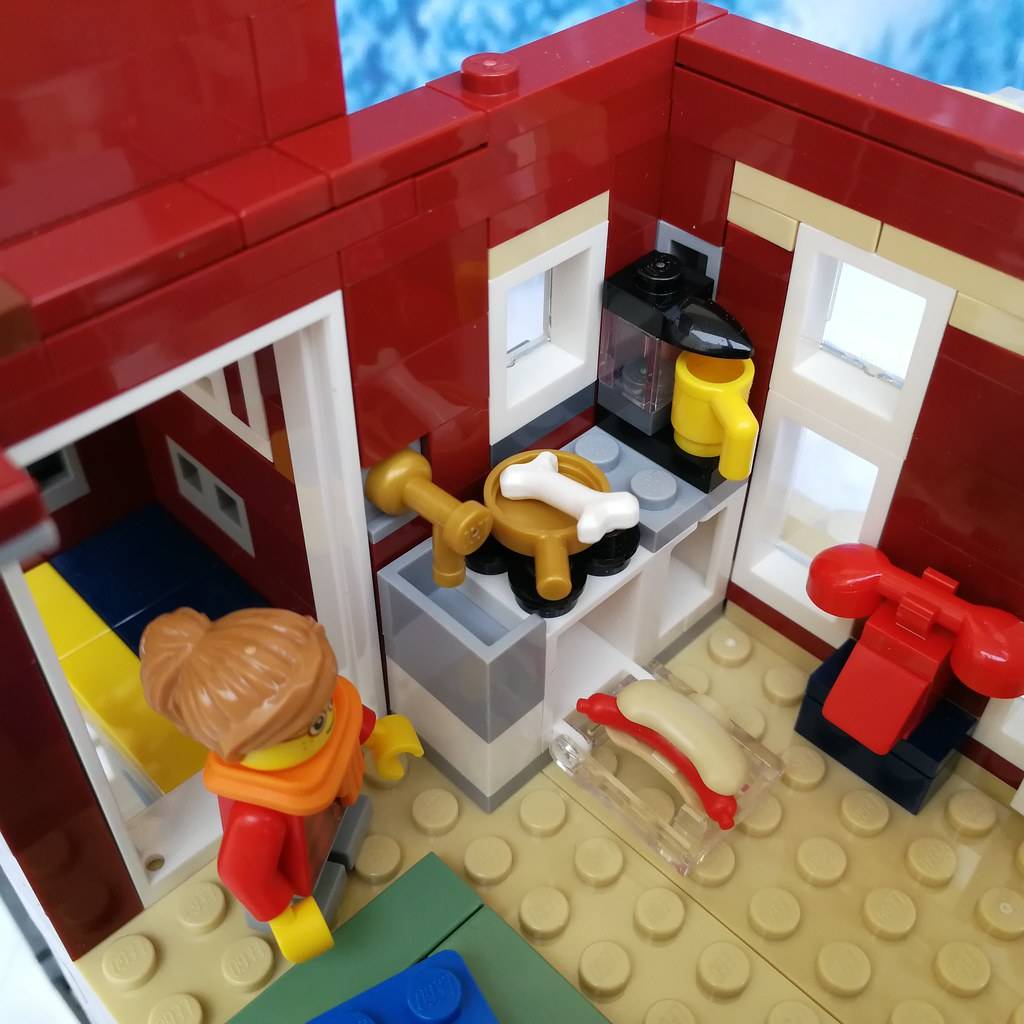 When it comes to choosing the best LEGO Christmas themed sets, one aspect that most people look out for is the building experience. This set offers them that. Unlike most of the other sets that you can choose from in the market, this set offers you the opportunity to experience what it feels like to build a fire station. This is a perfect set with amazing pieces that will help you launch your architectural career. One of the most important aspects of this set that could have a great impact on how you build this is the collaborative building. As mentioned earlier, the first bag could have been designed to enable you to build the ancillary structures of this set with your younger ones. This particular bag comes with a completely different instruction leaflet that shows you how these structures can be built.
While building this set may seem like a difficult task to you during the course of building it, the later outcome will definitely excite you and everyone that lays an eye on it. The light adds to the beauty of this LEGO Winter Village Fire Station 10263.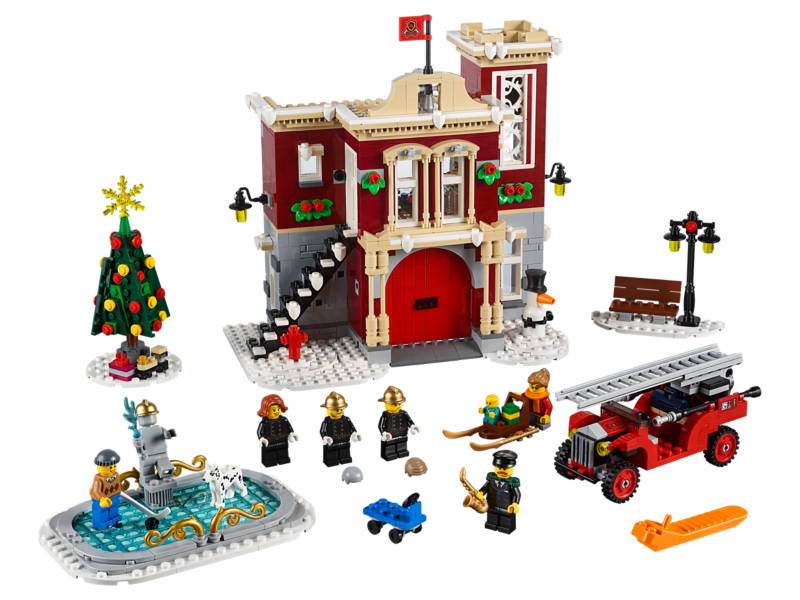 Conclusion And Overall Rating
In all, this is an exciting set that all will love to build and keep in their homes. Once this set is successfully built, you can have it placed in the center of your home to give it this aesthetic appeal and feel.
Generally, this set is a beautiful one and if you're planning to get your hands on a pretty amazing set for this Christmas season, then this should be at the top of your list.