Feel inspired when you build the LEGO Vincent Van Gogh – The Stary Night 21333 LEGO Ideas Set,
By

Mark Gini
/
July 04, 2022
Are you a fan of beautiful artworks? Then you would love Vincent Van Gogh. He was an exceptional artist with lots of unique masterpieces. One of his most famous paintings was Stary Night. This fantastic oil on canvas work of art has been the property of the Museum of Modern Art since 1941. This Painting has become very popular, sitting alongside Mona Lisa as a very known painting. If you are an art fanatic and probably a fan of this Painting, you have visited the museum of modern arts many times. Don't you wish you could have this beautiful Painting all to yourself?

Well, if that's how you feel, you would be pleased to know that you could have a replica of this Painting for way cheaper than the original. This is all thanks to the beautiful Lego Ideas team, which allows Lego fans like you and me to put our Set Ideas up for review. So when the Idea of this Set was born and reached the number of support needed to go under review, there was no doubt that Lego would recreate this Painting replica. And after a long wait, you could finally have a copy of this fantastic Painting you built yourself. Are you looking for a Set to inspire? If so, the Lego Ideas Vincent Van Gogh - The Starry Night is your Set. The Set also has a fantastic building experience. Let's talk about that in the next section.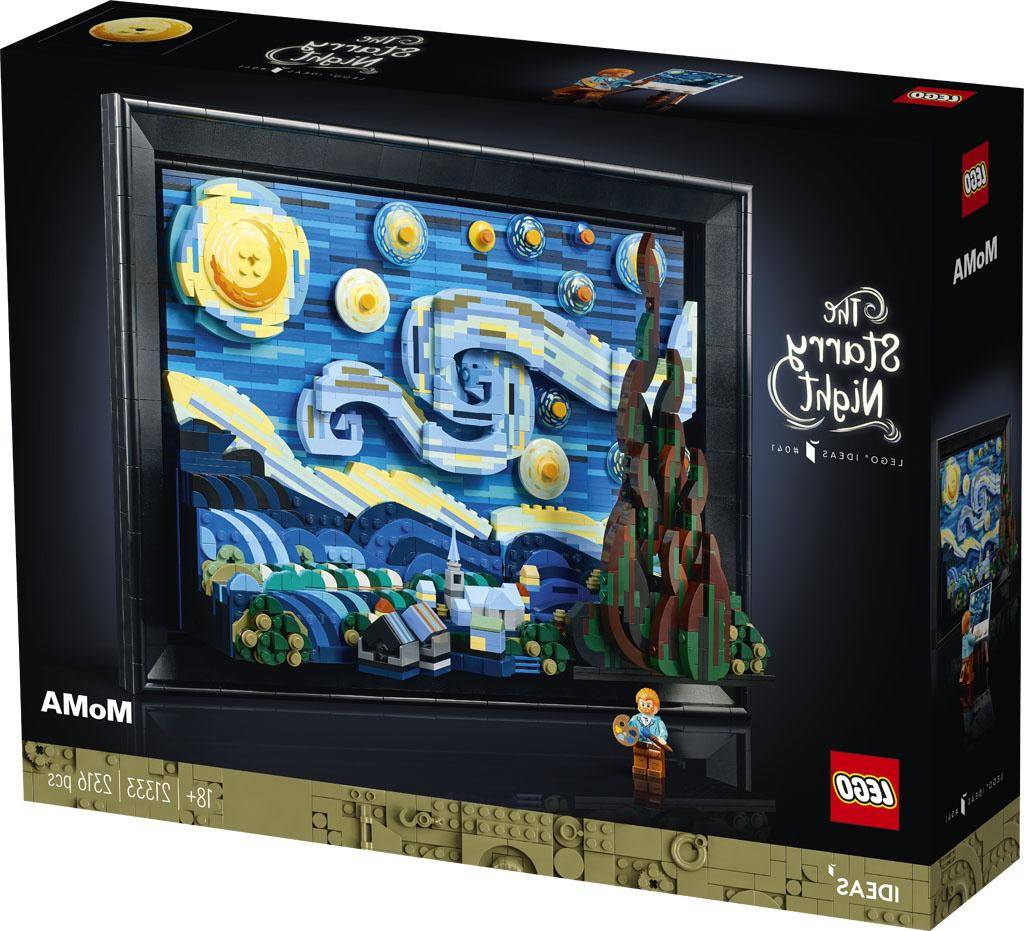 BUILDING EXPERIENCE FOR THE LEGO VINCENT VAN GOGH - THE STARY NIGHT 21333 IDEAS SET.
The Lego "The Starry Night" 21333 Set comes with a building experience that is just amazing. You have two building stages, with plastic bags numbered 1-7. Plastic bags 1-4 contain pieces for building the Painting itself, with plastic bags 5-7 for making the black frame and the tree-like structure one the Painting. The brick pieces are effortless and fun to use. You also have the pieces well arranged to ensure you do not get confused along the way. If you are a fan of the art, you would love to bring this Set to life. You would also be highly fascinated with the realistic Set and as close as possible to the original Painting.
Are you relatively new to Lego? If so, you may find this Set a bit complicated to recreate. You do not have to worry. Whether experienced or not in the Lego building experience, you will get the best out of this Set. Why? Because this Set comes with an instruction manual that is clear and simple. The manual states clearly where each piece goes and what numbered bag you need to complete what faze of building. And if you also want information about the Lego ideas team and how you can participate in some of their activities and win prizes, it is also featured in the manual. The manual also contains a history of Vincent Van Gogh, and his Painting, The Stary Night. Aside from a fantastic building experience, this Set also includes terrific features. What are some of these features? Let's find out.
AMAZING FEATURES FOR THE LEGO VINCENT VAN GOGH - THE STARRY NIGHT 21333 IDEAS SET.
● A LEGO IDEAS SET.
One thing that makes this Set cool when you think about it is that it is a Lego Ideas Set. Yes, a Lego fanatic like you thought about, built, and drove the campaign for this Set to become a Lego Set. Though the final look of the Set is not precisely the way the author designed it, you can still feel his touches on it. If you are experienced with how Lego idea Sets are chosen, and maybe you even joined participated in the campaign for this Set, you would be connected to it.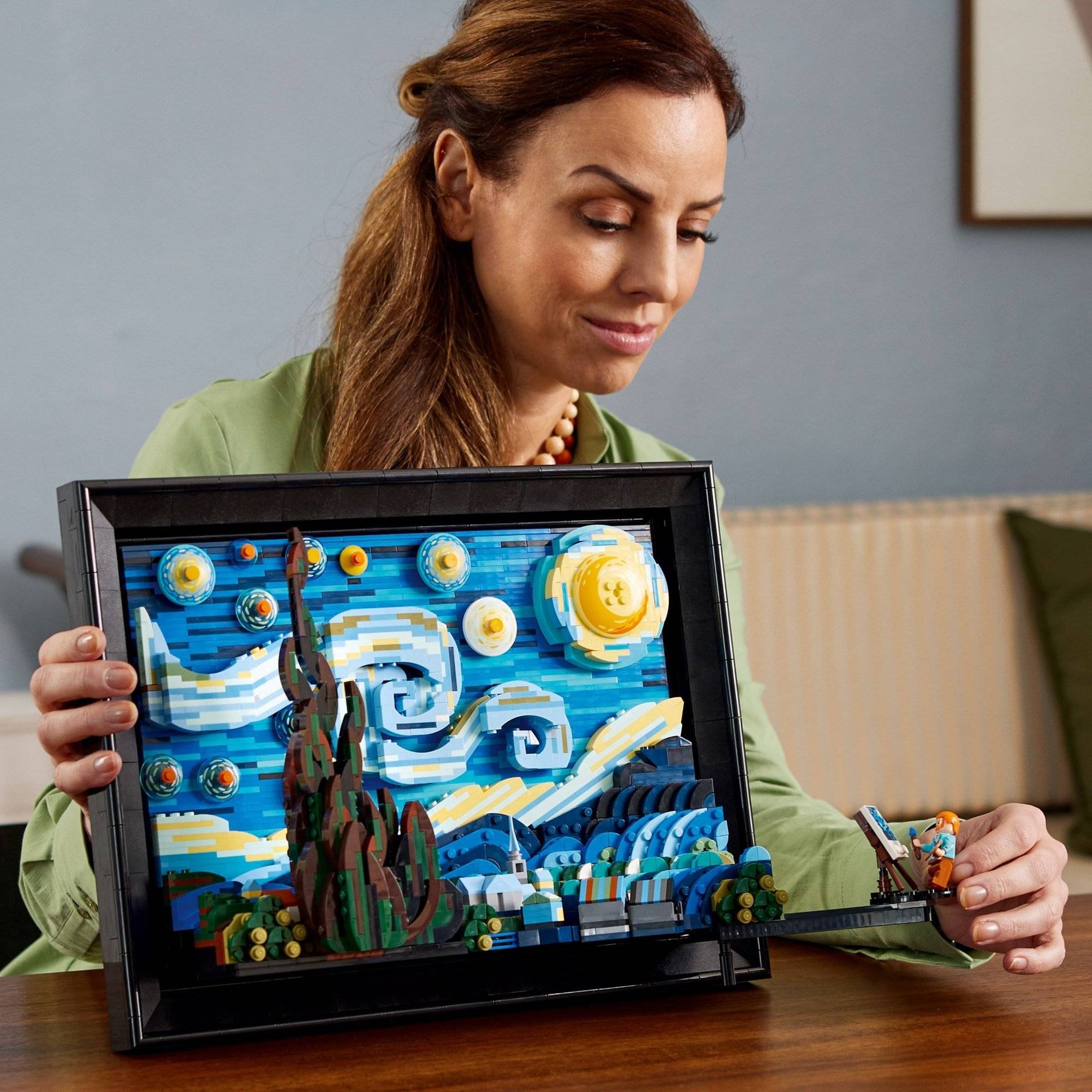 ● 3D SET DESIGN.
Another fascinating thing about this Set is that Lego gives it a three-dimensional design. This helps make the building experience a whole lot more fun and exciting. The 3D effect makes the Painting look like it is coming out of the canvas, and in fact, it is. This approach to the Sets design helps clear out boredom from the faces of those buildings and is sure to clear out the boredom from your face. And to complete the look, the Set also offers a little Minifigure representing Sir Vincent himself, working on the mini Starry Night painting. This additional detail makes this set all the more impressive.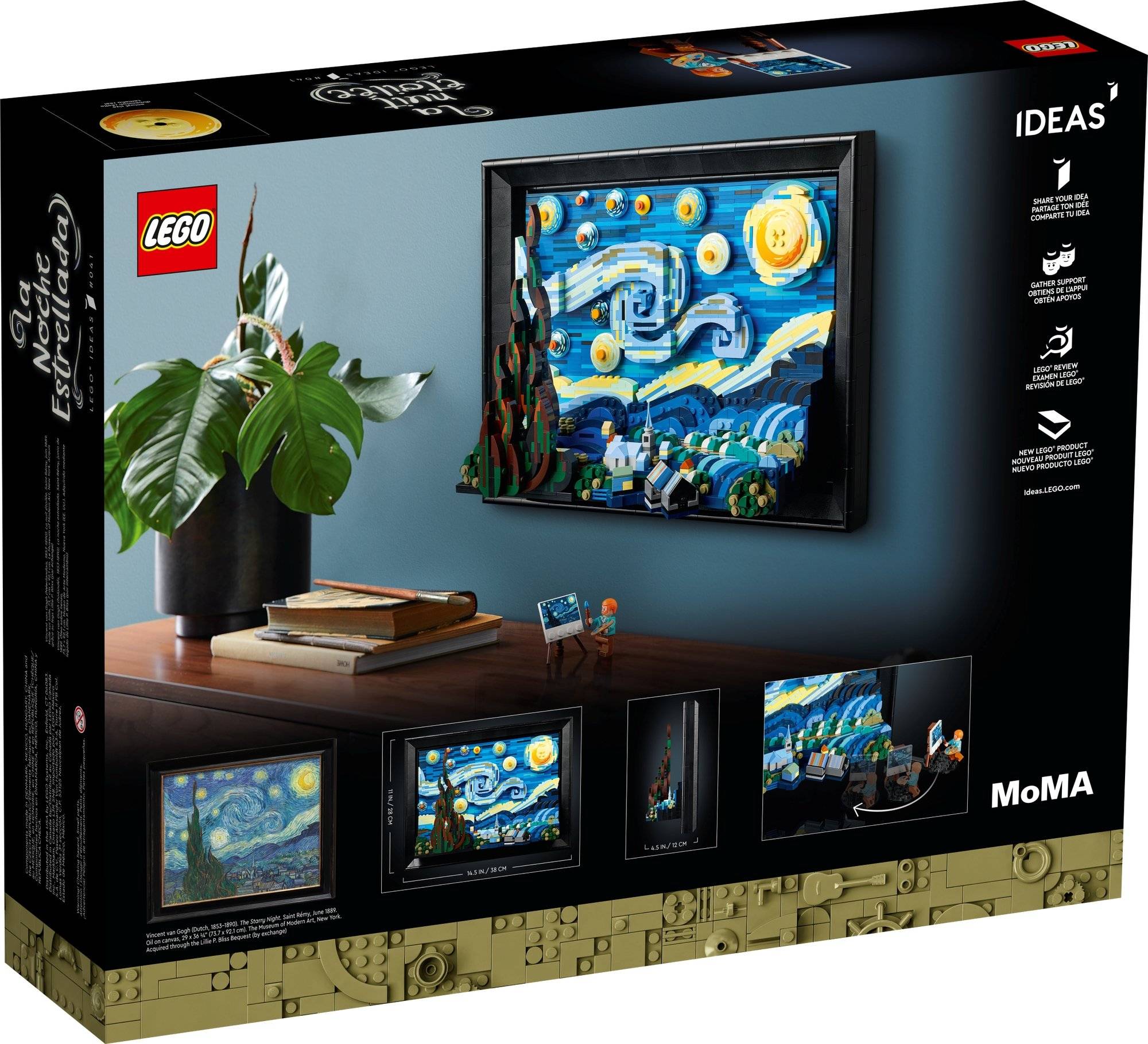 ● A FINE PORTRAIT.
Another cool feature of this Lego Set is its display capabilities. You could put this Set on display on your office table along with the bit of Minifigure and Painting, or you could hang it on your home or office wall as a nice decoration. No matter your choice, you would be delighted with the display. This is all thanks to the excellent top quilty materials used in the production of the Set, along with the lovely color combinations and attention to detail. The Lego team's efforts were also pivotal to the Set's overall success.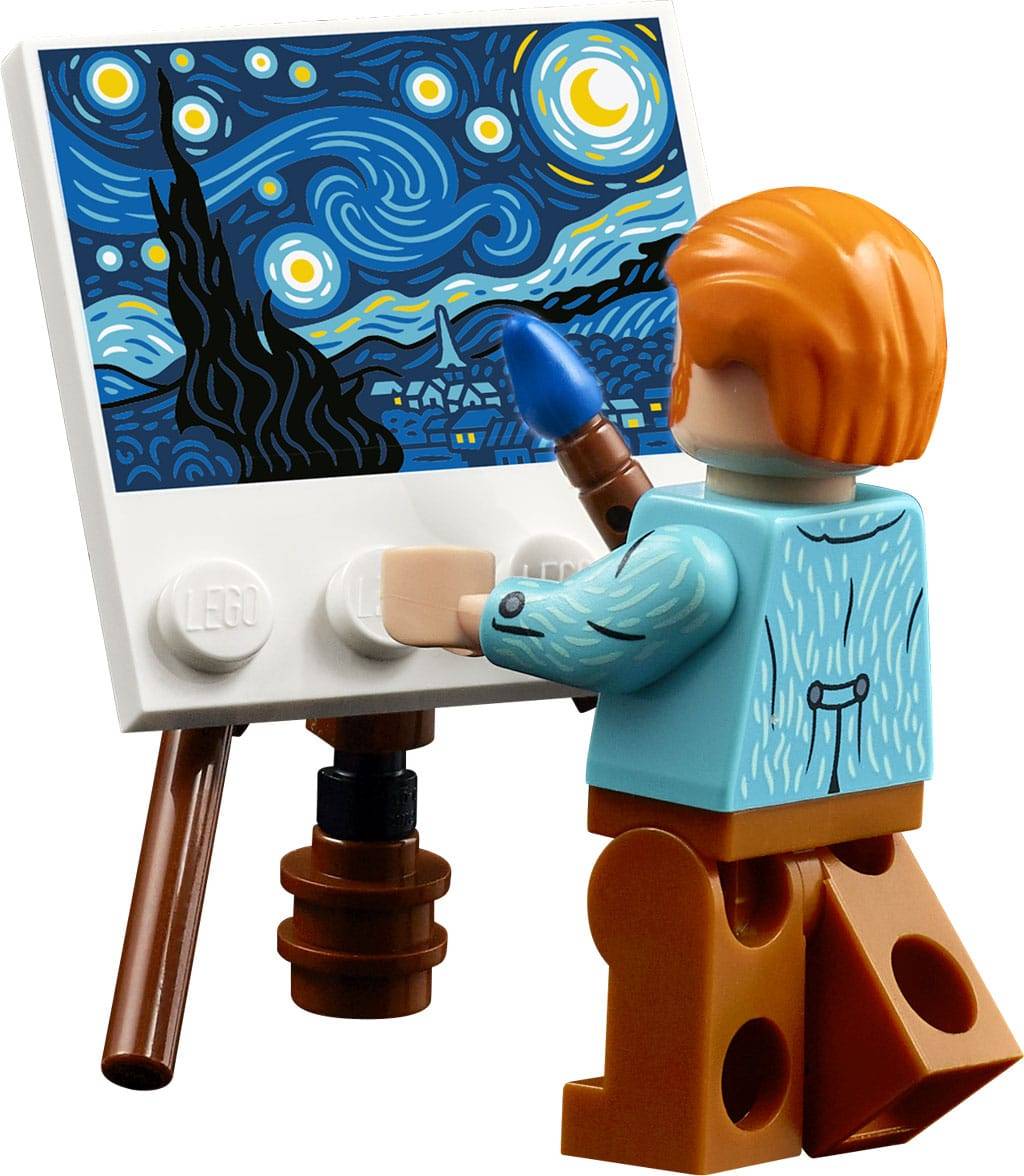 ● SET SIZE.
The Lego, The Starry Night Set, could be considered a medium-size Lego project. It could take an expert builder an average of about 3hours to get the job done. The Set is large enough to be hung on the wall as a nuanced portrait. The Set has a total of about 2315 brick pieces. The Set is about 12 inches high, 15 inches long, and 5 inches in dimension when fully put together. Enjoy building this unique Lego Set as all the intriguing pieces come to life.

By now, you are probably cant wait to know how you could get your hands on one of these Lego Sets. If you live in the US or around Europe, you would have access to Lego stores in your area. Search for the Set there. But if you are in a place with access to a Lego store, why not get the Set direct from the Lego website.
The Set should cost about 169.99 US dollars on the Lego website and stores. This Set could be slightly higher or lower, depending on your location and currency. The fact remains that this is a Set worth the price. But there is one more item to get which would help your Set reach Its highest potential. That is our unique light kit. But what is a Lego light, and how does it work? Let's find out.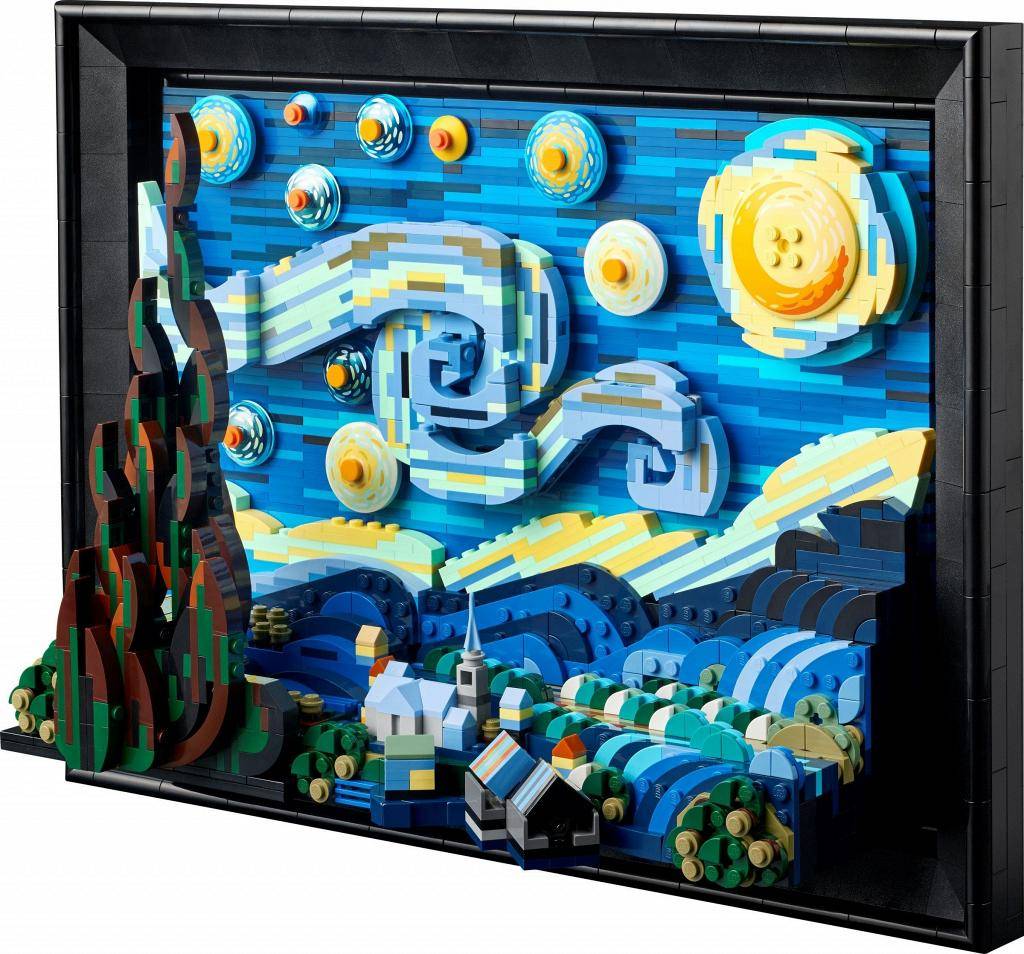 MAKE YOUR LEGO VINCENT VAN GOGH - THE STARRY NIGHT EVEN MORE INSPIRATIONAL WITH OUR LEGO LIGHTS!
Our Lego lights are unique lights designed to help improve the overall look and beauty of a Lego Set. Every Lego Set has a special light kit designed for it. You can only add Lego lights to complete Sets. So if you want this Light kit installed on your Set, you must have built the Set entirely. But how exactly does the process of installation work? What can help you succeed? Let's look at some helpful tips.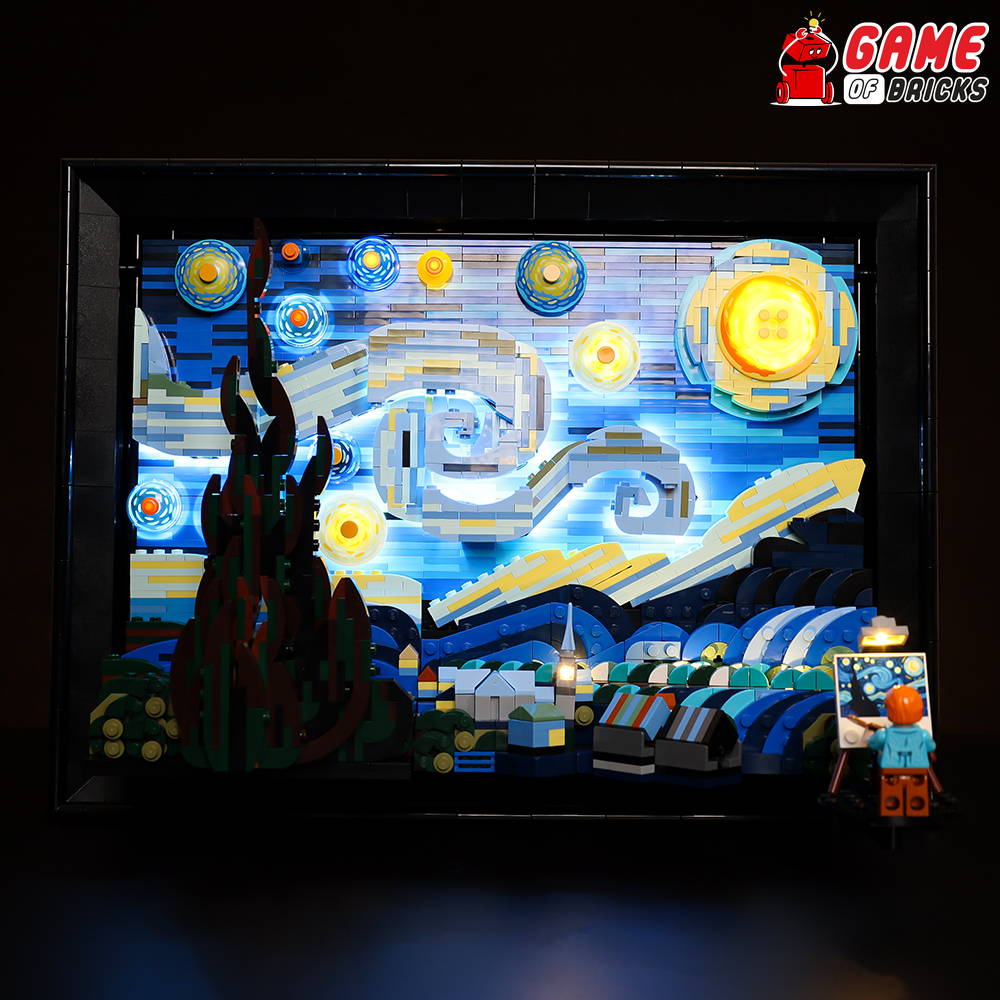 1. INSPECTION.
Once your Lego light kits arrive, you must scrutinize them. This is very important if you are to be successful in the installation process. Your Lego lights are exceptionally delicate and could easily get damaged during shipment. So if you notice that any of the light kits shipped have incurred damages, be sure to request a replacement using your 30days warranty card. We would be happy to have changed any damaged light kits. Once you have inspected and everything looks good, it's time to install.
2. USE THE MANUAL.
Whether you are new to our light kits or have been using them for a long, our manuals could be beneficial in guiding you correctly. Our manuals would help ensure you do not run into roadblocks while building. One more thing to remember is that our light kits are very delicate. So make sure to handle them with care. If you do, you will successfully install your light kits.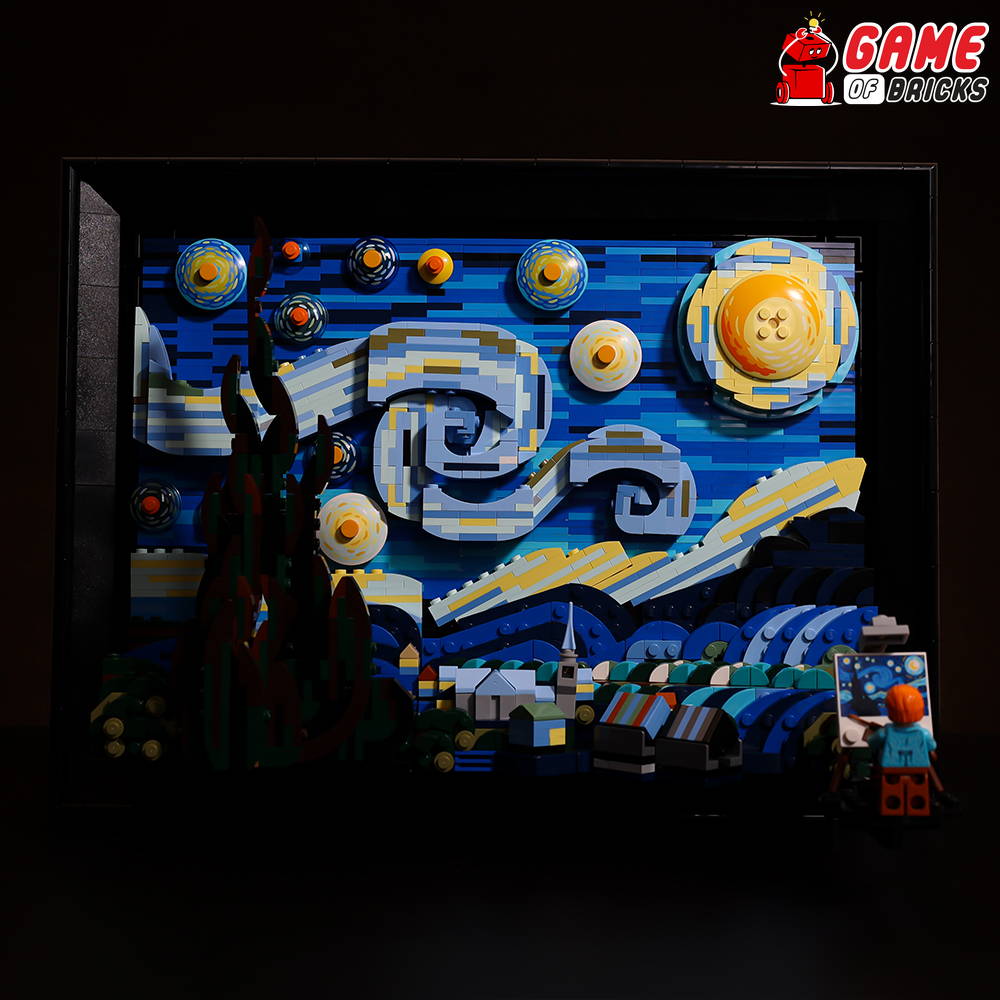 3. TEST RUN.
Once you are done inspecting your light kits, make sure to test run them first. This would help you quickly detect any issues with your equipment so that it does not let you down when you want to show it off. So check for signs of short-circuiting, and do well to inspect the batteries as well. If you notice any hiccups, be sure to fix them. But if all looks good, put your Lego Vincent Van Gogh, The Starry Night proudly on display for all to see.