Race away to victory with your LEGO Toyota GR Supra 76901 Set.
The Toyota Supra is one of the most iconic and highly sophisticated racing cars. It is packed with many of cool features which will enhance the racing experience for any person seeking to race in this fantastic car. Every element of this car, from its body, build to its tires and even low on the ground, is an enormous racing advantage. The vehicle also comes with two car seats, which means you could even race with a companion at your side. The car is designed to make running a fun and comfortable experience for experienced and inexperienced racers.

Are you a fan of this fantastic race car? Would you like an opportunity to engineer this car from scratch? Well, if that's your desire, it can be easily achieved with the Lego Toyota GR Supra 76901 set. Lego designs this set to be an exact look-alike of its real-life counterpart. Do you have a friend obsessed with racing cars? Then this will be a good gift for him this festive season. With this set, you stand a chance to feel like an engineer, bring your favourite car to life in all its glory. So, what does this Lego set have to offer in terms of the build? And what do you stand to benefit from taking time out of your busy schedule to build this set? Well, the next section will focus extensively on that.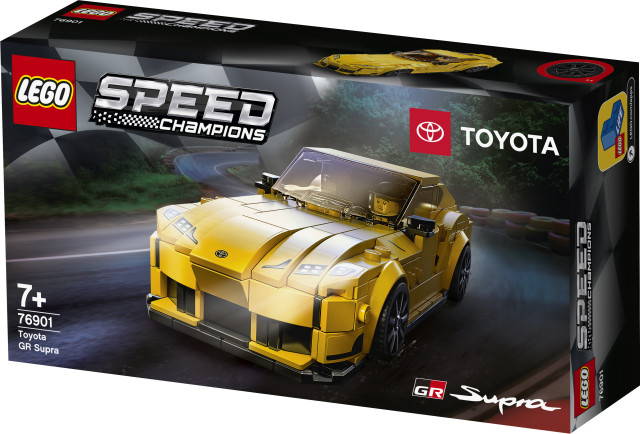 BUILDING EXPERIENCE FOR THE LEGO TOYOTA GR SUPRA 76901 SET.
As far as an engaging build goes, the Lego Toyota GR Supra is just the one. The set comes with incredible, realistic, and even fascinating details which would keep any builder engaged for hours. And if that builder is a fan of race cars, then it is a done deal. Are you new to Lego? It may be a bit challenging to start with a set of this magnitude if you are. You could start by building smaller Lego sets, then slowly work your way to a group of this complexity. This set may seem small, with only approximately 300 pieces, but it would require you set out enough time to build this set correctly. Are you a family person? This set could be your family's text Lego project if you are. 
The Lego Toyota GR Supra also comes with clear, easy-to-understand building instructions. This helps reduce the amount of stress derived from trying to figure things out yourself. These instructions, if followed correctly, could help reduce the amount of time you are most likely to spend building the set. From the seats to the tires and cockpit, the excellent features installed will help keep any builder inspired. If you are looking for a set that will give you all-rounded satisfaction as you build, then this set is definitely what you have been searching for. Once you are done building, put this incredible Lego set on display for all to see!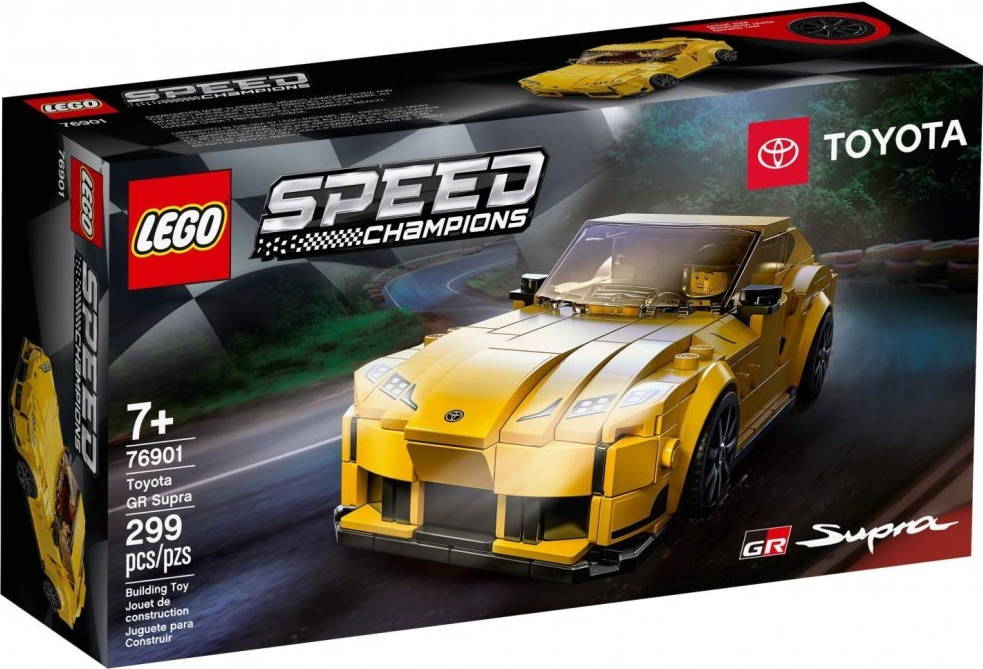 BUILDABLE FEATURES FOR THE LEGO TOYOTA GR SUPRA 76901 SET.
The Lego Toyota GR Supra has so many incredible details that will help keep builders engaged throughout their building. This section will help shed light on some of those cool features.
• SET BUILD.
Lego takes pride in the overall build of their set. So Lego has taken enough time to ensure that the bodywork and appearance of this set perfectly replicate that of a real-life Toyota GR Supra. The design of the bonnet and boot is so realistic. Lego even went further into the textures of the tires. The set is arguable the closest representation of the Toyota GR Supra yet.
• INTERIOR DESIGN.
The Lego Toyota GR Supra also does not stop at bodywork. The set also features cool interior decorations that could be accessed by opening either of the two front doors. Once inside, gain access to cool features like the wide Chassis with enough space for the cockpit. The set also features two seats and a staring wheel. The sets interior features enough space for at least two Lego Minifigures.
• A DRIVER MINIFIGURE.
Unlike other Lego race car representation, which only focuses on the design of the car Lego is trying to replicate, this set goes a step further. The Lego Toyota GR Supra does this by adding a Driver Minifigure, which is fully equipped. This Minifigure is made to be small enough to comfortably fit into the Driver Seat of the Lego Toyota GR Supra. This Lego Minifigure is perfectly equipped with a helmet, racing suit, and a wrench. This helps builders to relive their racing experience with this fantastic set. With this cool feature, builders can challenge their imagination.
• BUILDING MANUAL.
The Lego Toyota GR Supra also comes with an easy-to-understand building manual. If you are a Lego builder not too experienced with Lego Automobile, the instruction manual is designed to make your transition smooth. It contains step-by-step explanations of each step with even diagrams to help give you an idea of what a finished build looks like. And the fun part about this is that you get this building plan as part of the set. So no need to waste time ordering it separately.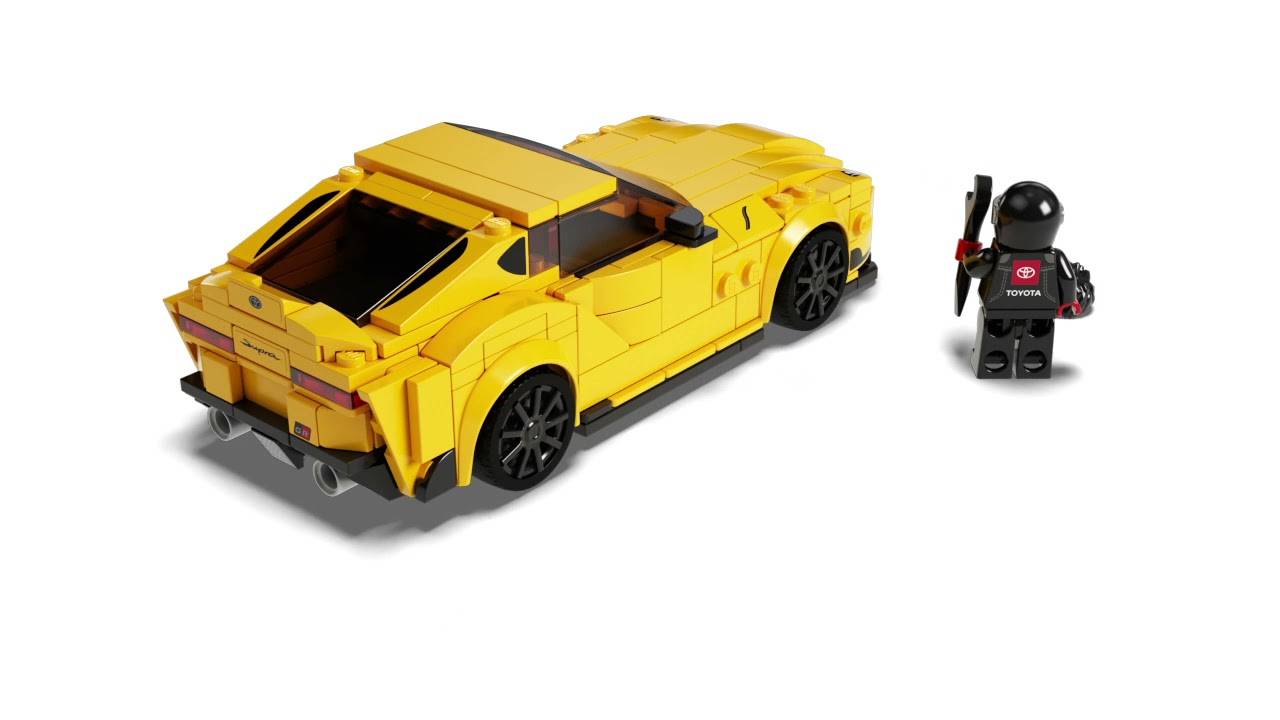 • SET SIZE.
The Lego Toyota GR Supra is designed to be with top-quality Lego bricks. These bricks are designed to be both easily attachable and detachable. This Lego set comes with about 299 pieces of pure original Lego bricks. The set is about 1.5 inches high, 6 inches long, and 2.5 inches deep when put together. This set has a size that makes it perfect as a display set.
• SET PRICE.
Are you now planning on buying this fantastic Lego set? Well, you can easily purchase this set from Lego stores in your country. But it is highly recommended that you get this set directly from the Lego website, lego.com. At the Lego website, lego.com, you can purchase this set at about 19.99 dollars. This makes this setlist among affordable Lego sets. Gift your friends and race car fanatics this year with this fantastic Lego set.

MAKE YOUR SET LOOK MORE REALISTIC WITH THE LEGO TOYOTA GR SUPRA 76901 SET.
This fantastic Lego set is packed with excellent and most realistic details. But you could add more life and spark to your set with the addition of our Lego light kit. If you are new to Lego, note that before you can include this unique feature to your Lego Toyota GR Supra set, you must first complete its build. Once you are have completed that, you can now order your set a step further. As soon as your set arrives, take enough time to inspect them. This is important due to the increase in the mistreatment of items shipped. And since your light kits are delicate, they are most likely to get damaged. So if you find any damages on your light kit, report it immediately to have it changed. Once that is completed, you can now install your equipment.
HOW TO INSTALL.

For those new to Lego light kit, an instruction manual has been put in place to help make it easier. Make sure to handle each light kit and accessories with care because of its delicacy. And also, ensure to take your time during this process and not rush. Your goal is to
upgrade the look of your set with your light kit. So take your time and make sure you follow all the instructions from the manual. If you can successfully follow the instructions from the manual, you would have been able to achieve a well-installed light kit.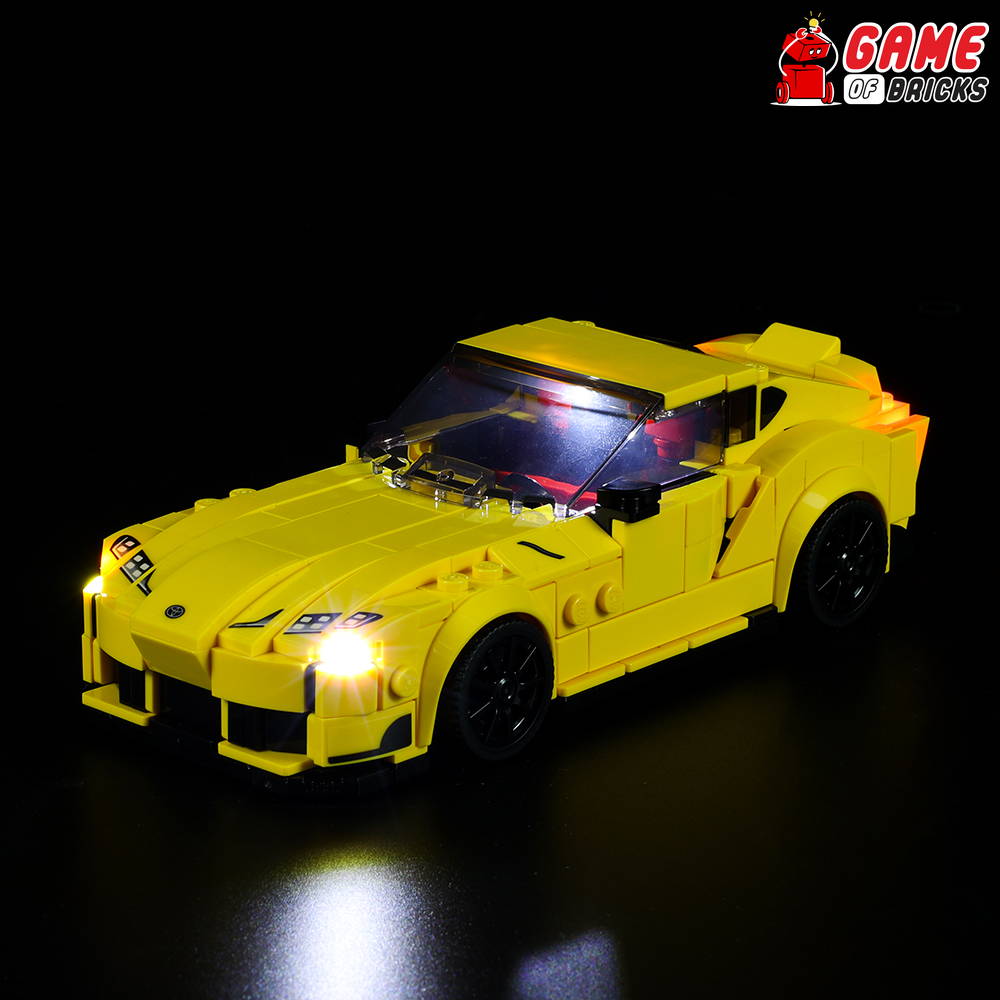 TEST RUN YOUR LIGHT KIT.
Once you have completed installing of your light kit, take your time to run tests. These tests are to be done to help make sure your set is safe for public view. As you inspect your light kit, search out for traces of short-circuiting. You can also look out for sparks and battery strength. You could use a current testing screwdriver to help determine the current-voltage power. This tool will help you know if your battery is powerful enough to handle the recent passing through. Once you are done testing, and all looks good, put your Lego Toyota GR Supra on display for all to bask in its awesomeness.
---