LEGO TIE Fighter 75095: The Full Review
By

Nikita P.
/
January 12, 2020
The LEGO TIE Fighter 75095 is one set that replicates that was seen in a lot of battle scenes in Star Wars. Have you watched Star Wars, there is a great chance that you must give seen a fighter jet there? As always, LEGO paid much attention to the details of this set.

Do you know that the real deal was used in the battle that led to the first Death Star being destroyed? Yes, you read that right.


The brick form of the Imperial starfighter comes with delicate parts that can be seen in the real deal.

The LEGO 75095 TIE Fighter possesses an opening top hatch, where your Minifigures can effortlessly slip into. Apart from that, it has a TIE Fighter Pilot™ Minifigure seen only in this version. The Minifigure comes bearing a blaster pistol.

If you want your Minifigure to be safe when the rebels attack, you could easily mount your set in its display stand. While there, you could find our more figures and facts on the facts plaque.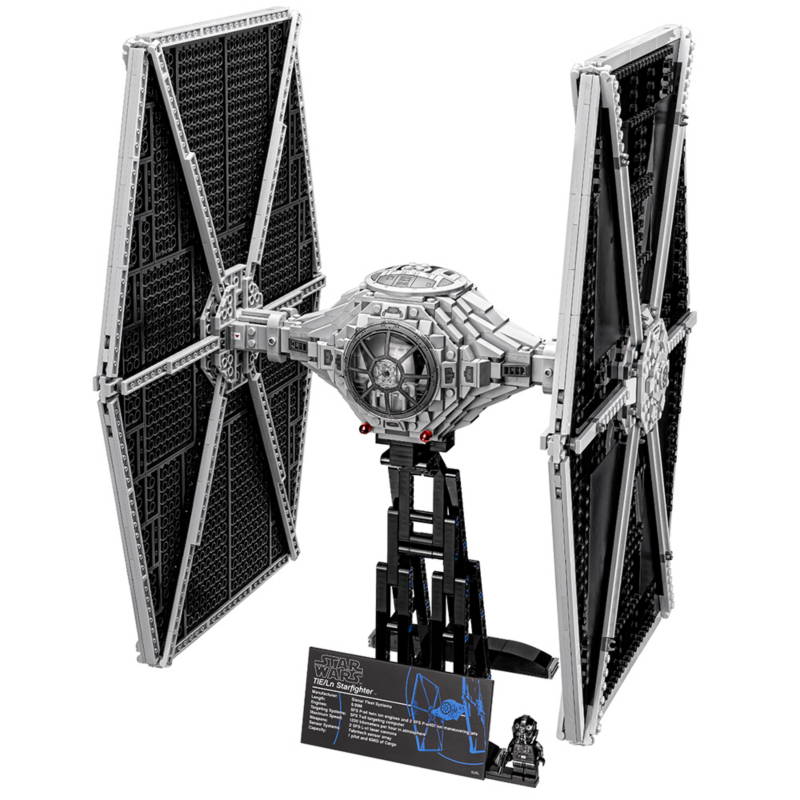 If you are both fans of sets and Star Wars, it won't be a bad idea to get the LEGO 75095 TIE Fighter. It will sit well with other sets in your collection.

Many fans, including me, feel that it is odd that TIE variants in UCS form had been churned out for fans, yet the fundamental TIE Fighter was nowhere in sight. The company seems to like more of the UCS form like the Set 10175 Vader's TIE Advanced and Set 7181 TIE Interceptor to the fundamental TIE Fighter. Anyone that knows the basic TIE Fighter knows that is an iconic Star Wars craft, one that can't be swept under the carpet.

The manufacturers of this LEGO Spaceship listened to the complaints of fans and decided to create this model. This is the first of the kind, and we are happy that the universe can now enjoy this.

This set comes in a box that has the following measurements:
58cm (23") wide
48cm (19") high
9 cm (35") deep
These measurements made it seem longer than the UCS Slave 1 box, though it is not as deep.
In front of the box, you will notice a big picture of the LEGO TIE Fighter model while in action. The picture is so big that it covered a large part of the front side of the box. The box comes with a gold logo that allows fans to know that they are about to open up the most iconic Star Wars craft.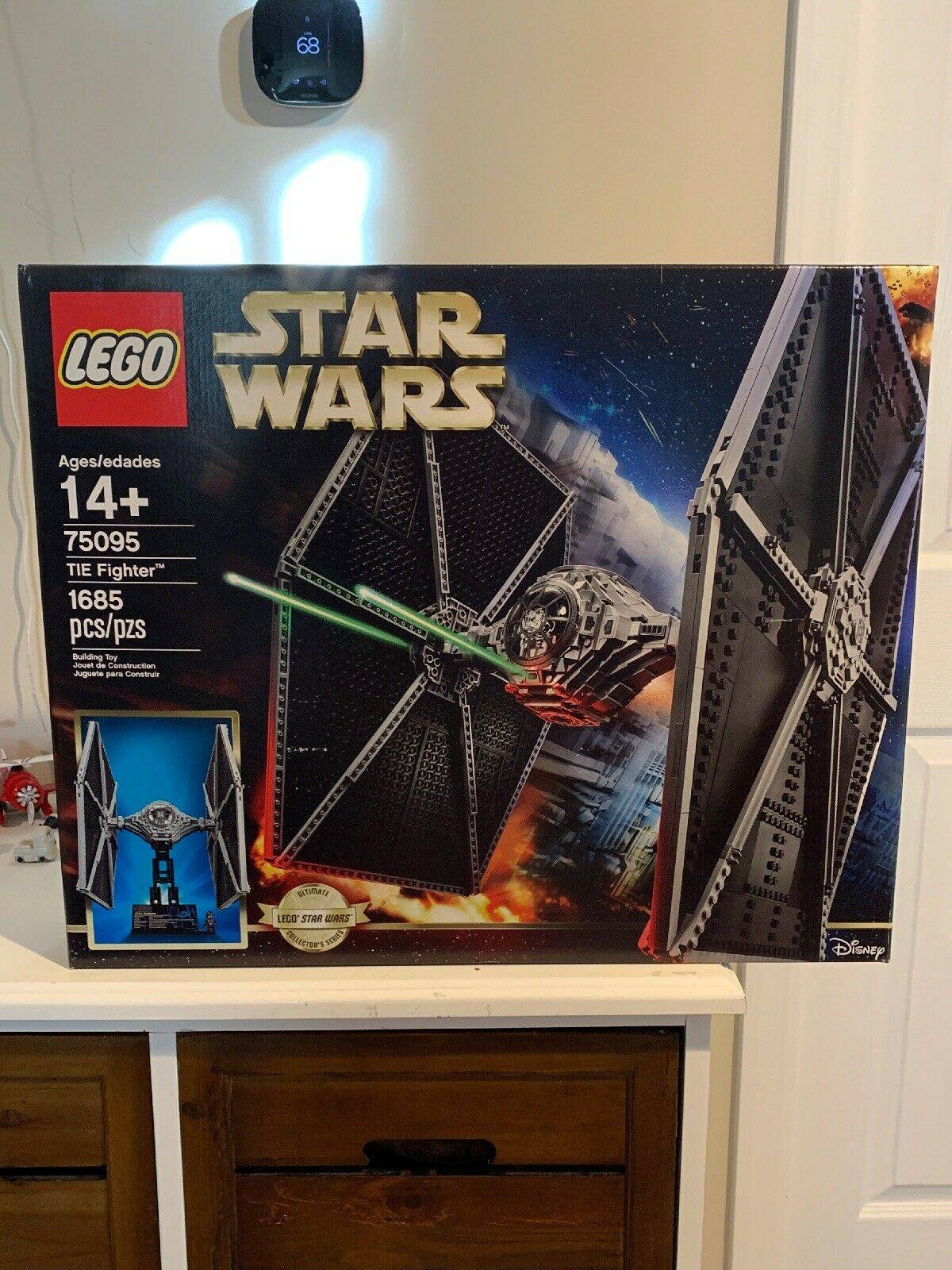 TIE Fighter itself has a measurement of 18.5" high, 12" long and 12.2" wide, while having 1685 pieces. This will offer one a great building experience.

Can we say that when I first stared at this set, I wondered if it would truly work and make sense? Well, the doubts were there, but when I was done, the doubts disappeared into thin air.

When you look at the initial publicity shots, you would have been scared that the exterior of the cockpit would look bad to the eyes. To me, I felt they were but I guess the first publicity shots did not do justice to how tastefully designed to the cockpit was. The jagged appearance from the first publicity shots came from the usage of offset slopes in analyzing the TIE Fighter's contours.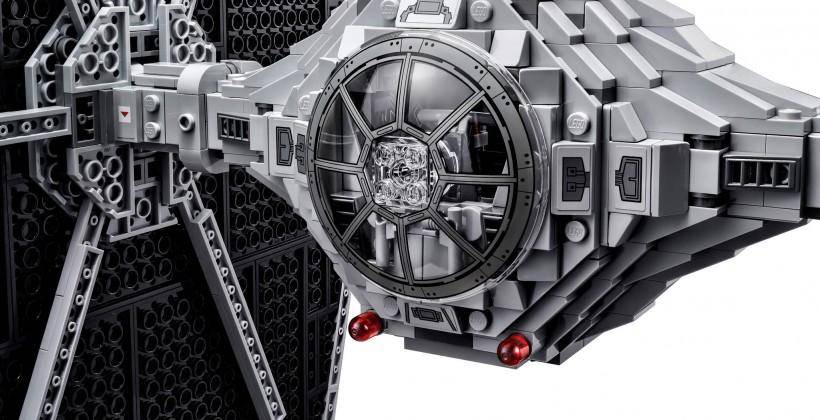 When I was done, I became grateful that I went ahead with coupling them together. The snag with its appearance is that if you are too close to it, it may end up looking a bit jarring.

If you keep little distance between the set and you, you will realize that it has a great appearance. This means it won't be a bad display item. We can say that close up, it is blocked, but once you step back, it becomes quite impressive. Just step back, voila, you will be happy you purchased it.

Another issue you may notice is that the design of the TIE Fighter reeks of simplicity. If you are not a fan of simplicity, this may not sit well with you.

When you are building this, you will undergo some unavoidable repetition, which may end up boring you.

To be honest, building this was not as interesting as other models that I have coupled in the past.

This doesn't mean that you won't enjoy some interesting building techniques. Apart from that, you will be able to bask in the usage of some interesting elements. When you look at what you have accomplished after the last piece, you will realize that it was worth it.

When you start the build, you have to begin by creating the TIE Fighter's cockpit. This cockpit possesses both a flight yoke and a pilot's seat. You can easily adjust both of them.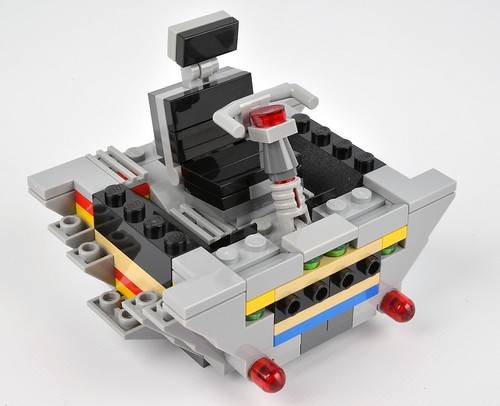 Underneath the cockpit's floor, you will come across around 4 x 4 trans-red plate with 2 x 2 Hole, as well as four red 2 x 2 corner tiles. The latter has only been seen in the past in Set 10246 Detective's Office.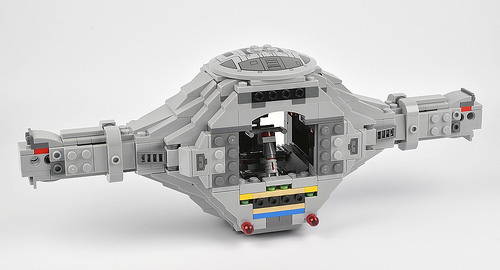 The back of the cockpit is closed in a panel that possesses a diamond-shaped aperture. This structure is seen as the engine exhaust of the TIE Fighter.

You will notice the wing struts that are close to the TIE Fighter's huge wings. We are thankful that much attention was paid to the design of this set.

This LEGO Star Wars craft was made to recreate the classic Imperial Starfighter, which many of us know.

This Warcraft van is seen in:
Star Wars: Episode IV A New Hope,
Star Wars: Episode V The Empire Strikes Back
Star Wars: Episode VI Return of the Jedi, as well as Rogue One: A Star Wars Story.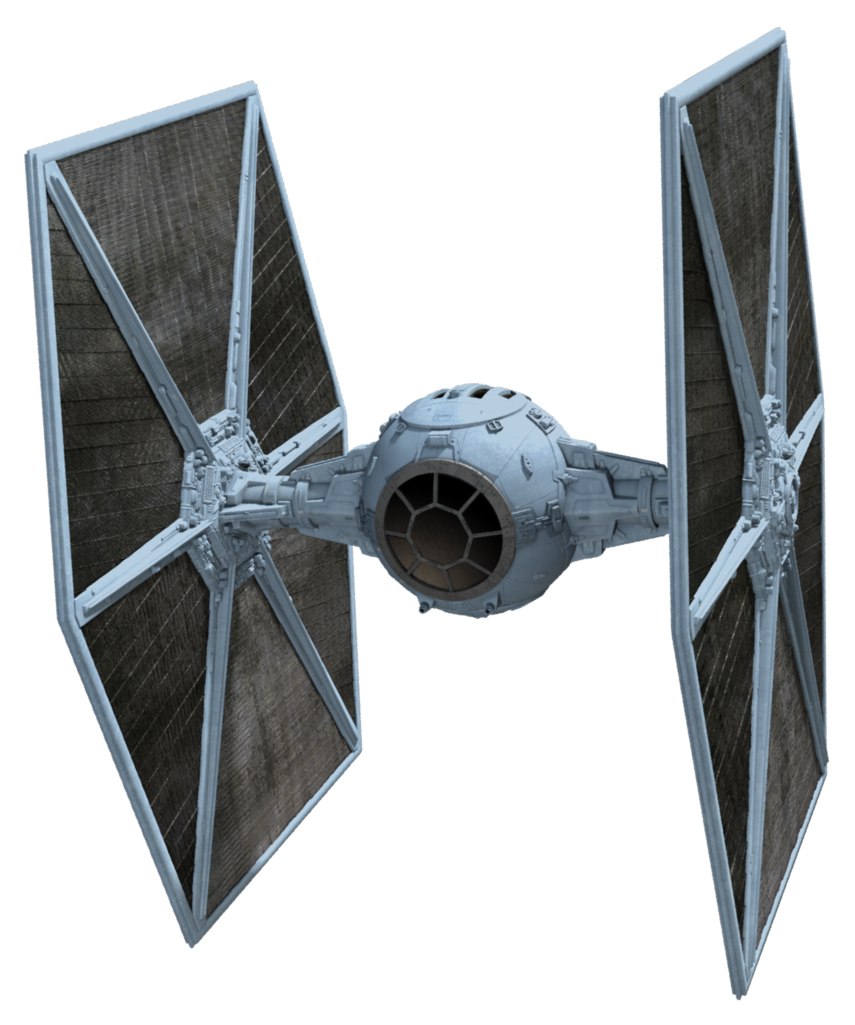 You can battle it out using the TIE Fighter Pilot Minifigure that is armed with the blaster pistol. Blow up your enemies with this.

One thing that we like is that the Star Wars building toys can work well with every construction set. This means you can bring your creativity to the table.

You could play with your friends or alone or decided to add flair to it by incorporating it with another construction set.

When you are building this, you will undergo some unavoidable repetition, which may end up boring you.

To be honest, building this was not as interesting as other models that I have coupled in the past.

This doesn't mean that you won't enjoy some interesting building techniques. Apart from that, you will be able to bask in the usage of some interesting building elements.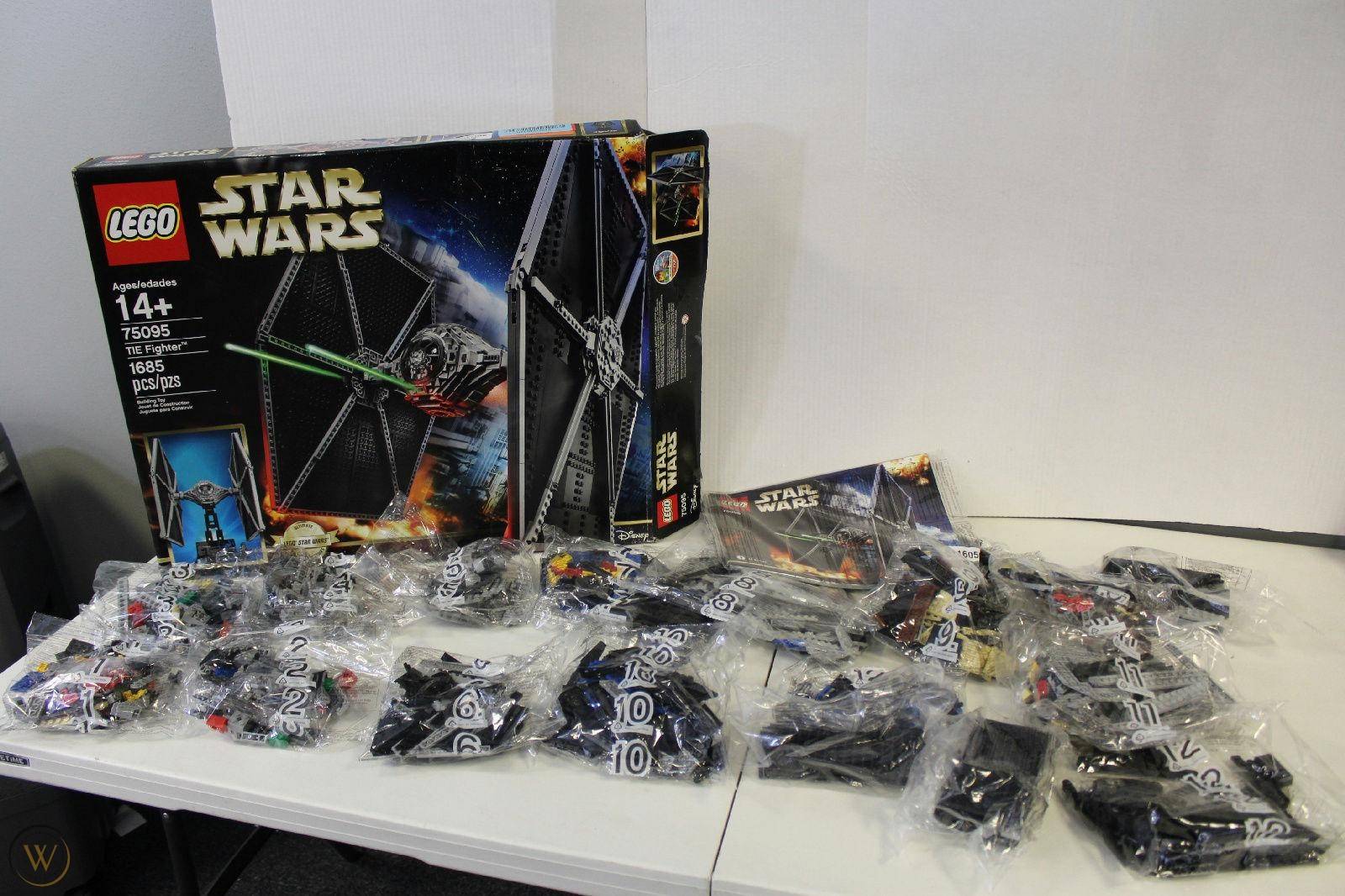 Out of everything that you will build, the panels are the most tedious parts. This is as a result of the layering that will be done to the tiny wedge plates.

When I was done with building the cockpit, I was tempted to take it from where it was, and toss it around like a baseball because of its shape. Do not do that. The shape came about because of the numerous slopes that was spent in creating it.

Some parts may seem dull when building them, while others may seem challenging. To ease the process of building, stick to the guidelines to avoid you from making ghastly mistakes that may force you to lose the time you had spent in other parts. You could also stream the building process. All in all, the ship was indeed a military one, and we couldn't get enough of the ship.

Top It Up With LEGO Lights
We love to display our completed set, and want them to look better than any other one that we have seen. You can do this by purchasing a unique set of light for it.

Apart from the aesthetic appearance that it brings, it allows others around you to know where your model is to prevent them from mistakenly messing up with it.

With the unique LEGO lights, you could kill multiple birds with a stone. Contact us today, we will live to hear from you.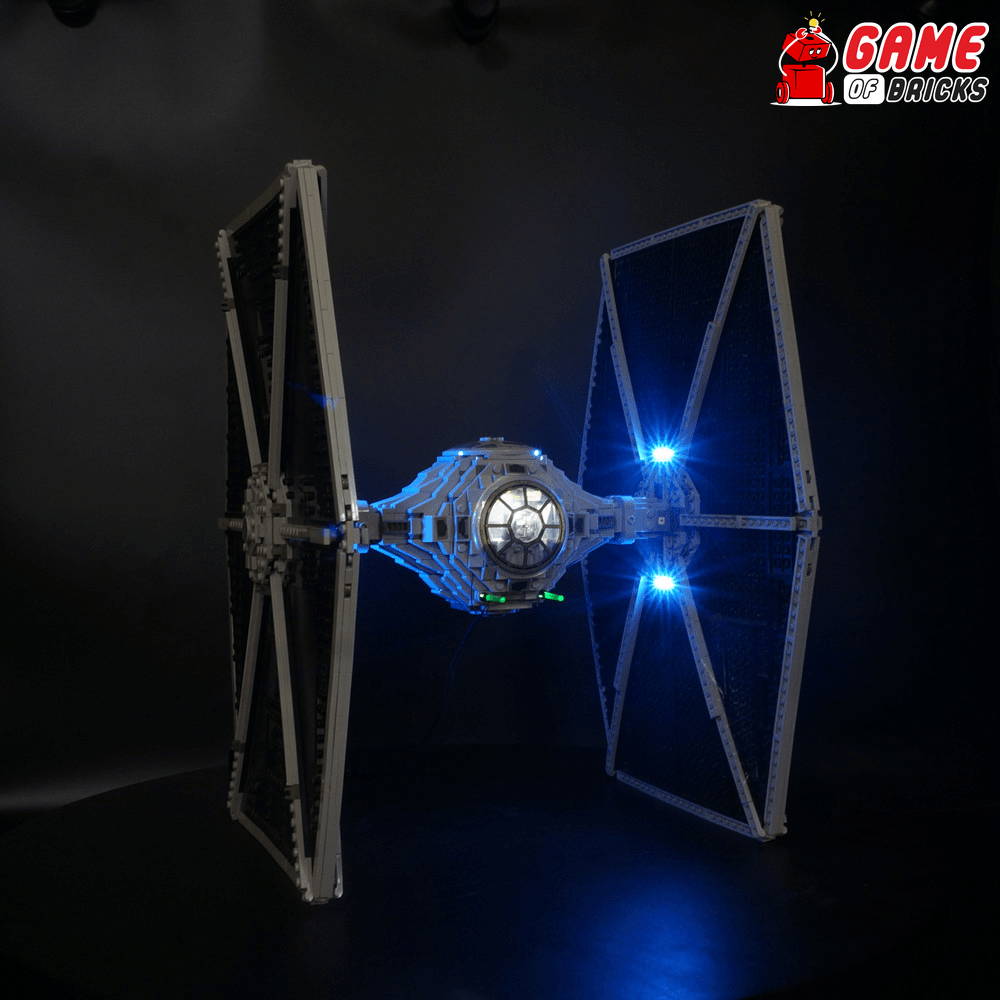 There are so many amazing battleships in the Star Wars world. The LEGO TIE Fighter 75095 is one of the most unique ones in look and function. If you want the Star Wars end of your LEGO collection to be complete this TIE Fighter must be there


We have the best collections of LEGO lights for your LEGO. Who wouldn't want to beautify their LEGO sets with these creative lights? Virtually no one. Check the amazing collections and contact us. We will love to hear from you.