LEGO Stunt Show Truck & Bike 42106: Its Review
From birth, a lot of us have been intrigued by trailers, motorbikes, trucks, cars and other vehicles. We have wanted to ride them into glee, while we claim the road as ours. We have always wanted to get involved in daring adventures that leave our excitement levels high. 


Many of us have wanted to ride the aforementioned vehicles into a flaming ring of fire because we watched many professionals do the same. Imagine carrying out heroic stunts in your apartment as you see on the TV. Imagine operating a stunt motorcycle, as it soars into the air, and weaves through a flaming ring of fire! You could do this with the LEGO Stunt Show Truck & Bike 42106. 
It is no news that LEGO for a long time has spent time, making us relive our dreams and passions with the bricks. If you are someone that fancies the daring adventures and loves the bricks universe, this may be the right set for you.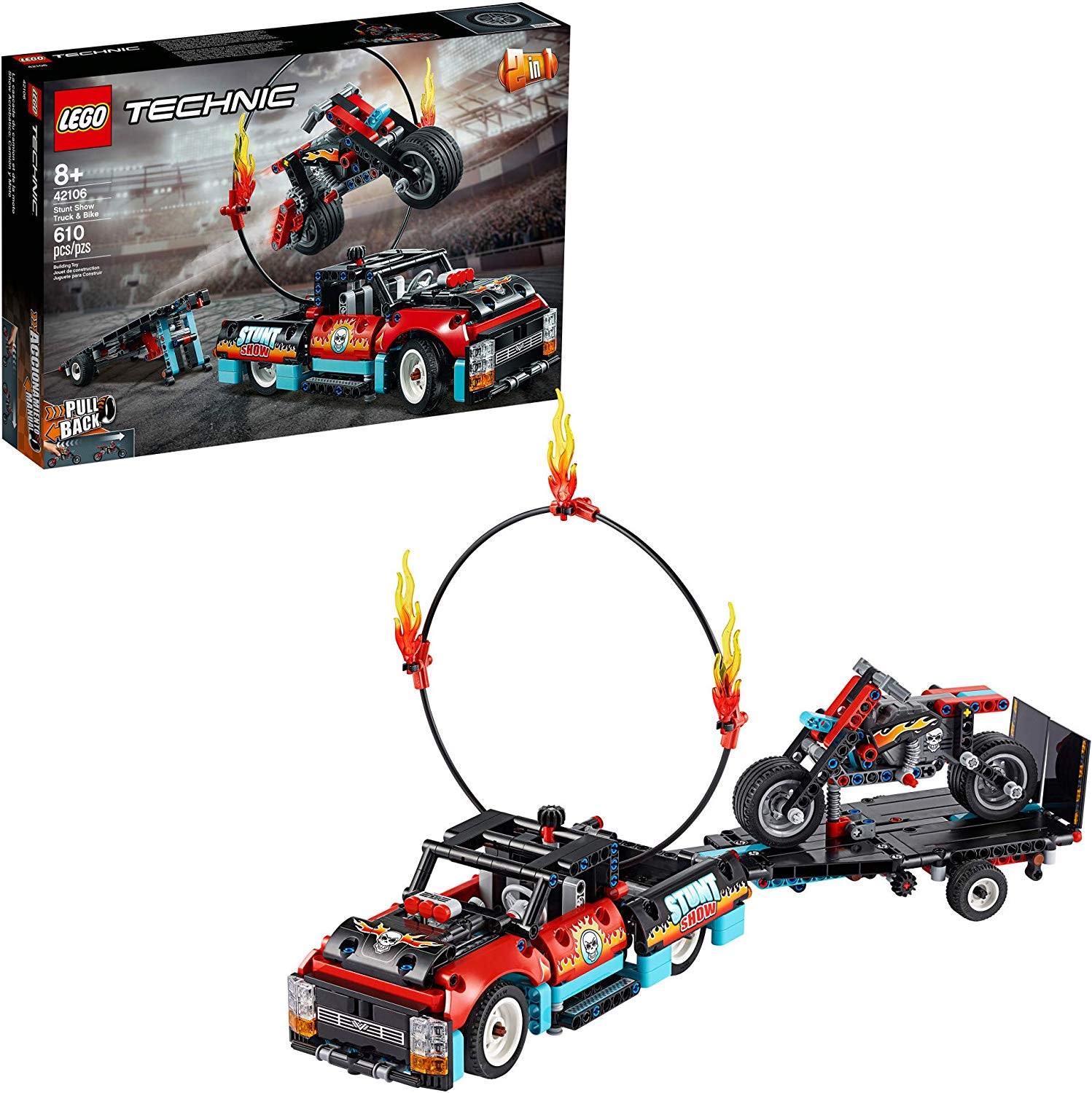 The LEGO Stunt Show Truck & Bike 42106 is great for stunt fans and comes with 610 pieces. It falls under the technic theme, and when you are done with coupling the pieces together, the result is always impressive. 

It is great for role play and comes with width is over 7" (18cm), as well as a height of 11" (28cm).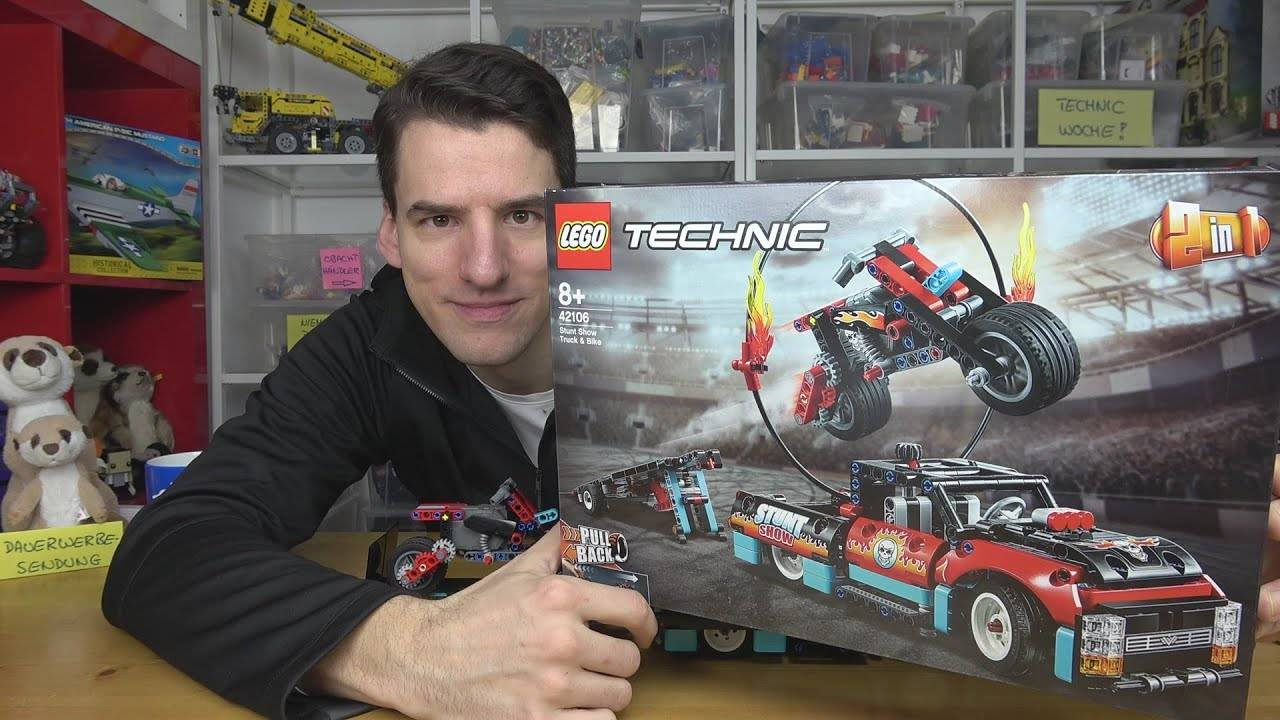 Looking at the box, you will understand how impressive it looks to the eyes. The front of the box lets you know about the different elements that can be seen in the set. The back of the box allows you to know of the numerous features that can be seen in the set. 

When you are done with coupling the pieces of the set together, you can decide to leave them without the stickers. Some fans felt that the set seemed so messy when every sticker in the set is placed on the finished truck. Whatever look you want, you can go for it. 

When you stare at the front, you will notice that it is a bit decent. We love the fact that some attention was paid to details in this aspect. Stickers will go to the grill. 

At the rear, you will notice a lot of stickers placed there. 

For me, I fancy the color scheme, though some other fans felt that it seemed messy since they had to place stickers there. 

One eyesore that was noticed was towards the top down. The rear trailer bed seemed hollow. When you add the trailer to the set, everything seems top notch. The trailer hitch gives you 180 degrees of pivot. 

One thing that we fancied was the door, and how it functioned. We were grateful that it could open easily because of its single axle connection point.

At the back of the truck, you will see the ring-of-almost-fire. You are expected to mount this by using a single pin, if not it would fall. It was not designed to stand on its own. We feel that the reason the LEGO Technic set had a ring-of-almost-fire at its back is that you could offload your bike and decide to jump through the hoop.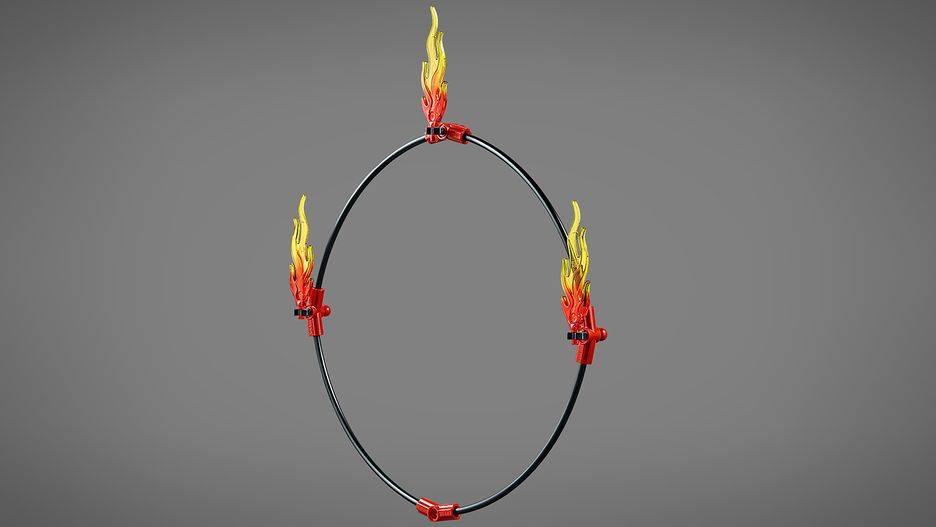 When you stare at the interiors of the set, you will love what you see. When it comes to spicing up the interiors with cute things, the manufacturers of this LEGO Technic set decided to impress its users. You will see the speedometer, seats, as well as a steering wheel. You can easily raise or lower your steering wheel. 

This set comes with numerous features such as a truck, motorbike, tracker, as well as a ring of fire. The combination would leave you having intense stunt-action fun. The fact that there is intense action means that kids can easily compete with those around to jump through the hoop of flames. This is the only hoop of flames that kids can easily jump through without being scared.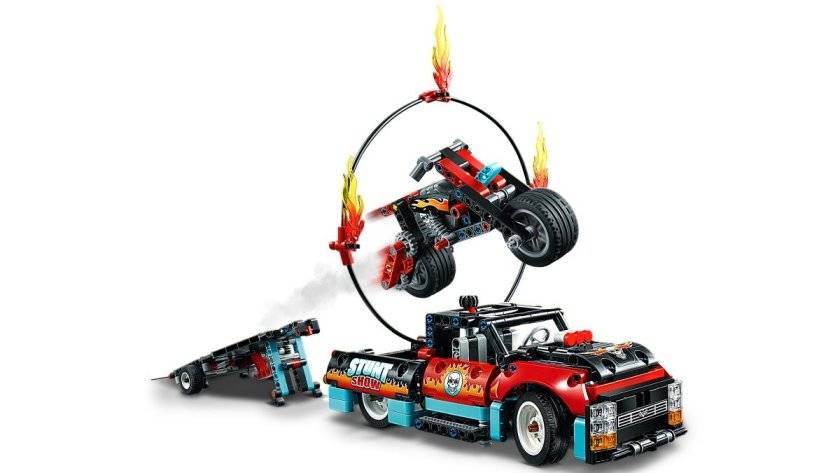 Once they are done with their motorbike stunt, you could use your truck to transport the bike to wherever you want to go. 

You could easily convert your trailer to form a ramp that gets the bike to move towards the hoop of fire. This set is great for anyone, as it comes with an intriguing building challenge. It is the perfect gift for a fan because it ensures that they bask in the fun that the numerous elements in this set offers. 

Immediately you have built it, you could recreate the numerous stunts that one sees in those intriguing motorcycle shows. You could also have it rebuilt to form a Stadium Truck set.

If you are searching for what to get a kid that loves action-packed toys, you can get this for him or her. 

Like every set out there, this technic set comes with an instruction manual that directs you on what to do. The instruction manual can easily be understood, but if you are looking for easier ways, you could stream the building process online. 

When you are done with coupling the set together, you won't need any battery. You could start playing immediately and enjoy the immense action that the set offers. 

To start building, open your box, and follow the easy-to-follow instructions. If you want to create the Stadium Truck, the source for the instructions online.

Building a bike is quite easy. As for the engine, you will find out that its engine is mainly filled with the pull-back engine. You will put the skull stickers there. 

It is important to note that the rear wheel of the bike doesn't enter the pull-back motor directly. What this means is that we have to craft up the tiny gear system to ensure that power is transferred between the wheels and motor. 

After that, you will have to attach the rear wheel. One thing about this set is that in the end, the bike may turn out having the unfinished look. Its big tires make it seem blocky. At the back, you will notice that it is so wide.

After you are done with the bike, the next thing that you are expected to build is the trailer. Generally, you will notice that the trailer is basically a few number of big panels.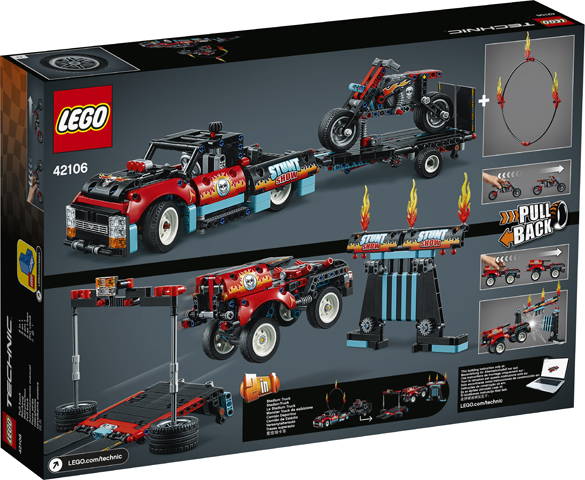 To ensure that the bike doesn't roll off the trailer when it is made to form a ramp, there are rubber 1x2s. There is a tiny peg that is used to ensure the bike is fastened on. You could easily have it removed, as it is kept in a spot by an axle-in-pinhole mechanism. 

If you want to create a ramp, all you need to do is twist the gear. When you do this, the props will drop. After that, you are expected to fold down the panels manually behind to ensure that a ramp is created. This is not in a steep angle to ensure that the bike doesn't get a large amount of air. 

Building the track is where you will spend a lot of time. You will have to create the steering and truck frame. This should take an hour or so, depending on how handy you are. 

Want your set to look magnificent when on display? It won't be a bad idea to get a unique set of lights designed for it. 

We love to display our completed set, and want them to look better than any other one that we have seen. You can do this by purchasing a unique set of light for it. 

Apart from the aesthetic appearance that it brings, it allows others around you to know where your model is to prevent them from mistakenly messing up with it. 

With the unique LEGO lights, you could kill multiple birds with a stone. Contact us today, we will love to hear from you


When we look at every aspect of the set, we have no choice but to say that, as usual, LEGO made a lot of fans smile with this piece. We have noted some great parts of these pieces, as well as the ugly sides. Some feel that a major ugly side is the number of stickers that had to be plastered on it. 

In conclusion, getting this set won't be a bad idea, as it would give you value for your money. 
---