LEGO Star Wars Death Star Compactor Diorama 75339 Set Review.
There have been a lot ofepic Star Wars scenes over the years. But there has been non like the scene ofLuke Skywalker and his friends stuck in the Death Trash Compactor. Our heartswere racing when we all thought The Trash Compactor would completely crush themin the Trash Compactor. Thankfully, they were all saved, thanks to the help ofthe C3PO and R2D2. Was your heart also raising like millions of Star Wars fansworldwide? Didn't you breathe a sigh of relief when you saw them rescued? Therewere a lot of heart-racing moments throughout that scene. What would you do ifyou had the chance to recreate your favorite part of that scene? 

With the help of theLego Death Star Trash Compactor 75339 set, you can. This Lego set recreates theexact scene at the Death Star Trash Compactor and even comes with Minifiguresrepresenting the same characters from the set. The set is not only fun to buildbut offers an impeccable display. The Lego Deah Star Trash compactor is fun tobuild and offers lots of details. Do you have kids who can just shut up aboutStar Wars? Are you looking for a way to keep them busy while you handle otherimportant matters? Well, you can keep them well engaged and entertained withthe help of the Lego Death Star Trash Compactor set. This post will considereverything you need to know about the Lego Daerh Star Trash Compactor set andhow our amazing light kit will help make the set so much better.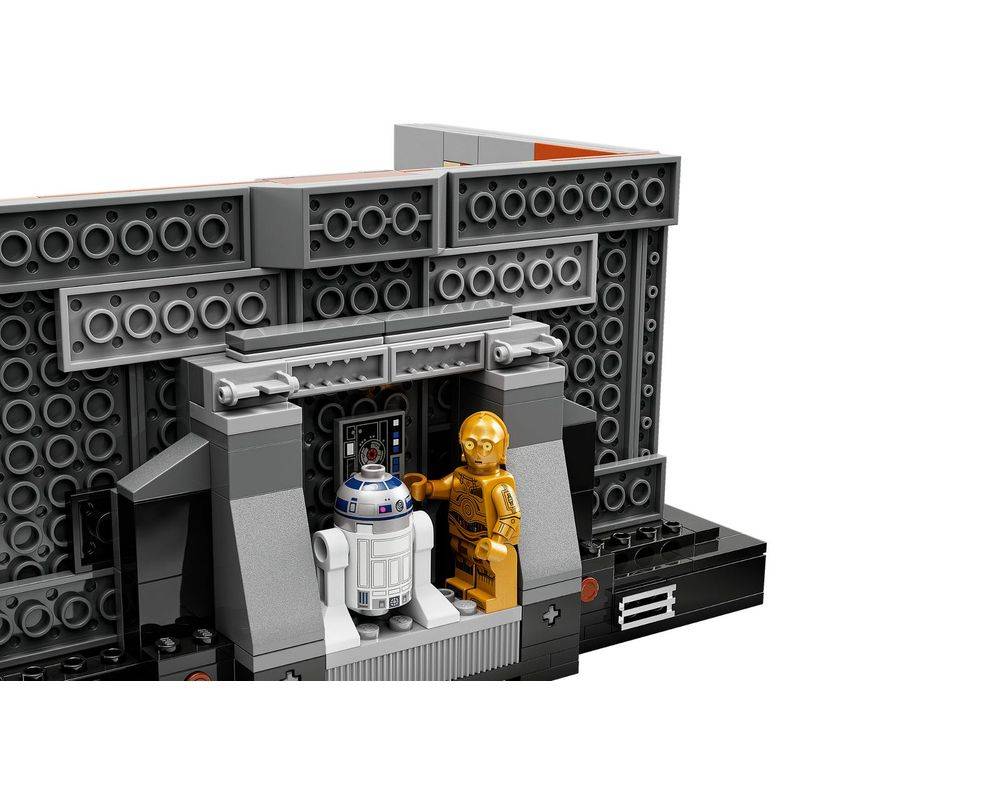 ANAMAZING BUILDING EXPERIENCE FOR THE LEGO DEATH STAR TRASH COMPACTOR 75339 SET.
The Lego Death Star Trash Compactor set comeswith a building experience that is fun and engaging. There are lots of newbuilding technics which will drastically improve your experience with the Legoset. The Lego set comes with four numbered bags containing the bricks you willuse in the set's building. The set also comes with three plates which you willuse for the base of the set. The building of the Lego set can be divided intothree stages. In the first stage, you will be tasked with building the base ofthe Trash compactor using the three base plates given to you. Once you haveformed the base, you will need to fill the base with details. Once you are donebuilding and fixing all the pieces for the base, you will need to build thesides of the Death Compactor. Once you are done with the building of the baseand all the sides of the Death Star Trash Compactor, you will need to attachall the details for the finishing touch, including all the bits and piecesrequired for the finishing looks. Once you have done this, the only thing leftwill be to include the Minifigures for the final effect.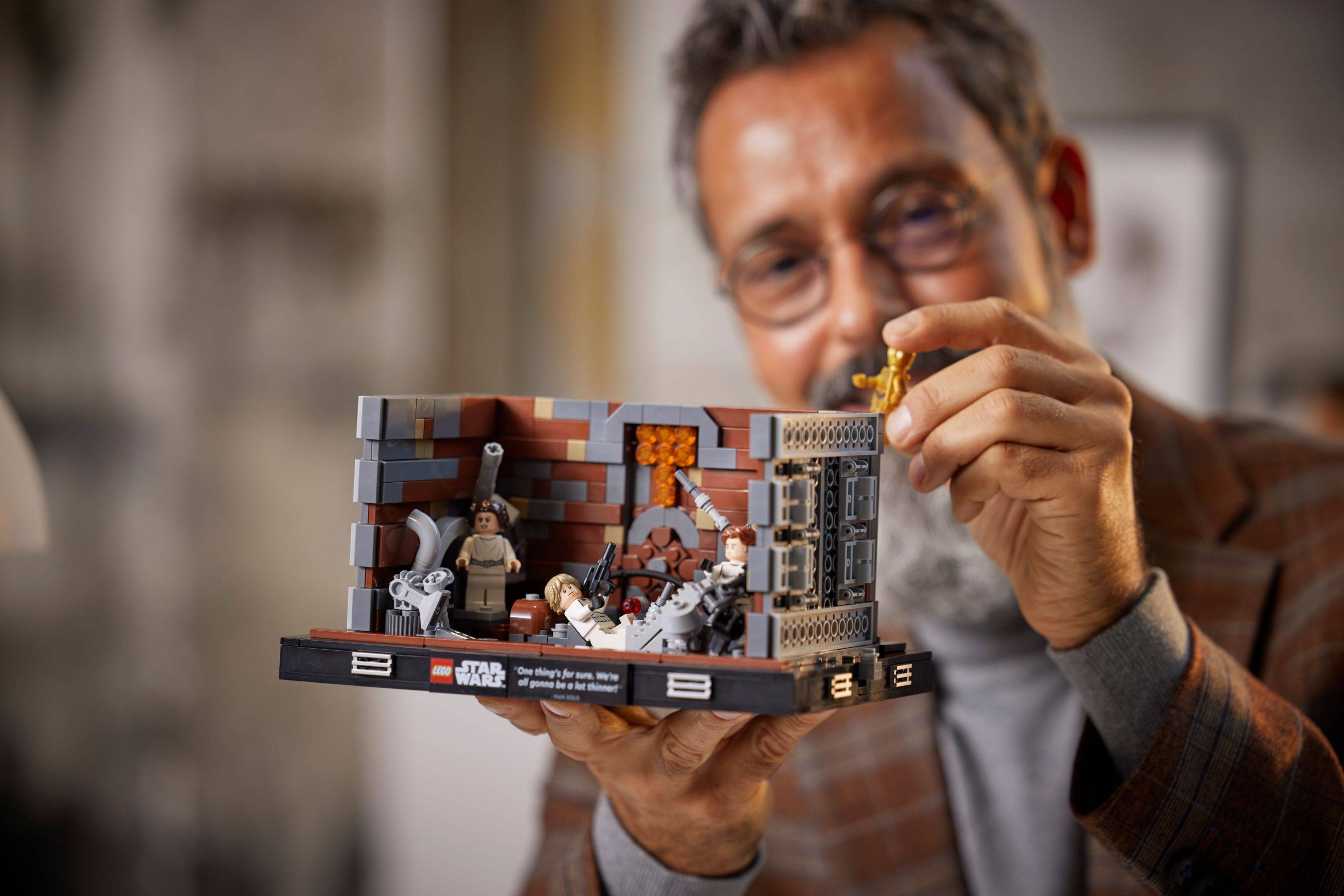 Once you have done this, the only thing leftwill be to put the set on display. The Lego Death Star Trash Compactor set canbe built by all Lego fans, both young and old. The set also comes with aninstruction manual containing all instructions needed for building the set. Inthe first pages of the manual, you are given a breakdown of the scene behind the set you are about to build, along withother valuable information which will help build your appreciation for the set.Overall, the Lego Death Star Trash Compactor is fun and engaging and will beworth your every effort. Aside from an amazing building experience, this Legoset also has some Cool features. The next section will touch more on that.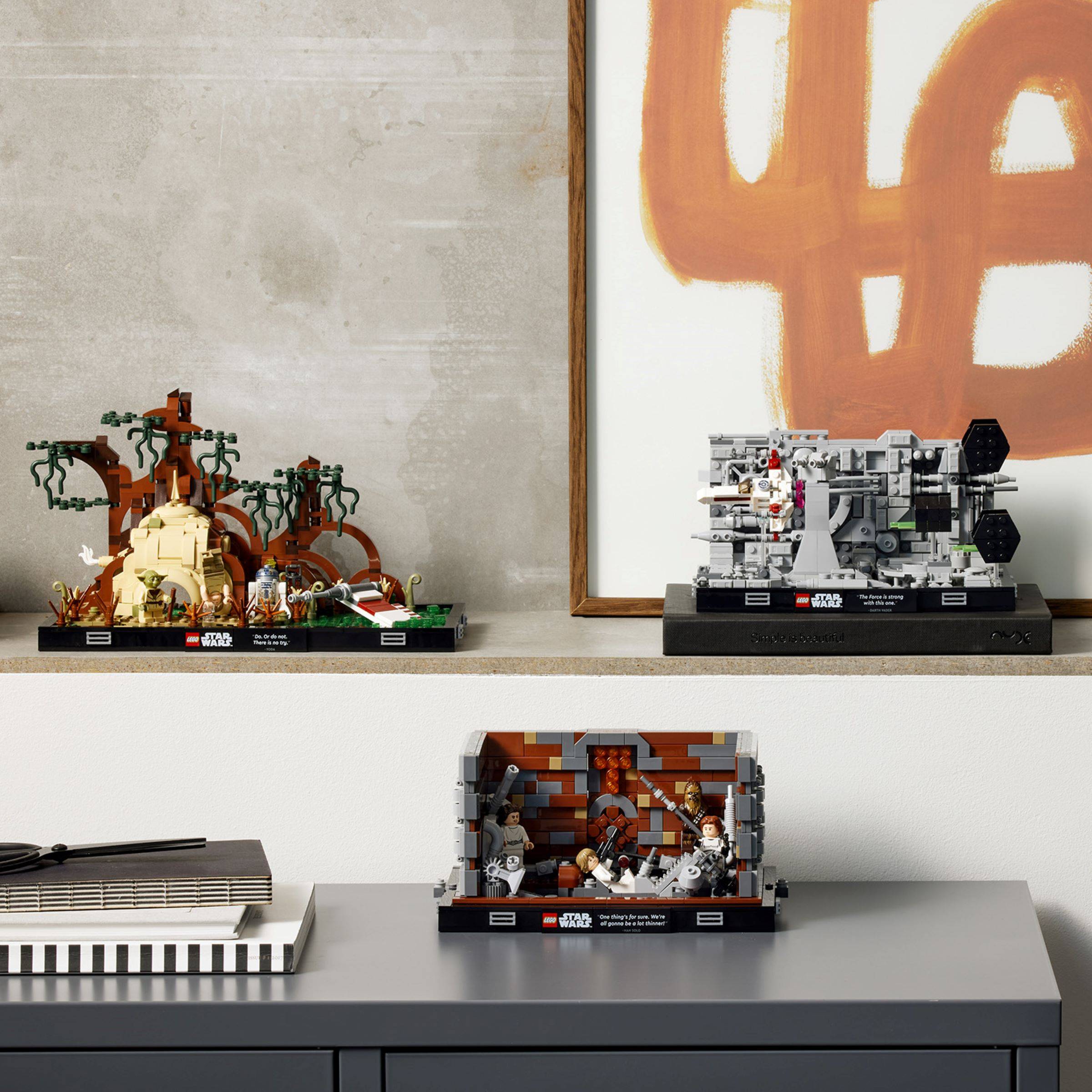 AMAZINGFEATURES FOR THE LEGO DEATH STAR TRASH COMPACTOR 75339 SET
●     FIRM BRICK PIECES.
The Lego Death Star Trash Compactor set hasmany cool details that make it durable. All the trash pieces you think may beleft for you to randomly have places where they belong and can be attached tothe set. This makes every part of your Lego set firm and sturdy. 
SIX MINIFIGURES. 
Lego decided to add six Minifigures to the set to accompany the set and make it even more realistic. These six Minifigures are based on actual characters in the scene at the Trash Compactor. The Minifigures include Luke Skywalker, C3PO, R2D2, Chewbacca, Princess Leia, and Han Solo, which you could recreate every moment in that unforgettable scene. Plus, the walls of the set are adjustable, giving you even more opportunities for imaginative roleplaying. This cool feature also opens you to a world of new opportunities. So if you are still thing about getting this Lego set, now will be a good time to make up your mind.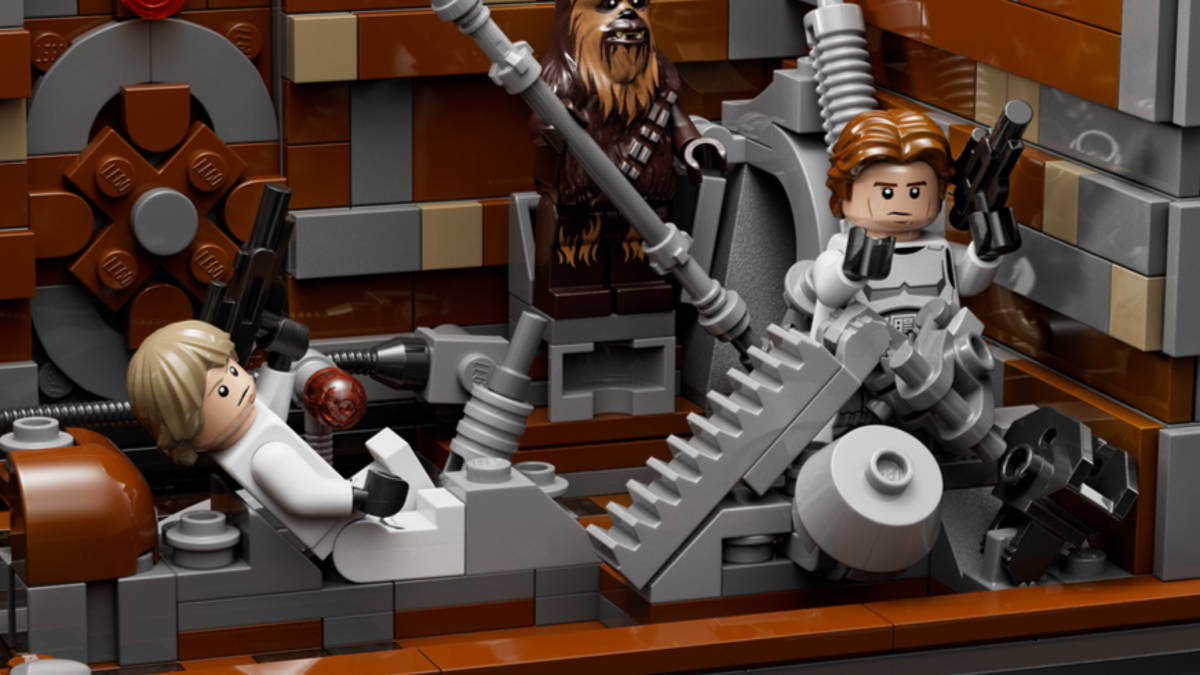 A DIORAMA COLLECTION. 
Recently, Lego has been creating Lego sets under the Diorama collection. And with this new Lego set, we know there is still more to come. This set is built mainly as a collection set, so most pieces are static and can't be moved. Not to worry, though, because this set lacks mobility; it makes up for it by being an impeccable display set from all angles. This means that this set will be perfect on display either on your center table or office desk.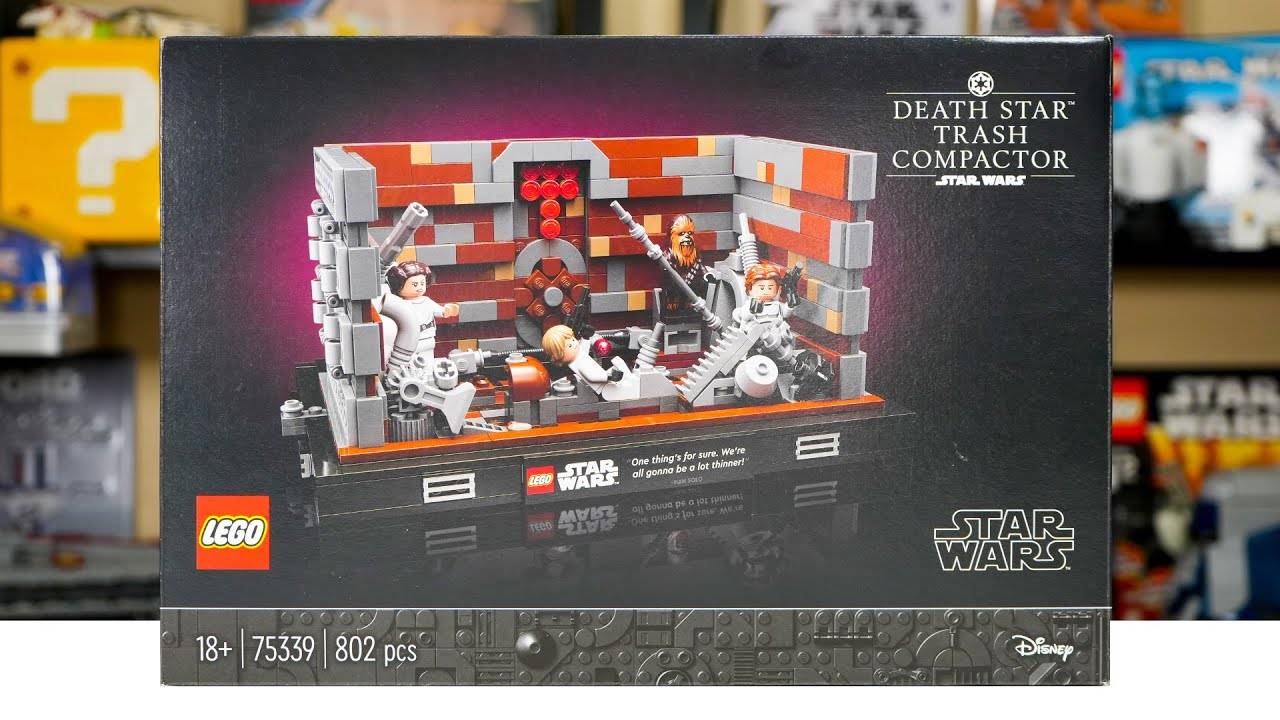 SET SIZE. 
The Lego Death Star Trash Compactor set can be classified as a medium size set. The Lego set comes with a total of 802 brick pieces. The set measures 4 inches high, 8.5 inches wide, and 6.5 inches deep when put together. You will be happy to know that all brick pieces are tested to ensure they are safe and user-friendly. So you do not need to worry about some pieces not fitting properly. The fun part is that though the brick pieces are firm when attached, they can be easily detached if need be. 

SET PRICE. 
If you want to purchase this Lego set, visit any Lego store in your area. If there are no Lego stores in your area, you could also check any toy stores. If you are not a fan of all that stress, you could order a set directly from the Lego website. Once you have ordered your set, it will be delivered within a week. The Lego Death Star Trash Compactor set is sold for 90 us dollars. Some argue that this price is high. But in our opinion, if you Love the Scene, the sets are worth every penny it costs. Now that you have purchased your set, you are missing one more accessory to help complete the look, our amazing Lego Lights. 
MAKE YOUR LEGO DEATH STRA TRASH COMPACTOR LOOK UNFORGETTABLE WITH OUR LEGO LIGHT KIT. 
To achieve the complete look of your set, you will need incredible Lego lights. Our lights help add beauty and life to your set. You can get the light kit fit for your set directly from our store here at the game of bricks. Once you have purchased your light kit, you might be clueless about how to get started. Here are a few steps to help you.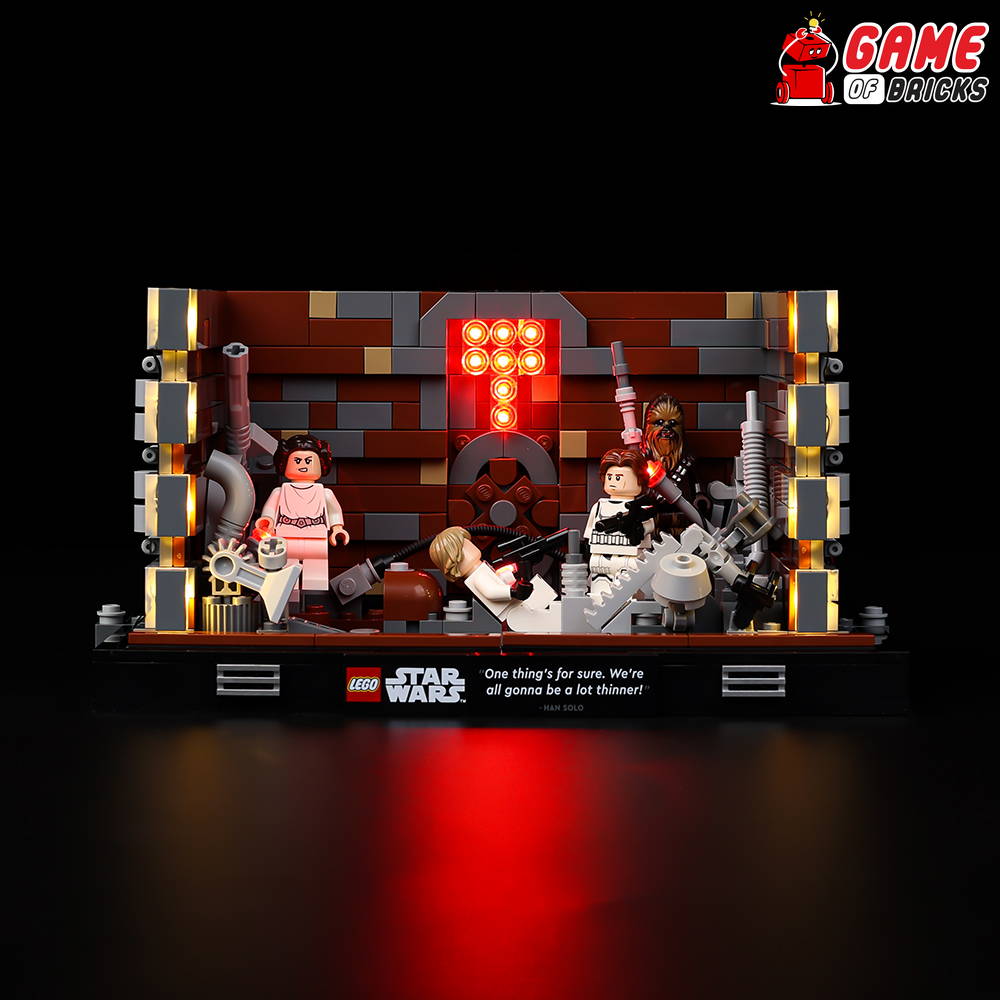 INSPECT.
Before you begin using our light kits, itwould be best if you took some time to inspect them. Our light kits are verydelicate and can sustain some damage during shipment. And To ensure that yourlight kits are in good condition and would not cause building complications, itwould be best to take the time to inspect them. Once you are sure that your setis safe, you can go ahead and install it. But if you notice any problems withyour Lego set, make sure to request a replacement using your warranty card.
INSTALL.
Once you inspect your light kits, it's time toinstall them. And To succeed in this process, it would be best to use theinstruction manual. The manual would ensure you do not run into any roadblockswhile installing. If you follow the instructions from the manual carefully, youwill surely succeed.
TEST RUN.
Now that you have completed the installationof your Lego lights, it's time to test-run it. This is to ensure your lightkits are safe and working perfectly. So search out for signs of short-circuiting.This would help you quickly spot any damages. Once you have spotted damage, besure to fix it. Once you are sure your set is in perfect condition, put it ondisplay for all to see and be completely blown away by its features
---