Revive your Christmas spirit with the LEGO Santa's Front Yard 40484 Set.
Well, Christmas is just around the corner, and many people can't wait to get the season started. There is so much work to be achieved before Christmas time. Lots of decorations still need to be fixed, Christmas lights still yet to be installed, and most of all, presents, lots of it that are still yet to be bought. All this could be overwhelming, but you do it – why? Well, because it makes your family happy, of course. But sometimes, even that thought isn't enough to get you up and busy. You may still see yourself needing something like an extra boost to help kick start your Christmas journey. 

Well, thanks to Lego, that shouldn't be a problem. Lego has taken its time to create lots of sets to help revive your festive spirit, and the Lego Santa's Front Yard 40484 set is just one of them. This fantastic Lego set is designed to create stunning scenes that correctly replicate the festive season at Santa's front yard. The set features many elements which would help kick start your Christmas season. These elements include a snow-covered sign and braid, a reindeer, and an elf. The presence of all these incredible details makes it the perfect gift for any Lego Christmas fanatic low in spirit. But what do you stand to achieve as you bring this fantastic Lego set to life? Let's find out in the next section.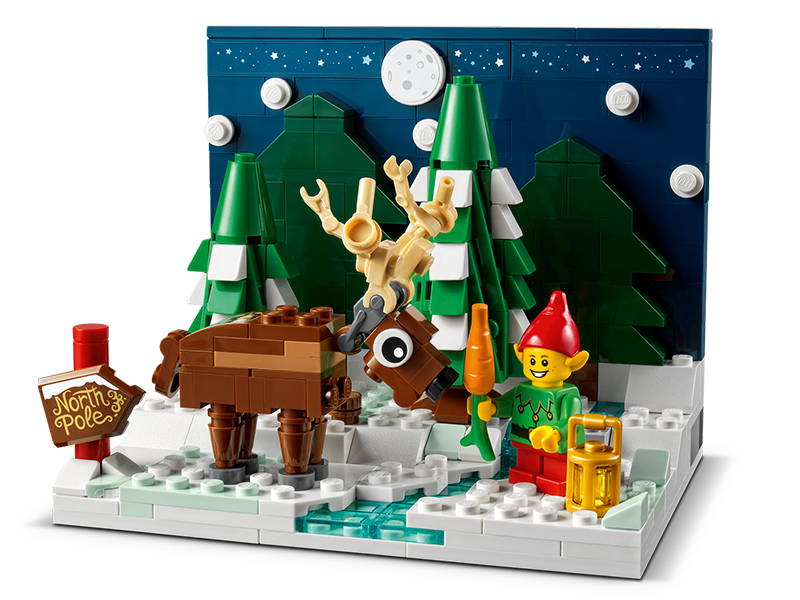 BUILDING EXPERIENCE FOR THE LEGO SANTAS FRONT YARD 40484 SET.
The Lego Santa's Front Yard 40484 set is packed with many buildable details, making it suitable for builders from ages nine and up. Though builders at a younger age may find it a bit difficult to put together, it shouldn't be so hard with the assistance of the sets instruction Manual. The instruction manual is designed so that it can be easily read and applied. It contains pictures and how to do it steps. So if you follow the instructions from the manual to the latter, you should have a set in no time at all. If you are an expert on Lego buildings, building this set shouldn't be so challenging. This unique Festive construction set is a 317 set piece of immense detail. With this set, builders will get the opportunity to create a breathtaking scene that could help revive your Christmas spirit. 
On a breezy moonlight night, the scene includes an elf feeding a reindeer carrot near a chilly, clean stream in Santa's Front Yard. The set also features a snow-covered North pole sign and trees with a hand lamp. Nonetheless, this set has a fun and easy build, which shouldn't take time to bring to life. So there are practically no excuses that should stop you from building the set. The set could be built in your spare time as you relax before hitting other Christmas décor. Once this setting has been successfully built, it would be fun to put it on display at your center table to help remind you of what Christmas is all about. But what cool features are added to help ignite your desire for Christmas? Let's find out in the next section.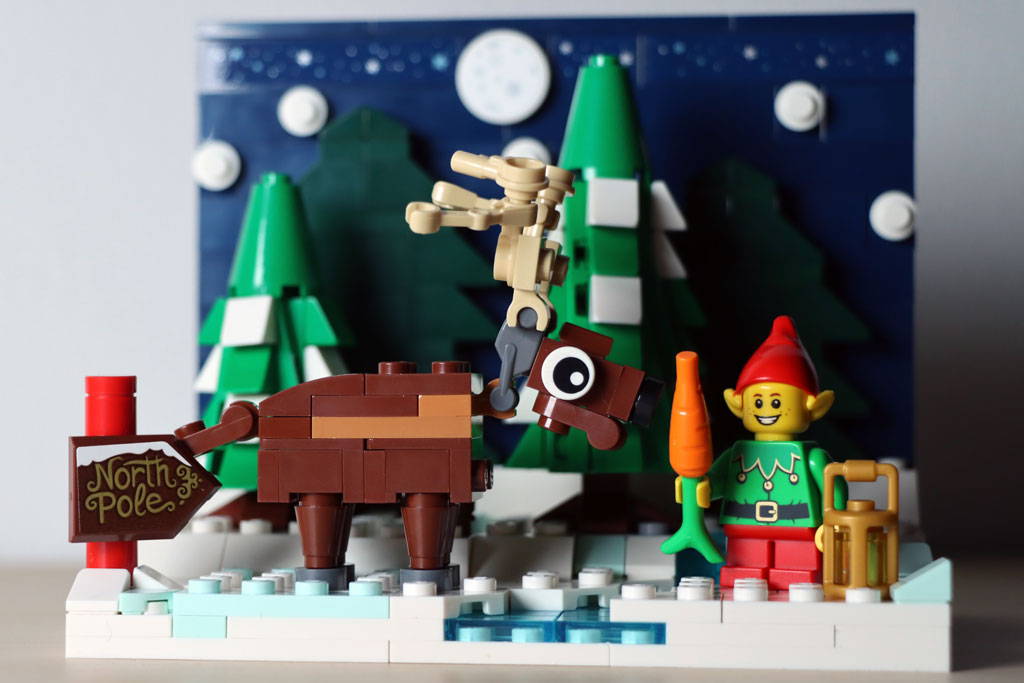 AMAZING FEATURES FOR THE LEGO SANTAS FRONT YARD 40484 SET
The Lego Santa's Front Yard 40484 set contains lots of cool Christmas-oriented features which could help revive your Christmas spirit. This section will shed more light on just what tIt has those features are. So let's find out, shall we?
• COOL CHRISTMAS DECORE.
This Christmas-themed set features amazing scenes featuring Christmas decorations. These decorations added to this set are to help awaken your charismas spirit. What are some of these decoration elements? Well, some of these elements include an elf Minifigure, a reindeer, a snow-covered North pole signboard, snow-covered trees, a nice clean pool, and a carrot for the reindeer. The set also features a fantastic moonlight setting that replicates just how it would look on the might of Christmas. All these features scream charisma! This helps make this set a good present for your friends and loved ones throughout this Christmas season.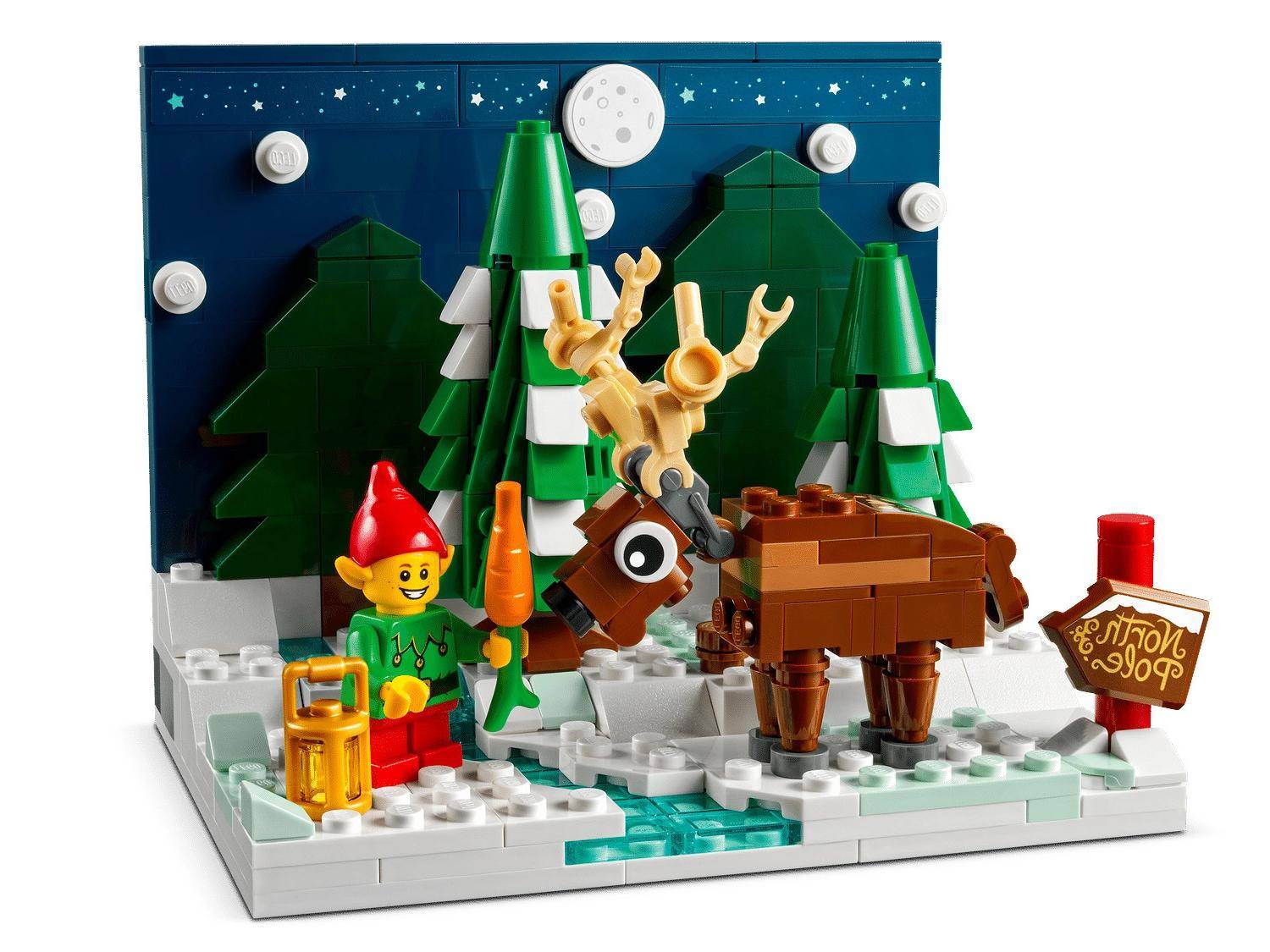 • AN INSPIRING SCENERY.
These fantastic Christmas-oriented elements come to an l, lovely, well-arranged scenery. This fantastic scenery features an elf that lovingly feeds one of Santa's reindeer close to a cold stream just at Santa's front yard. This scene is set perfectly under a perfect moonlight sky, making it feel like Christmas Eve. You could even decide to get a bit more creative by building your great scenes. With this fantastic set, fun and laughter are never far away.
• PORTABLE SET SIZE.
This fantastic set is just the perfect size for the Christmas season. This is because those getting ready to celebrate this festival will have a lot of arrangements to complete. So still having to make out time to put together a vast Christmas set could seem overwhelming. With this in mind, Lego has ensured to make this set small and easy to build, being just a bit over 300 pieces. This set is about 317 pieces, to be precise. The set could be easily transported when fully built, being just about 3.5inches high, 4.5inches wide, and 3.5inches deep. This makes this also suitable as a display piece being neither too big that it covers all the space nor too small that it could not be seen.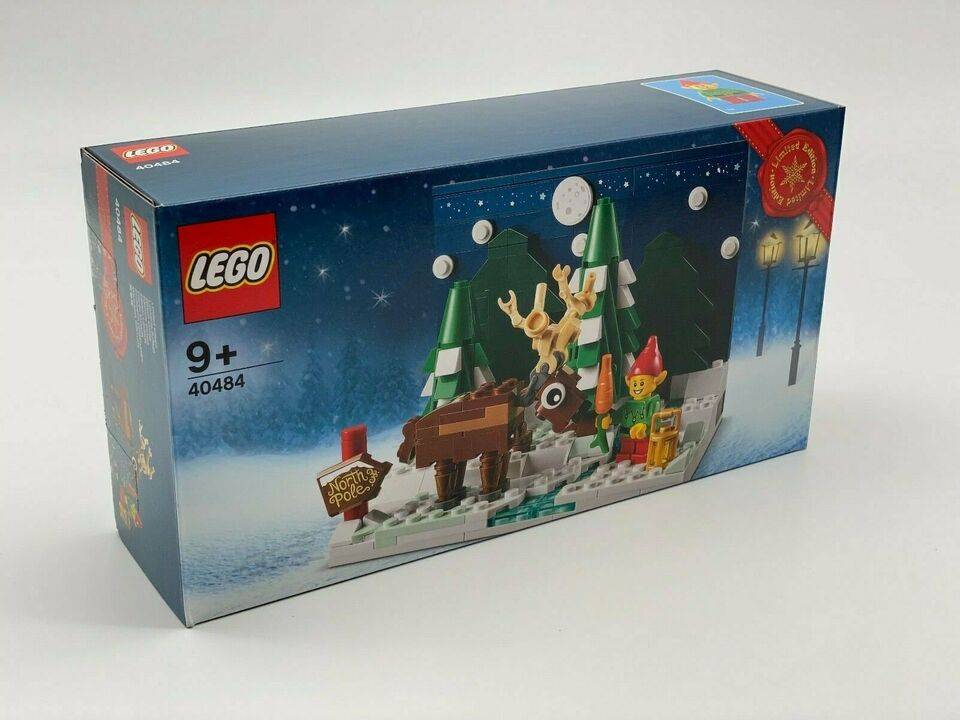 By now, you must probably be wondering how to get your hands on this set and just how much it will cost you. It is highly recommended that you purchase this set from lego.com or Lego stores in your area. This shouldn't be so difficult if you live in the US and Australia. But if you live in other countries with a currency different from the dollar, it would be best to order the set directly from the Lego website. At Lego stores in the United States and lego.com, this set is sold for about 19.99 dollars. This makes it among the most affordable Lego Christmas set made.

AWESOME LIGHT LIGHT FOR THE LEGO SANTAS FRONT YARD 40484 SET.
The Lego Santa's Front Yard is packed with lots of incredible details, which makes it look breathtaking. But you could make the set look even more incredible with our unique Lego light kit. This Lego light kit is designed to bring forward hiding details of this fantastic set, making it look more captivating. Are you new to our Lego light kit? If you are, you must probably wonder what steps to take for a successful light kit installation. Well, the most critical thing first would be to successfully and neatly build your Lego Santa's Front Yard set. Once you are done building, what other steps can be followed? Let's find out.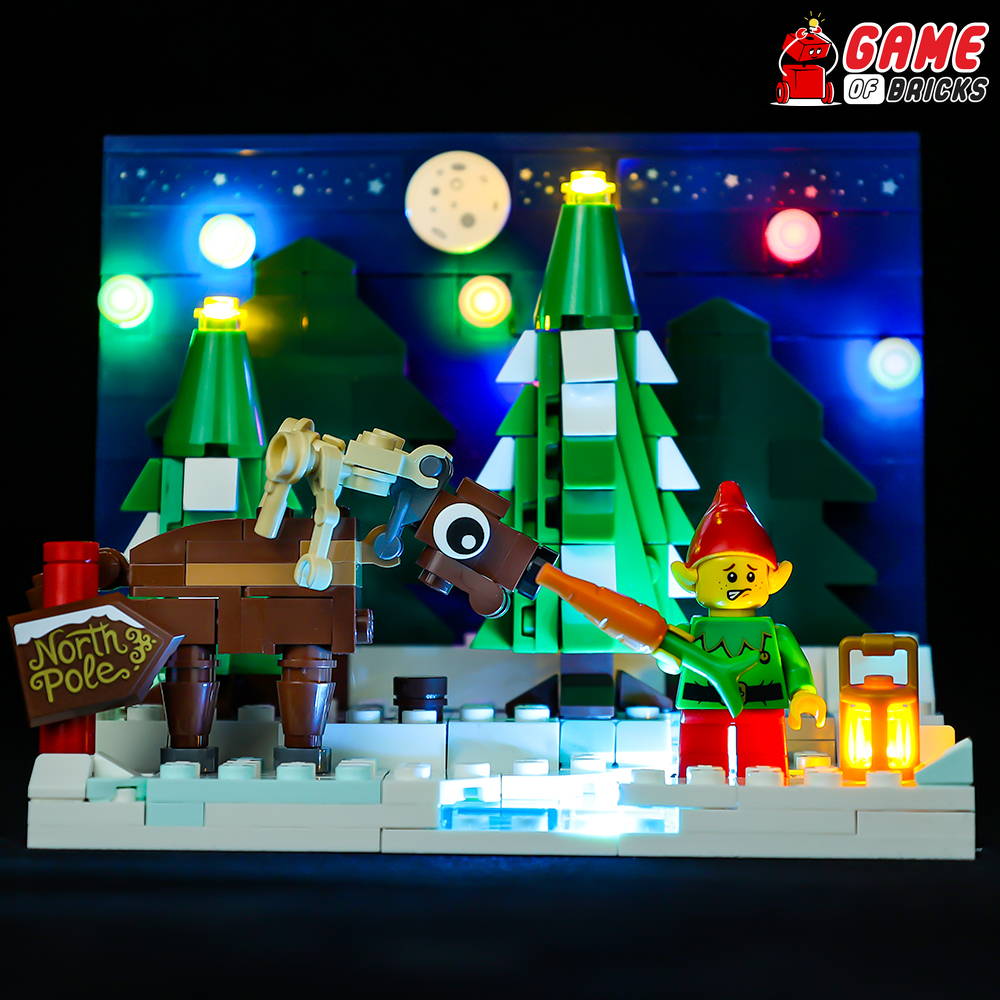 1. INSPECT AND INSTALL YOUR LIGHT KIT.
Once you are done building this Lego set, you can go ahead and purchase your light kit. Once you have purchased your light, make sure to inspect your light kit and accessories. As you inspect your light kit and accessories, make sure to search out broken light bulbs or cut wires. To make this easier, each light kit comes with simple and clear instructions, which will help make the installation easier. So make sure to handle each light kit and accessories with care. This is important because each light kit and accessories are very delicate. So make sure to take extra care with your light kit and accessories.
2. INSPECT ALL INSTALLED LIGHT KITS.
Before your light kit is ready for display, you should take your time to inspect each of your light kits and accessories. Ensure to check for traces of short-circuiting and sparks could help signal a problem. Once all light kits and accessories have been inspected, ensure the battery power to ensure it is just the right strength. A powerful battery will ensure a long-lasting light kit. Once all your inspection is complete, revive your Christmas spirit by putting this incredible Lego set on display for all to see.
---