LEGO Republic Gunship 75021: Its Review
By

Nikita P.
/
January 06, 2020
This is one the summer wave of LEGO Star Wars sets and it contains over a thousand pieces, with 1175 pieces to be exact.

When we tried coupling it together, we could not get enough of its sturdy design, which you could lift by making use of the wings. We loved the fact that it came with five unique Minifigures and appearance that will leave you satisfied.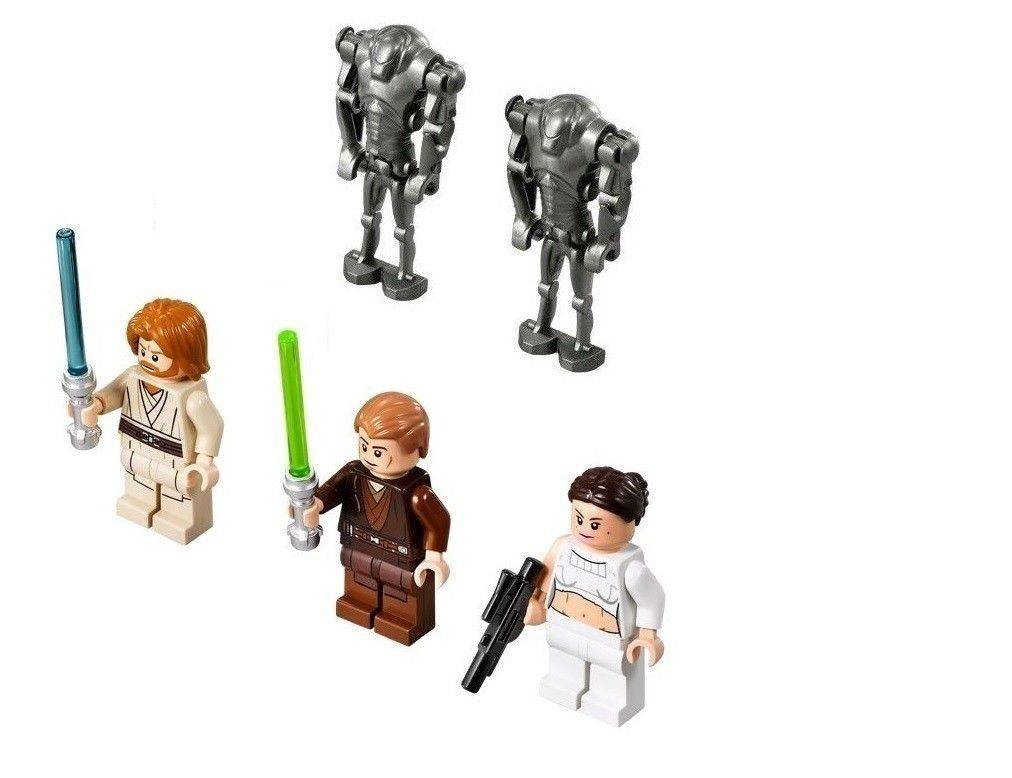 The snag that we noticed was merely the fact that it is the third version of a Star Wars ship.

If we said that the LEGO Republic Gunship 75021 was not appealing to the eyes, and not sturdy, we would be wrong. You could handle it a bit roughly, and it won't damage.

Wait, this doesn't mean that you should toss it around, as it might shock you. If you are a fan that likes your pieces being displayed, you would love this.


Not minding that the LEGO 75021 Republic Gunship comes with a lot of qualities, it doesn't seem so new to me. This may be because it has two prior models before its creation.

The LEGO 75021 Republic Gunship comes with 1175 parts, like earlier mentioned, which means you will spend some time cooling them together. We can say that it is worth its price, and we won't be wrong.

The Minifigures available are usually out of this world, and can easily fit into the set. If you want fun, this is the one for you.

It comes with seven Minifigures like:
SUPER BATTLE DROID
CLONE PILOT
OBI-WAN KENOBI
CLONE TROOPER CAPTAIN
PADMÉ AMIDALA
STARFIGHTER.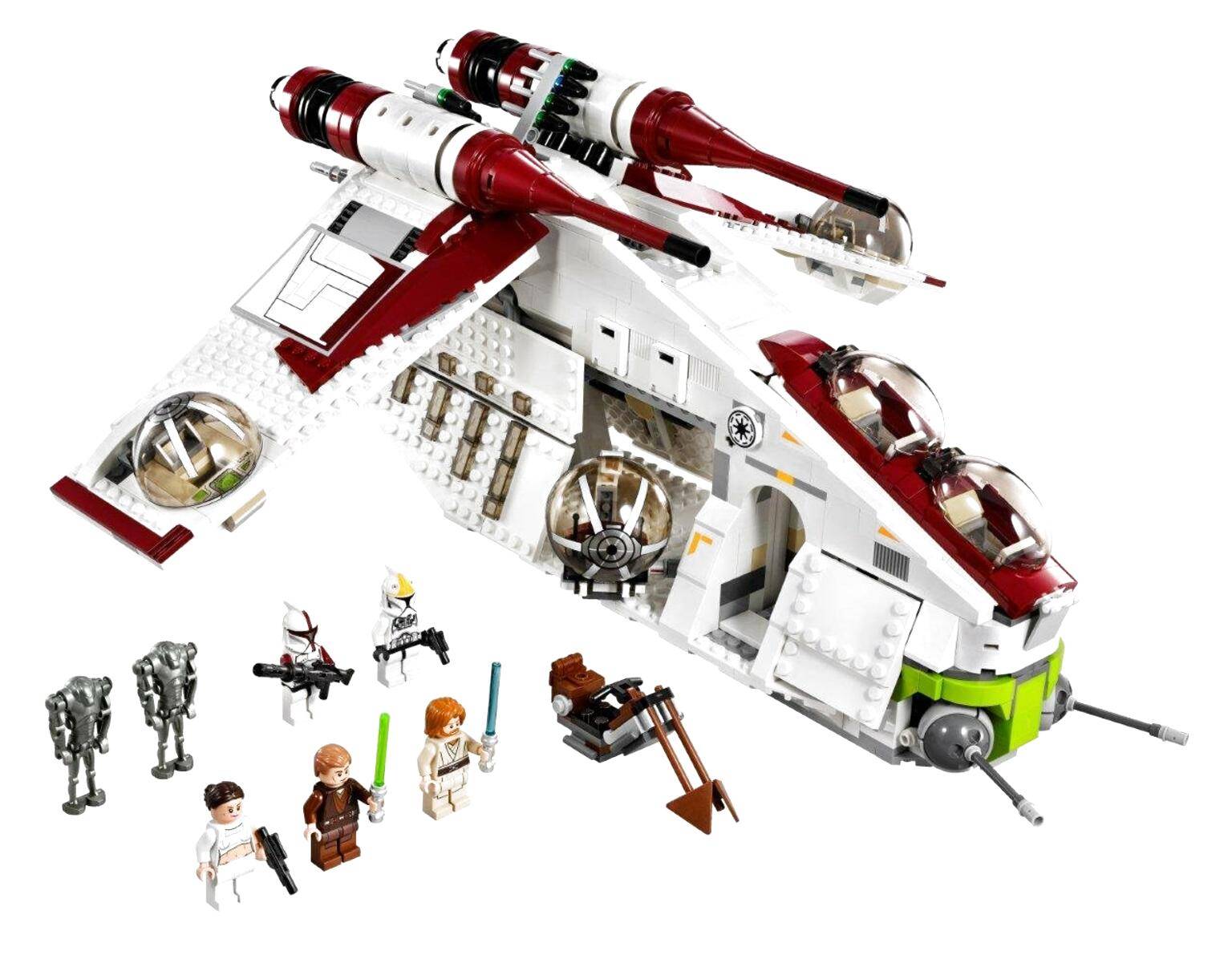 The 1175 pieces are worth its price, and not minding that it has been around for at least six years, a lot of fans are still collecting it.

Once you are done coupling it together, you will see an awesome vehicle as to the end product, which you can stare at from different angles and love.

This ship is a popular one as it can be seen in its full form in the Episode II, the Republic Gunship, while it battles numerous Battle Droids effortlessly that laid siege on it.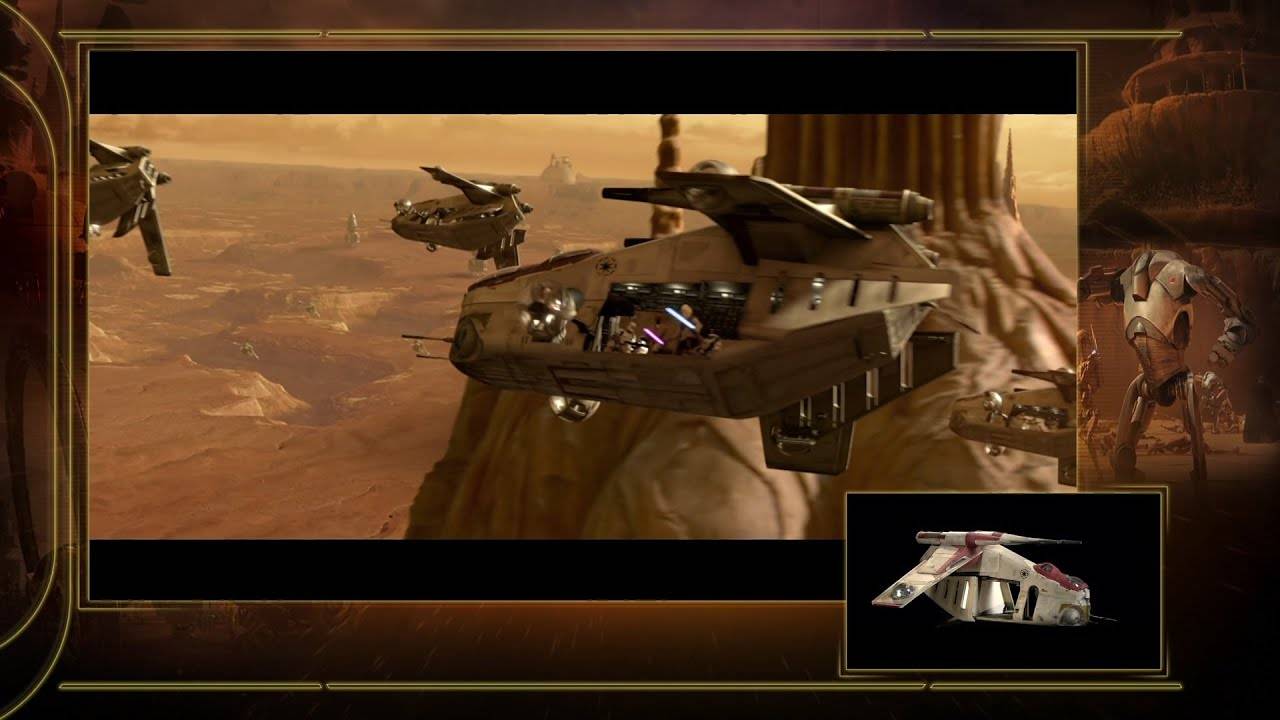 We are thankful that attention was paid to details in this, as it comes with incredible features. If you love to display your sets or even play with it, you will love this.

The ship has a nose that possesses the lime green hue, while the two chin-mounted guns shield the vehicle's front.

You could place them on ball joints, which makes them easy to maneuver. This doesn't mean that much attention wasn't paid to durability too.

You can easily open the twin cockpits while seating a Clone Pilot in it. Have you stared at the control panels? They were created to take the form of the controls seen in the film. The snag to the controls is the fact that they are mere stickers.

If you want to hold additional missiles, there is a space underneath the cockpit.

There is an arched doorway that allies troops to easily get into the vehicle. The fact that there is an opening lying in between the compartment to the rear and the arched area compromised the sturdiness of the vehicle. This is merely our opinion on this. If not for that opening, this vehicle will be far stronger.

The previous model didn't have the troop competent being open, unlike this one. In this model, there is much space for a lot of Clone Troopers to stay.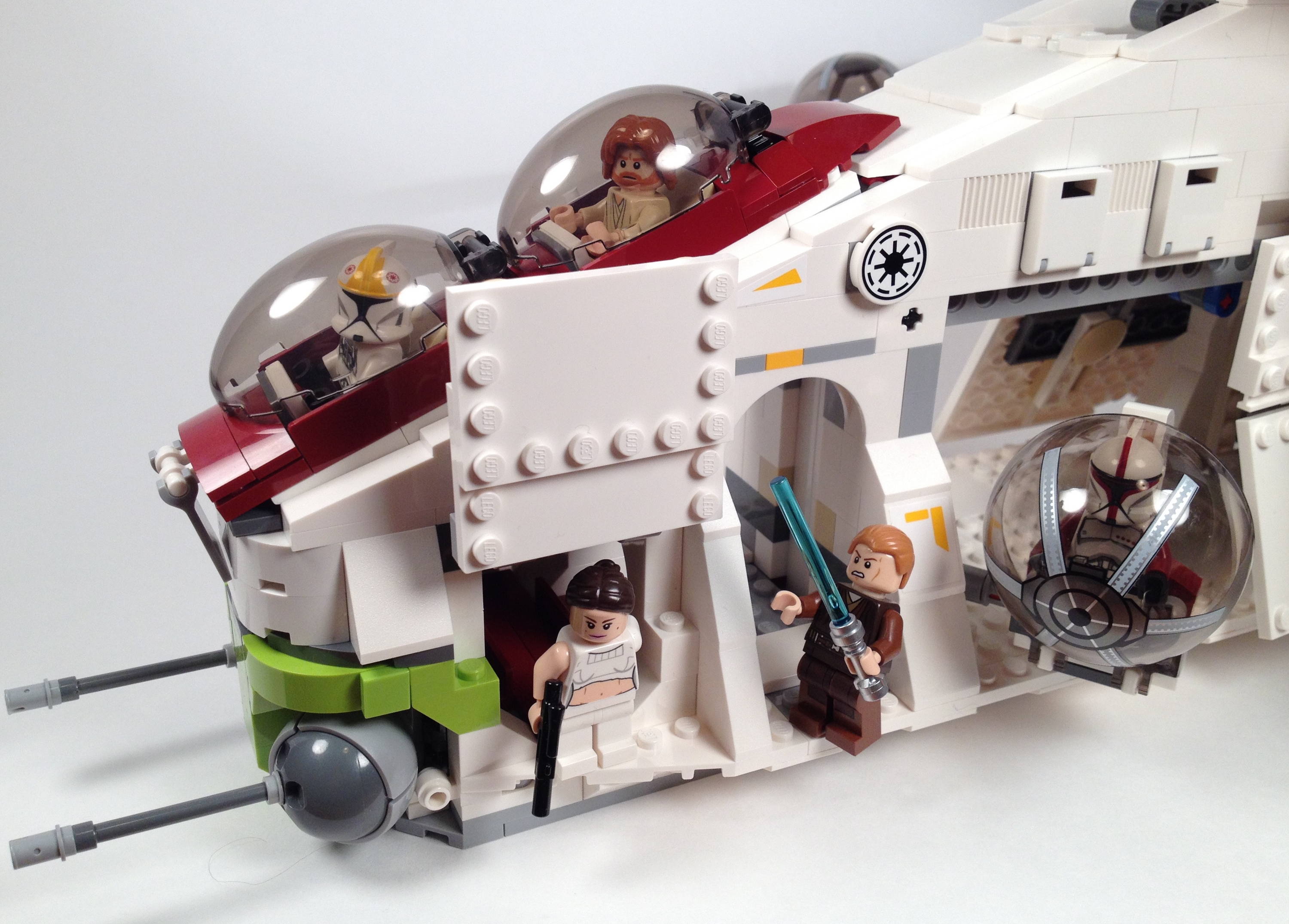 You will see a small box that can easily fit to the vehicle's floor. When you open it, you will get the Jedi Holocron.

If you want extra storage, you will see it on the troop bay, where you will sight four containers.

This model of the LEGO Spaceship comes with two side pods which can't be seen in the 2008 model. Well, they weren't seen a great deal in the Clone Wars. That may be the reason.

We love the fact that on this LEGO Star Wars model that they were featured, and they look cute to the eyes.

Have you looked at the box of this set, it is quite big, though it isn't as large as we wanted. When you compare it to the 2008 edition, you would notice that it is smaller.


When you stare at the cover of the box, you will notice the Spaceship moving swiftly through the Geonosian plains, while waging war on its enemies.

The thing that can be said to be unique to this box is the ad for the poster that it has inside it.

When you stare at the back of the box, you will see the Republic Gunship in another angle. You will come across Obi-Wan, Anakin, and Padmé in a battle.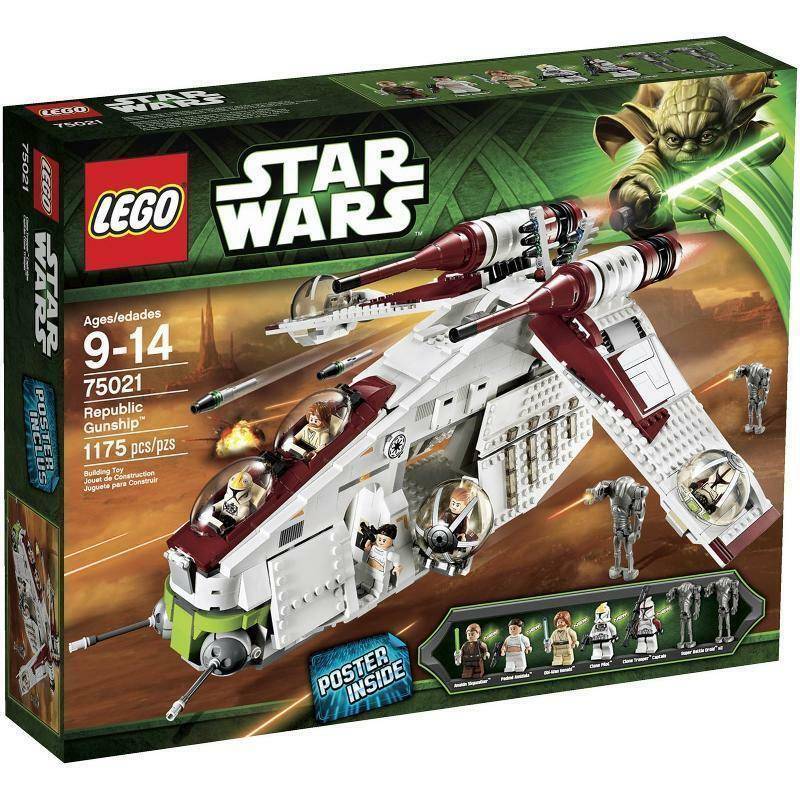 When you look inside your box, you will notice that it has nine bags, as well as your two instruction booklets. With the instruction booklets, you can guide yourself throughout the step of the way, when building it. You will also the regular sticker sheet and poster. On the poster, you will see images on both sides. On a side, you will see every Minifigure that was churned out that year. The other side will give you a sight of the Battle of Geonosis.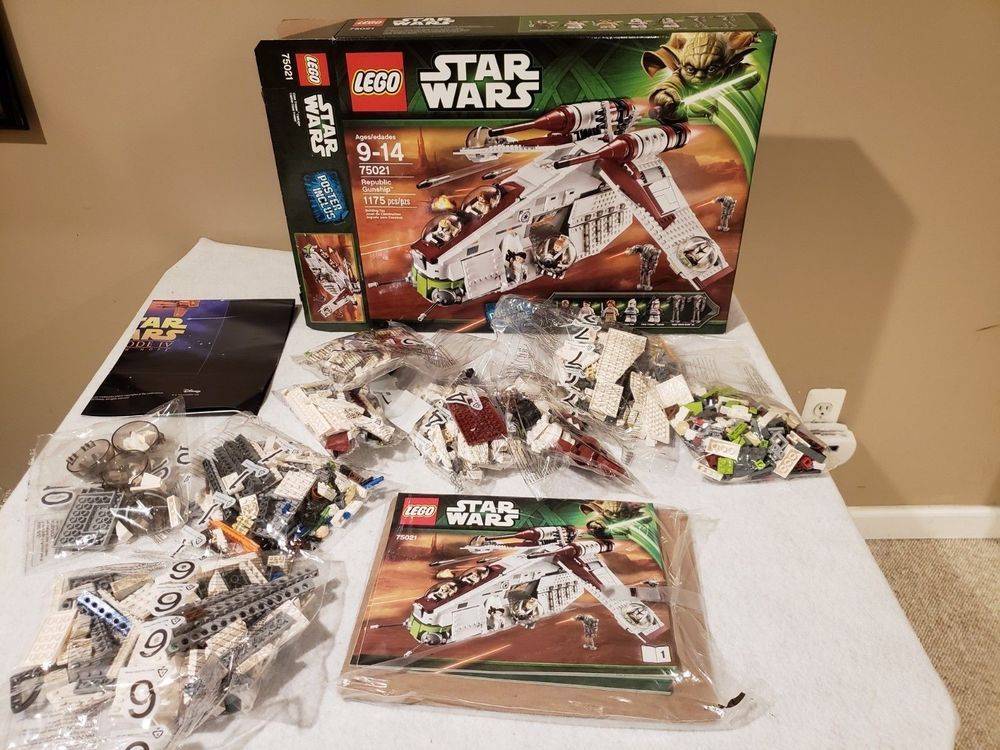 The Minifigures in this set are what made many people fall in love with them, as they were tastefully created.
When you stare at the Anakin Skywalker Minifigure, you would have no choice but to agree that it is great and clearly bears semblance with his on-screen counterpart.

The snag in this Minifigure is his hairpiece. It doesn't resemble the real deal totally.

Apart from that, we love the printing on his head, especially the almost hidden smile.

You will notice tiny decorations that remind us of cheeks, as well as brown eyebrows.

When you stare at the torso, you will realize that much attention was paid to details there, as the dark brown Jedi robes were captured effortlessly. You will also notice that his Padawan braid also showed via the printing on the back. If they hadn't incorporated his green lightsaber, we would have been mad, and they knew this. If you know Star Wars, there is a great chance that you know that this lightsaber was given to him in the Battle in the Petranaki Arena.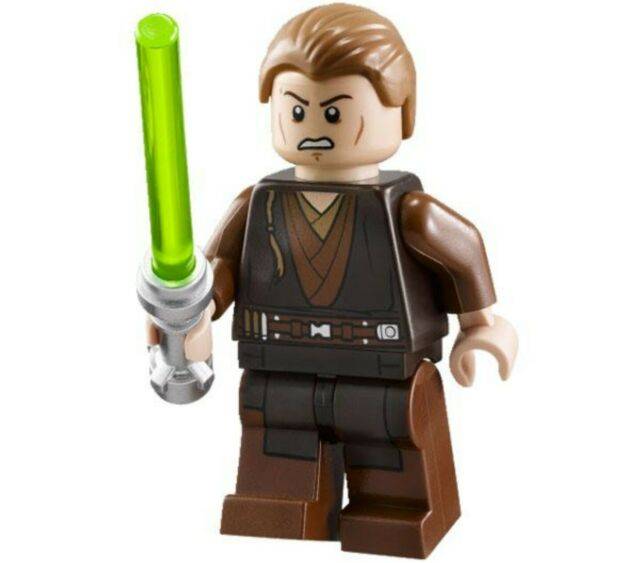 Another Minifigure that can be seen in this set is Obi-Wan Kenobi. Here, he is adorning his Episode II attire. We can't fault the hairpiece that was used here, as it was top-notch, taking the dark orange hue. When you stare at this Minifigure, you have no choice but to agree that it truly reminds you of Obi-Wan.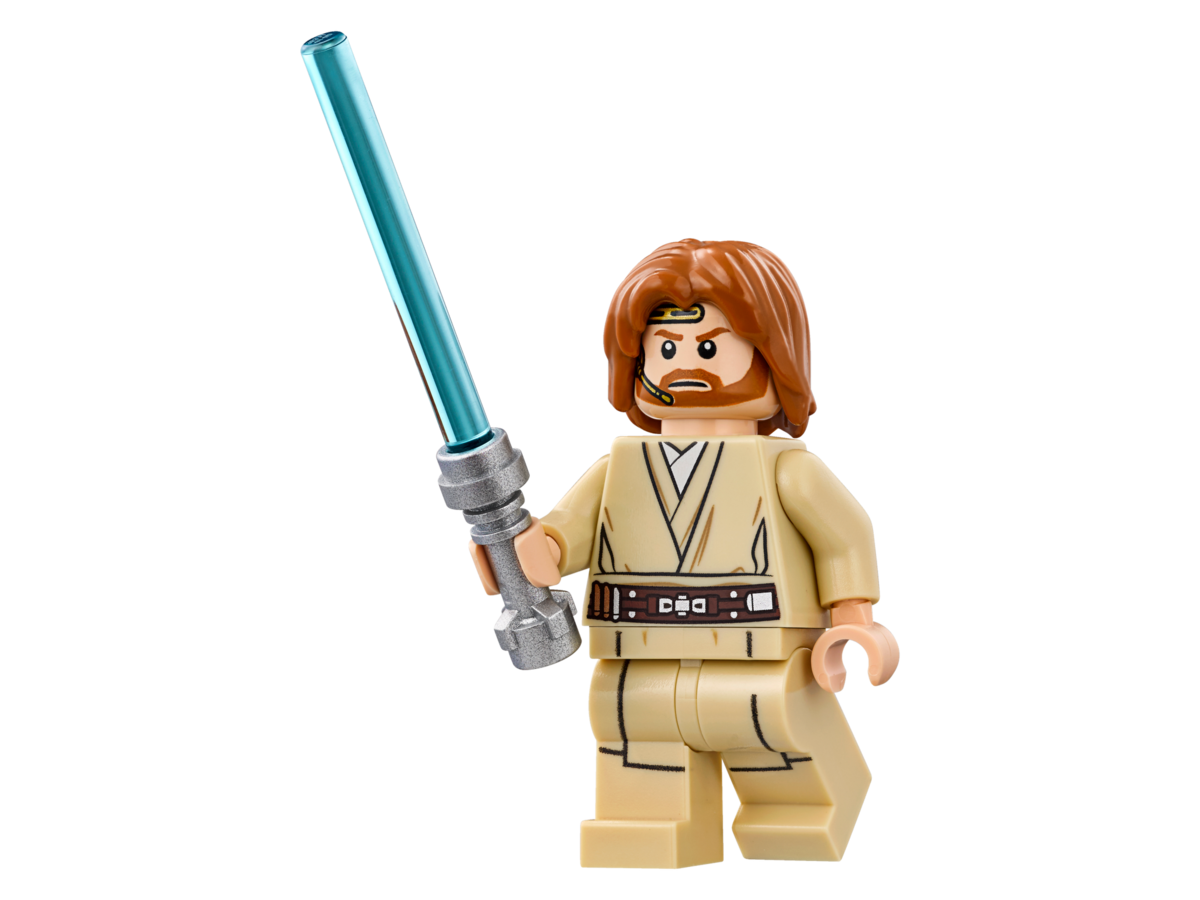 The head can be seen in the 9494 Anakin's Jedi Interceptor. Like in the above Minifigure, his legs were printed on it to continue the torso design. If they had ignored his blue lightsaber, we won't be wrong for being angry.

Padmé Amidala is one Minifigure that a lot of us expected to see. This is the first time that she is being represented in a set.

The hairpiece used on her is true to character in both its hue and shape. Like the other Minifigures, she comes bearing a double-sided head that has printing on both sides.

One side has a slight smile, while the other side possesses a toothy grin. Apart from that, she has some pink lipstick on it, while possessing some beauty spots. This means much attention was paid to details.

Our mind was blown in her torso region because she had the printing of the ripped shirt, as well as the scratch marks that she got on her back from the Nexu.

The legs on her have no printing, as they are plain white. Like the others, she has a weapon, but hers is a standard blaster.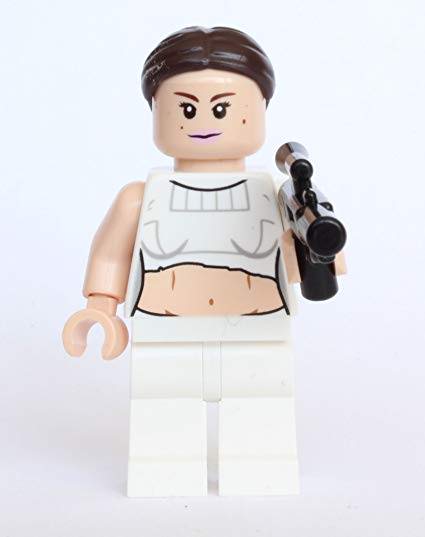 Other Minifigures that you will come across are:

Clone Trooper
CaptainClone Trooper Pilot
Super Battle Droids
Like earlier mentioned, this set comes with two instruction manuals that will guide you through the process. You could also stream videos if you want.

If you are a fan of larger sets, you will lice building this, as it will take around three hours to get this done.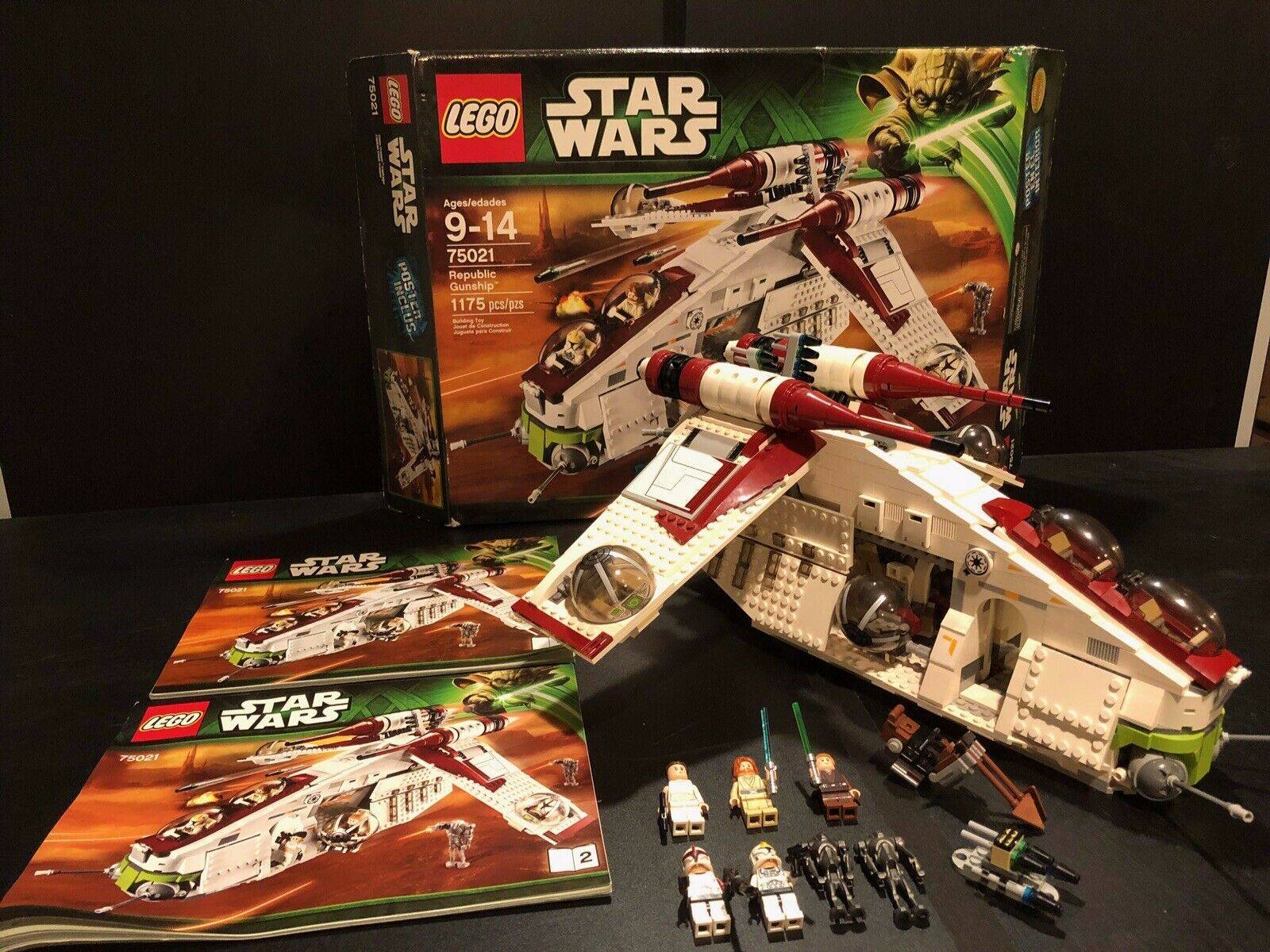 What's a Gunship Without Lightwork
The Republic Gunship is one menacing set, and you can make it even more charismatic with out specially created LEGO Light Kits today. Light Up your ship, let it standout and show your friends that yours is the unique one in the pack!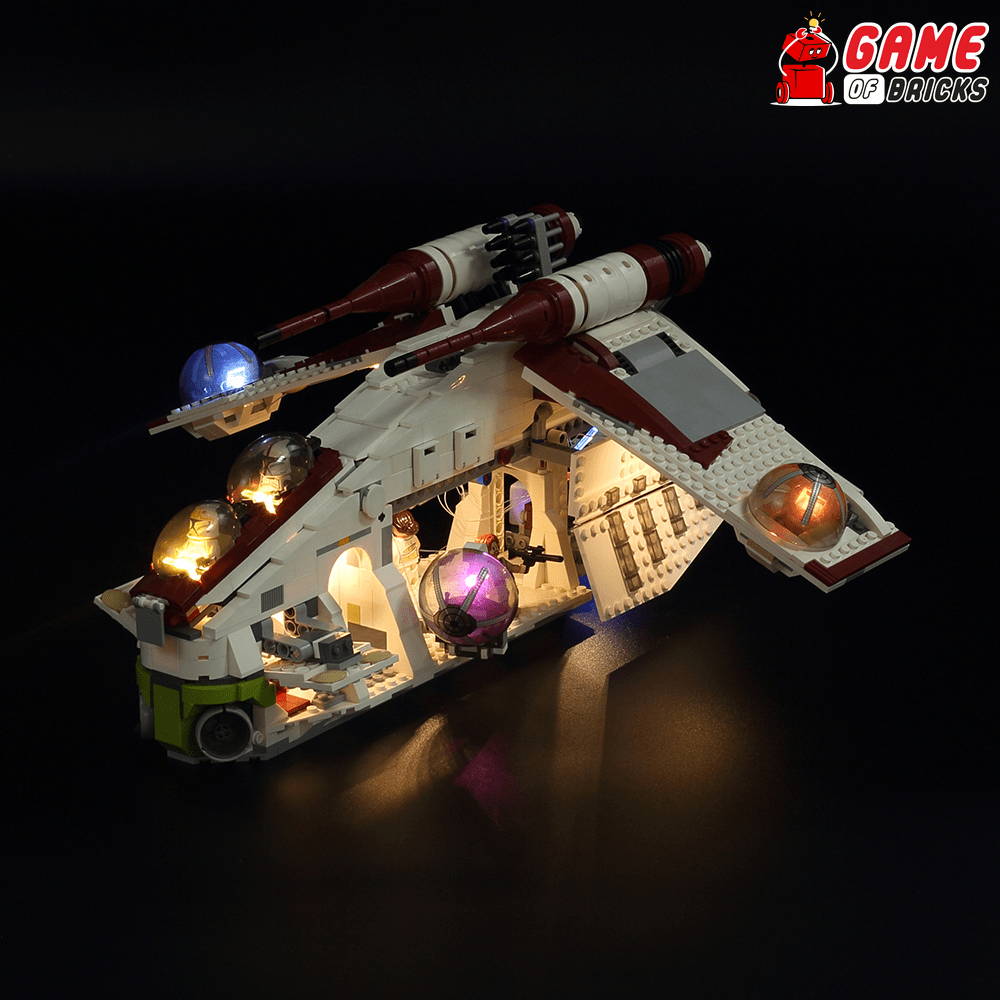 It is important to note that you will experience both dull and pleasing moments. This is a symmetrical vehicle, and you may feel bored in cooling them together.

To ease the process, it won't be a bad idea to build the thousand pieces with others, especially other Star Wars fans. This is an awesome building process.