Enjoy a more refreshing build with the LEGO Orchid 10311 Set.
By

Mark Gini
/
July 07, 2022
Are you a fan of the outdoors? Or probably you are a mum into gardening? Well, you would love the Lego Ideas Orchid Set. The Set was released in May and contained many fun pieces to accomplish the intelligent and intricate design. Whether or not you are familiar with Lego building, you will fall in love with this Lego Set. When we look at a list of plants known for their beauty and style, the Lego Orchid will stand at the top of a gardener's list.

Do you have a friend who loves gardening? Or probably your mum or girlfriend who loves flowers? Have you been trying to get them into Lego-like but don't know how? This Lego Set and other Lego Sets like it have been designed to help you break that area. You could try gifting them this amazon Lego Set while offering to build it together with them. Doing this would be fun for not just them but you as well. But what are the fantastic features of this Set that make it so unique? And what can you expect from a Lego Set like this when it comes to building experience? This Blogpost will answer those questions. Let's now start with this Sets building experience. What can you expect? Let's find out.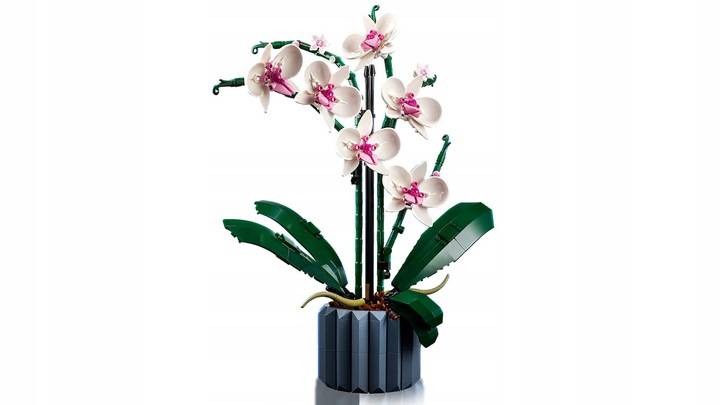 BUILDING EXPERIENCE FOR THE LEGO IDEAS ORCHID 10311 SET.
This Lego Set has a lot to offer regarding building experience. The Lego team has designed the Set to look as close as possible to a natural life Orchid flower. Lego achieved its build and design with the help of multiple Lego elements found in other Sets. So not only does this Set offer you a new and unique building experience, but it also helps you rekindle the feelings you had when you built other Lego Sets. The Lego Set has a total of two building stages. Stage one is dedicated to the building of the basing. To achieve the unique round design for the pot, familiar with most Orchids, you must use a brilliant and sometimes surprising technique to accomplish your goal.
At the second and final stage of building, you would be recreating the stem, leaves, and flowers using other additional Lego Technics. You would also be adding finishing touches to the Set's overall look. You are covered if you are new to Lego and find this Set something you would like to try. You do not need to worry about what you need to do at each stage because the Set contains simple, clear step-by-step instructions and images to help you do the best job possible. And if you are not satisfied after reading the manual and still do not quite understand how it works, it would be best if you watched YouTube videos. Videos are also fun and fantastic to learn to build this Lego Set. The Lego ideas Orchid is an extraordinary Set with lots of cool features. What are some of these features? Let's find out.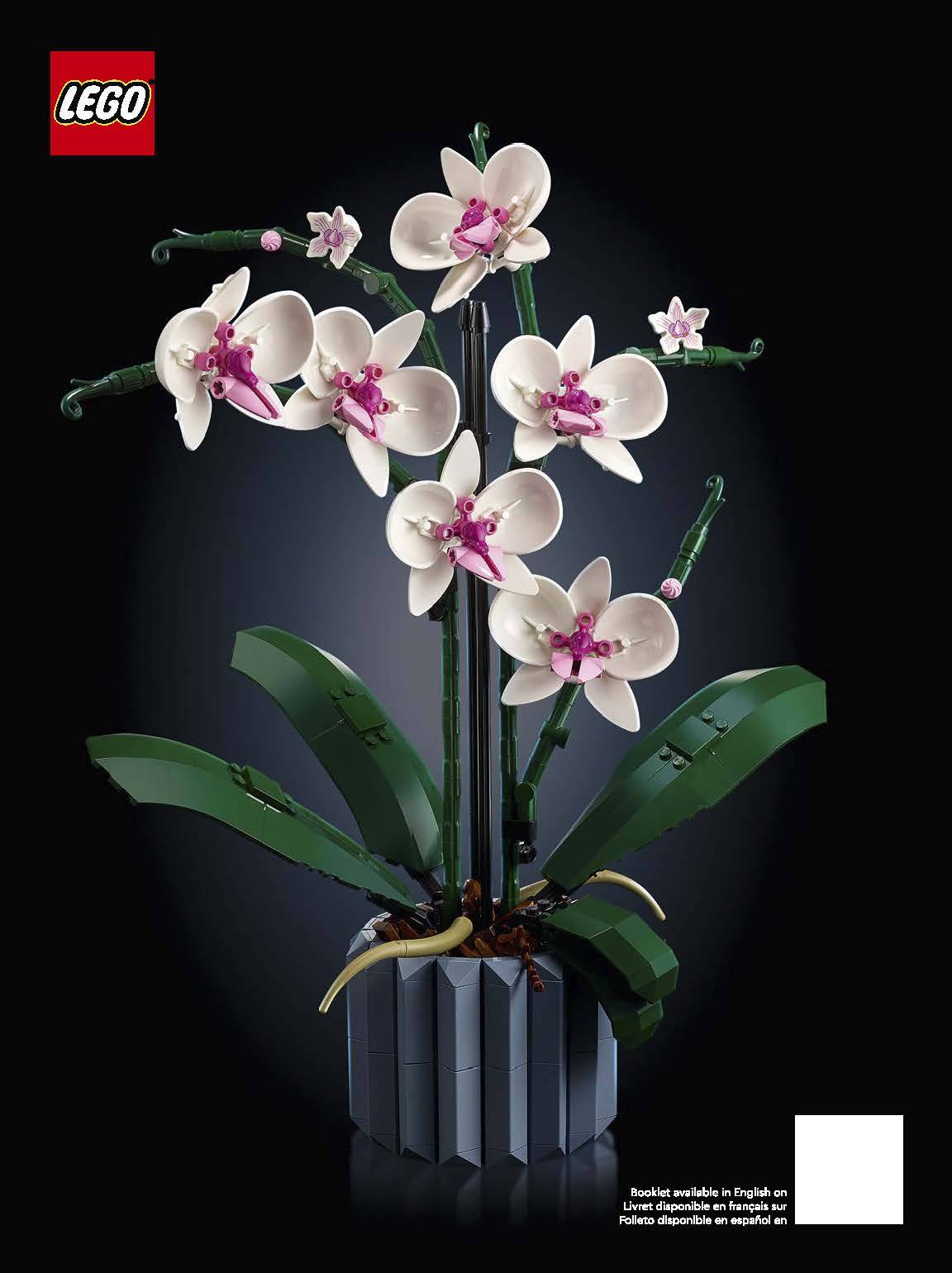 AMAZING FEATURES FOR THE LEGO IDEAS ORCHID 10311 SET.
● VERSATILITY.
One thing that makes this Set so impressive is the versatility in building technics and elements used to make this Set possible. There are elements from different Lego Sets used to accomplish this Set. New Lego builders may not notice this feature quickly, and it would only make sense to experienced Lego builders. So if you are experienced with Lego Sets and have built a couple yourself, notice how all the features come together to make this Set possible. What is more, see all the unique and even surprising technics present in this Lego Set.
● COLOR COMBINATIONS.
Another exciting thing about this Lego Set is the use of authentic color combinations. The paint job is done so neatly, but not too neatly to look unrealistic. The Set maintains the original color of an Orchid along with colors for the leaves. But the orchid flower is not the most authentic-looking element of the Lego Set. The most authentic and striking-looking elements on the Set are elements used to represent the soil which the Orchid grows from. The design is not the only striking thing about the Set, but the Sets detail of the elements representing the soil and the vase. Enjoy building and displaying this Lego Set for other Flower fanatics.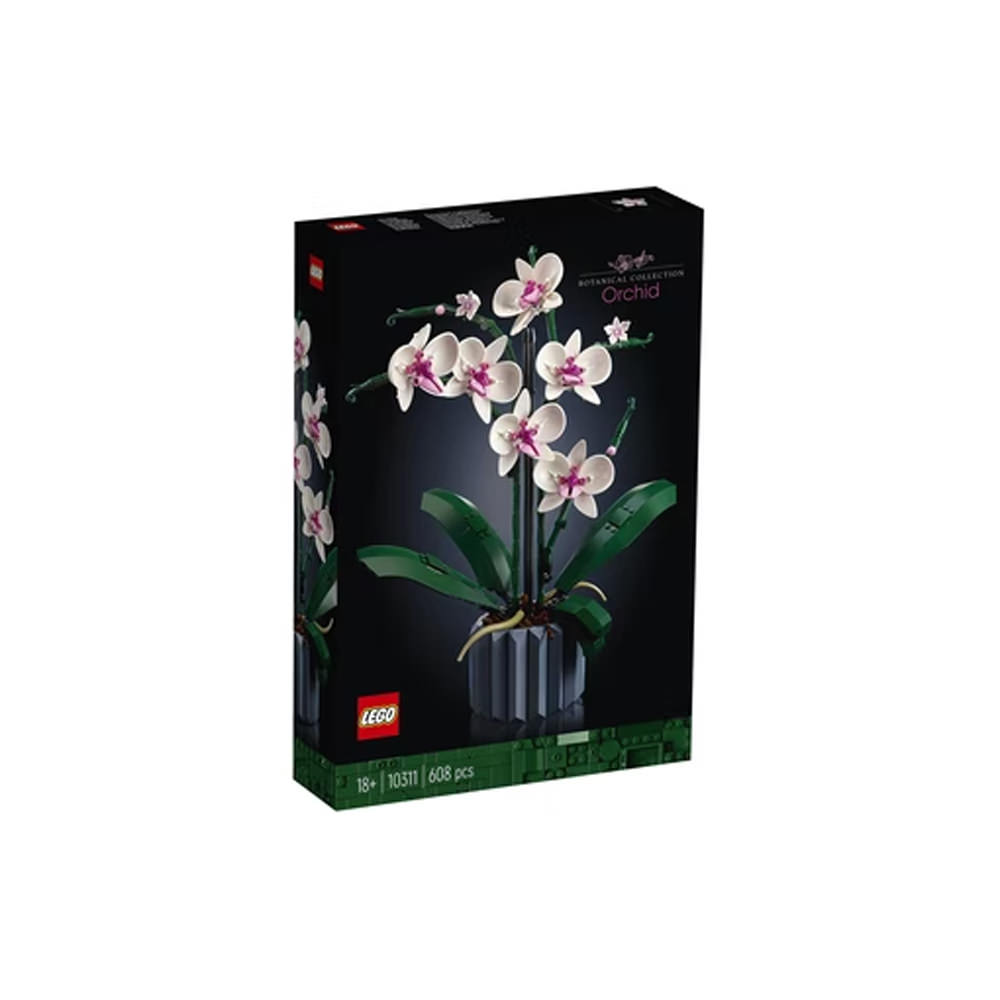 ● LOTS OF SURPRISES.
Are you a fan of surprises? It would help if you considered giving this Lego Set a chance. The Set offers a fantastic build with lots of surprises in technics used in achieving an accurate roundness for the vase. Some of the technics used in this Set are technics you can't find anywhere else. So, when you notice those rare and memorable moments, could you take note of them? This would help add rich satisfaction to you're building experience and overall love for this Lego Set.
● TOP-QUALITY.
Materials used to achieve this Set are only of the highest quality. All bricks have been tested to ensure they meet all the company standards. The Set is also designed to be user-friendly. This makes it very easy to attach and detach. This way, you could build and dismantle easily without any problems. The Set is also very safe and can be made with babies present. So you do not need to worry about building this Set with the younger ones.
● SET SIZE.
The Lego Orchid Set has a lovely size, perfect for display. It comes with about 608 pieces of pure bricks. The Set gives a vibe that soothes and calms the environment. The Lego Orchid Set also has a good display ratio. It measures about 15 inches high, 9.5 inches long, and 11.5 inches deep. You can put this Lego Set on display in the center of your living room or office table. Enjoy the satisfaction of friends looking closely before discovering it is not a flower.
By now, you must want one of these Sets. To get it, visit any Lego stores in your area. If you are not a fan of store shopping, you could also try using the Lego online store. Once you have placed an order, the Lego Set will be shipped to you within a week. If, for some reason, the Set is out of stock, you could try Amazon. The only thing there may be a little more expensive through them. But if you would be getting the Set directly from the Lego website, you could expect the Set would cost you about 49.99 dollars. This price is reasonable considering the number of details and features this Lego Set treats you. There is one more feature that would go well with your Lego Set. This is our special light kit. How does it work? Let's find out.

MAKE YOUR LEGO ORCHID 10311 SET EVEN MORE AUTHENTIC WITH OUR SPECIAL LIGHT KIT.
Our Lego lights are unique lights designed to enhance the details of your Lego Set. Each Lego Set has a light kit just for it. Lego lights can only be attached to complete Sets. Before using this unique feature, you must have completed your Lego Set. If this is your first time installing our light kits and you have no idea where here are a few suggestions.
1. INSPECTION.
Once you have successfully purchased your light kit from our website, you must inspect them. This is very important because of how fragile, or kits are. Unfortunately, when light kits are shipped, they are not always handled with care by the transporters. So if you spot any problems with your light equipment linked to shipment, take advantage of your warranty card to request a replacement. We would be happy to help. If after your inspection, though, everything looks great. What's next?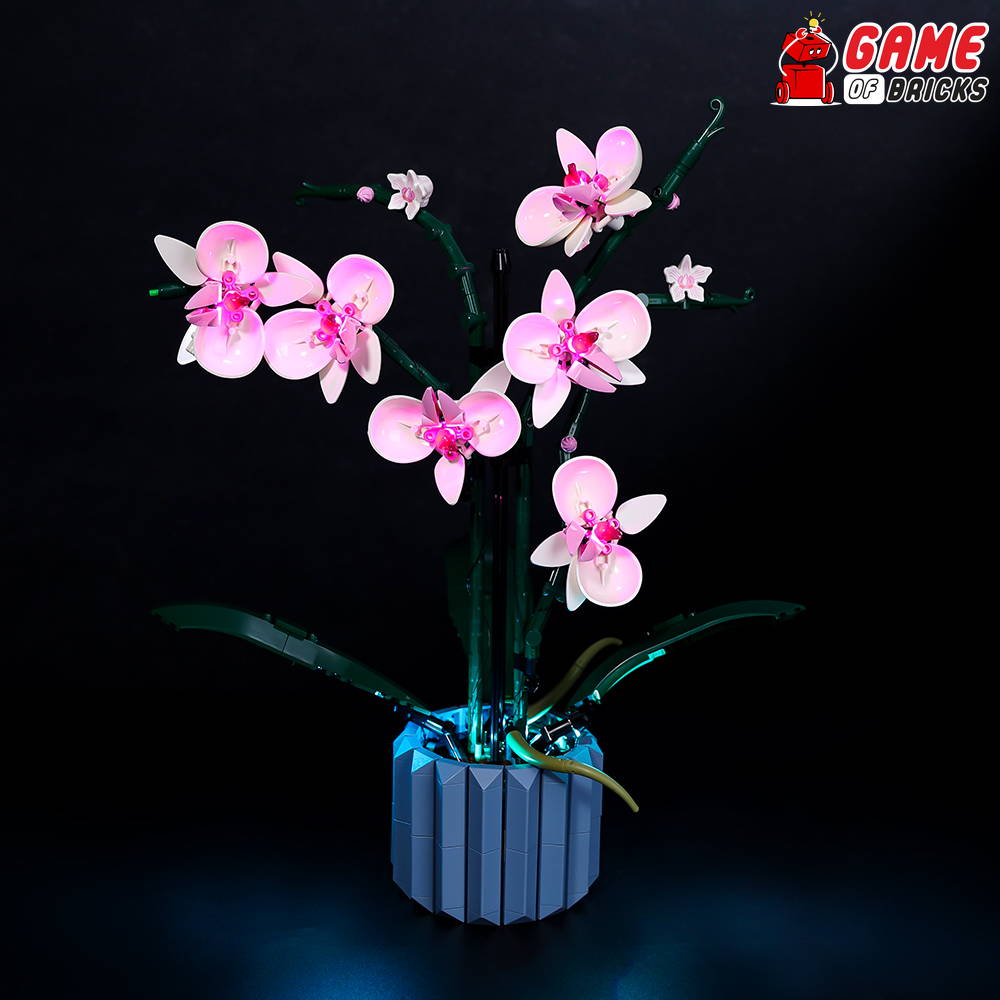 2. INSTALLATION.
If, after your inspection, everything looks good, it's time to install. This process could be very tricky for a new user. So to guarantee you succeed, we have gone the extra mile to include a detailed manual to help you with the installation. The manual would also help you avoid common mistakes by new light kit users. So make sure you follow the instructions carefully. If you do, you are bound to succeed. And remember, our light kits are very delicate, so be sure to handle them with the best care. Once you install, you would still need to do one more thing.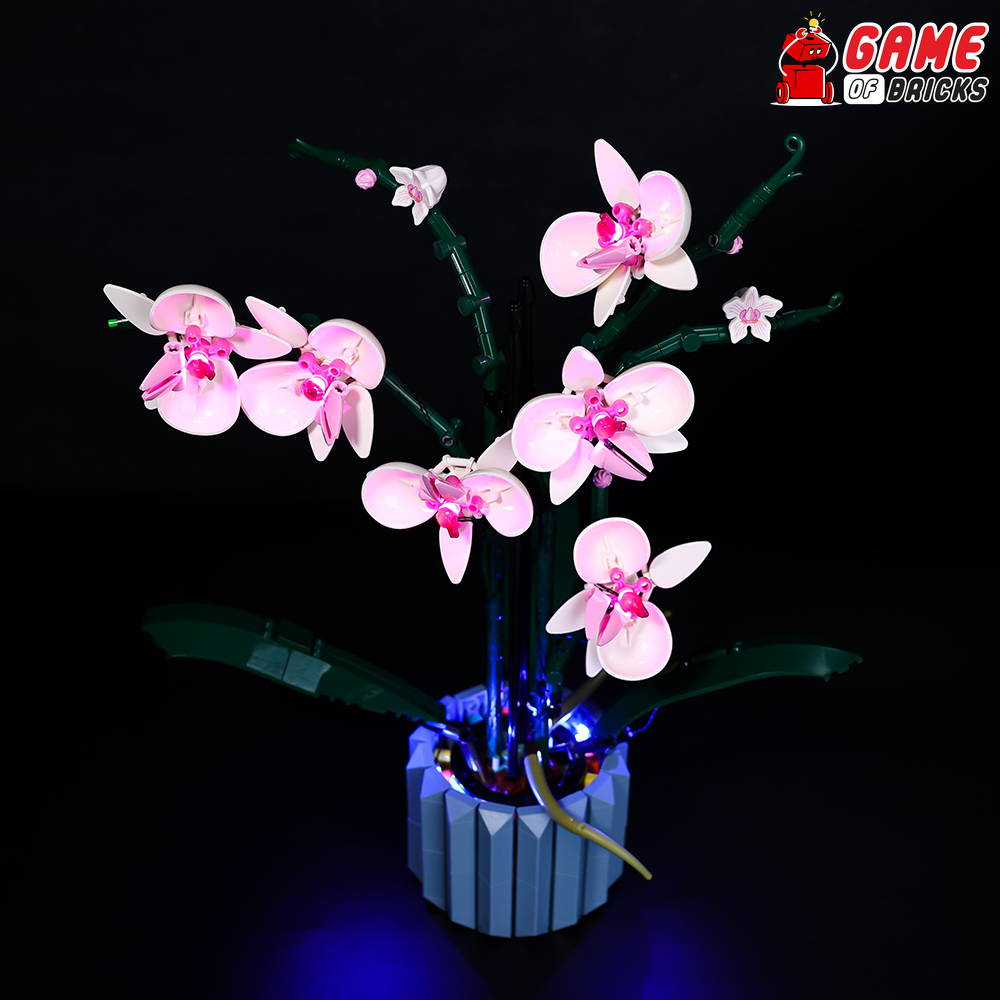 3. TEST RUN.
When dealing with electricity, it would be best to test all equipment to ensure they work properly and are safe for use. The same is true for our Lego lights. Once you are done installing, could you give it a test? As you run tests on it, ensure that there are no short circuits and that the battery capacity is powerful enough. If you find no fault after your trial, enjoy the beautiful scenery you lit up Lego Orchid 10311 Set gives to your environment.