LEGO Mobile Crane 42108: Its Review
By

Nikita P.
/
January 14, 2020
The LEGO Mobile Crane 42108 is one of the latest models in the Technic theme. We have one thing that we can say about it, it promises to be an exciting building experience, which is what a lot of Technic fans can't get enough of. Apart from that, it possesses all the functionalities that one craves for.

You could drive your vehicle to wherever you want, and secure your crane to where you wish by an outrigger. If you want, you could have the telescoping arm extended and lowered.
The LEGO Mobile Crane 42108 makes construction seem fun, as it comes with extraordinary features. The yellow and black color scheme speaks truly about how a construction crane should be. If you are looking for a Technic model that comes with intriguing features, you should consider going for this.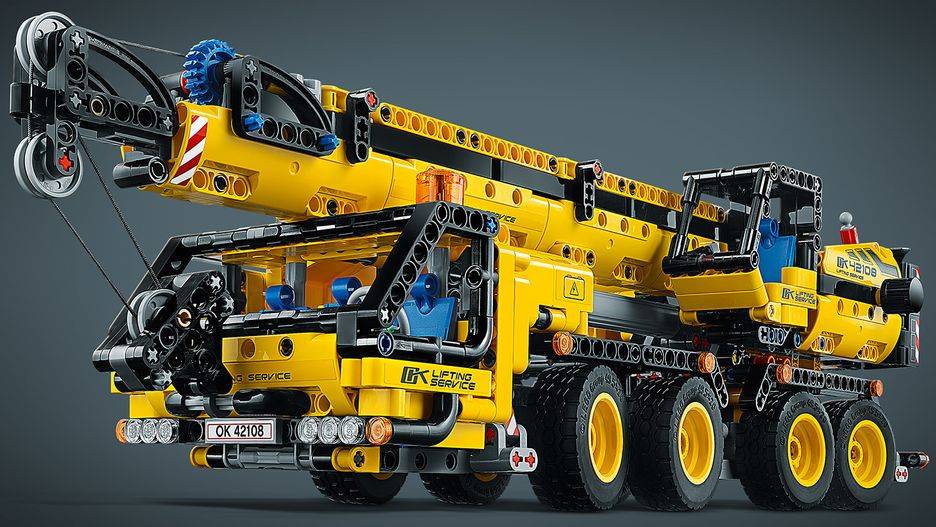 The LEGO 42108 Mobile Crane offers an immersive construction experience and a bit of extra advancement. If you want to introduce someone into engineering, it won't be a bad idea to get them this, as engineering lives and breathes here.

When you build and operate the LEGO Technic, you will find out a lot about engineering, as well as how a crane moves. The LEGO crane comes with the following features like two cabins, four outriggers, 8-wheel steering, as well as super-high telescopic arm.

arm. When everything is put in place, you have a revolutionary crane.


The mobile crane falls under the Technic scheme, and it has 1292 pieces. It comes with a crane, 4 wheel steering, 8 wheel vehicle, steering and so on.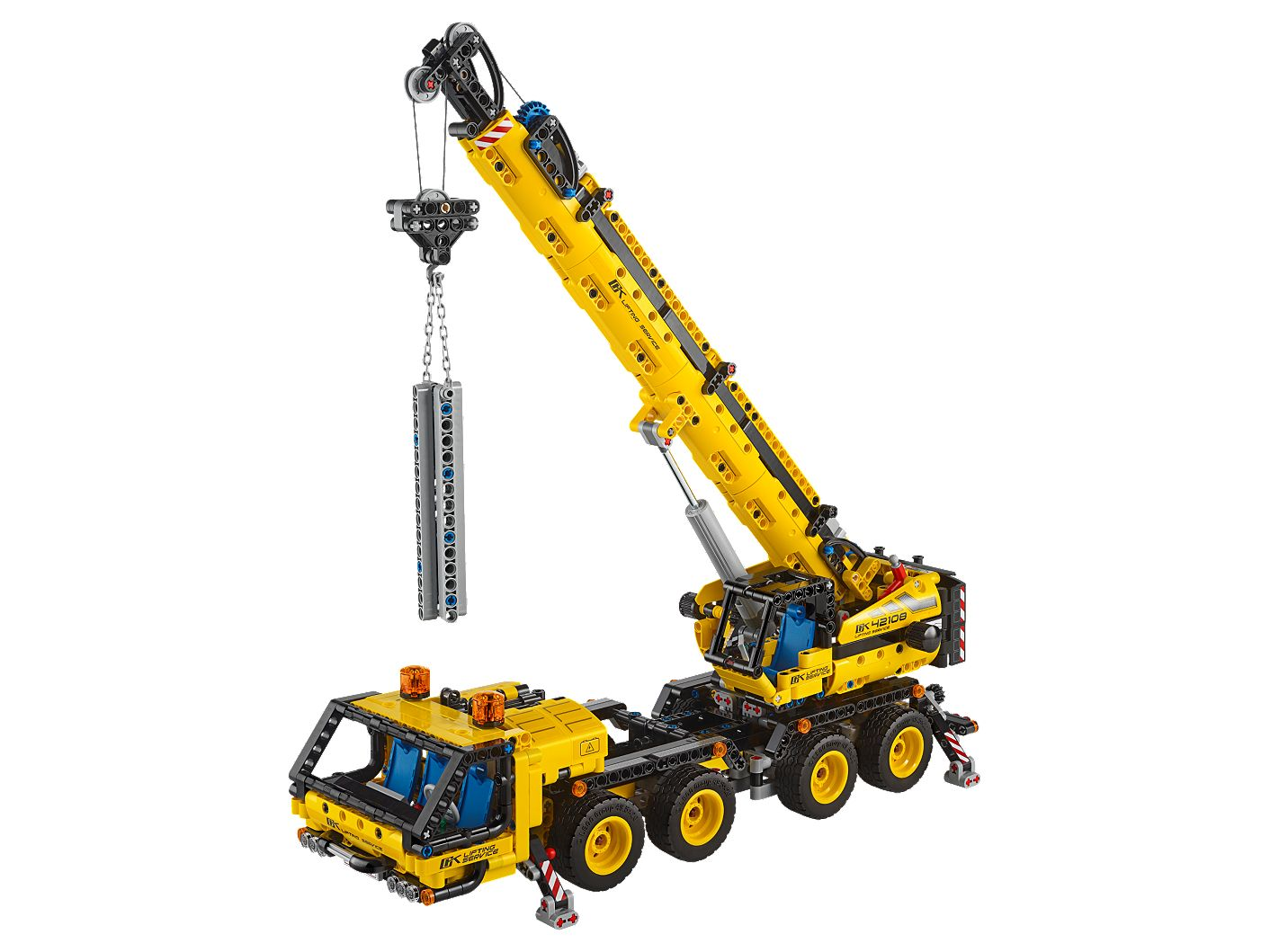 The front of the box is quite nice to the eyes. We love the fact that it comes with a cute backdrop, great action shot, and so on. What we don't understand is why the Lego graphic designers made the choice of cutting off some hair. At the back of the box, you will see the numerous action features there.

Let us move towards the back outriggers. They are quite easy and a bit effective, allowing you to easily control the black gear knob. They are designed to go a bit towards the over-center, which means if you go ahead to move the crane about, they tend to close. They are designed to get the crane from where it is. If you want this to work, you should place the crane on a hard surface because, if on the carpet, you won't easily do it.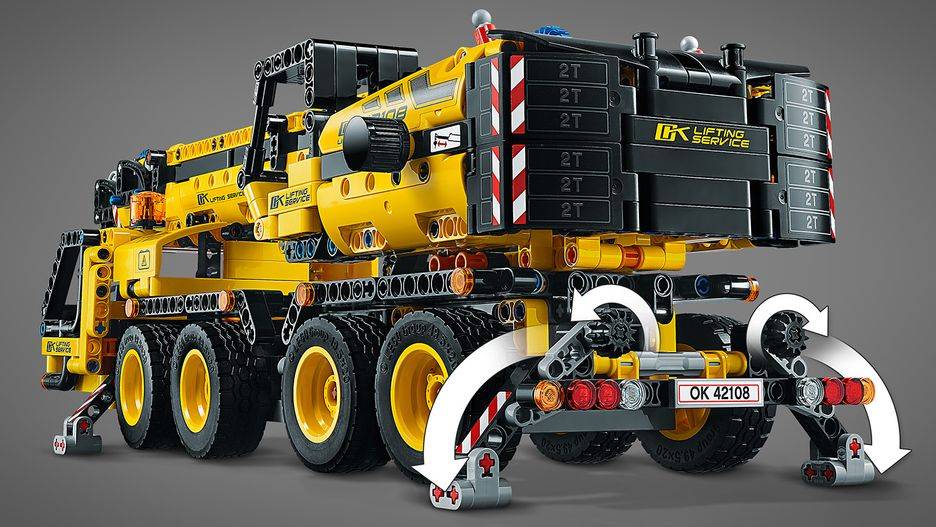 As for the front outriggers, they do not work as much as the back outriggers, though they have a similar geometry. If you want to control them, ensure that the red ball is pulled with your finger.

If you attach the wheels, you won't have enough space to have this done. Usually, kids are better at this compared to adults.

Controlling the crane is quite easy, as there are controls for it. You won't have to worry about one complicated mechanism or the other like a gearbox.

The black knob is one way of controlling the inner part of the boom. To prevent the crane from moving unexpectedly, there is a red catch on top.

The controls at the right part come with two knobs. A knob ensures that the boom can be raised or lowered. The second knob ensures that the cable can be wound.

One can easily play with it without stress, as it isn't complicated. The issue is that it may take some time when you want to raise or lower the boom. With the long actuator, I had to spend sixty twists before I could elevate it. This means a lot of twisting, and this can be tiring.

When you are done with the crane, the appearance is always massive, and we love that. The height of the crane is long, and we can say that this may be the longest Technic crane that we have seen.

If you put your boom in a horizontal manner, while it is totally extended, there is a great chance that your crane will fall.

For many fans, they feel that there are a number of similarities between this LEGO Crane version to the previous one, which is the set 42009.

As for the previous set, it seems to longer compared to the LEGO Technic 42108. Though they may come in different sizes, their crane booms have similar lengths.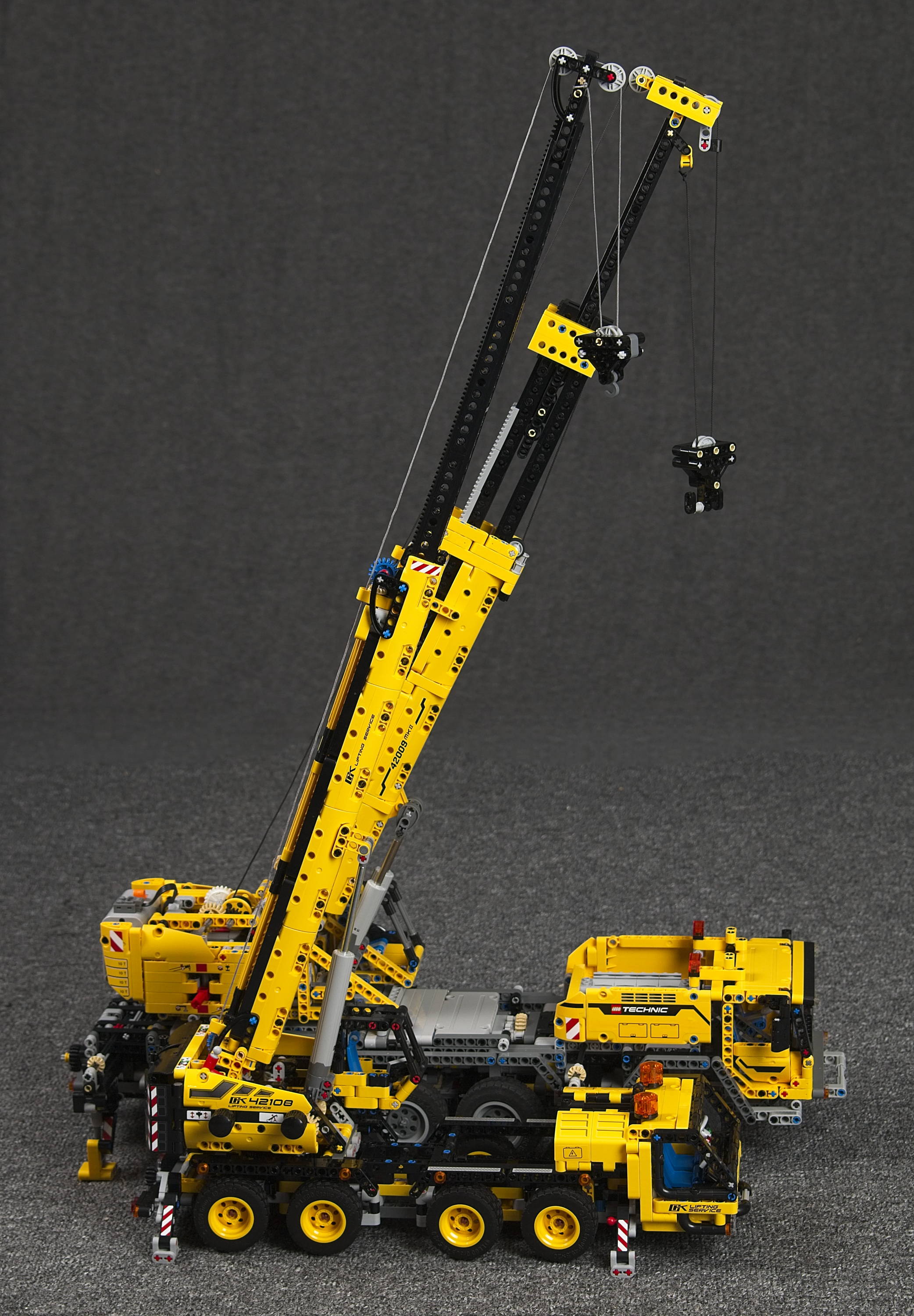 The new set, which is smaller in height has a crane that tends to reach higher compared to its counterpart.

The fact that the 42009 comes with addition segments means that some sections overlapped, leaving the mechanisms a bit more complex.

As for the chassis, it won't look bad when it is in the down position. Immediately you elevate the boom, you will notice a large hole in the center of your chassis. I don't know why the manufacturers didn't add more pieces to fill up that hole. It is unsightly.

The contents of the box are the usual stuff you see in a Technic theme box-like stickers and manuals. The manual breaks down the building process, starting with the chassis, moving to the cab and finally to the crane.

As for the stickers, you will see the usual Technic sticker sheet, which has control instructions, warnings, as well as decorative parts.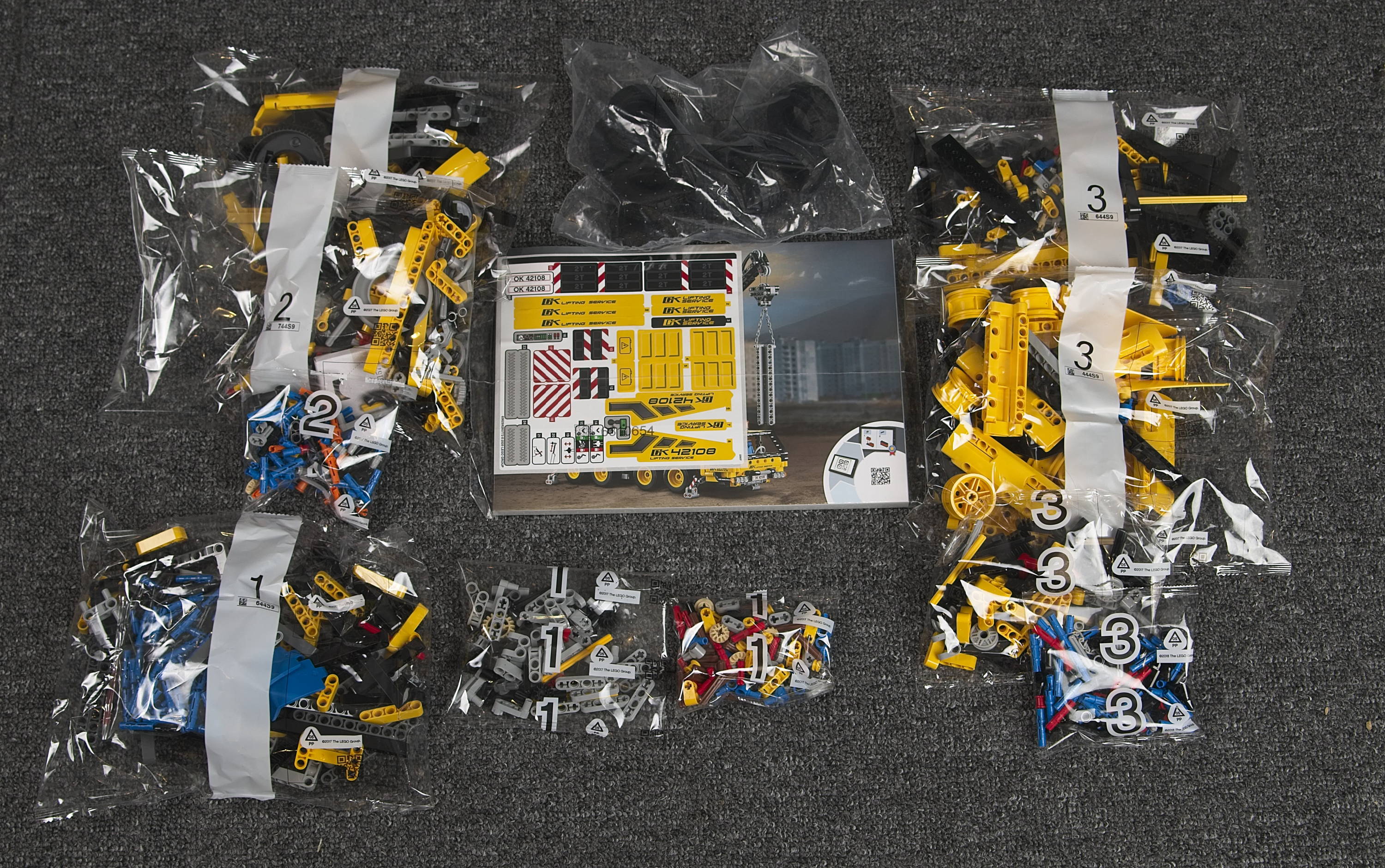 This mobile crane, thankfully, can easily be controlled by knobs, meaning that you can get the crane to elevate and retract. A young fan doesn't have to worry about any technical gearbox while operating it. As much as it is a crane, it is important to not fill it with loads to prevent it from tipping over.
Any Technic fan can play with it for hours and not get bored, especially when the fan is a kid.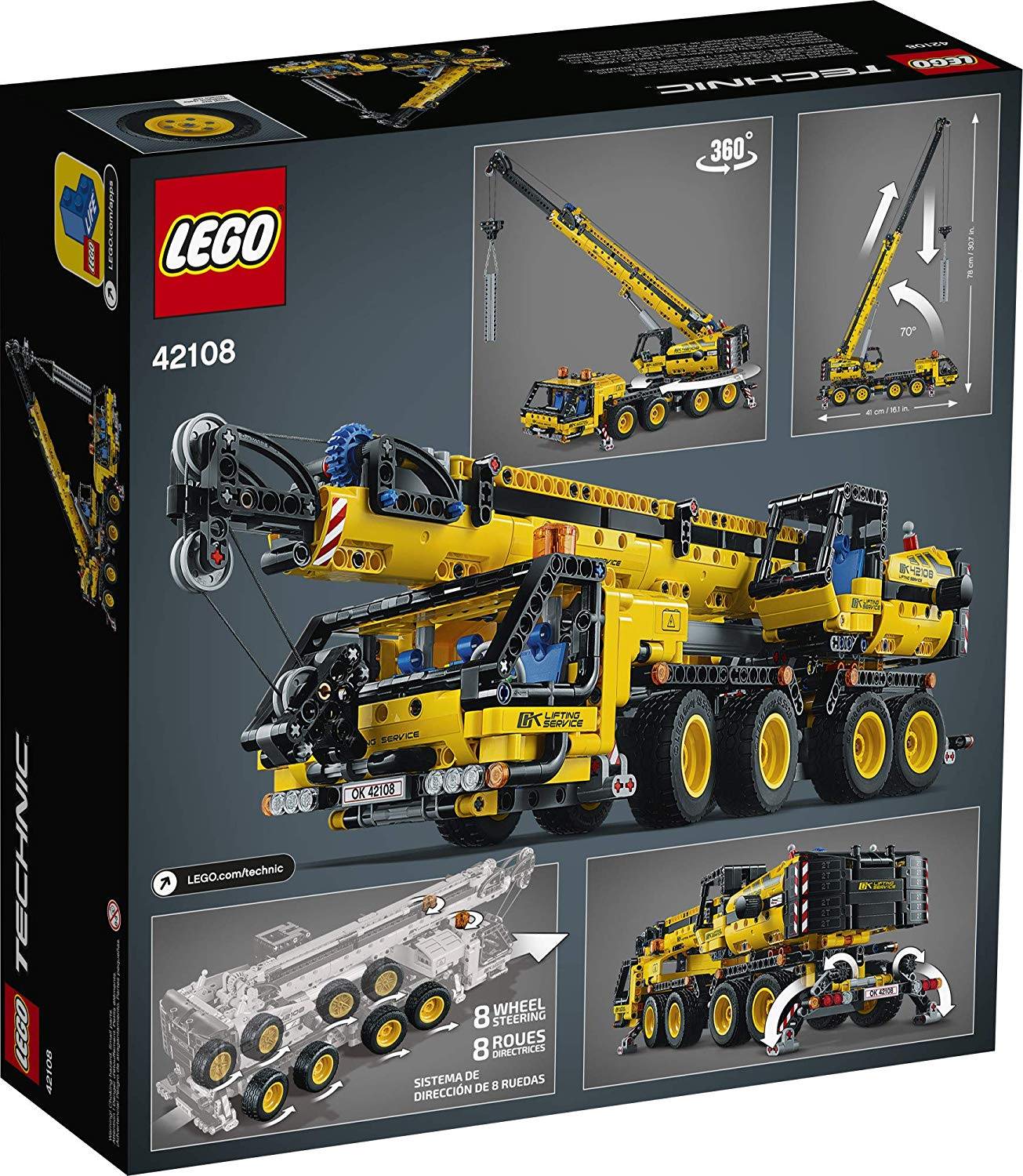 As usual, before you build any set, it is important that you go through the instruction manual or watch the building process online.

You will begin by building its chassis and grand. After a while of building, the four axles should be affixed. A great thing about these axles is that they can steer.

When you are done with bag 2, you should have the front part and base of your crane done. A lot of the crane mechanism should have been affixed.

It depends on how handy you are with a Technic set. In a matter of a few hours, you should be over with the entire process.

We love to display our completed set, and want them to look better than any other one that we have seen. You can do this by purchasing a unique set of light for it.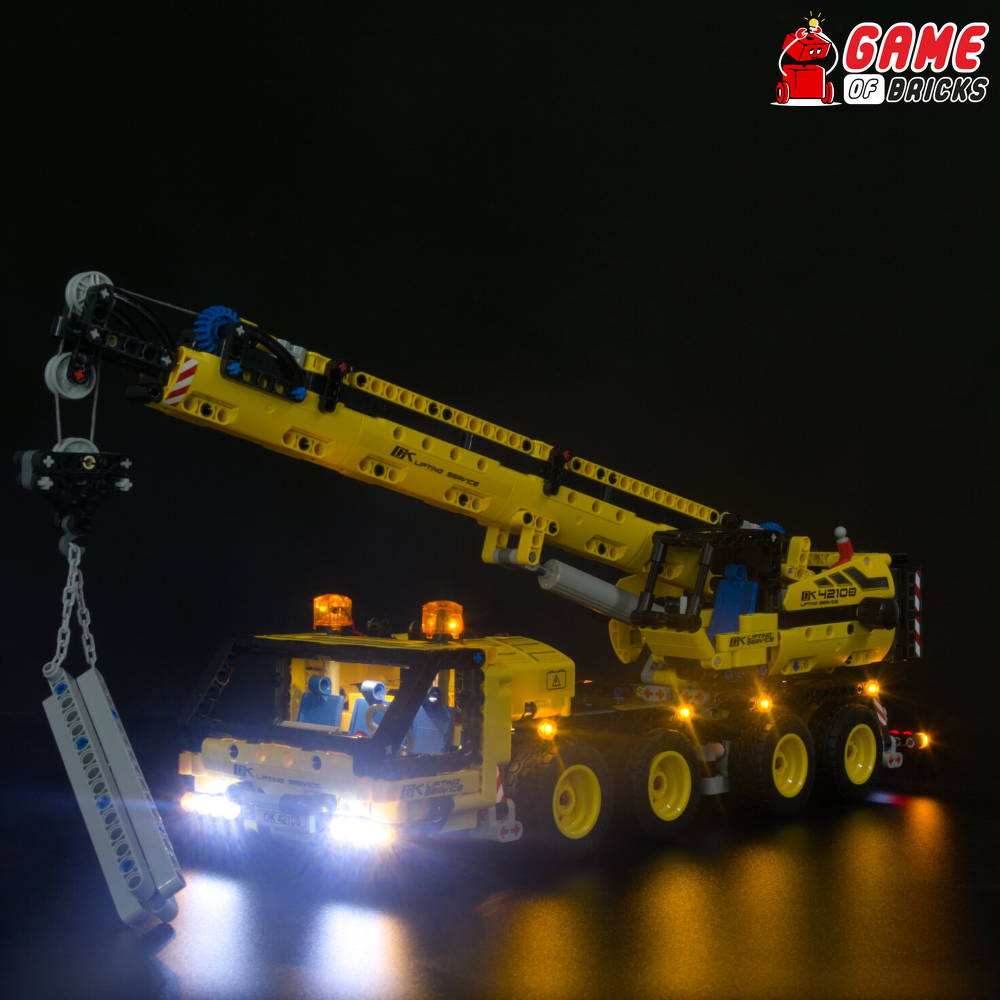 Apart from the aesthetic appearance that it brings, it allows others around you to know where your model is to prevent them from mistakenly messing up with it.

With the unique LEGO lights, you could kill multiple birds with a stone. Contact us today, we will love to hear from you.

For many buyers and connoisseurs like me, I feel that this crane is a delightful sight. If you are looking for an extremely and complex set, the 42009 is there for you.

If, on the other hand, you are craving for a crane that will make an awesome playset, you should consider this.

The previous set seems to be tailored for adults more than for kids because of how complicated it was. The controls in this new set are easy to use, meaning that your kids can use them effortlessly.
One place that we didn't fancy is the fact that it didn't come with the B model. This has left me feeling that it was more expensive than it actually worth.
Though it may be pricey for its features, we still feel it is an awesome buy. What it lacks in features, it makes in appearance.
If you are thinking of buying it for a new Technic fan, you could get this because the person may not notice the features that are missing. On the other hand, if the fan is an experienced one, it won't be a bad idea to get the older version.
We have the best collections of LEGO lights for your LEGO. Who wouldn't want to beautify their LEGO sets with these creative lights? Virtually no one. Check the amazing collections and contact us. We will love to hear from you.