Become the king of the track with the LEGO Lamborghini Sian FKP 37 42115 Set.
Nothing is more exciting than riding a race car and owning the race track. And if you are a fan of race cars, you would love the new Lamborghini Sian FKP 37 race car. This race car is designed to give other race cars a run for their money. It features details that give it a god-like speed and stand out among other race cars in the racing world. This fantastic race car comes with a powerful V12 engine, which makes it operate at an efficiency never seen before. All these excellent features make this superb new Lamborghini a dream car for any race car fanatic out there. 

Are you a fan of this race car? Would you love to have a piece of it in your home? Well, you can have over 3000 parts of it by building the Lego Lamborghini Sian FKP 37 set. This set is designed to beautifully replicate the looks of a real-life Lamborghini Sian race car. This fantastic set offers an immersive build and would be a good gift for you or any of your race car fanatics. But what awaits you as you bring the Lego Lamborghini Sian FKP 37 42115 set to life? Let's look into that.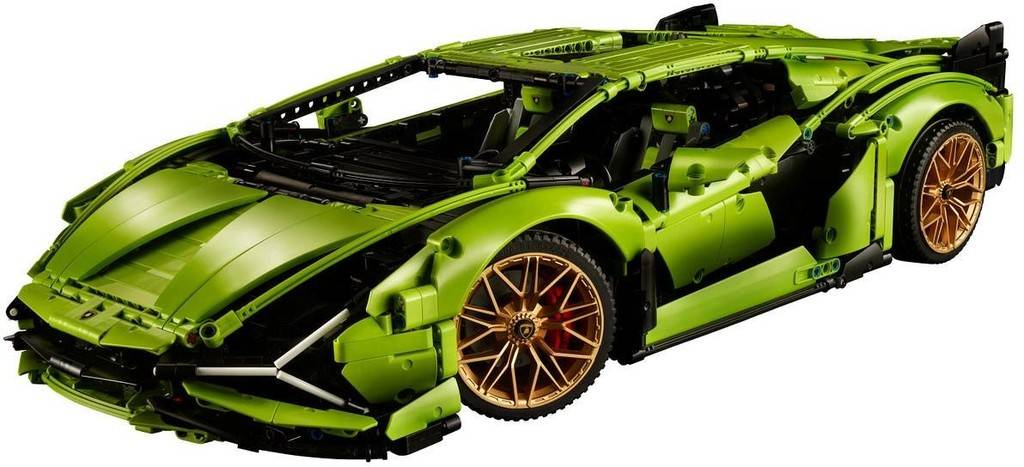 AN IMMERSIVE BUILDING EXPERIENCE FOR THE LEGO LAMBORGHINI SIAN FKP 37 42115 SET.
The Lego Lamborghini Sian opens a world of opportunities for Lego builders, both young and old. It offers more authentic details and advanced building techniques than other Lego sets. It also contains impressive features that make any builder fall in love with the set. This set requires that its builders give it one hundred percent of their time. So if you decide to build this fantastic Lego set, be sure to set out enough time to do it properly. You could also choose to create this with your family as a project. Helping your kids become better problem solvers and further increase their love for race cars. Building this set as a family would also teach your kids the power of teamwork. Building this set would pose many challenges and roadblocks, which would be better tackled as a team.
The Lago Lamborghini Sian FKP 37 set also comes with a building instruction manual that is very self-explanatory. So if you encounter any roadblocks, you could use the building manual as a guide. If you are new to Lego, it would be best you start building a more straightforward set, then slowly, as you gain experience, you could decide to take on this fantastic Lego set. The Lego Lamborghini Sian set offers authentic details and an immersive build. And once you are done building, you will feel delighted with the overall outcome of your set. This set also features a fantastic feature that adds to its realism. Let's now see what some of those cool features are. 
REALISTIC FEATURES FOR THE LEGO LAMBORGHINI SIAN FKP 37 42115 SET.
If you are looking for a set packed with authentic details and true to its design, then the Lego Lamborghini Sian FKP 37 set is your set. The details of this set make it look as close as possible to its real-life counterpart. Now let's look into some of those details.
1. AUTHENTIC REPRESENTATION.
This set comes with a lime green colour scheme and represents the real-life Lamborghini Sian race car. It also features details like a V12 engine with a moving piston, a four-wheel drive with an eight-speed transmission, and also features golden rims with authentic-looking brake discs. You also get a rear hold which allows easy access to the serial number and an opening front. These and more make this set a replica of the real-life Lamborghini Sian FKP 37 race car.

2. A DISPLAY CENTREPIECE.
The Lego Lamborghini Sian is a product of top-quality materials. This makes this set stand out as a highly superior brick piece. Each material involved in bringing this set to life has been tested to ensure they are of the highest quality. It has also been tested to ensure they are compatible and easy to work with. When fully built, you wouldn't even know it was joint together, making it satisfying to look at. Proudly put this Lego set on display for all to see.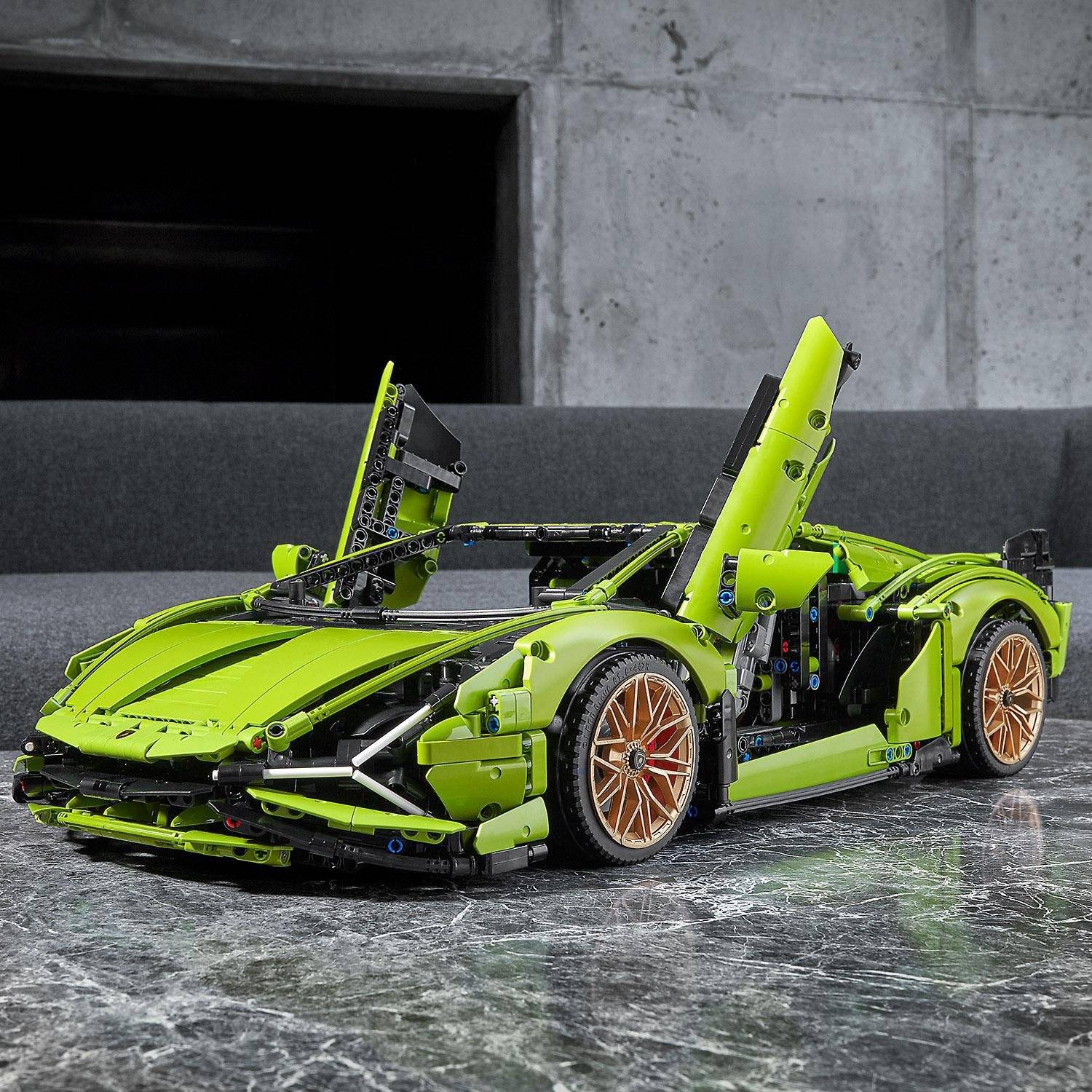 3. MOVABLE SET SIZE.
The Lego Lamborghini Sian FKP 37 set is highly portable. It comes with a little over 3000 pieces, about 3696 to be precise. Each piece has been tested and approved as safe to use. You can also easily attach and detach the set. So if you would love to tear down and rebuild, you can quickly achieve that with this set. When fully put together, this set 1:8 in scale, measure about 5inches high, 23inches long, and 9inches wide.
4. A SPECIAL FEATURE.
This fantastic set is the product of the Lego Technic team. It comes with a special collectors booklet which features building instructions with images. It also offers a behind-the-scenes section that elaborates on the effort to bring this set to life. It clearly shows the power of teamwork as it took the Lego group partnering with Lamborghini automobile to get this set. Each set is accompanied by a unique serial number which you can use to unlock cool features in the Lego online store.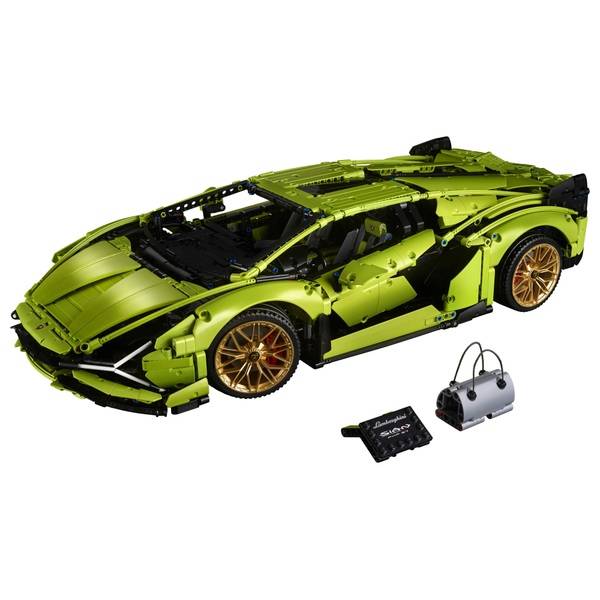 The Lego Lamborghini Sian FKP 37 set could be purchased from any Lego stores around you if you reside in the US or Europe. But if you do not have access to a Lego store, you could purchase this set directly from the Lego website. Note that the price of this set, like all other Lego sets, could differ. This depends on your location and the Lego stores around you. The availability of the set in your area also plays a pivotal role. The Lego Lamborghini Sian FKP 37 set cost about 379.99 dollars on the Lego website, lego.com. You could also display this set in the nighttime – how? Let's find out.
LIGHT UP THE PATH OF YOUR LEGO LAMBORGHINI SIAN BY ADDING OUR SPECIAL GAME OF BRICKS LIGHT KITS.
Well, as you show off your Lego Lamborghini Sian in the daytime, you would have no choice but to pack it up at night. This makes sense because no one would be able to see it, right? Well, you don't have to anymore with the help of our special light kits. This light kit not only makes it displayable at night but also helps bring to life the incredible and hidden details of the set. To properly use this unique feature, make sure to complete the building of your Lamborghini Sian FKP 37 set first. Make sure you do this before purchasing any light kits. Once your light kits arrive, what's next?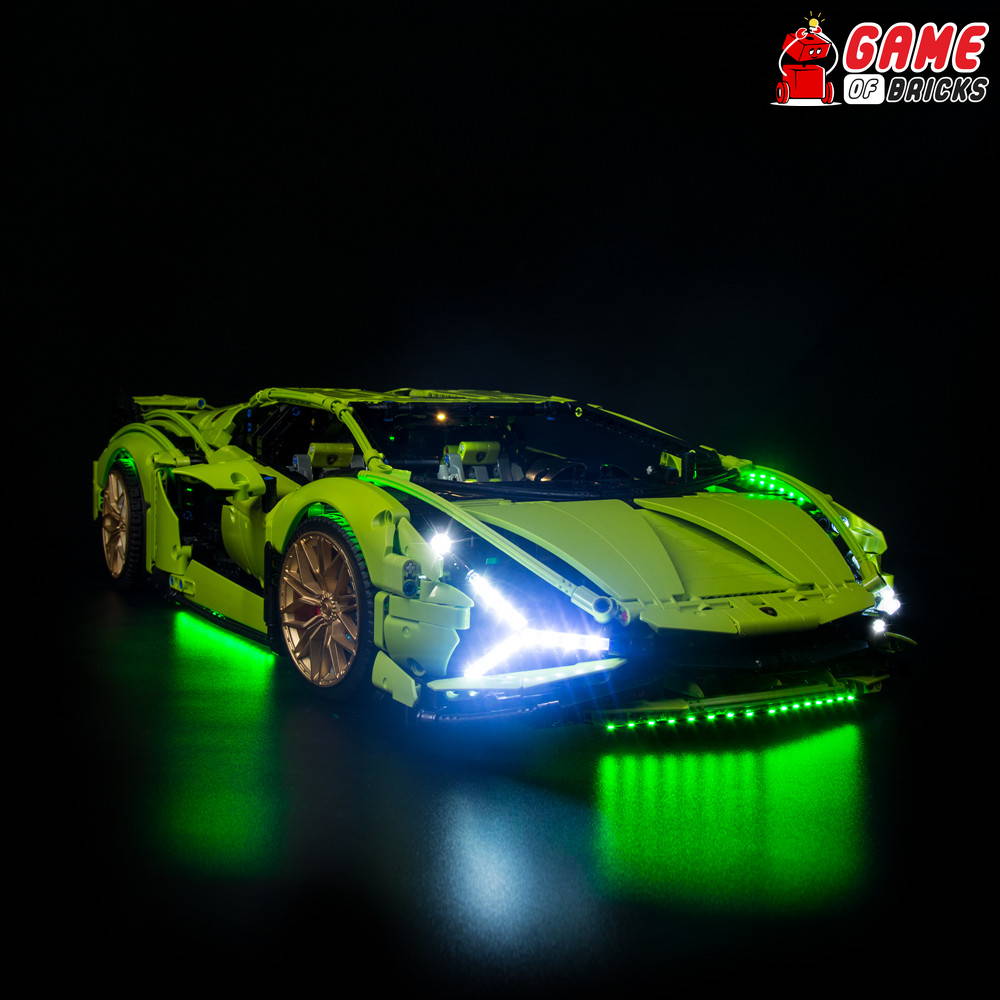 1. INSPECT AND INSTALL.
Once all light kits arrive, make sure to inspect them thoroughly. It is not new for light kits to sustain some damages during shipment. Examining them would be like a quality assurance check. Look out for any cut wires in our broken accessory as you inspect. If you see any, immediately request a change. But if all looks good, you can go ahead and install. As you install, ensure that you make good use of the set's instruction manual. These manuals have step-by-step instructions that should not be too difficult to follow. Also, ensure to handle each of your light kits with care. This rule is fundamental because the light kits you are working with are very delicate and could quickly get damaged. So handling them roughly would not be a good idea. If you handle the light kit with care and follow your manual's straightforward instructions, you will successfully install your light kits. Once you are done installing – what's next?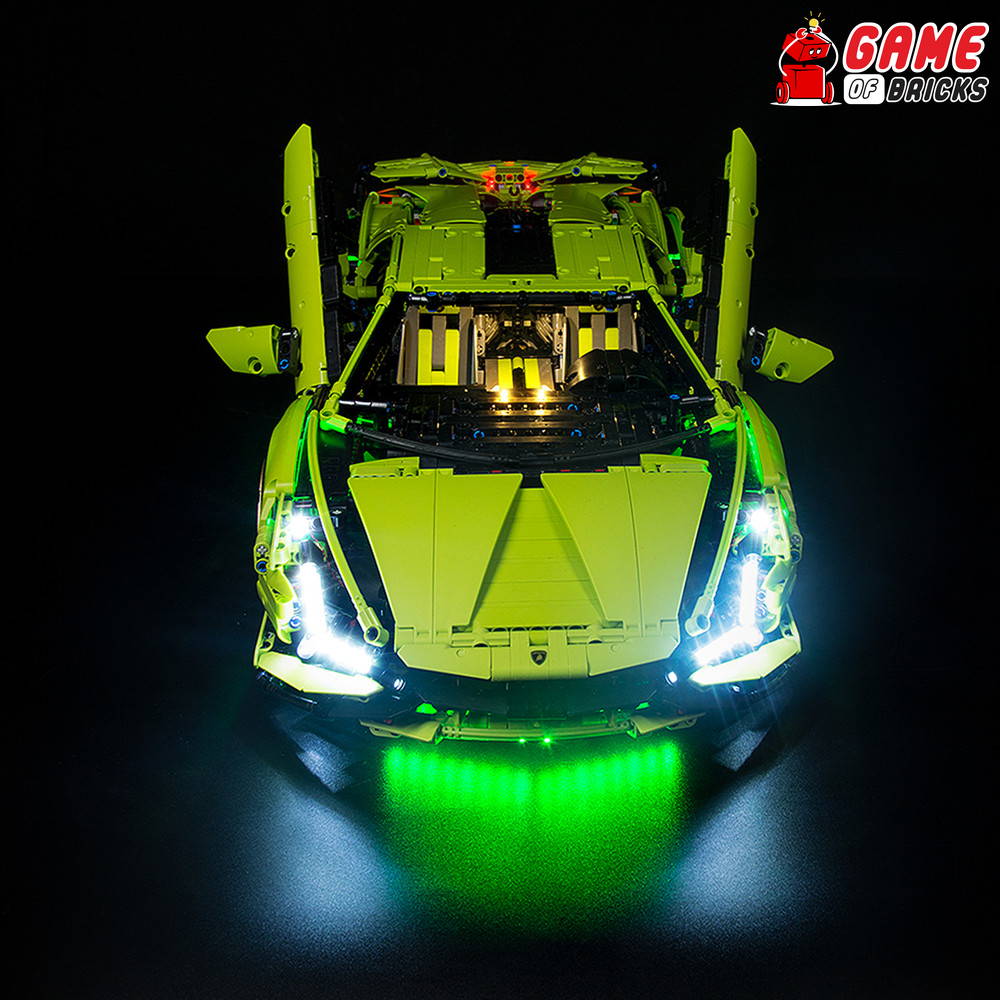 2. TEST RUN YOUR LIGHT KIT.
As soon as you are done installing your light kits, the next step would be to test run them. This process should not take you up to an hour. Your goal is to ensure your set is safe and will stand the test of time. One critical area to look into is battery durability. Ensure you are using suitable batteries to power your light kits. Also, check out for signs of short-circuiting and sparks from your light kit wires. If you notice any faults, make sure to fix them. But if all looks good, show off your Lego Lamborghini Sian FKP 37 set for all to see.
---